With over half of Kiwis wanting to make the shift to an electric vehicle, we've put together a handy guide detailing every new BEV (battery electric vehicle) currently on sale or available to order in New Zealand. We've also included all the upcoming models that we can expect to see here soon.
We'll be updating this guide with each new release, so be sure to check back on a regular basis.

Like data? Our recently updated new car prices details every passenger vehicle on sale in the country complete with their vital stats and eligibility for the clean car discount.
Audi
Audi NZ currently has three SUVs and two sports sedans on offer with the promise of plenty more to come including the rather tasty A6 wagon.
• e-tron 55 quattro ($151,900)
• e-tron 55 quattro advanced ($159,900)
• e-tron Sportback 55 S line ($170,500)
• e-tron GT quattro ($194,500)
• RS e-tron GT ($273,500)

Coming soon: Q4 e-tron (2023), Q6 e-tron (2024), A6 e-tron (2023), A6 Avant e-tron (2024), RS 6 e-tron (unknown)
BMW
No BMW models at present qualify for a rebate – that is unless you can find an i3 gathering dust in a showroom somewhere. Production of this oddball ended in July, leaving BMW's local lineup down one model. Currently on sale are two SUVs and a four-door coupe.

• i3 120Ah ($78,700) (RIP)
• i3s 120Ah ($87,500)
• i4 eDrive40 ($109,900)
• i4 M50 ($137,900)
• iX3 Inspiring ($118,900)
• iX3 impressive ($129,300)
• iX xDrive40 (169,600)
• iX xDrive50 ($204,800)

Coming soon: iX1(2023), i7 (2023), i1(2023), i5 (2023), iX5
BYD
The newest player in the market, Chinese powerhouse BYD promises some of the most affordable EVs on sale in New Zealand. The ATTO 3 is their first offering, available in two flavours both of which qualify for the full $8,625 clean car discount rebate.

• ATTO 3 Standard ($52,990)
• ATTO 3 Extended ($57,990)

Coming soon: BYD Auto New Zealand has confirmed the subcompact hatch ATTO 2 and the ATTO 4 sedan are coming to New Zealand.
Hyundai
Hyundai offers the Ioniq EV, Ioniq 5 hatchback and the Kona SUV in a range of trim levels. Both the Ioniq EV and EV Elite qualify for the rebate as does the entry-level Ioniq 5 and two Kona models. Hyundai also recently revealed the stunning N Vision 74 Concept and the rather polarising RN22e which show its desire to produce performance-orientated EVs.
• Ioniq EV 38.3kWh ($65,990)
• Ioniq EV Elite 38.3kWh ($71,990)
• Ioniq 5 58kWh ($79,990)
• Ioniq 5 72.6kWh ($89,990)
• Ioniq 5 AWD 72.6kWh ($94,990)
• Ioniq 5 Elite 72.6kWh ($96,990)
• Ioniq 5 Limited Vision Roof AWD 72.6kWh ($109,990)
• Ioniq 5 Limited Solar Roof AWD 72.6kWh ($112,990)
• Kona Electric 39.2kWh ($69,990)
• Kona Electric Elite 39.2kWh ($76,990)
• Kona Electric 64.0kWh ($79,990)
• Kona Electric Elite 64.0kWh ($87,990)

Coming soon: Ioniq 6 (2023), Ioniq 7 (2024) A performance Ioniq 5 N with 448kW (sharing its twin motor with the Kia EV6 GT).
Jaguar
The company is undergoing a massive overhaul as it prepares to drop all of its internal combustion models over the next three years. Early indications suggest that the brand will relaunch in 2025 as an electric-only 'modern luxury' brand. What exactly does modern luxury mean? Well…expensive as according to JLR CEO, its cars will be priced from NZ$150,000, right up to $230k plus. It will launch three models initially, two crossovers (of course) and a sporty two-door, all of which will be based on an entirely new platform code-named Panthera. The I-Pace will be the only 'old' Jaguar to survive the cull although it is tipped to get a facelift and tech overhaul. The styling of the new cars has been signed off and is expected to be revealed to the public at the end of 2024.
• I-Pace SE ($159,900)
• I-Pace HSE ($169,900)
• I-Pace Innovation Edition ($169,900)
Coming soon: two SUVs and a sporty two-door.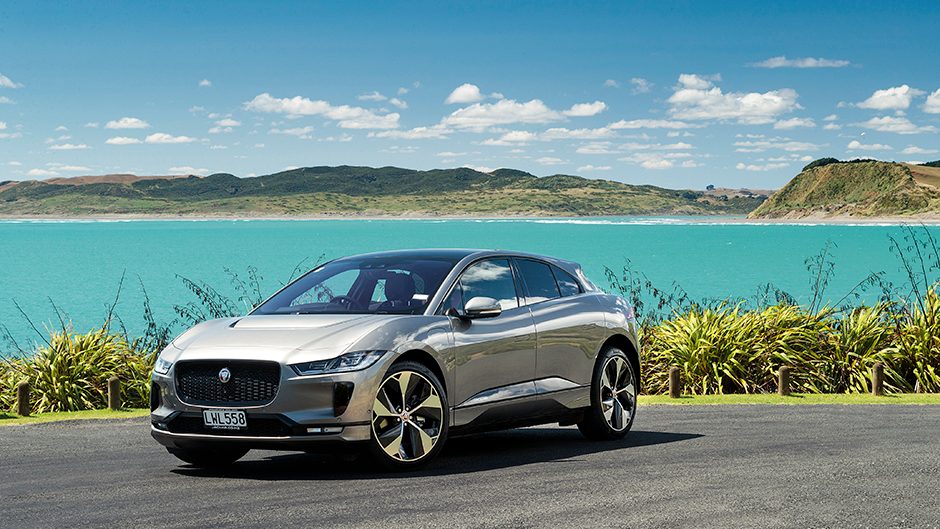 Kia
The newly launched EV6 Air and the original Niro EV EX currently qualify for the $8,625 clean car discount if you can still find the outgoing Niro in a Kia showroom. The new Niro has just arrived, again with three types of electrified powertrains; hybrid, PHEV and of course a fully electric variant.
• EV6 Air ($77,990)
• EV6 Air Long Range (83,990)
• EV6 Earth Long Range ($99,990)
• EV6 GT-Line AWD ($111,990)
• Niro EV EX ($77,990)
• Niro EV SX ($80,990)
• Niro EV Premium ($85,990)
• 2022 Niro EV Light 64kW ($67,990)
• 2022 Niro EV Water 64kW ($73,990)
Coming soon: EV6 GT, and at least 14 more electric cars by 2030.
Lexus
Like parent company Toyota, Lexus has a large range of hybrid vehicles, including the new plug-in NX, but so far has only one full EV, the UX300e, for sale here. At $79,990 it qualifies for the $8,625 clean car discount. Just.

Coming soon: RZ450e (2023)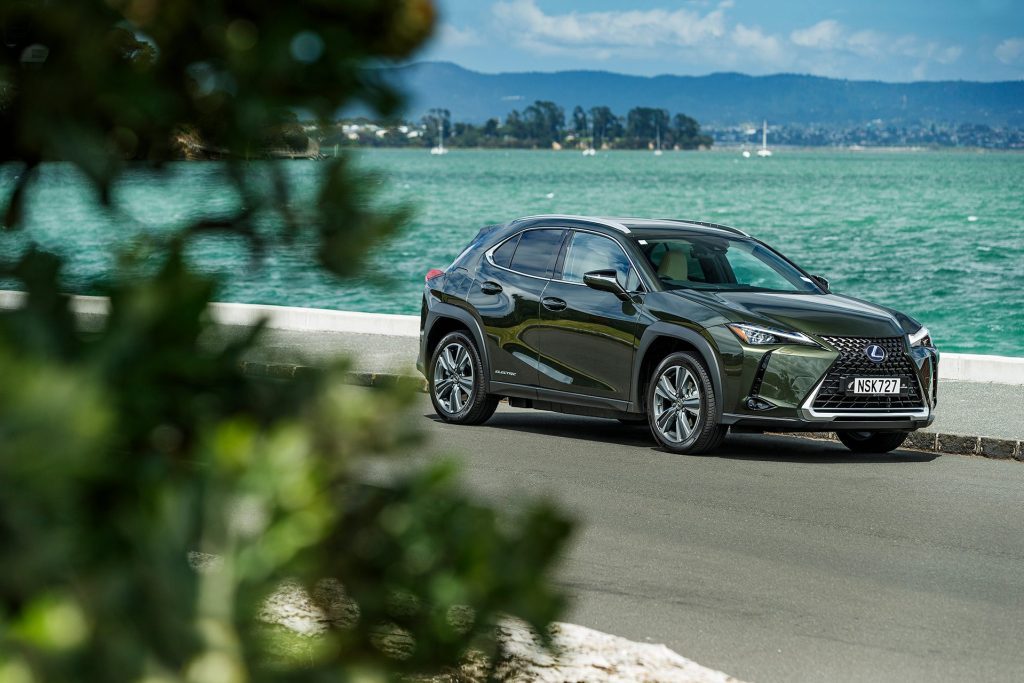 LDV

LDV has a few electric van-like offerings in their commercial range (eDeliver3, eDeliver9), but more recently they announced the arrival of the eT60 – the country's first fully electric ute. Boasting a 150kW/310Nm motor paired with an 88.55 kWh battery, the eT60 is said to have a 'WLTP city' range of around 325kms. There's DC and AC charging capability meaning a 5-80% charge can be completed in 45 minutes or five hours respectively. The cost is $79,990, which means it conveniently qualifies for the full $8,626 government subsidy. A $1000 deposit is required to secure one with deliveries expected 'Summer 2022'. We'll bring you an in-depth review as soon as we can get our hands on one.
Mazda
Mazda's sole EV is the slightly eccentric but stylish MX-30 BEV. Priced at $74,990 this funky little number gets the full clean car discount.
Coming soon: Mazda is planning three new electric vehicles by 2025 although there's no indication yet as to what form these will take. Hands up who's keen for an electric MX-5?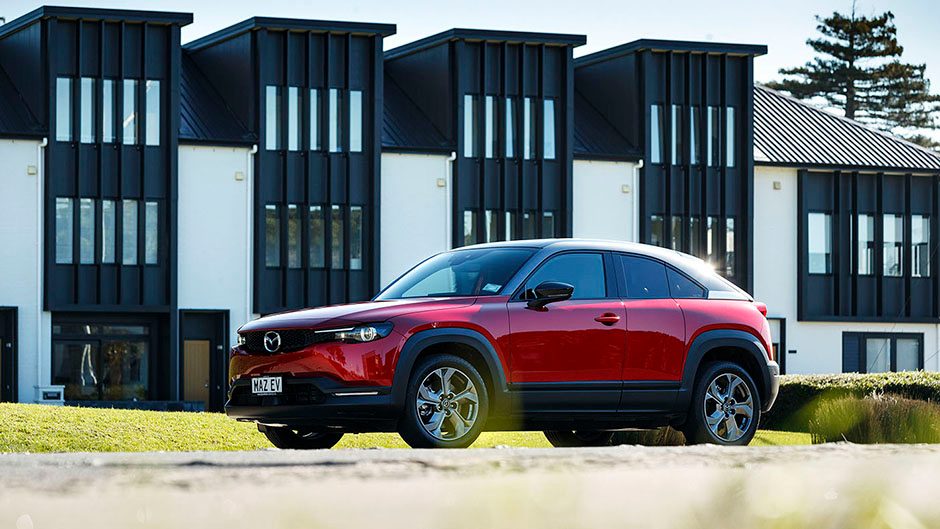 Mercedes-Benz
There are just two fully electric offerings for Mercedes at present, but we can expect to see four additional models here next year.
• EQA 250 ($90,000)
• EQC 400 4MATIC Sport ($151,300)

Coming soon: EQS (2023), EQS SUV (2023), EQB SUV, EQE and EQE SUV (2023), EQG (2024), and various AMG variants of the aforementioned like the Mercedes-AMG EQS 53 4Matic+ we recently drove.
MG Motors
Available in two spec levels, Excite ($49,990) and Essence ($52,990) the MG ZS is one of the most affordable EVs on sale in NZ. Both models get the full $8,625 clean car discount.

Coming soon: Overseas markets get a small station wagon (a rebadged Roewe) but this appears to be off the menu (officially) for us at the moment. An updated ZS is due to dot down shortly. The MG4 hatchback is also expected to arrive sometime in 2023.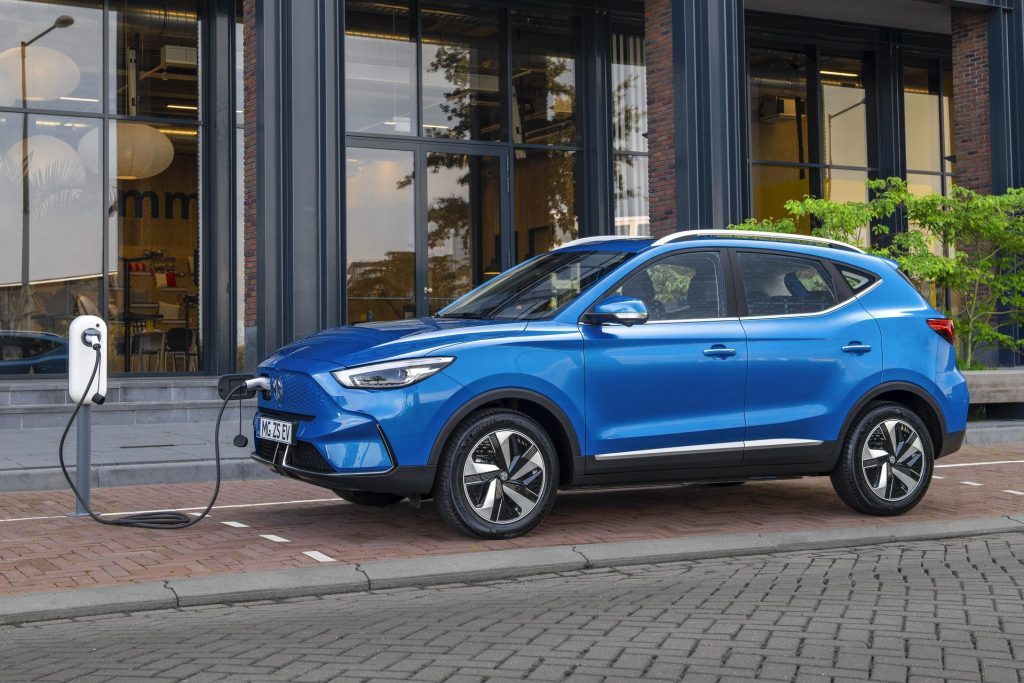 Mini
The Mini Cooper SE is available in three trims, Classic ($61,340), Mini Yours ($68,580), and First Resolute ($68,930). All models qualify for the full discount.

Coming soon: An all-new Mini Cooper EV is expected in (2024) as well as a Countryman EV. Slotting somewhere in between those models will be another crossover based on the recently released Aceman concept.
Nissan
One of the pioneers of the EV world, the original Nissan Leaf is proving to be the gateway BEV for those wishing to experience electrified transportation on the cheap. On the new car market, a second-gen Leaf retails for between $60k and $70k meaning that they qualify for the full $8,625 clean car discount.
• Leaf 40kW ($61,990)
• Leaf 39kW ($62,990)
• Leaf 62kW ($69,990)
• Leaf 59kW ($71,490)

Coming soon: The original Leaf debuted way back in 2011, but it wasn't until 2018 that the improved second-gen came along. It's been a long time between drinks; Nissan's next EV, the Ariya SUV is scheduled to arrive in 2024 some 13 years after their first (blame Carlos). As if to make up for lost time, Nissan reckons they will have 15 new models on sale by 2030.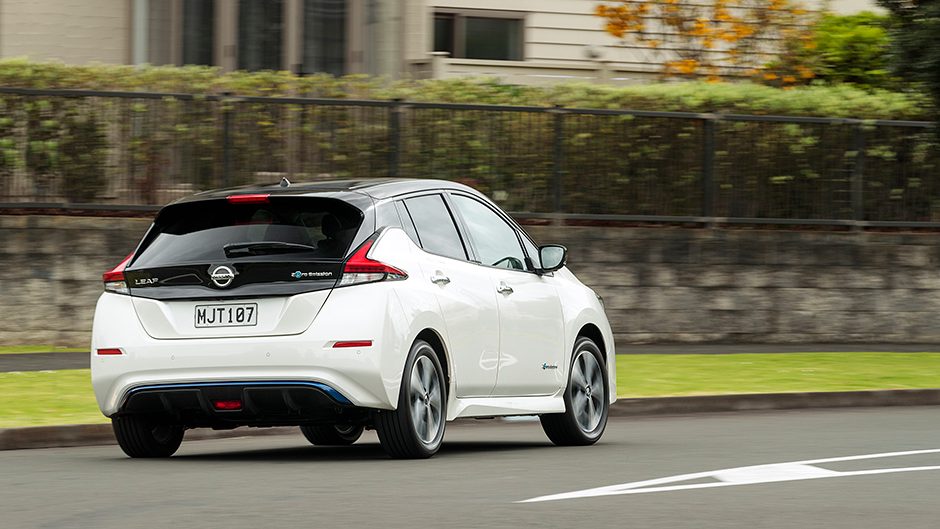 Opel
Opel is returning to New Zealand with a range of electrified options that are now expected to go on sale around September. Among the selection of fuel-efficient vehicles on offer, there are two full EVs; the Corsa-E and Mokka-E. Pricing has yet to be confirmed, but we understand that they will both qualify for the $8,625 government subsidy.
Peugeot
The sporty little Peugeot e-208 GT, and e-2008 GT compact SUV are priced at $61,990 and $71,990 respectively meaning discounts all round for the Peugeot EV range.

Coming soon: e-308 (2023). Peugeot is planning to be fully electric by 2030 and is serious about becoming a leader in this space.
Polestar
Polestar has proved to be a big hit here in NZ. Demand for their first offering, the Polestar 2, is high which means cars are in short supply. A recent price hike means that only the Standard range model now qualifies for a discount.
• Polestar 2 Standard Range ($76,900)
• Polestar 2 Long Range ($86,900)
• Polestar 2 Long Range Dual Motor ($104,900)

Coming soon: Polestar 3 (2022 Mid-sized SUV), Polestar 4 (2023 SUV Coupe), Polestar 5 (2024 fastback sedan)
Porsche
The only EV available from Porsche at present is the sleek Taycan (available in sedan or wagon form). Expect a 'more affordable' model in the form of a BEV Macan due here next year. We're a little sad that Porsche isn't bringing any of the Taycan Sport Turismo models to NZ.
• Taycan ($178,500)
• Taycan 4S ($208,900)
• Taycan GTS ($249,600)
• Taycan Turbo ($297,300)
• Taycan Turbo S ($373,400)
• Taycan 4 Cross Turismo ($197,800)
• Taycan 4S Cross Turismo ($218,900)
• Taycan Turbo Cross Turismo ($299,900)

Coming soon: Macan (2023), Cayenne (2024-2025). While there's no date set as yet, it's tipped that the next-gen Boxster and Cayman will be fully electric. Don't expect the 911 to be going fully electric anytime soon.
Tesla
Without a doubt, the most recognisable and some would say desirable brand in the business. Tesla's unique approach to building and selling cars has been a wake-up call for most established manufacturers. At present only two models sneak under the price threshold (just go easy on the options).
• Model S Long Range ($159,990 currently unavailable)
• Model S Plaid ($224,990 estimated)
• Model 3 Standard Range ($72,400)
• Model 3 Long Range AWD ($86,900)
• Model 3 Performance AWD($100,900)
• Model X Long Range ($174,990)
• Model X Plaid ($209,990)
• Model Y Standard ($76,200)
• Model Y Performance ($108,900)

Coming soon: Cybertruck, Roadster (yeah right)
Volvo
The C40 and XC40 recharge kick off Volvo's electric vehicle range locally. The company plans to go all-electric by 2030. Volvo will release at least one electric vehicle every year with the aim of having EVs making up 50 per cent of its sales by 2025.
• XC40 Recharge P6 ($83,900)
• XC40 Recharge P8 ($97,900)
• C40 Recharge P6 ($85,900)
• C40 Recharge P8 ($100,900)
Coming soon: XC90 replacement, small crossover, a new sedan, XC60 Recharge, and two sporty wagon-esque models.
Volkswagen
While VW has been a little slow off of the mark with delivering their ID range to NZ, that hasn't stopped private importers from selling both the ID.4 and the ID.3 here in small numbers. However, 2023 is shaping up to be a big year for Volkswagen locally after they announced that the ID.4, ID.5, ID. Buzz and Cargo will go on sale in just a few months' time.
No, we haven't forgotten the e-Golf but it seems Volkswagen has, that model was quietly discharged some time ago. The ID.6 which is sold in China is unlikely to be sold in other markets. There are also rumours of an ID.1 supermini and ID.2 baby SUV that could appear around 2025.

Coming soon: ID.4, ID.5, ID. Buzz, ID. Cargo, ID.4 GTX, ID.5 GTX, ID.Aero (2023-2024), ID.7 (2023)
Who's missing?
While EV models are being continually developed and delivered on a regular basis, there are a large number of manufacturers who currently have no fully-electric offerings in NZ.
But with new laws coming in around the world effectively banning the sale of ICE-powered vehicles from 2025 onwards, we'll see a large number of new models appearing over the next few years.
Alfa Romeo
The upcoming Tonale will be available in a hybrid configuration, while the first full EV from Alfa will debut in 2024. By 2025 it's expected that all cars from the Italian automaker will be electric. Alfa intends to use four new architectures from Stellantis that can support electrification. Following on from the Tonale is the Brennero a small B-segment SUV using Stellantis eCMP platform, an all-new Stelvio SUV using the FCA large platform, and a new Giulia with electrification. Also rumoured is a new GTV (expect this to be a four-door EVcoupe like the Porsche Taycan) and possibly a new Spider Duetto and spiritual successor to the 33 Stradale.
Aston Martin
2030 will be the last year of production for Aston Martin's internal combustion engines. The brand is planning on launching its first electric model by 2025. No confirmation of what it will be, possibly an electric DBX.
Bentley
Bentley currently has the Flying Spur PHEV but is planning on introducing a fully electric vehicle in 2025. No details on what body style this will take on, but it could take inspiration from the 2019 EXP 100 GT concept.
Chevrolet
It's unlikely we will see the Chevrolet Bolt EV on NZ shores, but the upcoming Silverado EV and Blazer EV could be a starter.
Citroen / DS
We've already tested a grey import e-C4 but expect to see it arrive officially in a Citroen showroom near you soon. Overseas, Citroen and DS Automobiles offer a range of electric cars like the AMI, E-Spacetourer, and E-Berlingo. DS Automobiles has the DS 3, DS 4, DS 7, and DS 9 all of which have PHEV options. DS models are not currently sold in NZ.
Cupra
Cupra NZ has confirmed that the Born and Tavascan will arrive in 2024. The Terramar SUV which shares underpinnings with the Audi Q3 is also said to be a goer. the Urban Rebel is also due to arrive globally in 2025.
Ferrari
Currently, Ferrari has the V6 296 GTB and SF90 Stradale hybrids. The upcoming Purosangue is confirmed to get a NA V12 but could likely also be available as a PHEV. Ferrari has announced that it will build its first fully electric model by 2025 while going on to claim that 40 per cent of its future product will be pure EVs, with 80 per cent of its line-up featuring electrification by 2030.
Fiat
The 500e will be the first electric Fiat in NZ and it's expected to arrive any day. No indication of pricing yet, but we suspect it won't be cheap.
Ford
There are mostly mild hybrids on the horizon for Ford NZ in the form of the Focus, Puma, and Escape. But of more interest to us is the recent announcement that the fully electric Mach-e has been confirmed for NZ and is expected to arrive in early 2023. Sign up for updates via the Ford NZ website. F-150 Lightning? Could be a goer, but Ford can't currently build enough to satisfy demand in the US, let alone have any leftover for export so the order books have been closed. Ranger Lightning? It's got to be in the works surely, but Ford is remaining tight-lipped at present.
GWM / Haval
Haval has the Jolion and H6 hybrids, while GWM has the Ora Funky Cat (yes that is its name). The cat is landing on its feet in NZ soon, hopefully with the name intact. We got our hands on one and will be reviewing it in our upcoming September issue.
Honda
We've tested an imported Honda e and loved it but it's unlikely it will go on sale here officially. The only electrified offering from Honda NZ is the Jazz e:HEV a 'self-charging' hybrid. However, Honda has plans to launch 30 EVs by 2030.
Isuzu
Isuzu is looking at electrifying its D-Max ute using either a fully electric BEV or an HEV drivetrain.
Jeep
The first full EV from Jeep is planned for 2023 and based on the images we've seen it looks to be about the size of a Compass (Jeep Compass that is). Earlier this year Jeep teased an EV Wrangler concept but gave no indication as to if and when it might actually materialise. An electrified Jeep you can buy is the PHEV Wrangler which has an emissions-free range of 34km. No word on whether we'll get it here. Parent company Stellantis has over 100 future EVs planned so expect more to come from the Jeep brand.
Lamborghini
A brand that is very fond of its famous V12, Lamborghini has acknowledged a need to shift to the electrified side and its first BEV is expected to arrive by 2028. Lamborghini plans on continuing to sell ICE vehicles that can be powered by synthetic fuels which they say can be produced in a carbon-neutral way.
Lamborghini is planning on a four-model lineup with two sports cars (Aventador and Huracán replacements) and two more 'usable daily vehicles'. It's likely that the second-gen Urus will offer a hybrid or fully electric option while the fourth new model will be fully electric.
Land Rover
The Latest Range Rover is offered in a few hybrid trims powered by the firm's 3.0L IL6 hybrid motor. The Range Rover Velar also uses a hybrid powertrain. Land Rover has plans to introduce six battery-electric models by 2026 but will retain some ICE models in its lineup before going fully electric in 2036.
Lotus
Recently returning to the NZ market, Lotus is a brand serious about going electric starting with the Evija hypercar, Lotus plans to have a full range of electric vehicles like the upcoming Eletre SUV, the Type 133 – a sporty four-door coupe aimed at the Porsche Taycan and Audi e-tron GT, Type 134 a smaller, more affordable SUV and finally the Type 135 an all-new electric Elise replacement.
McLaren
Kicking off with the hybrid Artura, McLaren will be developing more hybrid sports cars and possibly even an SUV featuring electrification.
Maserati
Maserati is aiming to have electric versions of all its models by 2025 and is expected to shift to selling purely EVs by 2030. The next-generation GranTurismo will be fully electric as will Levante. The mid-sized electric SUV Grecale Folgore is due in 2024. Maserati currently offers both the Ghibli and Levante in a hybrid configuration.
Mitsubishi
The Nissan-Renault-Mitsubishi alliance plans to debut 35 EVs by 2030, so expect a big refresh for the ageing Mitsubishi model lineup. At present, Mitsubishi offers only the Eclipse Cross PHEV and Outlander PHEV.
Ram
Ram has teased its RAM 1500 EV in the US but there is no word yet on whether it will make its way Down Under. Ram is also planning a smaller electric ute to rival the Ford Ranger.
Renault
Renault pulled the electric Zoe from sale locally owing to dubious ANCAP crash-test scores. (No great loss we say, it was way too expensive) leaving only the Kangoo EV Van. In Europe, Renault is a sales leader in the EV segment with vehicles like the Twingo Z.E, Mégane E-Tech Electric, and Renault Twizy. The oh-so-tasty Renault R5 E concept car is due to reach the market in 2025. Colour us excited.
Rolls Royce
Due at the end of 2023, Spectre will be the brand's first EV as it transitions to an all-electric lineup by 2030. The new car is currently undergoing real-world testing but has yet to be seen sans camouflage. Photos from Rolls suggest the car will take on a coupe form, not unlike the Wraith.
Seat
Overseas Seat offers the Leon PHEV and the BEV Mii but the Spanish brand currently has no fully electric vehicles. More focus is being given to the performance-orientated brand Cupra at present. However, Seat is rumoured to be planning an urban eSUV for 2025.
Skoda
Skoda offers a few PHEVs like the Superb iV and Octavia iV RS, but its electric Enyaq iV is slated to arrive here next year. Skoda is planning to have a further six EVs on sale by 2025 as well as four additional plug-in hybrids.
SsangYong
The Korean manufacturer has plans for five EVs by 2025, kicking off with an electric version of the Korando E-motion. SsangYong has teased early sketches of an electric SUV codenamed J100 but is also planning a compact SUV.
Subaru
Subaru has the Solterra a mid-sized SUV co-developed with Toyota which goes on sale here in early 2023. The range will consist of two models, both AWD, one of which will come in under the $80,000 cap allowing it to qualify for the full clean car discount. Interested? Sign up for updates through the Subaru website.
Suzuki
With their fuel-efficient range, there hasn't been much pressure for Suzuki to develop electric vehicles. However, Suzuki has confirmed that they will release their first EV by 2025. This model will likely be developed in conjunction with Toyota.
Toyota
Toyota has been at the forefront when it comes to hybrid vehicles, but is seemingly a little slow in developing EVs. Their current range offers many hybrids but nothing fully electric. This is all set to change as Toyota is dropping US$17 billion on EV development with 30 vehicles planned for introduction over the next eight years. The EV range kicks off with the catchily named bZ4X SUV which was developed on the e-TNGA platform in conjunction with Subaru. Toyota has also registered nine other tongue-twisting nameplates, such as bZ1X, bZ2, bZ2X, bZ3, etc etc.