Not all EVs need to break the sound barrier or be capable of intercontinental travel. We sample an EV with a difference, the loveable Honda e.
While we have a varied new car market here, some offerings simply aren't available to us. Like Honda's cutest car ever, the e. While Honda NZ says it's keen on the vehicle, it's currently not available outside of Japan and Europe. It's those markets for which the e was primarily designed, and supply is limited. Due to the relative freedom of trade here, the e has made it south as a grey import however.
The thing to grasp with the Honda e is its market position. It's purposefully petite for big city living (being just 3894mm long and 1752mm wide) but it's pitched as a 'small premium' and therefore it's pricey. And yet it's not an EV with a mega range or pants-soiling acceleration.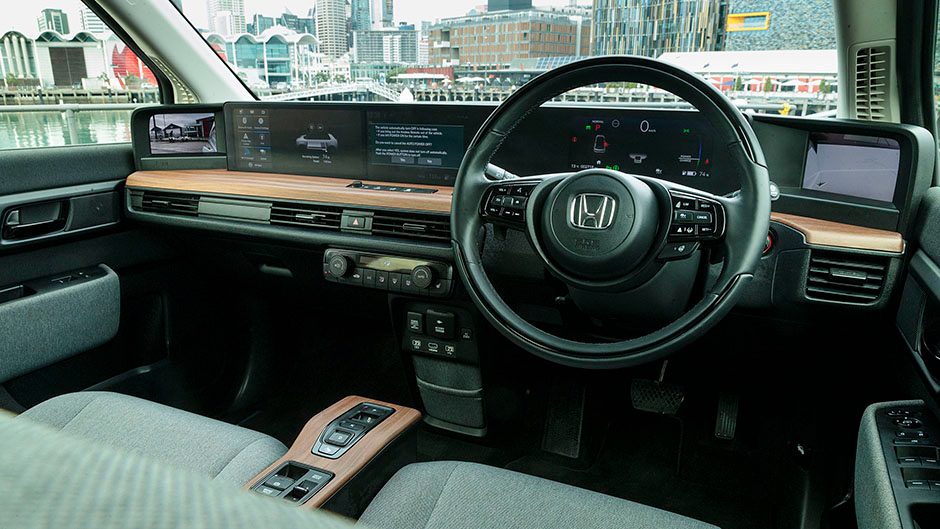 Instead of adapting an existing model like the Jazz for pure electric drive, Honda has instead developed a new and unique platform for e, which adds cost. It's an all-steel design with the battery under the floor and a motor at the rear. Suspension is via Mac struts at each corner and it has a unique weight split for a small car (49/51 front to rear), though it treads on the scales like a CR-V at 1530kg.
The Honda e comes in two guises, a base model and the Advance, this car here being the latter. Both get a 35.5kWh battery (28.5kWh usable) with a WLTP rated range of 222km. We only had the wee e for 48 hours so can't give you the definitive on range, but it can vary. Some websites state a worst case scenario (cold weather highway driving) of 120km with a best of as much as 250km in warm weather city traffic. So something around the 170km mark seems likely, for city use at least. Our 15km drive to work along urban routes hardly nudged the meter measuring battery life; as always these EVs are optimised for stop and start urban trawling.
Charging speeds range from over 14hrs on a 10A three-pin plug to 42mins (10-80 per cent) on a 50kW CCS charger. On the 50kW zapper, the battery rose from 29 per cent to 84 in just under 30 minutes, soaking up 15.6kW/h.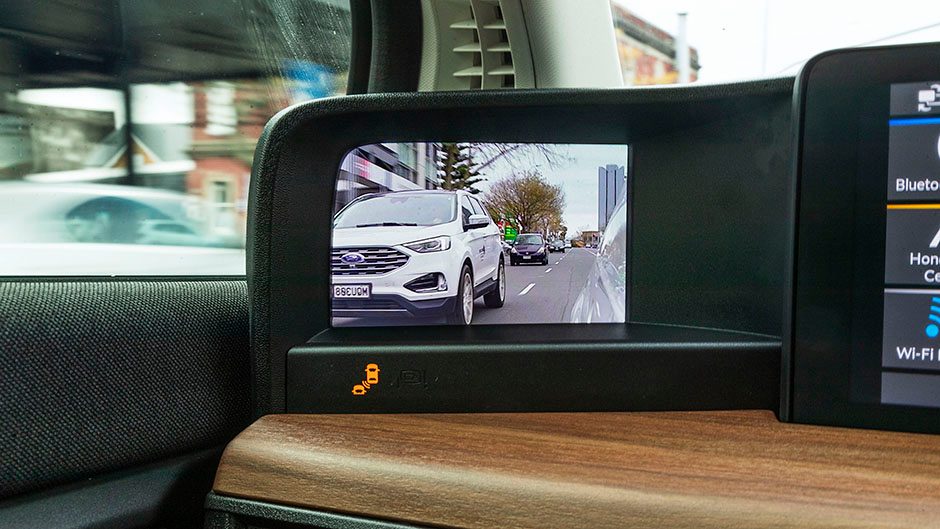 Along with a few more goodies like a heated screen, digital mirrors, a heated wheel, bigger alloys and self parking, the Advance also gains a more powerful 113kW motor with 315Nm of torque, and we clocked the 0-100km/h run at 8.25sec.
The powertrain is typical of the electric breed, smooth and torquey right off the mark. It's not a neck snapper but isn't sluggish either. The rear-drive layout banishes torque steer and wheelspin from the get go, and allows for a killer turning circle (8.6m) that only a fork hoist could better. The regen is minimal, though flapping the paddles will add more resistance. There's also a one-pedal drive mode for that full-on regen effect, though such driving requires a tuned right foot and a vigilant eye on the flow of traffic to keep progress smooth.
While primarily an urbanaut, this does the business out on faster roads too. It's well balanced with the weight low and while it's not particularly strict on the roll, it holds on in the bends thanks to Michelin Pilot Sport rubber at each corner. Directional changes are sweet too. The steering assistance is well tuned and it turns dutifully. It rides most bumps compliantly, soaking up the dips without the waft. Even the brakes work well, without the usual snatchiness of an electric pedal.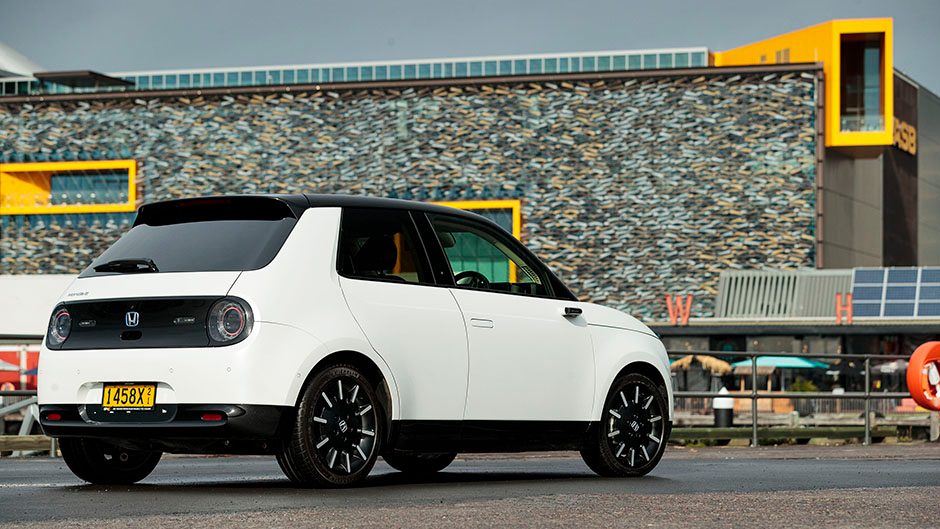 Most onlookers seemed enamoured by the styling, the e gaining more fingers pointed in amazement than your average supercar. To go with the cutesy robotic appearance are neat features like the concealed handles and camera mirrors.
The interior is just as interesting. The seats are clad in an on-trend grey textile which also covers the doors. There's a mix of Honda goodness in the build, though there are a few hard plastics too. The dash design with its vents and wood trim is reminiscent of the dear old Civic, though the pillar-to-pillar ensemble of screens isn't. Those who struggle with touchscreens aren't going to like the e, which has not one but two of them. The instruments are digital too, showing the EV essentials while the two main screens take care of the rest. It would likely take a day to work it all out, or you could leave it to the passenger. You get used to the camera mirrors, the screens being well sighted and these aren't affected by glare. It's the same for the rear view monitor. Also present are Honda's safety sensing features.
There are just two seatbelts in the rear and leg room is at a premium for adults. The boot space is tiny (171L), compromised by the motor in the back layout and there's no frunk either as that's where the power inverter and other electric gubbins live. The rear seat folds as one, like the old Civic's, and lowering this sees five times more load space at 860L.
GVI in Auckland has this e with 3000km on the clock at $63,880 plus on roads, though it's eligible for the $3450 EV rebate. It comes with a three-year warranty on the battery and mechanicals, and a public AC charge cable and three-pin plug as well. While it's a perfectly formed city car, it's small, expensive and its limited range will ultimately limit appeal here. So while it's not a head purchase, your heart may suggest otherwise if you've fallen for its cutesy shape.
| | |
| --- | --- |
| Model | Honda e |
| Price | $63,880 |
| Motor | single, 113kW/315Nm |
| Battery | 35.5kWh (28.5kWh net) |
| Drivetrain | single-speed, RWD |
| Energy Use | 16.8kWh/100km |
| C02 Output | 0g/km |
| 0-100km/h | 8.25sec |
| Weight | 1531kg |