Viva la electric life! Excuse our appalling French, another subject we failed at school, but those wanting electric drive with their helping of Citroen styling and comfort can now satisfy that urge with the new e-C4. Are there any caveats?
Citroen says it can trace the lineage of its compact cars right the way back to 1928 when the first C4 rolled out of the factory. Much has changed in the ensuing 90-odd years, Citroens sharing their underpinnings with Peugeot, and now also Vauxhall and Opel in Europe. Part of the sharing strategy sees them offer both petrol and electric versions of their latest compact models.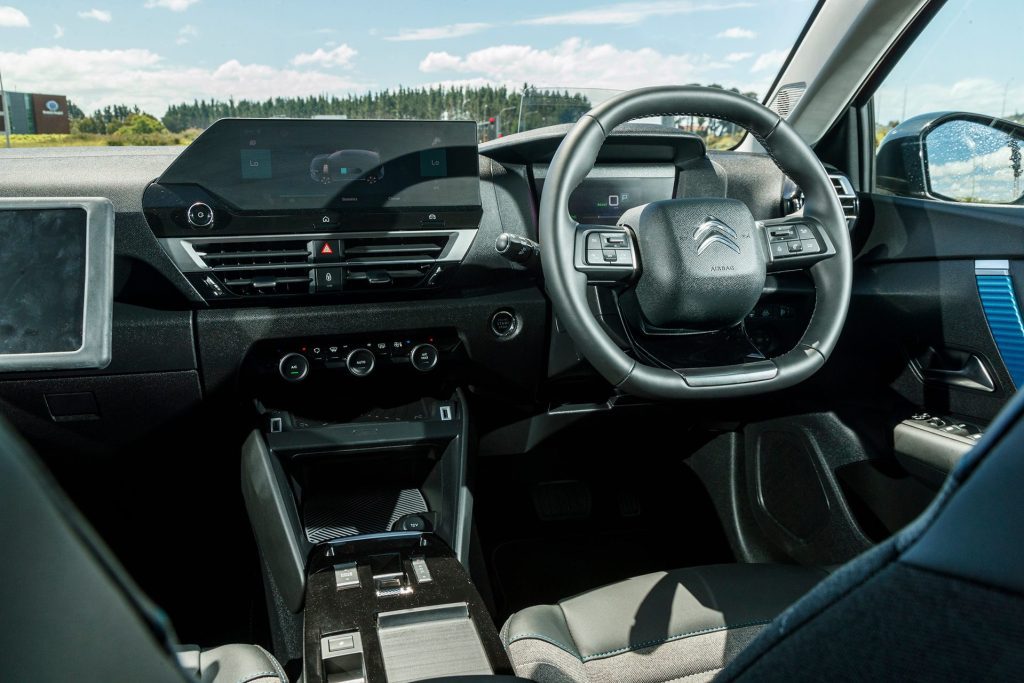 While Peugeot has landed its e-2008 here, its Citroen cousin, the e-C4 is still months away from reaching Aotearoa officially. This leaves room for the grey importers to lure the keen early adopters with cars sourced from the UK. Such an example is this e-C4, from GVI in Auckland. In Shine specification, this was listed at $69,880, less than what the e-2008 costs new here. However, being first registered overseas, it's only eligible for the $3450 Clean Car rebate. That said, it's hardly used, having all but delivery kays on its clock. Still, this is almost double the price of the regular C4. That's unfortunate as the electric powertrain marries sweetly with the C4's core philosophy which doubles down on comfort and refinement. 
There's only one powertrain for the e-C4 with a 50kWh (45kWh net) battery and a 100kW/260Nm motor, the latter mounted under the bonnet, turning the front wheels. A WLTP range of 350km is the claim, though real world figures could vary from 200km in cold weather right up to 370km or more in slow-churning city running. At a 100kW charger, you'd get about 10km of range a minute, they say, with a charge from 10 to 80 per cent in 30 minutes. We gave it a quick top up at the 50kW freebie juicer, the battery rising from 18 to 47 per cent in 20 mins, adding just under 100 kays of range. Owners should install a wallbox at home, where the majority of your charging should take place. Hooked to a 32A box, it can be fully juiced in 7.5 hours. Charging using a three-pin plug (charge cable supplied) is described by Citroen as 'possible' but would take the best part of a day to get done.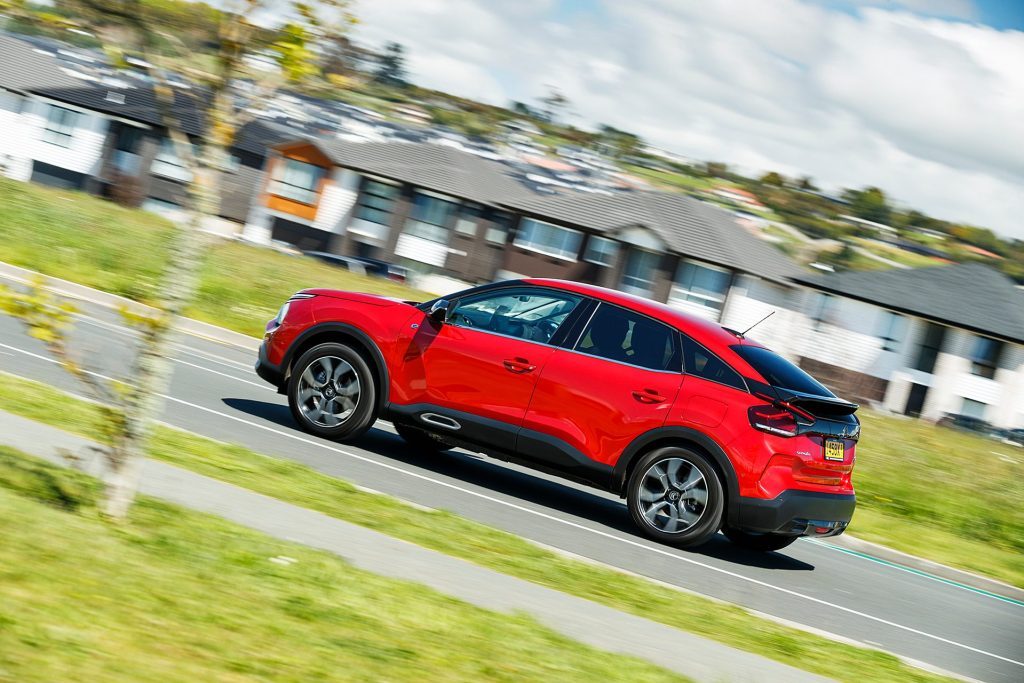 Part of the comfort philosophy is keeping things straightforward in terms of the drive. There aren't too many things to play around with. In D there's just a touch of the braking regen when you lift off the go pedal, while B mode (a button press away) adds more force, but not enough for true one-pedal driving. There are three drive modes – Sport, Normal and Eco – but you'll likely keep to the default intermediate setting. Apparently you only get the full 260Nm in Sport mode, and there is a noticeable hike in the oomph offered, but then power use also increases. Eco you'd employ only if your range anxiety was peaking. 
This delivers genuinely unfussed urge for urban ramblings, with no transmission delay or turbo lag to sully things. It gets up to 100km/h at a reasonable clip (9.7sec vs 8.7 for gas power) though the zoom does button off once up to the legal limit. The brake pedal is a tad sensitive; you need to tread thoughtfully or the process can be jerky as it transitions from motor regen to mechanical braking.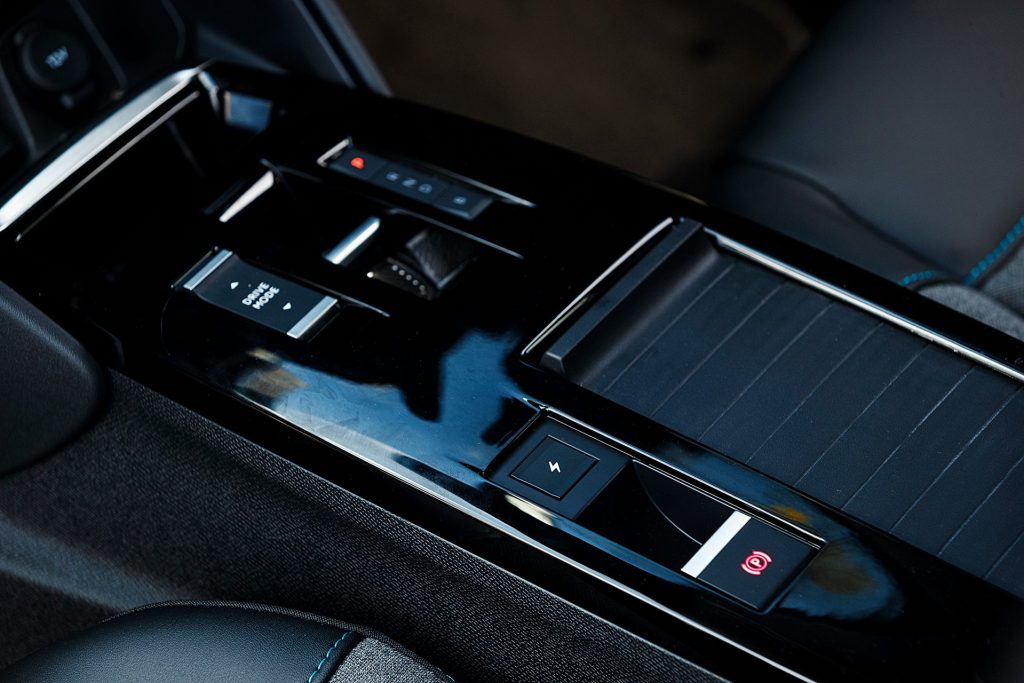 The ride is decent – it's a Citroen – so this aspect is almost assured. And the steering is light and breezy, good for city driving and parking (so too the turning circle), but not so helpful in the curves where it lacks sensation. No biggie really, as the C4 is all about the comfort, man. The extra weight of the batteries is carried low, giving it a grounded feel but, much like the regular C4, understeer isn't too hard to find when it's biffed at a bend. While the 'comfort' suspension isn't so worried about suppressing the roll, it's fairly adept at mopping up the bumps, doing so quietly. This, if you hadn't picked it, is one for those who prefer dignified progress. And the relative quiet and refinement of the electric propulsion suit the C4 well.   
The e-C4 is otherwise just like its more gaseous petrol-powered sib. It's right-sized for city life, and those who only occasionally fill the back seat. And it's a fairly spunky looking thing, a Citroen that's interesting without being weird. We also like how nothing screams EV, no faux grille or aero wheels, just an 'e' on the front guard.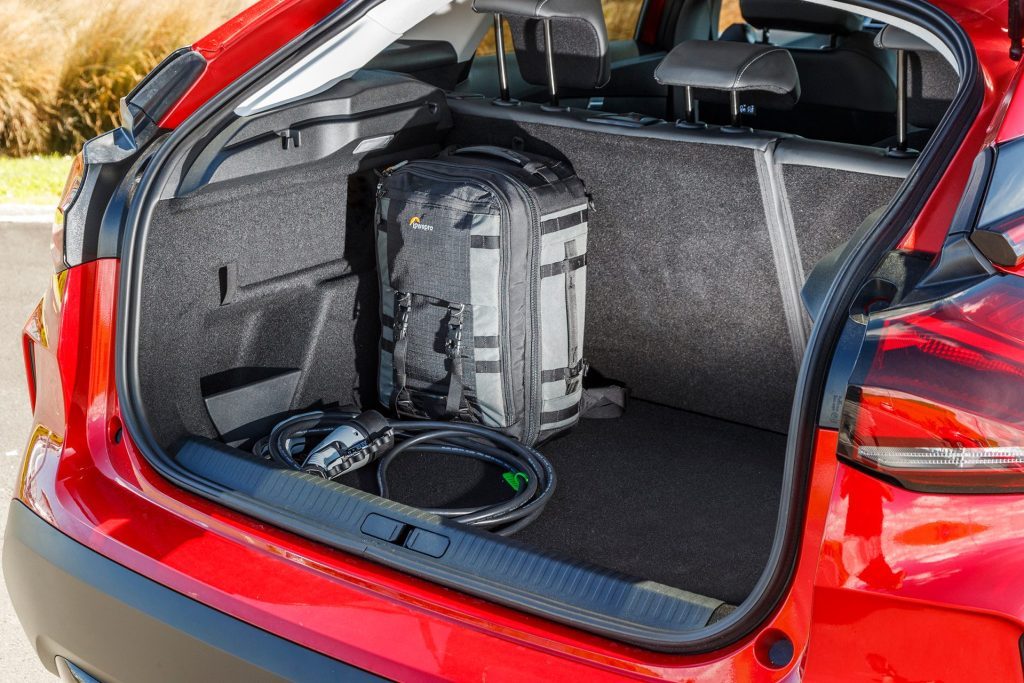 The seats have the comfort label attached to them also, and aren't too shabby either, with ample padding and a distinct lack of bolstering. There are just enough soft points about but also a fair amount of hard plastics and old switches that date back decades. You can change the view of the digi dials to give you ample drive info or reduce everything to just a speed readout. 
There is useful cabin storage here, not a usual trait in a Citroen, and this one comes with a tablet holder on the dash. Your teenager will get it. There's also a natty little drawer below to store the device out of sight. The glovebox on RHD cars is still half-size due to the fuse box in behind, but otherwise this has decent cupholders, a conveniently located charge pad and a cubby at the base of the centre stack with another secret hidey hole beneath. The French are either security conscious or a dishonest bunch. The features list includes crash avoidance systems, radar cruise, a handy reversing camera and parking sensors.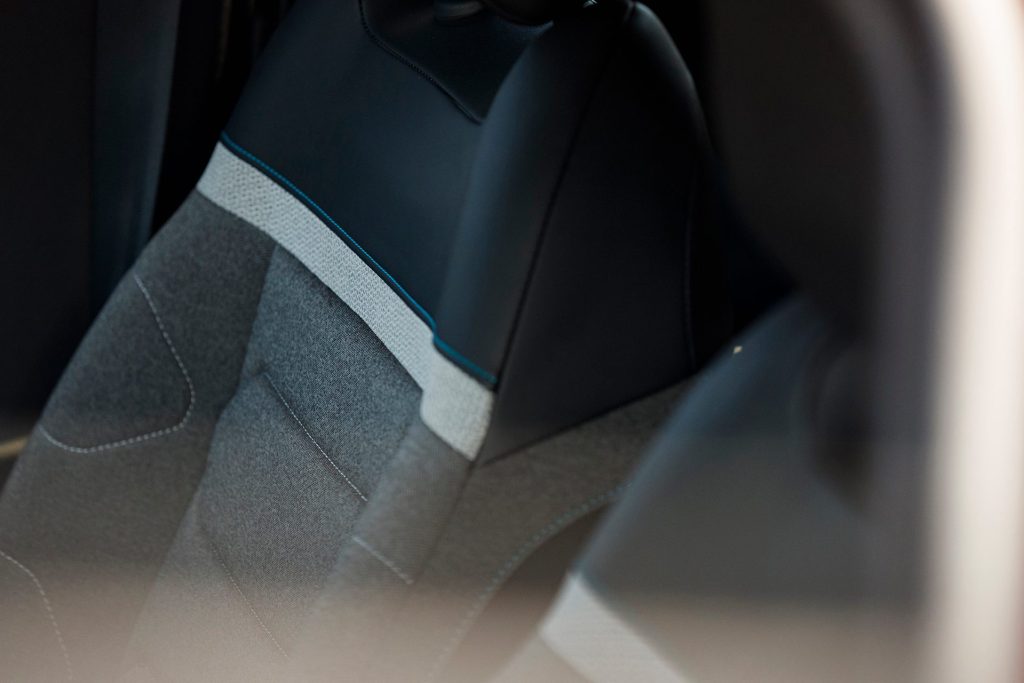 Sliding into the rear, the opening is tight so watch your perm on that sloping roofline, but once in your curls have room to breathe, while the seat is, you guessed it, comfy, and the leg room acceptable. The boot has a decent opening and a dual-level floor. Lower it for maximum space (380L) and then raise it for a flat load area when you fold the seat (1250L).
The added refinement and easy torque of the electric powertrain certainly suit the overall persona of the C4 better than the petrol-burning version.
The big question is whether you can wear the premium.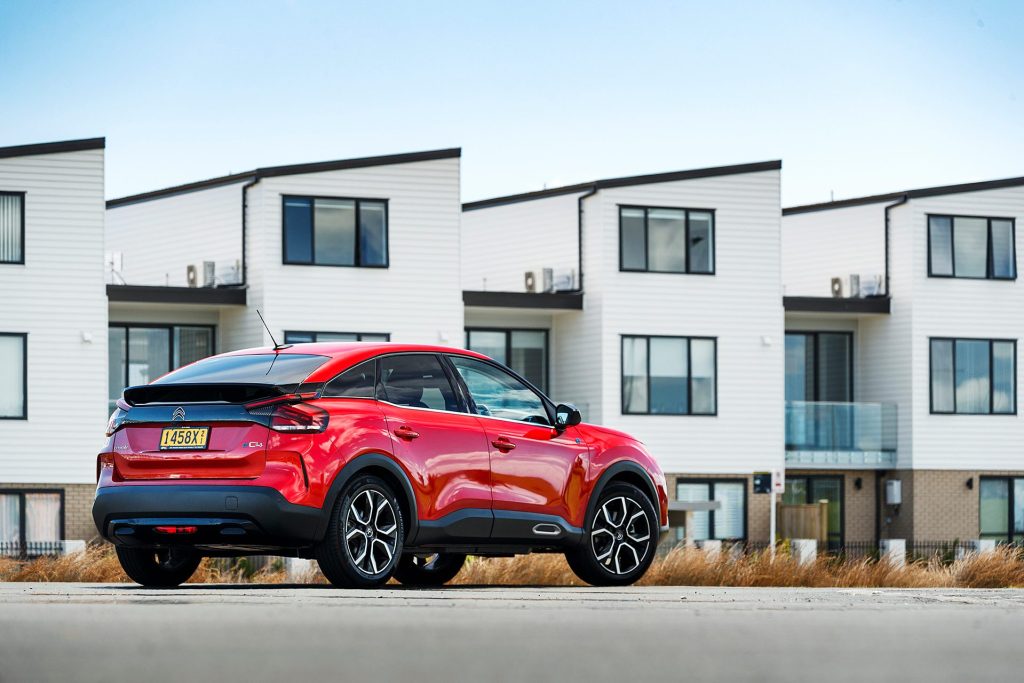 | | |
| --- | --- |
| Model | Citroen e-C4 Shine |
| Price | $69,880 |
| Motor | single, 100kW/260Nm |
| Battery | 50kWh (45kWh net) |
| Range | 350km (WLTP) |
| Drivetrain | single-speed auto, FWD |
| Energy Use | 12.9kWh/100km |
| C02 Output | 0g/km |
| 0-100km/h | 9.70sec |
| Weight | 1650kg (claimed) |