The first EV from Mazda was always going to be different, but is it different-better? We spend a week getting acquainted with the ultra-quiet MX-30.
Mazda has been conservative about the transition to an electric future, preferring to max out ICE efficiency before taking the plunge. Fair enough, given battery technology is arguably not quite yet where it needs to be. On the other hand, the company had to succumb to avoid missing out on the headlong rush to (tailpipe) emissions-free motoring. Moreover, it has plenty of other irons in the environmental fire being an early pioneer in biofuels, and locally it is busy planting trees (on behalf of purchasers) to help capture some carbon.
And so when its first EV was announced, it came as little surprise that it was light on weight, battery capacity and range. By launching with a compact urban electric crossover, the company claims that its EV is more environmentally acceptable, using less electricity (and therefore carbon) to make (specifically the energy-intensive battery pack). Therefore, it compensates with reduced lifetime CO2 production, overtaking an ICE powered vehicle within a few years of ownership, the company claims. Keeping the battery pack smaller not only makes environmental and fiscal sense but it also keeps overall weight down for better dynamics. The downside is that range is limited – around 200-225km – but that's more than sufficient for day-to-day urban use. And a smaller battery pack also charges more quickly. We visited the local 50kW fast charger on a couple of occasions, and it took half an hour to replenish the 'tank' from 20 to 80 per cent.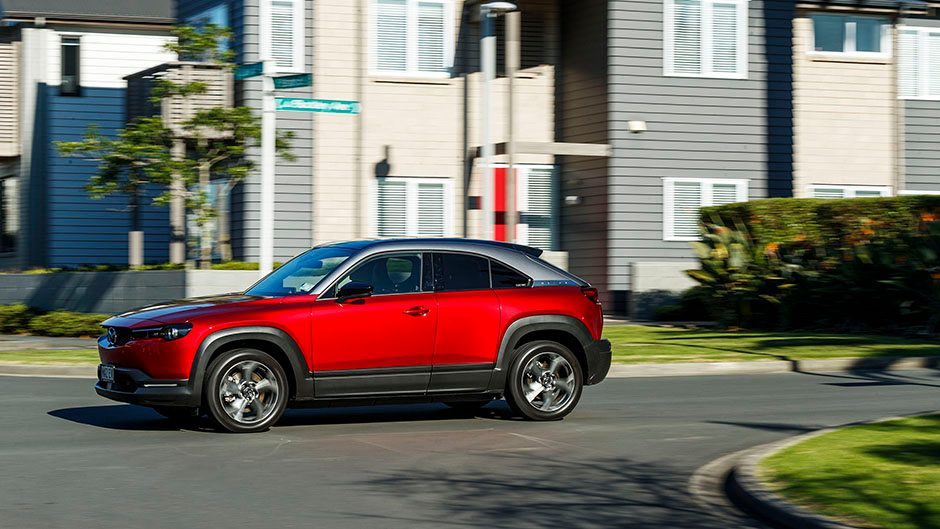 Lighter overall weight also means energy usage is more moderate. During the week, the figure ranged from a low of 12kWh/100km to a high of just over 20 (cruising at 100km/h). The average is supposedly 18.5kWh/100km. We reckon you could extract 250km of urban travel easily enough, with multiple regeneration opportunities, and lower speeds and wind resistance, falling to around 150km when you're out on a rural run. Keeping open road speed to 80km/h or less can pay big range dividends in an EV, providing you can keep out of everyone's way.
Essentially then, this is an urban EV that can manage the odd out-of-town sortie, providing you know where the charge points are en route. The sat nav can help you with that.
Given most people only travel around 30km daily getting to work and back, a range of around 200-250km seems right-sized for urban use. Putting aside the issue of limited range (which may not be an issue at all for urbanites), what's the MX-30 like to live with? On the whole, rather brilliant, especially if you're the paranoid type. It self-locks within a few seconds of shutting the door, providing you have the key pocketed, bleeping to confirm as much. Entry is SUV easy, a mere sidle across to the leather and textile bucket, push the 'power' button, the screen lights up and you're good to go, providing you've remembered to plug in the night before.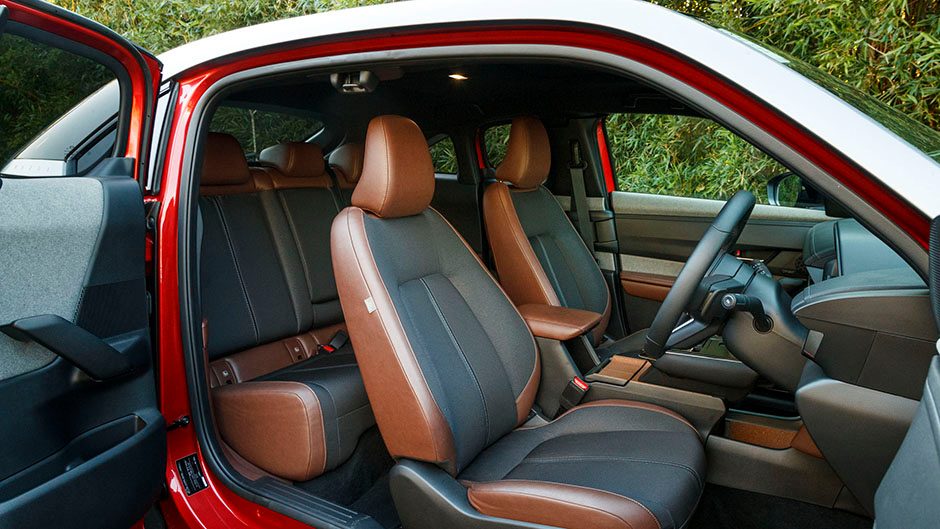 The interior hints of green design, with vegan leather trim, cork coverings for the drink holders and door handle inners, a nice link back to the origins of the company, and textiles made from recycled bottles on the dash and door cards.
As to the exterior, it's 4395mm long by 1795mm wide and 1555mm tall, with luggage capacity of 341-1146L, accessed by a manual fifth door. That makes it virtually the same size as the CX-30 (so midway between CX-3 and CX-5) only it's a different shape, more coupe-like because of its rearward-opening ('freestyle') passenger doors, like RX-8. Despite having no B pillar, they say it actually ends up being more rigid, though rearward visibility isn't flash. Entry is facilitated by the front seats moving forwards and, despite the fitting of a sunroof, there's still decent headroom in the rear, at least for the outermost occupants. Leg room isn't startling, however.
Beneath the superstructure, it's CX-3 based, though it also shares some parts with Mazda3. A tacho isn't one of them; instead there's a power meter that also shows how much regeneration is going on.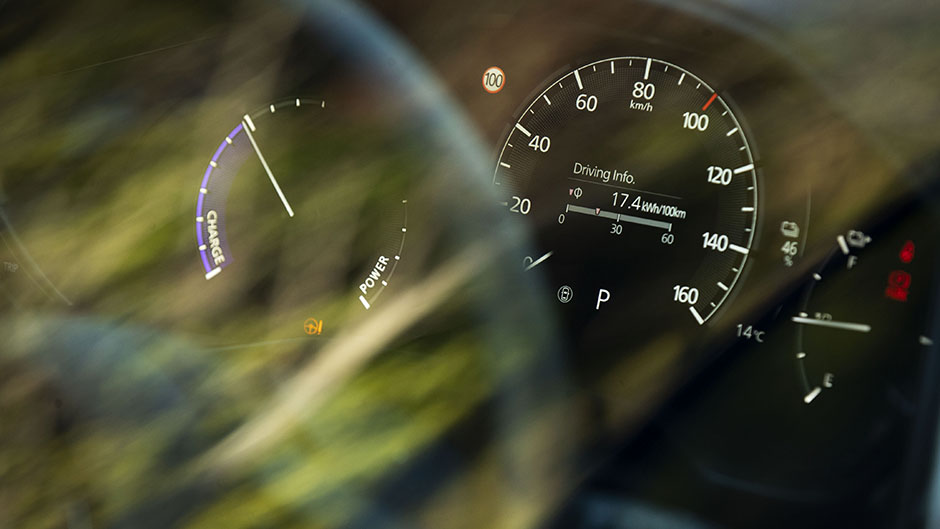 Weight saving was clearly a goal with this vehicle, and the front-driver scales up at 1674kg, which is roughly 130kg more than the various AWD CX-30 models available here. But it has better weight distribution, at 55/45 compared with the ICE powered models that are all 60/40. Look under the surprisingly solid bonnet and you'll see why; there's a motor down low, and electrical gubbins like inverters and converters, but there's also lots of unused real estate.
That motor is an e-Skyactiv unit, good for 107kW/271Nm, and performance you'd describe as average for a vehicle this size, with a claimed 0-100 time of 9.7sec. Mazda wanted its first EV to be like a conventional vehicle to drive. Of course it's far from that, being vastly quieter, with next to no motor noise and no gear changes. But it doesn't take off with a hiss and a roar, like most modern EVs seem to. Rather, the torque is managed so you get underway just like in a normal car. There's even a grille, admittedly small, and it's not blocked off like with most EVs.
To command, this is instinctive, or 'human-centric' as Mazda describes it. Stepping inside the cabin, it's next-level simplistic. You want reverse gear? Push the lever left, done. The infotainment system is equally instinctive, aided by a simple rotary controller atop the floating centre console.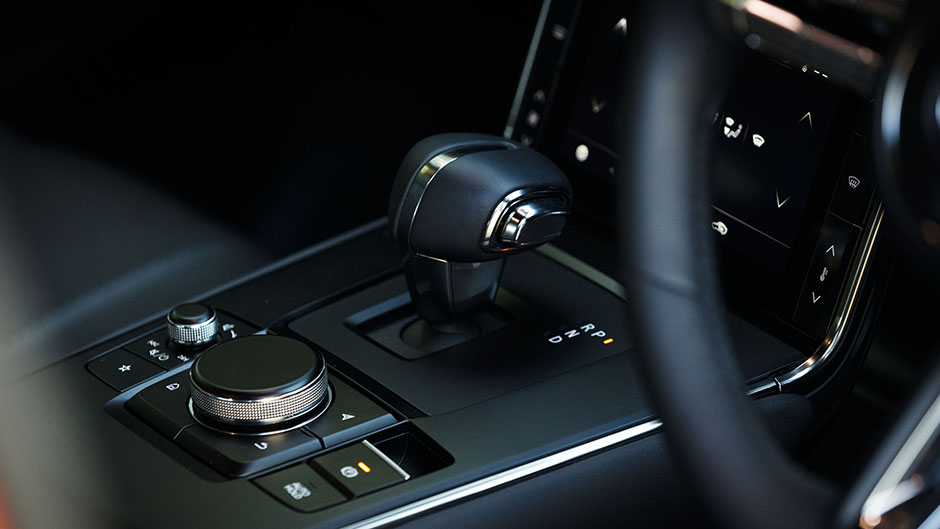 As a drive, it's typically Mazda competent; think car-like as in Mazda3, only there's more suspension travel and compliance. It flows down the road precisely, smoothly, in part because of electric G-Vectoring Control Plus, a system that optimises front-rear load shifts and makes steering feel more natural. All the while there are ridiculously low in-cabin dB readings. On smooth surfaces, SPLs in the late 50s are typical, over rougher surfaces late 60s and early 70s. It's never loud.
If it sometimes feels reluctant to accelerate that's because you'll probably have left it in the top regen mode (of which there are five). Flick the right paddle to coast modes and it takes off more meaningfully, getting to 100 in 9.3sec. So there's enough performance, only use it too much and your range goes out the window. If you've a bach or a boat, this isn't for you because of the limited range and the fact that it isn't rated to tow. Brakes contribute only modestly to regeneration so feel like conventional stoppers, but you'll not need them much, only to pull to a full stop at an intersection. Regen on one-pedal driving does the rest.
With its sticker price of $74,990 MX-30 isn't cheap, though it is a Takami model so comes well equipped with a head-up display incorporating traffic sign recognition, adaptive LED lights, and active cruise control, either with or without lane keeping. There's also a range of potential crashes that auto-braking can avoid, helping it to a recent ANCAP five-star crash assessment.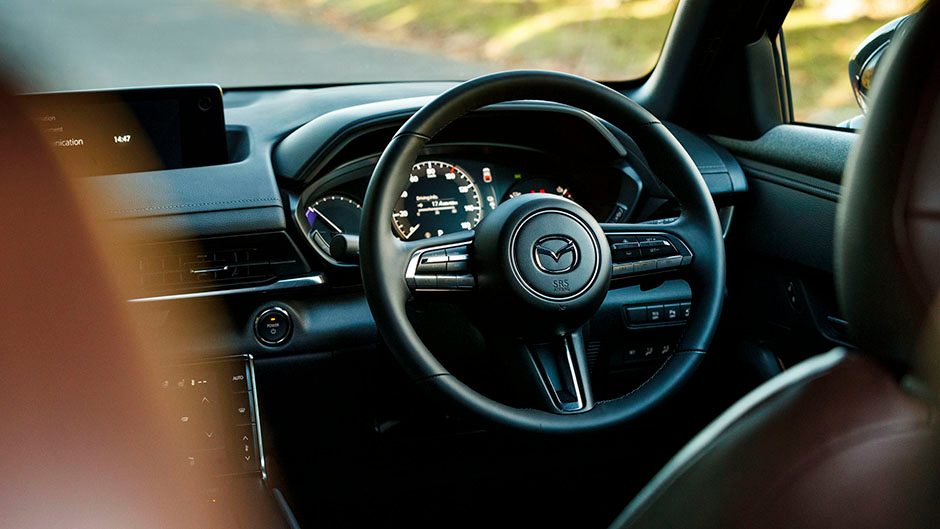 Being a Mazda there's the peace of mind that comes with a five-year warranty and scheduled servicing in that time, and the battery pack has backing of eight-years/160,000km.
As of recently, MX-30 qualifies for the full $8625 clean car rebate, making the ask $66,275. On top of that, for a limited time, buyers will be gifted an AC Wallbox Pulsar Plus charger that replenishes the battery from 20-80 per cent in three hours. Plus, Mazda will plant five native trees in your honour.
If you're not ready to take the expensive electric plunge, but like the look, there's a mild hybrid version also offered. This is powered by a 114kW/200Nm IL4, aided by an integrated starter-generator, with mean fuel use of a quoted 6.4L/100km. In Limited specification it's not so very different from the Takami, but the price sure is, at $45,990.
| | |
| --- | --- |
| Model | Mazda MX-30 Takami EV |
| Price | $74,990 |
| Motor | single, 107kW/271Nm |
| Battery | 35.5kWh (30kWh net) |
| Drivetrain | single-speed, FWD |
| Energy use | 18.5kWh/100km |
| C02 Output | 0g/km |
| 0-100km/h | 9.33sec |
| Weight | 1674kg |