Following on from the compact EQA, Mercedes-Benz has added the larger, more practical EQB to its line-up. Is this a better electric fit for those with a family?
The Mercedes-Benz EQB is a bit of a rarity in the EV world in that it offers seven-seat practicality. Well, that is unless you buy the 350 4matic variant, which we've got here, its dual motor set-up robbing the space needed for the extra seats in the boot. But then even if you buy the EQB 250 you end up having to option in the extra seats…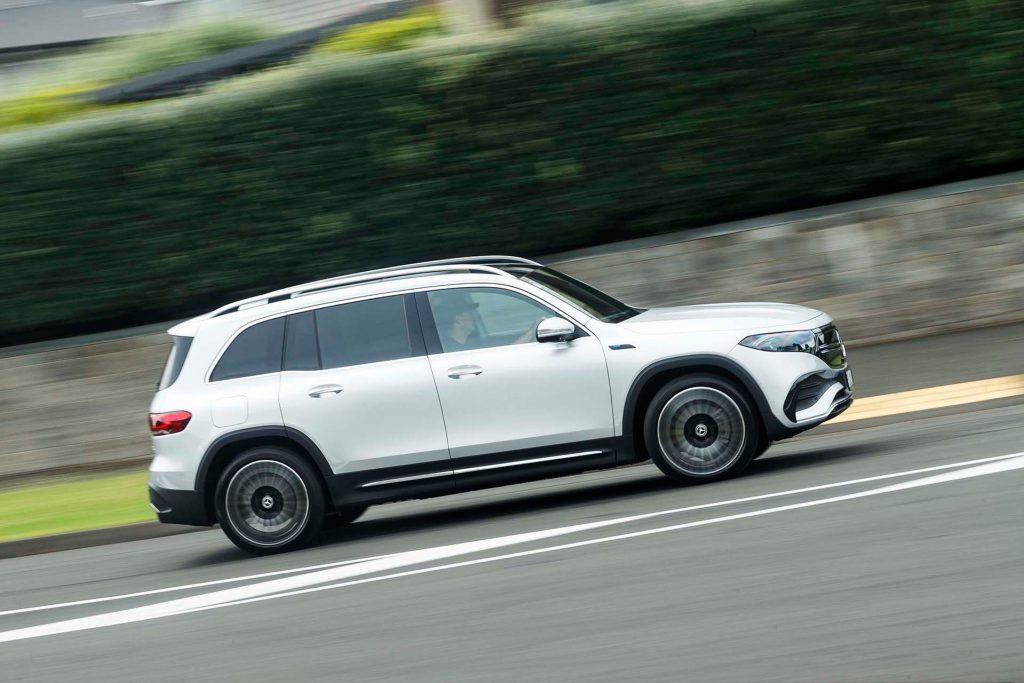 So just what is the Mercedes-Benz EQB?
Well it's essentially a bigger version of the EQA, its styling taking a more function over form approach which realises added interior space. It's still what they dub a compact offering, being just under 4.7m long, making it around 220mm longer than EQA. With a 100mm increase in wheelbase, there's more rear legroom, and boot space is improved (340 vs 495L) with more usable load length.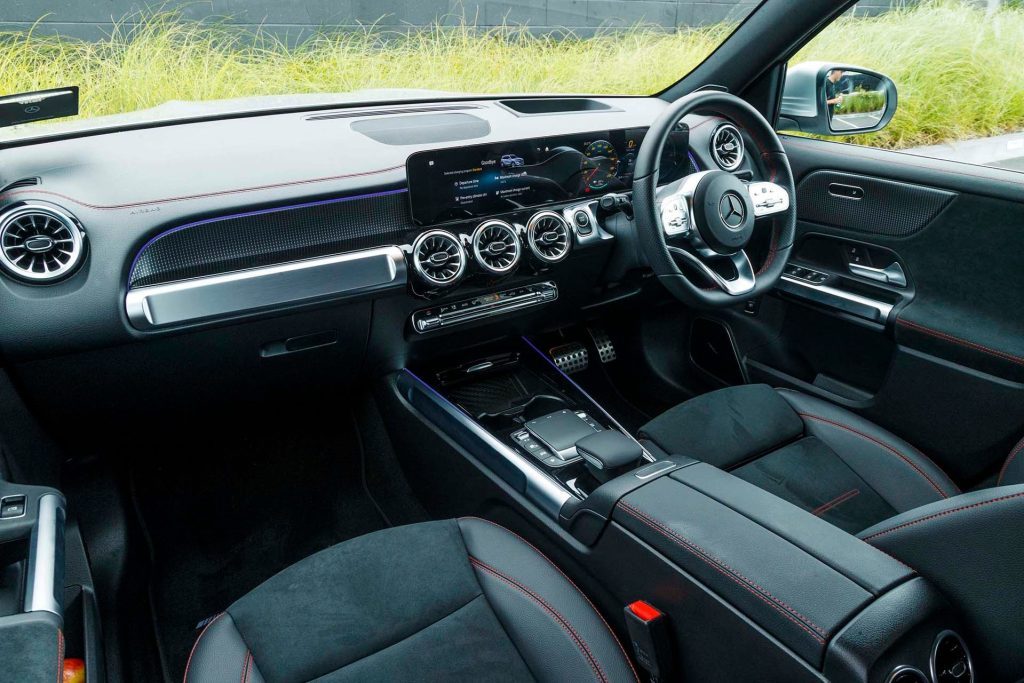 It's more expensive, however; where the Mercedes-Benz EQA 250 starts at $90k, the EQB 250 is $99,900. That model runs a single motor (140kW/385Nm) with a 67kWh battery. Figure on a 0 to 100 time of 8.9 seconds and energy consumption of 16.7kWh/100km, Merc quoting a range of 507km. The 350 4Matic gets a dual motor set-up, giving it 215kW and 520Nm. It uses the same 67kWh battery but does zero to 100 in 6.2 seconds, and its quoted consumption is 18.8kWh/100km (potential range 445km). The 'indicative vehicle price' is $109,900.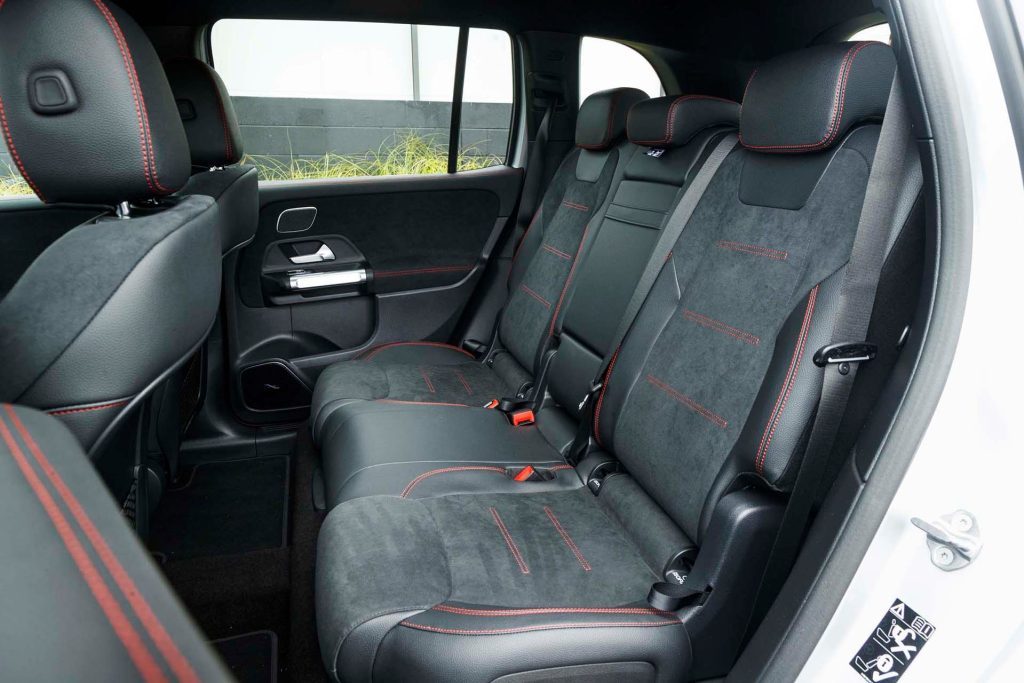 Is the Mercedes-Benz EQB 350 4Matic value for money?
The price is high but so too is the spec, both models coming with the complete driver assistance package, including active cruise with stop and go (thoroughly decent), active lane keeping (occasionally annoying with its stringent/abrupt corrections) and traffic sign recognition. Other bits include a 360-degree camera, self parking, nine air bags and adaptive damping. The MBUX infotainment system adds dual 10-inch screens (vibrant and configurable, the touchscreen quick to respond) along with wireless charging, CarPlay and Android Auto. Phew.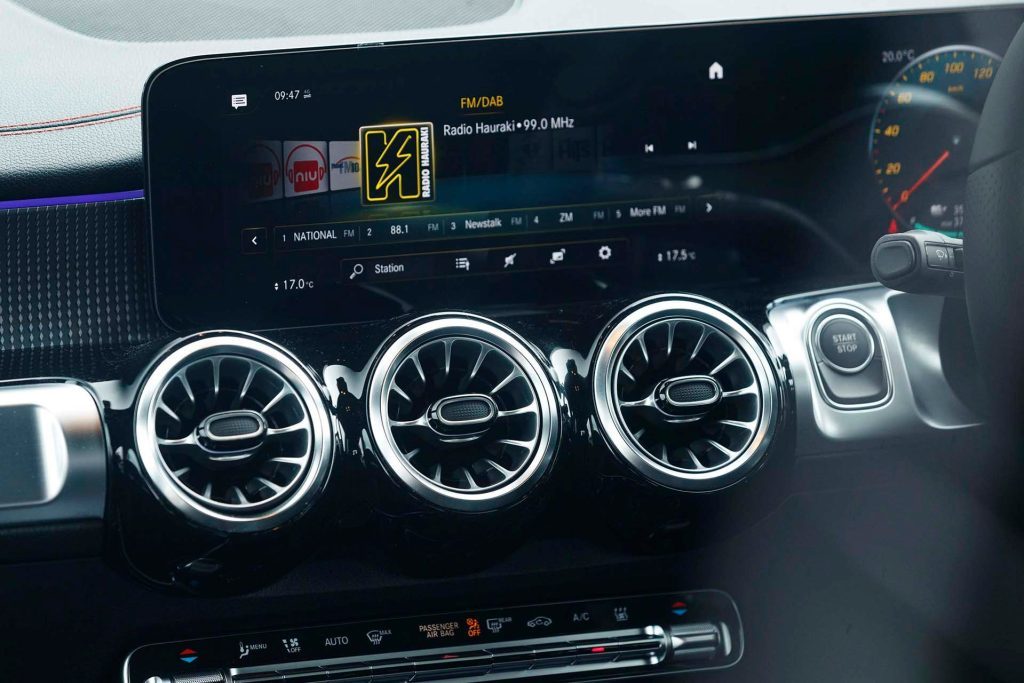 Electrically adjustable seats are a $560 option and for those wanting the third row in the 250, that's an extra $2900. Want to sit on real leather? That'll add $1700. White and black are the only free colours; the others add $1490.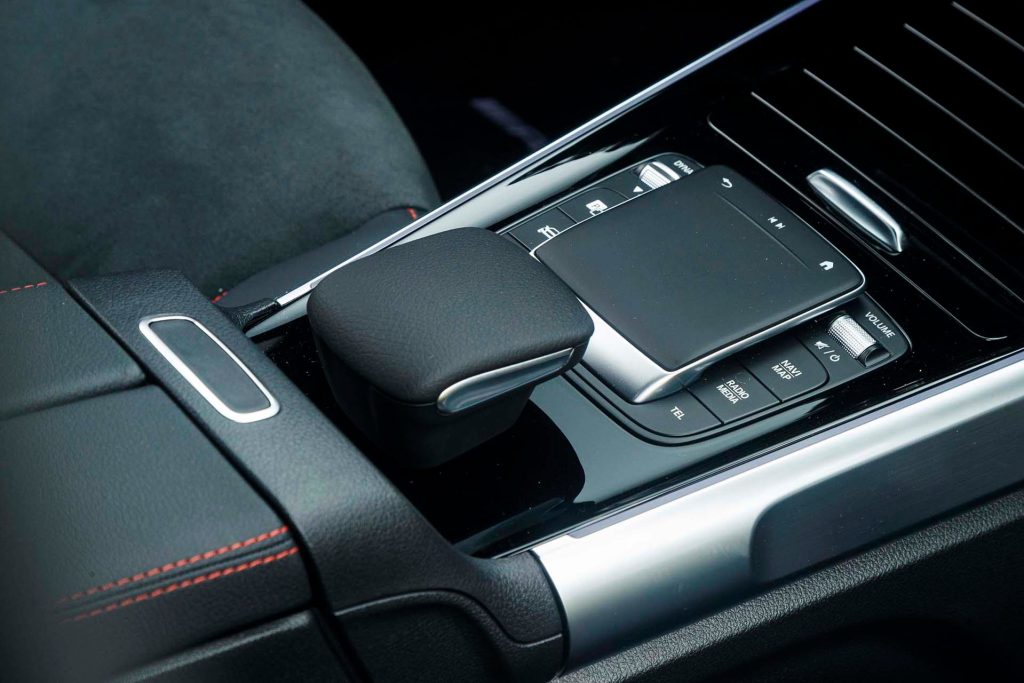 The 350 gets a few extras like 20-inch wheels, AMG styling and sports seats. There are three years of scheduled servicing included and a five-year warranty with unlimited kilometre cover.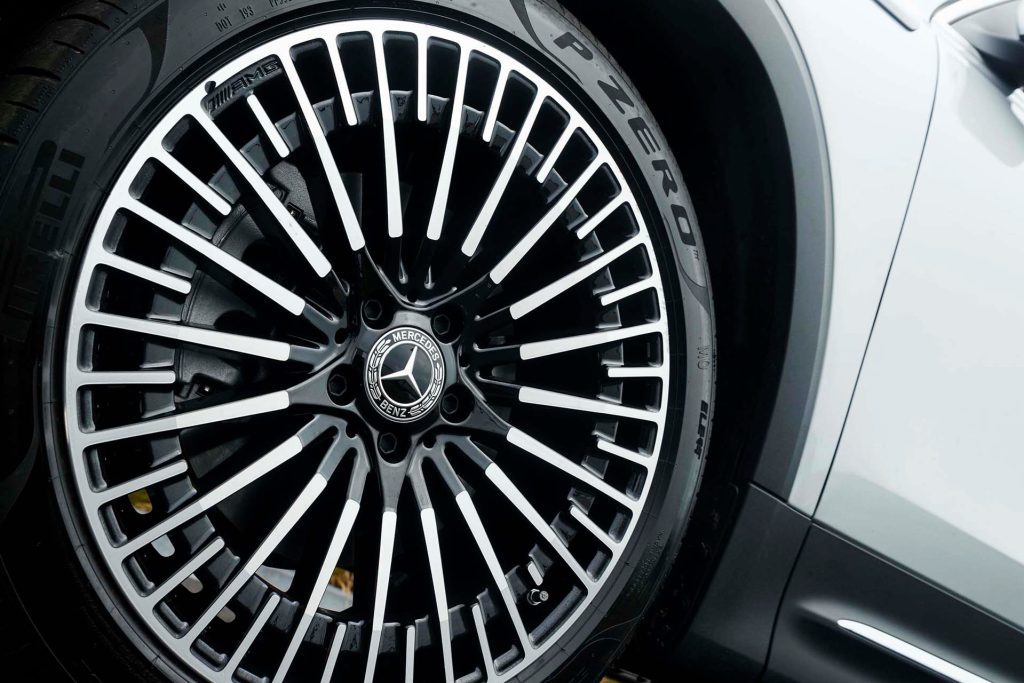 How far will you really get?
While Merc quotes the energy consumption at 18.8kWh/100km, you're likely to experience something around the 20kWh/100km mark (we ended up on 21). So you'll likely get between 350 – 400km on a charge. As to recharging, buy a wall box (to utilise the potential of the 11kW on board charger) and it will be filled from flat in just over seven hours, or so they say. As to DC fast charging, it can handle up to 100kW. Because we have better things to do with our life than wait around at a public charger, we just plugged it in using the supplied three-pin cable every couple of days. At the glacial rate of 1.7kW, it takes the best part of 12 hours to top it back up from 65 per cent.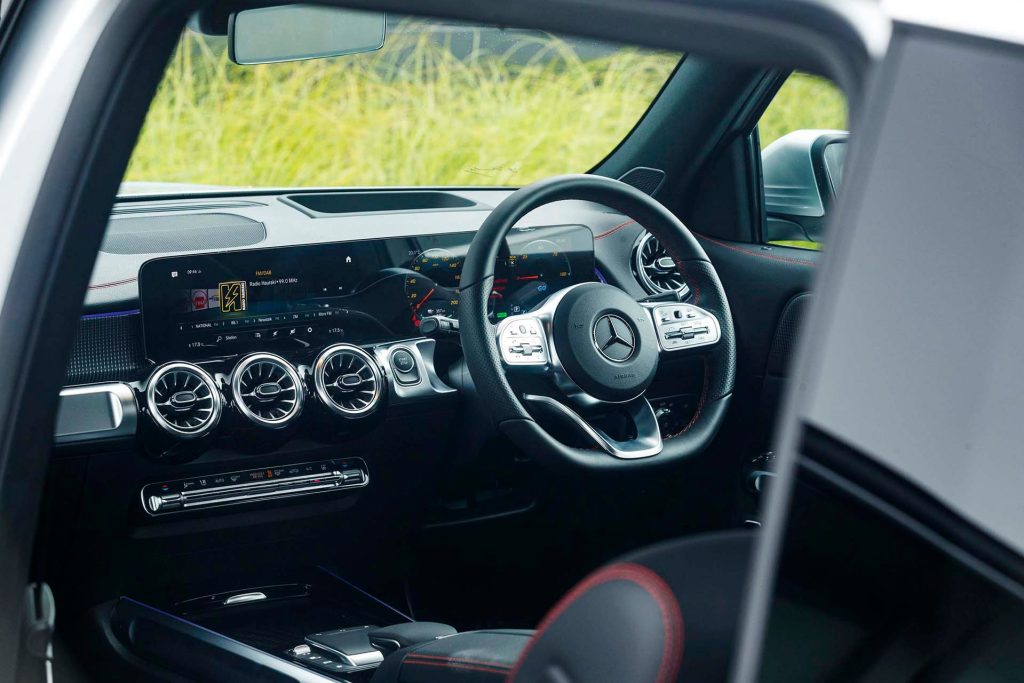 Is the EQB 350 any good to drive?
The regular GLB was quite a surprise, rather composed and competent, and this is much the same, though it gets going in a more sprightly manner. The 350 is for those who like an excess of power; this has more than is strictly necessary for a family conveyance. It's not often you use more than about 25 per cent according to the power meter, but the jolt of acceleration it delivers when you tap its max potential is amusing. This scoots quickly away from a standstill but it's a little hungry in town running with both motors working away and its wide tyres generate a rumble on coarse chip. A base model 250 will be both more efficient and quieter on standard rubber.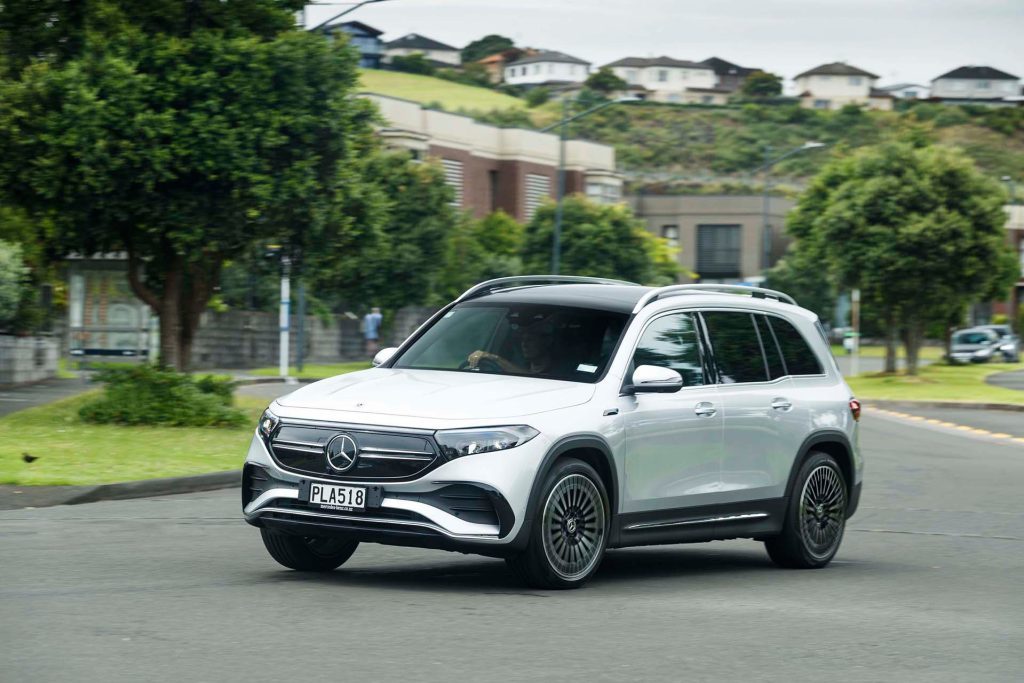 The 350 is an easy going machine with quick steering and a smart surround camera that activates magically when you begin manoeuvring into a park. The gear selector (a column-mounted wand) is a snip to use, and with good all around vision the BEV is a practical commuter. Even the ride around town on its bigger rims is good thanks to the adaptive dampers.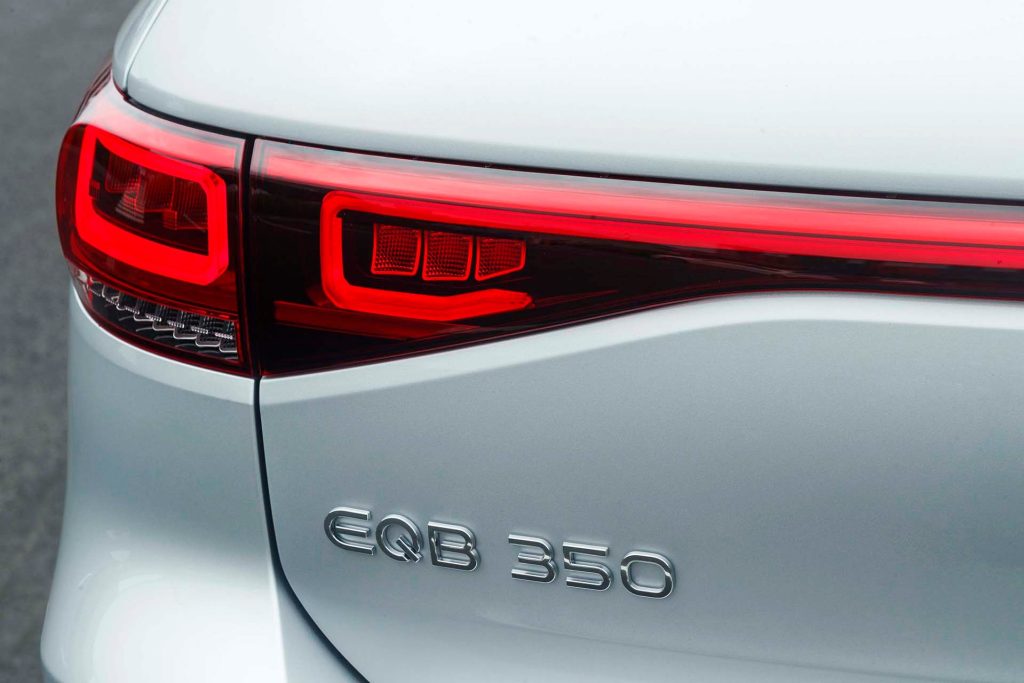 There are three modes of brake regen, activated via the paddles, along with an Auto mode that uses the driver assist sensors to vary the degree of braking accordingly. We couldn't decide which one we liked more but it's good to be able to flick between them.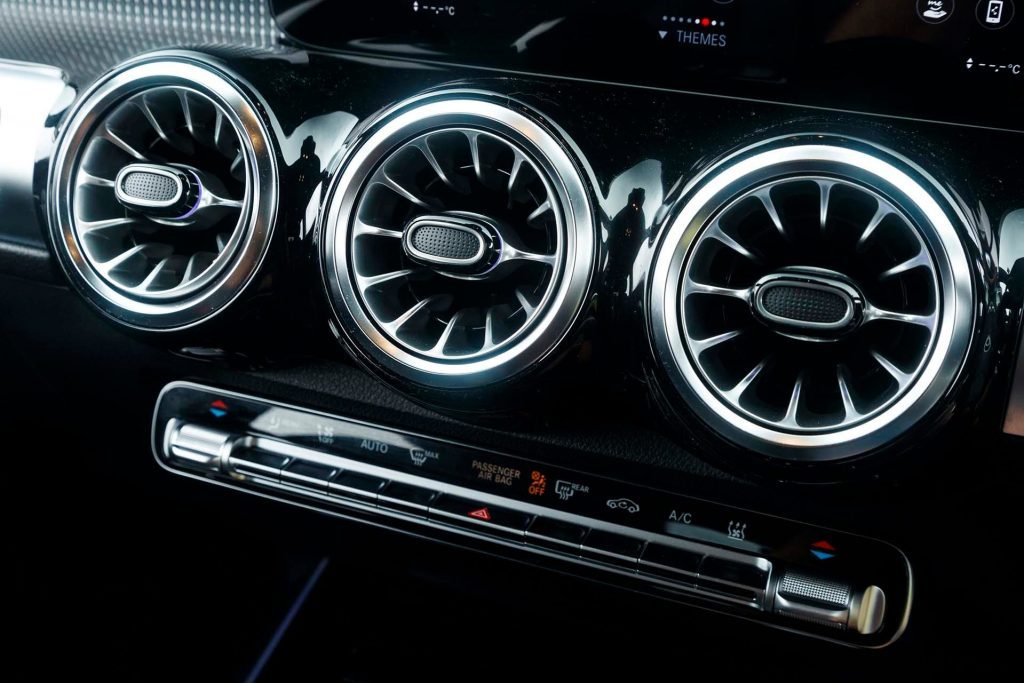 Does the 350 live up to the AMG styling?
The EQB 350 does a decent job on winding roads. Don't expect much from the steering but just enough gets through to help you point it around. The default drive mode is Comfort, and that will do you for 95 per cent of driving (Eco for the other five when range anxiety borders on panic attack). Here, the response is sharp enough while the ride has a better mix of compliance and road holding. It's really not worth suffering the added harshness in Sport mode for the extra control. With all the wheels driving, it shoots off the bends, the ESP tempering your exuberance smoothly if you're too keen. But just leave this in C where it cruises along quickly, and set the regen appropriately so it slows for the bends with a simple lift of the throttle. Too easy.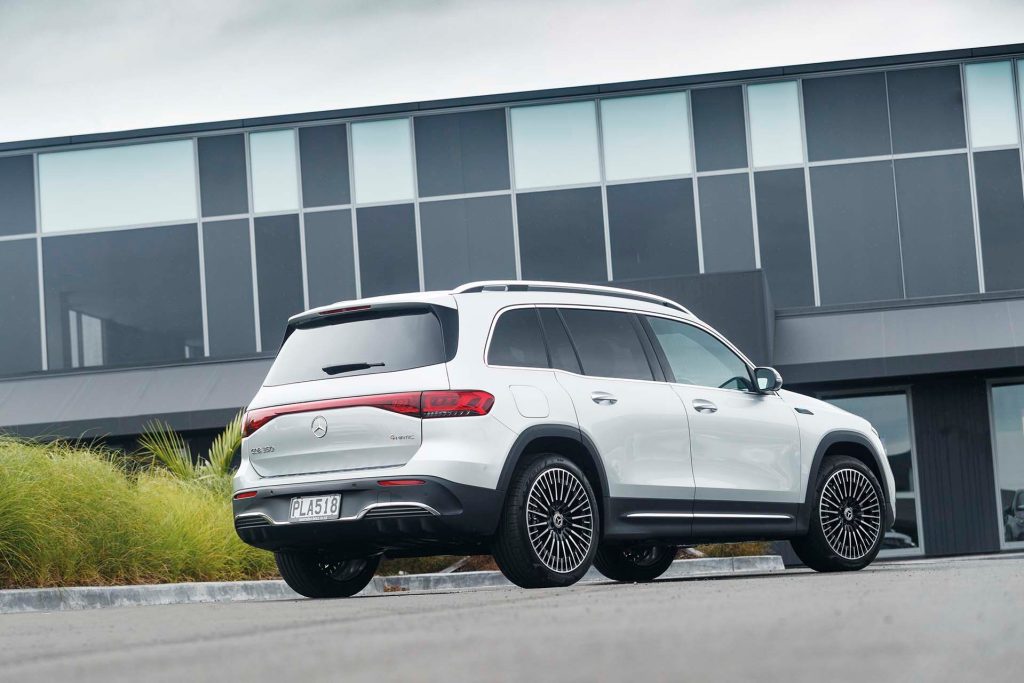 The Mercedes-Benz EQB 350 4Matic looks practical but is it big enough?
This would be a decent fit for the nuclear family, being that bit bigger than the more compact EQA. There's certainly enough leg and headroom in the rear with a decent entry and easily accessed Isofix points. The boot area has a high-set floor and only limited storage underneath (just enough to hide the charge cables away) but swallows the family grocery shop easily, or all the stuff required for a weekend getaway.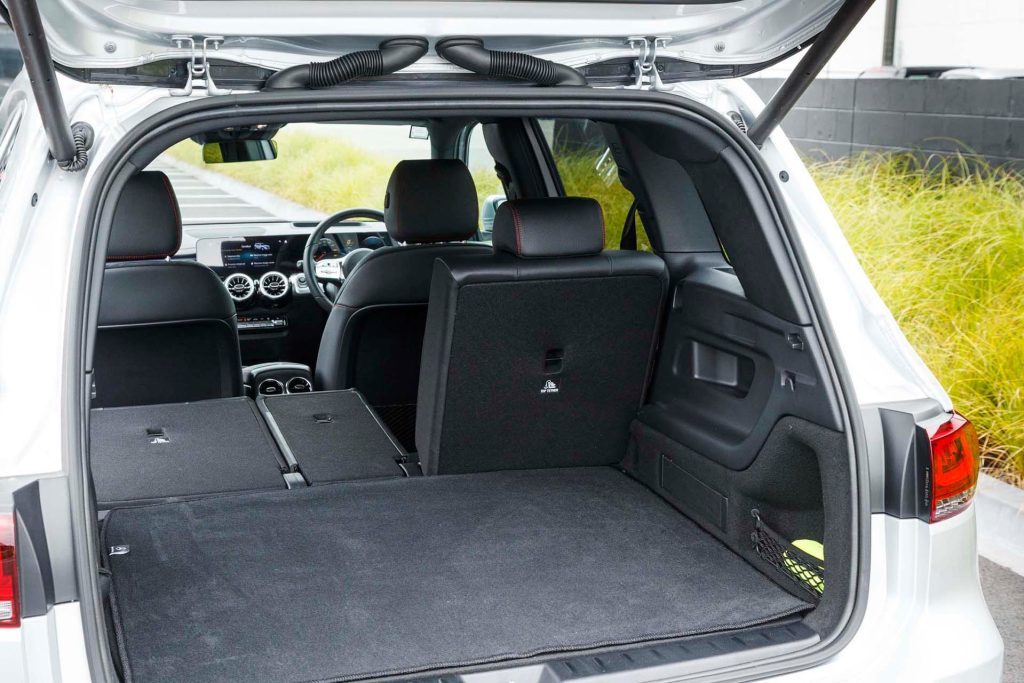 There's still too much hard plastic in the interior for the price asked, even if it's all nicely finished and constructed. Some fancy features include the multi-colour ambient lighting, the dazzling MBUX displays and chromed detailing to distract your attention from those less desirable bits. The seats however are rather firm and lack the added adjustments to really find a comfortable setting.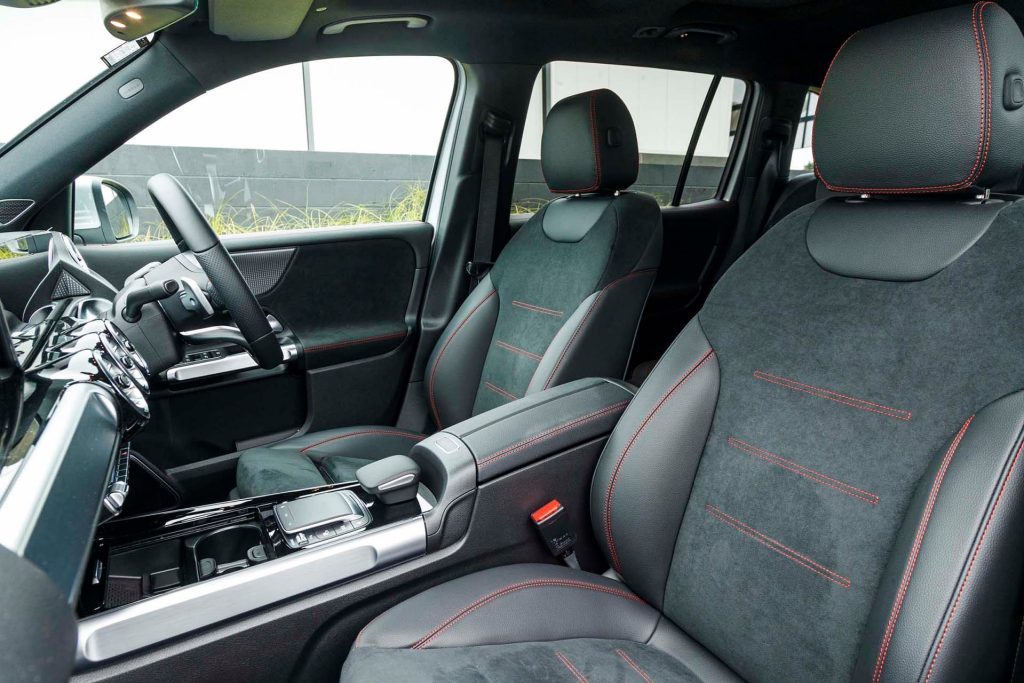 Any downers?
Just the price really; it's more than the Volvo XC40 Recharge Ultimate asks, and most would find it hard to resist the larger and much cheaper Tesla Model Y, which even gets a rebate. But we could understand why you wouldn't want to buy a Tesla (the company boss really is a douche).
Model
Mercedes-Benz EQB
350 4Matic
Price
$109,990
Clean Car Discount
Neutral – $0
Motor
dual, 215kW/520Nm
Battery
66.5kWh
Range
445km (WLTP)
Drivetrain
single-speed auto, AWD
Energy Use
18.8kWh/100km
C02 Output
0g/km
0-100km/h
6.2sec
Stability systems
ABS, ESP, TV
Safety
AEB, ACC, BSM, LDW,
RCTA, ALK, AHB
Luggage capacity
495-1710L
Tow rating
Not rated to tow
Scheduled servicing
3yrs, Unlimited km
Warranty
5yrs, Unlimited km
ANCAP rating
5 starts 2022
Weight
2153kg (claimed)