This is an unusual one in that the Ford Transit Tourneo PHEV we drove over the Christmas break is no longer on sale here in NZ. So think of this as a 'used review'. Ford's commercial division is busy filling Ranger orders at present while it prepares for the arrival of the all-new Transit, including the battery-powered models, sometime later this year.
The Tourneo is the Transit with lots of seats. This one, dubbed PHEV, is more of an EV with a range extender; there's a 93kW motor powering the front wheels, drawing energy from a 13.6kWh battery pack. That gives it a claimed range of 56km before the 1.0-litre turbopetrol acts as a generator to juice the battery and keep things trucking. All up, Ford says a cruising range of 500km is possible with a claimed consumption of 3L/100km. This all sounds quite promising, but how does it really go?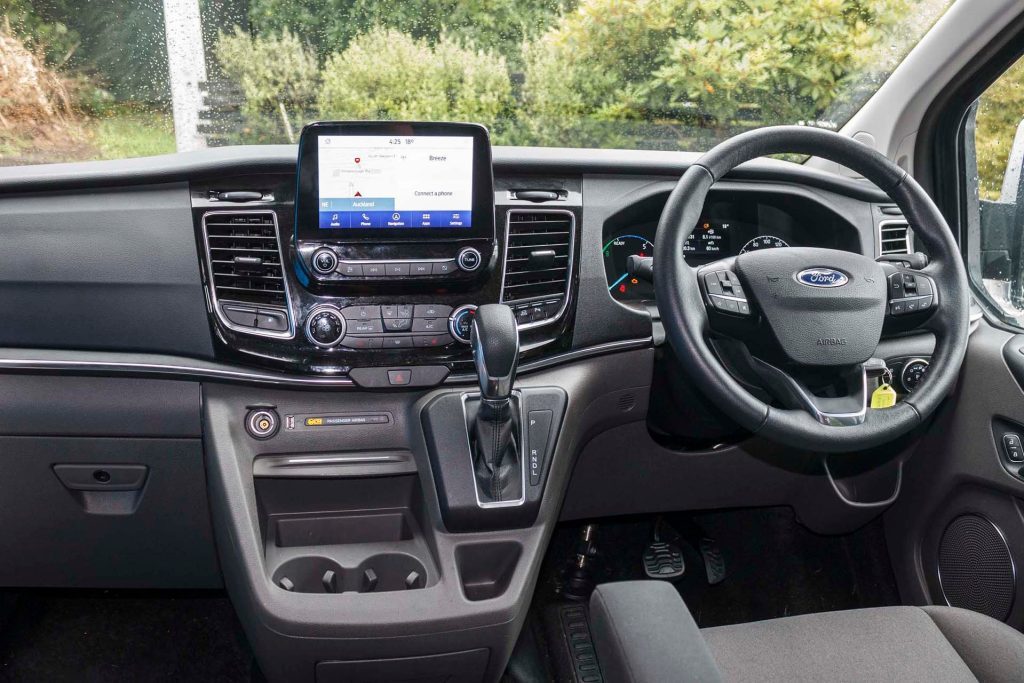 Our first week or so was spent rambling around the city, covering 350km with consumption of 2L/100km. We typically got about 45km of silent travel before the little triple would fire up to generate more electricity. Plugging in each night, it sucked 12.7kWh per refill. Roughly speaking, that's about 27kWh/100km, (so-so for efficiency, though it is a big vehicle) while the cost was $4.80, taking about six hours. 
Despite a lowly 92kW of power, this big van gets about just fine in the city. It's no whippet but the delivery is smooth, with torque enough for town running. It's fine on the motorway too, though these faster speeds eat up the stored energy. Oddly, when you first set out in the morning, it takes a while for the brake regen to work but it eventually comes online. Weird man. It's a moderate setting though you can add more by pulling the gear lever into the L position. While a big vehicle, it's surprisingly easy to manoeuvre around the town centre car park, with good forward vision from the driver's spot.
And what about out of town? Hmm, as you'll know by now, hybrid electrics are best suited to urban environs. We went up and down SH1 from Northland to Wellington in this. It's a comfortable cruiser, riding well as it's a unibody design and is quiet on road. Being a front driver, it's a safe and predictable type of drive. Once the battery is done, the 1.0-litre generator is a constant companion. It's quiet when cruising along the flat bits but gets rowdy when working harder and required to generate more power quickly. On the steeper gradients, you're flat to the boards and it won't crack much more than 80km/h. And going for the overtake, you better get a good run up. We ended up averaging 8.0L/100km with all the open-road running. Plus it runs on 95, being a Euro turbo. The diesel-powered Tourneo Custom is the one to go for if you do more open road mileage. 
Is the Tourneo Custom a good family wagon (for city folk that is)? To a degree, yes. There are six seats in the back, which can be arranged in the 'Conference style' with the two rows facing each other, or you can have both rows facing forward. Each individual seat can be removed completely too. However, it's not an easy process. The seats are heavy, bulky (so not easy to store) while the release mechanisms do not feel as robust as they should be. And putting the seats back requires you to line them up precisely, which isn't easy given their weight. It's not something you'd do often then.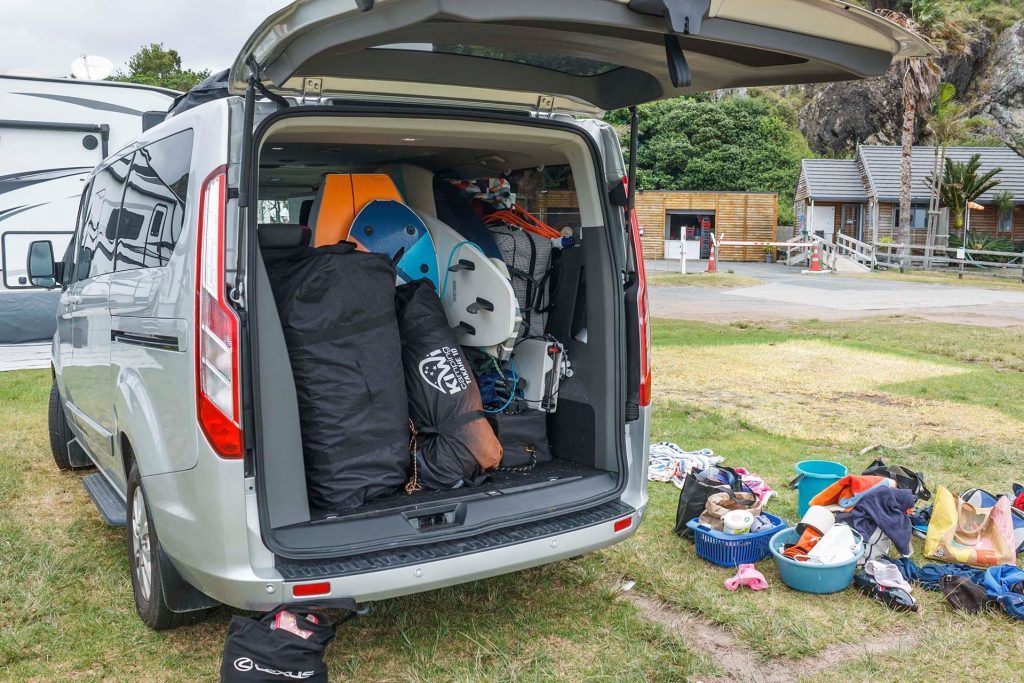 The incoming Transit shares its architecture with the Volkswagen T7, so will have a similar interior seating layout which is both more flexible and easily transformed, so is good news.  
Back to the old one though. We have three kids so we removed three of the seats, leaving two in the middle row and one in the rear. That meant we could carry all manner of stuff and found this van-based people mover to be very practical. You can throw a few bikes in the back and still fit the kids. Need to pick up building supplies? No problem and no need to rearrange the seats either. And come time to load the groceries, open the tailgate and the kids are in the back to help unload the trolley.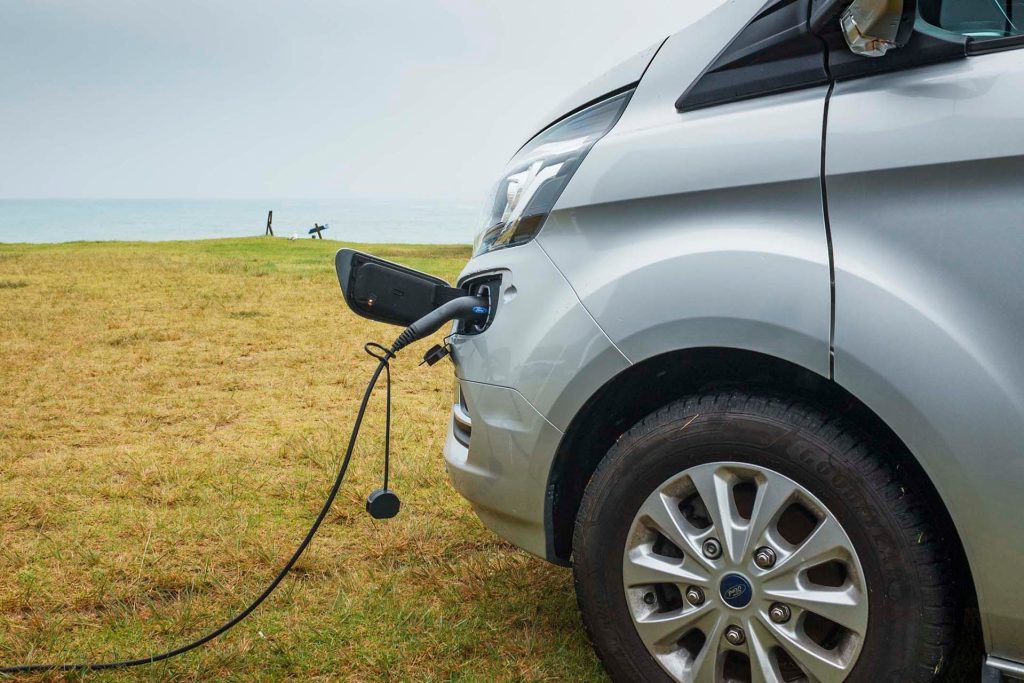 While they have civilised the Transit with some USB ports and window blinds in the rear, its van roots are evident with a few too many harsh trim pieces to catch yourself on. And there are no niceties like powered sliders. There is a stupendous amount of room back there however (over six cubes without seats and a 1.1 tonne payload). When off camping, we managed to ram in a whole heap of stuff without too much packing tetris involved.
When new, this went for $99,990, $30k more than the diesel nine seater. Little wonder this is a genuine rarity on the road. In fact just two were registered last year, versus 114 of the diesels. Hopefully the next version will be semi-affordable.