Following several teasers, Hyundai has unveiled its new SEVEN Concept; a 'Sport Utility Electric Vehicle' (SUEV, urgh) that is destined for production in the near future as the Ioniq 7.
As speculated, the model is based on Hyundai's E-GMP architecture, with the marque claiming a range of over 483km, 350kW charging capabilities. That range figure may sound decidedly last generation, but it's worth remembering that this is a fairly large vehicle we're talking about, not some svelte little sedan.
Not that range matters all that much in this case, anyway. The SEVEN's much anticipated unveiling is more about design and what Hyundai's packed into its multipurpose cabin.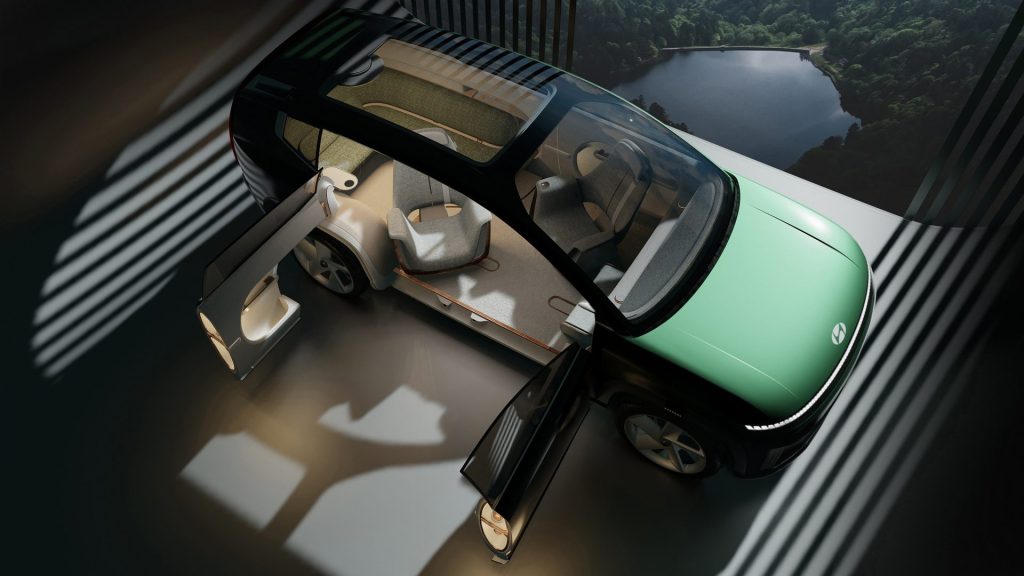 The SEVEN's biggest catchcry is the huge space Hyundai has allowed for between the wheels. The modular E-GMP platform has been stretched out and the wheels pushed all the way into the model's corners, allowing for a significant 3.2-metre wheelbase and making the interior as big as possible.
Hyundai's also focused on the use of sustainable and recycled materials. The SEVEN makes use of bio-paint on the outside, and bamboo wood, bamboo carpets, bio-resin, and recycled plastics on the inside.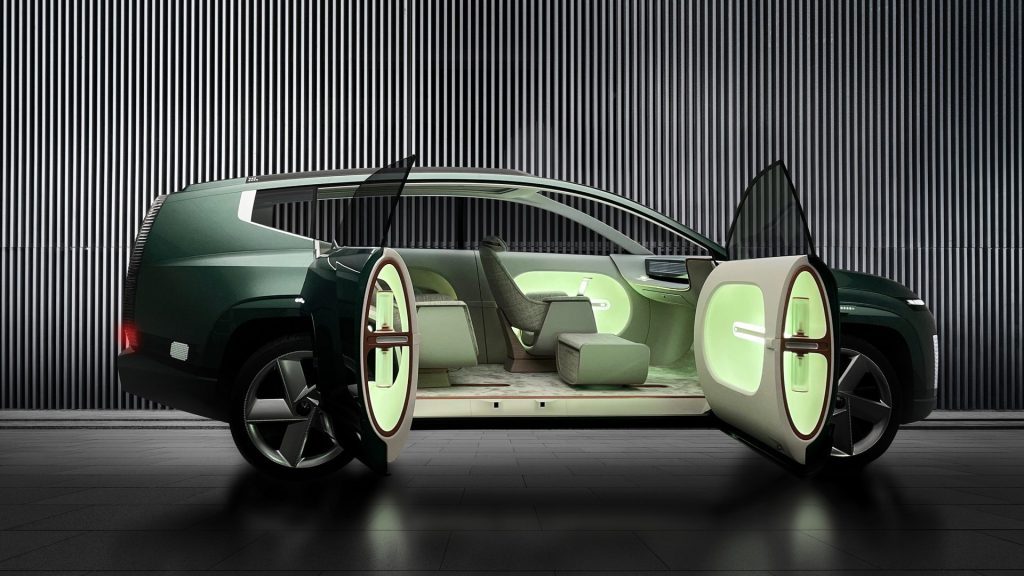 Speaking of the inside, Hyundai's concept treads familiar concept-car waters in being as lounge-like as possible. The seats are a mixture of swivel-based units and couches. Hyundai's put in what it calls its 'Universal Island' console, which can support the addition of things like mini-fridges.
If it wasn't evident enough already, the SEVEN is a vehicle with autonomous driving features, allowing the driver to set a destination before swivelling in their captain's chair to engage with other passengers. Like Audi's recent Skysphere concept, the driver controls are retractable when not in use.
Inevitably, a lot of these elements are unlikely to make it to production in the short-term. The Ioniq 7 is set to offer traditional three-row SUV seating. However on the flipside, we expect that the SEVEN's exterior styling is just about production ready.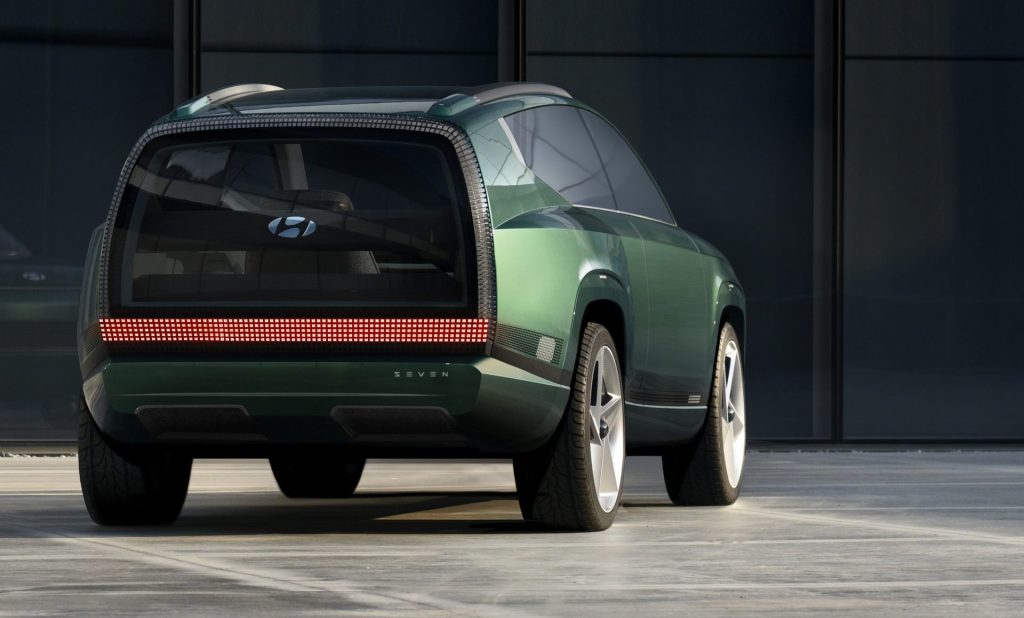 Mixing elements from the Ioniq 5 and Staria (with maybe a hint of Genesis in its bodylines), the SEVEN is an undoubtedly sharp looker. The rounded profile and 'Parametric Pixel' headlight and tail light combination is handsome, and a significant departure from the looks of the current Santa Fe and Palisade.
There's a handful of elements that will require tweaking before production, like the lack of wing-mirrors and windscreen wipers. But, expect that the Ioniq 7 (which is tipped to be launched in 2024) will look a lot like this SEVEN Concept.
"The SEVEN concept demonstrates Hyundai's creative vision and advanced technological development for our electrified mobility future," says Hyundai Motor North America president and CEO José Muñoz.
"Its innovative interior space, eco-friendly powertrain, and cutting-edge safety and convenience technologies reveal an exciting future for Hyundai SUV customers."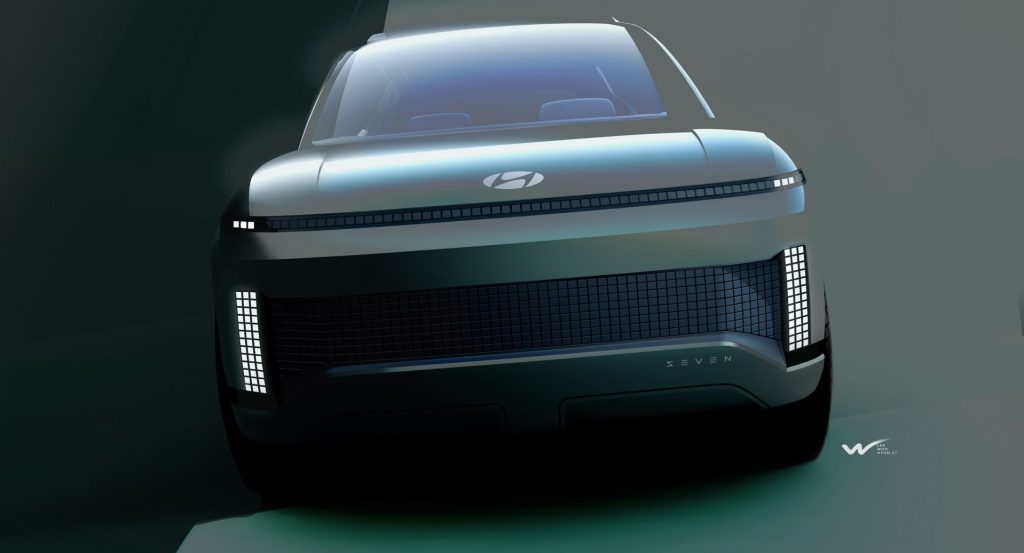 "SEVEN dares to break from the beaten path," adds Hyundai Senior Vice President and Head of Hyundai Global Design SangYup Lee.
"SEVEN paves the way forward for what an SUV needs to become in the EV era with a unique aerodynamic pure form that does not compromise on its rugged personality. The interior opens up a new dimension of space that cares for its passenger as a family living space."