Porsche's first pure electric offering looks fast, performs the same and is a compelling if expensive opening salvo. Is it a real Porsche though?
When the Taycan was in the design phase, Tesla Model S was hot property, blowing off all sorts on the drag strip. Porsche felt the time was right to instigate an EV strategy. Like the whole VW group, they could see the writing on the blackened emissions wall.
And so it came to pass, the Taycan launching last year in Europe, and we're driving it precisely as revisions to it are already underway! But like many EV revisions nowadays, updates are done via the ether…net. Wirelessly in fact. The 2021 model also gets a head-up display, and a suspension lift function, among other things.
This newcomer is similar sized to the Model S – 5m long by 2m wide – but even the base variant is more expensive by around $30k than Tesla's Performance model, has only four seats to the S's five, and isn't nearly as quick. However, this is a serious looker, with a touch of a Le Mans racer schtick about it, a wide body look at the rear, the plunging nose, and the bulging guards up front. From the driver's vantage point, it reminds of a 911, though in reality it is perhaps closer in feel to the Panamera. But it certainly shrinks around you, aided by four-wheel steering.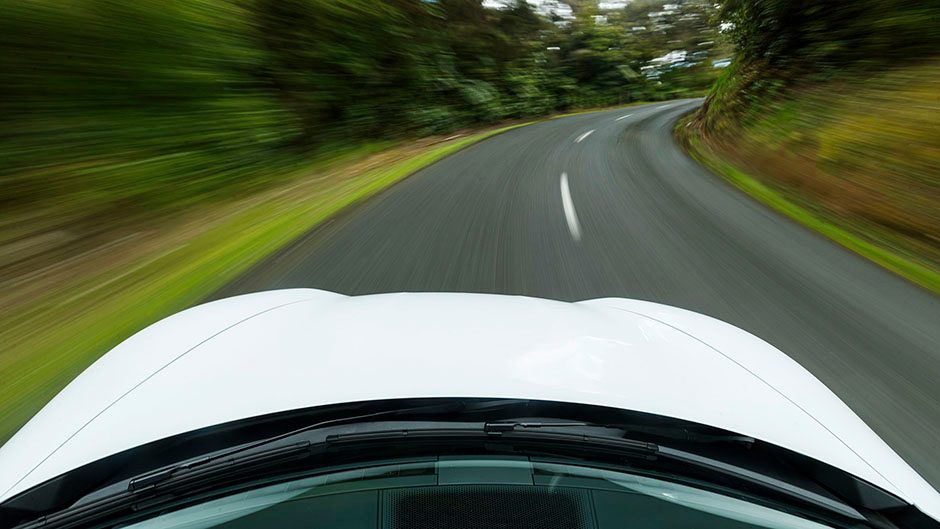 What's in a name
How did the Taycan (pronounced Thai-kahn) name come about? Evidently it is a conjunction of two Turkish words, roughly translating to "the soul of a spirited young horse". In Japanese, taikan means "physical experience".
The Turbo nomenclature is odd, given there's not a blower in sight, though there is 'overboosting' with Launch Control. The logic is that the Turbos are the top performers in Porsche's ICE power range, so why not with EVs? They're top earners too, just like this particular car which lists for $366,900.
This and the 911 Turbo S are rated to run 0-100 in the same amount of time, no coincidence surely. And they don't cost that much different, the 911 example going for $407,900.
However, if you don't want to spend an amount that might buy you a rather nice four-bedroom dwelling in Godzone, you can always secure the base Taycan 4S instead. At $203,900, it is rated to run 0-100 in 4sec flat. Fast enough, what? And it is proving the most popular, with orders of 44 vs 34 per cent, the midrange Turbo attracting the remaining 22 per cent.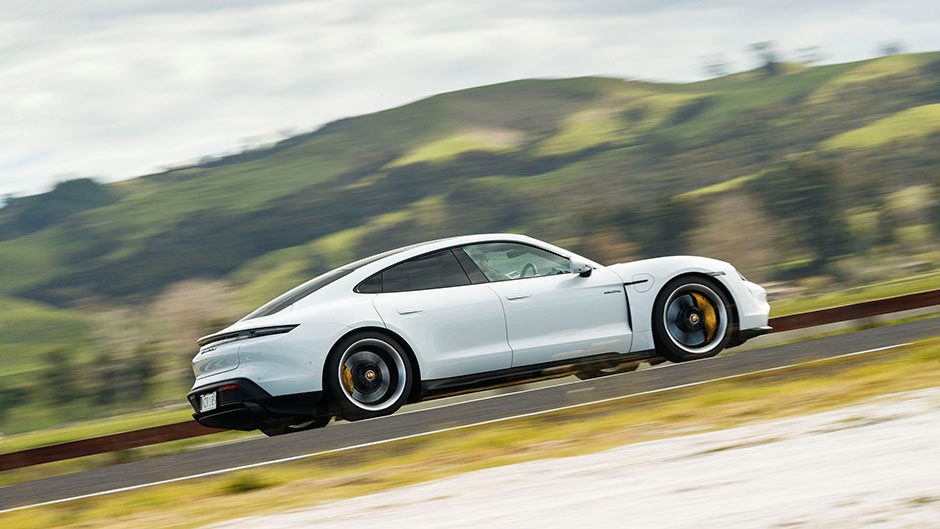 Ranging around
If this seems similar in concept to an electrified Panamera, so be it. They are both coupe styled, sizeable four-door four-seaters. There's no real hint outwardly that this is an EV; no quirky-looking wheels, just a couple of discreet 'electric' badges on its flanks. Look closer and there are clues though, like the invisible exhaust. It has a totally flat undertray too, a claimed Cd of 0.25 helping to extend touring range.
But it hasn't quite the roaming ability of the top Model S at 600km; Taycan Turbo S with its 94kWh pack has a WLTP rated range of 380km. If you're driving it 'Normally' you will likely see that. By which we mean in the Normal mode, the default drive setting. We managed 275km of travel with one quarter of battery range left, but that included a few acceleration runs and plenty of passes for the camera, not easy on energy use/range.
Naysayers moan about charging but it really is becoming easier if you're located anywhere near one of the more than 200 fast chargers dotted around New Zealand. Hooking up to a 50kW unit it extends range from 175km to 300km (50 to 80 per cent) in half an hour, about the time it takes to read the news. If you're from the Supercity, there are now 300kW fast chargers at Bombay. This boosted range from 26 to 63 per cent in 15 min, costing $20.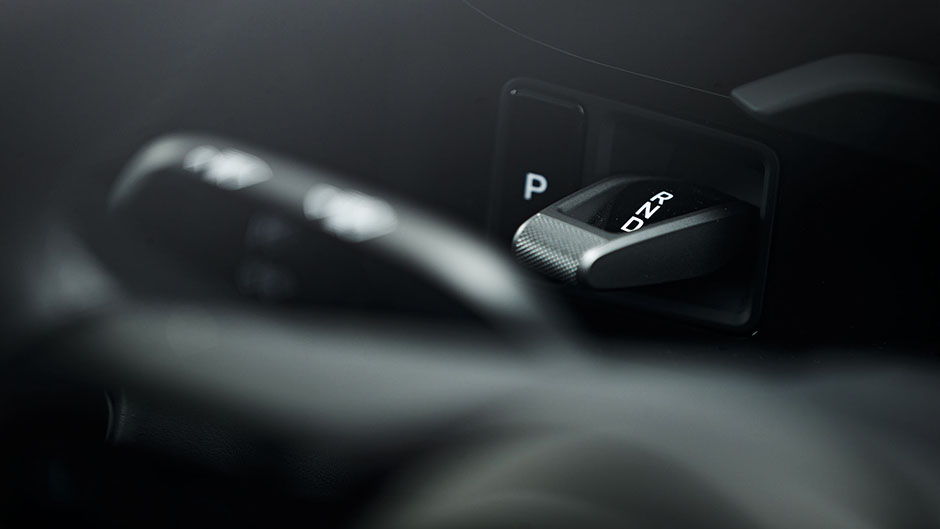 Easy to operate
Because there is a trend in the motoring arena to go buttonless these days, we're glad some buck that and Porsche has held out for as long as it could. So Taycan has digital buttons, such that all HVAC manipulations are done on a screen that has a pushbutton-like haptic operation mode. Can't operate that? Say the words 'Hey Portia' and the genie will do it for you. Or not; she's a touch temperamental. Much of the remaining set-up is relegated to the touchscreen above. On the wheel is a drive mode dial, just like on other hot Porsches.
There's also a start/deactivate button – this is an electric machine, remember – which is largely hidden by the rim of the wheel, and so too the gear selector on the left side. You locate these by touch. If you've the key on you, doors unlock and instruments light up automatically.
So you merely pull on the extended door handle, cozy right on down into the driver's seat, select R or D and head off noiselessly, or with a bit of a whir if the 'motor noise' option is selected. We drove with it off most of the time. Silence is golden, and you come to appreciate it.
But we drove with the recuperation button on. This is different from the variable settings for one-pedal driving that most other EVs have. The Taycan has little in the way of recuperation when you're off the accelerator and the real regeneration occurs when you actually step on the brake pedal. For most braking, it's actually motor recuperation slowing you. Under heavy braking the mechanical devices step in as well. Yet it feels much like regular brakes underfoot. Porsche clearly wanted to make its first EV feel familiar (and sporty) to drive. This top Turbo S variant has carbon ceramic brakes as standard, serious stoppers, and welcome given how quickly it can run the numbers.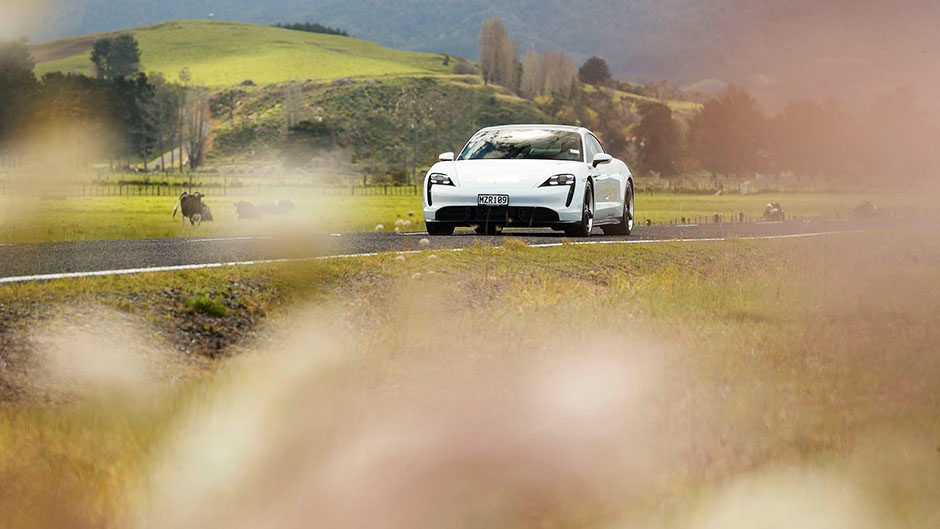 Weapons-grade ferocity
Against the clock, the Taycan Turbo S doesn't disappoint. In fact, it smashed its 2.8sec 0-100 claim on the very first run. Not only that but it managed it two up, and with all Tom's photography gear aboard. I suggested he video the run because readers might be interested. So he set up his phone to record while I prepped the car for Launch Control. Perhaps I should have warned him but at lift off he blurted out a range of expletives and recorded precisely nothing. The GPS timer chimed at 2.75sec. Our best run was 2.67sec.
About the only thing faster on paper is Tesla's Model S Performance variant, rated at 2.5sec. Anyhow, the Taycan has rewritten the record books for NZ Autocar. Without launch control and its 560kW of overboosted power, it's less furious out of the blocks but a 3.2sec run is hardly hanging around either.
On the overtake, the extra weight compared with the likes of the GT2 RS and the McLaren 575 rank this third on the all-time 80-120 quickest list, with a best of 1.62sec (claim is 1.70sec).
We had high hopes for the brake test too, given their carbon nature and enormous size. But the 2366kg kerb weight is telling. It still posted a best of 32.80m in coolish conditions but the lighter 911s are still far and away the champion stoppers.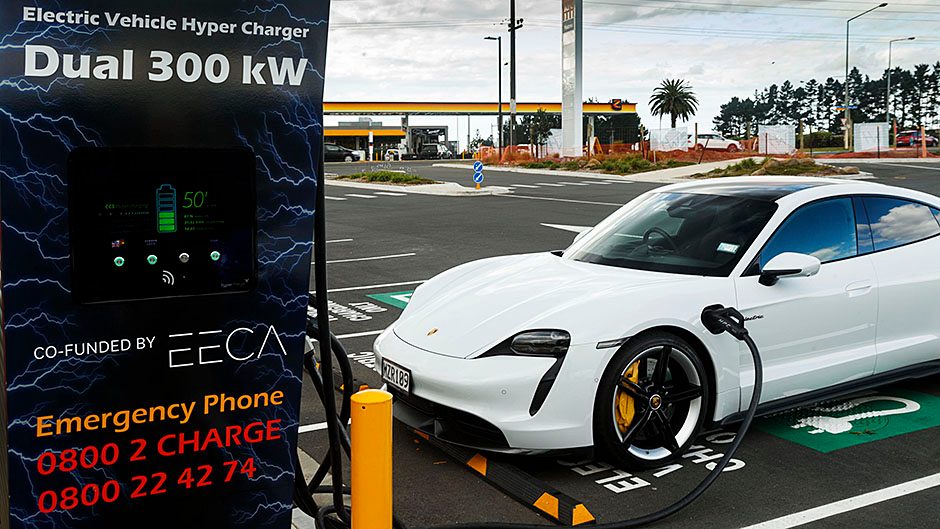 Handling is also otherworldly
This we simply did not expect, though should not really have been surprised. It's a Porsche, after all. And despite its weight, the mass is carried low. Plus, it has countermeasures, like height adjustable suspension, four-wheel steering, dynamic roll bars, and adaptive dampers. Moreover, it's shod with some of the stickiest rubber about, and lots of it. Lest we forget, there are two types of torque vectoring, one by brake, the other by electronically controlled rear differential lock. So yes, this sticks in corners, and it stays stuck. It's quite incredible that something this heavy can dispense with corners this quickly, effortlessly and competently. The reality is that you seldom notice the weight, as it is carried so low and centrally. On extremely tight going it isn't perhaps quite as nuanced as some of the lighter, steel-sprung 911s, but it is more convincing than Panamera (if memory serves). To uncover its full potential you'd need a racetrack. And on that, a Taycan Turbo has covered off the Nordschleife in 7min 42sec. That prompted Tesla to send a trimotor Model S Plaid prototype around unofficially in 7min.23sec. And Lucid looks to be joining the fray with its own trimotor mover. So expect more fireworks on that front.
As for ride quality, Taycan's something else as well, with compliance even in Sport Plus mode. And while the sound meter suggested mean in-cabin SPLs of 77dB over rough seal, it's not a loud car by any means. Perhaps that's because there's no engine noise or exhaust bark.
So in essence this is a mix of grand tourer (albeit with limited range), sports car and technical showcase, at less than Panamera Turbo S price. We were really quite shocked at its capabilities, if you'll pardon the pun. So its 366L boot and 81L frunk aren't the biggest around, and nor is it especially liberal with rear seat space, but it's a great opening electric salvo, even if it does come at a price. For a time, range will be its primary drawback compared with like-priced adversaries.
The electric top end is a fascinating and fast-moving area with rivals currently prepping their trimotor monsters. Porsche is unlikely to take this lying down.
| | | | |
| --- | --- | --- | --- |
| Model | Porsche Taycan Turbo S | Price | $366,900 |
| Engine | 560kW/1050Nm | Drivetrain | all-wheel drive |
| Fuel Use | nilL/100km | C02 Output | nilg/km |
| 0-100km/h | 2.67sec | Weight | 2366kg |