You're looking here at the first electric M car from BMW, the i4 M50 Gran Coupe with xDrive. Is it worthy?
After a brief interlude where BMW set electrification on pause, the company is once again full steam ahead on high voltage vehicles with batteries. And if the idea of a zero-emissions M car seemed preposterous five years ago, it isn't now. The German's first electric M car is here, an electric four-door Gran Coupe style that can give the M5 a run for its money, all without costing as much. It's actually closer in size and money to the M3 xDrive, but that we haven't driven, the M5 we have. It even sounds pretty interesting thanks to the input of a muso, would you believe?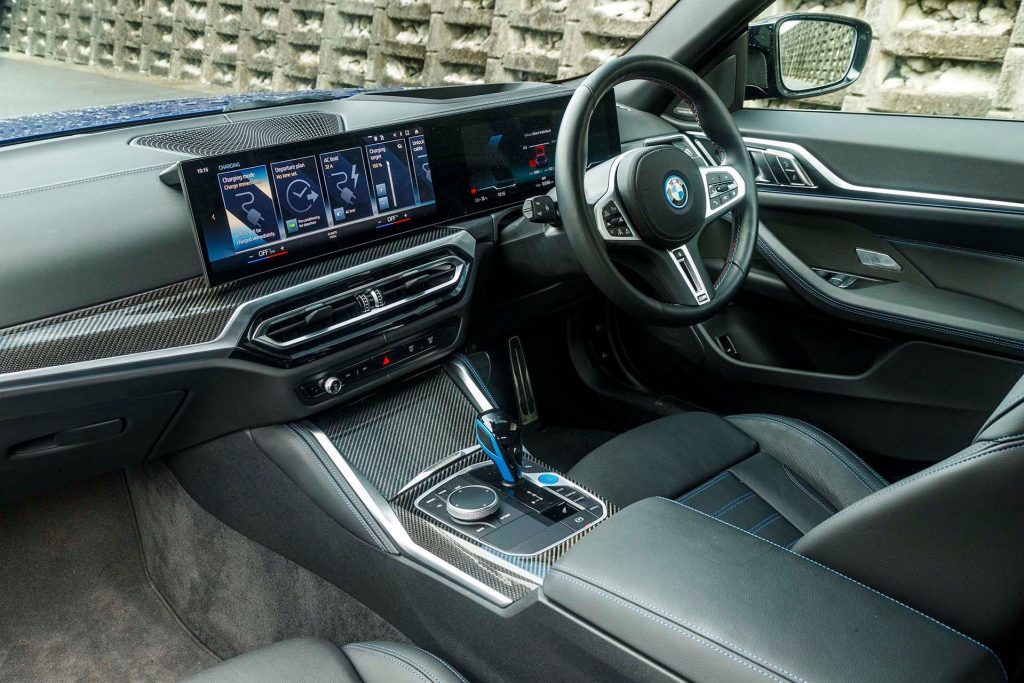 Most electric cars that have been released to date use a single motor and modestly sized battery pack. But if it's performance you're after, these generally won't light your fire. Sure, they get off the mark in a hurry, but generally the headlong rush soon wanes. For genuine performance you need at least a pair of motors, and the real deal electric hypercars use a trio of them or a two-speed trans. Naturally, they're more expensive. The twin-motor electric cars get you most of the way there in more cost effective fashion.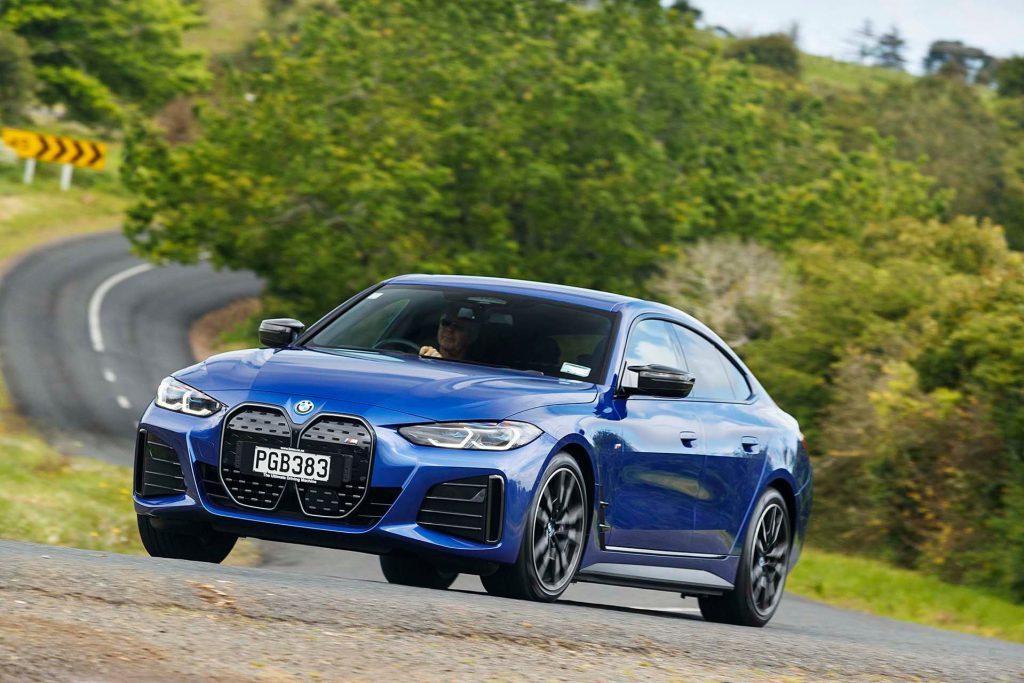 As an example and without further ado, meet the i4 M50, which comes with an electric motor powering each axle and a total system output of 400kW and 795Nm, the latter available off the bat. That's more than an M3, and compares with 441kW and 750Nm for the M5. The i4 is nearly 250kg heavier than the M5, so isn't nearly as quick on paper as BMW's drift-ready bahnstormer; that's good for a 3.3sec sprint time and manages an overtake in 2.2sec, almost supercar quick then. However, this new electric M variant costs roughly $65k less and is fee neutral; there's a $5k feebate on the M5. On the other hand, you get less real world range with the M50 (up to 510km versus about 600km in the M5, if you meet the 11L/100km claimed average…) but that very much depends on how and where you drive it. Because this is a test car, so is driven by people who don't own it, we never saw anything more than a suggested range of 400km on the dial after rejuicing.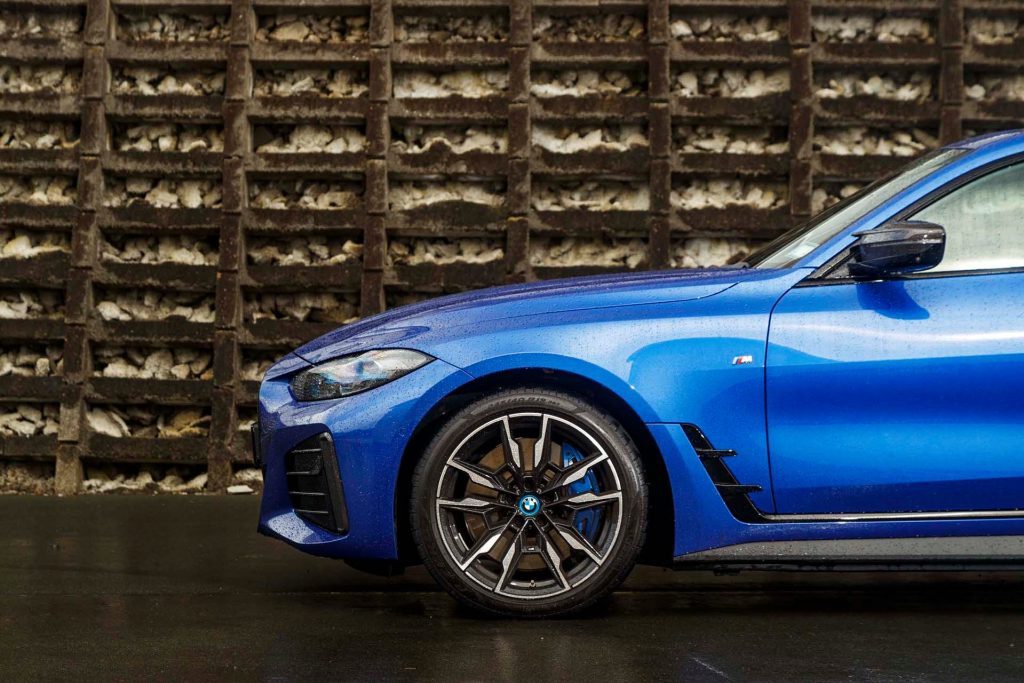 And on that, the burgeoning sales of EVs is putting pressure on the charging infrastructure. This is the first EV we've tested that didn't come with an emergency charger in the boot – it's part of the standard equipment list however – so we had to use public chargers. The 50kW one I use was often empty in work hours but not any longer. I had to wait half an hour before plugging in and watched two people fight over who was next to hook up on the adjacent unit. Such encounters are the new normal for EV owners. Charge at home (off peak) as much as possible would be the best advice.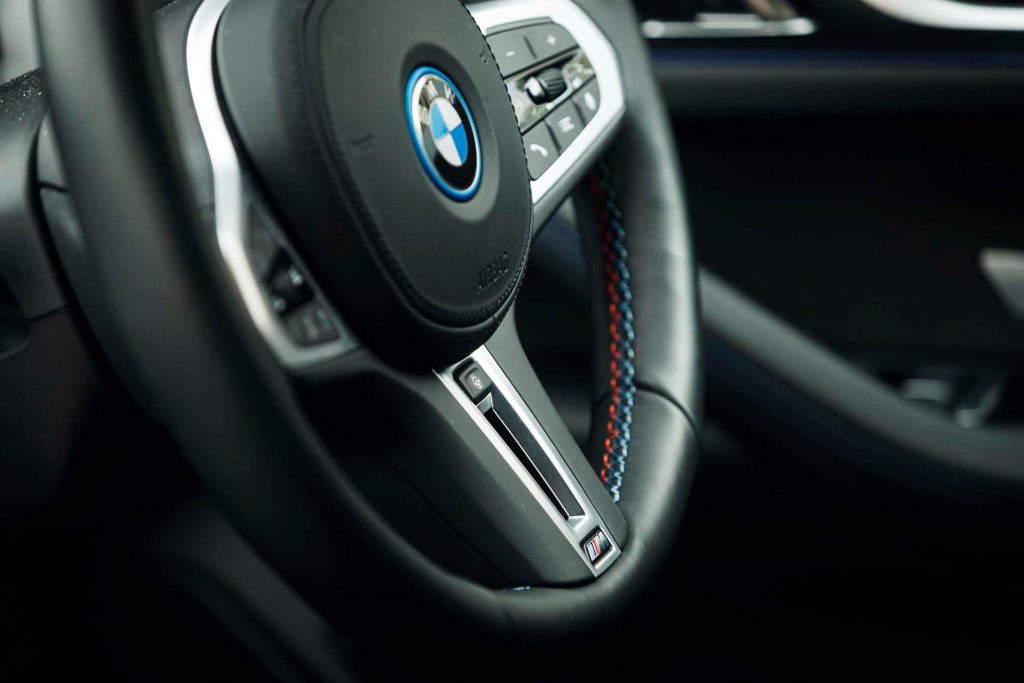 At pick up, the tank was full and suggested a range of 380km. After a wee strop and a half hour refill to 100 per cent at the Bombay hypercharger (the charger running at 97kW up to 80 per cent full and then at 27kW for the final 20 per cent) we had around 400km to go, and on EcoPro that rose to 430km for a time. This setting uses the least juice, reducing consumption from mid- to high 20s down into the high teens. For town running this is the most appropriate setting.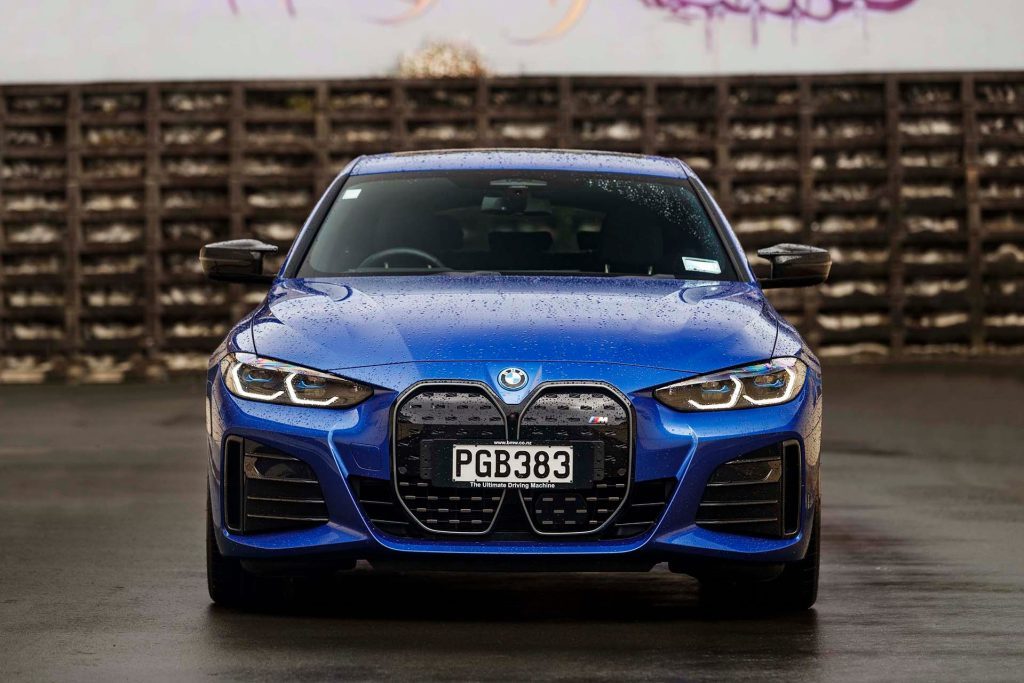 Use Sport if you're after scalding quick performance, especially Sport Boost, whereupon it met its sprint claim of 3.9sec with ease, ending with a best of 3.59sec using launch control. On the overtake, its 2.1sec elapsed time was a tenth ahead of the M5's best.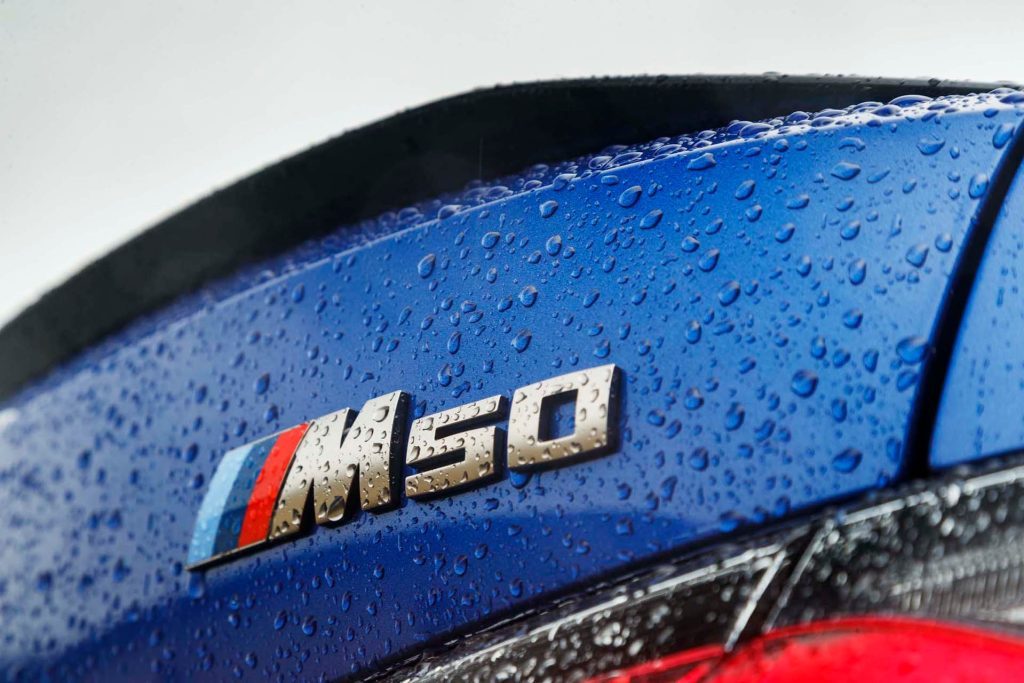 If we were forced to choose between the pair for the ride and handling balance, the i4 gets the nod. The M5 has sharper handling being lighter, and you can feel the extra weight of the i4 in corners. However, the M50 is impressive thanks to its flexible chassis architecture, a slimline (110mm tall) 84kWh battery pack set low down, wide tracks, M Sport suspension, a 50/50 weight split and rearward drive bias. Moreover, it can shift torque forward or aft in the blink of an eye. You'd not believe how early you can get back on the pedal out of corners in this machine. All with a minimum of fuss, thanks to BMW's fast-acting wheel-slip limitation system that works in concert with xDrive AWD.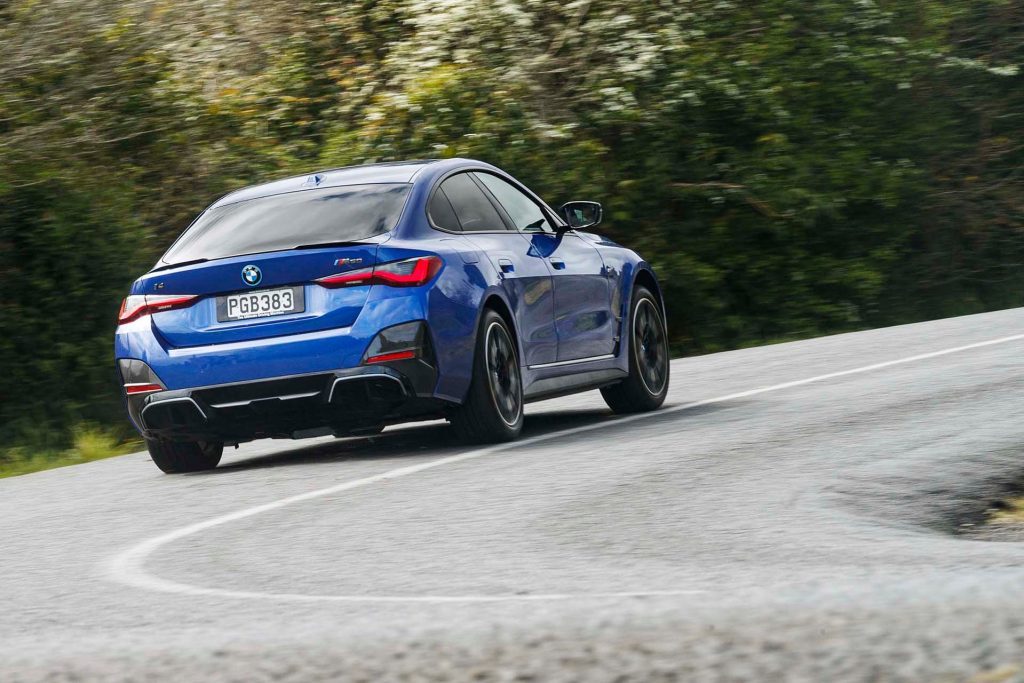 But it's the ride quality and refinement that really nails it, thanks to adaptive damping and unbelievably sorted sound deadening. This is truly sumptuous in the Comfort mode, and while more controlling in Sport settings, it's far from firm riding, even in slower going. The sheer lack of tyre noise is simply bewitching in this vehicle. Despite its generous complement of PZero rubber, we could scarcely get any SPL readings beginning with a seven and even then 70.0 or 70.1dB was about it. Most were in the mid to late 60s.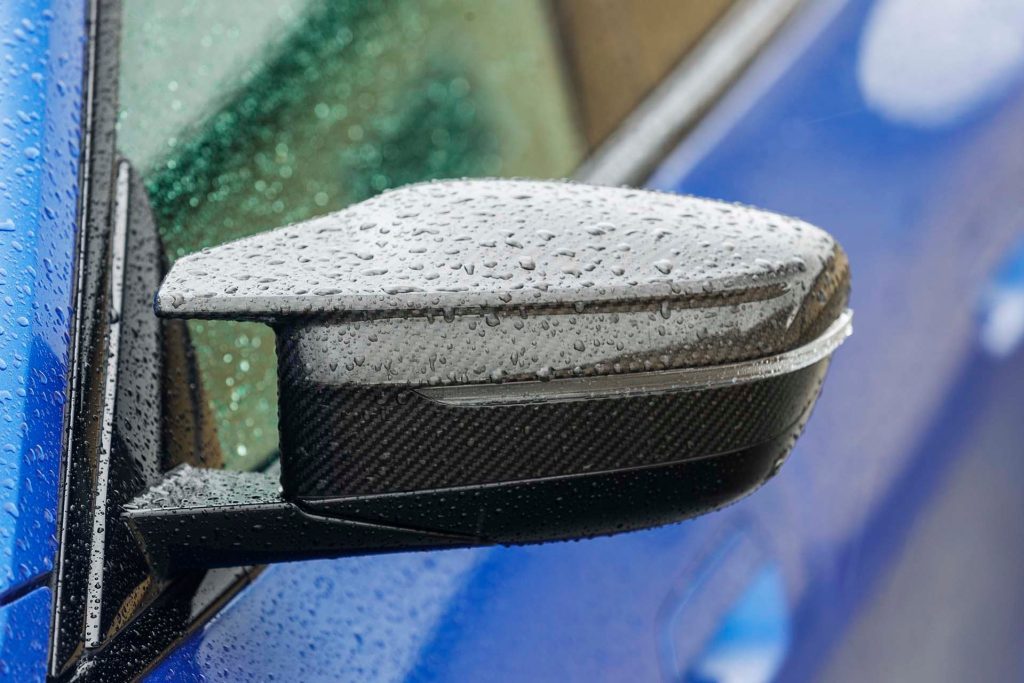 So this thing is hushed, except when you turn on the IconicSounds Electric sonics, developed by noted film score composer Hans Zimmer. The soundtrack is heard during acceleration in Sport mode, and it's like dance floor whirring on steroids. You can turn it off, like with lane keeping and such, once you know how. The AI help knows what she is doing, most of the time, if you're stuck. Fortunately driving the M50 is pretty easy. It self unlocks as you approach. Step in, push the go button which activates a pleasing pulse of bass notes, hit D and you're away. The various drive modes are by your left knee. We chose Sport for the interesting bits but stuck to Eco Pro in town and Comfort out. These give a balanced mix of performance and economy. Helping slow battery discharge is an aero-optimised body that has a Cd of 0.24. Our particular M50 featured the $5k exterior CF kit, comprising mirror caps, bootlid spoiler and cosmetic areas front and rear. Not everyone will love the look of the fascia with its overblown double kidneys, bisected by the number plate but the outline of the vehicle is rakish in Gran Coupe fashion. Headroom in the rear is a bit tight for taller folk but most will be fine, while boot capacity is 470-1290L. There's no frunk, just a massive plastic shroud, no doubt contributing to overall silence on chipseal surfaces.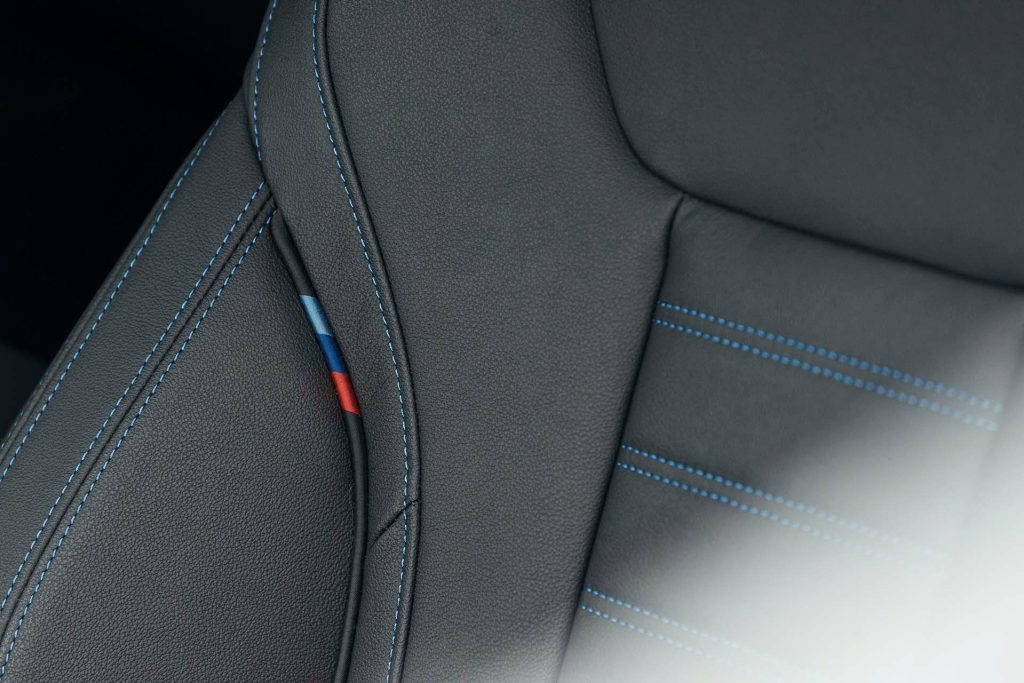 Brakes are noteworthy (emergency stops in the 32m area) as is the regen system. Surprisingly it doesn't feature shift paddles. Perhaps the reason for this is that the Adaptive setting kind of does everything for you, slowing the M50 automatically as you catch other cars, whether or not active cruise is activated. Meantime when you don't need regen it eases right back. 'Moderate' allows single-pedal driving and there are also High and Low settings.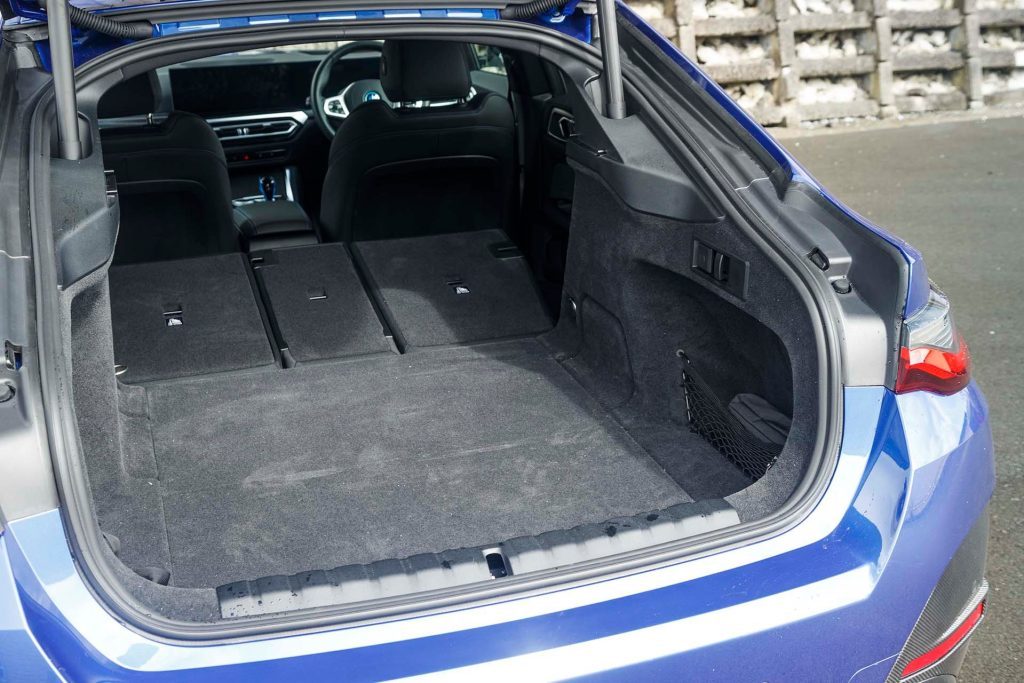 Special standard features not already mentioned include a host of driver assistance technology (lane keeping, self parking, traffic sign recognition etc), head-up display, standard-fit Laserlights, three-zone climate air, and a 14-inch touchscreen and 12-inch digital instruments all under curved glass. There's also acoustic glazing, comfort access (self unlocking), seat heating up front, electric sunroof, Qi charger and HK 16-speaker surround sounds. BMW Connected Drive includes smartphone integration, realtime traffic information, remote software updates and various apps. Our particular drive car came with $13.5k of cost options, including alarm, sunglazing, and TPM amongst others, taking the total to just over $150k.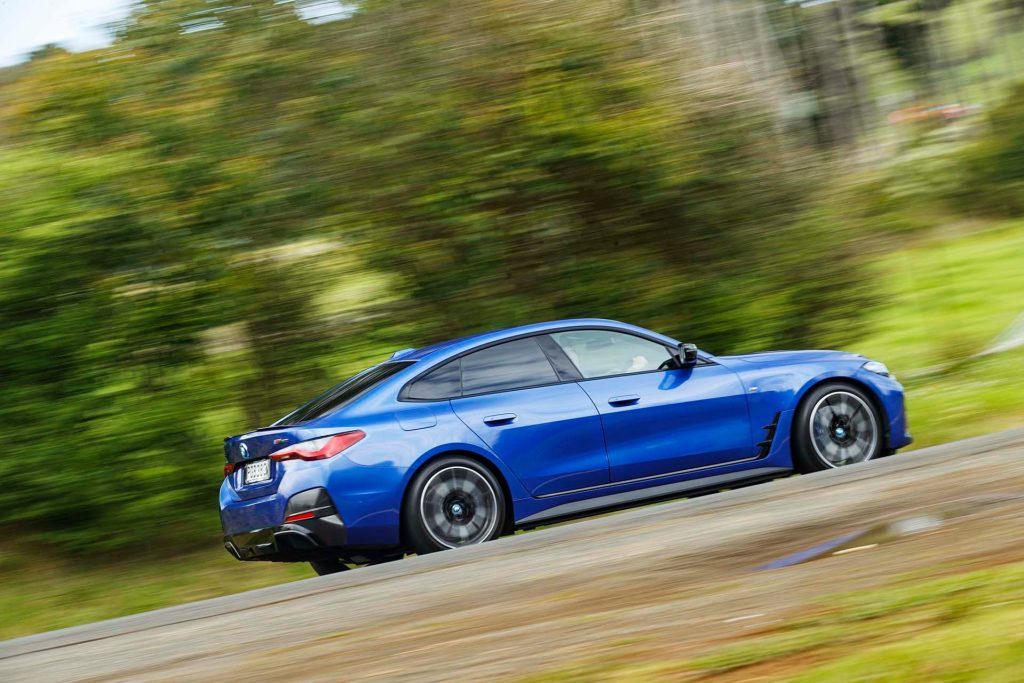 In essence, the M50 delivers M5 performance, or near enough to, without the tailpipe emissions, and a better ride and handling balance. It has almost as much interior space (both are essentially four seaters) and enhanced luggage practicality due to the nature of its liftback design. Yes, there's slightly reduced range but you pay less when refueling, with the convenience of doing it at home. 
If performance isn't so important to you, the i4 is also available in a single motor, rear drive i4 eDrive40 variant with the same battery pack, range of up to 590km and pricing that kicks off from $109,900.  
Model
BMW i4 M50
Price
$137,900
Clean Car Discount
Neutral – $0
Motor
dual, 400kW/795Nm
Battery
84kWh
Range
435km (WLTP)
Drivetrain
single-speed auto, AWD
Energy Use
21.5kWh/100km
C02 Output
0g/km
0-100km/h
3.59sec
80-120km/h
2.11sec (60.34m)
100-0km/h
32.30m
Stability systems
ABS, ESP
Safety
AEB, ACC, BSM, LDW,
RCTA, ALK, AHB
Luggage capacity
420-1290L
Tow rating
750kg (1600kg braked)
Service intervals
24 months, 20,000km
Warranty
5yrs, 100,000km
ANCAP rating
not yet rated
Weight
2290kg (claimed)