Had to happen eventually, an M5 with all-wheel drive. That's because it now has 600hp to deploy. Course you can drive it by the rears if you're game, no ESP and all that. Drifting records anyone?
It wouldn't be a new M5 without a bit of drama. And to mark the fact the latest M is an all-paw machine, what better way to advertise that than set a new drift record? Huh? In an AWD machine? Well yes, but with ESP off, in which case it can be driven by the rears alone. In setting the record, another M5 needed to drift alongside the actual car involved to refuel it. Some say you can even watch that happening somewhere.
Anyhow, despite the F90 M5 being largely a new offering, some things never change, like how easy it isn't to activate launch control. For some reason, BMW really does not want you to use LC, even though it fits it to its M cars. It's like some form of hand wringing exercise. But with 4WD, what's the issue? The new M5 is the only one in six generations to be all-paw so the mechanical hit off the mark is divvied up between two axles. Thus, no howl of rubber or diff banging, just solid, serious acceleration.
Why make it so darn hard to access? Once again, I tried and failed to activate launch control without deferring to the handbook, whereas in most cars it's intuitive. Something even your teenager could manage. Probably best not to let on about that though. We tried without the operating manual because there was none in the glove compartment.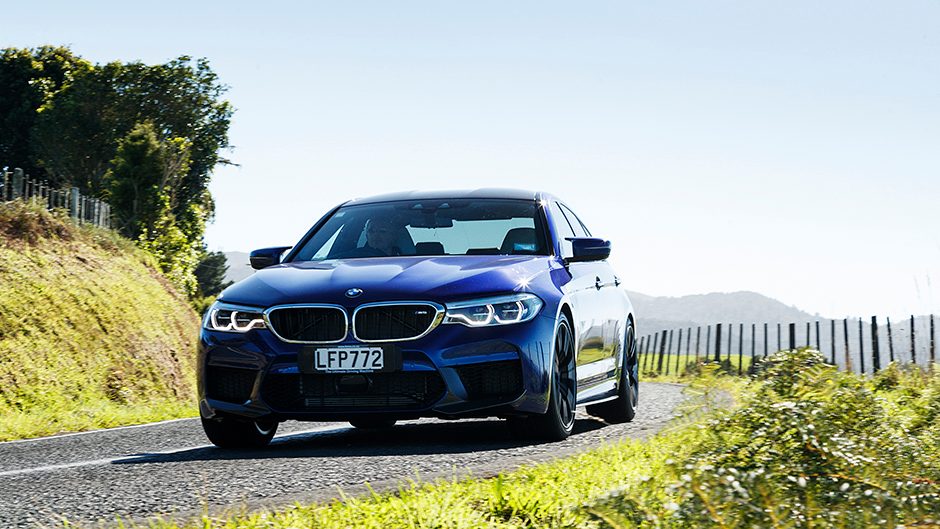 Without LC the new M5 repeatedly produced 0-100 runs of 4.3sec, just like the old one then! But that's a second adrift of what BMW quotes. I was on the horns of a dilemma. What to do? Have another look for the manual and damn, there it is, stuck in the passenger side map pocket. Page 120 has the instructions, the first being to deactivate stability control. Uh oh. We'd been warned that any tampering with DSC would void insurance, but sometimes you just have to live dangerously.
After some further hair tearing, and false dawns, eventually LC engages. Even then you only get one crack at this, and then it locks you out for a 'cool down' period. Fortunately on the second run we nailed pretty much the exact number quoted by BMW, with a 3.35sec run, and that was on regular chipseal.
Did it feel much different from run without? Not really, just quicker upshifts. And on that, the new M5 has moved away from a seven-speed dual-clutch tranny to an eight-speed auto. It's incredible to think that a regular slush box can now shift as quickly as a twin clutcher. And because they're better at engaging from standstill, why would you not want to use one? From a weight standpoint they're now much of a muchness too.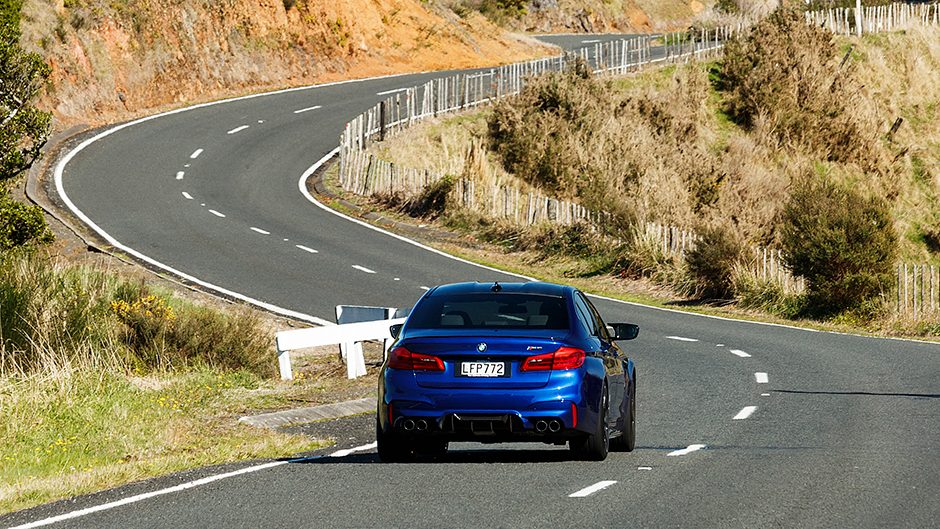 Which is what you could say about the latest M5. It's 30kg lighter than its forebear, according to our scales, a good trick considering the extra gubbins for AWD. Only the weight split's not quite so near to even as before. Formerly 51.7 over the front axle, it's now 54.6 biased. Would this be an issue? Cracking quick Before touching on that, a bit more on how quick it is. For the overtake, the one aspect that really matters, it's faster due to added power.
The previous iteration, the first turbocharged M5, used a 4.4L V8 with two blowers, and produced 412kW and 680Nm. This latest remains a V8, still displacing 4.4L, but has fresh twin-scroll turbos, a new exhaust system, and higher injection pressure. Power rises to 441kW, available from 5600-6700rpm, with 750 Newts on hand from 1800-5600rpm. Monstering numbers then. Where the previous M5 was the quickest accelerating rear driver 80-120km/h (2.25sec) this no longer holds sway being 4wd, but nigh on 2.0sec flat is fair flying. Not quick enough to ward off the rabid E 63 S though.
We had a special drive in the previous M5, and tried to reprise that, with a road trip to Kawhia. It was more than enough to get a fix on how they compare. And we'd say, predictably, that it's a mix of better and not so very different. The last F10 M5 kicked off at $229k. This new one has AWD and costs less at $199k. Our particular vehicle featured a few optional extras, and upped the price to $206,150. So you get the AWD facility and a similar level of specification (only without the standard sunroof in the previous version) for $30k less. Much better pricing.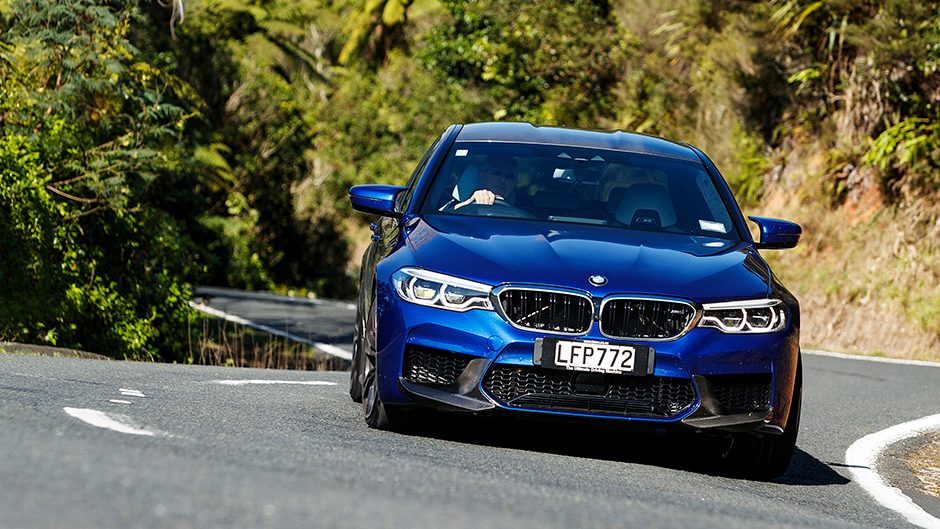 As to the 'how was it' question? Simply stellar about covers it. The M5 was the next drive we had directly after the $150k RS 4 so that gave it a hint of perspective, even if the two aren't real competitors. That's obvious when you climb in the back of the M5 too, with more passenger stretch space in every direction.
Only being a sedan it doesn't get the practical opening of the Avant's fifth door, even if both of them share a powered operation. There's little doubt that dynamically the latest M5 is even more of a weapon than its predecessor. Despite the warning of consequences when deactivating stability control we're mindful that M5 owners will want to experiment. The intermediate AWD DSC position, one push of the button, retains a semblance of stability control, and instead relies on 4WD grip and the all-clawing PZeros which are limpets in the dry.
During the cornering shots we tried to unstick the rear with limited stability and couldn't nudge it even a single mm off line. We also tried it with stability control off altogether, where you have the option of AWD Sport or rear drive mode, no back-up and damn the torpedos. Here it's like skating on ice when you take off; little wonder it's a drift champ. Lots of stick One issue we had with the last M5 was its overly sensitive steering, especially on the truly objectionable coarse chip surfaces that led to excess vibration through the wheel.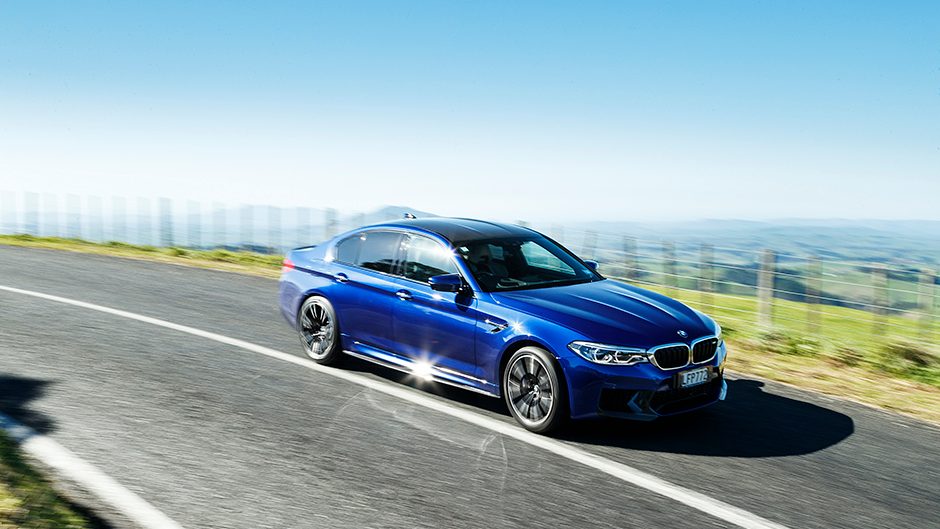 Not any more, and there's just the right amount of patter through the wheel, though the rim's still too bulky. And there's a bit much steering heft on anything other than the Comfort setting too. Even then through roads this dissects, you're working at the wheel. It doesn't help that the M5 is just shy of two tonnes either. The optimum weight/performance/handling mix is to be found in the class a size down.
Despite a weight split that's closer to 55/45 than the "ideal" 50/50 espoused by BMW, the latest M5 attacks corners with more brio than most drivers will ever muster. If you succeed in getting it to run wide you'll also be threatening to run it off the road. For it's shod exotically, has a variable 4WD system, heavily rear biased, and an active M differential, all aimed at keeping it locked on line. It's not so throttle adjustable as before, as you'd expect, but powering out of corners is epic.
On adjustability, the M5 set-up has always been highly variable and with 4WD added there's even more to fiddle with. More than enough anyway. In the end you tend to select a few settings and ignore the rest, unless you plan on track days. Whereas we predominantly drove the previous M5 in Sport Plus mode, this one we preferred in Comfort. That's because this M5's firmer than before.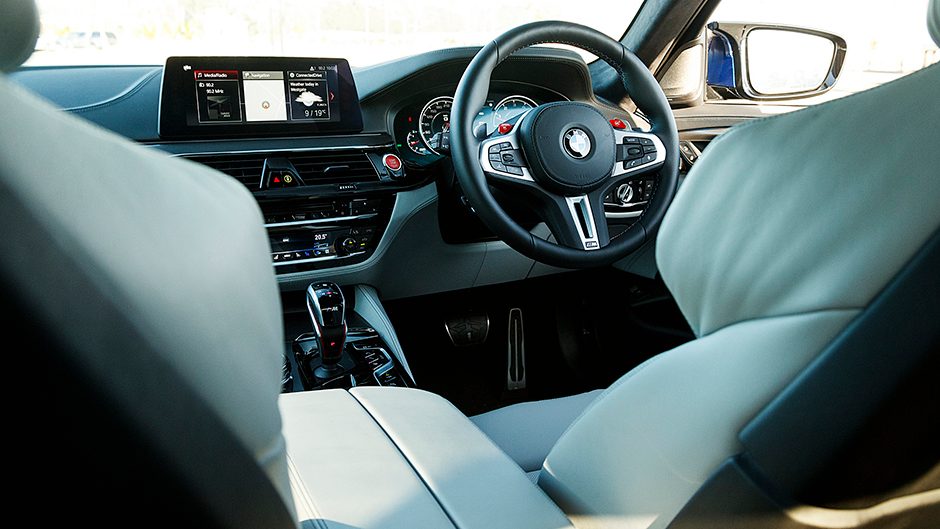 That's apparent even on motorway cruising, the Comfort setting notably tense over ridges and the like but is more forgiving than the E 63 S. For most motoring, the body control and bump resolution are simply fine in the Comfort damper setting. Go one higher for ultimate control. There are also modes for engine and trans responsiveness, again in lots of three. Ditto for transmission shift speed. Most of the time the intermediate setting is fine, but the top notch holds gears longer, downshifts earlier.
Or you can merely do the same manually using the paddles, which is what we did over the twisting Kawhia Hill road. Thus set, it's astonishing point to point, devouring the kilometres in gluttonous style. It's a ludicrous amount quicker exiting corners than before. Thankfully the sports seats can be configured to lock you in place, but all this can be hard work; you're trying to keep the better part of two tonnes on the right line and out of the bushes. Wimps needn't apply. M Sport brakes are steely in both their make-up and resolve. Hulking calipers chomp on enormous composite discs, and they're reassuringly resolute.
For $15k more you can have a carbon upgrade, but you needn't bother. Subtle outside, serious within As to the look? Never better, still subtle. BMW likes the M5 to kind of fly under the radar and while it won't perform stealth trickery, nor does it come across as overt.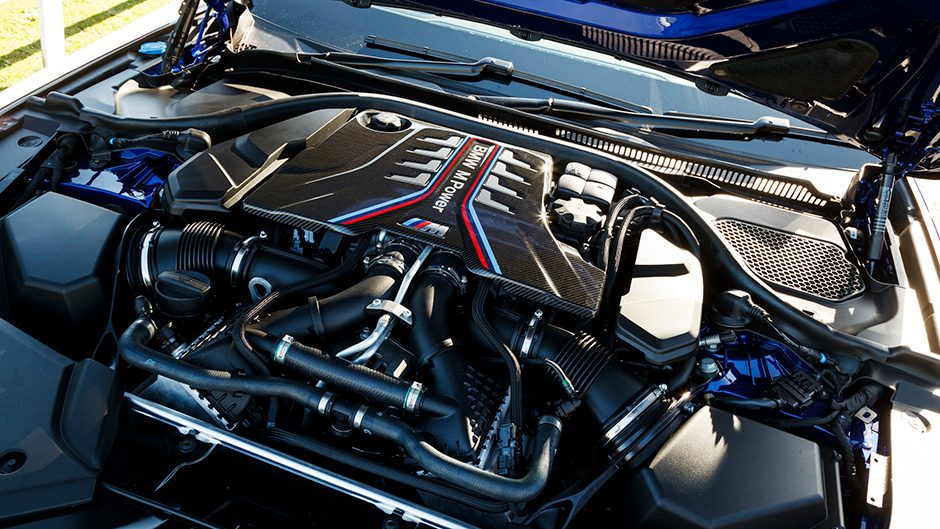 The carbon roof is standard, and you want for little in terms of specification, right down to soft close doors, sports head-up display, adaptive LED lighting, comfort access system, four-zone air, every active safety device available, and even remote self-parking for those prone to wheel kerbing. The cabin shouts sports, right down to G meter, and red buttons for starter and memorised sports settings.
If there's any aspect we didn't quite gel with it's the lack of sheer noise from the brimming V8, despite augmentation via the H-K sound system from within. Yes there's the bent eight warble, but for sheer noise it's not a patch on its clear rival, the more expensive AMG E 63 S.
However, the M5 is a match otherwise, and far more compliant and refined as a daily, even the seats are more comfortable. It's also respectably quiet on the go, the average 4dB down on the previous shouty version. BMW really had to go 4WD for their top sporting sedan to match the E 63 and RS 7, and they've built on the car that came before it, with a much broader depth of talent.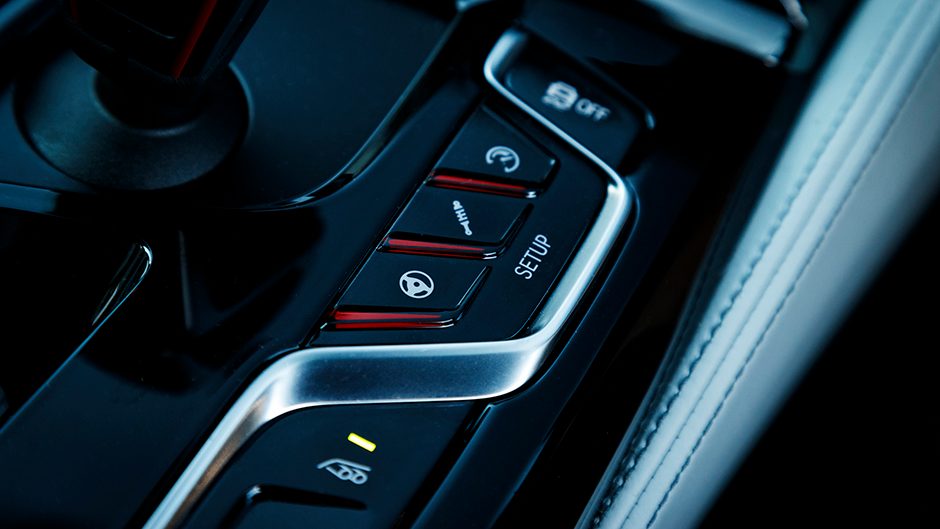 That it's also less expensive makes it even more desirable, but unless you need the space, traditional sports fans are better aimed towards 300kg lighter weaponry like the M3.