The RS 4 has always been a big hitter, but for the fourth generation Audi has chopped a couple of slugs off the V8. However, the engineers added a turbo. Two actually. So it's quicker but is it better?
Not only is this the latest RS 4 Avant from Audi, but it's also the fourth generation. And arguably its best effort yet. As a UK journo reported recently, if you want a doggie wagon that will scare the wits out of poor Bowzer, this is the one. Though why you'd want to do that is beyond us. It's fit enough to scare any passengers who may be tagging along though, and if you drive it alone, you'll likely scare yourself too.
I know I did: in the morning I picked it up, three people had a go at taking me out. Okay, two birds and one old biddie. The two birds were so taken aback at my sudden arrival that one froze, a hawk atop its roadkill; it didn't even have time to consider it probably shouldn't be there with a car fast approaching…oh phew, it's gone. And the next a hen pheasant sauntering, and suddenly dithering this way and that, fortunately that as I whizzed past her. And finally, the heart stopper, a little old lady who'd overshot the entrance to Camp Adair and so decided to pull a U-turn at the exit of the corner. Likely no-one was coming when she last looked but on the exit of a 100km/h corner? Really? A bit daft.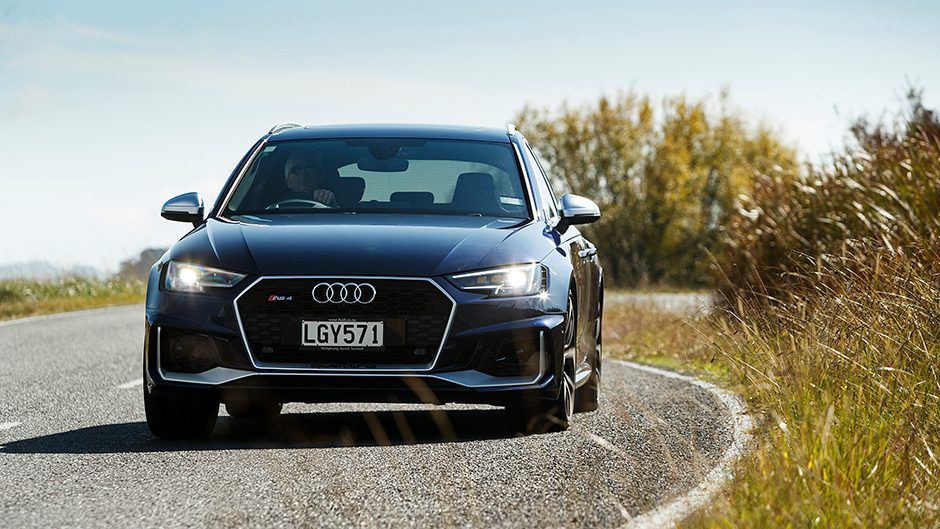 There's always a turnaround somewhere just a bit up the road where you can see clearly what's coming in both directions and then both parties have a chance to react. A little wonder the road toll is a national disgrace. Anyhow, it was at that exact point I was once again glad to be in a car like this.
Ruthlessly efficient? Check, the best stopping car we've attached the Q-Starz to, period. Brakes are ludicrously strong, even with just a dab of pedal pressure, the enormous 275/30R20 SportContact 6 rubber clawing the quattro to a halt in just 31m. Not bad for something weighing in at 1842kg.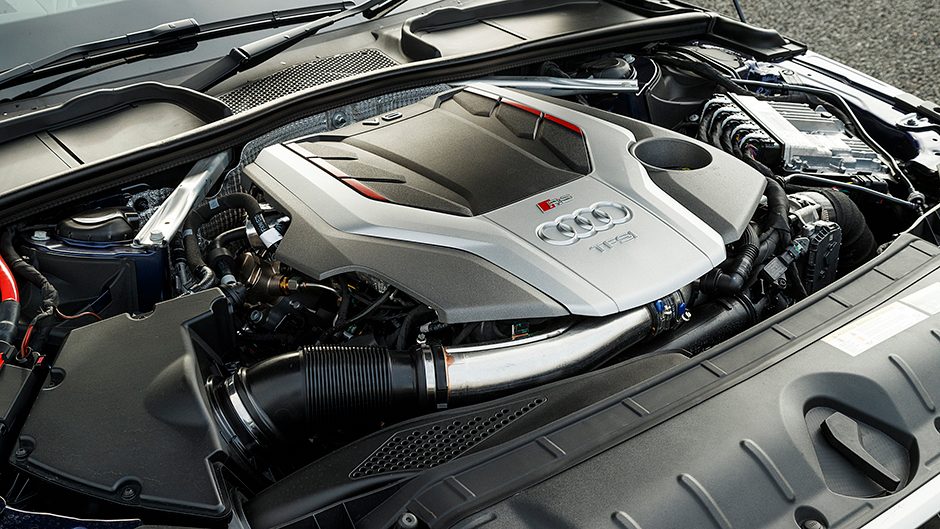 Weighs less, distributed better
And there's the rub with the RS 4. It still weighs a bit much, despite clawing back 80kg in this iteration. But it is heading in the right direction, and so too is weight distribution. With the RS 4, there's still a bit much weight over the front axle (all cylinders ahead of the line), the split at 56.5 to 43.5 per cent rearward. How does that compare with generation 3? It's an improvement, rejigged with a bit less weight forwards, the motor evidently weighing 30kg less.
And that motor? The 4.2 V8 over the prow of the Gen III version makes way for a 2.9L twin-turbo V6 in the latest iteration. It's doubtless no coincidence that power is unchanged, both producing 331kW. However, the smaller, more compact engine produces an extra 170Nm (600 in total) and it all chimes in way earlier than with the atmo engine, kicking from below 2000rpm, and the full force available from 1900 to 5000rpm.
Where the V8 engine required a few revs to get to the meat of the action zone, and signed off at a wailing 8500rpm, this is on the case real early and you don't bother the 6500rpm redline too often as there's such a shipload of torque lower down. Short-shifting then is the order of the day; it's a mauler using 3500-5000rpm, and is merely rapid from 2000-3500rpm.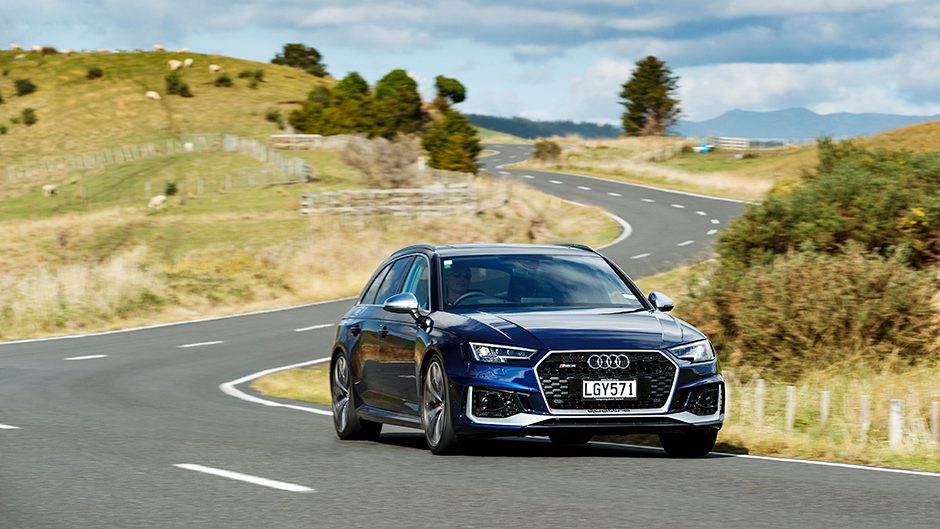 Fuel use OK given its pace
Take it easy on the loud pedal and single-figure fuel consumption is a distinct possibility. On the motorway and using active cruise we easily achieved the combined fuel figure of 8.8L/100km, a ways down on the 10.7 average of the Gen III. On a quick trip back from Raglan (Google suggested a time of 2hours and 16 min; done and dusted in one hour and 30 min) the average fuel use figure was 14.4L/100km.
On the way down there was quite a bit of fast to-ing and fro-ing for the camera which is a case of accelerating, braking, turn about and repeat. Fuel use rose then to 16L/100km, still respectable. Evidently the previous RS 4 was 25 per cent more fuel efficient than the Gen II version and this one is a case of almost the same again over Gen III. But don't think of it as being abstemious. In two days of driving and 500km we visited the servo twice, and the Z card ended up 80 bucks lighter.
Still, the performance is memorably stunning. And of course conservative. The previous generation RS 4 was rated to hit three figures in 4.7sec and managed just under 4.5 sec. This achieved the same feat, relatively speaking, with a claim of 4.1 but on chipseal scorched to a best run of 3.85sec, much the same as the 60kg lighter RS 5 which uses the same drivetrain. It spools up on the brake to just under 3000rpm, and shifts from the eight-speed auto are like those of a DSG box, which is why Audi made the change; more refined launches from slow speeds with the traditional auto.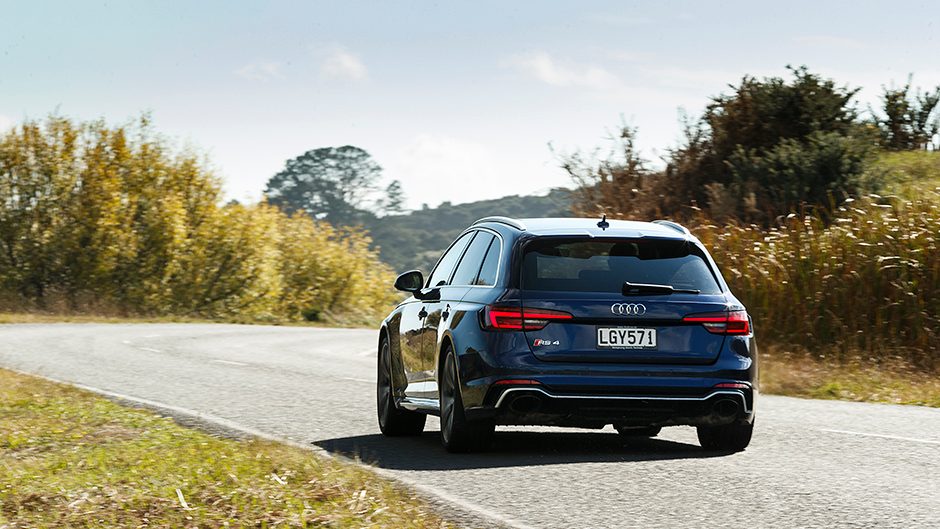 Sounds sporty different
The latest RS 4 is not a lot faster on the overtake, an 80-120 time of 2.54sec just a couple of tenths quicker than its forebear, but on road it is so much easier to extract the performance. Epic quick almost undersells it, whereas you had to work the Gen III to extract the best from it. But then you were rewarded with one of the most memorable exhaust notes in a car costing $150k. This one? It's pretty good too, just different, higher pitched and it makes a nice warble on the upshift. That's with the sports exhaust as standard.
Continuing on the noise front, the car is dramatically hushed for what is such an accomplished beast. Even on the very worst of our hideously rowdy chipseal surfaces we measured only 75dB in cabin, and most measurements were in the low seventies. Astonishing given how low riding this is, slammed 7mm further than the S4 Avant, and riding on some of the lowest profile rubber available (275/30R20s) ContiSportContact 6 rubber.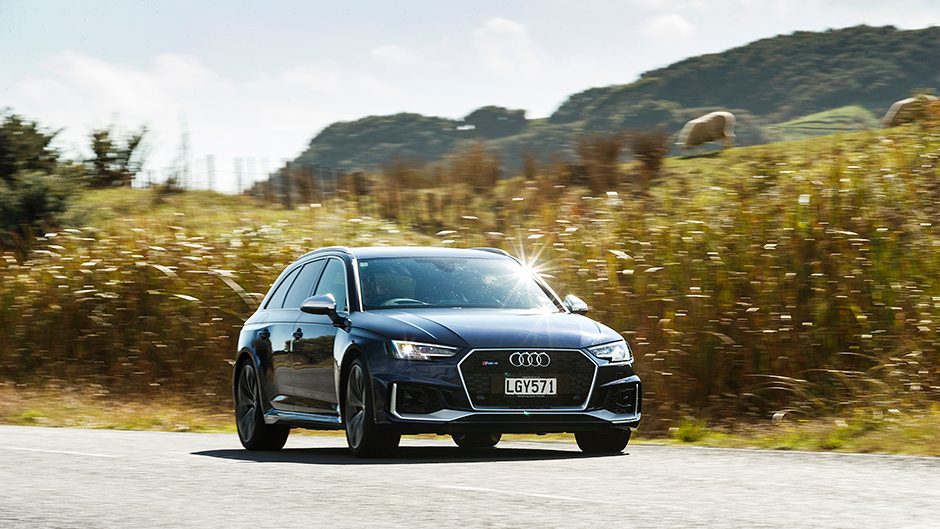 Ride you won't credit
The best party trick of the latest RS 4 though? Undoubtedly its ride quality, which is most agreeable in Comfort mode and not much less cosseting in the toughest Dynamic setting. With two of us aboard, we were constantly in awe of how it mopped up the bumps yet kept things even and tidy through corners. Each iteration of RS 4 shows an improvement in the ride and handling mix. Last time Editor Cassidy found the Dynamic setting a bit tough, but that's not the case now, despite the system being essentially the same, only tweaked.
The damping system is hydraulically crosslinked to limit pitch and dive under brakes, and offers comfort levels you'd not expect of such a bend swinger. With passengers aboard you'd probably select Comfort, or perhaps Auto which firms things for corners, relaxes damping for the straights.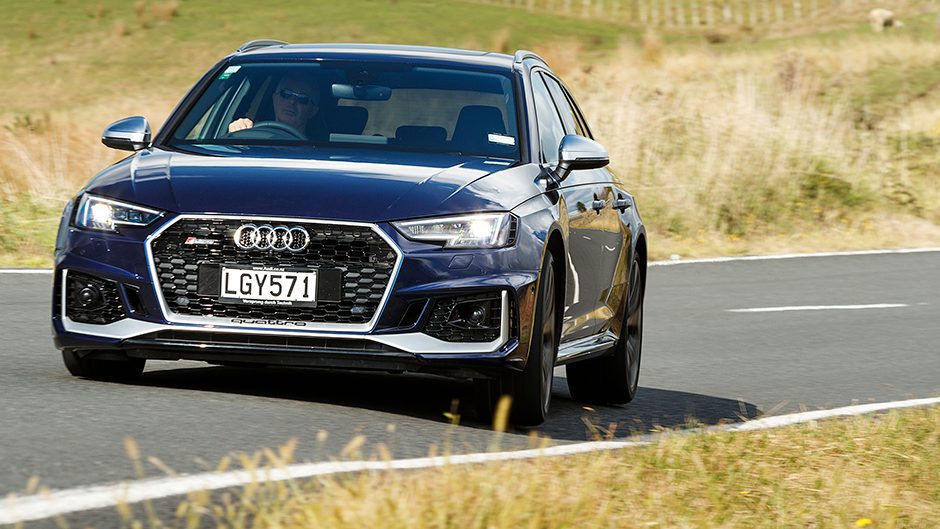 TV diff worth considering?
The RS 4's quattro system isn't much different from that of the former generation, set with a 40/60 rearwards bias, and shuffling torque rearwards to a max of 85 per cent or up to 70 per cent to the front axle. The not quite even weight balance is undone only by truly tortuous roads, a hint of understeer the result with closely stacked tight left and right handers, especially if you're driving under a time constraint. This can be ameliorated by choosing the intermediate sports setting for ESP.
On road your line is not really throttle adjustable so it's a matter of setting entry speed correctly and blasting out early, the latter being something a rear drive car doesn't allow. Bear in mind our tester didn't have the optional rear torque vectoring diff which would doubtless see to the last vestige of understeer.
And given this latest RS 4 costs $149,990, which is $4k less than the last version, some might think it a good decision plopping down $3800 on that optional item. In more open and flowing corners this is truly an epic roadrunner, however, leech-like in its stick, and seemingly locked laser-like on line.
The electric steering isn't the final word as a communicator; it says little. Still, the steering is accurate and nicely weighted, the flat bottomed wheel your friend. Helping is an almost infinitely variable driving position, the sports seats configurable in just about any direction, both knees useful braces to counter the considerable centrifugal forces this can generate (we repeatedly saw readings of 1.2 on the G meter).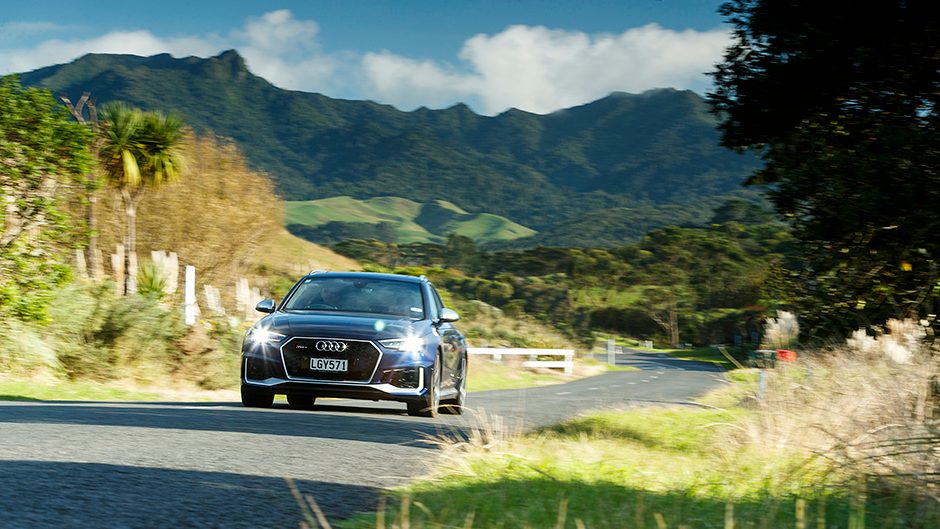 Audi has been making RS righteous stealth wagons since 1994, and Gen II had a 2.7L turbo V6. Now Audi has gone almost full circle, back to a turbocharged V6 displacing just under 3.0L and Avant bodyshape only. A manual transmission is long gone, but the eight-speed auto is so damned good that a three-pedal variant really isn't missed. The transmission, as is usual for Audi, has two modes, D and S, accessed simply by pulling the spring-loaded lever rearwards. Or by selecting the Dynamic drive mode, which automatically selects the Sport transmission setting.
Over the most taxing roads, we revelled in paddle action, short-shifting into the meat of the torque curve.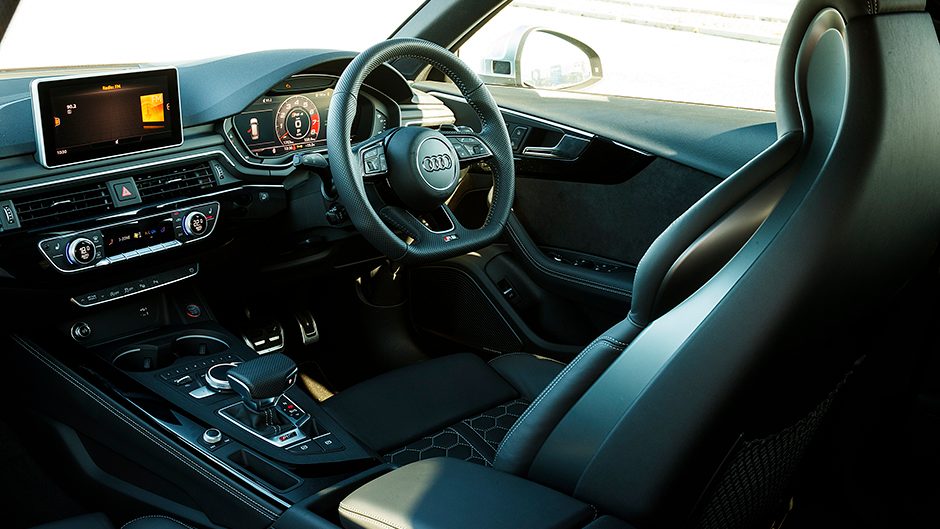 Some options but few needed
Our particular assessment vehicle came pretty much standard, the only significant difference being its optional ($1000) 20-inch forged alloys. Normally it runs 265/35R19s. Also added, the $4000 panoramic sunroof, and some piano black inlays, taking price out to $155,500.
Standard kit includes trizone air, active cruise with stop-start, sports suspension with Dynamic Ride Control, a full active safety suite including a 360 degree camera, matrix LED headlights, privacy glass, and a powered luggage compartment lid. Sports seats in Nappa leather feature a honeycomb pattern, there's B&O surround sound, a head-up display, Smartphone interface, MMI Nav, comfort entry and pushbutton start.
You name it, essentially. And there are plenty of carbon and styling packages, along with carbon ceramic brakes if you just must. The new car warranty includes three years of servicing.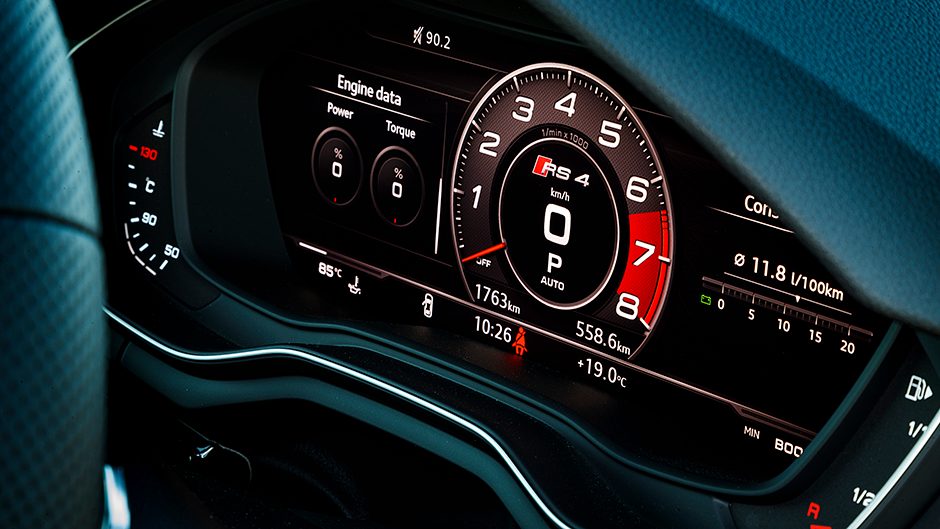 Sole competition for the RS 4 comes in the form of the AMG C 63 Estate which is rear drive, and almost as quick as the four-paw RS 4, though costs $20k more. It's a fire breathing wagon, and has a value laden if not quite as quick 4WD sib, in the $120k C 43 wagon. We dubbed it 'the sensible AMG'.
Lovers of serious performance wagons have never had it so good.