Not many ADVs cost under $10k but here's one that does and gets most of what it does right. Plus most people think you're riding the thrice as expensive R 1200 GS.
Ha, fooled the very first biker I passed so job done. The GS version of BMW's least expensive motorcycle, the G 310 R, completely tricked the rider of the fully dressed tourer, the R 1200 RT. He thought he'd just passed a fellow biker on an R 1200 GS. This I knew by the effusive wave. Had he known it was the baby GS, powered by a 310cc single, would the greeting have been so unmissable? Don't. Think. So.
And that's what makes the GS version of the G 310 worth the extra $1500. That and the extra suspension travel and added weather protection. You'd probably pay the extra for the look alone, however. This really does resemble the full-sized GS at first glance. Had the R 1200 RT rider spent a little longer peering at the passing machine, he'd have realised his error; there's no flat twin engine here.
But the 310 single really is a gem of a thing, and it's not often you can say that of one-potters. Vibration is about the only issue, and at anything more than about 90km/h, the mirrors attached to either side of the handlebars may as well be unscrewed and tossed in the brush, for all the good they do. Okay, so you can tell there's something behind you rather than nothing, so not entirely useless. Let's reconsider the rash action of binning them then.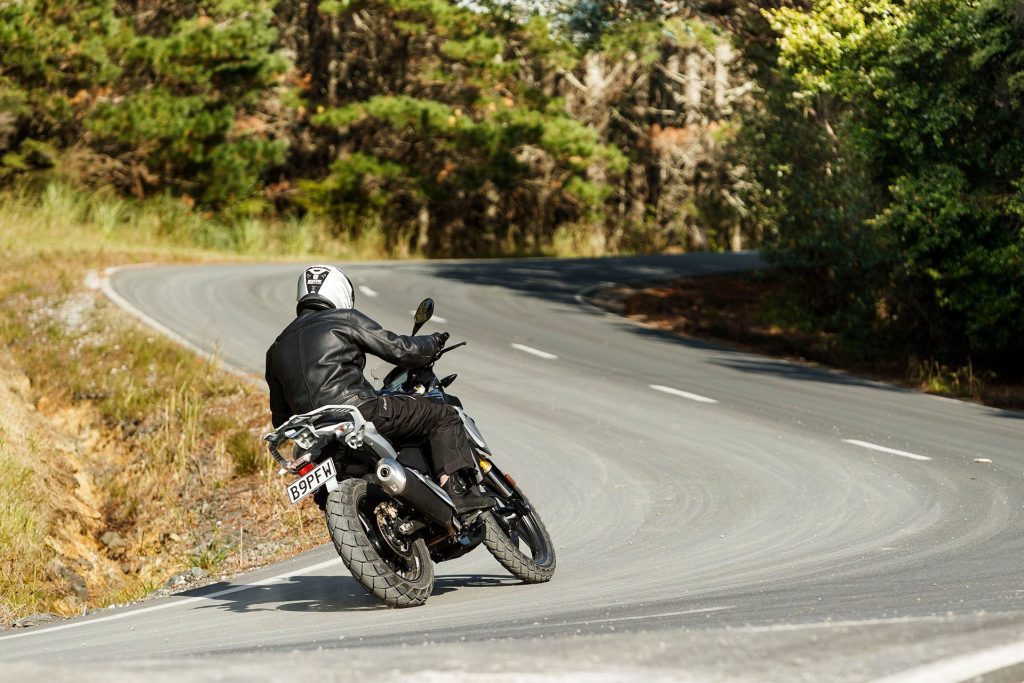 High and mighty
It's not just the tall and beaky look that the GS variant brings either. We really like the riding position of this, purpose built for an easy commute, with a commanding view over even the bigger SUVs, especially when you stand on the metal pegs. It feels less hemmed in than the G 310 R too. The wide bars make it easy to manoeuvre, as does the generous lock and the light overall kerb weight of just 167kg. Only, it's way less easy to mount than the naked bike, being bits of metres taller (seat height is 835 vs 785mm for the R). We like the practical nature of the robust luggage holder on the rear (all prepared for the fitment of a BMW top box) but it's just another thing to obstruct legs that don't rise as high as once they might have. Still, once aboard, as we said, comfort for long distances is yours for the taking. The little step at the front of the pillion seat is handy to push against, gives a feeling of security.
As does the bike on the road, despite it wearing Metzler Tourance tyres rather than the Michelin Pilot Street radials of the 310 R. We've encountered these hoops before on dual purpose bikes and they work really well, adding confidence.
Not that the G310R is exactly a proper ADV. As BMW suggests, it's a bike for 'light terrain' duty rather than big air time. We took it on freshly graded gravel and it handled that just fine, the 19-inch front wheel adding stability. Really, it's more about the look than anything and as we said it fooled one, fooled all.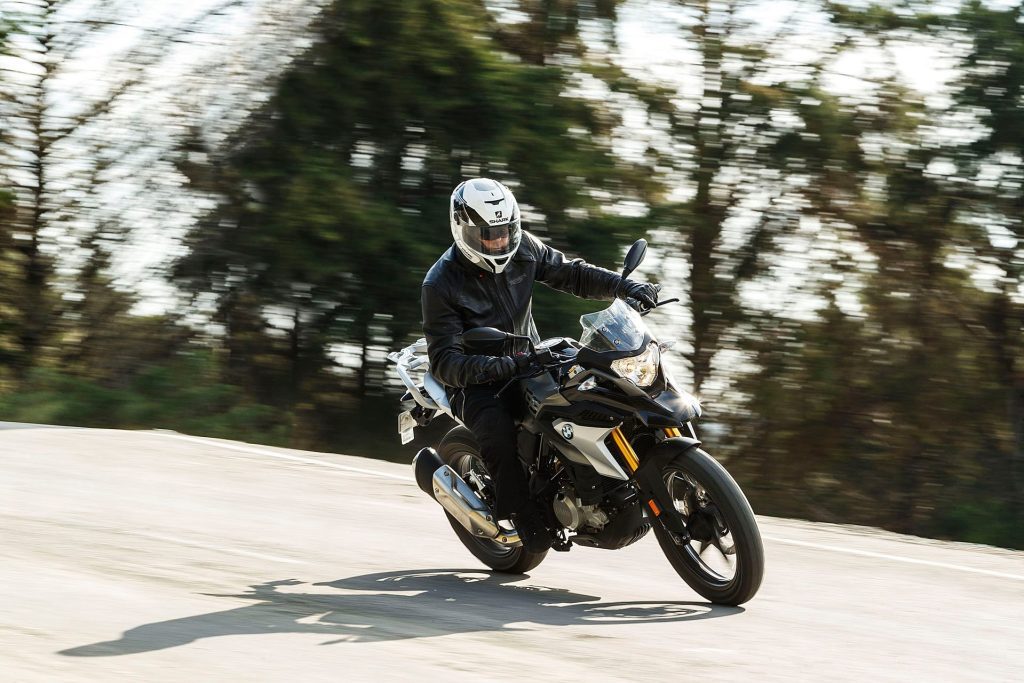 Strong single
The engine, vibes aside, is the centrepiece and a wee ripper. It's a 310cc liquid-cooled mill that produces a claimed 25kW at 9500rpm, and 28Nm at 7500. Think of this as more about practicality and play than sheer power and speed. Yet for all that, it's just as quick as the G 310 R, the 80-120 times overlaying each other. But it's the urge from low revs that just don't compute. No singles like to beaver away from below about 3000rpm and this is no exception but in town you can short shift at 4000rpm through the gears, the GS tooling about happily in fifth. And out of the burbs, 4500rpm sees the engine wake up properly, around 80km/h in sixth. At 100km/h the engine is pulling an even 6000rpm and that's precisely where the power band proper kicks in. That also means overtakes don't necessarily mandate a downshift. This is genuinely a useful little engine. So it's all over Rover by 135km/h but cruising at motorway speeds is easy, and below the band of tingles. These only become intrusive at speeds where you've no chance of talking your way out of a ticket.
The engine is a bit unusual in another way, featuring a cylinder head rotated by 180 degrees. Thus it exhausts to the rear, a configuration that evidently lends itself to improved ground clearance and a lower center of gravity. While it evidently gets more weight towards the front wheel (don't know how), there's still far more over the rear, with a split of 91kg to 76kg up front, helping with junior wheelies and general braking duties.
The same unusual engine set-up contributes to a shorter wheelbase and a longer swingarm, which leads to a seemingly contradictory mix of enhanced stability and added agility. Yet that's just how it rides, the turn-ability notable, and stability never in question. While most overseas commentators reckon the suspension is too soft and it's true, dive is a feature under heavy braking, we reckon BMW Motorrad got the mix about right, the boingers absorbing the big hits, with nary a head shake or offline moment to report. It positively begs you to corner quicker and harder. The chassis is just so sorted, and the tyres match the bike really well.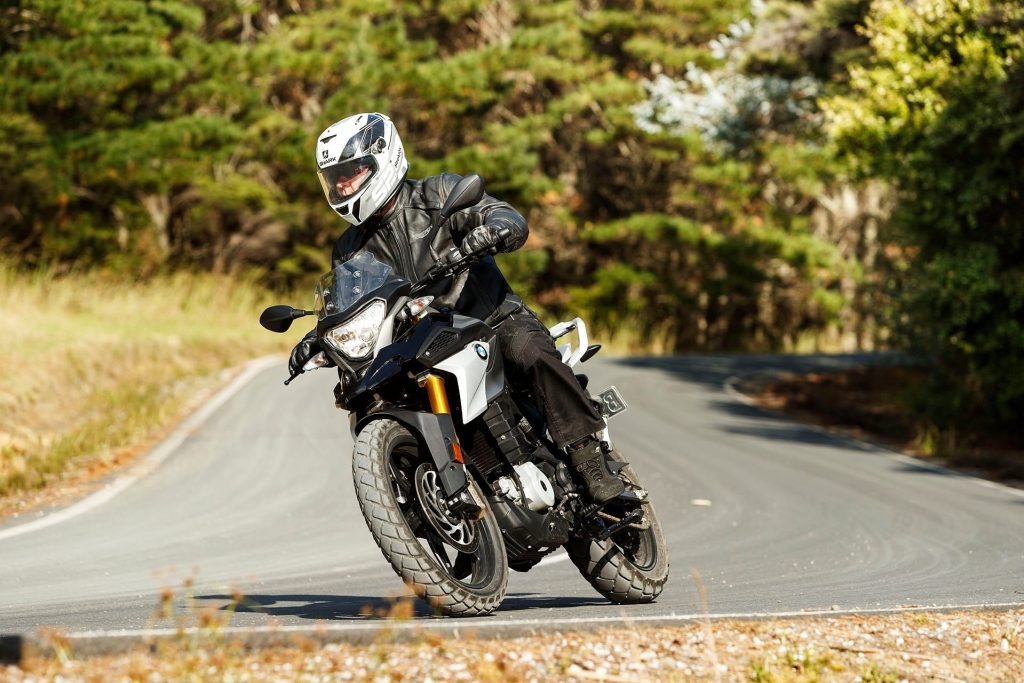 ABS brakes standard
Initially we thought the brakes weren't up to much but a stint at open road speeds suggest they just need a bit of heat in them to give of their best. The single radial-mount four-piston caliper acts on a 300mm disc up front. In town action can feel a touch wooden at times, and this isn't helped any by the lack of lever adjustability. The pull is a bit long for those with foreshortened fingers. With the dual purpose tyres we expected stopping distances not quite as good as with the road rubber. But not so, both achieving 43m emergency stops from 100km/h. The rear brake used in conjunction with the front makes a big difference. ABS is standard but the antilock function of the rear disc can be cancelled at the push of a switch, just like on proper ADVs, allowing you to steer it from the rear.
Keeping it simple and friendly is an LCD screen that you can take in at a glance, with a linear strip-like tacho which features legible numbers, and a digital speedo that's more accurate than most (100 is a real 97km/h, the same as most cars). A gear indicator and strip fuel gauge are handy and so too trip data that includes distance to empty and fuel use. You're doing well if you can force it to drink more than 4.5L/100km. At a constant 100 it's often in the high threes.
Purchasing a new BMW for $8k (G 310 R) is something no-one would have believed possible a few years back but now it is thanks to production in India by joint venture partner TVS. The GS is more expensive, as you'd expect with the extra bodywork, but would make a truly marvellous round New Zealand mount. For the money it's worth the extra over the CRF250 Rally for the performance increment and over the Himalayan, another Indian-built machine, for just every reason.
| | | | |
| --- | --- | --- | --- |
| Model | BMW G 310 GS | Price | $9495 |
| Engine | 313cc liquid cooled fuel injected single, 25kW/28Nm | Drivetrain | 6-speed, chain final drive |
| 0-100km/h | 6.95sec | 100-0km/h | 43.94m |
| 80-120km/h | 6.83sec(199m) | Weight | 171kg |