New bikes that hark back to old faves from last century are popular right now. Here's another that is done almost to perfection. We ride Kawasaki's Z900RS, its ode to the Z1 of the early 70s.
Let me shake your hand" said a friendly rider I met at a Z service station recently. He was refuelling his immaculate ZXR1200, and asked when I got my new Kawasaki. I explained that I'd picked it up that morning, and he figured I'd just bought it. Didn't want to disappoint him so I let it ride.
He knew ALL about this bike, and made some rather astute comments about its appearance, which closely follows cues from the original. There's a similar round headlight, single elongated stepped seat, bullet-shaped instrument binnacles, duck bill cowling at the rear, and a teardrop-shaped tank finished with the memorable "candytone" brown and orange paint scheme. Just like the original.
The main differences are minor, like LED headlights, LCD instruments and the least attractive element, a bukly radiator in front of the still-finned engine, despite it not being air cooled. It's the look that matters. A four-into-one exhaust is lighter than the four exhaust pipes of the original. And the silver brackets that secure the front mudguard differ too. My new mate reckoned they looked less obtrusive on the green and black bike, and he's right. They're black and blend in better.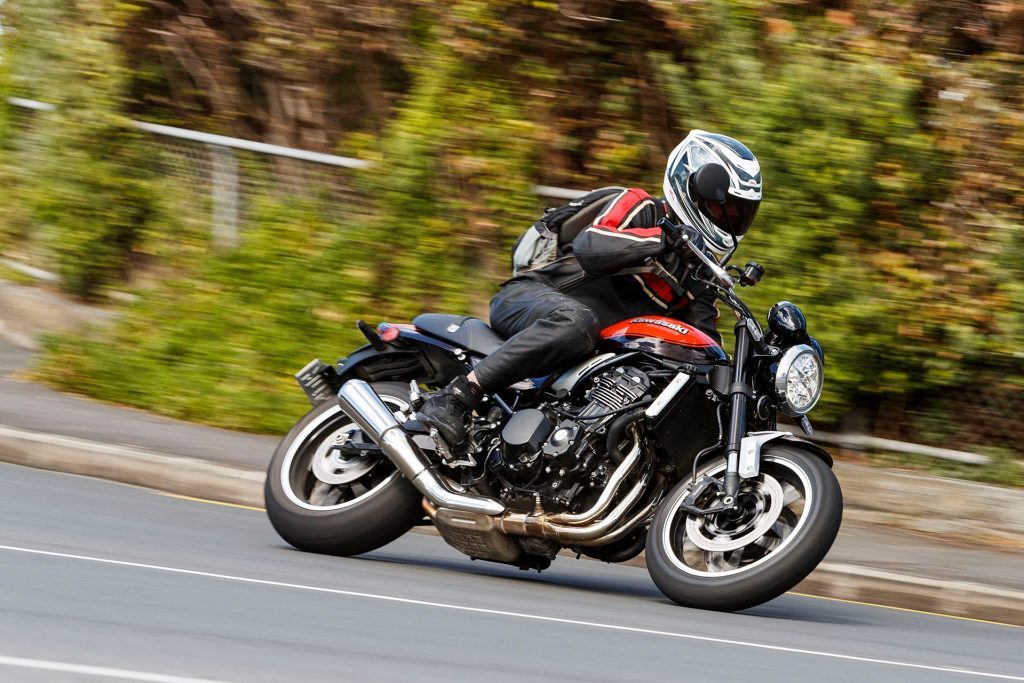 However, the prominent 900 on the side cover of the other colour just looks wrong to me. The other major difference is the use of a monoshock at the rear instead of twin rear shocks, and upside-down forks. Kawasaki reckoned it wouldn't compromise on handling. From the rider's viewpoint, this instantly reminds of the 70s, with high bars, and an upright riding position, analogue rev counter and speedo, and no digital speed readout. There's plenty here to give it a yesteryear feel. Would it ride like that then?
An icon of the 70s
I'm sadly of an age that can recall the hoopla surrounding the introduction of the Z1 and the subsequent thrashing it dished out to all other bikes of the time. It wasn't something that was on my (price) radar but I do recall feats of derring-do by riders of the time. On the street, it took the fight to the Honda CB 750, which was the first to debut an inline four-cylinder across the frame engine, and set the big bike standard that remains today.
The Honda was heavy, unwieldy, slow and underbraked so the Kawasaki really didn't have to do much to whup it. Another 150cc and twin-cam heads were more than sufficient. It soon became the dominant machine in Australasia racing circles, racking up numerous endurance race wins, in turn creating Kiwi heroes like Graeme Crosby. Fast forward almost half a century and the wily racer still has an iron in the Z1 fire, his business refurbishing such bikes.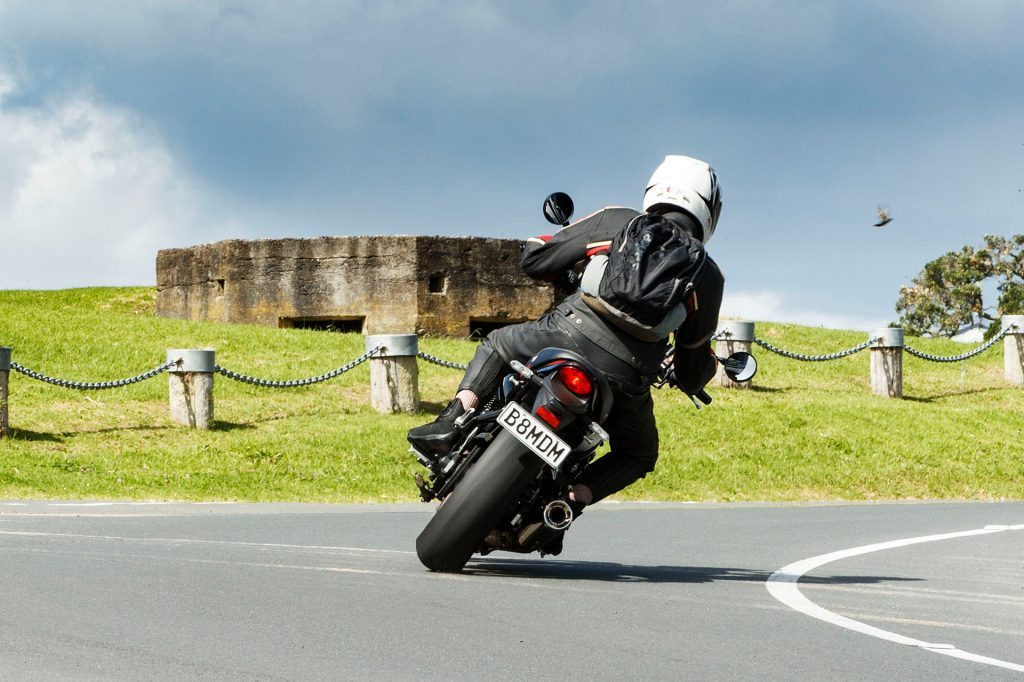 Meantime, Kawasaki is also in on the act, kind of, last year releasing its own retro bike at the Tokyo Show, the Z900RS, short for Retro Sport. And it arrives at a time when the brand is undergoing something of sea change, not only here where it is now under a new distributor, but also back at home where the designers and engineers seem to have cast aside old thinking, and are going for broke.
Is racing changing the breed?
The last few Kawas we've ridden have been outstanding, including the grunty Z900 naked bike that gives the MT-09 serious competition, and the new Ninja 400, the best sub$10k bike we've ridden. Now this, the Z900RS. Whoever says that racing isn't any good for the breed should check out what has been happening to Kawasaki over the past few years. In World Superbike Racing they've been unstoppable, Jonathan Rea winning three years in a row on a ZX-10R.
Is it a coincidence that Kawasaki's non-ZX road bikes have picked up their game lately? Part of it relates to the firm's implementation of new trellis frame chassis technology, debuted on the H2, saving a fair wedge of weight compared with predecessor machines. So it is with this bike, weighing in at 215kg. Previously a Z800 scaled up at around 226kg.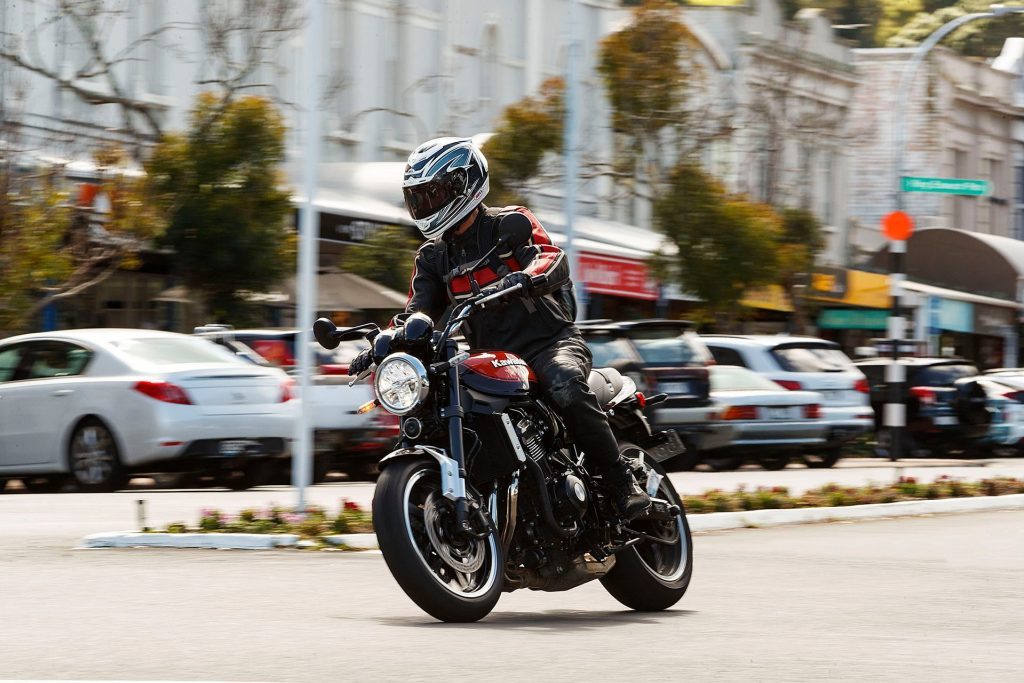 Until recently, non-sport Kawasakis tended to be undertyred and underbraked. Now they're certainly not the latter, and the former are improved. The upshot is that modern Kawasakis are increasingly a blast to ride. Want proof? The Z900RS gets four-piston radial brakes that stop it on its nose. Tyres are better too, Dunlop Sportmax GPRs. Ours had impressive Metzler Racetecs.
Engine primed for an easy ride
It borrows its engine from the Z900 naked bike but gets a different tune – easier cam timing, heavier flywheel and lower compression – for even more low rev muscle. So there's not quite as much power up top, down 10 units to 82kW, nor does it rev as high, but torque is virtually unchanged, and its 99Nm arrives at 6500rpm, 1200rpm earlier.
The Z900RS is also reasonably light. The end result is that in a straight line the new retro bike remains quick, only 0.3sec behind the sportier Z900 naked for the acceleration criteria we use. Few cars will outrun it, while urge at the low end is simply unprecedented. This accelerates smoothly from as low as 30km/h in top gear. That's 1000rpm, and it's onto it turbo-like from about 1500rpm. It can easily saunter through town at 50km/h in top gear, even climbing quite steep hills in sixth at such speeds.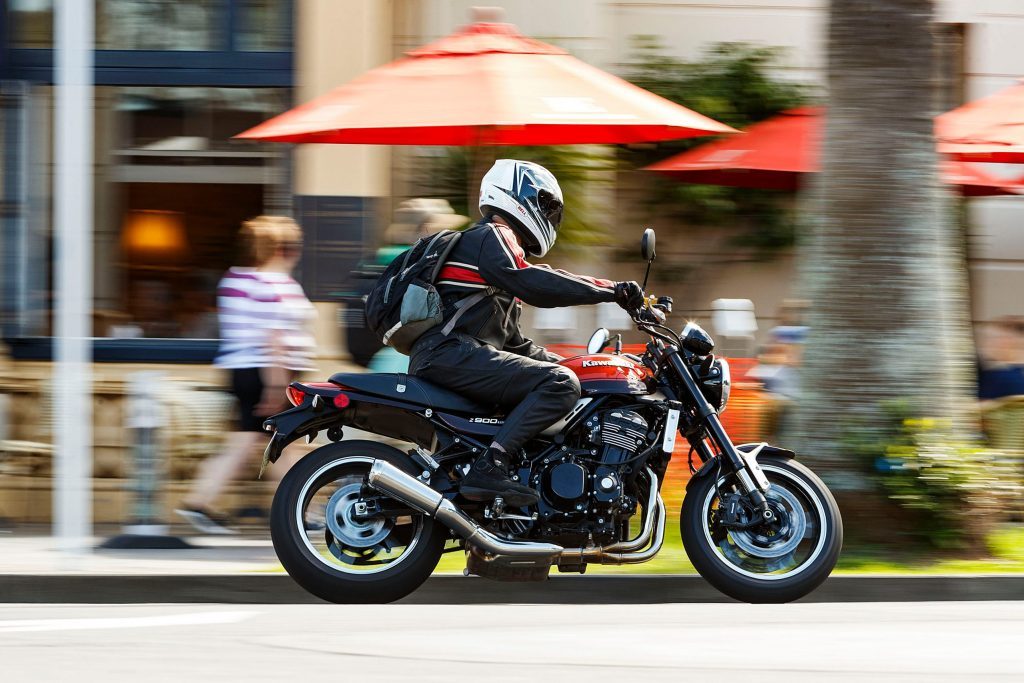 Take-offs in second gear are easy. The torque at low engine speeds is legend, which makes urban running simply effortless. Same with overtaking. There's so much torque developed at middling revs that passing can be achieved without a downshift, pulling hard from 80km/h in sixth gear and sounding the business at it moves through the 3000-4000rpm area.
Evidently Kawasaki took 20 attempts at making pipes that barked just right before signing off. Nice that the customer doesn't have to do the upgrade then!
Two significant updates from Z900
In delivering the RS, Kawasaki updated two aspects from the donor bike, adding three-stage traction control, and radial calipers for the brakes. There wasn't much wrong with the way the naked Z900 slowed, and nor this, a strong rear brake and good rubber contributing to efficient retardation.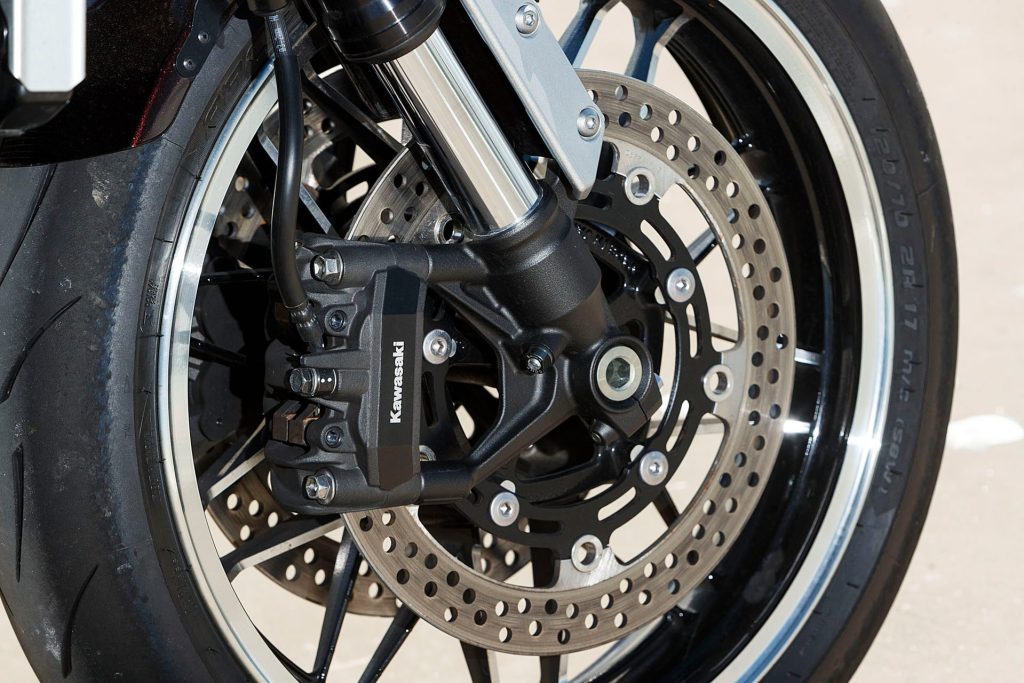 There's plenty of front end bite too, a six-position adjustable lever helping. Where the sporty bike comes only with ABS as safety gear, the RS adds three-position traction control. We left it on one, because TC doesn't act as an antiwheelie device like many do these days. Otherwise, safety gear is limited to ABS brakes and good tyres and handling. No engine modes here and they're simply not needed.
Rides well and handles with aplomb
As to the ride itself? We knew from track experience that it mixes good dynamics with a well controlled, compliant ride and that's what it's like on road too.
With a slightly longer wheelbase than the donor bike, and a bit more rake it still turns easily, without being skittish, and stability is just superb. There's plenty of adjustability both ends yet we touched nothing; it proved fine as it was. There's great ground clearance, and efficient progress is aided by an assist and slipper clutch and vice-free transmission. Plus, the engine is utterly vibe-free at 100km/h, just under 4000rpm, meaning crystal clear mirror images. All you really need is a fine, windless day.
Without any weather protection, and an upright riding position, you tend not to rip along at a great rate of knots, good for licence preservation. And with such a cushy saddle and compliant suspension, the ride lasts the distance. We averaged close to 20km/L too, around 5L/100km. That's a tank range of over 300km.
| | | | |
| --- | --- | --- | --- |
| Model | Kawasaki Z900RS | Price | $19,995 |
| Engine | 948cc, liquid-cooled, fuel injected, IL4, 82kW/99Nm | Drivetrain | 6-speed, chain final drive |
| 0-100km/h | 3.43sec | 100-0km/h | 42.27m |
| 80-120km/h | 1.73sec (49.65m) | Weight | 215kg |