Having shown it off in concept form in April, Toyota has now revealed the production version of its first fully electric vehicle; the bZ4X. It's already been confirmed for the New Zealand market, too, with the first models to land in late 2022.
Most of the design elements first seen in the initial concept have survived for the production model, as predicted, including the unique gloss black fender trims, the sci-fi cabin, the unique squinted headlights, and the full-width LED tail-light.
Read more: "An avalanche" of electric Toyotas heading NZ's way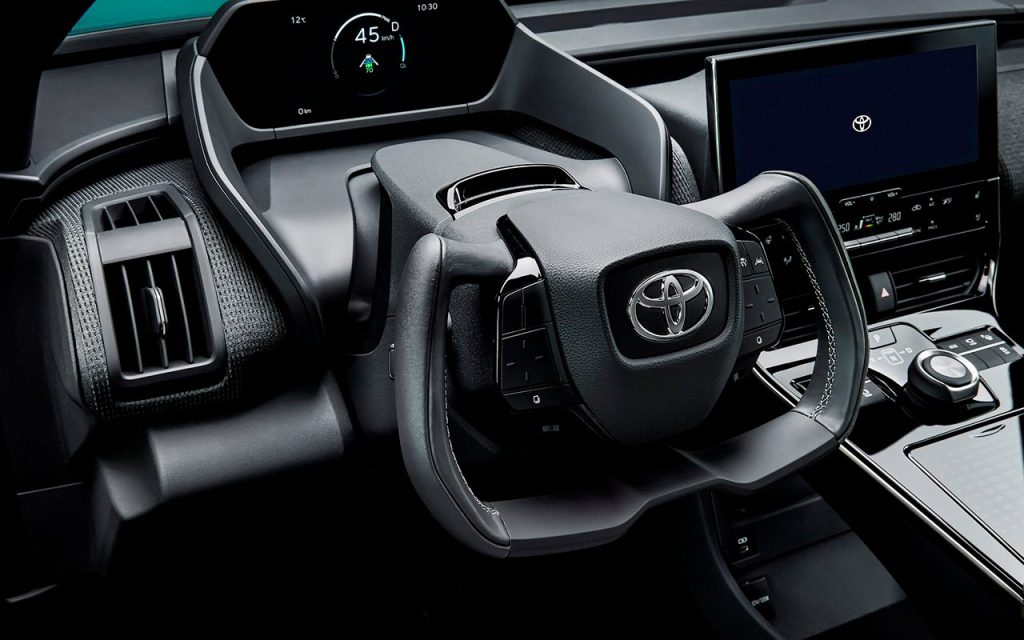 Among the few interesting tweaks is the inclusion of a 'wing-shaped' steering wheel, Tesla Model S Plaid style. Toyota says the oddball steering wheel gives the driver more visibility to see the guages and the road ahead. Thankfully, the bZ4X will also be available with a traditional wheel, too.
All of this sits atop Toyota's first dedicated e-TNGA BEV platform, one that it developed alongside Subaru. Toyota has confirmed that the bZ4X will be available with either two-wheel drive or four-wheel drive; the latter featuring Subaru's symmetrical all-wheel drive tech and its 'X-Mode' feature.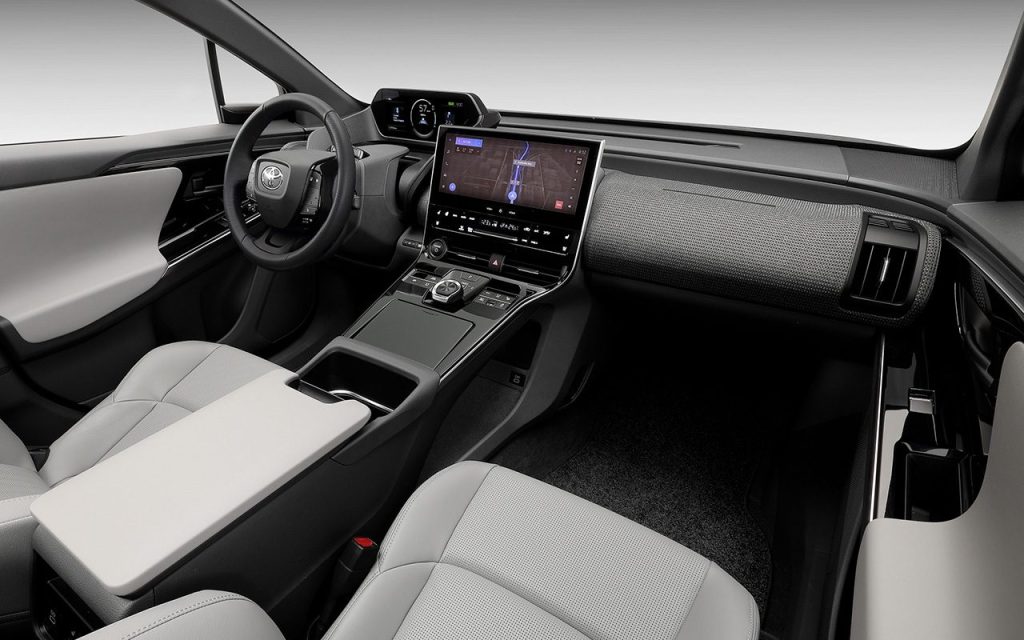 Said all-wheel drive is made possible via dual AC synchronous motors, one mounted to each axle. Front-wheel drive models get a single 150kW motor, while dual-motor variants get an 80kW motor front and rear, making for a 160kW overall output. Toyota claims 0-100km/h acceleration figures of 7.7 seconds (4WD) and 8.4 seconds (FWD), respectively. 
This is paired to a 71.4kWh lithium-ion battery in all models, capable of approximately 500km of range in front-wheel drive models and 460km in all-paw models. Both are capable of 150kW fast charging, meaning that it can take on up to 80 per cent of charging capacity in 30 minutes.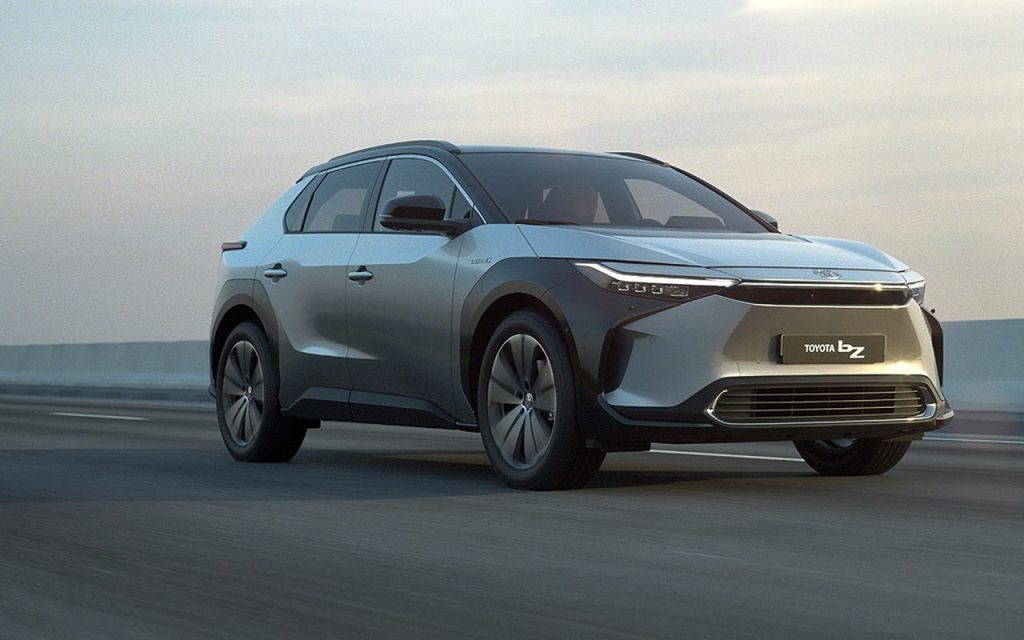 These are fairly competitive figures, in a market that's still largely devoid of EVs in the compact to mid-size SUV segment. For reference, the bZ4X measures in at 4690mm long, 1860mm wide, with a 2850mm wheelbase.
The RAV4 by comparison is 4615mm long, up to 1865mm wide, and packs a 2690mm wheelbase. The similarities don't stop there, either. The bZ4X is also a five seater, with no three-row variant on the cards.
Beyond the EV powertrain, Toyota's other big catchcry with the bZ4X is its space. The brand boasts that the bZ4X features class-leading legroom for occupants in either row, describing the cabin as "a quiet space that stimulates conversation".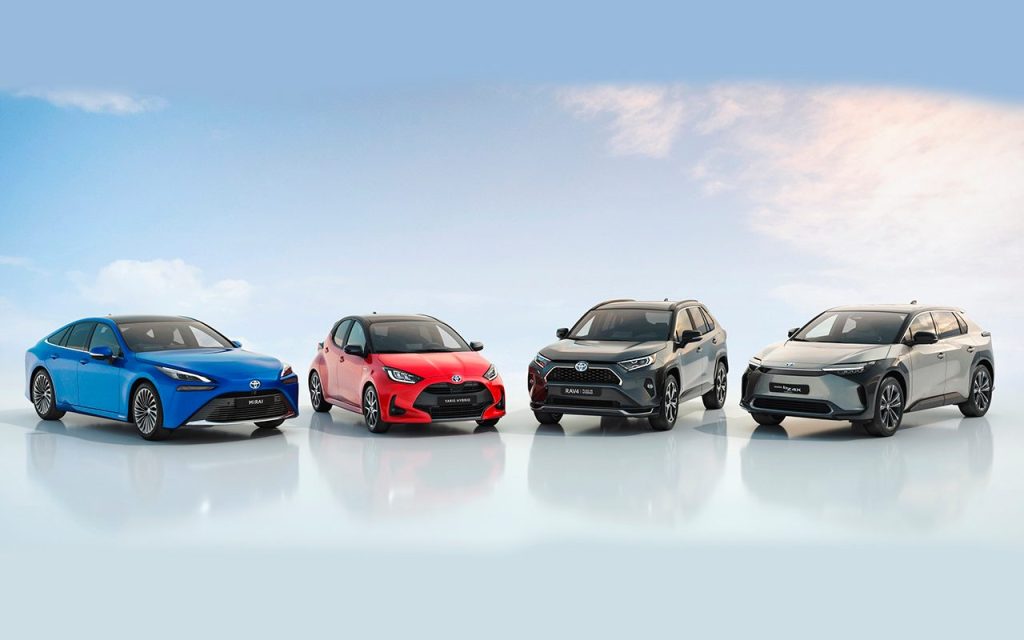 As previously reported, there are seven future bZ models in the pipeline, as part of 15 fully electric models that Toyota intends to put on sale in the longer term. On top of this, the marque recently announced a US$14billion investment into battery technology, with whispers that it's developing solid state tech.
Toyota has finally joined the pure electric vehicle game. These are interesting times for sure.