MG4 has arrived, carrying the weight of big expectations. Does it hit the mark?
Whoa, what a colour. Volcano Orange, as it's known, is the hero hue for one of the most anticipated launches of 2023. Some like it, reminding the oldies of primer coat orange.
Others reckon it's good to be seen, from a safety perspective. Some weren't convinced.
The MG4 is the firm's first EV on a dedicated platform and it is available in a choice of four models, priced from $46,990 to $63,990, depending primarily on battery size but also specification.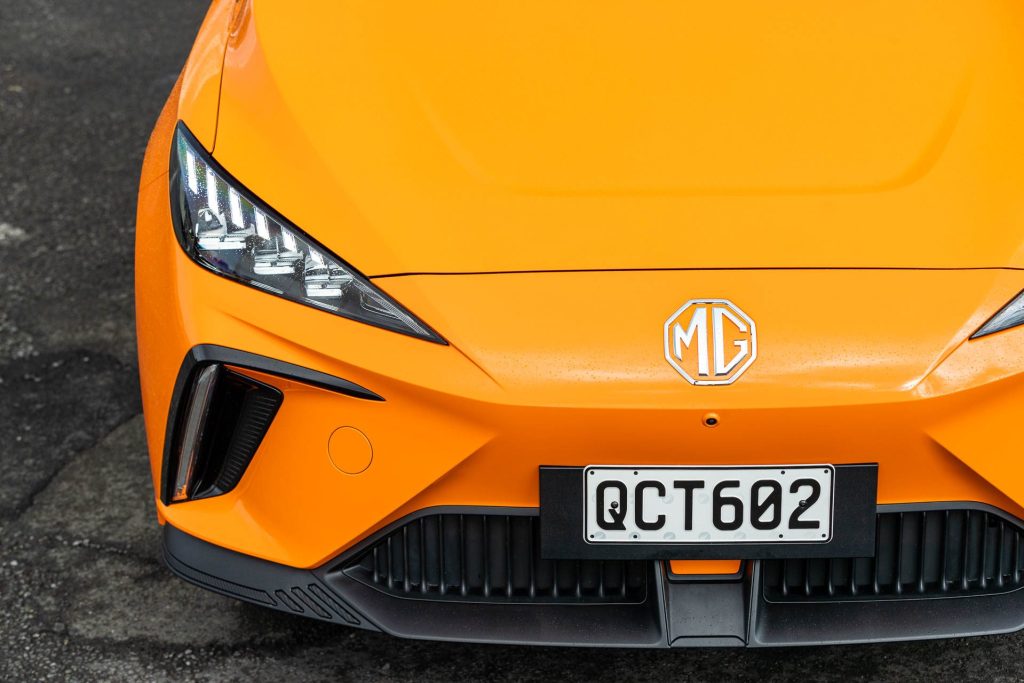 Currently there are three different battery options, 51kWh, 64kWh and 77kWh for the Long Range model.
The reason this has been such an anticipated model launch is that it kind of cleaned up the Car of the Year awards in the UK, winning a host of gongs. So it is seen as a bit of an overachiever.
The colour may be dramatic but so is the shape, one of the reasons for its success in the UK.
This is a hatch that looks stealthy, with a two-part roof spoiler, front splitter, blackened roof and clear character lines.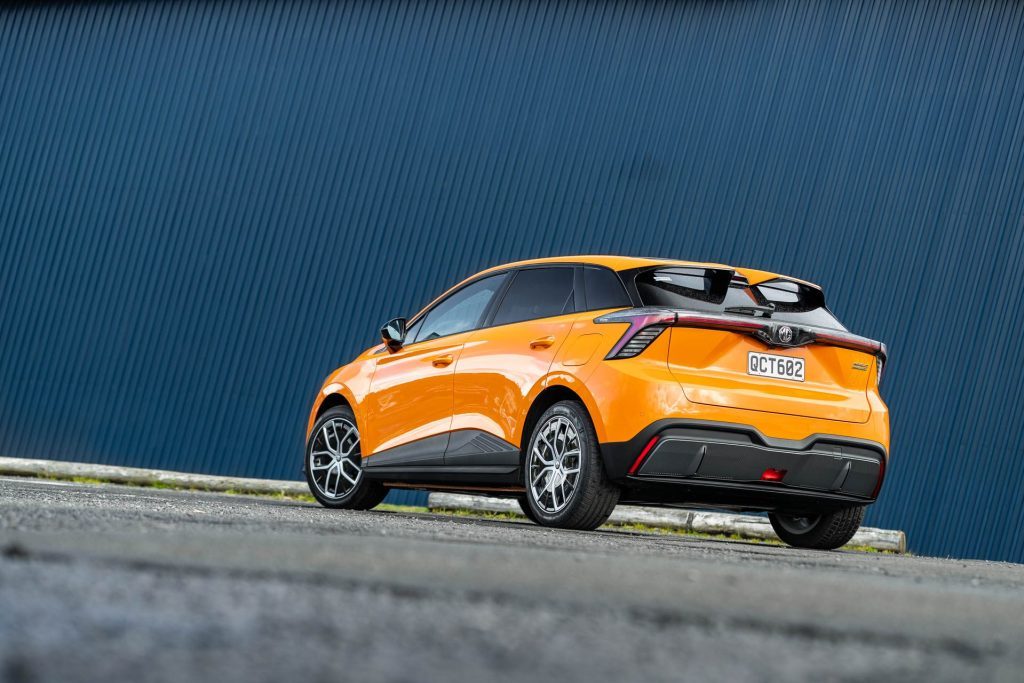 There are also SAIC LED lighting systems at each end and the low roof height of 1504mm adds to its sporty appearance. The unusual spoiler at the rear of the car had some wondering though.
A throwback to MGs of old is an octagonal shaped steering wheel. The young'uns thought it was a steal from a BMW iX machine but the old fogeys knew better.
And on that, the young ones don't seem to know that MG stands for Morris Garages, the brand inaugurated in 1924 and in its centennial year now (runs from May 2023-May 2024).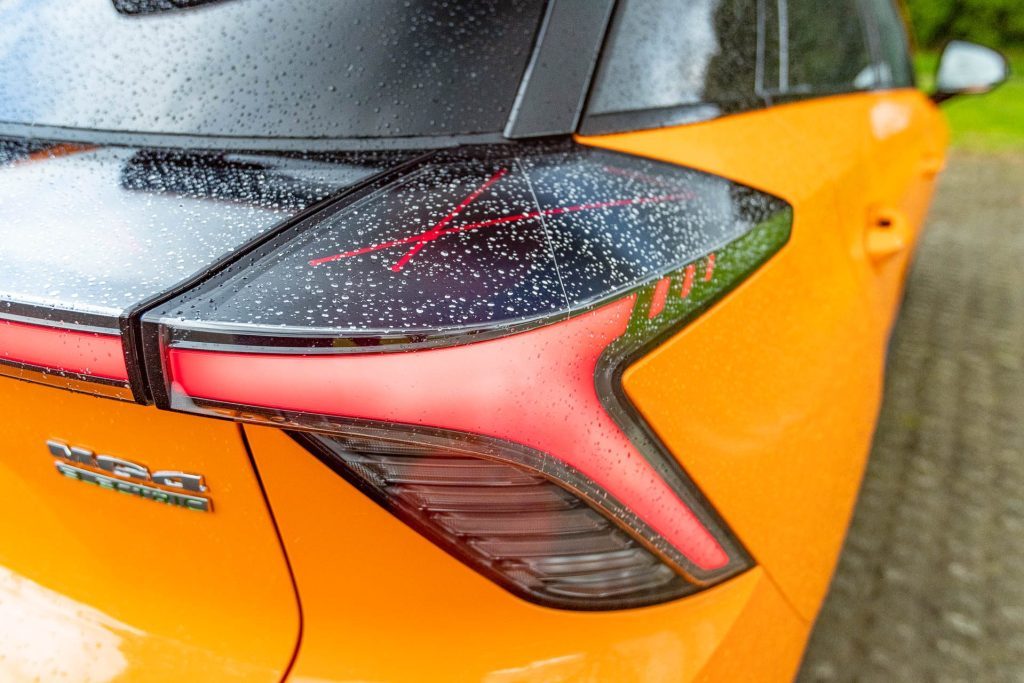 What is special about the MG4?
What makes the MG4 so interesting is that it is the first clean sheet offering from MG in quite some time. The MG4 is the first to employ the Modular Scalable Platform or MSP that will underpin a host of future models from the Sino-Brit company.
The battery pack is just 110mm in thickness and is integrated within the chassis. Adding spice, it's rear-wheel drive, just like the Cupra Born, only that's $78k drive away. The Essence costs $24k less at $54,990 ($47,975 after rebate, before ORCs).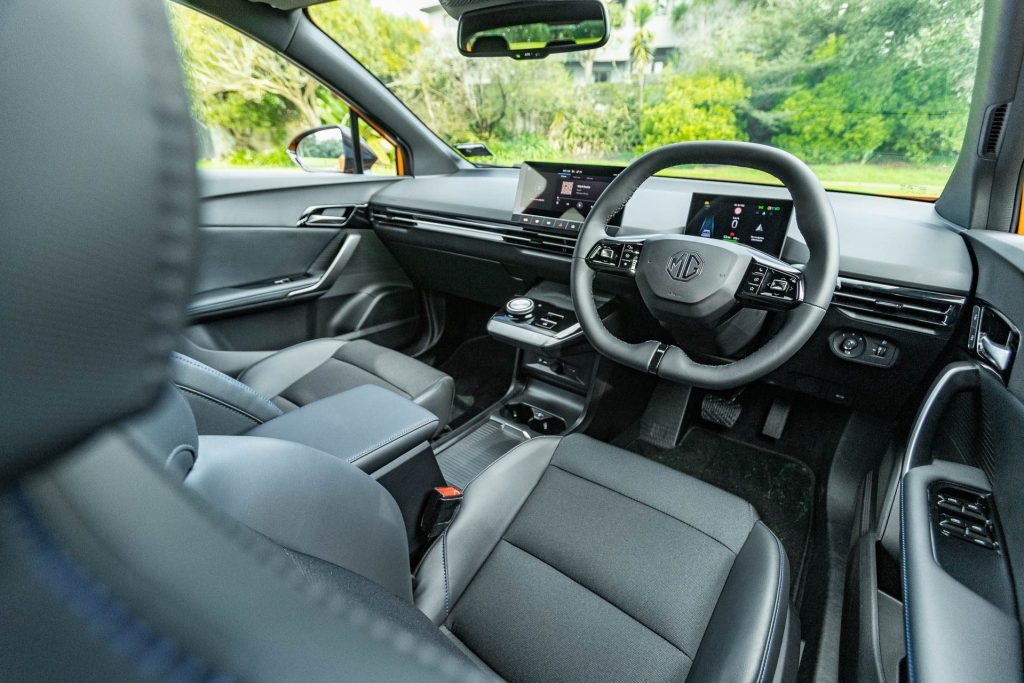 All models come with items like the MG Pilot Drive Safety Tech that includes AEB, adaptive cruise with stop and go, traffic sign recognition, and lane keeping (switchable), amongst others. It's enough to earn it a five-star ANCAP safety rating.
The Essence adds door open warning, RCTA, BSM and Lane Change Assist. Moreover, it gets a 360-degree camera, twin-aero rear spoiler, a two-tone roof, 18-inch alloys with two-tone plastic aero covers (they're easy to clean and look like alloys), climate air, Qi charger, better seat coverings, a six-speaker audio system, sat nav and a six-way power seat adjustor, though still without lumbar adjustability.
Plus there's Bluetooth and an adjustable boot floor. So yeah, opting for Essence would seem to be a no brainer.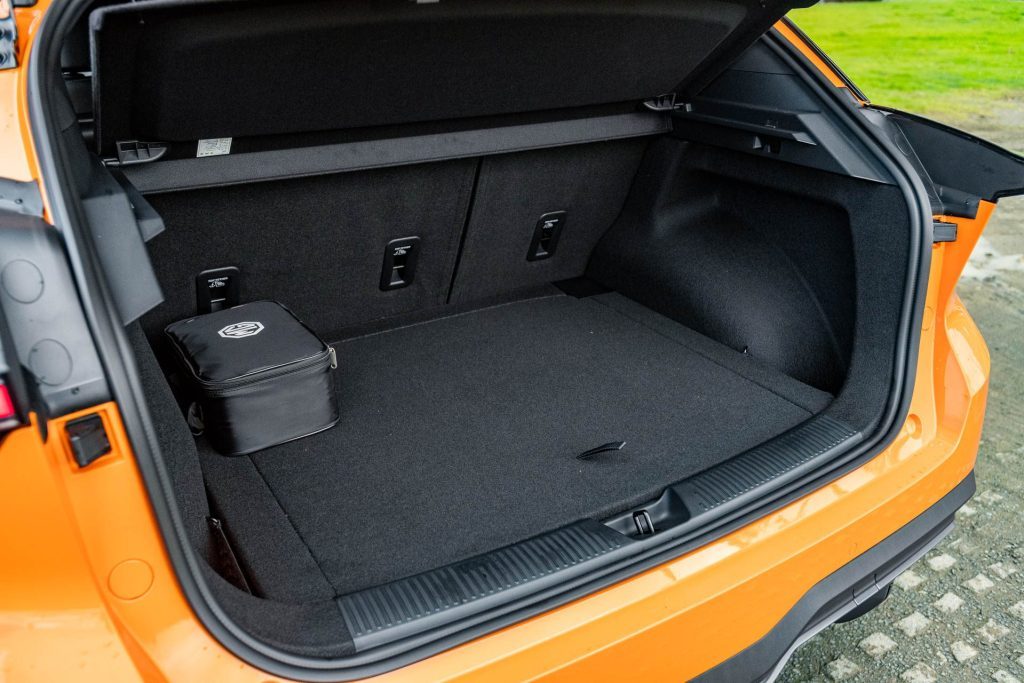 Mechanically Excite 64 and Essence 64 are the same. Each features a 150kW motor packing 260Nm, offering a 0-100 time of a claimed 7.2sec.
They both come with a 64kWh battery pack, although the Excite is said to be able to do 450km to a charge (WLTP) compared with 435km for the Essence, due primarily to the wider tyres (215 vs 235 for the Essence).
At pick up the trip computer in our machine suggested it had 498km of range. Switching to Eco mode and it reckoned on 515km.
Come refill time, a fast charger of the 150kW variety can recharge the battery pack from 10 per cent to 80 per cent in a claimed 28min. Think more like 60min for a 50kW public charger. And overnight, around 10 hours, for a wallbox.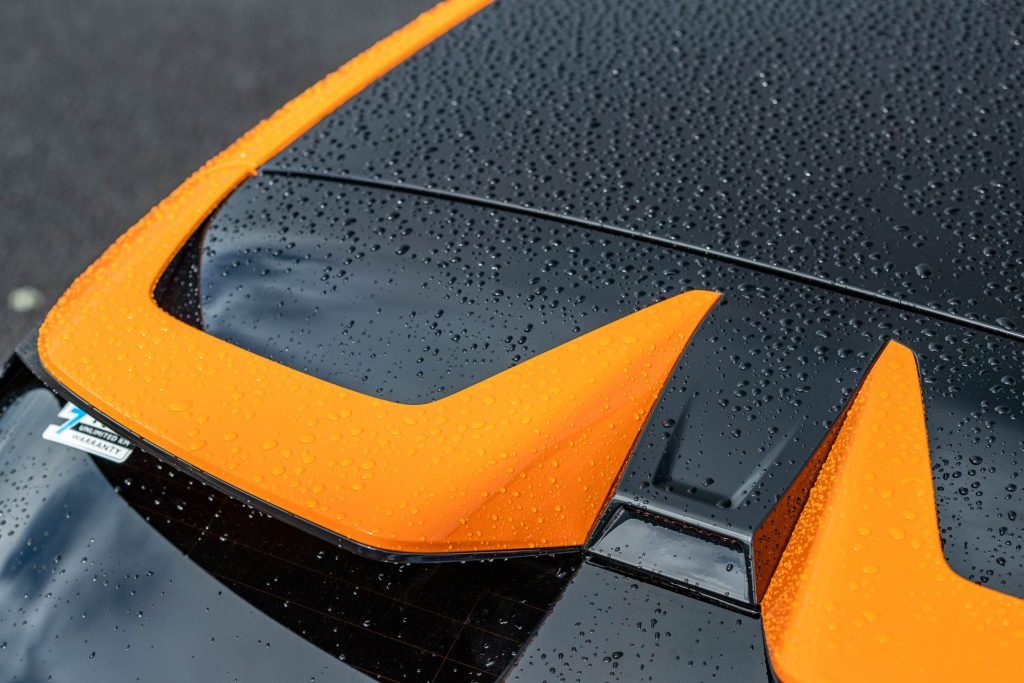 What is the MG4 like?
Inside you're greeted by textile seat coverings with leather-like material for the bolsters, over rather soft foam squabs that last the distance comfort wise quite well.
There are some hard plastic finishings too but your eye is drawn more to the digital screens that look up to speed, with a 10.25-inch infotainment display and a rather cute diminutive square instrument cluster that shows pretty much all the info you'd want, including traffic sign recognition.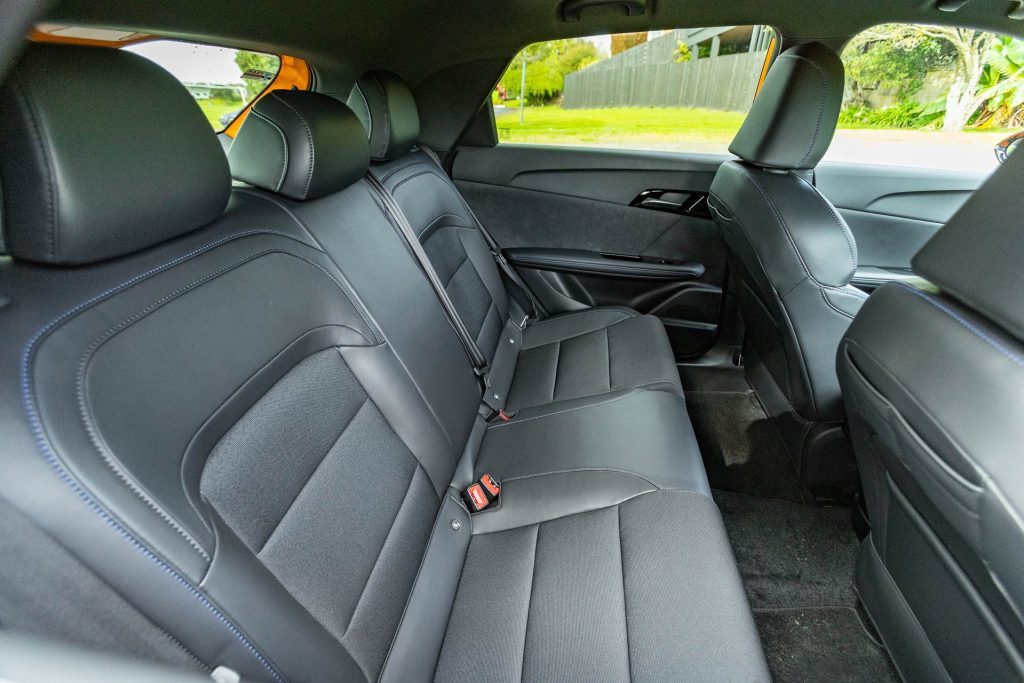 The air con settings are all within the infotainment system. So too are the drive modes, of which there are five, and the regen settings, of which there are four. We drove largely in Normal mode, though there's also Eco, Sport, Snow and Custom.
Eco didn't seem to add a whole mess of miles and slowed things a bit so we just left the power mode on Normal, except for during performance testing.
On the steering wheel are two configurable buttons, and in our car the drive modes were on one, while regen settings were on the other. Evidently, you can opt for fan settings and temp instead, if you want, or the 360 camera.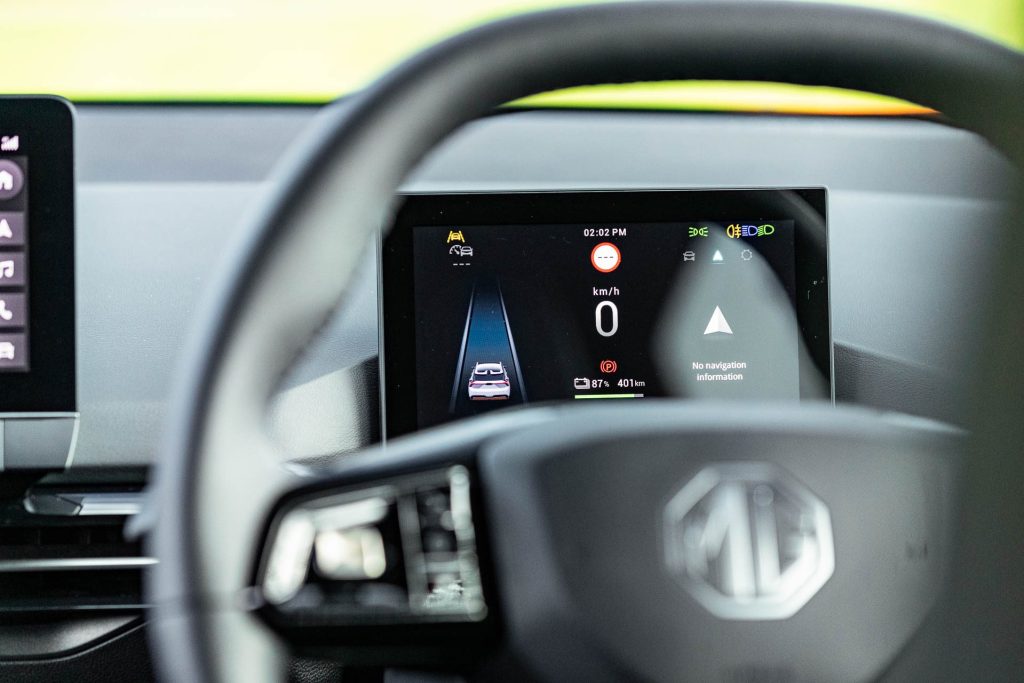 For regen, we left it on adaptive, though the third setting slows you quickly enough. The touchscreen and buttons aren't always that reactive and sometimes it didn't want to select D for Drive but evidently the evaluation vehicle we drove was scheduled for a reflash at some point.
Once you're accustomed to the set-up, this is one of the easier systems to sort. Lane keeping with adaptive cruise is a bit abrupt so we nixed that during motorway use.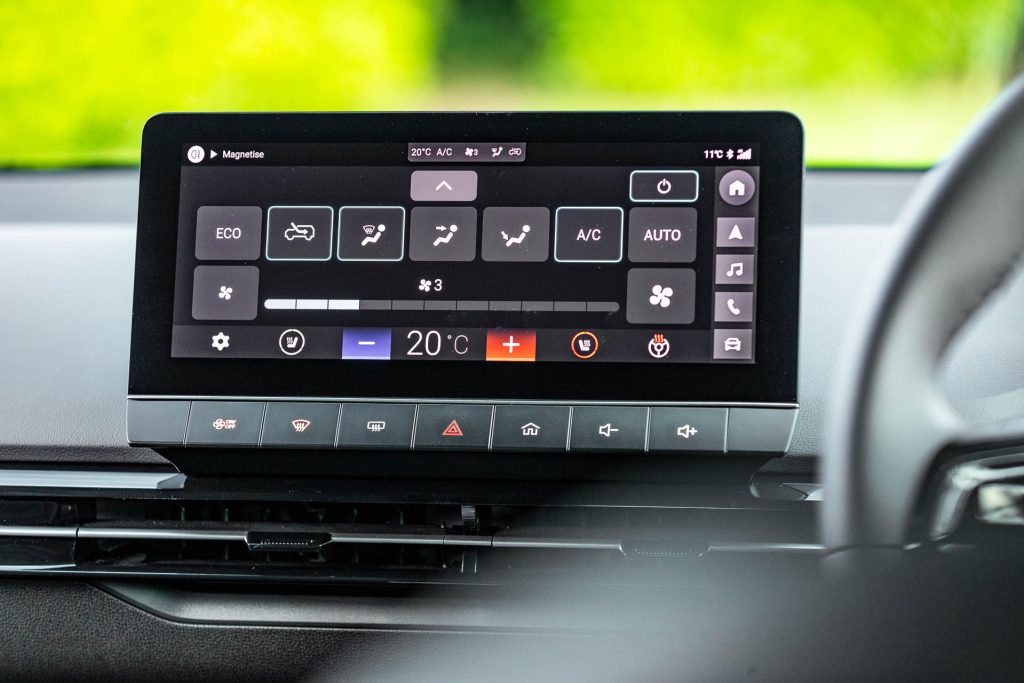 The interior is thus largely button free and is therefore clean and open, the Qi charger easy to reach and rubber lined to hold your phone in place.
There's an oddments bin near to the rotary shifter (which has only R, D and N). In the rear, there's not quite the legroom you might get in a comparably priced SUV but the flat floor makes the central pew more useful.
With low overall height, the load compartment at 360L isn't enormous. Nor is the rear window but good external mirrors and a 360-degree camera compensate. The boot hatch isn't powered but it's lightweight so isn't missed.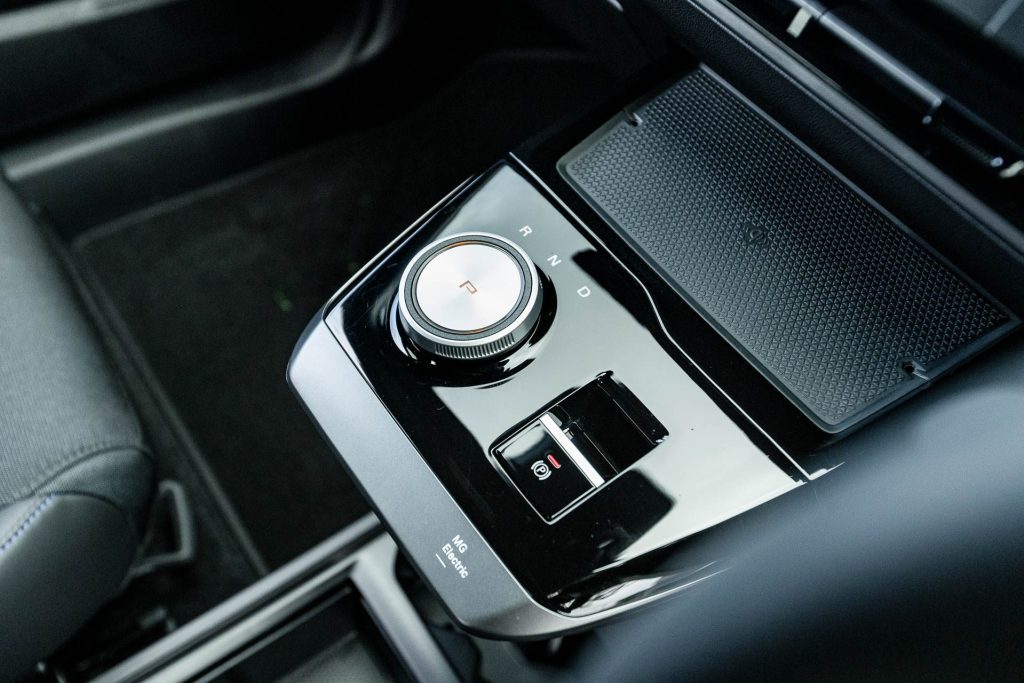 Does the MG4 drive well?

This is one of those EVs that has no start and stop button. You essentially unlock it, select R or D and away you go. Progress is smooth and real quiet, in typical EV style, while performance, even in the Normal mode, is entirely satisfactory.
Need a bit more oomph for overtaking? It's right there underfoot; just add pressure and you get more than acceptable acceleration.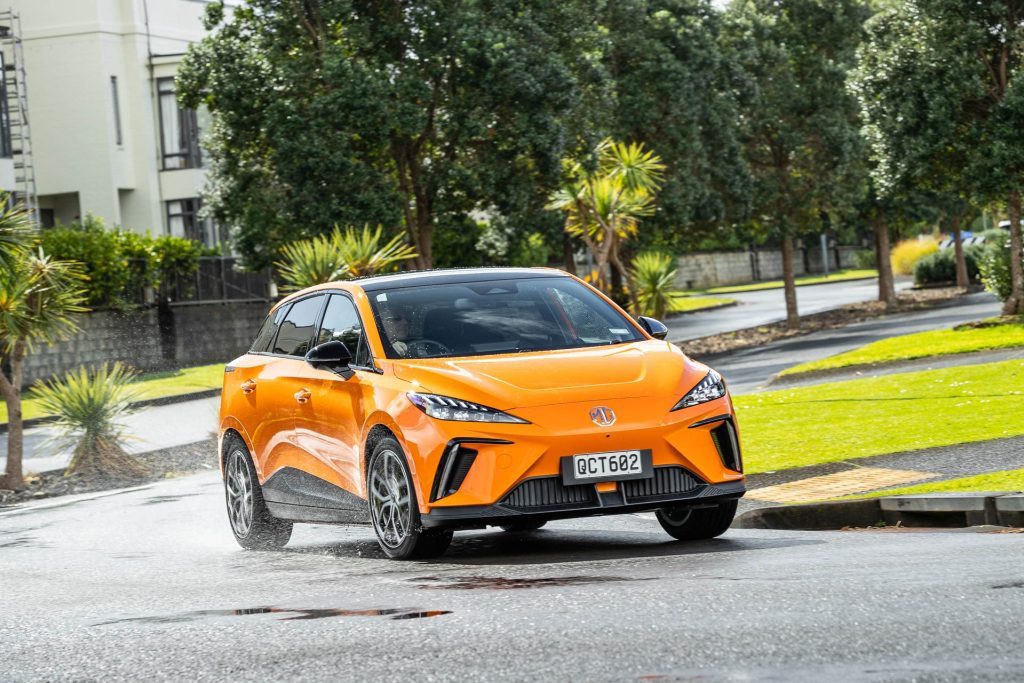 It comfortably made it to 100 from zip under 8sec – our best was 7.4sec – while an overtake is dusted in 4.85sec. It's quite quick enough for open road use then. Figures are similar to those of GWM Ora but this has rather more range.
After a morning of in-town photography and messing around it still had 86 per cent of battery charge left and 390km. During our time with it, we imported 49kWh of juice at a cost of $14.74. A trip up north of 106km used up a quarter of a battery charge.
Mean energy consumption hovered between 17 and 19kWh/100km. What helps some is reasonable weight of 1672kg, most (motor and battery) carried low and a good drag figure, the Cd being 0.27.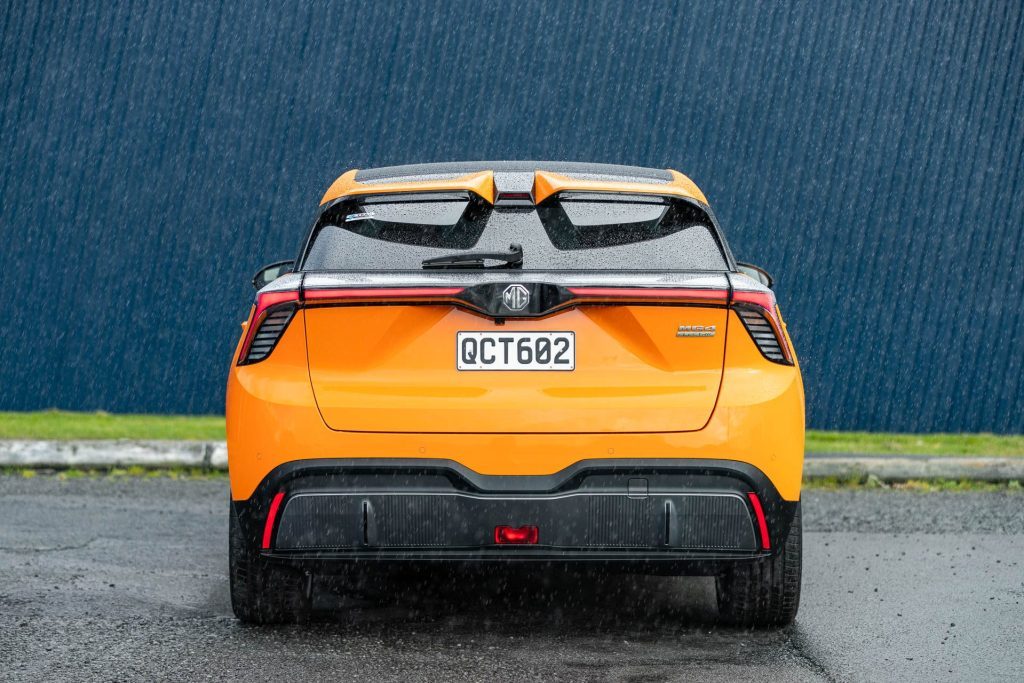 The brakes are good too, aided by effective Turanza rubber, while the one-pedal drive button largely negates the need to touch the brake pedal.
What's also clear is that this rides really well, dealing to our rumpty road surfaces with disdain. But that's not the best bit, and nor is its really tight turning circle of 10.6m. It's how this handles that is quite an eye-opener.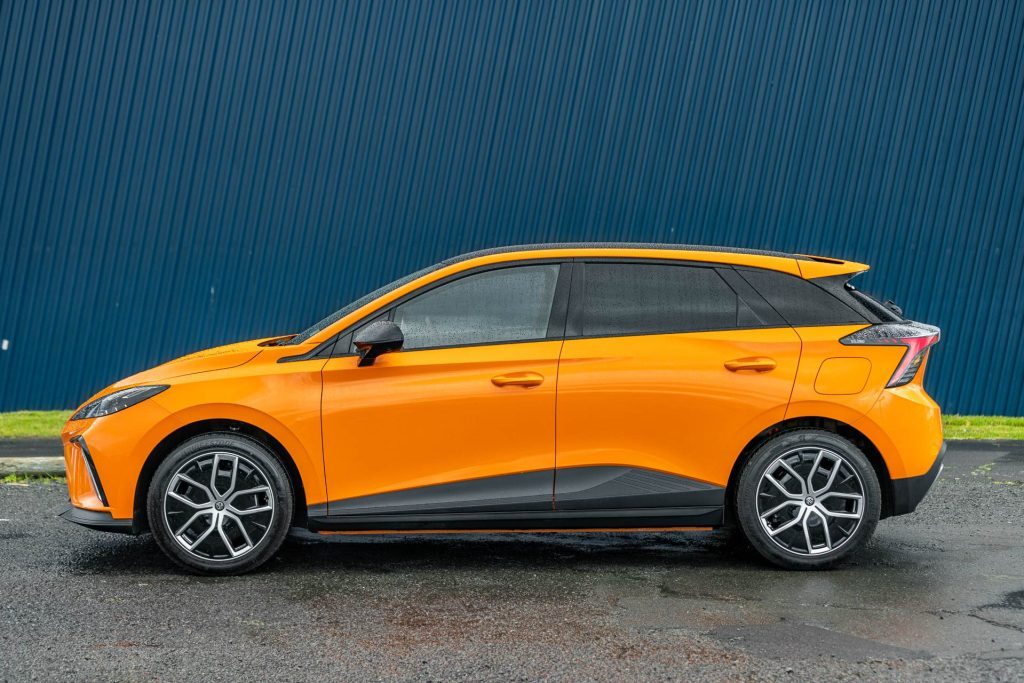 Because of its low centre of gravity and rear wheel drive layout, the MG4 darts into corners and powers out early as well. The even weight split helps with midcorner speeds; this feels more hot hatch than regular hatch. It's not as if the hot orange paint job didn't hint at such.
So MG4 really does have a lot going for it. This is a racy looking, well priced EV that has more than acceptable range and performance, rides and handles in inspiring fashion and doesn't do anything seriously wrong. Unless of course you just have to buy a high-rise vehicle.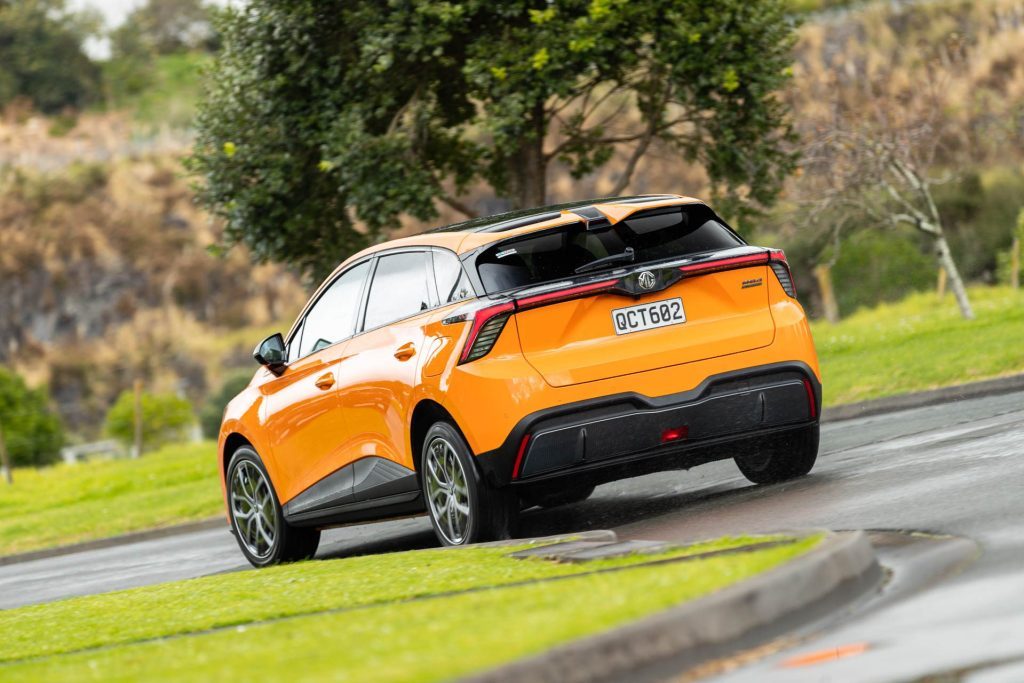 If you need more, consider the $64k 77kWh model which has 180kW/350Nm, does 0-100 in 6.5sec and has range of up to 530km. Less? Try the 51kWh variant at $39,975 (plus ORCs) after the $7015 clean car rebate.
We can see why it scooped the awards pool overseas. It's far and away MG's best vehicle yet.
Model
MG MG4 Essence 64
Price
$54,990
Clean Car Discount
Rebate – $7,015
Motor
150kW/250Nm
Battery
62.1 kWh net
Range
435 km
Drivetrain
single-speed auto, RWD
Energy Use
13.8kWh/100km
C02 Output
0g/km
0-100km/h
7.37sec
80-120km/h
4.85 sec (139.3m)
100-0km/h
34.27m
Stability systems
ABS, ESP
Safety
AEB, ACC, BSM, LDW,
RCTA, ALK, AHB
Luggage capacity
f-350 r-1165L
Tow rating
500kg
Service intervals
72 months, 60,000km
Warranty
7yrs, unlimited km
ANCAP rating
5 Stars (2023)
Weight
1672kg (claimed)