The first electric model from Seat's wild-child arm, Cupra, is here now, promising hot hatch performance and dynamics. Does it deliver?
We've yet to drive a pure electric model from VW (well a NZ-new model anyway), and that's partly because the local importer steered clear of the ID.3 hatch, opting for the larger ID.4 crossover instead.
However, essentially the former is now here, only as the sexy Cupra Born V+ you see before you. The Spanish subsidiary of Seat labels the Born a hot hatch. It sure looks hot with its bronze-coloured aero wheels, mild body kit curtailed front and rear ends.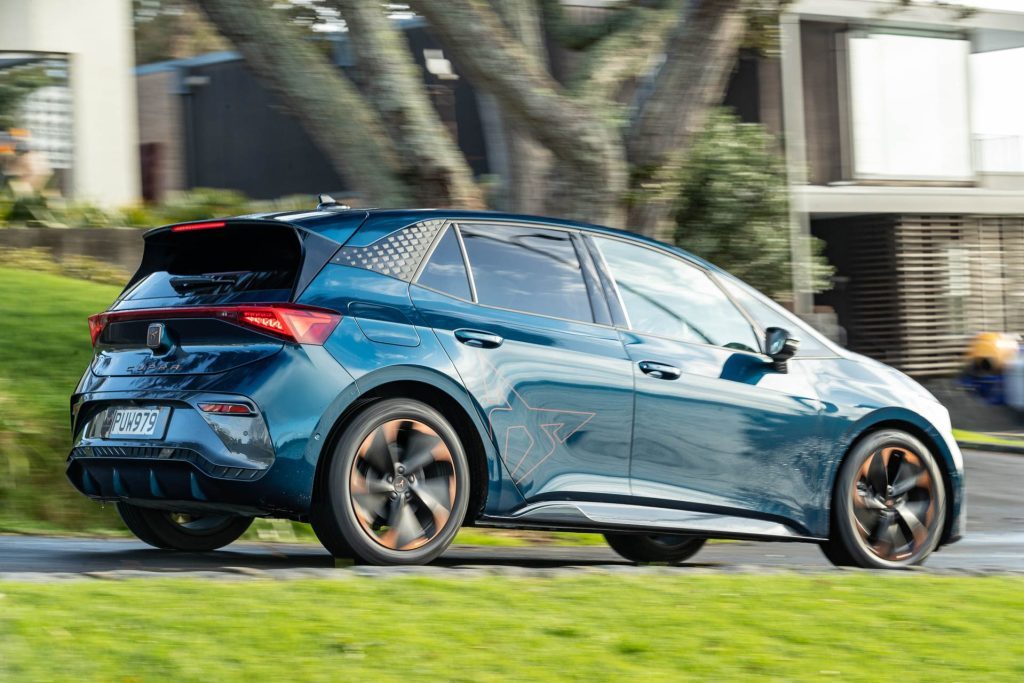 The bonnet seems almost imperceptibly to run into the screen and roof, while a wee lip spoiler in bronze follows the curves of the grille, giving the car a cheeky grin. As to performance, a 0-100 quoted time of 7 sec is pushing the hot hatch definition. But we shall see.
Born has been available for a while in Europe and it arrives here as Cupra is working on a midcycle refresh, due out in 2025.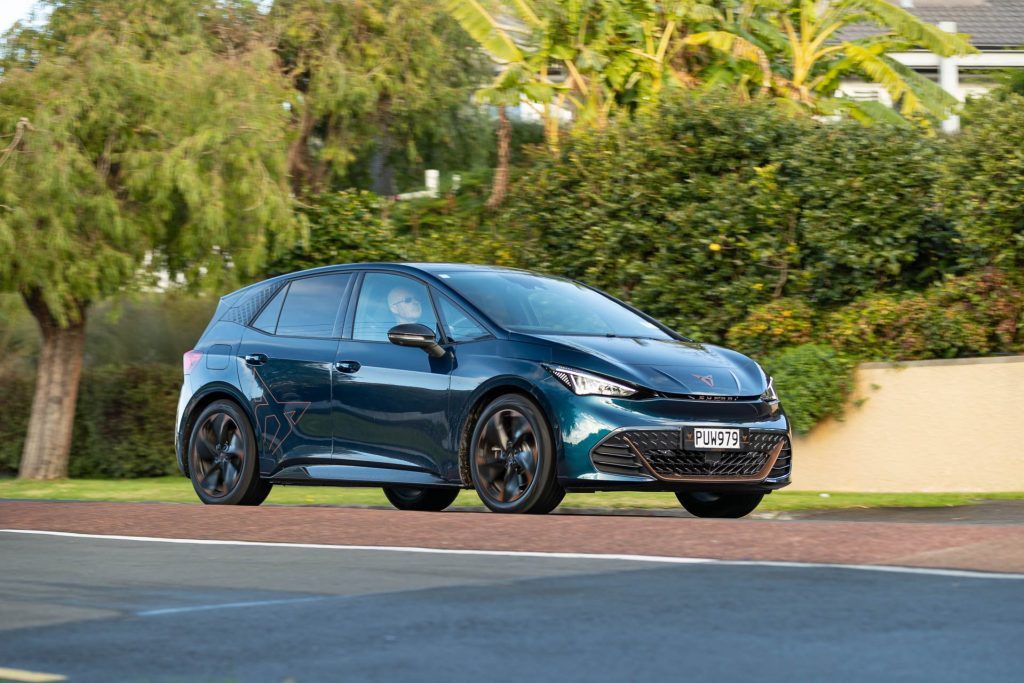 Clearly producing EVs in volume is hard yakka for new energy manufacturers. By 2025 we should know whether a potboiler of a dual-motor Born hot hatch is coming here or not, based on VW's proposed twin-motor ID.3 GTX.
Compact but roomy
Meantime, it's this $70,885 driveaway machine we're checking out, the price including the $7k rebate from the government and all onroads. For that you get a compact offering that's great for the city, taking up just over 4.3m of real estate.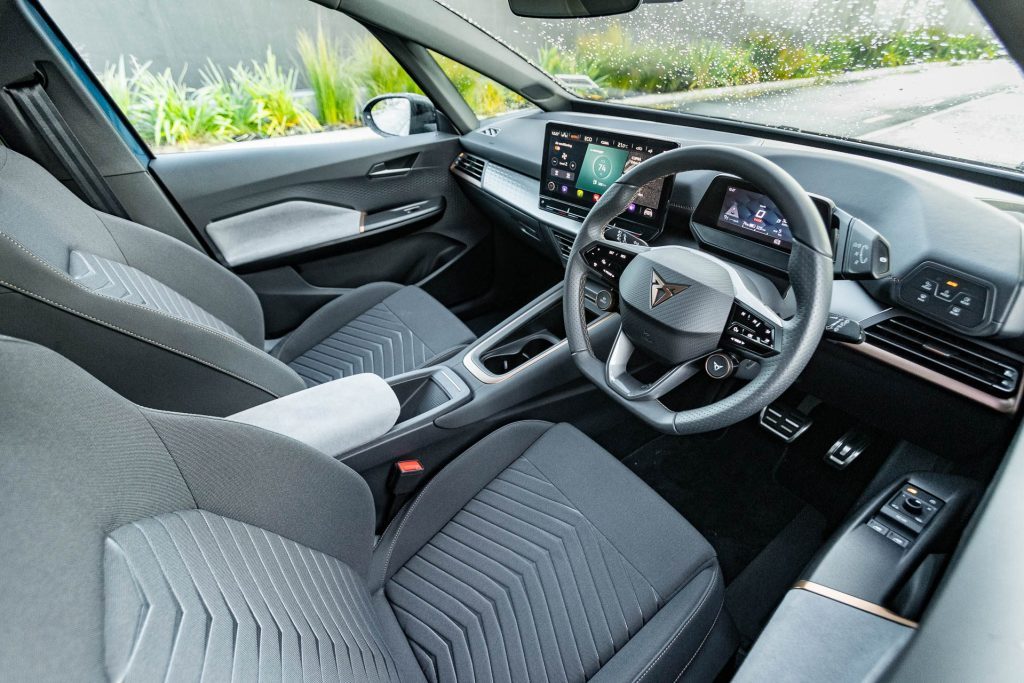 But because it's electric and sits on VW's dedicated MEB platform, it has plenty of luggage space at 385L, and fairly decent room for rear seat occupants as well. A flat floor back there certainly helps. That's because the motor sits on the rear axle, driving the rear wheels only, an increasingly rare plus point for hot hatch lovers.
And that's the thing about electric; because the motors are so compact that frees up space for other things. Even items like gear levers can be removed and replaced with handier stuff like phone chargers and drinks holders up front.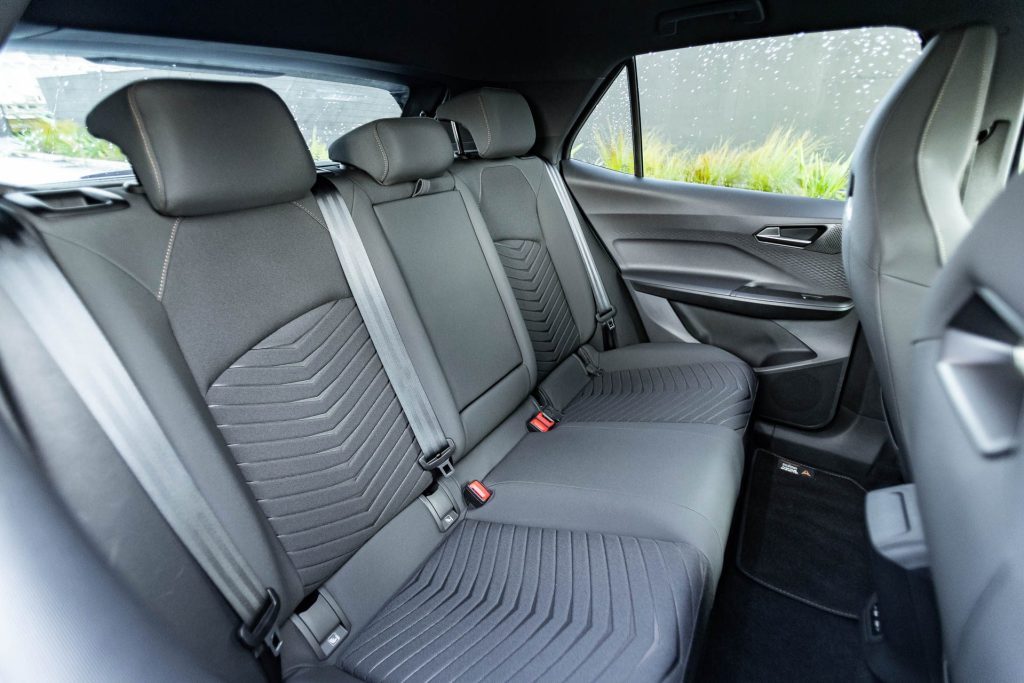 The 'gear lever' is instead attached to the right side of the instrument cluster which, like modern Minis, raises and lowers with the steering column. To select forward or reverse, you merely rotate the gear knob one way or the other.
Rotate it again in the D setting and it selects B for maximum regen. It might seem like an odd place for it, but with familiarity it makes shifting between coasting and single-pedal driving a snip. Plus it clearly aids efficiency; 100km on the open road uses up around one-fifth of a battery charge.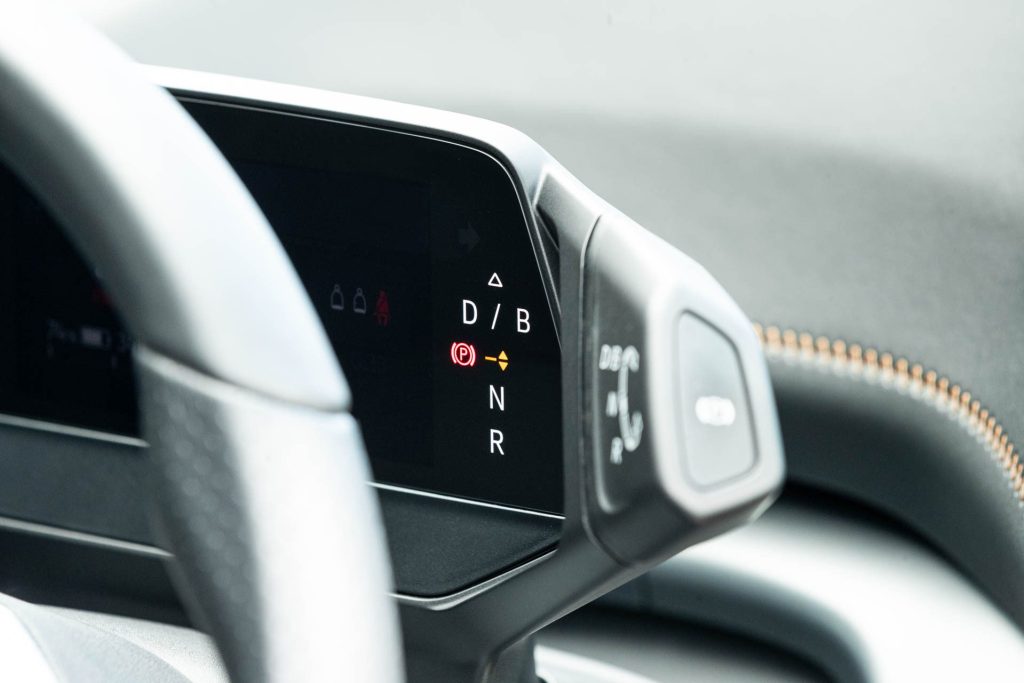 On another aspect that's peculiar to EVs, this one has no start button as such. Centrally unlocking it is enough to preset everything, so you just rotate the gear lever one way or the other and off you go.
Where a key would normally insert there's a button you can press for "stop" if you want to turn off the motor old-school style. But it's certainly not compulsory. Perhaps it is there for old time(r)'s sake.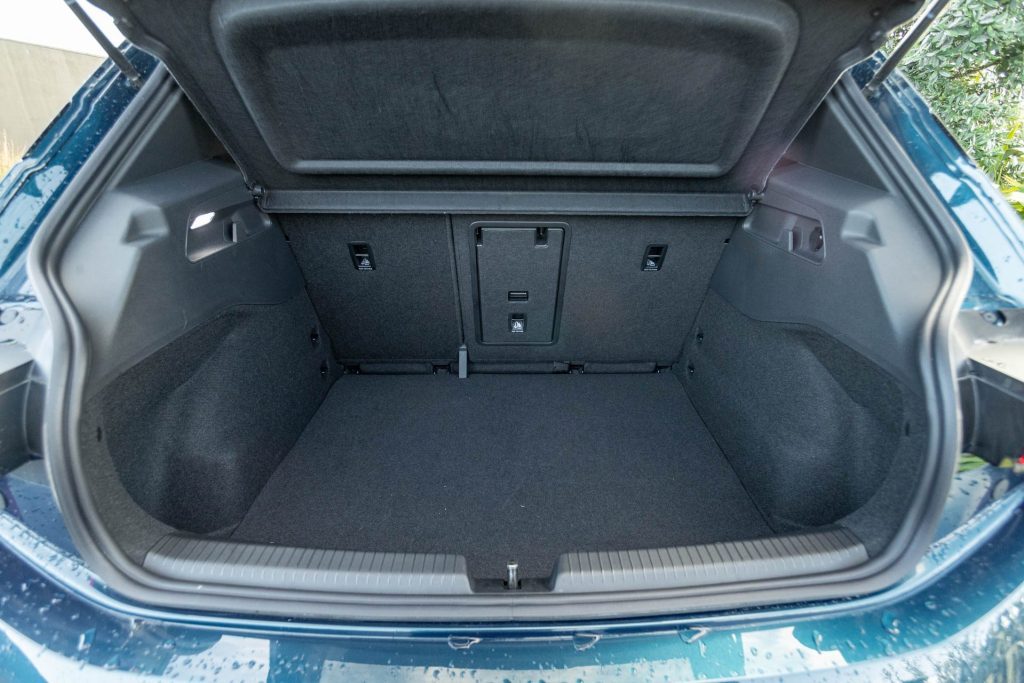 Proper real world range
Like most modern electrics worth their salt, range is around 500km from its 82kWh (77kWh useable) battery pack. We picked it up with a 90 per cent charge and it was reading 460km or thereabouts. And driven modestly in town it seems particularly easy on energy use, the average a quoted 17kWh (which we often saw).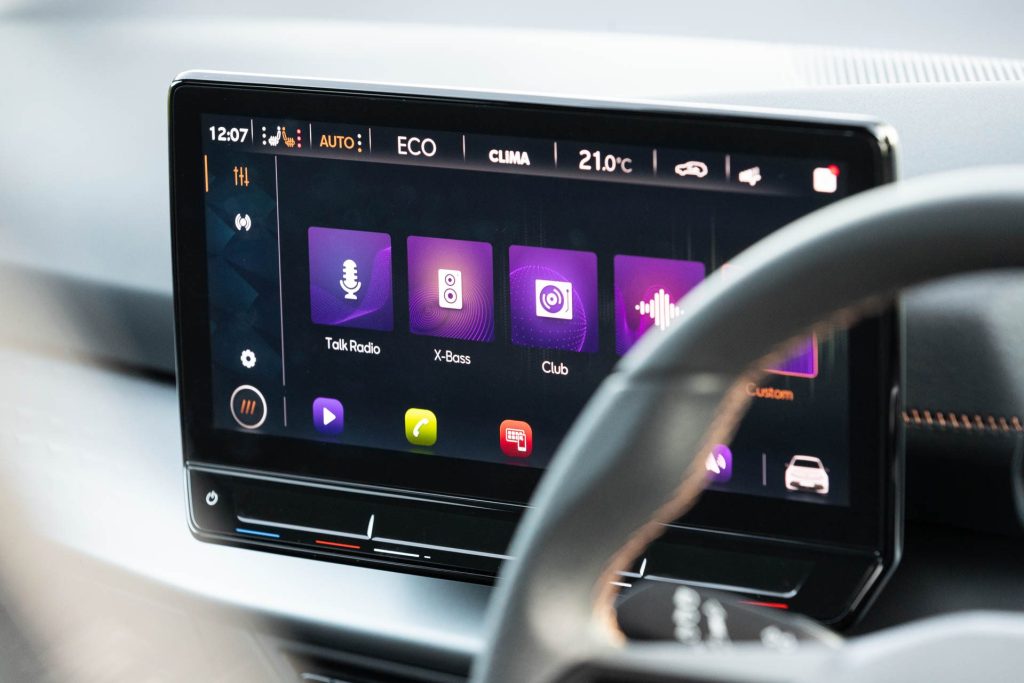 A full recharge is said to take 7.5hr when hooked up to a home wall unit. Our little emergency charger recouped 30 per cent overnight (14 hours), from 40 to 70 per cent and this has great real-world range. For example, it made it easily around our long drive loop (200km-ish), which is predominantly on 100km/h roads, using half a battery charge.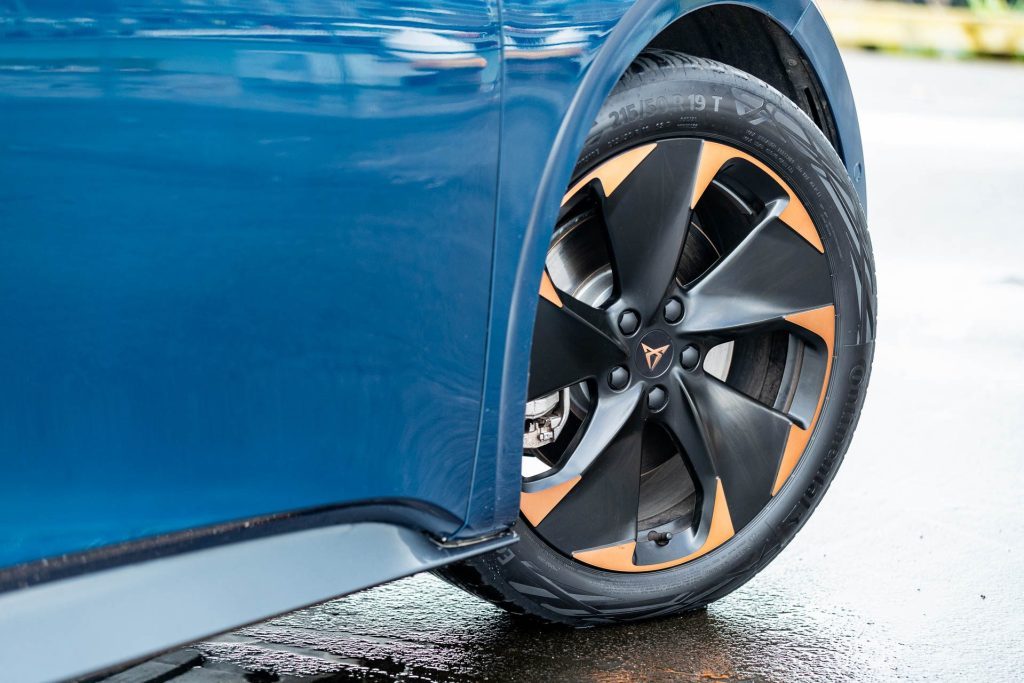 Contributing factors; it's not a heffalump at 1837kg, and has an aerodynamic CD of 0.27 so slips though the air well. Check out those aero alloys, perhaps the easiest to clean of any car yet.
We asked the distaff what she thought of the Born when dropping us off for another vehicle pick-up and she was of a similar mind to me; right from the outset we both thought it a well rounded thing. While most functionality has been relinquished to the touchscreen, here it is a little more intuitive than normal, only a little mind you.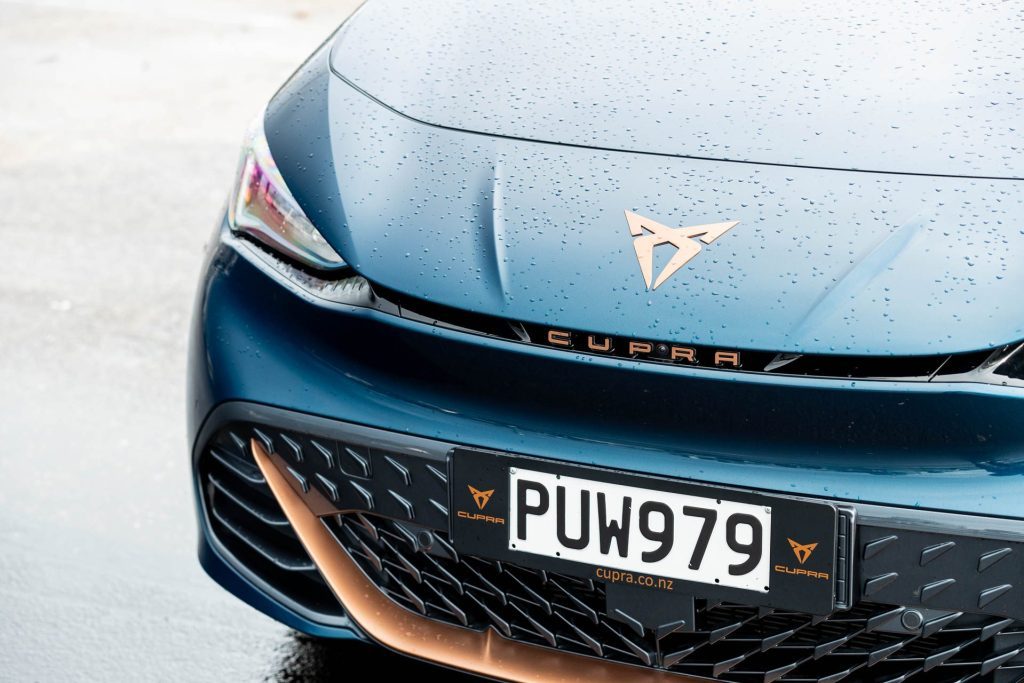 It took a while to find the drive mode controls, best selected by the button sited on the left side of the wheel. Need a blast of acceleration for passing? You might want to hit the Cupra button which adds 20kW of boost.
Mainly though we drove it in Range which is like Eco, only with decent power, or in Comfort which felt similar to Range, in all honesty. Suspension is fixed so no change there between modes but the top two, Performance and Cupra, have more regen going on.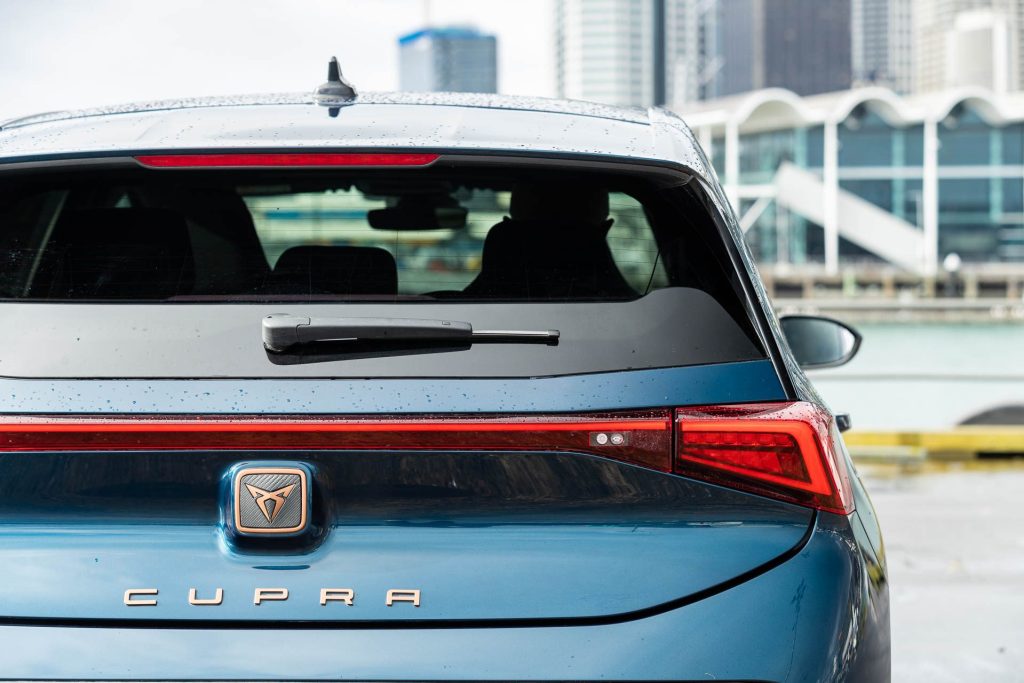 Or you can just swap between D and B for max regen, which is essentially one-pedal driving. We preferred that, while Range mode maximised, er, range.
Hot or not?
We were wrong to question whether this is a hot hatch. It is, just plain and simple, especially on the dynamic front, not so much the noise factor cos essentially there is none. Take this on a lonely familiar road and its abilities will have you grinning…so long as it's not sopping wet.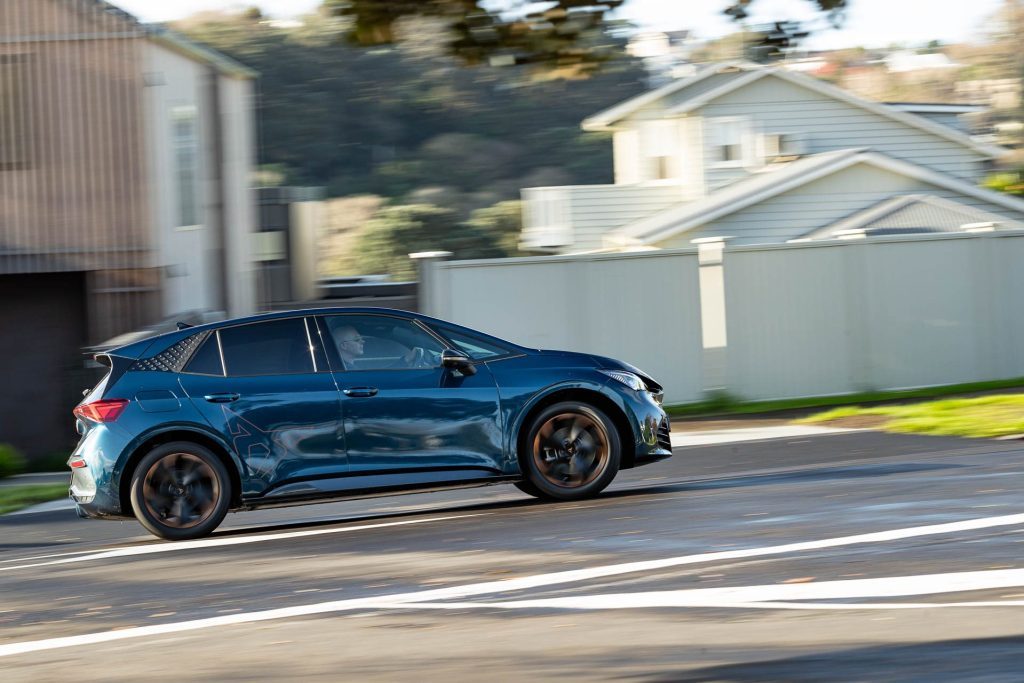 The EcoContact rubber feels much better in dry conditions. This is rear drive and any press-on antics through wet corners will have it trying to wind itself in knots, although the TC catches the rear quickly.
In the dry though, the sports suspension (which is nicely tuned to deliver both body control and more than acceptable ride quality), along with decent rubber and hardly excessive weight carried low conspire to an enthralling drive.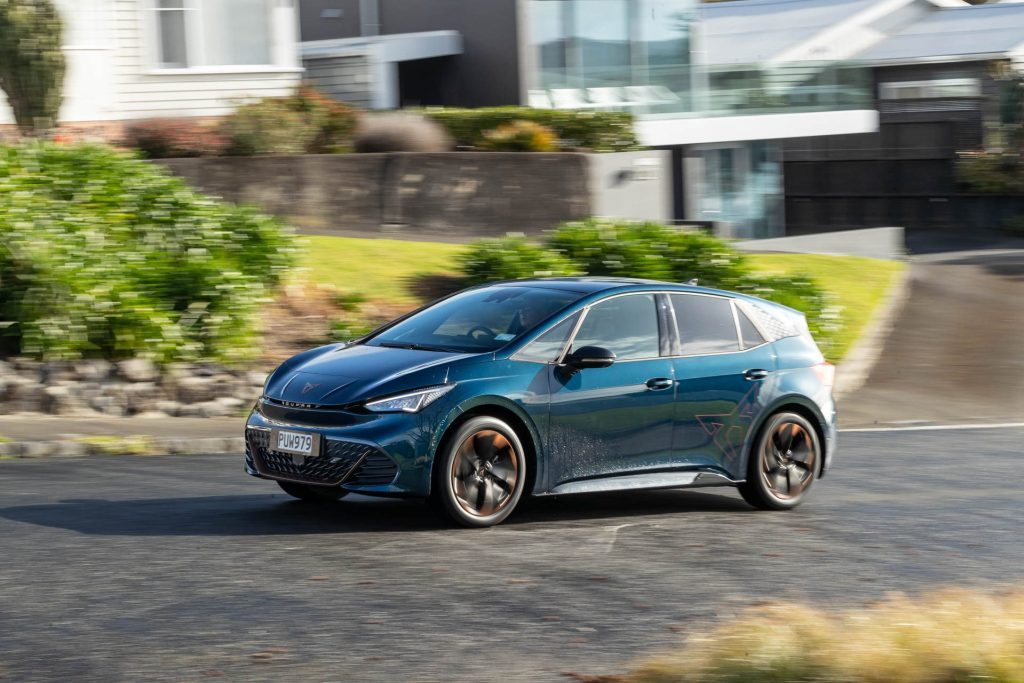 The rear motor situation ensures a light front end and it almost comes across as mid-engined in its balance. Certainly the front is locked down nicely and steering feels neutral. This is great at maintaining midcorner speeds.
Steering isn't especially quick and nor is it that feelsome, even with the lane assist turned off (easily done as it's a frequent use setting) but point-to-point times in this are amazing.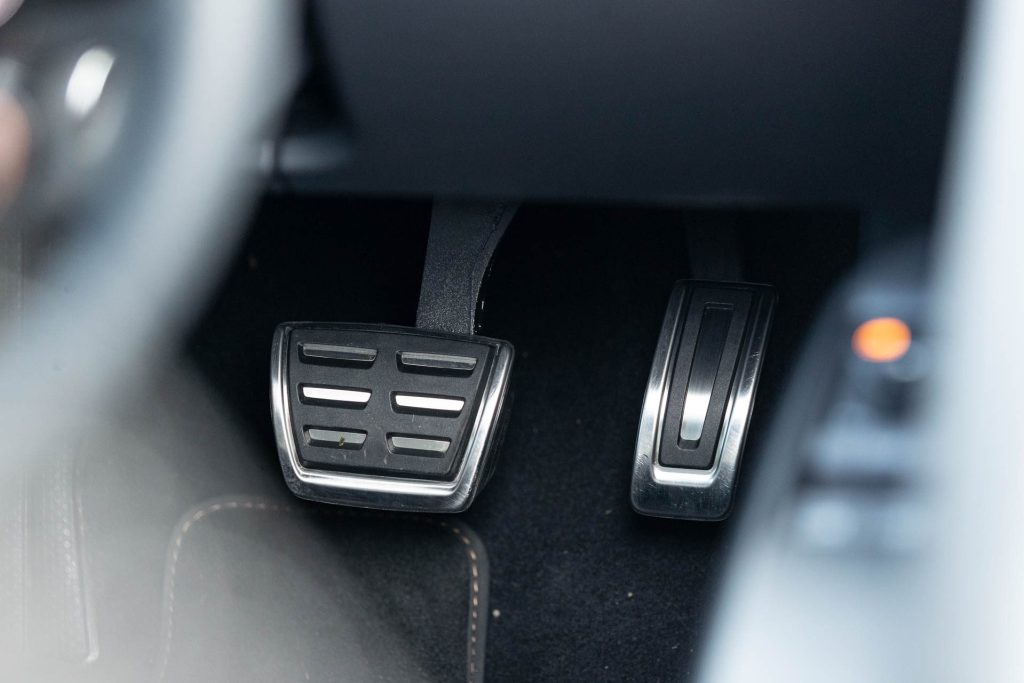 That's in part because of speed creep; it's so quiet and fast through corners you kind of don't notice pace until you look down at the wee motorcycle-inspired instrument panel and wonder exactly how it's reading 20km/h greater than when you last looked.
A balanced performer
So in essence what we've got here is a hot hatch dynamically but does it live up to the hype in a performance sense? Not quite so much but it's certainly no slouch. Cupra rates it as a seven-second sprinter but we got 6.7sec in damp conditions, matched with an overtake in the mid-fours.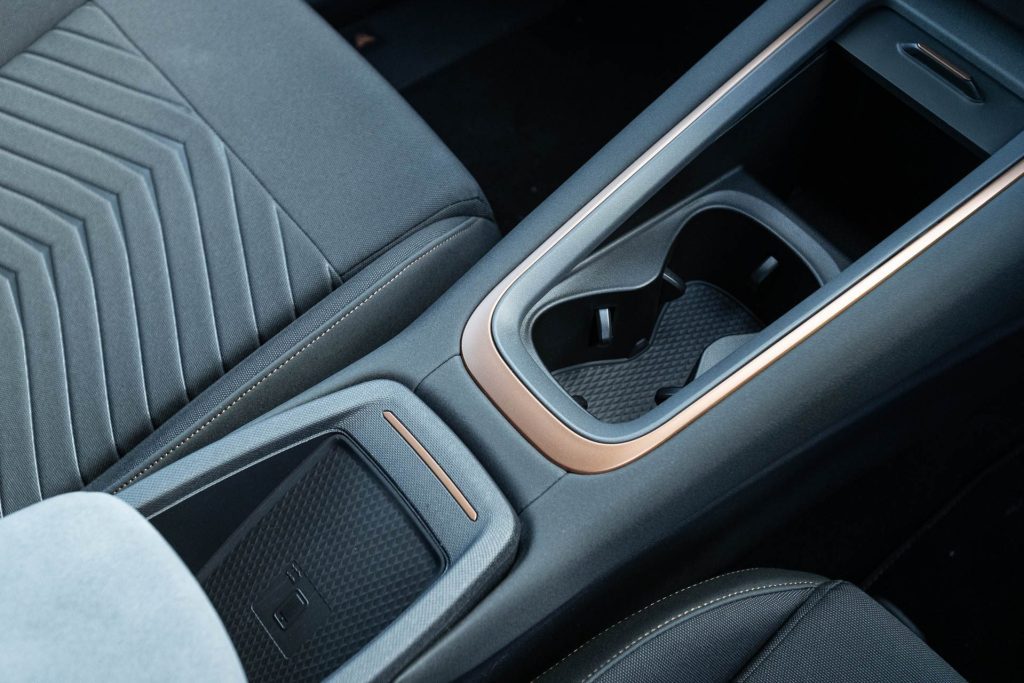 As mentioned, hit the Cupra button for the pass and you're good to go. So there's no accompanying engine roar, being as there is no engine but the lack of road roar really does compensate. Quiet can be as pleasant as raucous.
As with most stuff in the electric realm, it doesn't come cheap at $77,900 before the $7015 government rebate. There's no traffic sign recognition or sat nav, nothing much in the way of leather trim, fake or otherwise, no powered seats (though they are heated), and no lumbar adjustment.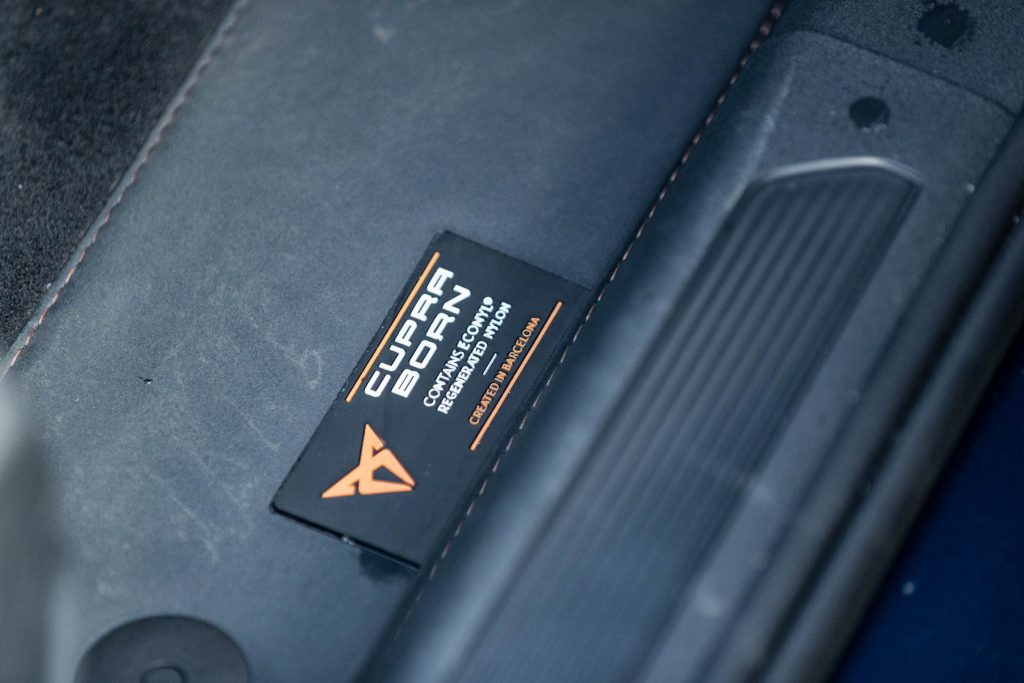 However, there is a charging cable included, full LED lights and one of the best sited Qi chargers yet, tucked away but easily accessible by your left elbow.
There's only one option which would be the aurora blue paint ($850), as seen here. A five-year/100,000km warranty is reassuring, while the battery has cover for eight years/160,000km.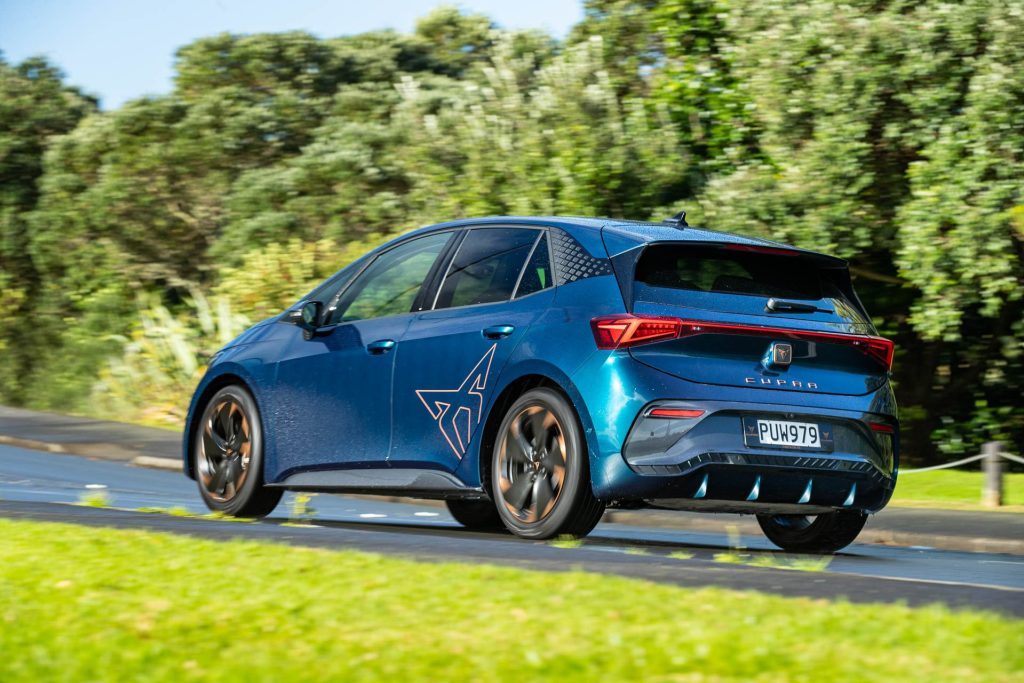 Yes, for this money, you can get a VZ Formentor that is 2sec faster 0-100, and is also a fine look and drive. Different strokes I guess; it depends on your wants and needs.
Like Formentor, the Born sure does draw a crowd. We even noticed school kids gawping at this thing in wonder, or were they just puzzled as to why the car was emblazoned with what seems like a logo for a race of alien beings?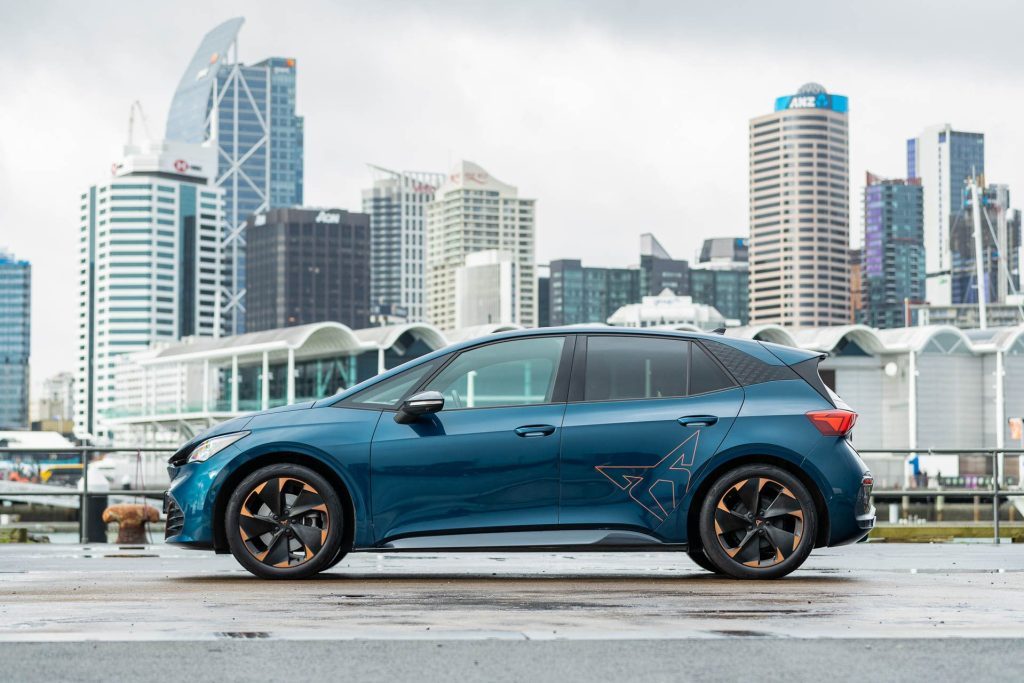 Whatever, this is amongst the most convincing all-round electric packages I've driven, period. Well worth checking out if you want something compact, and don't want to join the Tesla crowd.
Model
Cupra Born V+
Price
$77,900
Clean Car Discount
Rebate – $7,015
Motor
Single, 170kW/310Nm
Battery
77.0kWh net
Range
511km
Drivetrain
single-speed auto, RWD
Energy Use
17kWh/100km
C02 Output
0g/km
0-100km/h
6.69sec
80-120km/h
4.54sec (129.3m)
100-0km/h
33.77m
Stability systems
ABS, ESP
Safety
AEB, ACC, BSM, LDW,
RCTA, ALK, AHB
Luggage capacity
385L
Tow rating
Not rated to tow
Service intervals
12 months, 20,000km
Warranty
5yrs, 100,000km
ANCAP rating
5 Stars
Weight
1875kg (claimed)