Cupra's first in-house design, the Formentor, is rather striking and comes in two flavours. This 228kW VZ example should put Cupra on the map here.
European car makers are doing rather nicely with their scalding performance models, especially in New Zealand where fast Kiwis like their fare served piping hot. Roughly one in three Audis sold here are RS models, and it's a similar scenario for BMW with its M division and Mercedes with AMG variants.
So too Seat, which used to have the Cupra performance arm but this is now a stand-alone company. Where previously it hotted up products like Leon and Ateca built by Seat, it is now going its own way. And the look of its first effort is stunning; everyone was impressed with its curves, lines and proportions, many also commenting on how good the (optional) copper coloured wheels looked. This has hints of hatch, SUV and coupe, kind of rolled into one seriously sensuous crossover.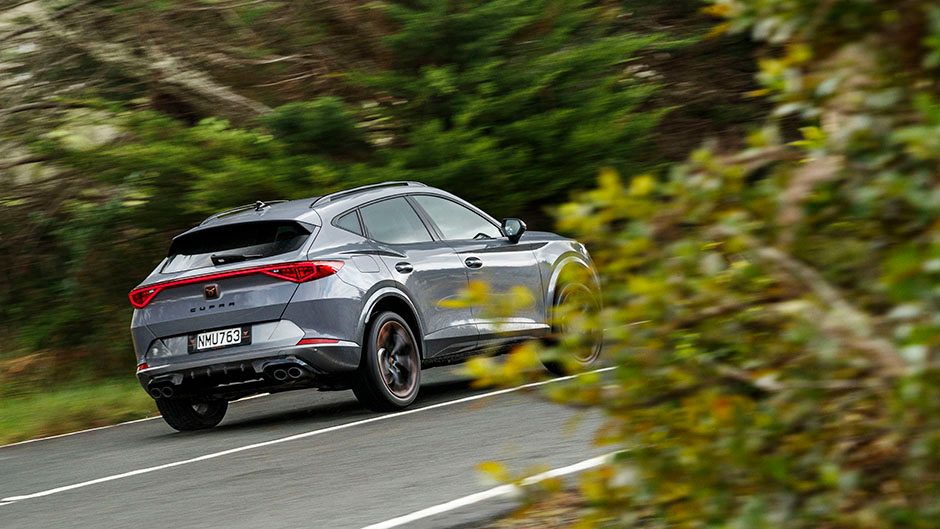 Cupra is a company on the rise here. In 2019, there were 182 Cupras and Seats sold in New Zealand; this year the total is 150 already, and Formentor has only just arrived. It is expected to account for every other Cupra sale by year's end.
That's partly because there are two distinct Formentors, each AWD. They both run 2.0-litre turbo engines hooked up to seven-speed twin-clutch transmissions, with paddle shifters. The mill in the VZ (short for Veloz, meaning speedy in Spanish) generates 228kW and 400Nm. Meantime, the V 4Drive gets a turbo with a bit less huff, outputting 140kW and 320Nm. It doesn't get quite the fitout of the VZ either but it can still hustle to 100km/h in seven seconds, two adrift of the VZ. Minus on-roads it has a sticker price of $54,900. The VZ is $68,900.
Given the number of EVs we tested this month, it's appropriate to mention that within about six months the V e-hybrid, a plug-in Formentor, arrives along with an entry-level V model. The latter uses a 1.4L 110kW/250Nm turbopetrol driving the front wheels while the e-hybrid adopts the same engine and mates it with an 85kW/330Nm motor. Cupra reckons it will do 53km of EV running, for an average of 1.4L/100km (32g/km).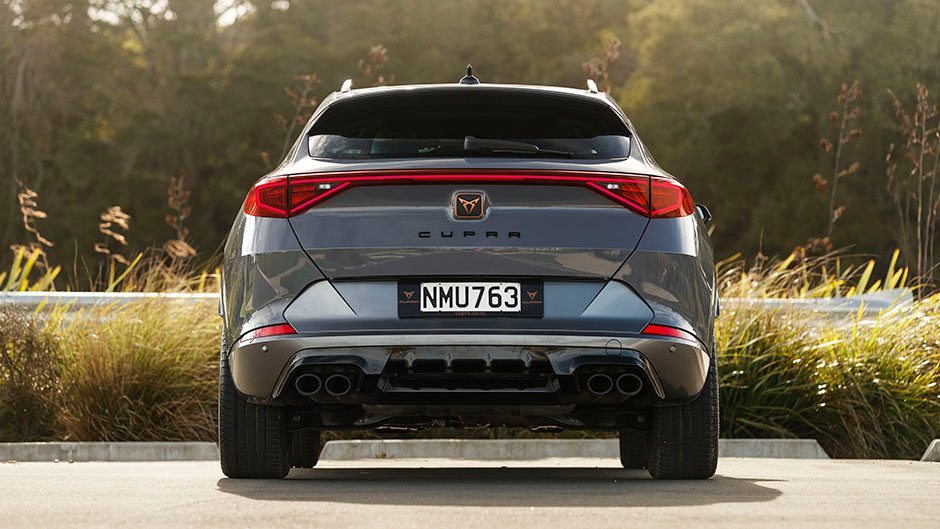 Formentor, which takes its name from a cape in the northern tip of Majorca, was designed to be a coupe-styled derivative of Ateca, with a somewhat elevated driving position, but also low enough to impart a sports feeling. It was also designed to have plenty of on-road presence, the copper accents on the badge and wheels, a full-width light strip, quad exhaust outlets and a diffuser and roof-ending wing helping to ensure that.
This is a highly distinctive shape. Stunning it is too, with its intersecting character lines over the rear wheel arches and it's available with matte paint in blue or grey, though this adds $3500. It makes the special paint finishes at $700 seem a snip by comparison.
Formentor is just compact enough to make it fine for city work (4450m in length, 10.7m turning circle) but big enough to tote four adults and their gear (420L, expanding out to 1475L with levers in the rear).
The interior is equally sharp, with comfy encompassing bucket seats, configurable instruments and lots of colour on the 12-inch infotainment screen and variable ambient lighting. Oddly there's no head-up display but there's a leather-like finish to the upper dash, and copper coloured double stitching.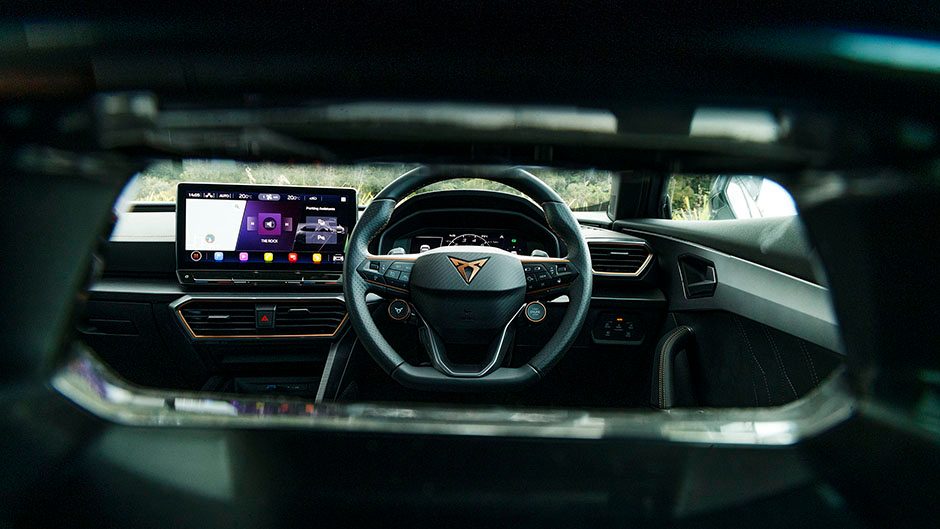 Entry is by smart key while pushbutton start is easy too as it's sited on the steering wheel. On the opposite side is the mode button, cycling through Comfort (cushy), Sport (firmer but still compliant), Cupra (firm but not crashy, angry engine noise), Individual (where damping is adjustable via the touchscreen) and Off-road (the least used setting). The sports wheel has the Cupra logo, a cross between the face of an alien and the Warriors emblem; some find it dark. Whatever, inside and out this really works to my mind, especially the hoop of ambient light that illuminates when a vehicle moves into the blind spot.
Comfort mode ruled during our drive period. The turbo is on the case before 2000rpm, so the transmission upshifts early, saving fuel in the suburbs. It's a flyer of course, pulling hard from 2500rpm and like a demon from 3000rpm onwards. The paddles are fun to use too.
After warm-up it's quickly into single figures for instantaneous fuel use, and we sometimes saw less than the claimed combined figure of 7.7L/100km (9.0 by WLTP) especially when easing along the motorway.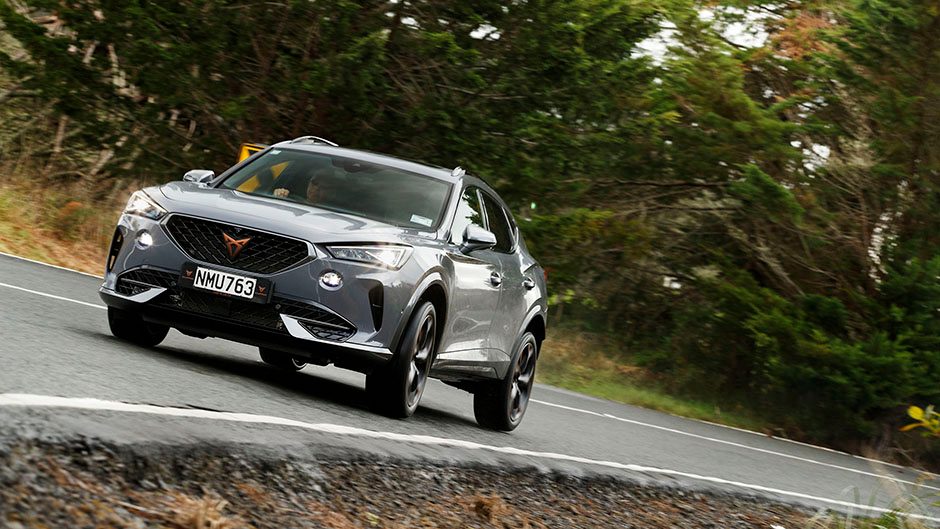 With launch control in Cupra mode, it easily meets the company sprint claim of 4.9sec. A best of 4.74sec was followed up by a 3.23sec 80-120 overtake, while the minimum stopping distance from 100km/h was 33.45m.
These figures are fractionally better than those for the various Cupra Atecas we've driven over the years. If you need more stopping power, you can option Brembo performance brakes for $3600 but unless you have track days in mind, it's probably not worth it. Spend up instead on black or 'petrol blue' leather upholstery ($1850 seems good value), a panoramic sunroof ($2500), an electric tow bar ($1300 with braked capacity of 2000kg), and copper-coloured aero alloys ($1600-$2000).
Around here we like Cupras and the VZ is, without doubt, the best all-rounder from the company yet. While Cupras are designed to be dynamic, the engineers never seem to overdo things, and the VZ feels tuned to perfection. In Comfort mode, it's genuinely pleasant riding, and if you choose the Individual setting, you can dial up an even plusher suspension setting, Comfort+ if you will.
Not only is Comfort soothing, but it's also the best setting for out-of-town sorties with the family; you can opt for Sport or Cupra if you want a bit more control and noise, and you're on your own. Choosing the Sport transmission setting (pull back on the by-wire lever) is all that's needed for a bit more overtaking vim. Or you can change to Sport mode on the wheel if you want. Individual mode allows you to mix and match settings, so you can have Comfort suspension and Sporty exhaust noise. It's up to you. There's even a Comfort or Sport setting for the AWD system. In the former, there's some ESP intervention nearing the limit, in the latter, there's less. As understeer builds it responds nicely to merely stepping off momentarily. But better to just gently brake up to the turn-in point, ease back and then gas it up early as the power is divvied up all round. This handles way more like a saloon than an SUV, while the Turanzas are sticky without being too noisy, great for local conditions.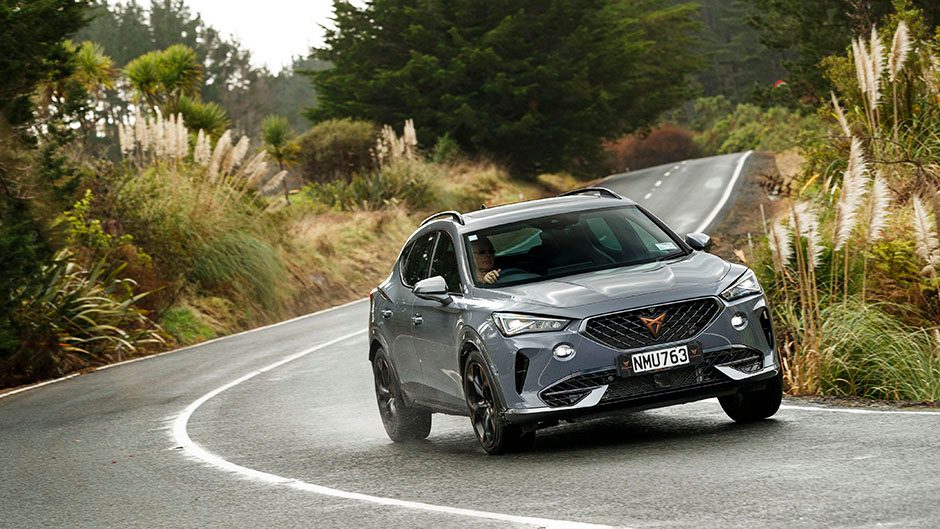 Like new Golf, this too has most functions relegated to the touch screen, so we were familiar with the systems idiosyncrasies. There are a few random buttons down by your right knee, like max demisting, and sliders beneath the screen make it easy to change volume or temperature but the rest is by the big infoscreen angled towards the driver. HVAC operation is relatively simple, accessed at the top of the screen. And the rest is via submenus.
Safety gear's all there, including 10 airbags, and Formentor has a EuroNCAP five-star rating. There's also five years of factory warranty. Luxo items run to a heated wheel and seats, LED lights and puddle lamps, a Qi charge pad and powered fifth door.
If you can't quite run to the VZ, check out the V 4Drive as well, also a decent runner. While it's not as quick, nor is it in any sense slow, the lesser powered 2.0-litre also a touch more economical, rated at 6.9L/100km overall.
Like the VZ, it still gets active cruise, just not the autonomous lane keeping aspect. And if this is a bit rich, the 1.4 front driver arrives before year end. Cupra may be little known here, but this new range deserves to foment forecourt action like never before.
| | |
| --- | --- |
| Model | Cupra Formentor VZ |
| Price | $68,900 |
| Engine | 1984cc, IL4, T/DI, 228kW/400Nm |
| Drivetrain | 7-speed twin-clutch, AWD |
| Fuel Use | 7.7L/100km |
| C02 Output | 175g/km |
| 0-100km/h | 4.74sec |
| Weight | 1608kg |