Now in Gen II guise, Zoe returns with more power and range, added spec and a reduced sticker price. With the rebate, it's way better value. Only now there's more competition too.
Back in 2019 we drove the original Renault Zoe, which arrived late in its life cycle and retailed for $68,990. While it was the best selling EV in Europe five years ago, here it proved a harder sell, an expensive supermini that wasn't that quick or spacious and with moderate range from its 41kWh battery pack.
The big news is that the clean car rebate does knock back the silly pricing of the EV to something that's now just reasonably expensive. Zoe, as you may recall, is an acronym, meaning Zero Emissions, with the O meaning zero in terms of CO2 output. The cute name goes with the cute look of the vehicle. Despite having an unchanged silhouette, it still looks rather appealing, with a light redesign, and the shape is reasonably aero-inspired, though battery use climbs a fair amount once you're above 90km/h.
Still, the motor and battery are stronger and therefore performance improves and range expands some. It's still pretty tiny physically but the somewhat good news is that it starts off $3k less expensive overall ($65,990) meaning it is over $10k less expensive compared with the original after the rebate, while offering a more modern interior. So it should stand a much better chance of success compared with its orphan predecessor.
Stronger and further
How does the second-generation Renault Zoe stack up exactly? While the battery pack is no bigger physically, it gets an upgrade from 41 to 52kWh, and so range evidently expands from 265 to 395km (WLTP). Not that we ever saw anything like that; after a full recharge we saw only a jot over 300km, reflecting previous driving on the open road.
It also gets more motor, the new R135 (as in hp equivalent) has outputs of 100kW and 245Nm so it ought to be a reasonable amount perkier than the original (packing 68kW/225Nm).
Indeed, the second generation is much friskier, it should be said, and cruising at 100 seems easier. Like the former, it gets to 60km/h pretty smartly, taking under 4sec for that, but you can feel the headlong rush slow as 100 approaches, although it makes it there in just under 10sec. The original needed 13sec. Evidently the new generation is faster on the overtake too by a claimed 2.2sec; we found it four seconds quicker 80-120.
We like that there's rather a useful instantaneous and average "fuel" use indicator, so you can keep a weather eye on how fast the juice is being used up or energy recuperated. This way you can manage your eco driving too. Average energy use, without recourse to the stultifying Eco button, is around 16kWh/100km. Punch Eco and you'd do better still but it kind of sucks the life out of the motor, as they all seem to.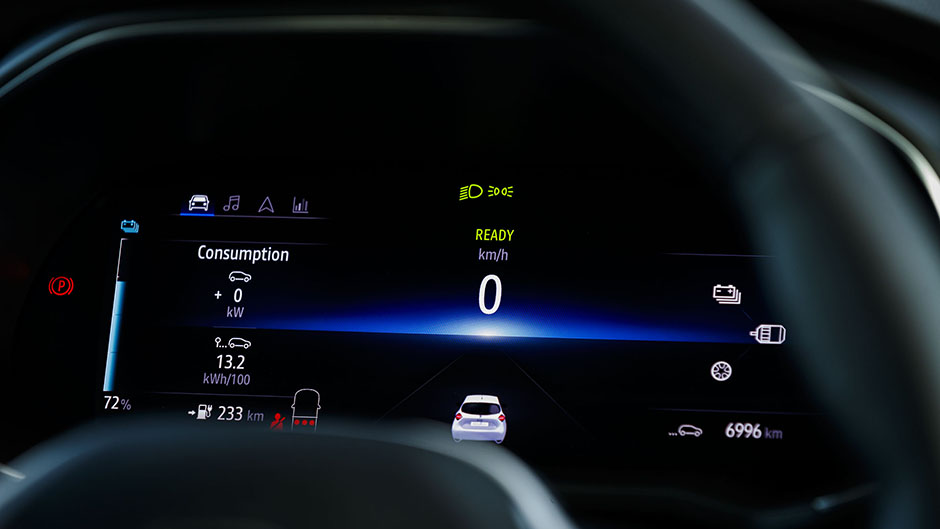 Fast charger
And on rejuicing that's one of the major improvements of the second-generation Zoe. By adopting rapid DC charging up to 50kW, the new Zoe can much better utilise New Zealand's charging network. We almost discharged the battery in a day that involved performance testing and checking dynamics on our shorter rural test track, making it back to a local unattended fast charger with just under 20 per cent of range remaining. After 40min, it was back up to 80 per cent, with over 260km of range indicated.
Renault NZ GM, Sam Waller, reckons that with a 50kW fast charger, you can gain 150km of travel in half an hour and that sounds on the money. We hooked up the portable charger to a three-pin plug at home. The car suggested another 11 hours would be needed to get it from 80 to 100 per cent. It's the equivalent of pumping up a car tyre with a bicycle hand pump. You could but you wouldn't bother. If you owned this, you'd have a 7kW home wall box instead which adds about 50km of range per hour. The portable charger you'd use in an emergency or when overnighting down country.
Energy use in urban areas is acceptably low but once you get out of town and speeds rise, battery charge starts to disappear at a faster rate, consumption rising to over 20kWh/100km at the legal open road limit. Efforts at regeneration are largely wasted in this setting; you might gain a kay on a downhill run, with the lever set in B (for regenerative braking). But the battery remaining figure continues its headlong decline regardless. Regen is best in urban use, when there are more stop/start opportunities.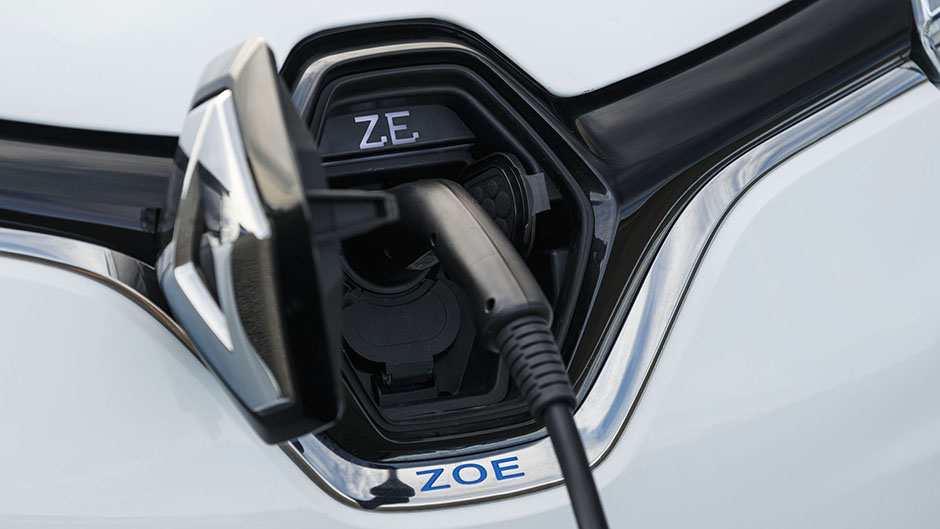 Assured dynamics
We rather like Zoe's handling, providing you don't go for broke, for the battery pack is centralised within the wheelbase and carried low. Course that's irrelevant at urban speeds, where its typically small car ride is more to the fore. Moreover, on rural outings you're too busy angsting over how quickly the battery is being drained. People talk about range anxiety being a thing of the past but that's not the case yet. It might be if you're an urbanite but out of town forays show the absurdity of such a claim.
Be all that as it may, this feels evenly balanced and so corners rather well, despite its Eco rubber allocation. At the point where the tyres start to voice their disapproval the ESP system begins its Blinky Bill act. Up until that time, this hangs in there nicely, holding decent corner speed. The steering is quite light, though weighting has that disagreeable digital/artificial feel about it. However, the front end darts around nicely, up for a bit of playful action. That's partly because electric motors and single speed transmissions weigh less than ICE powered units.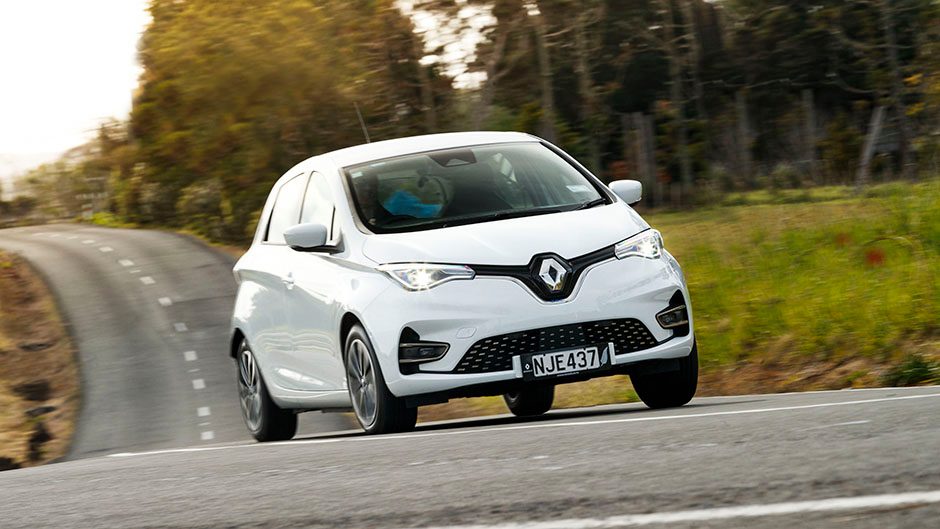 Interior updated
It's a nicer machine inside than the original but then that wouldn't have taken much. There are fewer hard plastics but the central screen remains rather miniaturised, a bit like the vehicle itself. That's especially true when reversing as the screen resolution is hardly stellar.
You certainly do get more for your $65,990 than before, even some ecomaterials to enhance its green appeal. The leather seats are heated up front, as is the steering wheel and there's a self parking system but why bother when it is under 4.1m?
New driver-assistance systems include a 10-inch driver's display, an electronic "e-shifter" gear lever, an automatic parking brake with auto-hold and much improved LED lighting. There's also standard-fit satellite navigation, Apple CarPlay and Android Auto, and comfort entry. But cruise is manual rather than adaptive.
What's it up against? The latest Leaf has a smaller battery and less range (270km WLTP) but more performance and practicality for less outlay ($61,990). Just hitting the market now is Peugeot's $59,990 e-208 with a similar size battery and motor, and slightly less range, around 340km. However, it's a fair amount quicker (0-100 in 8.4sec). With the clean car rebate it will go for just over $50k, like Leaf.
So it is becoming a competitive market out there, and increasingly there's more choice in the e-car sector. We'd expect Renault's next electric offering, the cool-looking retro-modern R5, to be highly competitive, costing less than Zoe and with a 100kWh battery pack, offering vastly expanded range. Things are moving quickly in the electric area.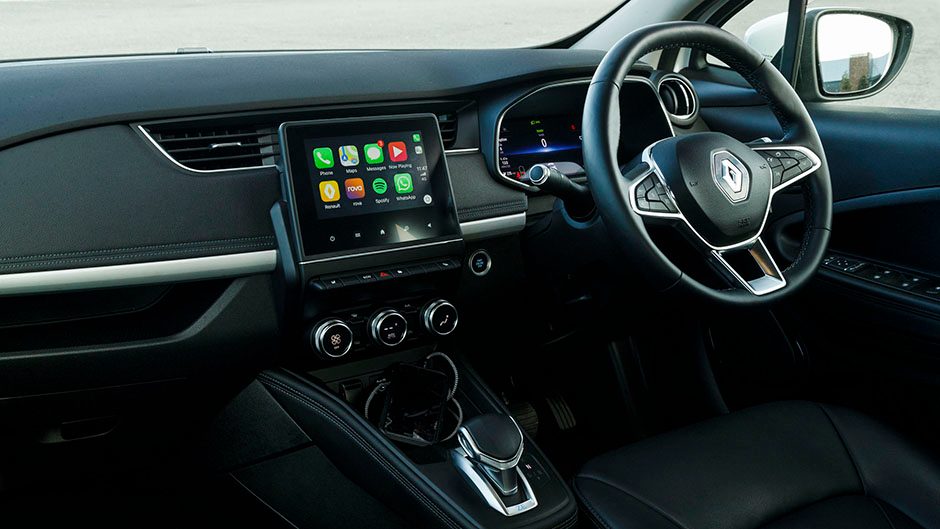 | | |
| --- | --- |
| Model | Renault Zoe Intens |
| Price | $65,990 |
| Motor | single, 100kW/245Nm |
| Battery | 54.7kWh (52kWh net) |
| Drivetrain | single-speed, FWD |
| Energy Use | 17.7kWh/100km |
| C02 Output | 0g/km |
| 0-100km/h | 9.84sec |
| Weight | 1538kg |