VW's ID.4 was recently named the World Car of the Year. The first one in the country landed just a while ago, and we nabbed a drive.
Back in early 2019 we wrote that the first of VW's ID EVs would be along soon, with the promise of lowering the entry price to electric mobility. And yet a couple of years later we're still waiting, and will be for some time, with no confirmed date as to when Volkswagen NZ will get its hands on the ID models. They've gone on sale in Europe but aren't cheap, in contrast to what the firm initially promised (a modern-day people's car). First came the ID.3, a Golf-sized offering and the ID.4 soon followed, a Tiguan-sized SUV. One of the first ID.4s has arrived in the country via EV specialist grey importer GVI, and we had a brief encounter.
It's based on the same 'MEB' platform as the ID.3 hatch but has its dimensions stretched and pulled, the wheelbase longer, the tracks wider. The steel chassis uses Mac struts up front with a multilink arrangement on the rear, which is where the motor lives. Interesting fact – it has drum brakes on the rear. VW says 'EVs rely on regenerative braking, disc brakes on the rear can be less effective than drums after long periods of not being put to heavy use'. We'd guess they are probably cheaper too.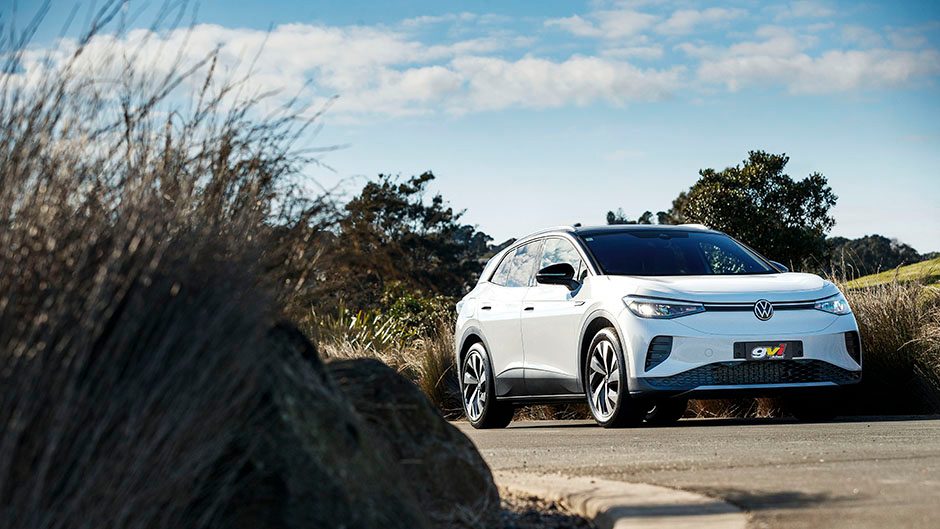 For size, it's 110mm shorter than a Tiguan, with a slightly abbreviated wheelbase. ID.4 is also lower, with a truncated bonnet line, and is a bit wider. The styling is different, out there, but not too OTT, all smooth and curvy.
While the ID.4 isn't quite as big as you first expect, the space on the other side of the metal impresses. The driving position is generous without a footwell or big centre console hemming you in. The design is minimalist, and the touchscreen and what buttons there are are shared with new Golf. It's hard at first to get used to the feel (or lack thereof) of the touch buttons while the infotainment would need a thorough learning session to become familiar with all of its functions.
The instrument binnacle and integrated gear selector are not unlike those pioneered by BMW's i3 where you have a simple display and a column-mounted rocker to select the gears. A dash of German humour includes a play and pause symbol on the accelerator and brake pedal.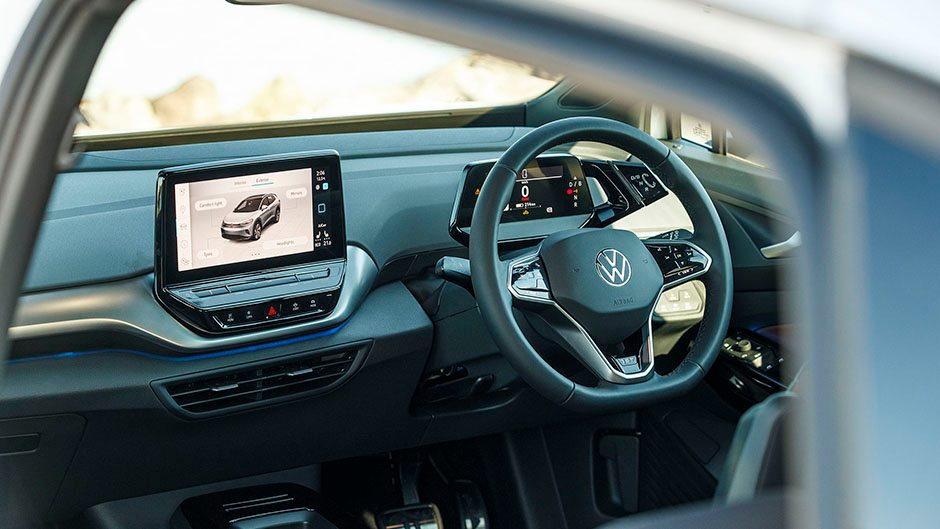 The build and surfaces are typical of the brand, though some head scratching has taken place to see where they could save money. There are just two window switches on the driver's door to lift the front windows. Want to lower the rears? Touch the button marked 'rear' and then they operate the ones in the back. Two switches are cheaper than four. And the glovebox is like a Peugeot's in that they haven't relocated some hardware bits in behind for the RHD version and so you only have half the usable storage space. There are plenty of other repositories elsewhere, all appropriately lined so they haven't squeezed the budget too hard.
Step in through the generous rear doors and there's a serious amount of lounging room on a comfy bench with plenty of knee and headroom afforded. A flat floor will see three fit across more comfortably than they would in a Tiguan.
There's a hefty load space in the rear too, long and wide, and the tailgate is big, with the usual easy to execute split-folding rear seat. It's a particularly spacious SUV considering the footprint it occupies.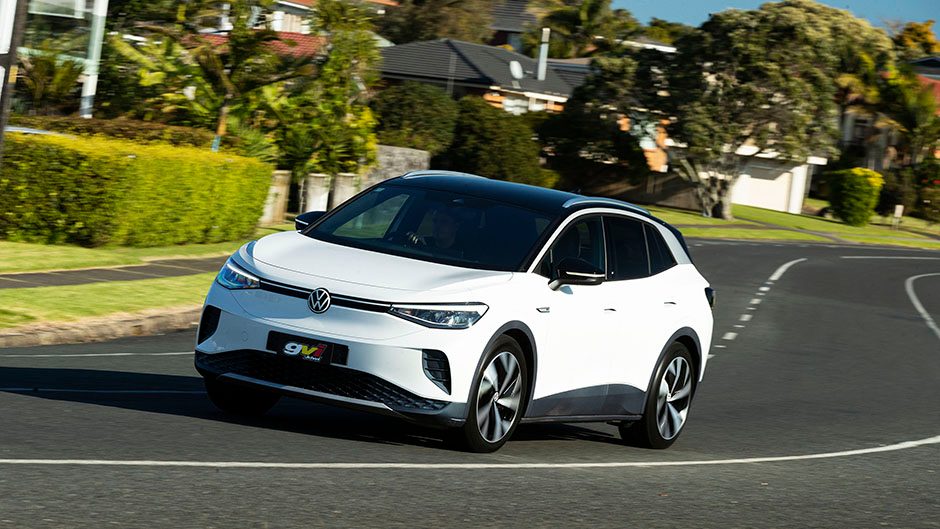 This ID.4 gets the 150kW/310Nm motor and 77kWh (net) battery giving a claimed 500km WLTP-rated range with 0-100km/h ticked off in 8.5sec. If you can find one, it can be filled by a 125kW fast charger which they say can add 320km of range to the battery in 30 mins. An 11kW onboard charger facilitates faster AC type charging via a smart wallbox in your home.
We know well that electrically motivated machines provide a refined power delivery but the ID.4 is extra smooth. There's the immediate and easy torque but it's not overwhelming, while the transition from throttle to brake is silky as well. The regen sorts itself via the radar sensor. Step off the play pedal and it will coast but when it picks up a vehicle ahead it will start to regen in a smooth and seamless manner. It's trick stuff maximising both the regen and an EV's ability to coast unnaturally well, all without you having to think about it. You can also select the B drive mode and while it's not quite one pedal driving, it'll slow you sufficiently, with the brake used to bring it to a halt.
There are the usual drive modes and this has adaptive dampers lending it a decent ride quality on city streets. And this doesn't roll on eco treads either, with 255/45R20s on the rear. As such there's some road rumble, even at 60km/h on coarse chip surfaces, while the low speed noise it has to produce as per EU regulations is quite loud inside the vehicle, evident as you slow to below 30km/h.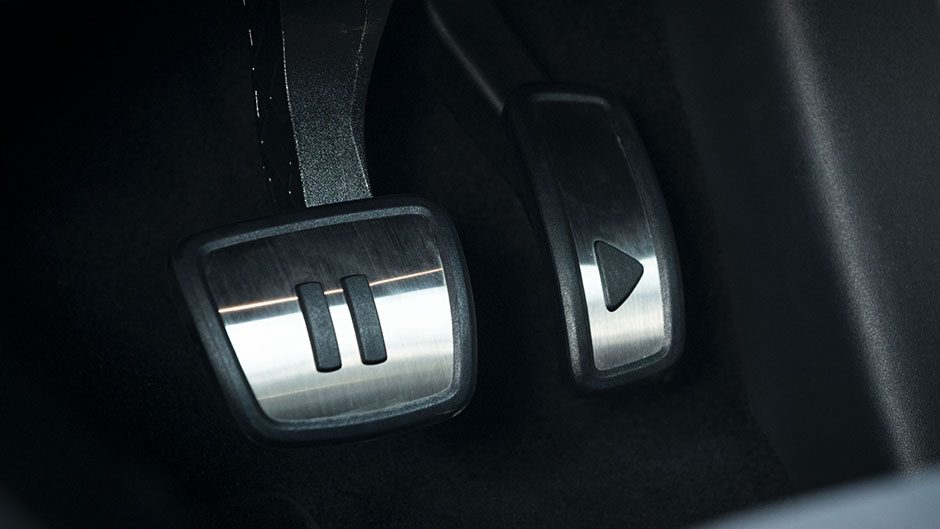 The turning circle is impressive for an SUV, at just over 10m. Its steering is light but well tuned with no untoward self centring. Yeah, it's light on life but what did you expect? While we didn't subject the ID.4 to our usual full test, we did manage to find a few corners to stick it around. With the motor over the rear, the front turns more willingly than something with a lump of iron over the front axle, and it builds progressively into understeer when you push the power pedal harder. There can be a mild effect on the cornering line from the weight in the rear, but nothing alarming. The motor response is okay at speed too; it's not super quick, as it weighs a claimed 2116kg(!) and yet with most of the mass low and centralised, the ID.4 handles remarkably for something hauling such a load around.
At present, the ID cars are made at just one factory in Germany, stymying supply for far-off markets like ours. VW has two plants in China set to fire up before year's end, along with a factory in the US and another in Germany later in 2022.
So for the foreseeable future the only way to get an ID.4 here will be via the grey importers like GVI which has this 1st Edition with delivery kays for $89,990. That includes a three-year battery and mechanical warranty and three years of roadside assistance.
| | |
| --- | --- |
| Model | VW ID.4 1st Edition |
| Price | $89,990 |
| Motor | single, 150kW/310Nm |
| Battery | 82kWh (77kWh net) |
| Drivetrain | single-speed, RWD |
| Energy Use | 18.0kWh/100km |
| C02 Output | 0g/km |
| Weight | 2116kg |