With Octavia now a wagon-only line-up, there's the Style we drove recently and this feistier RS. Should you be upsold?
We recently sampled the base variant of the new Gen IV Octavia wagon, the $48k Style, and found it to be an outstanding family and load hauler. The question then becomes: is the $10k more expensive RS worth the extra? Having driven it for a week, we'd say unquestionably, providing it doesn't break your budget.
First questions first though – what do you get for the $10k extra spend over the Style? Well, a bigger, much stronger engine for starters, mated not to an eight-speed auto like its smaller sib but to a seven-speed twin-clutch tranny, presumably for the sportier shift delivery.
There's also quite a power up going on here, displacement rising from 1.4 to 2.0L and output from 110 to 180kW. Ditto the torque, rising from 250 to 370Nm, delivered at much the same rev spread, in this case 1600-4300rpm. Oddly enough, there's not that much difference in claimed fuel use, up less than 1L/100km to 6.6L/100km overall. And on the strength of our mixed driving scenarios and trip computer figures, we'd suggest that this is also the case in the real world. Certainly a worst of 9.5L/100km overall is rather creditable, though instantaneous figures in the high 20s are certainly possible. Easing along on the motorway systems in and around Auckland, we noted fuel use in the sixes.
Other differences also count. There are powered and heated sports seats with vRS logos to go with the improved performance (0-100 comes up in a claimed 6.7 vs 9.1sec) that automatically move in and out when you set out or come to journey's end. Also present on our vehicle is adaptive damping ($2500 cost option, along with $1900 head-up display and $1950 Canton audio) and a range of drive modes to match dynamics with the increased pace. There's top rubber too, with meatier, low profile Potenzas on fast looking alloys, along with firmer suspension and a 15mm lower ride height, progressive steering (two turns between lock stops for easier parking and sharper turn in), and matrix bi-LED headlights.
There are the visual enhancements as you'd expect of an RS model as well, comprising gloss black finish for the grille, window surrounds and roof rails. Inside you get a D-shaped heated sports multifunction steering wheel, aluminium pedals, and powered one-piece seats for both front passengers, with alcantara and fabric finishings. Ahead of you are higher level trim finishings in carbon look, along with alcantara for the dash and smart alloys in black.
Bare in mind this is all (cost options aside) for $10k which we'd suggest is typically great value from Skoda. I'd venture some would just about pay the extra $10k for the performance upgrade alone. Not that we found the Style model wanting exactly but this is just downright hasty. There's as much power as you get with a Golf GTI (with which it shares engines) and remember this is based on that same MQB Evo platform.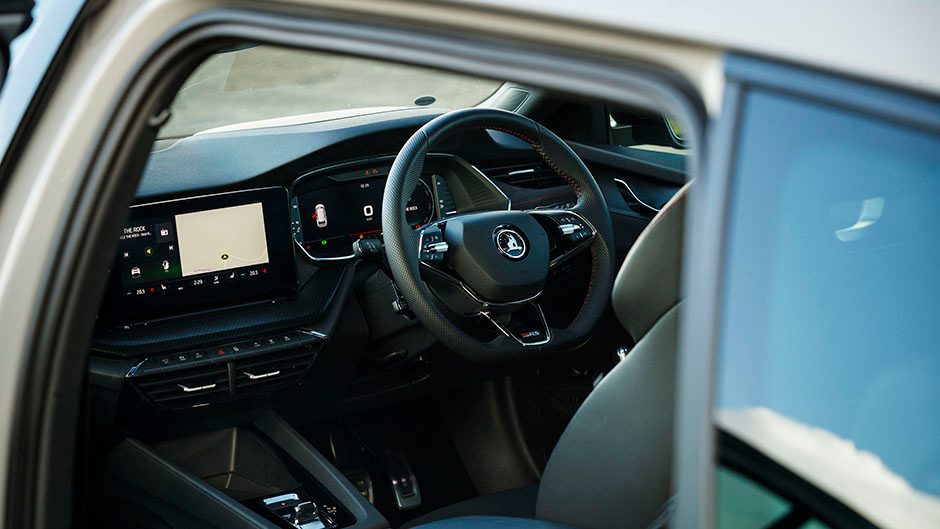 It's tasty too, because the adaptive damping set-up gives you plenty of driving options, not only with a host of modes but also with an individual setting where you can mix and match comfort and control with power and economy, as you like it.
Normal seems to be the default mode, with a gruff off-beat exhaust note while below that is a quieter Comfort setting. All the others, including Normal, seem to be various degrees of Sport.
New owners will be sure to check them all out, and then opt probably for Comfort most of the time, although Normal carries with it that interesting digital bark.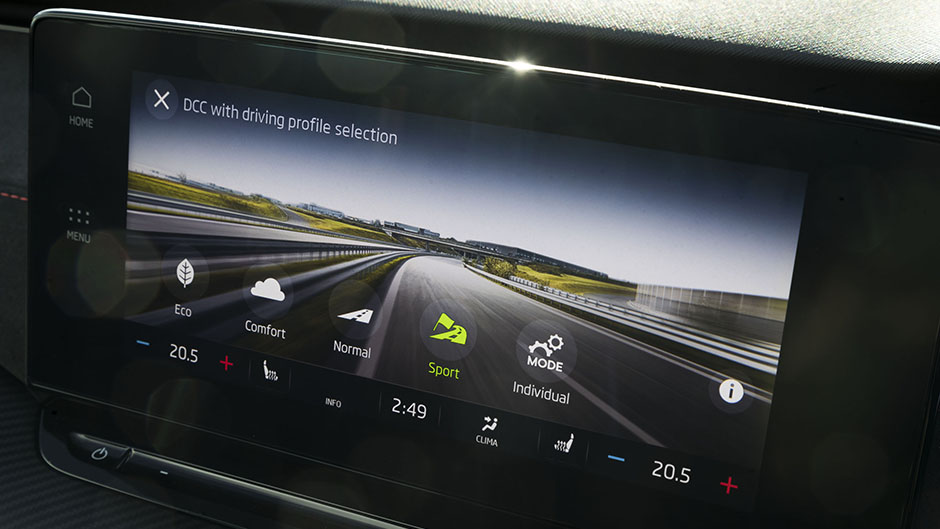 This is quite the goer on the charge and has equally adept chassis performance thanks to its stout underpinnings. It comes as little surprise that it comfortably meets and exceeds its sprint claim of 6.7sec. That is, if you can keep the fronts from lighting up and then it will repeatedly run to 100 in the 6.4sec area, and a bit over half that for the overtake. So it's certainly quick enough, and a palpable step up on the Style variant. Worth the spend if you value added pace.
There are suitably impressive performance stoppers as a foil to the go power, regularly pulling it to a halt in the 34m-and-change bracket from 100km/h, and offering reassuring bite from the top of the pedal travel. Featuring torque vectoring by brake, this has a largely neutral mein on the go, with not much in the way of compensatory line tightening following a throttle lift. But it can surely round up the corners in impressively quick fashion, the lower ride, wider tracks, stickier rubber, faster steering and better body control of the active dampers all playing their part.
Perhaps the most impressive aspect of this RS Skoda however is not its performance or dynamics, nor its sheer size – it can now pack even more gear, despite no change in wheelbase (640-1700L) and it's accessed by a powered and gesture-controlled fifth door – but its overall specification given its price.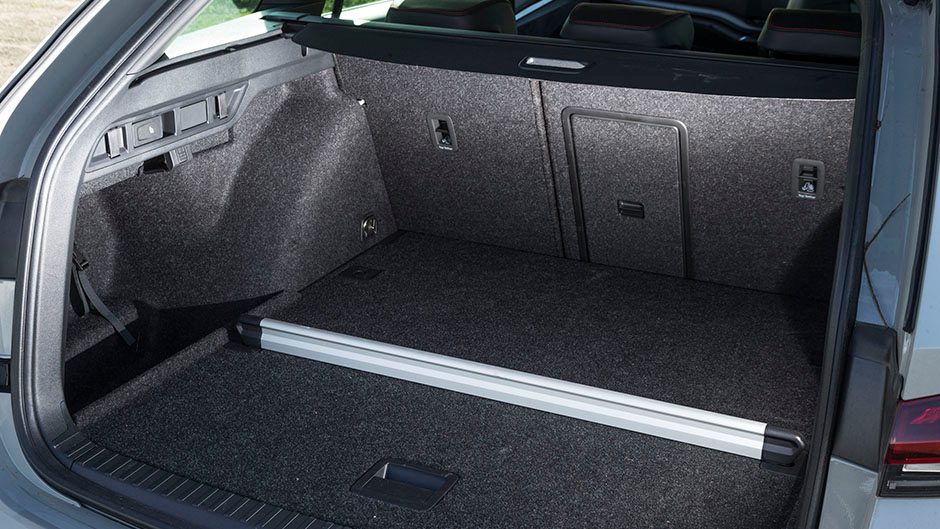 We like that it recognises you approaching, or more accurately the gloss black key fob you're carrying, and auto-unlocks. Puddle lamps with Skoda writ large light up too. Present and noted are adaptive cruise with automatic stop and go, heated wheel and seats, nine airbags (included is a between-seats bag to stop head knocks in serious impacts), and all the expected crash detection and amelioration safety gear, sufficient to warrant a five-star safety rating from ANCAP. Included are fatigue detection, AEB, lane assist and centring, BSM and side assist to prevent opening a door onto a car or cyclist, parking sensors north and south, and slow speed auto braking to prevent reversing calamities. Options not mentioned include self parking ($950), a panoramic sunroof ($2900), and special ergonomic comfort seats ($3500), amongst others.
There are also small things to admire, like auto high beam assist for the stonking matrix bi-LED headlights, comfort entry from any door, an umbrella in the driver's door, and easy releases for split folding. There's also wireless cellphone charging, five USB-C outlets, two in the rear for device charging, and another in the mirror for a Go Pro.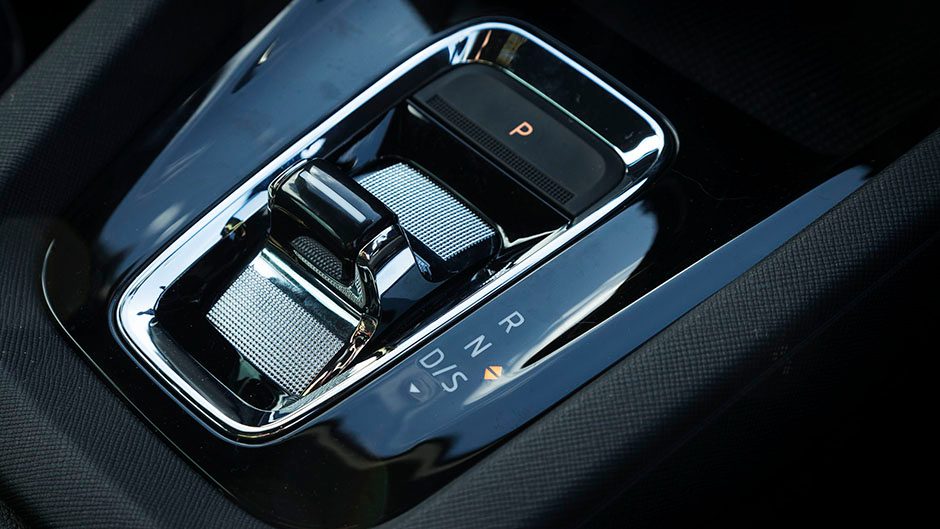 Finally, a couple of things we'd overlooked. The latest Octavia, being Golf based, has a shift-by-wire system so there's a tiny wee lever in place of a conventional one. If you're in the Comfort setting where the RS tends to slope along at low revs, a single pull on the lever amps up the transmission setting, hastening the overtaking process. At best this takes 3.6secs, only 0.2sec behind the Golf GTI. Alternatively, you can pull on the left paddle shifter and that will have the same effect. Your choice.
Topping off the goodness is a five-year/150,000km mechanical warranty. Service plans of three or five years add $1745 and $3395, respectively, to the bottom line.
And if this doesn't work for the mainlanders amongst you, there's always the AWD Scout version, while the greenies might hang out for the plug-in variant, both of which are due out next year.
| | |
| --- | --- |
| Model | Skoda Octavia RS wagon |
| Price | $57,990 |
| Engine | 1984cc, IL4, T/DI, 180kW/370Nm |
| Drivetrain | 7-speed twin-clutch, FWD |
| Fuel Use | 6.6L/100km |
| C02 Output | 151g/km |
| 0-100km/h | 6.45sec |
| Weight | 1538kg |