Octavia returns in fourth-generation guise, reinvigorated and as a wagon-only line-up, available in three specs. We get to grips with the entry Style Combi.
Despite their popularity, not everyone wants an SUV or a ute and there remains a select group that favours wagons, despite the limited choices now on offer. These are people who aren't taken necessarily by the boxy style or swagger of an SUV and want the added comfort and more secure handling of an estate, along with its practicality and elegance. All of which they can have with the latest fourth-generation Octavia, updated with added style, technology, and space.
It's no longer available here as a saloon or, more accurately, a liftback because that sector is continuing to decline here. Still, Skoda reckons that Octavia is the 'heart and soul' of the brand and they're right in a global sense, with over 6.5million sold but in our neck of the woods Kodiaq has taken over the mantle of best seller for the brand, with 450 sold last year compared with 160 Octavias.
What's on offer?
For 2021, Skoda New Zealand hopes to move around 250 Octavia estates or Combis and there are three different variants. Kicking things off is the base Style you see on these pages, costing $47,990 while the stronger, sportier and better equipped RS goes for a $10k premium. An AWD Scout variant with slightly raised ride height (165mm) has become available as well for $65,990. The other two are front-wheel drive.
While dimensions don't change much – it's 22mm longer, and 15mm wider – the wheelbase is the same at 2689mm, and yet Skoda has managed to find another 30L of luggage capacity, out to a heady 640L, and expanding quickly and easily to 1700L via a couple of levers in the back. These you access by kicking (towards) the bumper and the fifth door pops up all by itself. There's also an underfloor area where you can hide your valuables, which should remain undetected if there's a break in. The alarm will help see to that.
Style, the one you see here, with its 1.4-litre turbo-fired four may be the base model but it's far from spec bare, as you'd hope at the price. There's a configurable dash, leather seats, powered for the driver with three memories, a new 10-inch display with voice and gesture control, and an electronic parking brake and tiny wee shift-by-wire lever for selecting D/S and Reverse. These free up space for things like a Qi charge pad for phones. These, by the by, feature wireless hook-up for both breeds. LED lights with auto high beam are standard, and there's still the umbrella in the driver's side door, an Octavia 'simply clever' concept. But the removable LED light/torch in the rear is no longer offered.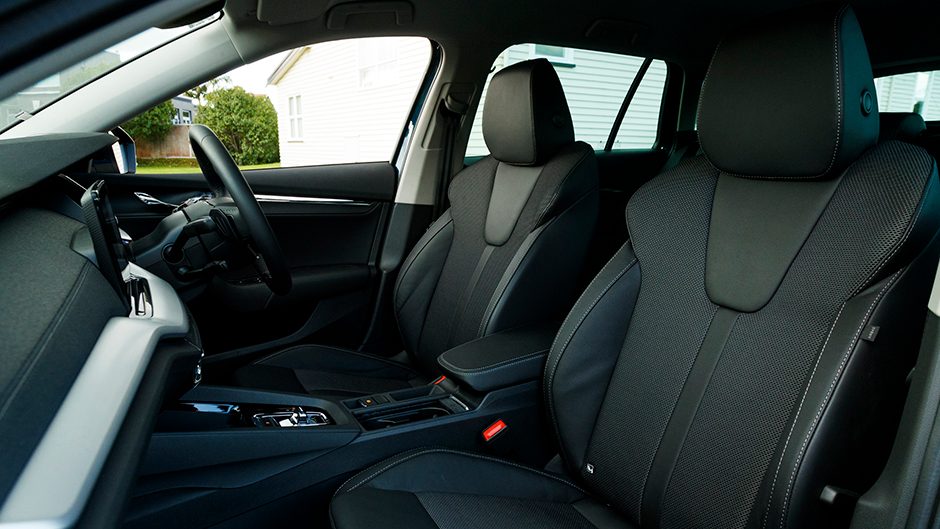 Small but perfectly formed
If you're expecting a 2.0-litre turbocharged engine, you need to spend the $10k extra on the RS for that. With the Style, you might imagine a certain anaemia to its performance complexion, being a 1.4, but not at all for this turbo engine does an impressive and more than passable job. Bear in mind that Octavia uses the latest MQB Evo platform, just like Golf 8, and instead of running a twin-clutch transmission with seven speeds, it now has a regular torque converter auto, sporting eight cogs. That also means higher overall gearing and reduced fuel consumption. For a car that can tote 640L of gear and carry five adults in comfort, mean fuel use of 5.7L/100 (132g/km) is highly commendable. We often saw instantaneous fuel use figures in the fours when using adaptive cruise on the highway, and averaged 5.4 on a country run.
Regarding adaptive cruise, it's a good system, despite being controlled by a wee wand on the side of the steering column, slowing appropriately on jammed motorways, pulling to a halt smoothly, cutting the engine and then refiring all by itself once the vehicle in front pulls away. Clever stuff.
Style is pretty well stocked on the safety front too, with nine airbags, lane change assist, fatigue detection, autonomous braking for the usual things, cars, pedestrians, cyclists, helmetless scooter riders, and it also has sonar at each end. Want to turn off the lane assist function? An easy two steps on the steering wheel. Optional safety extras include a $500 between-seats head airbag for front occupants, matrix bi-LED headlamps ($2750), a heated sports wheel with shift paddles which our car had ($450), an electric front passenger seat with memory ($1500) and a head-up display for $1900.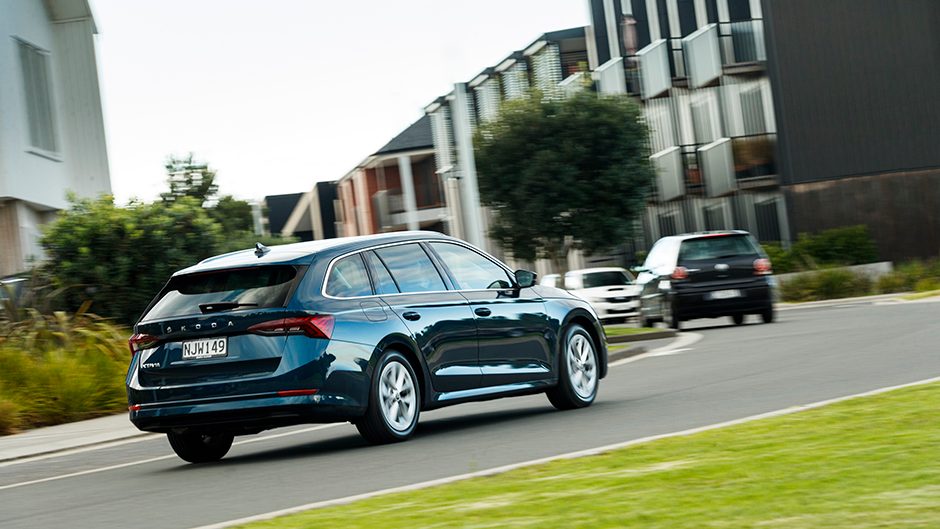 Easy street
So there's decent specification even as a base model but it's the ease of operation that marks out this car, and endears you to Octavia. Touch any of the door handles and the car centrally unlocks. Push where the ignition key would normally slot and it fires up. There are no power modes, and they're not missed. Instead, this car has 250Nm of torque developed from a lowly 1500rpm which makes for easy-going and economic performance. Contributing is a slick Cd of 0.27 which also makes for quiet running. For extra vim, pull the little shift wand back to the Sport setting. Or you can use the paddles but you won't; there's no real need as the eight-speed auto is always onto it.
Seat heaters are nice for winter travel, as is the toasty wheel, at least first thing in the morning, and you can simply input your preferred seating position into one of three memory buttons. All the cubbies are either rubber lined or flocked so things don't rattle around. There's a long load facility to complement the full 60/40 split folding and a handy alloy rail to secure gear.
Even the dual zone is easy to adjust. Just hit the climate button and on the info screen touch where you want air to go; options are literally spelled out and include 'warm my feet', etc. No searching for minuscule icons here. Media and radio are similarly easy to fathom, and there's nav too. The hired help (aka the voice activated assistant), named Laura, isn't that switched on, but how often are they?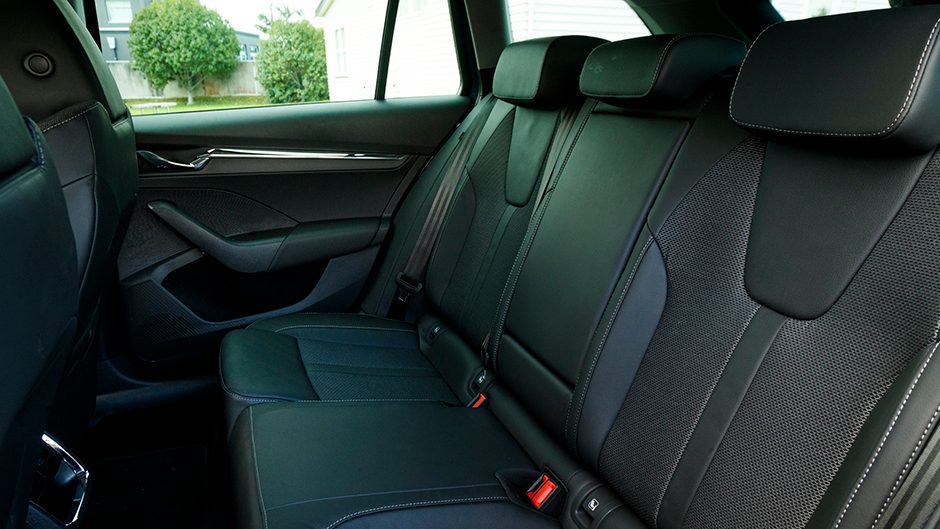 Surprise performer
On the go, the Style is comfortably faster than claimed, beating its 9.1sec claimed time to the speed limit by at least half a second. But then we found another performance claim of 8.5sec to 100km/h too, which is more on the money. It never feels tardy, especially for something capable of such excellent fuel economy. Perhaps that's because peak torque is on from 1500rpm, so a single downshift suffices for an overtake. It's quiet on the run too, aided by the Pirelli rubber that's not outstanding in any one area but not a let-down anywhere either. Brakes aren't special but go quietly get about their business. Handling is predictably solid, the P7s squealing when they've had enough. More impressive is the way this dispenses with unruly road surfaces. It's a family affair, after all, so it should keep all occupants happy; there's genuine room for three in the rear.
Octavia has always been an honest to goodness family wagon that surprises and delights. It has been a good thing in the past but in the latest generation it borders on being great. And increasingly there are few rivals, about the only competition remaining for this sort of money being the larger, thirstier Mazda6 wagon. An even more fuel-efficient plug-in Octavia is due out next year.
| | |
| --- | --- |
| Model | Skoda Octavia Style |
| Price | $47,990 |
| Engine | 1395cc, IL4, T/DI, 110kW/250Nm |
| Drivetrain | 8-speed auto, FWD |
| Fuel Use | 5.7L/100km |
| C02 Output | 132g/km |
| 0-100km/h | 8.39sec |
| Weight | 1369kg |