Part of Mini's marketing bumf centres around go-kart-like dynamics. It's just launched a new electric version of the Cooper. Is it still a mini, or do the electrics numb the appeal?
So, Mini has gone electric. Is the Cooper SE 2020's chicest new EV offering? No doubt. Cunningly it uses BMW bits to help keep the cost in check. Still, $60k for a three-door city car ain't most people's idea of a bargain. But then you'd never accuse Mini of being cheap.
Like all other Minis, the SE uses a BMW power unit, this one plucked from the i3 S. It's done a 180 for life in the Cooper, living under the bonnet rather than the back seat to turn the wheels on the front axle. It's a 135kW/270Nm unit, dubbed 'electro-synchronous' and developed by BMW. This is designed to be more compact with a greater power density than 'conventional' electric motors.
BMW's sustainability effort sought a design that relied on fewer rare earth resources, or so they tell us. The motor's resulting innards are said to be lighter to spin faster and higher, which benefits power output and energy consumption. The Mini Cooper platform has been adapted to receive the electric bits, and so there's a T-shaped battery positioned under the transmission tunnel and the back seat. It's this available space that limits the Mini's battery capacity, which is 28.9kWh.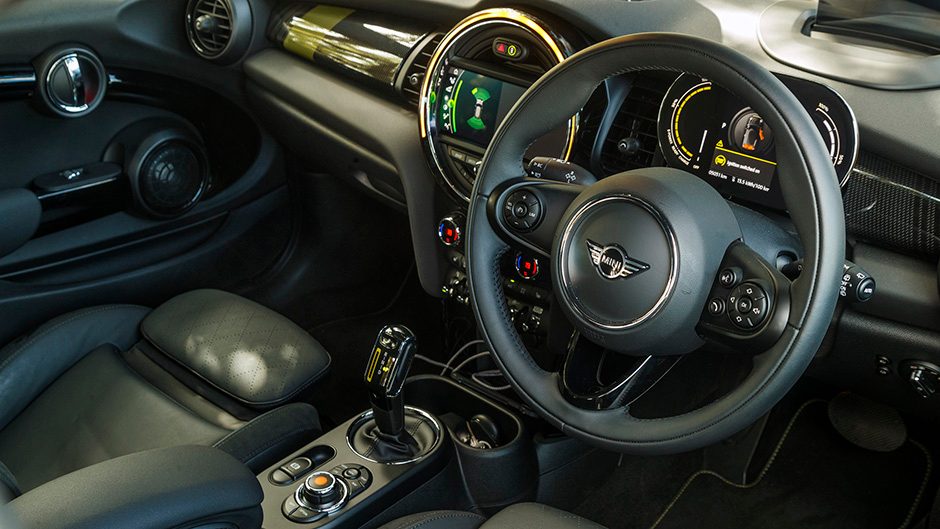 And the range? Thought you'd never ask. Mini quotes 233km. We didn't have the car long enough to verify such claims, but the source of all knowledge, the Internet, suggests a real world range somewhere around the 185km mark. When we collected it, fully charged, the range indicator suggested just 141km, though this figure depends on driving habits prior. Clearly someone had been going ape. But then the Cooper SE kind of encourages it. It's lively. A Mini that just happens to be electric.
You can charge using both AC and DC power, the car coming with a trickle charger and a cord for those BYO cable chargers. On a 50kw fast charger, the battery was raised from 44 to 91 per cent in 23mins. At home, it took the slow charger six hours to fill it from 73 per cent to full.
There are four drive modes, 'Mid' your likely everyday setting, Sport to demonstrate the hit of electric torque to unsuspecting passengers, and Green and Green+ when you are mindful of going further on a charge. 'Mid' is pretty zippy, but there's a decent uptick in response and surge in Sport, particularly when zooming from 30km/h to 60km/h. It's stroppy, and feels like something with a Cooper S badge should. Don't go too hard in Sport mode though, as that distance to empty gets nearer faster.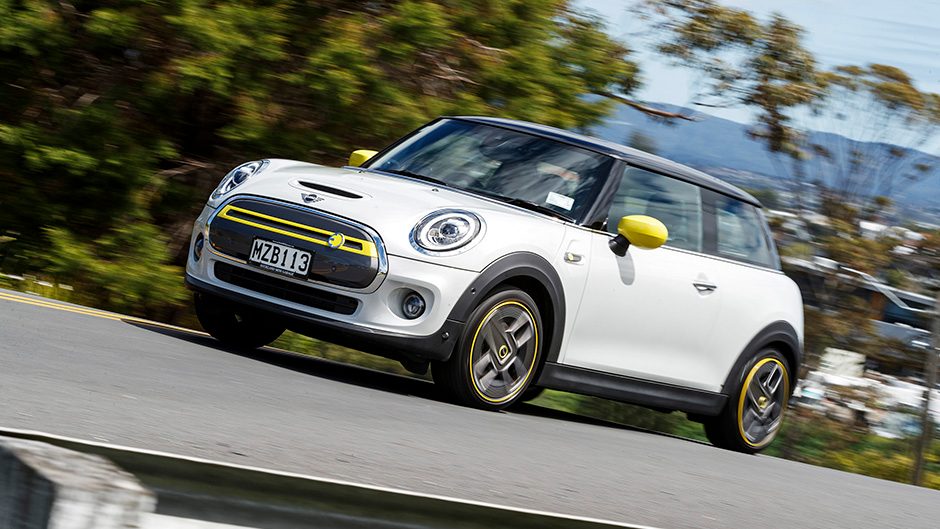 With its Mini dimensions, it's a fine town car with good outward vision and tight turn-arounds. Mini talks of go-kart handling, and unfortunately that goes for the around town ride too; it's busy.
There are two levels of brake regen, the max allowing for one-pedal-type driving. Concentrate on the traffic flow, and you can slow to a halt without using the brake.
Back in 2018 we tested a Cooper S, its 2.0-litre turbo good for 141kW and 280Nm and it recorded a 0-100 run of 6.45sec. The Cooper electric managed better than its 7.3sec claim, with a 6.85sec pass. The electric is 0.7sec slower over the 80-120 run too at 4.6sec. It weighs in at 1404kg, 140kg more than the Cooper S, but the mass is down low (Mini claims the C of G to be 30mm lower) and better divided between the axles, with 58 per cent over the front versus 63.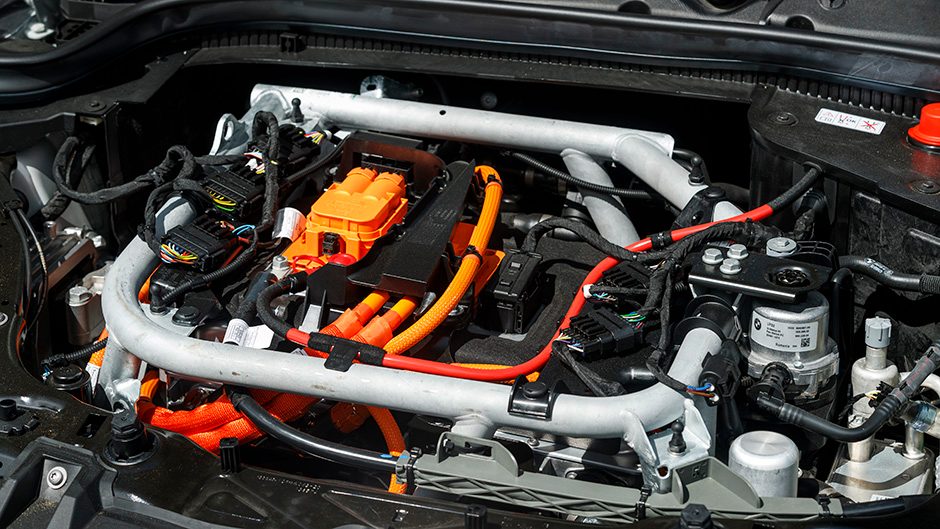 We took the SE for a quick country strop, albeit wet under the treads. But it highlighted the effectiveness of the traction control. It's well versed in metering out the torque for the available traction, helps reduce torque steer and also calms any intent to spin the inside wheel when powering out of bends. Those power socket-inspired alloys aren't shod with eco treads, so the Cooper SE grips well. It turns quickly with little interest in understeer, and sits on a level keel. The ride gets better at speed too. We thought with the additional weight, the electric Mini might have crashed into the bumps, but it goes okay, in that go-kart kind of way.
The level of brake regen is nicely tuned on its maximum level, the transition from going to whoa-ing is smooth. And when you do need to get on the brake, it feels relatively normal in operation. For a more conventional drive, back off the regen and you can use the brake as usual, although they clamp on quickly, so require a few bends to calm their action.
The Mini's fun-to-drive character goaded us into edging the energy consumption up to 23kWh/100km. And towards the end of our outing, we noticed the available power being reduced, with brief moments where it would only give a maximum of 50 per cent thrust. It quickly recovered, but given this, and a lack of range, it's not a Mini Cooper that will be any good on a Targa Rally.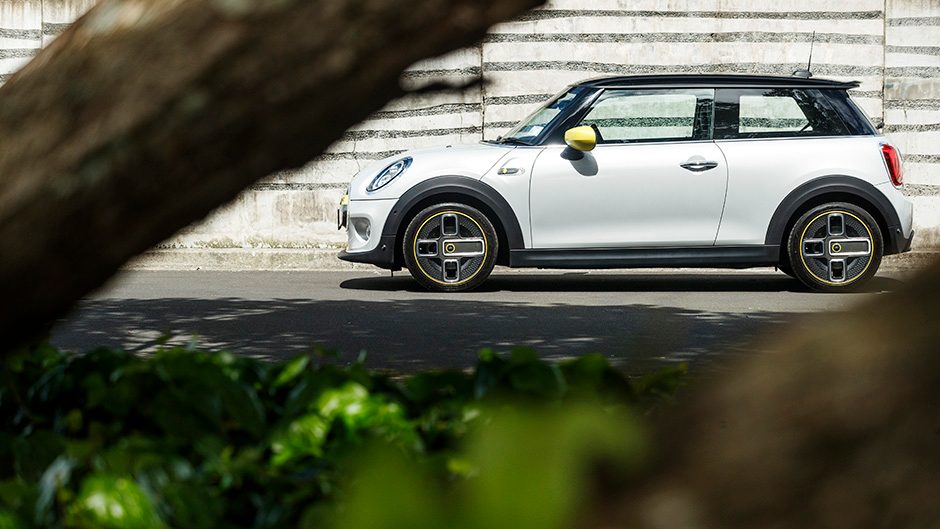 Not that it's intended to be. It's an urbanite's car that happens to be a bit of fun. At $60k, some say it's good value for an EV. But it's small, and an impractical three-door at that. The electric bits haven't robbed it of any boot space thankfully, as it has precious little to sacrifice. Autonomous Emergency Braking is the only driver aid you get; there's no active cruise here.
You get a smart key, a 12-speaker Harman Kardon system, and the leather seats have a funky cross punch design but adjustment is a manual procedure. There's a heat pump to help warm the cabin without requiring too much energy, while the A/C will instantly zap 10-15km of range. No excuses for letting the speed get away on you with both a head-up display and a clear and precise digital instrument cluster (specific to the SE) smack bang in front of you. And there's all of Mini's connected features with sat nav, traffic info and the larger 8.8-inch screen fitted as standard. Hopefully you have an iPhone as only CarPlay is offered.
There's still a premium to pay for going electric, but it's not a hefty one with the Cooper S being $51,000, the SE at $59,990. So cost isn't such a drawback here, more the limited range. But for inner city dwellers, it has more than enough, as long as you have somewhere to plug it in overnight. There's limited supply however with a waiting list now out to next year.
| | |
| --- | --- |
| Model | Mini Cooper SE |
| Price | $59,990 |
| Engine | 135kW/270Nm |
| Drivetrain | single-speed auto, front-wheel drive |
| Fuel Use | 16.8kW/hL/100km |
| C02 Output | 0g/km |
| 0-100km/h | 6.85sec |
| Weight | 1404kg |