Until the fire-breathing GLA 45 arrives, the 35 is the stroppiest compact crossover from the tuning arm of the german giant. Is it as peachy as the a 35?
Sometimes there's a vast difference between a long distance drive with the family and one you undertake alone. For starters, there's no nagging with the latter. Seriously though, what sometimes works pretty well one-up isn't always as great with others aboard.
And initially that's what I thought about the Mercedes-AMG GLA 35 4Matic, currently the sportiest of the GLA line-up. We'd found that on a three-hour drive mainly on chipseal this wasn't all that refined; the ride was too firm in Comfort mode, especially over sharper bumps, and there was an excess of tyre-generated roar making it into the cabin. It was honestly a relief to hit hotmix near home again, and even then you could hear thrum on a surface that's typically calm and quiet. That's part and parcel of buying the penultimate sport model in the GLA range.
I wish I could say the ride issue we noted on tour was more of a set-up problem but it simply wasn't. We thought briefly we'd made an error by choosing the wrong AMG Dynamics setting (Basic over Advanced) but it turns out this has no effect on ride when you're in the Comfort Dynamic Select mode. It's essentially an ESP driving aid, working only the Sports modes, nipping the inside rear wheel to sharpen the turn in.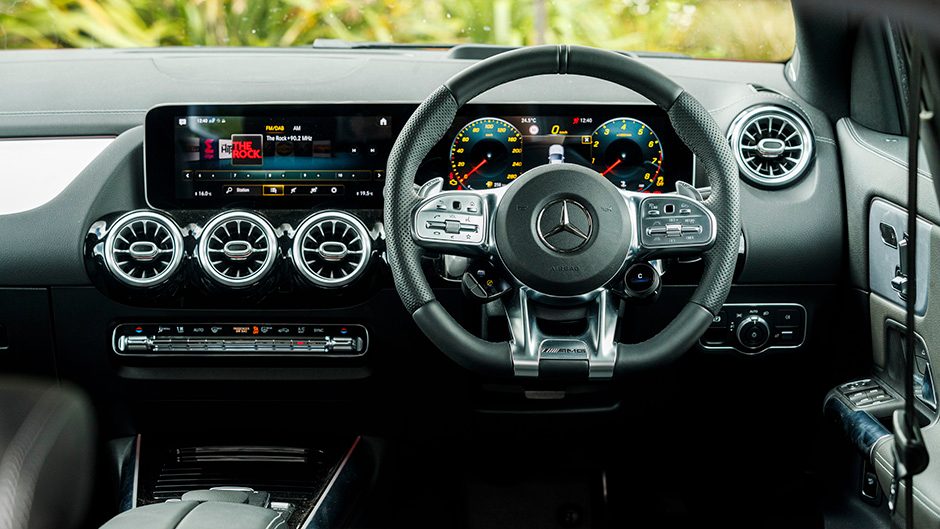 Confusing things some, there's another button on the centre console with a spring symbol, although that lights up progressively as you select more dynamic drive modes. What this permits is selection of firmer suspension settings while leaving the drivetrain to slope about quietly.
Changing modes can be done by rotating a controller affixed to the steering wheel or using one on the far side of the centre console. Alternatively, you can change these by touchscreen manipulation. Aargh – driving in sporty machinery doesn't require this level of redundancy. We didn't try using the MBUX AI-enhanced personal assistant.
Anyhow, on tour, the Comfort mode setting was not especially living up to its name on roads destroyed by the passage of multiwheeler trucks. But the bellowing from the performance rubber was worse. There's a mix of tyre-generated noise and harmonics, both of which rise with speed. Even at 100km/h some stretches of newer chipseal were generating in-cabin SPLs in the 78-80dB area. That's annoyingly loud.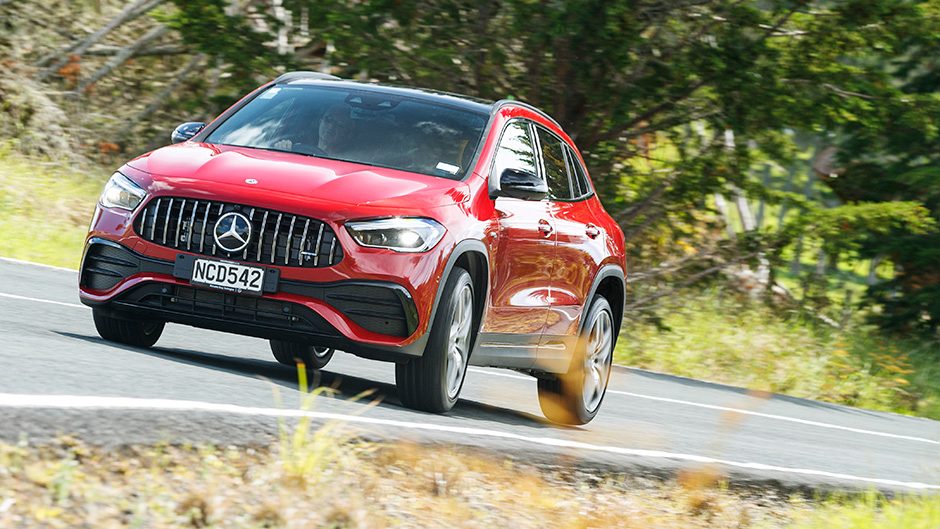 All of which is a bit of a pity because with the suspension set-up optimised in Sport mode – Sport Plus you'd reserve for a trackday and this has data logging for such – this is dynamically quite something, and at least the equal of its main rival the BMW X2 M35i. The sports rubber may be shouty but it sure does stick hard and fast. And body control is rock solid, even in Comfort mode until you're really pushing the envelope.
In S+ where the exhaust also sounds meatier, and with ESP at the intermediate Sport Handling position, this is a proper menace on roads studded with right-angle turns. It uses the same enhanced and expanded MFA2 chassis as the A-Class on which it is based. In the GLA 35, the chassis has been stiffened in key areas to improve torsional rigidity. In the sports modes, power is also shuffled rearward to a maximum of 50/50 when cornering, which helps keep the nose sniffing out the apex. All of which means you can jet back on the gas much earlier exiting the turn than you normally might. Despite a near 60/40 weight split front to rear, this corners more like something with an even 50/50 division.
Naturally, being an AMG offering, it has the performance to match. Soon enough, the GLA 45 will drop here and blitz it but meantime this compact offering generates some pretty decent longitudinal acceleration from its tuned 2.0-litre four-pot turbo-enhanced engine. With a twin-scroll turbo it's good for 225kW and 400Nm, the output processed by an eight-speed twin-clutch transmission that's lightning fast. The company claims the 35 can scurry to 100 in 5.1sec but we couldn't break 5.5sec…until discovering Race Start (select Sport+ and ESP completely off). Then it did 5.05sec, repeatably, but refused to squeak into the fours which its BMW and Audi rivals manage. This was matched by a 3.50sec overtake, while performance brakes bring it to a halt in 32.45m, consistently. All of these you'd consider pretty reasonable for a hot hatch, let alone a crossover. As a point of comparison, the A 35 with the same engine manages 4.7sec and 3.2sec, with a best emergency stop of 34m. The sterling if rowdy 255/40ZR20 SportContact 6 rubber likely explains the better deceleration figures of the GLA 35.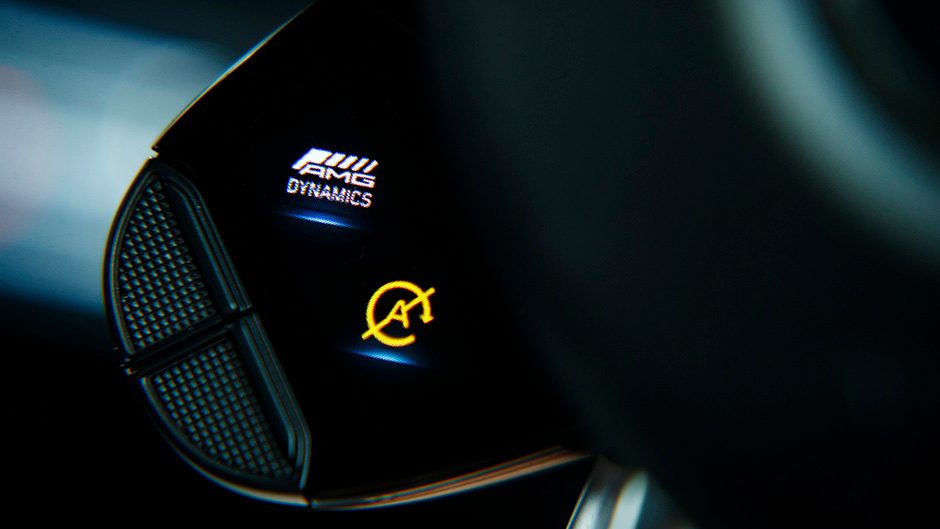 Despite the pace, it can be rather abstemious, especially if you let active cruise take over, the combined claim of 8L/100km believable. We saw 9.3-9.8 on tour, and 12s and 13s on our own.
It's rather practical too, with more lounging space in the rear, though legroom you'd call adequate rather than generous. There's quite good head clearance in view of the fitted sunroof. It's much the same situation in the luggage bay which features a powered lid. Actual volume is rated at 435-1430L, with 40/20/40 split folding.
Cool features include the comprehensive head-up display in this (showing speed, revs, gear and local speed limits), natty turbine-style air vents with integrated LED lighting, leather-like soft furnishings atop the dash and the lovely widescreen all-in-one instrument and infotainment set-up. You appreciate the active cruise with stop and go function too, although that's part of a $1990 driving assistance package. This particular vehicle also had the $1190 vision package, adding autodipping multibeam LED headlights and parking aids, including a 360-degree camera. Along with a $2k metallic red paint job, the sticker price increased from just under $100k to $105k.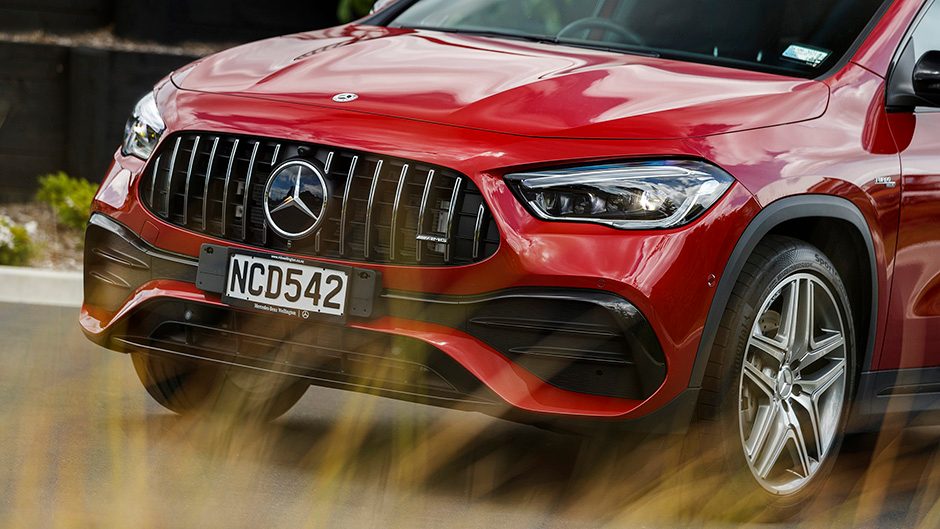 It's of note that the X2 M35i we tested last year had the same ride and clamour issues as this, though not to the same degree. Given it's quicker and less expensive, though not quite so well equipped (no standard adaptive damping, for instance) we'd probably be leaning in this direction. The A 35 we tested last year is accompanied by similar ride and noise issues as this one, so there's no real advantage to choosing this instead.
If you want to spend less for a machine that's every bit as quick and offers a better balance in the ride and handling stakes, SQ2 at $82k should be in your sights. Or perhaps instead of that overseas holiday, it's time for a special treat which the bigger, faster, and somewhat more expensive RS Q3 most certainly is.
| | |
| --- | --- |
| Model | Mercedes-AMG GLA 35 4Matic |
| Price | $99,900 |
| Engine | 1991cc, IL4, TDI, 225kW/400Nm |
| Drivetrain | 8-speed twin-clutch, all-wheel drive |
| Fuel Use | 8.0L/100km |
| C02 Output | 179g/km |
| 0-100km/h | 5.05sec |
| Weight | 1719kg |