While ford's new high-riding soft-roader stakes its claim to fresh territory, we suspect it may have also found a mother-lode of riches into the bargain
Comes the crisis, comes the man, or so the saying goes. Back in 2001, prior to the launch of the turnaround Falcon BA, Ford Australia really was in crisis. The man in question, a typical Aussie battler, short of stature but loud on opinion, was of course none other than Geoff Polites, who was Ford Australia's CEO until his recent European promotion.
Polites not only pushed through the BA in record time, but during Ford's darkest hours, he also managed to bulldoze through a deal for half a billion dollars in Detroit; this produced Territory, which was then code-named E265, so highly secret was the project. In 2002, Ford proudly showed off its E265 concept vehicle, then dubbed R7, at Melbourne's annual Motor Show. And in contrast with Holden's knee-jerk answer to the R7 concept – a 4wd Adventra version of a Commodore Wagon on steroids – Territory has emerged as an all-new vehicle. It may borrow BA 'bits', such as much of the driveline and dash design, but Ford claims Territory shares a mere 76 stampings out of 227 individual pieces of tinware with the BA Falcon. By any reasonable definition of new, the Territory is as fresh as Australian cars come.
We take our hats off to Ford Australia for not only coming up with a vehicle to suit the times but – more importantly – in also producing one that has genuinely exceeded our expectations. Where else can you find an SUV with the same combination of good looks, great dynamics, superb ride comfort and space to burn for under $50,000? It's not perfect, mind, as we are bound to share with you, but then again, if we lived in a perfect world, there would be no place for critics, would there?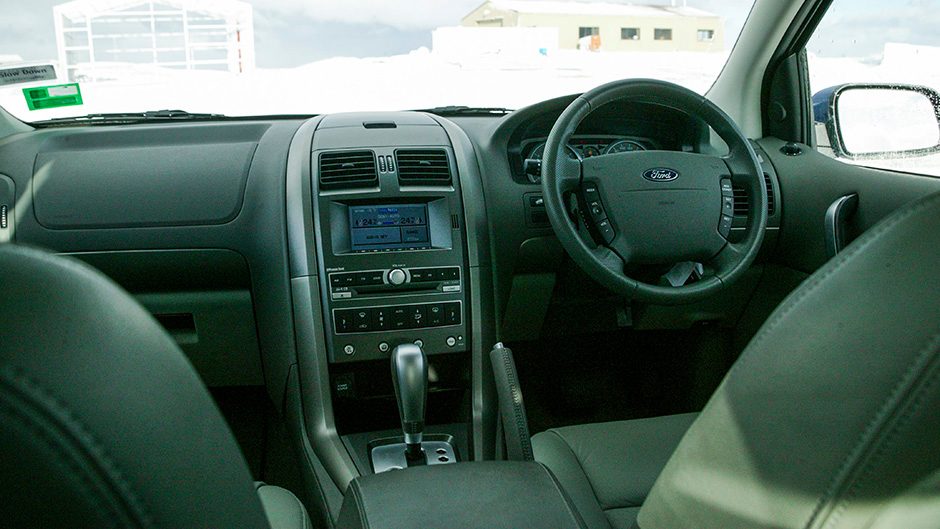 The entry-level Territory, the rear-wheel-drive-only TX, list's for $49,990 and is the real jewel in the crown as far as we are concerned. But wait, did I hear you say you need a 4wd? Step right this way, Madam: this little beauty will not only climb the steps of Parliament quicker than any tractor, it'll also carry all the whanau into the bargain. At $53,990, the TX AWD Territory goes head to head with Toyota's Highlander and Subaru Outback 3.0R.
As part of the Territory's recent New Zealand media launch, we got to play in both the snow and on a 150-metre long indoor strip of ice, nestled snugly at the top of the Cardrona mountain range – a unique facility, at least in New Zealand. Which produced some spirited driving, as some of these photos attest. The AWD Territory, with its multi-purpose Goodyear Fortera 17" tyres, is a very capable off-road vehicle, within the limitations of its 175mm ground clearance. Even slippery, steep grass slopes that you could hardly walk up didn't faze it. Up hill or down dale, the Australian-made, torque-splitting centre differential (also found in Holden's Adventra) does a great job of providing traction on and off road. This, in combination with Territory's sophisticated vehicle stability system, kept the vehicle stable and enhanced its steering control on ice.
One thing's for sure, the top car-park at the mountain will no longer be the sole domain of Subaru drivers: there's a new kid in town and his name is Territory. Fact is, Territory will get more people and gear up the mountain slopes in greater comfort than any Subaru; in fact the width across the second row of seats, split 60/40, rivals a bus by comparison.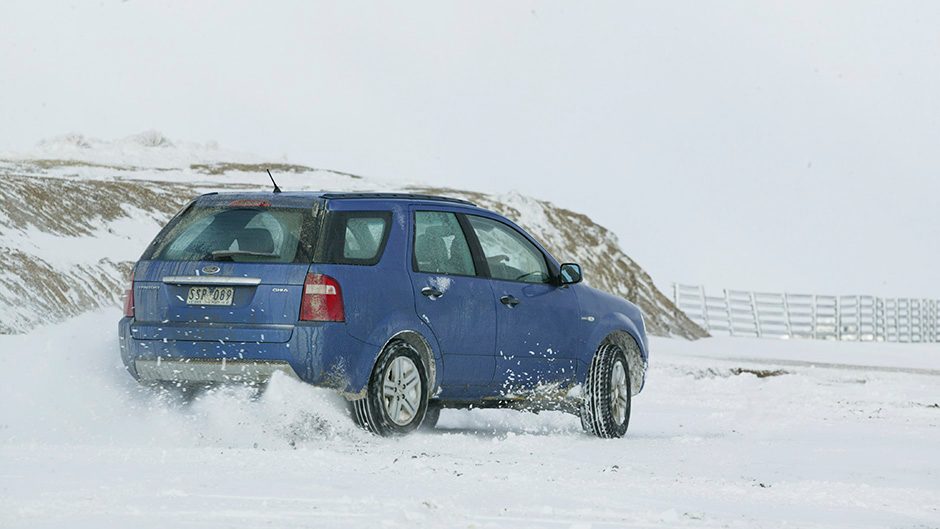 Territory's normally-aspirated 4.0 litre 182kW inline six, straight out of the BA, has its work cut out providing respectable straight-line performance for a vehicle weighing in 400kg heavier than the Falcon. Our AWD Gia-spec test Territory came in at 2110kg with a full tank of fuel, and took a somewhat leisurely 10.1 seconds to get from 0-100km/h, and seven seconds to complete the TED – in both cases, precisely two seconds slower than the BA. We suspect the 80kg-lighter rear-drive Territory will dip below 10s in the 0-100 sprint but still be well shy of the 8.7s the 4wd V8 Adventra managed. No doubt to aid both acceleration and torque multiplication, both Territory models are fitted with considerably lower final drive ratios than Falcon's 3.1 diff. The heavier AWD uses a 4.1 final drive, while the rear-driver settles for a more fuel-efficient 3.7 ratio.
If it's real grunt you want, then you're going to have to be patient. Ford Australia is playing cutsie on the obvious turbo solution to the Territory's current performance. We can tell you that, despite Ford's official 'we can neither confirm nor deny' policy, there will be a turbocharged Territory capable of 'nuking' the Adventra V8 – so rest easy, Ford fans, all will be revealed soon, we promise you. However, if you're hankering after a V8, you're most definitely out of luck. While we are unable to confirm the rumour, the goss is that Ford Performance Vehicles will also do a special up-rated turbo-ed Territory, in order to out-muscle HSV's Avalanche. Turbo-ing the Territory would also allow the fitment of a higher final drive ratio, which would help offset the cost of the extra fuel required to produce more meaningful neddies. In our opinion, the turbo six, in either guise, is the perfect solution to Territory's lack of the necessary grunt to hustle its two-tonne-plus kerb weight around at anywhere near comparable to it's main rival's performance levels.
Biggest disappointment, powertrain-wise, is Territory's reliance on a four-speed auto-only transmission, which is also responsible for blunting its straight-line performance. Ultimately, both Falcon and Territory will get a bunch more gear ratios, courtesy of the joint venture between archrivals, Ford and GM, in their production of a new family of six-speed automatic transmissions. Word is that in late 2005, both Ford and Holden will bypass five-speed autos and dive straight into sophisticated six-speed automatic transmissions, courtesy of their parent companies.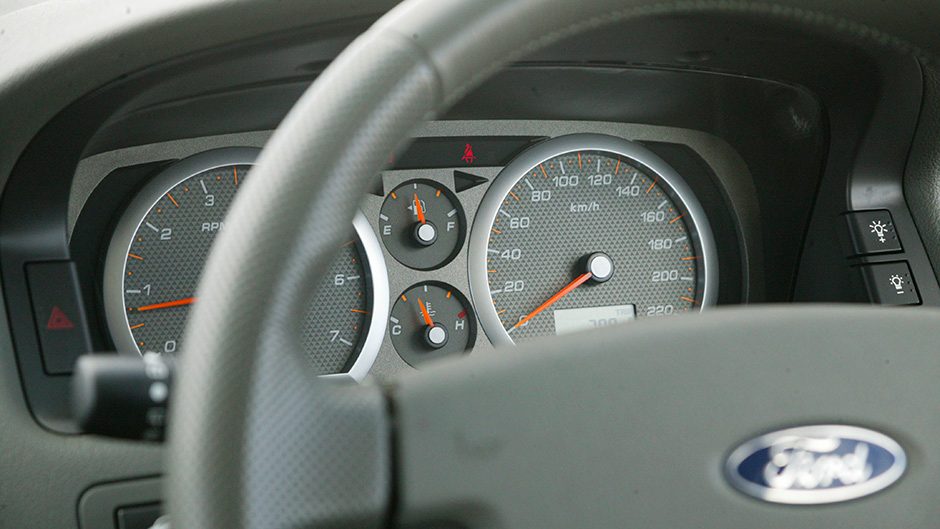 In terms of suspension, the rear of Territory sports what is essentially a version of the BA's, with its track widened by a 26mm, but at the front it's all new, and features a double-pivot lower suspension arm with a separate control link. The steering rack is now mounted ahead of the front axle's centre line. Not as pin-sharp as the BA's excellent steering (which steers from behind the centerline and thus has better Ackermann angle possibilities), but nevertheless, in the rear-wheel-drive Territory, it's still very good. The AWD's steering is a tad over-assisted immediately off centre, no doubt to help to minimise torque steer. The downside of this initial lightness is the AWD's tendency to wander from the chosen path if you're not paying close attention to the road ahead.
Braking on loose surfaces, such as gravel, is exceptional, and speaks volumes for both the ABS calibration and the integration of the vehicle stability system. And I'm pleased to report you can not only turn the system off, but do so in two distinct stages – doubtless to avoid accidentally turning the whole system off, when all you wanted to do was disable the traction control. To deactivate the system completely, it's necessary to hold the control button down for five seconds until the indicator light flashes.
Our AWD Ghia took 38 metres to stop from 100km/h – not brilliant, but more than adequate given the somewhat open-tread nature of the Goodyear's excellent Fortera multi-purpose tyres and the Territory's mass. This stopping distance is still better than many SUVs can manage. Both front and rear brake rotors are ventilated and measure 332mm in diameter, bigger and thicker all round than BA's. Although initial brake pedal feel is inclined to be high in relation to the rate of retardation, and may cause consternation to some drivers, the braking modulation really comes into its own on loose surfaces, where the system is hard to fault. Handling for these two-tonne vehicles is exceptional on any surface, particularly so in the rear-drive version. Forget roll, pitch and lurch, Territory is a revelation in poise and balance, with minimal body roll. The new front suspension does an awesome job of soaking up the hits without a hint of bump steer. Initial turn-in is also crisper in the rear-driver than the AWD model, but both ultimately understeer if you try to carry too much corner speed. Turn the traction control off in the rear-driver and it rewards heavy use of the throttle by getting the tail out. The 'Scandinavian flick' takes on a new meaning in the Territory, believe me.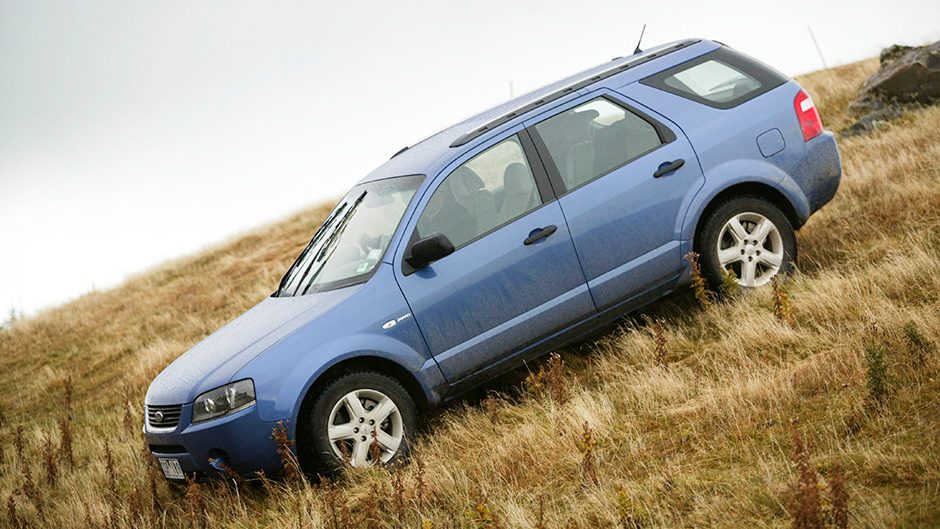 Our advice is, unless you really do need a mud- or snow-plugger, buy the rear-wheel-drive Territory and save a bunch of money into the bargain. And if you need to move half a rugby team regularly, then tick the seven-seat option. This employs a handy sliding second row of seats to allow access to the third row. Although really best suited to children, this last row of seats still affords a fairly decent 185cm of vertical head-space; however, the lower seat cushion results in most adult occupants travelling in a somewhat awkward, knees-up position.
All that said, after driving down from Christchurch to Wanaka – albeit with several variant changes on the journey, TX to Ghia, etc. – I arrived almost as fresh as when I started out seven hours earlier, a remarkable testament to Territory's outstanding ride quality and seat design. Occupants will also be delighted with the 30-something cubbyholes and recesses for cups, bottles and the like.
Luggage space is generous to say the least, with the standard five-seater easily swallowing 523 litres of cargo. Tick the optional sliding second-seat row, with its natty fold-flat rear-seat supports that split 60/40, and you really do have a sports utility vehicle, and not just in name only. The extra flexibility of storage options offered by the two-piece tailgate will prove popular with most owners too, although this may prove difficult for the shorter-statured amongst us as they attempt to heave up its heavy mass.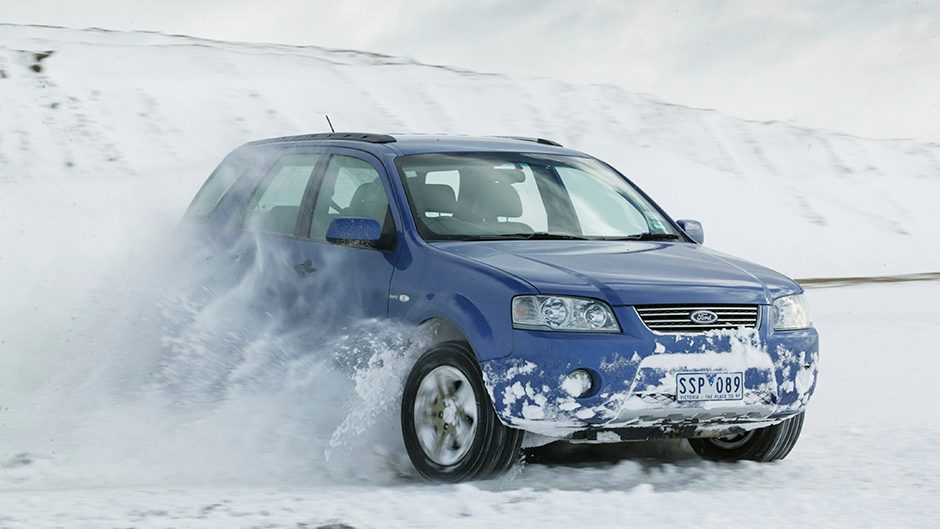 New Zealand Ford Executives are confident that Territory won't cannibalise sales of other Ford models, but we are not so convinced. We believe Territory is so good it will steal sales not only from obvious sibling rivals, like Ford's leaf-sprung BA Falcon wagon, but also from the BA range generally. Ford's Escape will be lucky to live up to its name, with only the new, lower-priced, 2.3 litre variant having any real chance of surviving. Also in Territory's sights are other brands of similar 4wds, like Toyota Highlander and even Subaru Outback, not to mention Holden's Adventra V8 – particularly when the turbo Territory is launched next year. The lack of a diesel engine option will no doubt impact on sales negatively if petrol prices continue to rise, as they surely will.
The all-new Ford Territory has indeed hit 'pay dirt' – and rightly so, for it's an outstanding vehicle. The ride comfort and driving dynamics are better than in some cars, and it looks good and is well priced. In my humble opinion, it's the best-ever new vehicle from the land of Australia, without a shadow of doubt.
This article first appeared in the June 2004 issue of NZ Autocar Magazine.
| | |
| --- | --- |
| Model | 2004 Ford Territory |
| Price | $49,990 |
| Engine | 3984cc, IL6, EFI, 182kW/380Nm |
| Drivetrain | 4-speed auto, rear-wheel drive |
| Fuel Use | 13.1L/100km |
| C02 Output | N.A. g/km |
| 0-100km/h | 10.5sec |
| Weight | 2115kg |