Bentley unveiled a vision of a future GT on its 100th birthday and it's a design masterclass. NZ Autocar was present for the occasion.
As the centrepiece of Bentley's centennial celebrations, the company's Chairman and CEO, Adrian Hallmark, presented a vision of grand touring for 2035, embodied in a sleek, muscular and futuristic concept car dubbed the Bentley EXP 100 GT. In front of an assembled and global audience the concept needed a few moments to compose itself before venturing on stage and wowing the crowd. Bentley believes the EXP 100 GT concept car will markedly enhance the owner's grand touring experience, whether they are driving or being driven. Even standing still this is mesmerising, particularly when its 2m wide butterfly doors open to their 3m height.
The full-sized four-seater GT melds Bentley DNA from the past with a rakish and audacious rendering of the future, embracing Artificial Intelligence (AI) for a richer experience and incorporating sustainable materials and concepts for a gentler environmental footprint. Designed from the inside out, taking advantage of the interior space made possible by an all-electric platform, Bentley's EXP 100 GT reimagines grand touring 16 years hence, a time in which passengers and driver enjoy equal status on their autonomous journeys.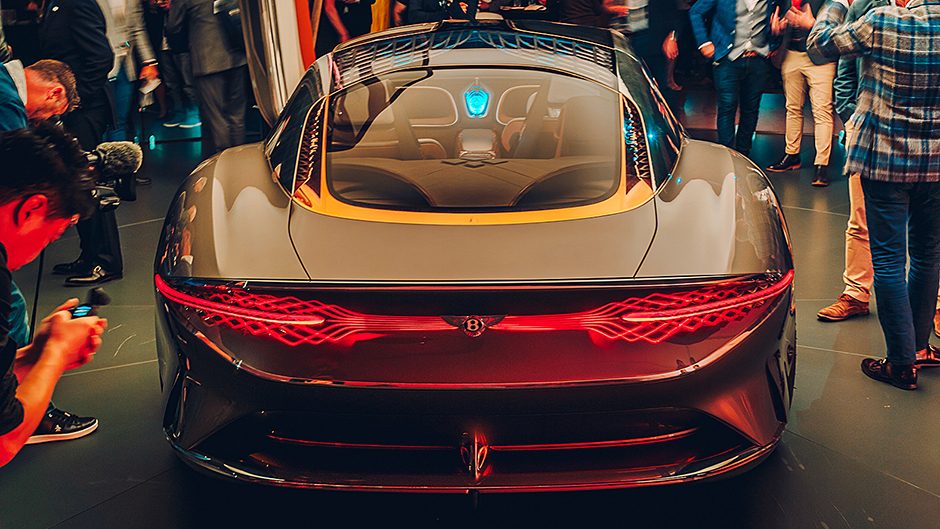 Cues from last century
The car's form is instantly familiar, with round headlights overlapping the grille, as in historic Bentleys, and proportions are reminiscent of many of the company's important grand tourers. Longer and wider than a Mulsanne but lower than any prior model, the form was overseen by design chief, Stefan Sielaff, and radiates power and performance.
Huge 26-inch wheels fill the arches and exaggerated haunches, reminiscent of those on the 50s R-Type Continental, combine with a mix of sculpted flanks and bold character lines to impart a future vision of dynamics and drive. The sheer impact and power remind some of Bruce Wayne's futuristic creations, only without the fins and flame throwers, and an interior dedicated to cosseting and comfort rather than crime fighting capers.
Hallmark said of the concept "Today, on our Centenary, we present our vision of the future, a definitive grand tourer designed to demonstrate that the future of luxury mobility is as inspirational and aspirational as it was in the last 100 years." Head stylist Sielaff remarked "The Bentley EXP 100 GT represents the kind of cars we want to make in the future, an inspiring blend of performance, technology and craftsmanship."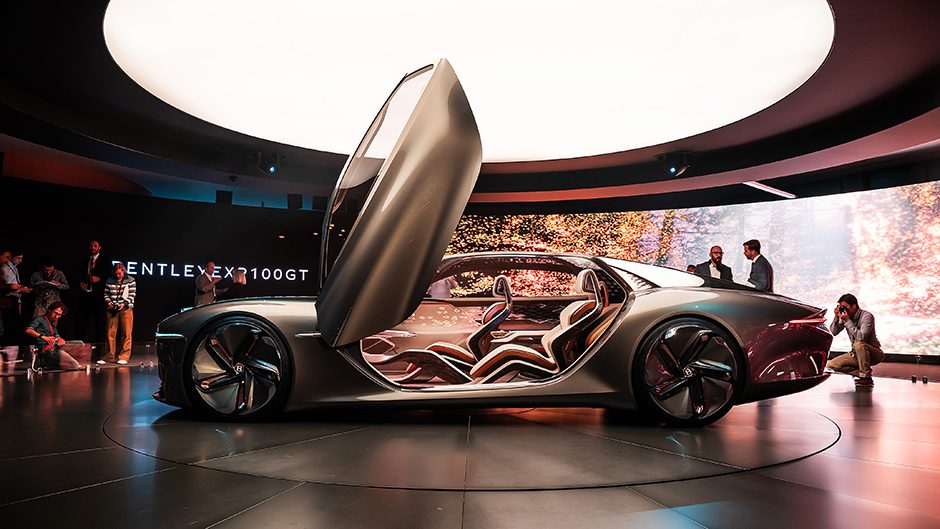 Design underpinned by current and future thinking
The EXP 100 GT is constructed of aluminium and carbon fibre. Despite its imposing dimensions, it is expected to weigh around 1900kg, 35 per cent less than current Bentley GTs. The driver and passenger doors pivot outwards and upwards for ease of access and add a sense of occasion on arrival. On that, the Bentley EXP 100 GT's exterior lighting is a focal point, both front and rear. The matrix grille and aero-optimised flying B mascot light up as humans approach, illumination continuing up along the bonnet's central spine and into the cabin. At the rear, a U-shaped midsection houses an embedded 3D OLED screen, incorporating the taillights, and permitting lighting effects to be displayed. Inside is a handcrafted mix of modern and future luxury.
Wood, leather, glass and light interact, for a vibrant interior dominated by natural materials. The cabin roof is fully glazed and embedded within are prisms that relay light inside through fibre optics. A mix of natural and synthesised light aim to enhance wellbeing and lift mood. Seats, which have biometric sensors to monitor and control temperature and shape, can be configured a number of ways, depending on whether the vehicle is in active or autonomous mode.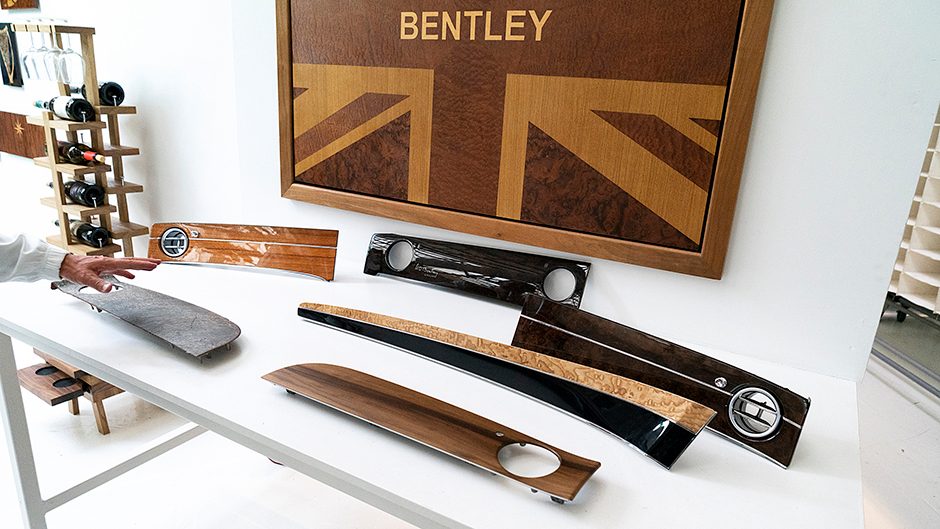 Bonkers performance without the fumes
The Bentley EXP 100 GT is another step towards a carbon-neutral future for cars. Featuring a battery electric powertrain with smart charge management, the Bentley EXP 100 GT possesses the power and excitement of its predecessors but amped exponentially. The company also expects a hydrogen fuel cell solution in its future. Traction Drive delivers optimum cornering control via independent wheel torque vectoring, dynamics enhanced further by light weight and low centre of gravity.
The battery system powers four 125kW motors that offer blistering performance thanks to peak torque of nearly 1500Nm (0-100 is expected to take 2.5sec, with a VMax of around 300km/h). It is also envisaged that the battery pack will offer five times the energy density of existing technology, offering a range of 700km. Moreover, it is anticipated that charging time from zero to 80 per cent will take approximately 15 minutes. Passenger well-being is at the concept's autonomous core, optimising dynamics on a twisting mountain road, or calmly managing the inner city rush-hour commute.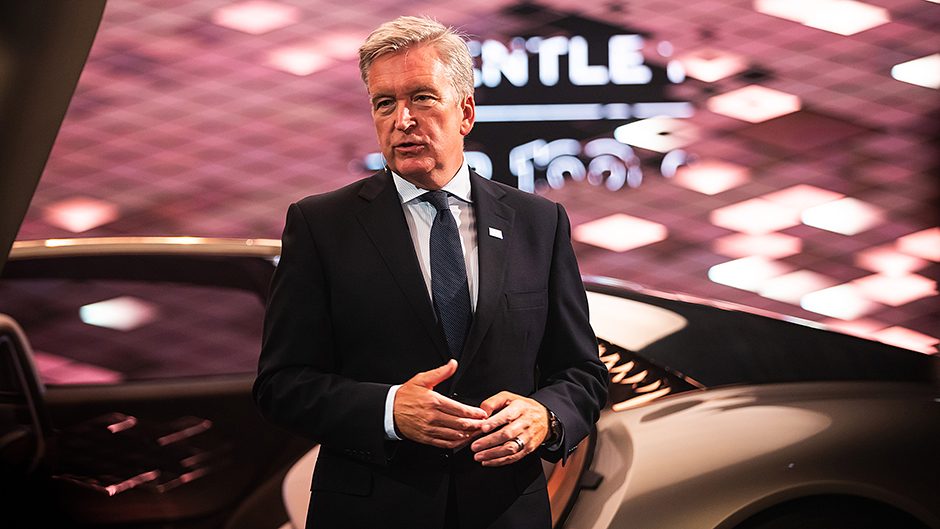 AI to the fore
At the heart of the EXP 100 GT is the Bentley Personal Assistant, an AI-driven multitasking system that pre-empts passenger needs and can optimise comfort for its occupants. The PA can deliver a personalised journey based on various modes, such as Enhance (utilises light, sound, smell and air quality for a virtual open top drive experience), and Cocoon (a protected private space for autonomous city driving; the steering wheel retracts and the driver's seat swivels rearward).
Interaction with the AI system is via hand gestures which a crystal interface interprets. The Bentley PA not only oversees charging duties but also manages each journey, offering points of information, and suggestions for experiences en route. The EXP 100 GT features air and sound manipulating devices that promote well-being and mindfulness. There's an Air Purification System on board, with CO2 levels in the cabin monitored to maintain air quality. Active Aero Wheels and Intelligent Tyres dynamically adjust to deliver efficiency or performance, and Adaptable Biometric Seating alters support levels according to the drive mode.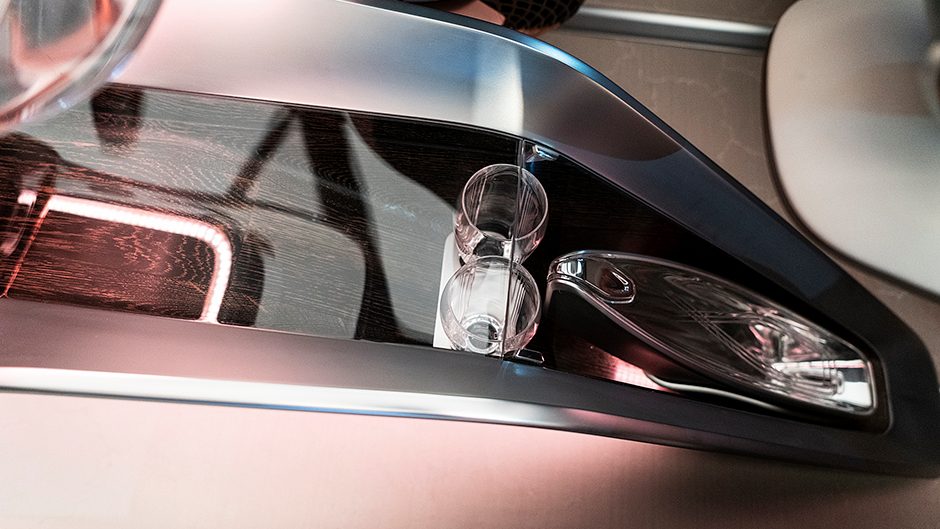 A cartridge system in the centre console delivers purified water or retrieves items from the frontal storage area and delivers them to the cabin. Bentley believes the use of AI with its Personal Assistant is set to redefine and optimise grand touring in future. Sustainable innovation is at the heart of the Bentley EXP 100 GT, both the exterior and interior featuring decorative items crafted from natural sustainable elements.
Bentley is even using by-products of wine making to create a leather-like seating material which is 100 per cent bio-based. At the conclusion of the unveiling, Hallmark remarked; "Bentley's future will be as inspiring, as progressive, as colourful and as distinctive as our history. Extraordinary journeys are our promise to customers now and will be our promise to them in the future". Expect to see elements of the EXP 100 concept incorporated in upcoming Bentleys, and electrification kicks off this year with the launch of the Bentley Bentayga hybrid.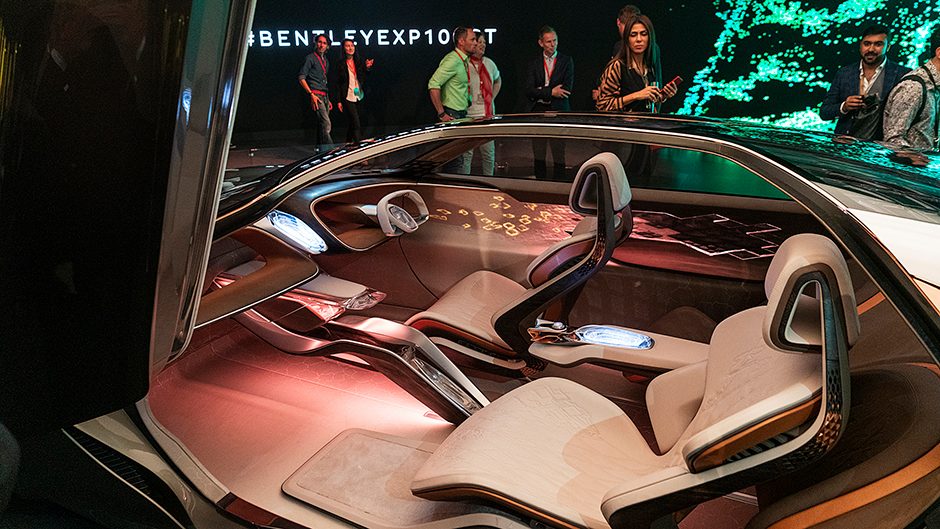 A tour of Bentley's inner sanctum
Tours of mass market car maker's factories are generally an assault on the senses, but it's a little different when cars are handmade on a line, as at the Bentley facility in Crewe. Without robots – in the tour we didn't see one, though evidently 'Romeo' applies adhesive to the windscreen before installation – it's a much quieter operation, and more interesting too, being human intensive.
There's something of an extended family feel about the place, with management referring to line workers as their 'colleagues'. The 'tour guides', mostly line managers, who ushered us through the factory almost invariably knew their colleagues by name. One mentioned the woman he'd just greeted was his cousin! Many of the assembly staff have worked for Bentley for over 20 years. Evidently it takes eight years of training before someone becomes experienced on all the line stations.
I'd visited the factory 11 years prior, following the launch of the Bentley Brooklands, and certainly recalled the woodwork and veneering facility. Back then it was all done by hand but this time, aside from a couple of young apprentices busy upskilling by making items with intricate inlays, there was much more automation happening, with CNC machines everywhere. One was even cutting out seating patterns from leather hides. While there were many women sewing leather pieces together, the diamond stitching is done by machine, while veneers are laser cut.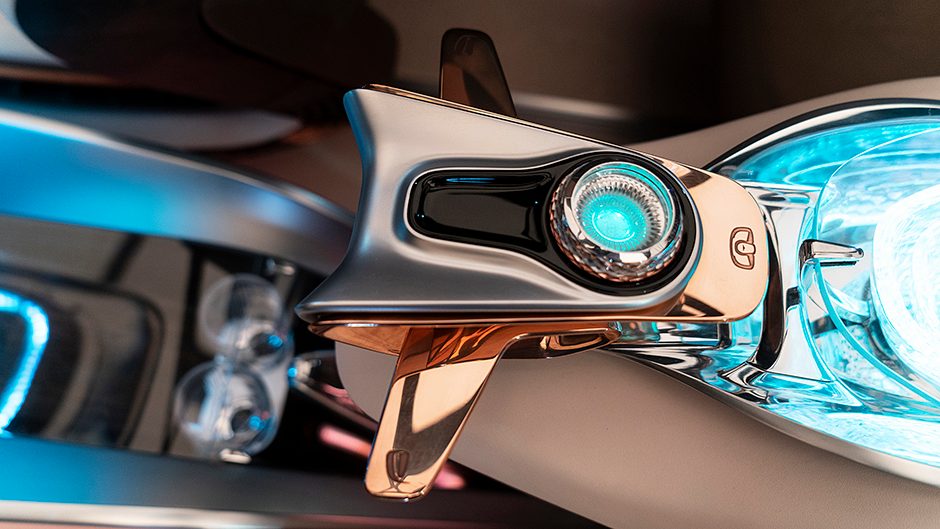 Automation cuts down on man-hours required to complete a vehicle. The Mulsanne, the most expensive Bentley, takes around 400 hours to build compared with around 100 for a Continental GT or Bentayga. There's talk Mulsanne will be replaced by a long wheelbase version of the Flying Spur, which also takes less time to construct.
Being a centenary walkabout, we got to visit some special areas, such as the materials lab and metrology, the latter concerned with detailed measurements. Components can be visualised and quantified to the nth degree. Without metrology, the firm would never have been able to build the rotating centre screen in the Conti GT reliably. In the materials lab, the electron microscope allows component analysis without affecting functionality. Upstairs, scientists test exotic materials for suitability in future models.
Head of Mulsanne production, Sean McNeil, detailed what's involved in building the top Bentley. It takes about 100 hours to construct the body – 5800 spot welds are done by hand, as are 670 self-adhesive spot rivets – 50 hours each for the paint and the wood, 40 hours for seats – each Mulsanne uses 14 hides – and a further 160 hours for interior trim and assembly of the vehicle itself. Even handcrafting the steering wheel takes around four hours. Before delivery a test is made of all car functions and then each is driven 50km as the final aspect of quality control.
Small wonder Mulsanne costs the best part of $500k on road here. For the 100th year all Bentleys come with gold wheel centres, while the Bentley badges are unique, embossed with 1919-2019. Or you can opt to exclude the centenary package during vehicle configuration, but we wouldn't.