The most potent of Camaros, the ZL1, teaches you to be mindful of a supercharged, direct injection 6.2l V8 powering the rear wheels. It's an adrenaline rush.
In terms of inappropriate timing, we often end up driving convertibles that launch midsummer in Europe but midwinter in New Zealand. Much the same goes for the timing of the Camaro ZL1 launch locally, the hi-po variant arriving at the office during the wettest week of the year. But you're not in Little Whinging now Dr Ropata. It is what it is, and you just hope to stay alive in the process.
For if you mess up in this beast, it will bite you hard with its big teeth. All 485 of them. The kilowatt count is matched by 881Nm of tornado-like torque. Evidently there's 800Nm from 2500-5600rpm. Should be enough "for fun and trouble in equal measure" as the Ed once quipped. And we had a few moments out there, the ZL1 trying to swap ends when unleashed.
Admittedly, we were trying to find out just how quick this was in a straight line at the time. This isn't the first time we've encountered a ZL1. A couple of years ago Editor Cassidy shot off to the Tron to drive a manual left hooker. Since then HSV made the decision to re-engineer the Camaro in Aussie, initially in 2SS guise, and now the ZL1 as well. It's no small task swapping sides.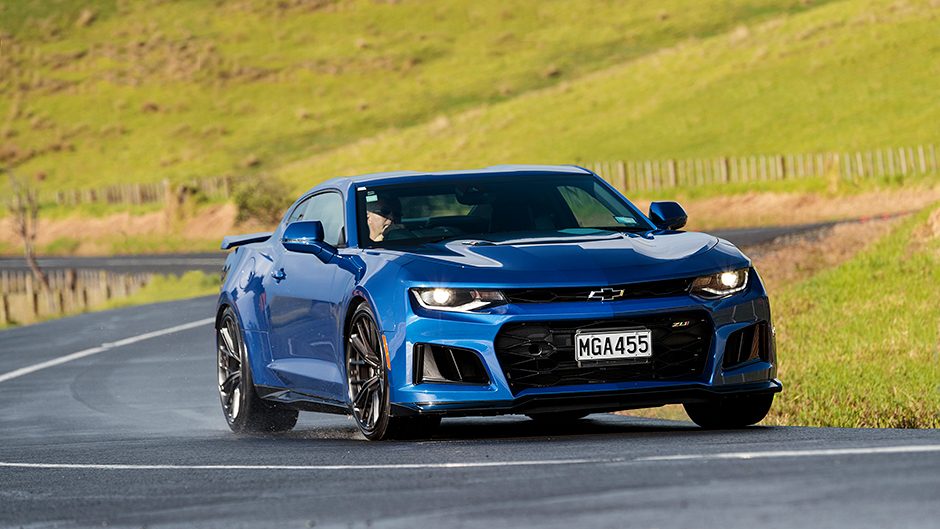 The cars are stripped right back to the C pillar, 350 new components are manufactured and then it's all put back together, with the helm on the right side. They do a nice job – you'd not know this wasn't a right hooker from the factory – and HSV has recently passed the 1000 vehicle mark, including conversions of Rams for Antipodean consumption.
What begins as a $US65k car (just under $100k in local coin) ends up costing $176k here in 10-speed automatic form. That's a bit of a premium on the 2SS which itself is no slouch. But this one is more than just a bigger, more powerful version of that. And it costs less than the old HSV GTS-R W1, while being lighter and quicker to boot.
The ZL1 is a seriously powerful weapon, albeit with a thirst; on test consumption ranged between 13 and 24L/100km. Most other manufacturers creating this much firepower have gone AWD to make the output stick. The AMG GT 63 S four-door we drove recently, for example, met its 0-100 claim on the first run. We never got close to GM's claim.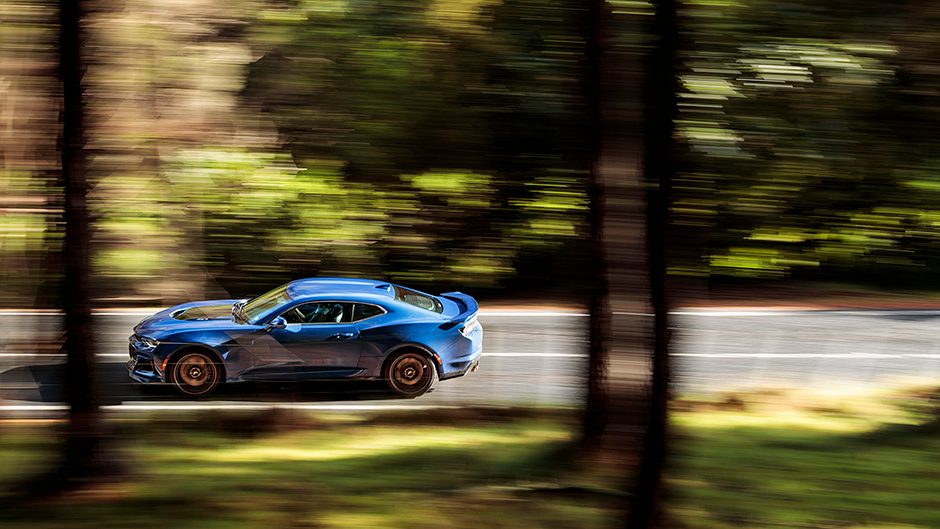 However, manufacturers make exceptions when tradition is involved. Thus, the power flows to the rears only. It is processed by the first production 10-speed automatic in existence, co-developed by GM and Ford and a fine shifter this is too. In the default Touring mode the changes are clean, smooth, quick and almost undetectable during general use, while in Sport and Track modes, they're faster but no less sophisticated.
You can shift manually using the paddles, which quickly revert to auto mode once you're done. Pull and hold the left shifter and the gearbox hikes back to the lowest gear possible. There's also a novel setting when using Sport or Track mode that ups the tempo when the car determines you're getting serious. Then the gears are held to the redline before hooking another cog. As to how quickly this accumulates speed, we never really had a decent chance to find out; you'd need higher temperatures, the right surface and who knows what effect the change of tyres for ADR compliance has?
Despite trying different settings in the launch control window (dry, wet, Sport etc) the ZL1 just would not run 0-100 in anything other than low 5s. So we tried with TC on and the first run produced a 4.4sec run that we couldn't better on the day. Kyle managed 4.25sec in warmer conditions two years earlier, but that was with a six-speed manual example which needed a single shift into second; ours required two to hit 100km/h. Under optimal conditions Chevrolet reckons this will manage around 3.7sec.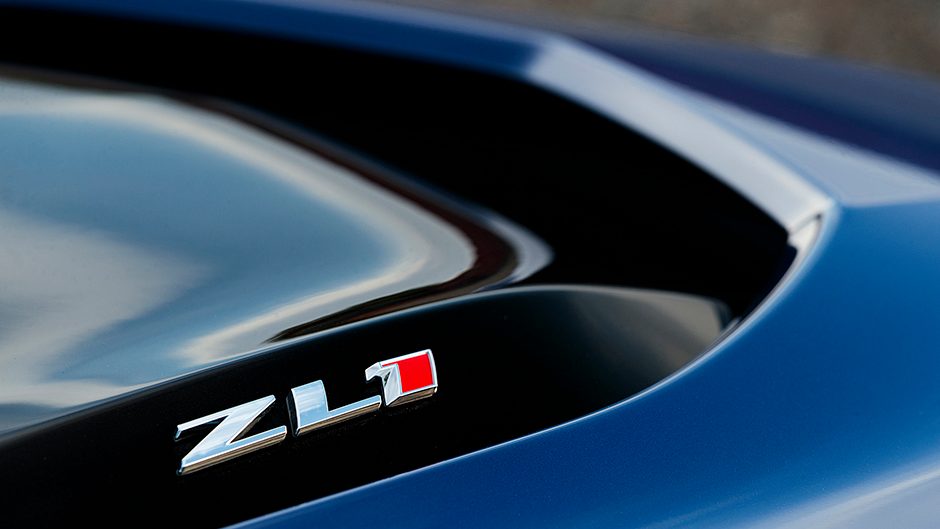 The stoppie was also better with the original semi-slick rubber, Goodyear Eagle F1 Supercar 3s. We couldn't better 34.9m versus his best from 100km/h of 32.9m. However, our RHD ZL1 had consistently run 2.05sec overtaking times, slightly better than the 2.10sec 2017 effort. And with traction control on, it managed a best of 1.96sec. Blazing quick and even then TC was having trouble containing wheelspin.
This has simply unreal midrange stomp from 2500rpm onwards. We'd advise using kid gloves when driving this car in the wet. During the cornering shoot, we used up another of our nine lives when the rears once again tried to overtake the fronts. In greasy conditions you really do not want to be back on the gas until the wheel is fully unwound and the car pointing straight ahead again.
In the dry? Well, we had only a few brief moments of that, but they were memorable for the right reasons. The electric steering feels nicely direct and well weighted, without the usual digital artifice. This is beautifully grounded, the fully independent suspension featuring adaptive damping (Magnetic Ride Control). The upshot is minimal body roll but a reasonably compliant ride even in Sport.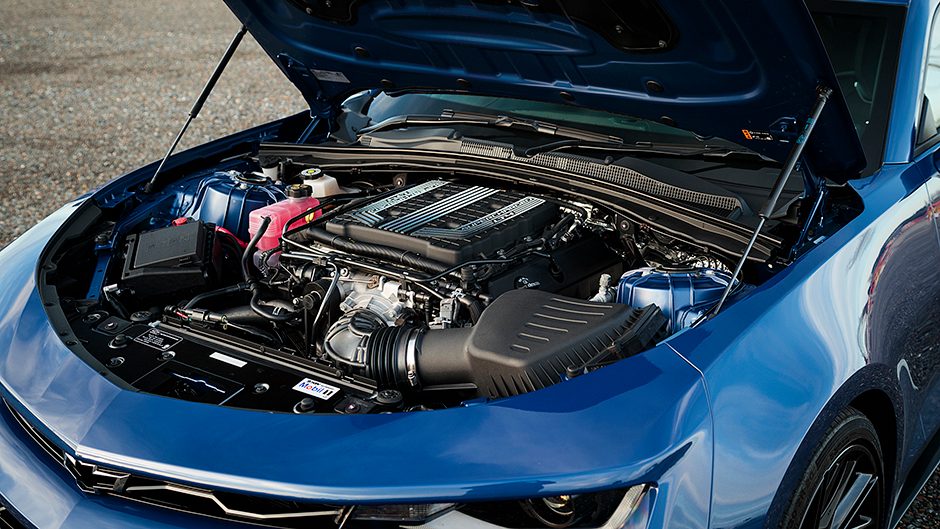 Hustling along with the bimodal exhaust pumping, this is absolutely the opposite of the sopping road experience. With a tasty 55/45 weight split and skimming close to terra firma on a heap of high quality low profile rubber, the ZL1 is a corner carver of the first order. It's not even that rowdy, all things considered. On track (in the dry) this would be hugely entertaining. And in Track mode the exhaust gives maximum vent to all that under-bonnet fury. Chevrolet has thoughtfully included a Stealth mode exhaust setting for early morning sorties.
As to the look, this could be a star of some car-based movie franchise. Oh wait, it is, in Transformers. The look is almost comic-book muscular, with the wafer thin predatory peepers, surprisingly not LEDs but HIDs, and the hollow 'flow tie' badge in pride of place. There are bulges in all the right places, a carbon fibre bonnet insert, rear wing and smart 20-inch rims.
Inside it's just as aggressive with mix material Recaros that prevent any lateral slippage in corners, and a suede-trimmed sports wheel and shift lever. Being a 2+2, it's what you might describe as tight in the rear, kids only in reality. Similar to a 911 in that regard. But certainly more in the way of boot capacity, at 257L, not that the aperture is exactly huge. Nor is the rear window so visibility in behind isn't flash.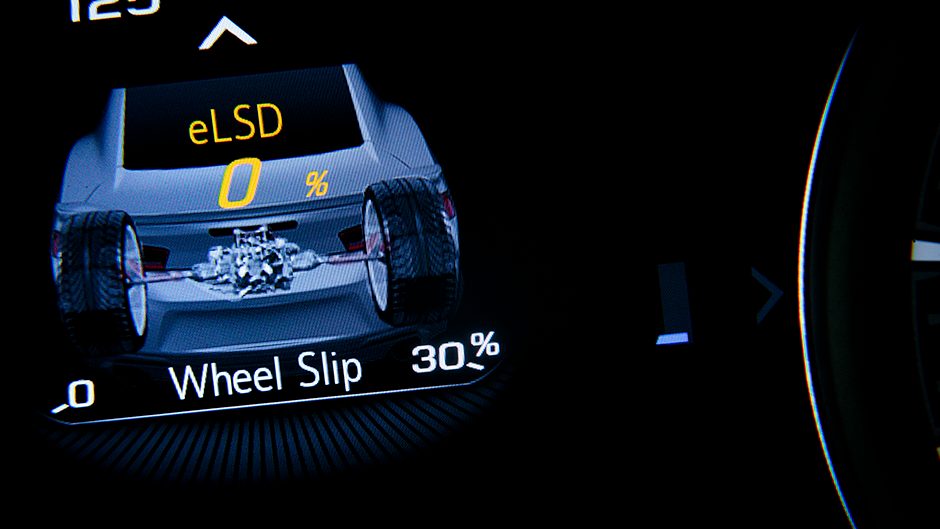 Countering are two rear-facing cameras, one linked to the eight-inch touch screen, the other in the internal rear view mirror. Wheels and brakes contribute to the macho retro-modern look, the big six-pot Brembo calipers inscribed with ZL1. They chomp on 390mm two-piece rotors and are a reassuring foil to all that tyre-shredding attitude.
For something selling for $176k in auto trim, we'd have expected active cruise, and lumbar adjustability for the powered seats. Door closure is clunky, and there's not much in the way of soft plastics. The key fob seems Equinox familiar. However, the head-up display is a welcome addition in such a speedy machine, while other specification highlights include heated and vented pews, comfort entry and pushbutton (along with remote) start, Bose nine-speaker sound system, dual zone air con, a customisable digital cluster, and heated rear view mirrors.
If you've lots of clobber this might not be for you. There's minimal storage in the doors, and none ahead of the gear lever so just a bit in the cup holders, and a little more in the small centre bin. In behind is a QI charger which mandates removing the phone cover so it fits in place. On phones, the infotainment system is happy to hook up with Apple or Android devices.
While sales of GM product in Australia haven't been flash this year, availability of a halo model (even if it is a Holden cousin) like the Camaro ZL1 should give dealers something to smile about again. It's for adrenaline junkies and those who dare.
| | | | |
| --- | --- | --- | --- |
| Model | Chevrolet Camaro ZL1 | Price | $175,990 |
| Engine | 6162cc, V8, SC/DI, 485kW/881Nm | Drivetrain | 10-speed auto, rear-wheel drive |
| Fuel Use | 15.3L/100km | C02 Output | 352g/km |
| 0-100km/h | 4.45sec | Weight | 1809kg |