Kia had a few more surprises up its sleeve at its EV Day in Korea, with the brand pulling the covers off of two new concepts in addition to the full reveal of the production EV5.
The prototype vehicles consist of a compact SUV called the Concept EV3 and a reimagined electric sedan dubbed the Concept EV4, both of which will be used in the Korean carmaker's bid to accelerate widespread EV adoption once they hit they hit the roads for real.
Starting with the EV3, Kia says the model has been designed to blend "practicality with the sheer joy of driving" and incorporates the same 'Opposites United' design philosophy found on the flagship EV9 into its look.
Speaking of which, the bite-size concept features a pushed-forward windscreen, a floating roofline that slopes down towards the C-pillar, squared-off wheel arches, as well as star-map headlights and taillights.
The EV3's interior is said to promote the emotional well-being of its occupants thanks to soft mood lighting, a clean dashboard surface, and comfortable seats made from eco-friendly materials.
A curved panoramic display is also present inside, featuring a digital gauge cluster for the driver and an infotainment touchscreen. There's also a folding rear bench seat that allows for larger items to be loaded into the vehicle through the boot, such as electric scooters and bikes.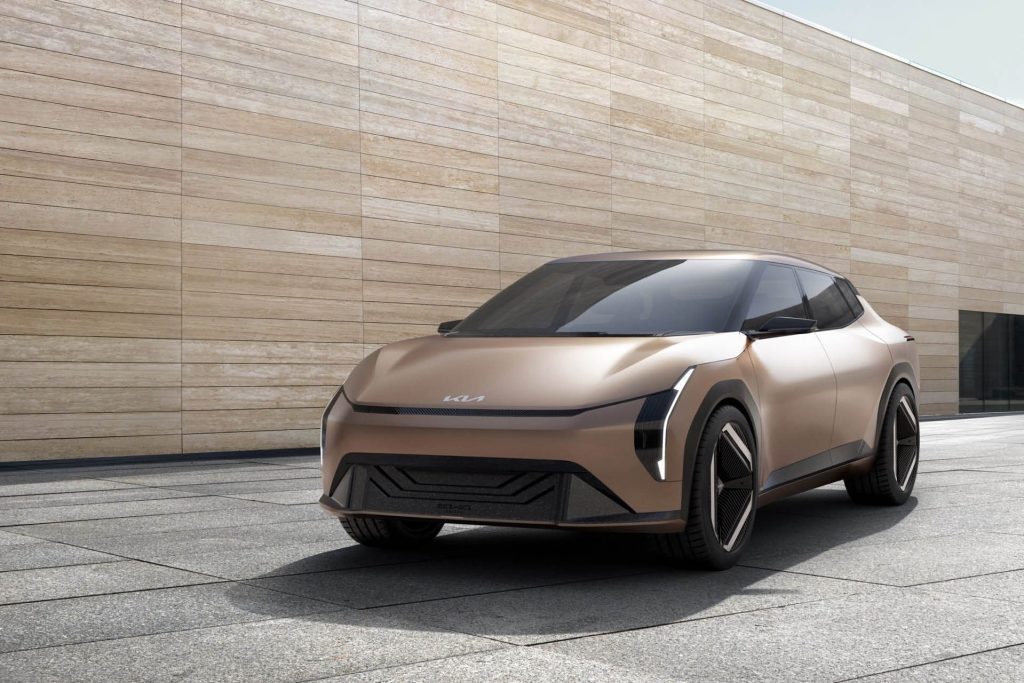 Moving on to the EV4, the low-slung electric four-door isn't your ordinary sedan, at least that's according to its creator, which says its "potent and impactful" lines represent a symbol of innovation.
We can see where Kia is coming from with this statement after taking just one look at the concept's design, especially its side profile which features a near-straight roofline that stretches back to the boot – officially referred to as a long-tail.
Elsewhere, the EV4 features a low front end and a roof spoiler that take their influence from sports and race cars.
The interior is similar to that of its compact SUV sibling thanks to a clean design and the same panoramic curved display, but you'll also notice a lack of buttons for the air conditioning controls and that's because they have been moved to a control panel that can be stored in the centre console.
Helping the driver focus on the road is the EV4's 'Mind Modes' feature, which adjusts the interior's ambient lighting and air vent patterns depending on whether the driver selects the 'Perform' or more relaxing 'Serenity' mode.
While both concepts are only previews of future production models, Kia also revealed its upcoming EV5 in full at the EV Day which is set to go on sale globally towards the end of next year or early 2025.