Volvo has its C40 Recharge on the ground in NZ. This stylish newcomer is the brand's first all-electric vehicle, surprising given Sweden's love of EVs. Is it one for Kiwis to consider?
It's almost hard to believe that the Volvo C40 is the company's first all-electric offering. The Nordic countries are big on EVs – 43 per cent of cars sold in Sweden last year had a plug – and yet Volvo is only just setting off on its BEV journey. Sure it's had a few plug-ins but we guess launching Polestar has been at the forefront of the overall corporate effort. They say the Polestar 2 was supposed to be a Volvo, before they changed tack and used it to launch the new all-electric brand.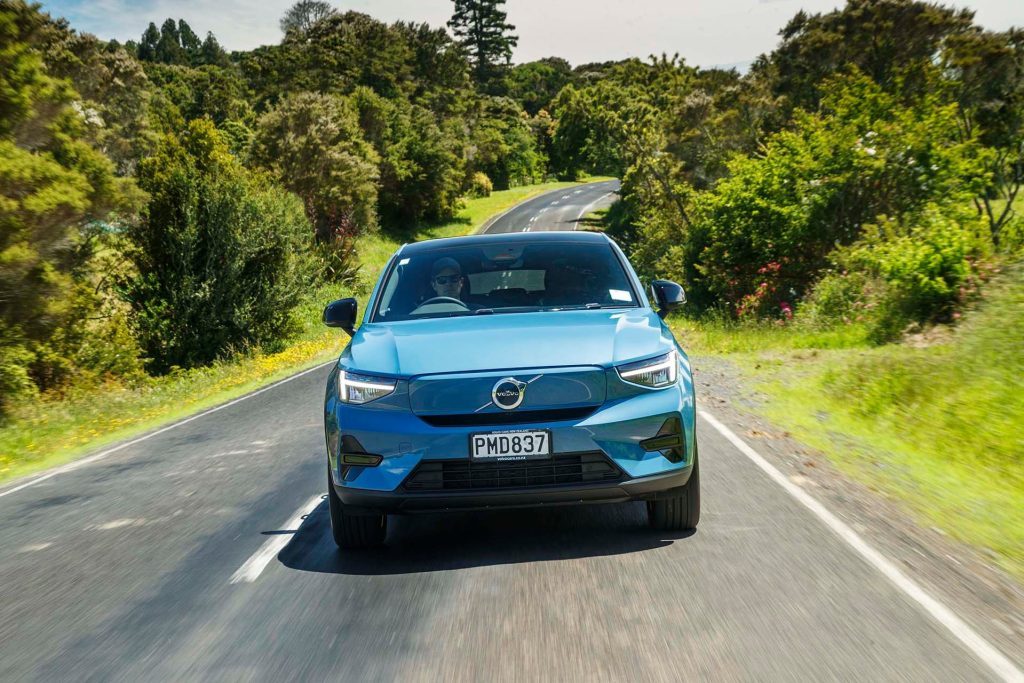 So what is the Volvo C40 exactly?
It uses the same platform as the XC40, which can now also be had as an EV, and coincidentally, the Polestar 2. Think of it as an XC40 they've EV'd and chopped down. Most thought the look worked; thank those proportions then for it's a well balanced visual package.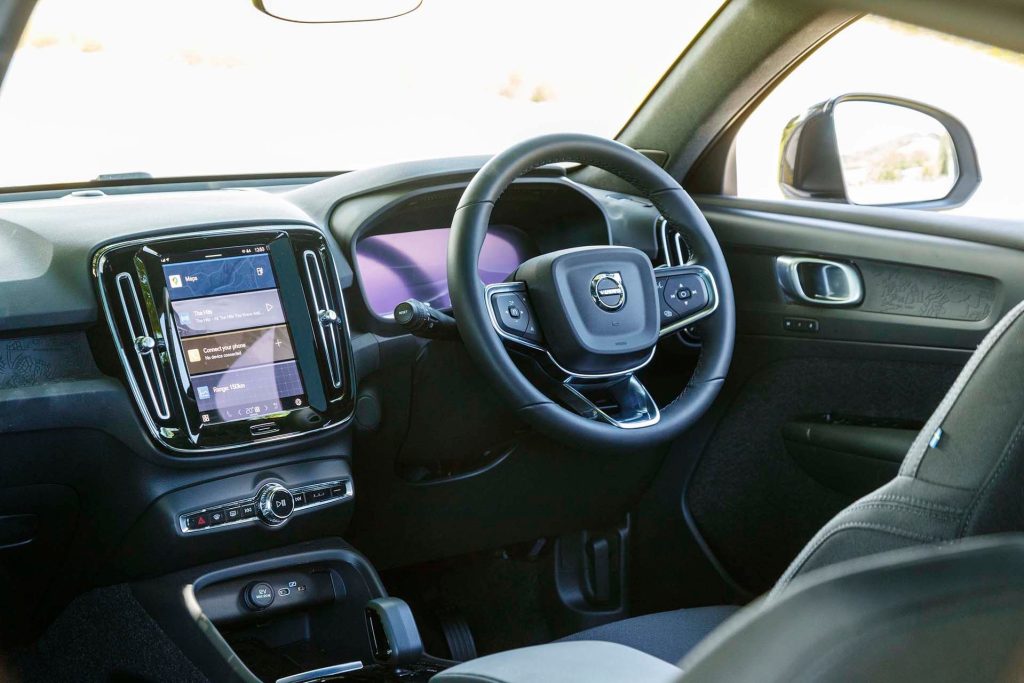 We should probably be using its full name, the Volvo C40 Recharge, which means it has a battery. On test is what they call the Plus, the front driver with a 170kw/330Nm motor drawing power from a 67kWh battery. The WLTP range claim is 438km, while efficiency is rated at between 18-19.3kWh/100km. Your mileage will vary of course, especially if you're utilising its 1500kg braked towing capacity.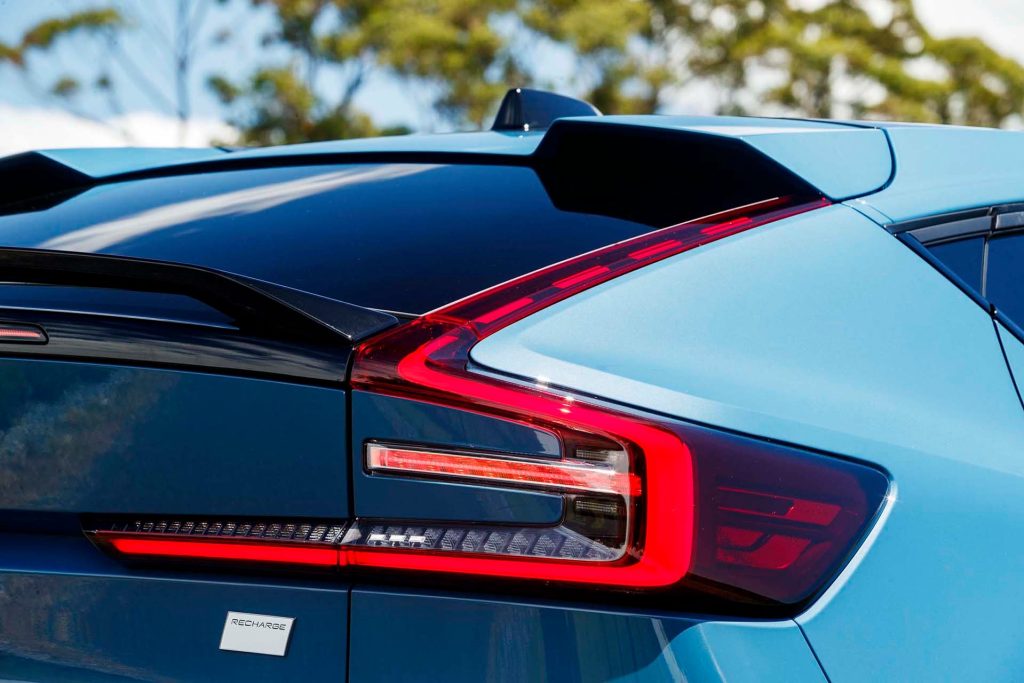 There is an evil twin, the Ultimate which gets a pair of motors, for a total of 300kW and 660Nm. It has a bigger 75kWh battery and a sprint time of 4.7sec, 2.7sec quicker than that of the Plus. The Ultimate's range is said to be 450km, with efficiency pegged between 19.8 and 22.3kWh/100km.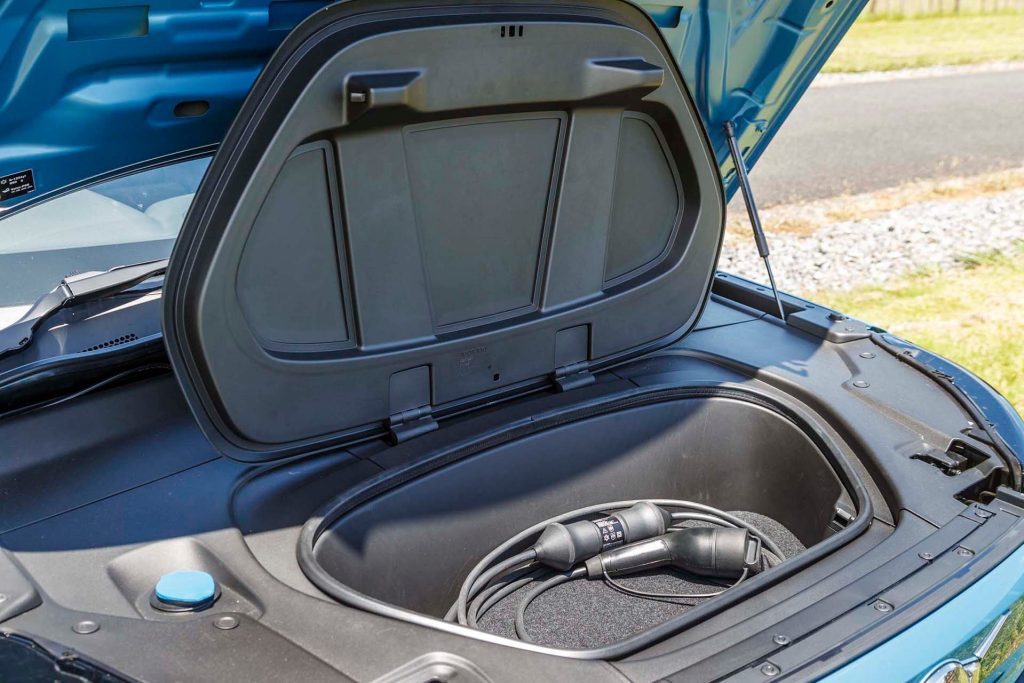 Does the Volvo C40 Recharge get a rebate?
Unfortunately not. While some brands are very keen to get their electric wares on the road at $79,990, not so Volvo as the C40 is $87,500 on the road (which is already up $2k since they first announced pricing). We guess that will ensure exclusivity and help Volvo NZ balance the demand and supply issue. The Ultimate C40 costs an additional $15k. There's also the XC40 BEV available with the same electric bits in the more conventional body style, and it's $2k cheaper but still won't get you that rebate dosh. They are, however, fee neutral.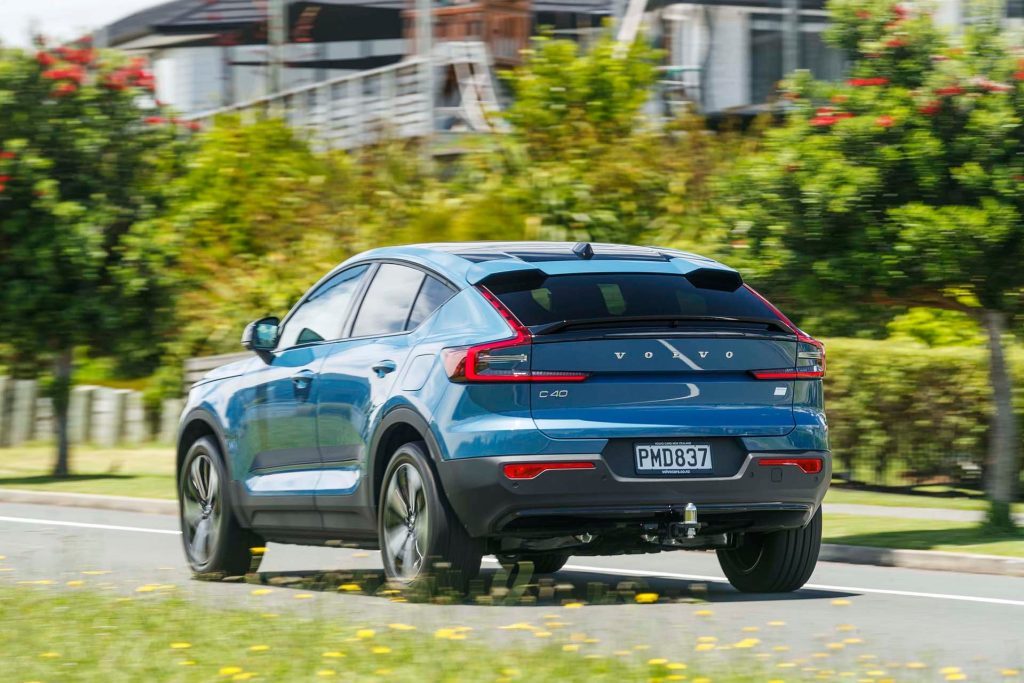 There are no optional extras; what you see is what you get. Included is a glass roof (which doesn't come with a shade blind!), a charge pad, a powered tailgate, heated chairs front and rear, and a wheel warmer, LED lights and 19s. Typical of any Volvo, there are lots of safety systems looking out for your well-being. These are cleverly devised, with few false alarms. The lane keeping function isn't quite the control freak others can be (it switchable, and then it stays off) while the active cruise has the all-important traffic jam assist. Speed sign recognition is coming in handy too with all the new lowered speed limits about the place. Ka pai Waka Kotahi.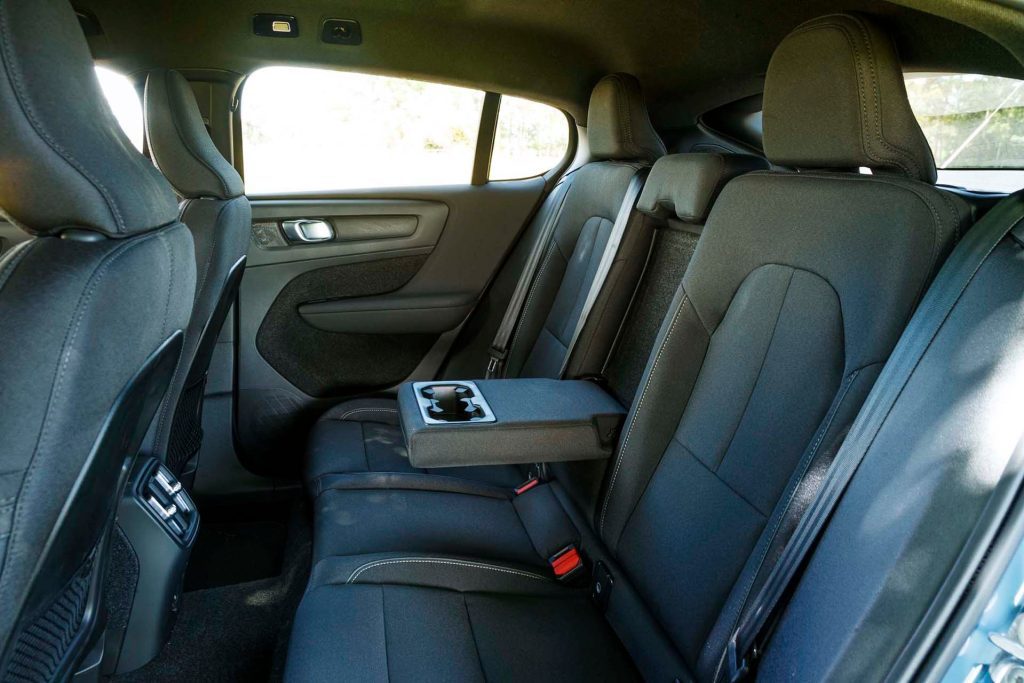 What's the Volvo C40 like to drive?
Glad you asked. Step in (easy to do thanks to high-set seats) and it's all rather Volvo-centric, so traditional buyers, fear not. Although there's one oddity in that as soon as you're seated it's ready to go; just pull the lever into D and you're away. And when you've parked, simply push the P button, and get out. It feels unnatural not physically turning something off but you do get used to it.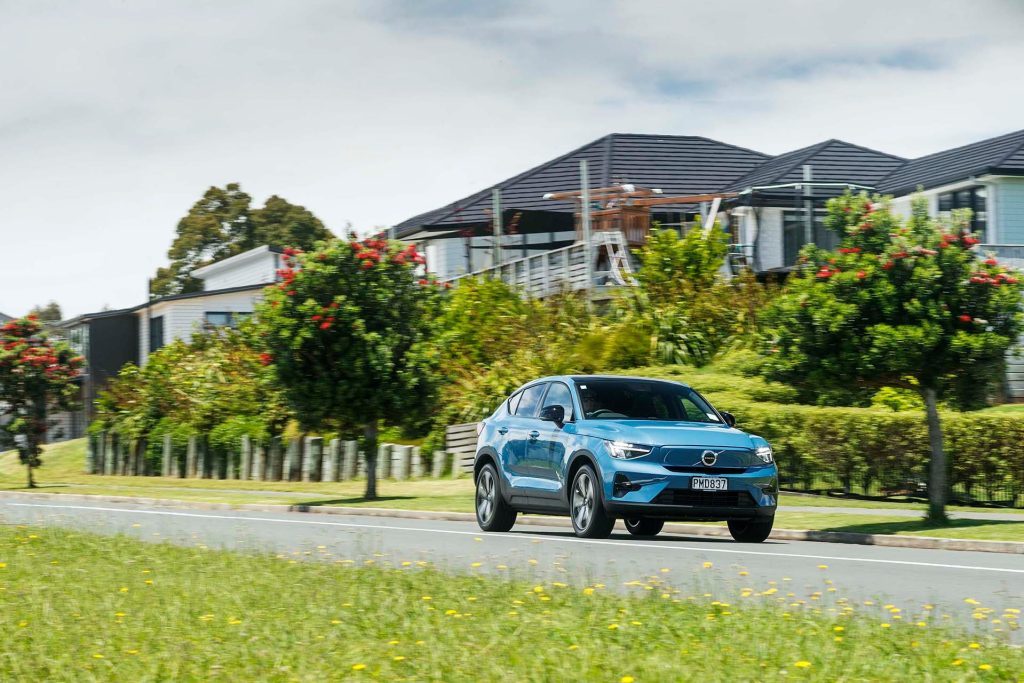 Like the Polestar 2, the initial throttle response is rather subdued; there's no immediate rush of torque here. That helps neutralise wheelspin and torque steer (no doubt aiding efficiency too) but once rolling, the pull flows more readily, with more of that instant surge in the 30-70km/h zone. It's all rather quiet too, the absence of road and wind noise gratifying. The around-town ride is sorted. While there's a controlling tune to the dampers, it's only the larger road lumps you tend to notice.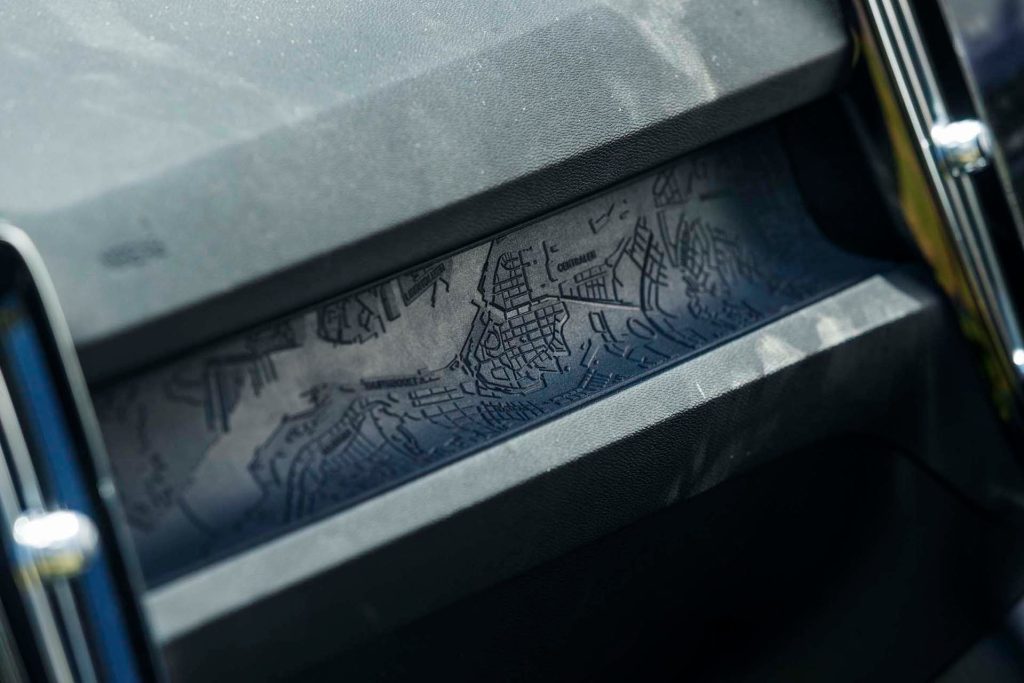 The only mode to fiddle with concerns one-pedal driving, and that's either on or off. We preferred the latter. According to the power gauge – no tacho here remember – you can accelerate up to urban cruising speeds using around 25 per cent of the available power, and then lift off. It'll then glide along, coasting for a handy distance. The brake pedal action is sound, blending the motor regen and friction brakes sweetly. In one-pedal mode, the regenerative braking effect is rather aggressive, and it's snatchy when moving around at parking speeds.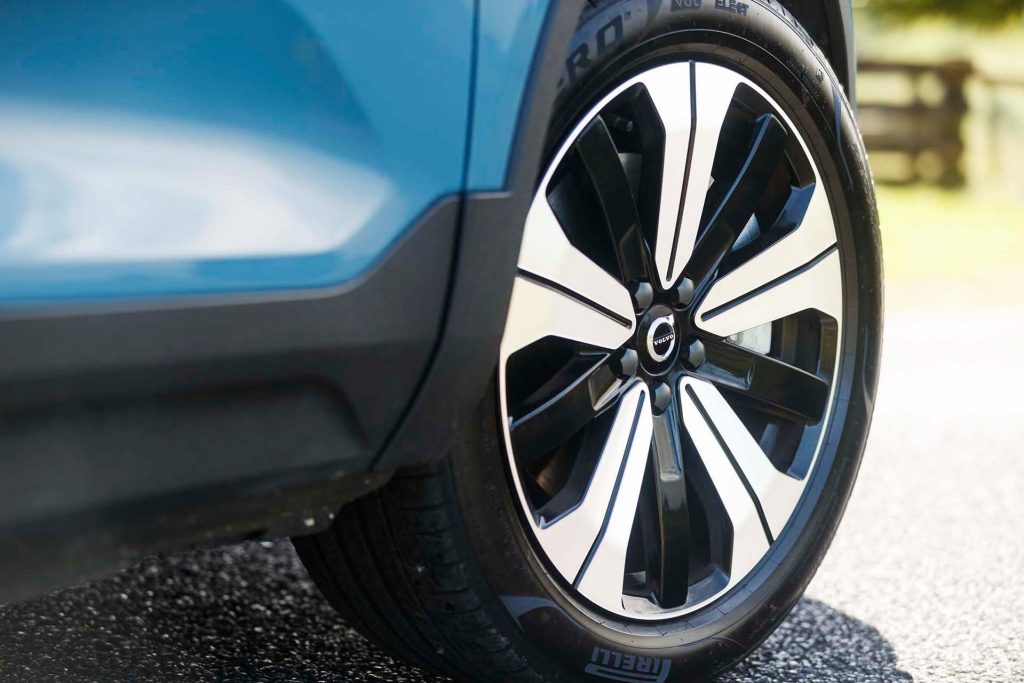 Is it sporty in nature, or just looks?
Volvo isn't so interested in sporty dynamics these days, which suits the C40. However, it still manages to keep itself in shape through the bends. While it's heavy, the weight is low and well distributed so it flows from corner to curve with a harmonious balance between roll control and ride decorum. You can click 'steering feel firm' in one of the driver assistance menus, which gives the helm more resistance and the driver just enough of an idea of what's happening. There's a minor amount of torque reaction under heavy right foot abuse, and you might get a bit of TC intervention, but otherwise it's just so darn sorted.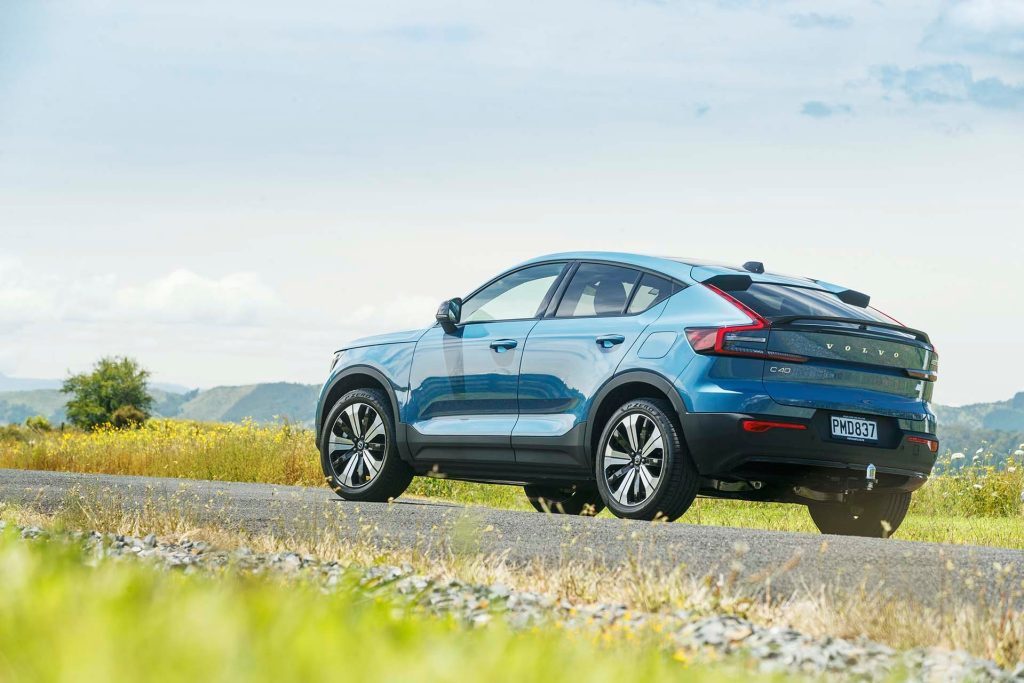 As to how far you'll get, it all depends on how and where you drive. With a mix of urban, motorway and rural/highway running we covered 245km and averaged 17.7kWh/100km. When we returned the C40, the battery had 32 per cent remaining, and the distance to empty suggested it was good for a further 130km of travel. Somewhat ironically, we didn't recharge the Recharge but figure on re-energising once or twice a week, and adding the cost of a smart wallbox to your purchase.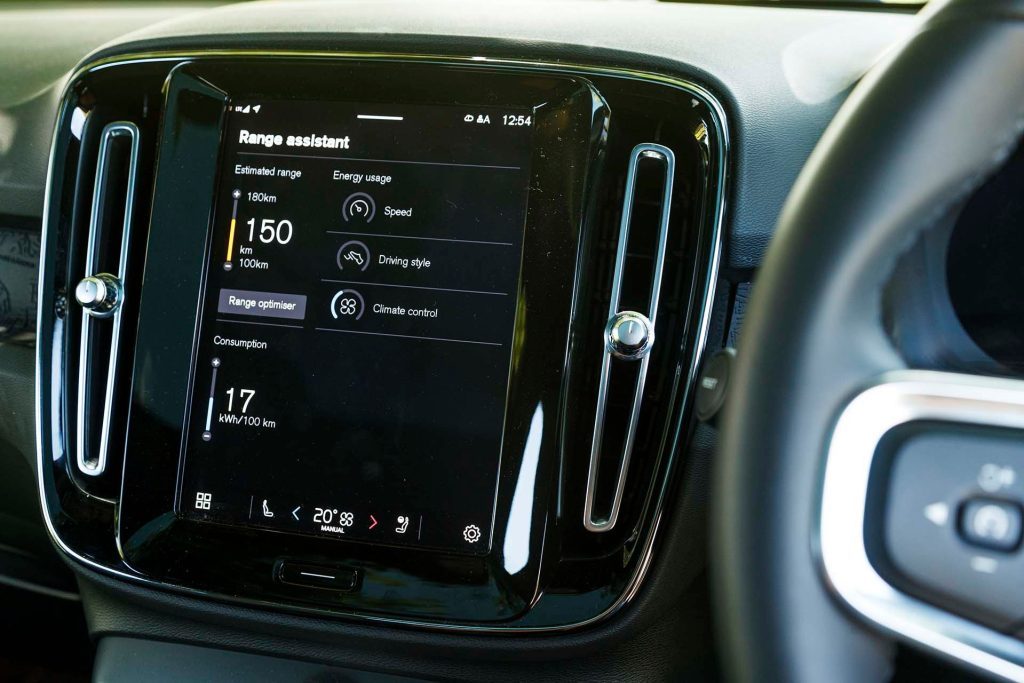 Is the Volvo C40 Recharge a practical car?
Volvo seats tend to be on the firm side of the padding ledger, and that's the case here but they do support you well. The interior is what they call a leather-free environment, so there's textile upholstery, a convincing fake cow wrap on the steering wheel and on a few other surfaces while the rest are lined in carpet and thoroughly decent soft plastics. The Volvo infotainment system is an easy-to-master contraption, even with just one home button as the menus are logically ordered. Its best trick is Google integration, especially its voice command function and mapping. You get four years of digital services too.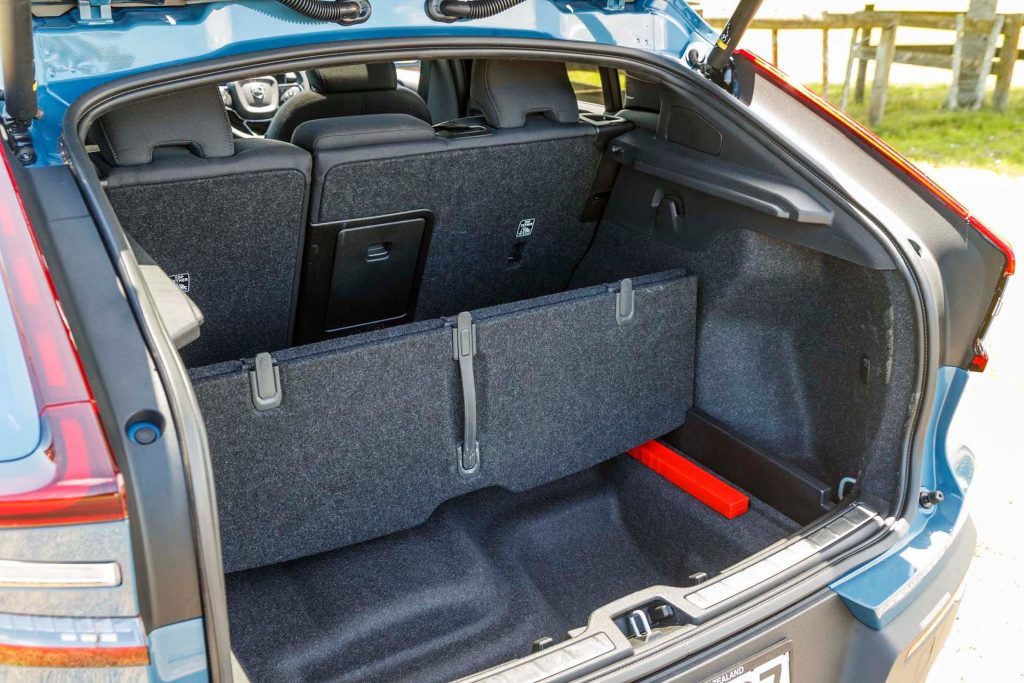 The rear vision isn't that flash through the fastback tailgate and the reversing camera relays a somewhat truncated image, peering out from under the bumper. It's a five seater with enough room in the rear for adult legs (and bodies) while that roofline doesn't plunge too low making entry no real chore. It does restrict outward vision a tad, but then you are in the cheap seats. That tailgate design eats into the overall load capacity but underneath the cargo blind is still a fairly decent hold with just over 400L available. And split folding is straightforward, the seats flopping down to form a flat floor. There's no spare tyre of course while the puncture repair kit is stored up front in the frunk, where there's enough space to store the charge cables as well.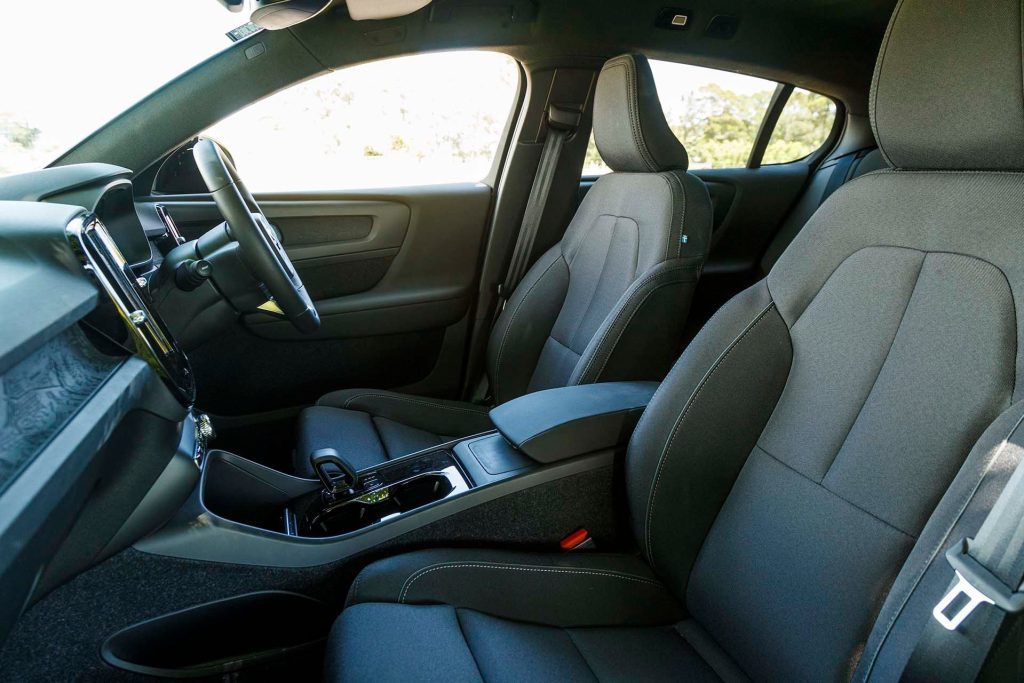 So, worth a look then?
The Volvo C40 Recharge is thoroughly competent, going about its business without fuss. It's an easy thing to drive and live with, while being easy on the eye. It's not one that excites but it doesn't do much wrong either. So, as long as you can sleep knowing you won't get that rebate money while your Model Y-buying neighbour did, yes, it's worth a look.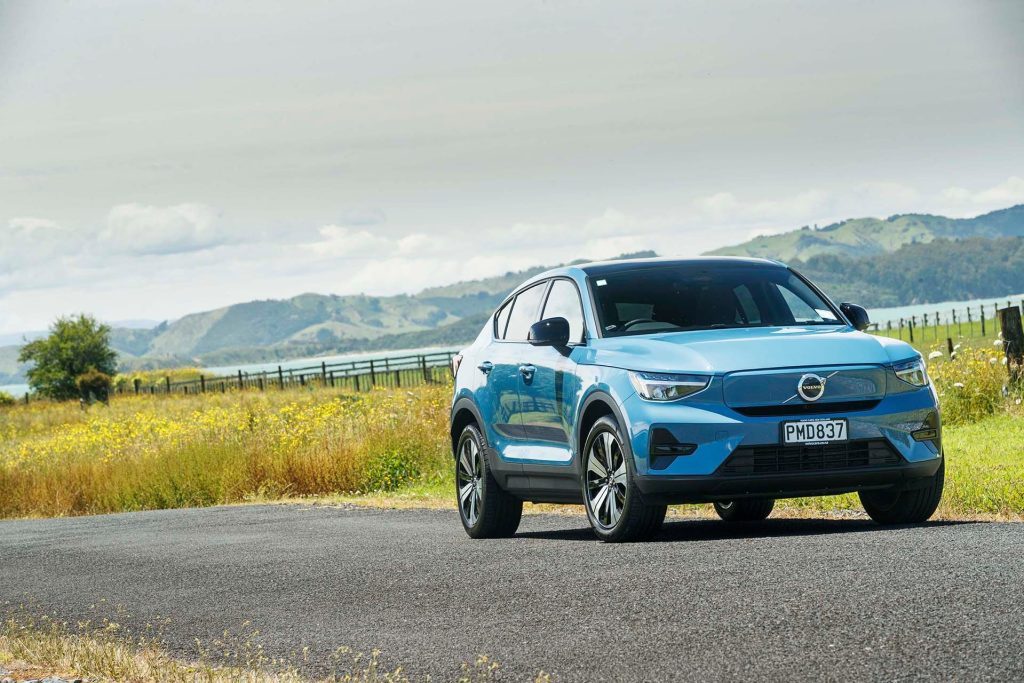 Model
Volvo C40
Recharge P6
Price
$87,900
Clean Car Discount
Neutral – $0
Motor
single, 170kW/300Nm
Battery
69kWh
Range
438km (WLTP)
Drivetrain
single-speed auto, FWD
Energy Use
18.0kWh/100km
C02 Output
0g/km
0-100km/h
7.4sec
Stability systems
ABS, ESP, TV
Safety
AEB, ACC, BSM, LDW,
RCTA, ALK, AHB
Luggage capacity
f-31L, r-413-1205L
Tow rating
750kg (1500kg braked)
Service intervals
3yrs, unlimited km
Warranty
3yrs, unlimited km
ANCAP rating
5 stars (2022)
Weight
2001kg (claimed)