Kawasaki has updated its excellent 650 line-up, the faired Ninja with new styling, reminiscent of the boss H2. Is the LAMS model as fast as it looks?
We've mentioned it before but learner riders buying Japanese have never had it so good, apart perhaps for the fact that our dollar/yen cross rate ain't quite what it used to be.
But the product? Holy crap, these so-called 'restricted' machines can hike. The bike makers have cunningly got their heads around how to make them perform without making them too potent. There are several critical elements involved. In the case of the machine you see here – and no, it isn't the H2 even if that front end looks familiar – the cubic capacity is nudging the LAMS limit at 650cc, the power is throttled back, literally, to 32kW but the torque is only off by a handful of units from the unrestricted model. Oh, and it weighs the right side of 200kg thanks to its trellis frame.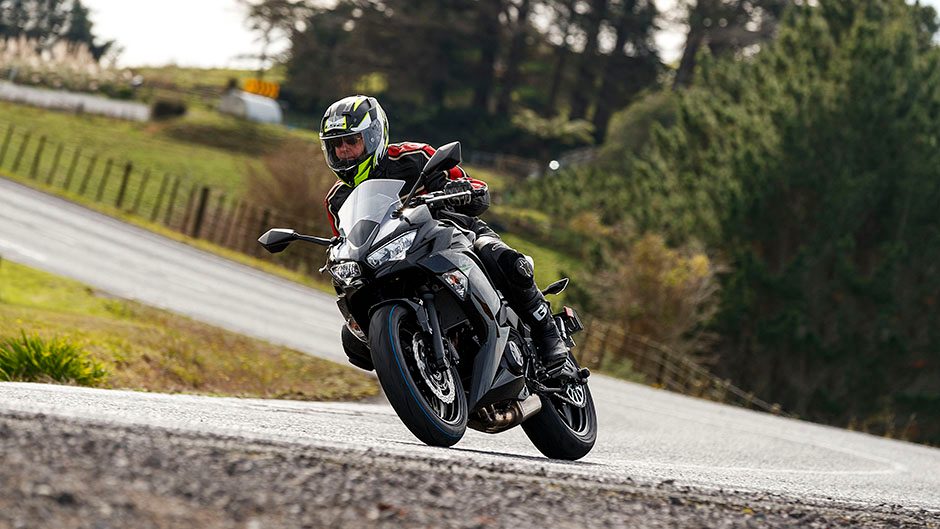 What is it?
The 'it' we refer to is the Ninja 650, a bike that has been around almost from when I first started testing these things at NZ Autocar. Back then we called it Ernie cos it was known as ER6N. And back then it was pretty okay too but nowadays this is up there as one of the LAMS greats, like its naked Z650 sib. It's quick enough that you aren't tempted to derestrict it, 'cepting if it were mine I would because you easily can. It stops like it has no right to, it seems to run on a whiff of jungle juice – 32km/L is possible at open road speeds – and it handles sweet as a nut. Make mine a cashew.
Plus the ride comfort is good and the riding position easy, though the pegs are perhaps a touch high. But it doesn't touch down easily so there's that. And the steering is so deft, the balance so right. You can mess around with different ways of countersteering; push, pull or a combination of the two. And any effect of weighting the pegs is immediately obvious. Plus, they've got the non-adjustable suspension set just so. Out of the box, it feels supple enough to mop up the sharp spine-jarring bumps. And yet there's never a hint of wallowing through corners. The stability feels good too, though we didn't really stretch it for speed.
Oh, and the gearbox is slick, lightweight and now features a slipper clutch. The bike looks the part too, with its aggressive front end, and its bright, easy-to-read TFT colour screen. There's more info there, like instantaneous and average fuel use.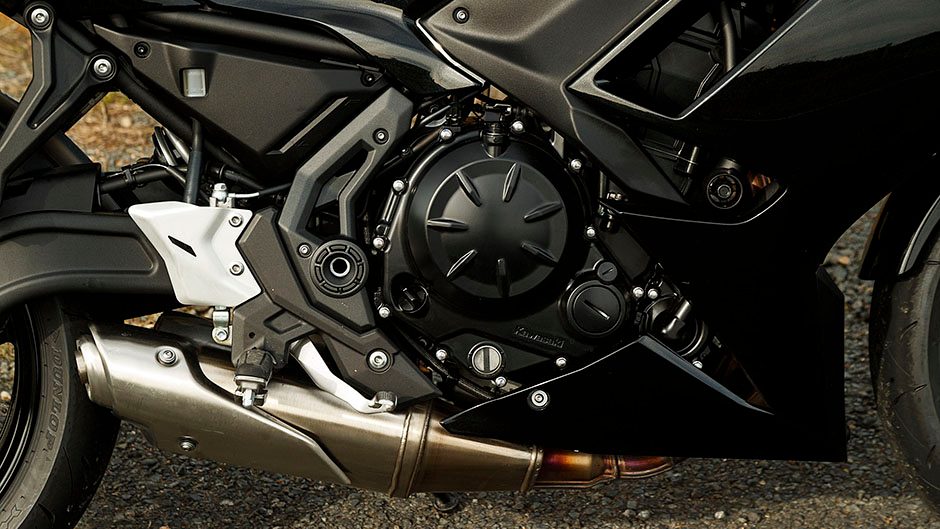 Goes hard, easy on gas
Someone must have been hammering this before me because the average was 17.8km/l. After a reset it stayed fairly much put on 26km/L.
Wringing the neck of this thing is a pointless mission, given its vast reserves of midrange torque and its relatively limited power output. It's actually faster 0-100 upshifting before the 10,000rpm redline. For what it's worth it just missed doing a four-point-something run, and an overtake is dusted in 3.8sec. That's using second to third, or you can just do it in third alone. There's little difference, again showing how much this machine gets by on torque. On the open road, one downshift gets the overtake job done easily. An indicated 100 equates to 4800rpm in top gear, which partly explains its fuel sipping demeanour.
The brakes are stupid good, given they're not even using radial-mount calipers. On one emergency stop the rear wheel came off the ground and the bike started to rotate around the front wheel. Fortunately we realised and released the lever in time to avert disaster. Don't rely on ABS brakes to get it right all the time.
We'd be remiss signing off and failing to mention what else is new about the middling Ninja, like its LED headlights, an assist and slipper clutch with its signature lightweight feel, vastly improved pillion passenger comfort, Bluetooth connectivity via a Rideology app, a wider upper cowl and more upright screen for better wind protection and new Dunlop Sportmax Roadsport 2 tyres.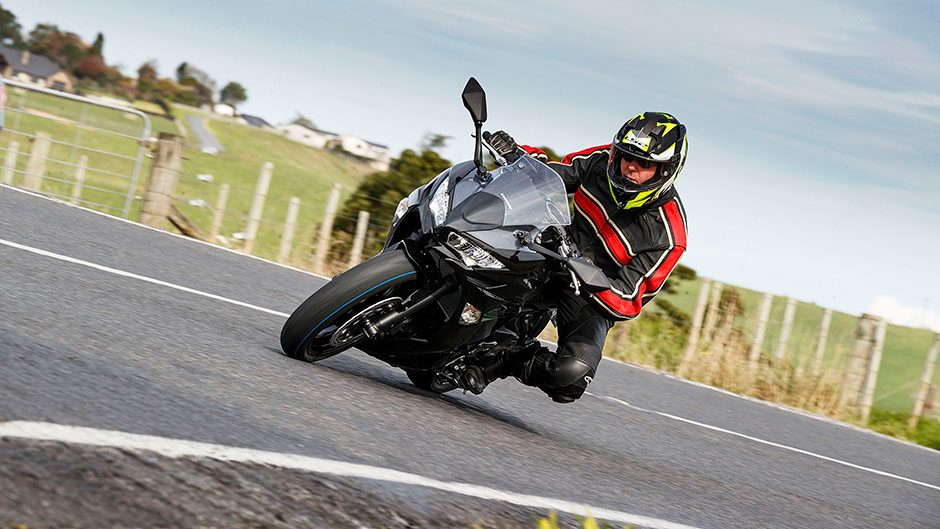 Few cons
On the downside, I'm struggling. The mirrors buzz and blur. And it doesn't sound as ornery as an MT-07 with an aftermarket zorst but what parallel twin does? And the all black colour scheme may be patriotic but it's hardly ideal learner fodder. Plus, it always looks filth.
Perhaps its biggest bugbear is price. Because of the general sinking feeling of our dollar against the yen, this is now $14,495, ouch. Last time we rode something like this, the Z650 naked version, just last year, it was $2000 less expensive. Now that's on special with $2k off, for $10,995. We'd say that's pretty slick pricing for a great all-rounder.
Still, this new Ninja gets the edgy H2 look, the weather protection and the beaut 4.3-inch TFT colour screen, all of which are nice. Only at this price, you're up against some serious competition. The best bike in the area is the Street Triple LAMS at just $500 more. And it's the quickest in the sector, not to mention a triple with sportier sounding three-pot engine. And for even less money you can be into a Ducati Monster 659, an ornery sounding and looking V-twin too.
But wait, if you buy the 2019 Ninja 650 model right now, you pay $1000 less plus you get an $800 Bits4Bikes voucher to spend up on, like, whatever. And in a short amount of time you can buy an actual non-LAMS version of the Ninja 650 that will see to all the quick LAMS machinery for no extra coin compared with the LAMS variant. And in today's environment where cash is king…
| | | | |
| --- | --- | --- | --- |
| Model | Kawasaki Ninja 650L | Price | $14,495 |
| Engine | 649cc, liquid-cooled, fuel injected, IL2, 38kW/59Nm | Drivetrain | chain final drive |
| 0-100km/h | 5.08sec | 100-0km/h | 39.93m |
| 80-120km/h | 3.84sec (107.8m) | Weight | 192kg |