Known as the Detroit of the east, Thailand is where most of our one-tonne utes are made, including Holden Colorado. We spent a few days negotiating mountainous Thai jungle tracks in the 2020 Z71 model. Did it rise to the occasion?
Not having been to Thailand in over 20 years, I was surprised to see that every second vehicle on rural roads was a one-tonne ute. I shouldn't have been. Virtually all pick-ups we get in New Zealand are manufactured in Thailand. This makes it one of the main ute markets, along with Australia, South Africa, Argentina and New Zealand.
Oddly, the diesel variants in Thailand cost less than the petrol ones, and that's because the government is trying to contain or reduce atmospheric CO2 levels. Helping is a slightly smaller diesel than the one we get, a more fuel efficient 2.5-litre unit.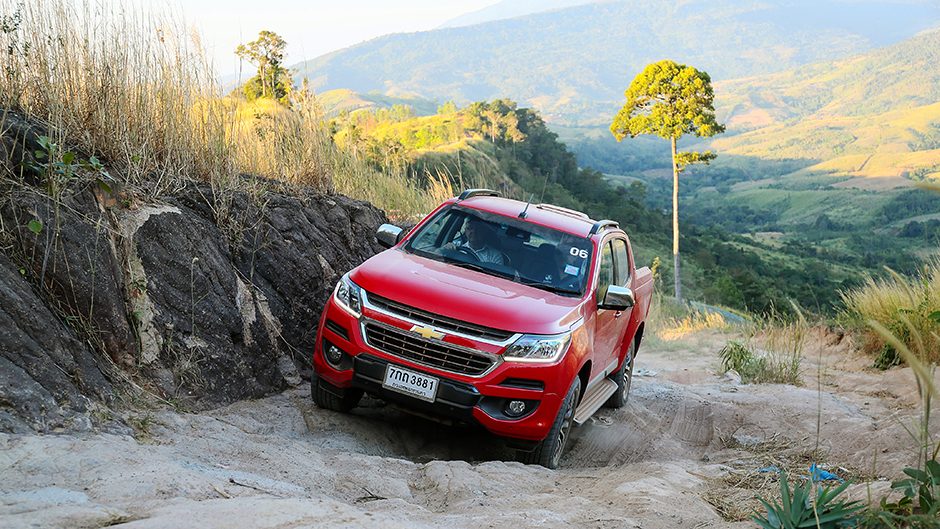 It was this we drove there first, in Chevrolet Colorado guise. (How long before the Colorado sold in NZ is also a Chevrolet?) We spoke with one of the Thai GM product guys before setting off, and he said get ye hence into a Z71. He much preferred the bigger 2.8-litre engine.
Be that as it may, the 2.5 does a reasonable job, generating 430Nm, only 70 units shy of the 2.8. And on road about the only time you notice it isn't quite as beefy is during overtaking. Tackling some of the steep mountainous ascents it chugged away well up the testing inclines. We did feel that there was a bit more hesitation off the mark than with the 2.8, and the gearbox calibration seemed better sorted in the big dog. Both of these share a six-speed auto transmission, and six is enough with this much torque on tap. Occasionally during testing off-road situations you wish for another gear between first and second in 4H.
The Thai event was essentially a road and track session. We'd flown into Loei a few hundred clicks north of Bangkok and were scheduled to do 400km over two days. However, there was extra time available for a second off-road session and everyone was keen to see a wild elephant (except for the locals who knew better) so back into the jungle we went before hitting the road back to Loei. In the event, this section didn't even require 4×4. And that's one of the advantages of the Colorado over virtually all the other vehicles in its sector; the fitting of a limited slip diff at the rear. With both drive shafts locked together we managed a couple of steep ascents on day two in 2H. Admittedly the track was dry but it was also pretty rough in parts. Sadly, no wild elephants were spotted.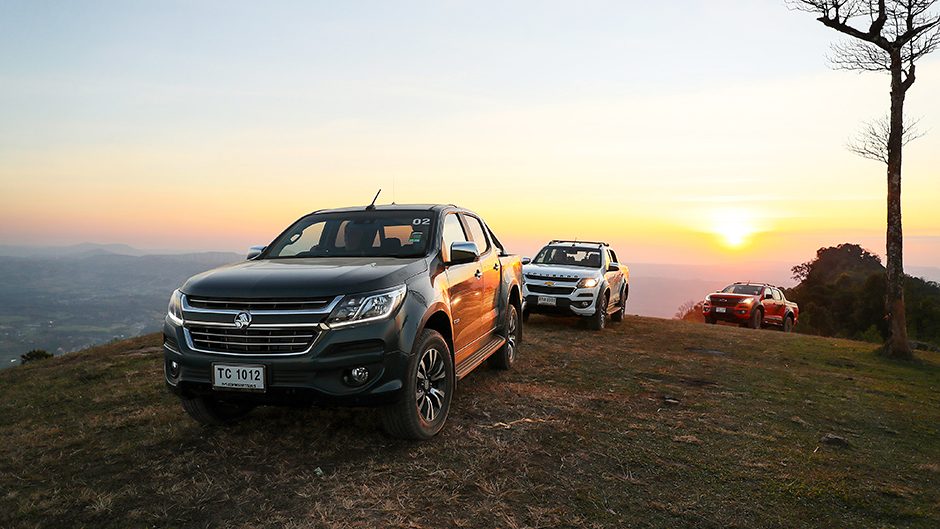 Back to the jungle
GM Thailand had selected some testing conditions for the main off-road stint. In some places, if you messed up the authorities may have had trouble retrieving your sorry bones. Just before heading off-road the event team had organised a pit stop to show us where we'd be going (Pha Tud lookout). They pointed in the direction of some bush-clad ranges, and I asked them to indicate where the road went. They just laughed and replied, "What road?" We soon discovered it's just a rough-hewn jungle track. No green lane ramble this.
Driving through quaint villages where dogs strolled as they pleased, we soon exited the seal over a one-foot drop off, the dust haze immediately hampering forward visibility. The first half hour involved negotiating a single-lane uphill track with some rather sizeable pot holes, so slow going in 4H. Here the articulation and 215mm of ground clearance were both tested, with no touchdowns. At the half-way point the going started to get even rougher and more vertical, requiring 4L. The track is almost impassable in the wet season, the deep ruts graphic evidence of where water had cascaded down during the big wet. It's steep in parts too, and the loose rock make this ascent tricky but the Colorado seemed sure footed, the LSD and low range making even the most extreme pinches possible. Traction was good being bone dry, and it just kept on keeping on.
We arrive at sunset atop the world locally, vertical cliffs overlooking the most enormous repeating Budda statue in the distance. The next day we'd drive past it on route to lunch. There I'd experience the hottest seafood soup in living memory. I needed time out just to recover the swallowing reflex!
On the way down from the lookout, even over the steepest sections, engine braking using first gear in 4L was sufficient to prevent speed runaway. Perhaps we might have needed hill descent been it been wet, but in that case we might not have made it up there anyway. At the halfway point we selected 4H and even in first gear brakes are needed to supplement engine braking. On steeper downhill sections of highway, Grade Braking selects the appropriate gear to keep speed in check.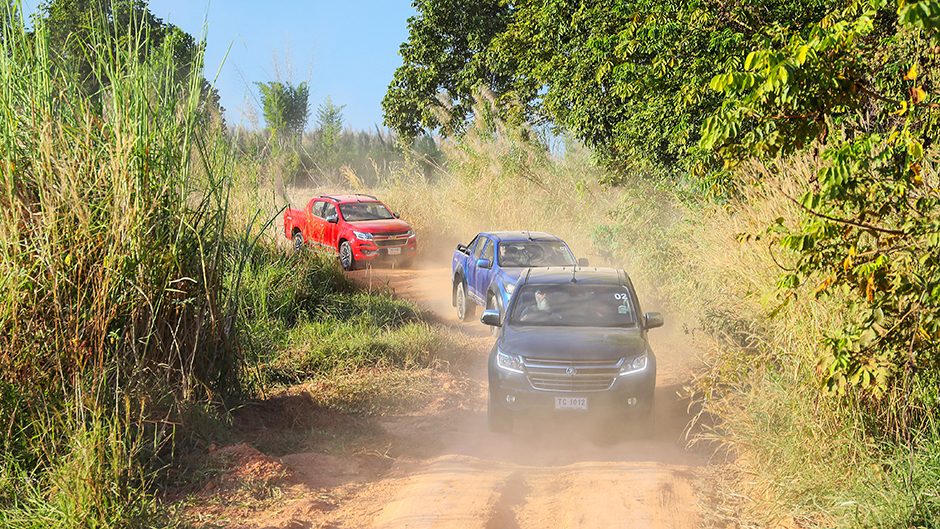 Into the Z71
We really did save the best to last. After just a few hundred metres and a single application of throttle it was clear the 2.8 has a sense of ease missing in the smaller engine. The 2.8 is hauling with intent by 1500rpm so in urban running the box is upshifting at the peak torque point of 2000rpm. Overtaking requires just a whiff of extra gas rather than full throttle. It just does it all more easily, as you might expect of something generating 500Nm of torque. That's equal to (Ranger Raptor) or more torque than any of the non-V6 utes create. There's 147kW of power to go with that too.
The Z71 is an updated model while the LSX is a new limited edition version (see autocar.co.nz for details of both). Pleasingly Z71 pricing is unchanged at $51,490 for the manual variant and $55,490 for the six-speed auto. There's a five-star ANCAP safety rating across the Colorado range, and a three-year warranty with free servicing in that time.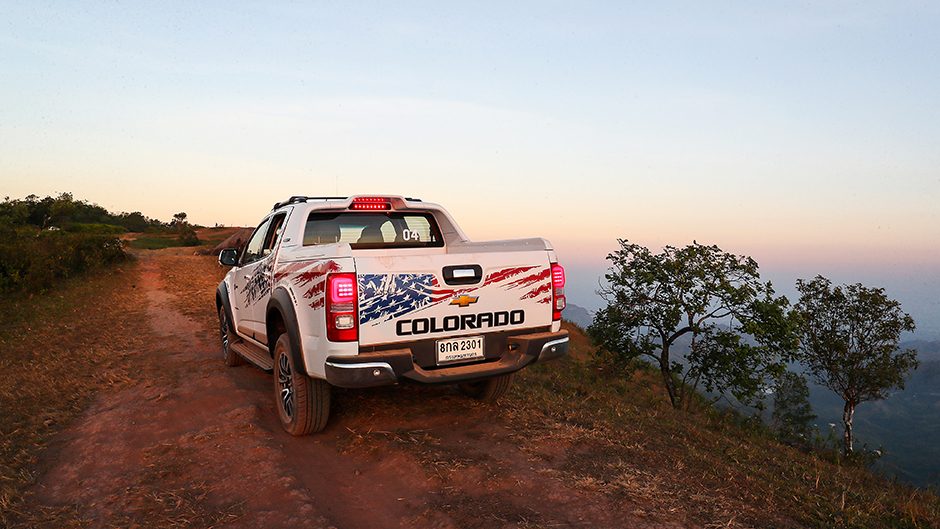 Road manners
The rumble in the jungle wasn't the only aspect of the Thai drive, for plenty of kilometres were undertaken on tarseal roads or highways. Thais drive on the left like us, and everyone seemed relaxed, unlike us. Their primary three-lane per side highways are well constructed and carry a 120km/h speed limit. Shoulders are well formed and broad so slower vehicles like scooters and tractors, along with ambling dogs, can get along without holding up traffic. It's all sensibly done.
The Z71 coped effortlessly with these conditions. On the return to Loei Airport, we achieved 8.5L/100km, two points beneath the quoted average. Engine noise is audible but not intrusive. These major roads are smooth while on secondary roads the unladen Colorado does a decent job of soaking up the bumps, the digressive dampers firmer initially for good body control and on-road feel, and softer as travel extends to negate the big hits encountered offroad.
The most recent suspension upgrade resulted in softer spring rates and a firmer sway bar up front for improved ride and handling on road, while retaining a tow rating of 3500kg and a payload of 1000kg (760kg for the Z71). In the ute sector it's one of the better handling examples, with well judged steering weight and isolation, and the limited slip diff is active on road to help with traction duties off the line when turning.
The Colorado interior is due an update and it's coming this year. Currently there's no telescopic steering or lumbar adjustment. However, the Z71 gets a decent reversing camera, aided by parking sonar, and its infotainment system caters to both smartphone groups. Leather trim extends to the wheel and there's integrated sat nav. In the back there's better head and knee clearance compared with some rivals.
These days, the upper tier utes cost around $55-$57k, though a few top variants remain in the $60k plus price range. Given their spec and broad capabilities – "from worksite to campsite" – it's little wonder they're best sellers here. And despite it not being the newest on the block, the solid features and capabilities of Colorado, and its lack of significant shortcomings partly explain why it continues to be the most popular Holden in the entire line-up.
Holden Jungle Drive Challenge, Thailand, 4 December 2019. Photo: Simon Watts/www.bwmedia.co.nz/Holden

Holden Jungle Drive Challenge, Thailand, 5 December 2019. Photo: Simon Watts/www.bwmedia.co.nz/Holden

Holden Jungle Drive Challenge, Thailand, 4 December 2019. Photo: Simon Watts/www.bwmedia.co.nz/Holden

Holden Jungle Drive Challenge, Thailand, 4 December 2019. Photo: Simon Watts/www.bwmedia.co.nz/Holden

Holden Jungle Drive Challenge, Thailand, 5 December 2019. Photo: Simon Watts/www.bwmedia.co.nz/Holden

Holden Jungle Drive Challenge, Thailand, 4 December 2019. Photo: Simon Watts/www.bwmedia.co.nz/Holden

Holden Jungle Drive Challege, Thailand, 4 December 2019. Photo: Simon Watts/www.bwmedia.co.nz/Holden

Holden Jungle Drive Challenge, Thailand, 4 December 2019. Photo: Simon Watts/www.bwmedia.co.nz/Holden