As the price of all the rare and desirable european sports cars increases, there is a flow-on effect to those from other parts of the world, like Honda's NSX. We take a look at the original Type R.
With news that Honda NZ has finally committed to the new NSX which will be here in a few months, the brand's product-led revival continues. The Civic Type R is testament to that, our current Car of the Year, and also recently picked by Top Gear UK as its best car of 2017. We haven't come across a Honda Type R we didn't like but equally we'd never met the granddaddy of them all, the NSX Type R.
Until now that is. Honda's NSX R is a genuine rarity, particularly in far-flung corners of the globe like New Zealand. Honda didn't make many of them, just 483, and this is the only one registered in the country – make that Australasia – at present. There is rumoured to be another floating around somewhere in the South Island, unregistered. But Rs are few and far between, with a growing interest in these cars from the UK and the US as they hit the 25-year-old mark.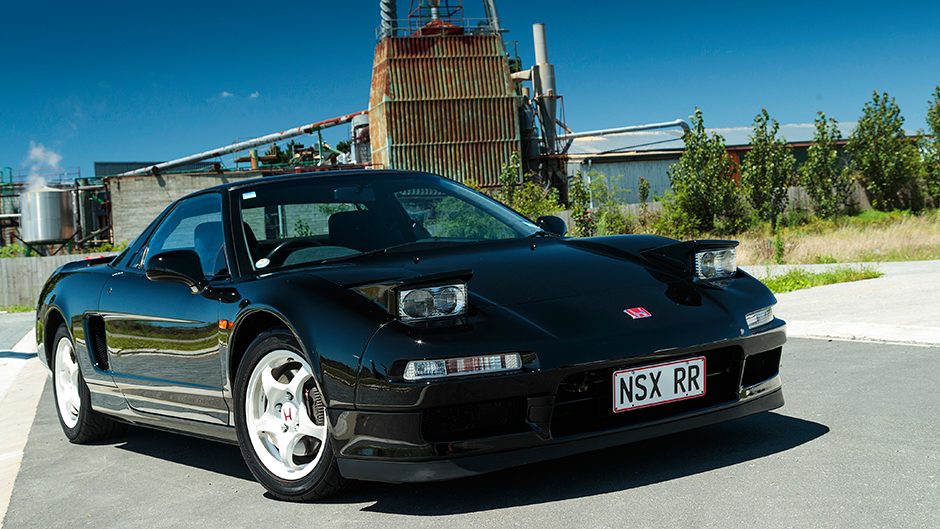 So prices have been steadily rising, along with just about every desirable car in the past few years, but more on that later. This one entered the country via Japan late last year. Failing to sell at auction, some quick negotiation after it was passed in saw it acquired and shipped south. Current custodian, Aucklander Steve Price, has owned a few Hondas in his time, beginning with a CR-X back in 1994, and he spent the best part of a decade successfully campaigning an EG6 Civic racer in various classes.
He says that when he was young and impressionable one of his prized posters was a yellow NSX Type R so it's been a bit of a dream car for him. But it's not his first NSX, having owned a 1990 model for the past 15 years, which he's only just parted with. He says he was a genuine Honda fan up until the mid-2000s when the firm started to lose its way and 'went beige', as he puts it. But there's nothing ordinary about this particular Honda.
So just what constitutes a Type R NSX?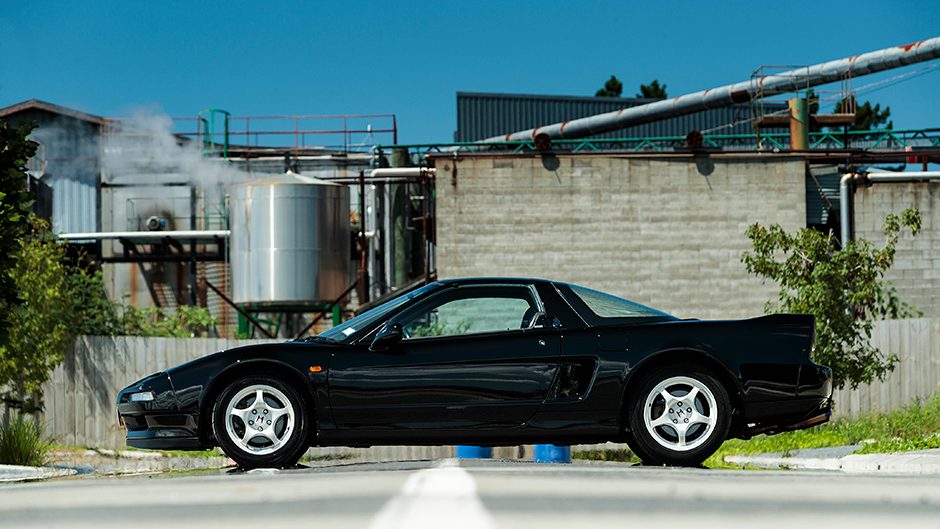 The main ingredients are weight reduction and chassis stiffening, although Honda engineers did give the V6 some love too. As we mentioned, this is the first of the Type R breed, R having a racer focus and so changes were aimed at on-track prowess. Weight is the enemy of performance and Honda went about purging as many grammes as they could, with 120,000 of them culled for a final claimed weight of 1230kg.
Out went a good deal of the sound deadening, in went thinner carpets and glass between the engine and the cabin. The spare wheel was binned, so too the audio and AC units and the traction control system. Steel bars in the doors and bumpers were replaced with aluminium beams, and a set of forged aluminum alloys by Enkei gave it a unique look and helped reduce unsprung mass.
The electrically adjusted leather seats were replaced with fixed-back carbon-kevlar Recaros, although they retained powered fore and aft movement, and power windows remained. The three-spoke Momo is airbag-free, and the shifter is a titanium item, modelled on the lever found in the McLaren MP4/4 F1 car.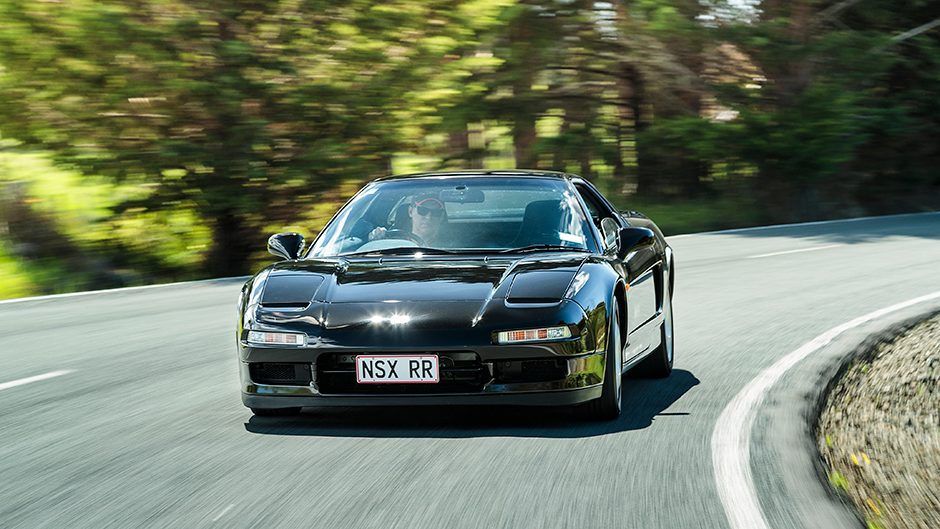 With Honda's involvement in McLaren's F1 dominance of the late 80s and 90s, it allowed them access to maestro Ayrton Senna who was used as a technical advisor. He provided heroic in-car driving clips that would years later find their way on to YouTube to inspire many young fast and furious types to master the art of heel and toeing. He reckoned the base NSX was nice but simply too soft and so the Type R was the chance for the white coats to make amends.
For cornering duties Honda added chassis starch via extra aluminium body braces, while the Showa dampers were stiffened, as were the springs, bushes and the front roll bar. While officially there was no extra power for the Type R, thanks to that weird gentlemen's agreement between Japanese makers to quote outputs no greater than 206kW, the NSX's C30A 3.0-litre V6 did receive a caring touch from the engineers, with a full blueprint job and a balanced crank.
Along with its alloy block, open deck design, titanium conrods and the most advanced version of Honda's VTEC system, it would seem improbable for it to produce just 276bhp, or just over 201kW with 285Nm of torque. It's more than likely the engine broke the 100 horsepower per litre mark.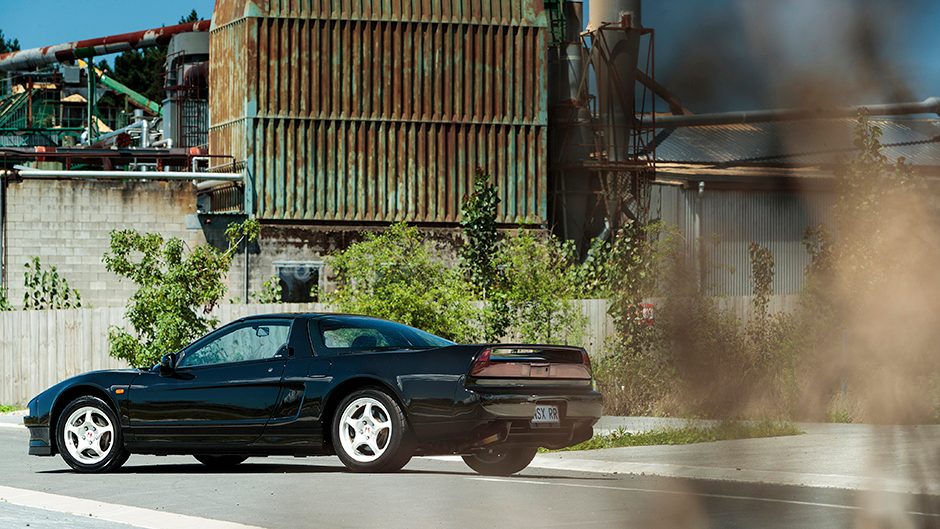 Honda did shorten the final drive for better acceleration, though the overall top speed decreased as a result. With production starting in November of 1992, all 483 were reserved for the Japanese domestic market. There were a few factory fit options, including the reinstatement of the air con, which this car has, a Bose stereo (this one still has the blanking plate in situ), carbon fibre trim bits and, from 1994, the wheel size could be increased from the standard 15-inch front and 16-inch rear to a 16- and 17-inch combination.
And just how does an NSX Type R feel more than 20 years on? Still bloody marvellous as everything about this car just gels with the driver. The deep Recaro buckets are a snug fit and you sit low for a sound position with well placed pedals. Vision from the F16-inspired glasshouse is excellent for a low slung sportster. The unassisted steering is heavy at a crawl but that's a given. The NSX doesn't mind trawling about in traffic, the engine well behaved, the optional air con lending some comfort on a hot day.
At a slower pace, the ride is firm and you hear all the mechanical action from the players involved. On a brief blast down a winding stretch of tarmac it's a car that quickly reveals its character when upping the ante. We expected the ride to be unruly but it's not bad as speeds rise, helped by the relatively high profile of the rubber. The R is prone to follow a few of the road's contours but doesn't crash and ricochet off the bumps, while there's no bump steer from the rear which is nicely compliant.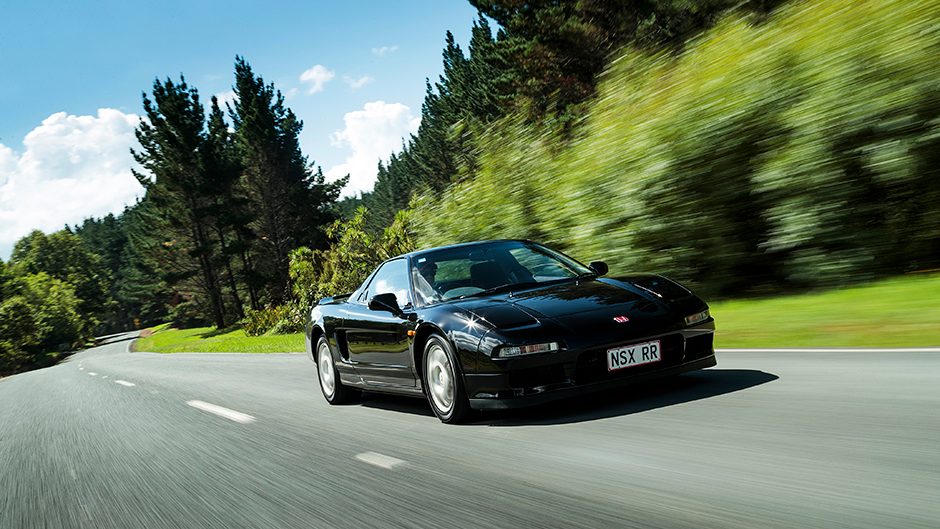 Cars from years past generally feel, well, soft and flimsy in the chassis compared with new models but this has a genuinely rigid feel about it thanks to its advanced aluminium construction. The unassisted steering is quite something.
While it turns in easily enough it requires a bit of muscle to keep it locked on line; it tugs away on the bumps through the bends but the messages are pure, unfiltered goodness. Light and low with centralised mass, this takes to corners in a pure, analogue manner. The engine loves a rev or 8000. Despite its age, it spins up beautifully. In a typical Honda fashion (well, Honda of old), the peak outputs need to be sought out and the V6 likes to be worked beyond 5000rpm while the throttle response is pure.
This is not fast in a world of 400kW weapons, but neither is it slow. It just requires plenty of gear changes to seek out that VTEC-derived power. And somewhat surprisingly there's no VTEC kick at the top end, the power band smooth and linear right to 8000rpm. The noise isn't booming, nor heavenly, but it is interesting, and you can hear all the mechanicals doing their thing right behind you. Rounding off a great drive experience, the short throw gear lever slots home nicely with a firm guiding hand.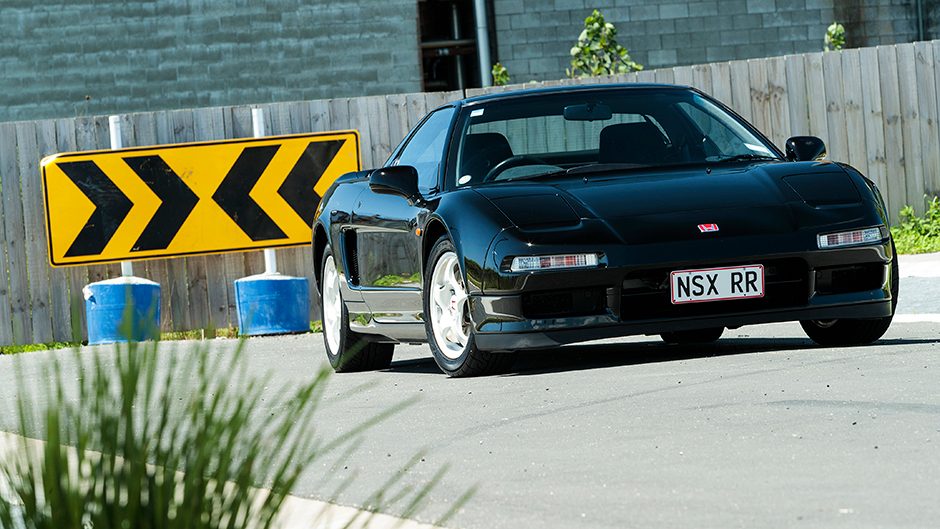 With its focused approach, pure driver appeal, the mystique of Senna and its ultimate rarity, the prices of the NSX R have been increasing in recent times. This one, as is, owes Price $180,000, though lower mileage examples can cost some $250k.
Is it the ultimate Type R?
Perhaps, but not the most expensive as the facelifted NA2 model NSX R is even rarer, faster and further honed. A low mileage original can now command as much as $400,000. And you thought the new model was expensive!