After another 12 months of reviewing the new arrivals to the local market, we name our cars of the year.
Despite the post-pandemic variances of supply and inflationary pressures, the new car market showed resilience in 2022. Sales remained high despite the global calamity, the overall figures down only slightly on the previous year's record. Buyer behaviour has been altered by Government policy, thanks to the Clean Car Programme. Influencing demand, the Clean Car Discount with its fees and rebates saw a rapid rise in the uptake of electrified vehicles while the commercial market, where utes rule, was down by 10 per cent.
Price rises were a common theme in 2022, new models more expensive than superseded versions, while RRPs in general crept up. Moving with the times, we have modified our categories this year, doing away with the price brackets and introducing a few new classes that allow us to pick worthy winners in a fast-changing marketplace.
Eligible cars are those introduced in the past 12 months which we have reviewed in full. Points for consideration include a vehicle's value for money and what it offers in terms of space, spec and style, along with other aspects like the level of aftersales service. Dynamics still play a vital part in our assessment; you want something that's a decent drive. Its relative performance is important too, but must be balanced with its impact on local air quality and emissions. Safety is vital, you need the full range of active driver aids, while we take into account just how well they work on our roads. Practicality is another biggie – it has to be user-friendly.
We reviewed more than 90 new model releases last year, covering a lot of kilometres over a variety of NZ roads to deliver our view on how the newbies stack up in the market. And so to the winners then, in no particular order.
Mercedes-Benz C-Class – Luxury Car of the Year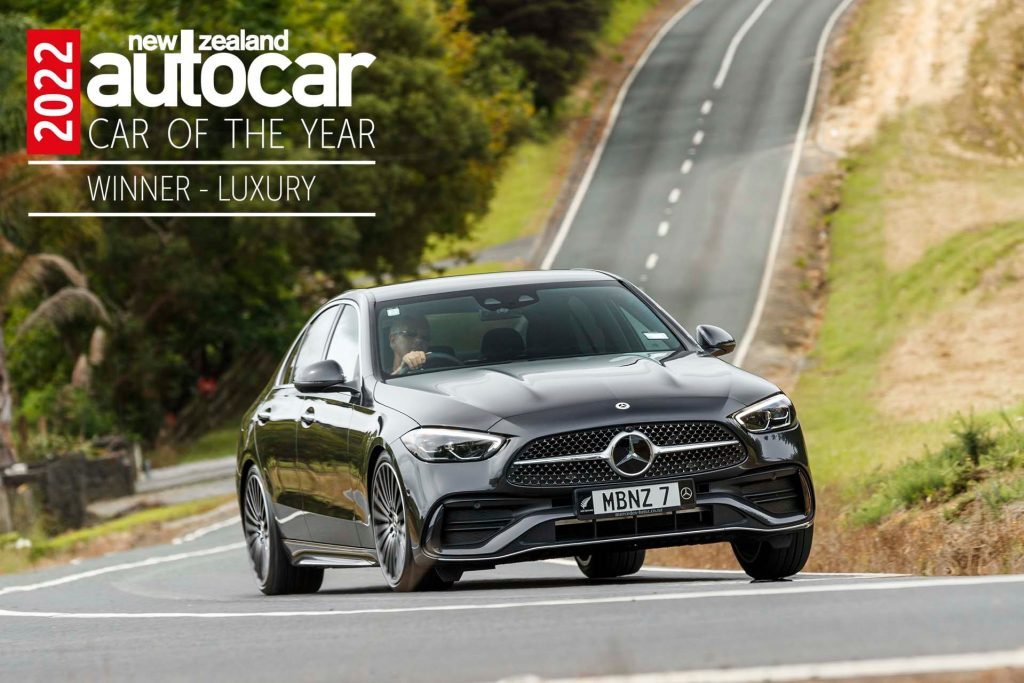 Call us old-fashioned but we chose the fifth-generation C-Class in this category. Because Merc sells more SUVs these days, C-Class is a sedan-only affair here now. To us, that gives it a degree of exclusivity. We liked the infusion of tech in the powertrain department, the small turbo engines supplemented with mild hybrid 48v systems to not only save gas but boost low-end torque, making for effortless progress, a luxury trademark. There's also a plug-in hybrid with a very useful 100km of electric range and AMG models are coming soon too.
The enhanced luxury quotient is readily apparent here, the look with S-Class cues from the outside, E-Class from the inside. Being a bigger car, it has more passenger space, particularly for those in the rear but is not cumbersome in the carpark. The array of driver convenience features make the day-to-day functionality easy. The ride quality is much improved, with a notable lack of road noise. On the spec front, this gets every known 'assist' safety aid from Mercedes-Benz.
2022 Mercedes-Benz C 300 review
Kia EV6 – Most Electrifying Car of the Year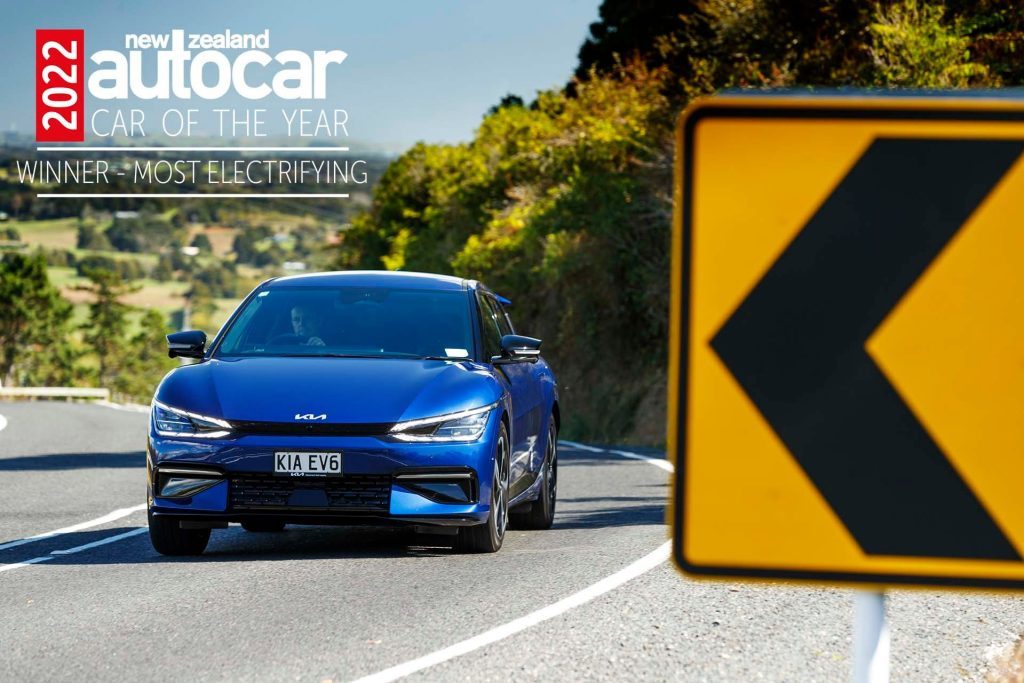 Kia's new EV6 makes a strong first impression, for it's not your usual-looking vehicle. The styling is a break from the norm; long and wide but low and certainly eye-catching. Utilising an 800V architecture allows for super-fast charging at DC juice points while the big battery and notable efficiency, particularly in town running, mean no worries about range. We liked the various set-up options for brake regeneration and the controlled ride is a definite plus; the effort Kia puts into the suspension is noteworthy.
The cabin gains as many positive comments as the spaceship exterior styling, with a genuine premium feel to match the money asked. There's practical storage everywhere and the rear accommodation has knee and head room in abundance. Its 480L boot is big enough while the practicality extends with easily converted rear seats giving a decent load space of over 1300L and this is an EV that can haul up to 1600kg.
Top-spec EV6s push Kia up into the six-figure bracket for the first time, and it's not out of its depth. Better still, two EV6 models qualify for the rebate, so there's value to be had at the entry end of this impressive EV6 range. Oh, and there's a 430kW GT you might like to try as well.
2022 Kia EV6 GT-Line AWD review
Ford Ranger – Ute of the Year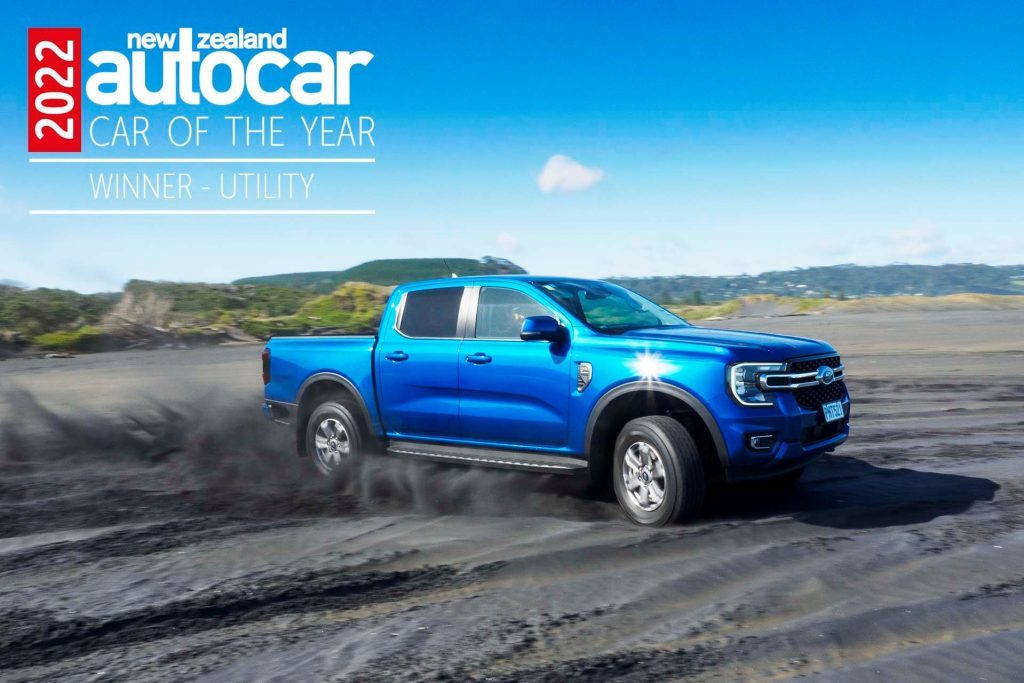 While the previous Ford Ranger was a good truck, an overall COTY winner for us, this new one steps it up in all the key areas.
There's more power from a new 3.0-litre V6 with a heap of torque, delivered right down low. And buyers haven't been perturbed by the clean car fees. The bi-turbo has been revised primarily for refinement and economy and the 10-speed auto shifts impeccably for a truck trans.
The Ranger's interior has been spruced up with more of a family SUV feel to it than a utilitarian pick-up. The XLT, all the truck you'll ever need, is now smartly specified with all the safety gear (including nine airbags and with better cameras and more computing power, the active safety systems improve), while top-spec trucks add even more.
There's a fresh chassis designed to be more robust in a crash while the retuned suspension is better at soaking up the bumps. It's still a good drive, being stable, with roll well controlled and it rides evenly to help reduce the bump steer. V6 models get an active 4×4 system, with an electronically controlled centre diff dividing the torque between the axles.
While they've refined the Ranger, it's still a workhouse, the tray now wider and deeper, and all models have between 900 and 1000kg payload limits while the tray liner is standard now, as is the tow bar. And it's all backed by a five-year, 150,000km warranty.
2022 Ford Ranger Wildtrak V6 vs Ford Ranger XLT 4×4 comparison review
2022 Ford Ranger Sport vs 2022 Mazda BT-50 Takami comparison review
2022 Ford Ranger Raptor review
2023 Ford Ranger Raptor vs Ford Ranger Wildtrak comparison review
Kia Niro – Eco Car of the Year
We realise that an EV is not the solution for everyone concerned about their emissions when it comes to getting about the place. Sure there's walking and cycling, but really… Kia's Niro is something that covers many needs with its low- to no-emissions powertrain options including hybrid, plug-in hybrid and full electric. Don't want to charge? The hybrid is the go with a great range (up to 750km on a tank) and with its electric bits helping out, the combined fuel use figure is 4.4L/100km (101g/km) which means a $3418 rebate. With the plug-in variant you get more power, an even better rebate and with its 11kWh battery there's a claimed EV range of 65km. The EV meanwhile, eligible for the full rebate, has a 65kWh battery, efficiency of 16.2kWh/100km and a claimed range of 460km. Three years of scheduled servicing is a sweetener too for the hybrid models.
Niro's fresh design brings with it more passenger space – adults will be suitably impressed with head and legroom in the rear – while luggage capacity is out to 425L. Kia has made good on the interior which not only features sustainable trim materials but also a pair of sizeable screens. There's a lot of gear on board – all models come with adaptive cruise with stop and go for motorway work, lane keeping, BSM, and the full range of airbags.
It's an improved drive too, offering a more balanced ride and handling package than the last model, which we also rated highly (and you can still buy as the Niro Plus from $38k). Thread it through a winding road and it responds with crisp handling while the ride is supple and quiet enough that it seldom draws attention to itself. We reckon it's the simplicity and ease of the drive that appeals here, along with the low emissions powertrain options, wrapped up in a practical, stylish package.
2023 Kia Niro Hybrid GT-Line review
Nissan X-Trail – Family Car of the Year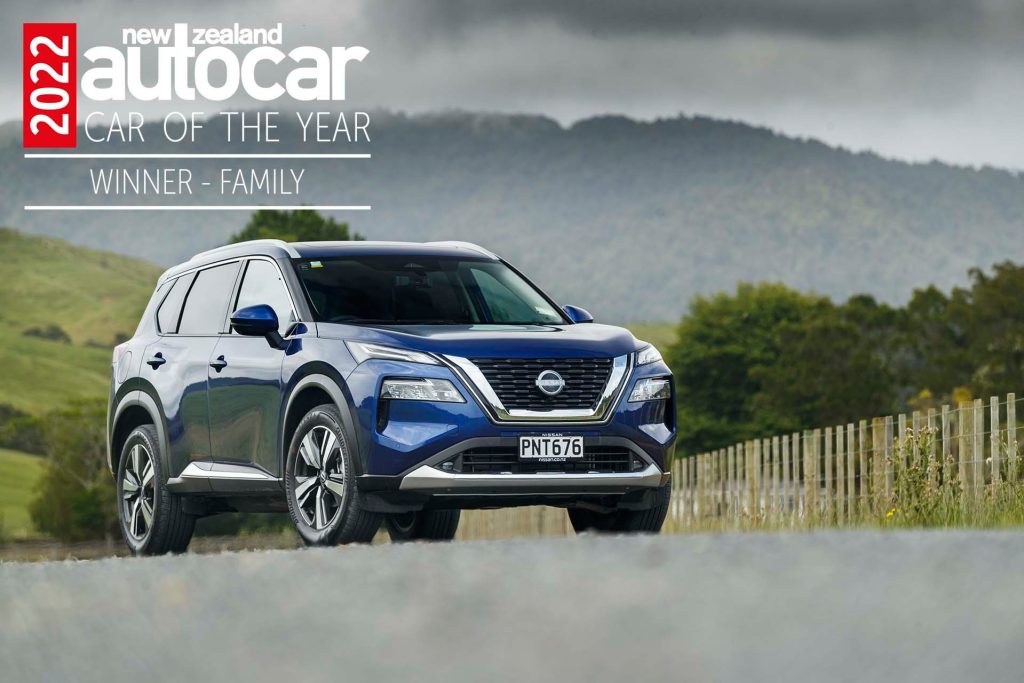 Wagons have always made good family cars. It's just that in the 2000s, a five-door with a big boot is now called an SUV. And Kiwis can't get enough of them. Nissan's new X-Trail lands in this popular sector, fronting with plenty of choices for buyers, including a novel hybrid with EV-like drive appeal. There's a good range of conventional models too with the option of front- and AWD, and sevens seats, while the top models are brimming with kit.
There's a new platform to go with the improved styling and powertrains. Inside there's been a big step up in quality, it's easier on the eye and nicer to the touch. There are more digital displays including a wide format screen for the new infotainment system.
Practicality this has in spades with rear doors that open wide for good access, there are Isofix points for the little ones, a recline function for added lounging comfort while the seat can also slide forward if you have something larger to carry in the boot. The 2.5-litre models can tow up to 2000kg (e-Power 1650kg).
The 2.5 and CVT combo returns, but each unit has been thoroughly revised to improve the usual things; efficiency, performance and refinement, the latter a key attribute of this new X-Trail.
It's also big on safety with top marks in the latest round of ANCAP testing. All models have active cruise, lane keeping, blind spot monitoring and the like, while the ST-L and Ti-L add the Pro Pilot system; an enhanced active cruise to keep you trucking along on well marked roads.
The X-Trail does everything rather well. It's refined, safe, practical and easy to live with, which is what you'd want in this sort of vehicle.
2023 Nissan X-Trail Ti-L review
Volvo C40 – Most Desirable Car of the Year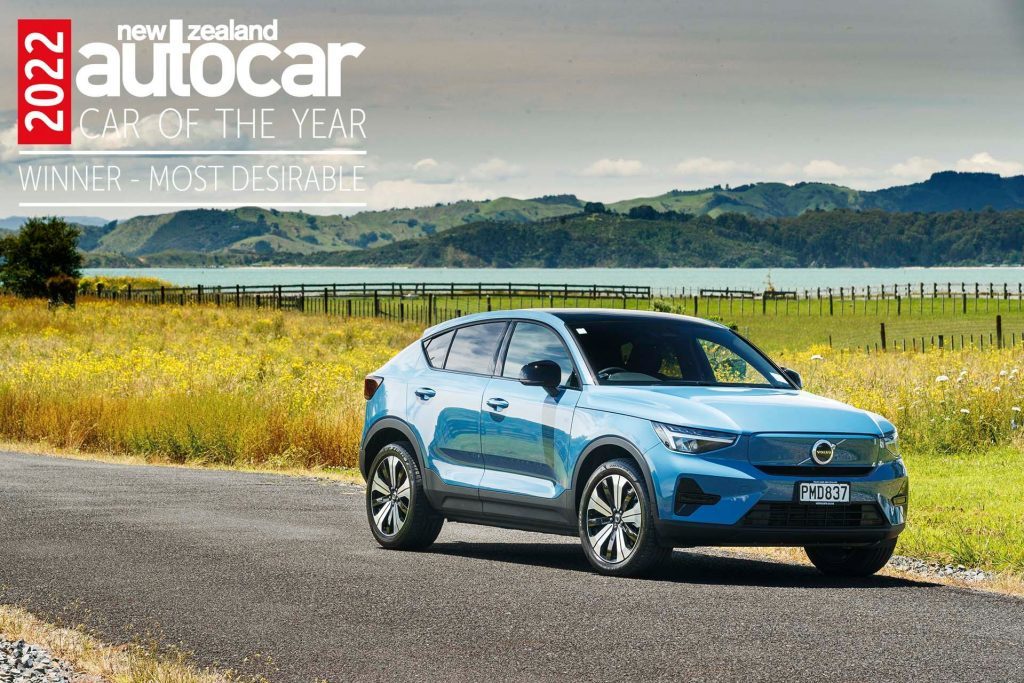 Guess it was inevitable that we would admire this new electric SUV from Volvo, given it shares its DNA with our overall COTY from 2021, the Polestar 2. Most thought the look worked too; thank those proportions, it's a well balanced visual package.
Starting at $87,500, the C40 doesn't get the rebate but that we guess that will ensure a tad more exclusivity. Unlike a Tesla Model Y, it's not something you'll see every other minute, and it's a much nicer thing to be seen in.
The single motor C40 does nicely but if you like them a bit a spicier, you can opt for the twin-motor Ultimate with 300kW and 660Nm. Typical of any Volvo, there are lots of safety systems looking out for your well-being and all are well devised, going about business inconspicuously.
It's quiet on the go, the absence of road and wind noise gratifying. The around-town ride is pleasant too. And there aren't any drive modes to worry about, it's all simple, easy, effortless. There's a controlling tune to the dampers while the C40 has torque to go and is efficient enough that you should get around 370-400km form a single charge.
The Volvo infotainment system is an easy-to-master contraption, its best card being Google integration, especially its voice command function and mapping. The stylish coupe-SUV appearance doesn't come at the cost of practicality either for it's a five seater with enough room in the rear and a useful cargo hold. The C40 is thoroughly competent, getting about business without fuss. It's an easy thing to drive and live with, while being easy on the eye.
2023 Volvo C40 Recharge P6 review
Honda Civic Type R – Performance Car of the Year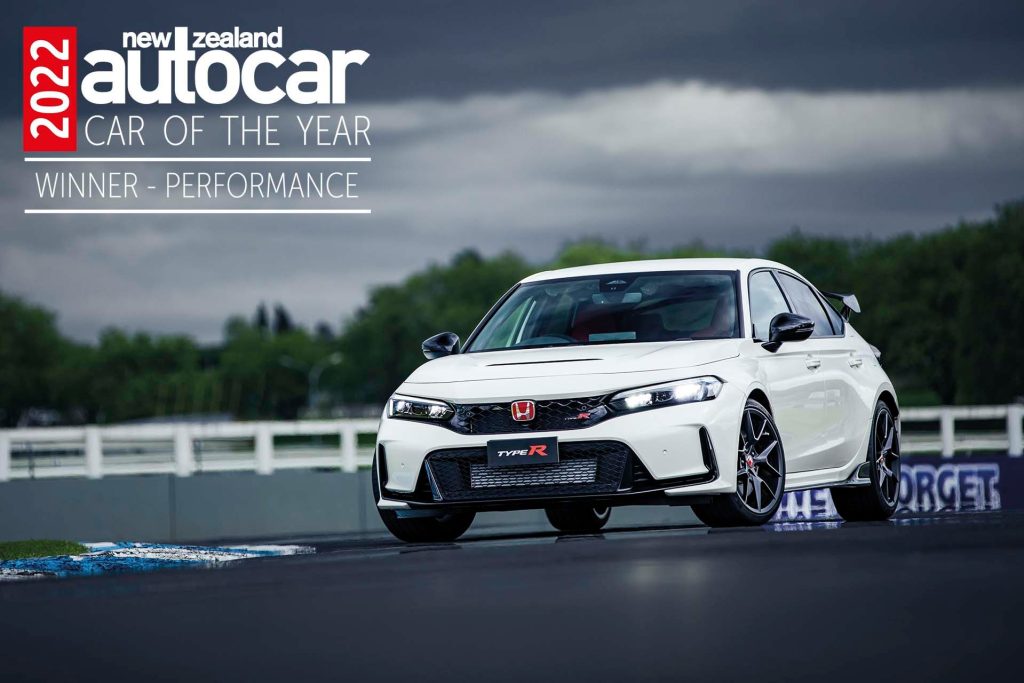 Honda's renewed Civic Type R follows the same ideals as the model before it, the one that won our car of the year award a few years back, and it still works. Devilishly well too. The Type R has all the right ingredients of a performance car; a rev happy, boosted engine with plenty of easy torque and power up top and the right kind of hardware to get the best of it, including a sweet-shifting, six-speed manual. Adaptive suspension gives it multiple talents, for it's civil enough for the workday grind while aspects like a hill holder and a decent spread of torque mean the manual is no hardship in traffic. The engine is tractable too, pulling third gear cleanly from 20km/h at 1000rpm. But then there's R mode for weekend track exploits, stiffening the suspension, amping the throttle response and tuning the noise too. It's a front driver but its steering is hard to better, while it's utterly stable and has grip to burn. It's the GT3 of hot hatches.
While the styling has been toned down, there's still a few racy aspects like the red Recaro seats and the big rear wing. The longer wheelbase gives the Civic's rear passengers more legroom, and you only have to share with one other, as the Type R remains a four seater. It's a decent load lugger too with a wide and long hold under that fastback hatch.
It's superb in every performance facet and owners will appreciate that it's not overly refined. Still it's a performance car that you could use everyday.
While highly evolved and thoroughly modern, that all-out attack mantra of the original Civic Type R still resides at the heart of this machine.
2022 Honda Civic Type R review
Some honourable mentions…
Subaru WRX – Best Bang for Buck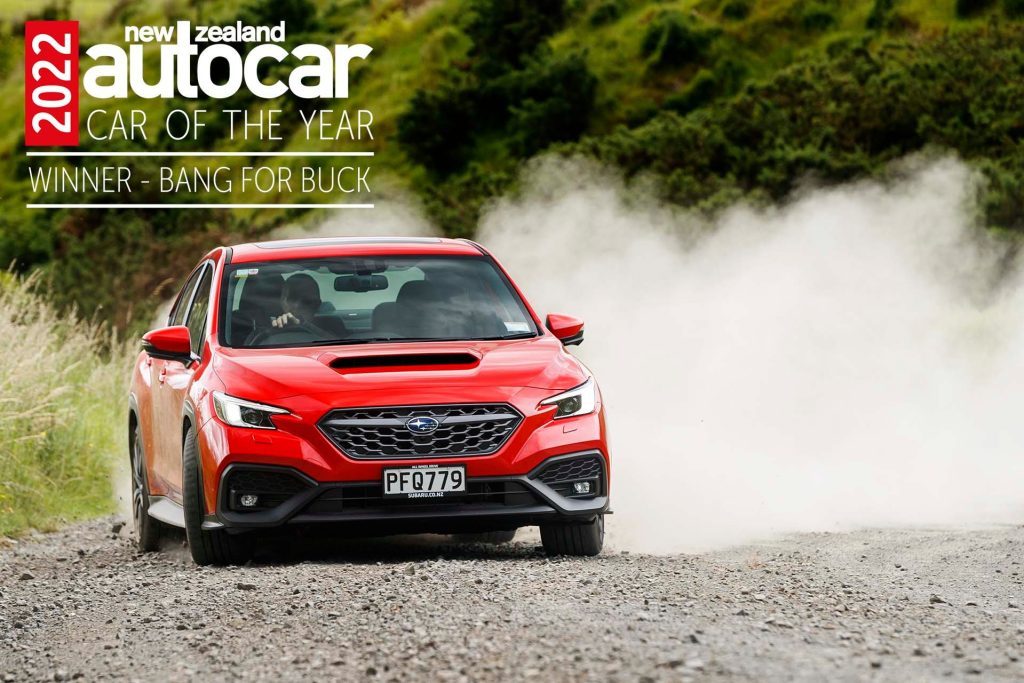 Before we get to the big one, a few other cars that came through the office this year that are worthy of a mention include the new Subaru WRX, the winner of our 'Best Bang for Buck' award. This still provides the thrills the WRX badge is renowned for but the new model adds to its allround appeal with the adoption of adaptive dampers to bring yet more civility to this more than capable AWD, all-weather performance sedan. Bigger, safer and more refined, you can still get it with a manual or go for the convenience of the two-pedal option. This also gets all the safety features, while a new infotainment system brings it up to date. You can also get your hands on one, with fewer supply issues than some other performance options.
2022 Subaru WRX 2.4 tS & WRX GT tS review
2023 Subaru WRX 2.4T Premium manual review
Opel Mokka – Hipster's Car of the Year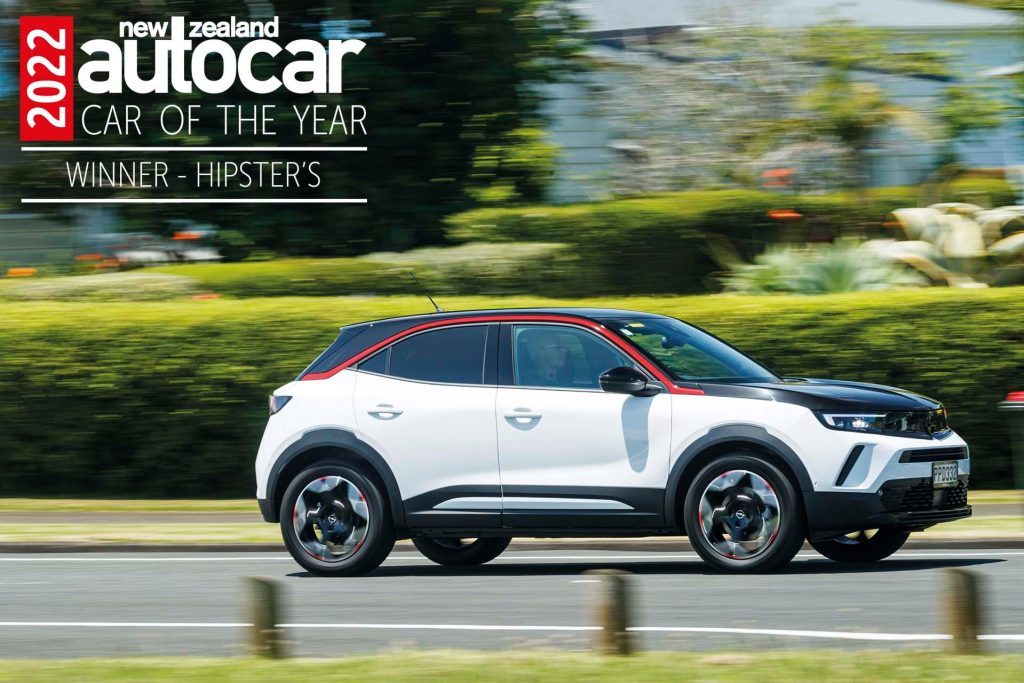 If you want to stand out in the sea of same-same small SUVS, opt for the Opel Mokka, our Hipster's COTY. If you've been targeted by the marketing, you'll know what we mean. It's styled to make an impact, and in Mokka-e guise, sends the right message. The "bold and pure" design ethic and funky two-tone paint options give it street presence, and its compact dimensions and driver conveniences see it at home in the city.
Skoda Fabia – Urban Car of the Year
Another good choice for such environs is the new Skoda Fabia, our Urban COTY. While many brands are pulling out of the small car market here, Skoda is offering a smart choice in its all-new Fabia. Now a bigger, more practical offering, it's positioned here with a high specification in a sporty Monte Carlo guise. Cheaper than most high-spec compact SUVs (that have eaten the small car market share), this drives competently, gets a handy rebate, and while it's a sweet city slicker, it does good work too on those out-of-town jaunts.
2022 Skoda Fabia Monte Carlo review
Toyota GR86 – Most Dynamic Car of the Year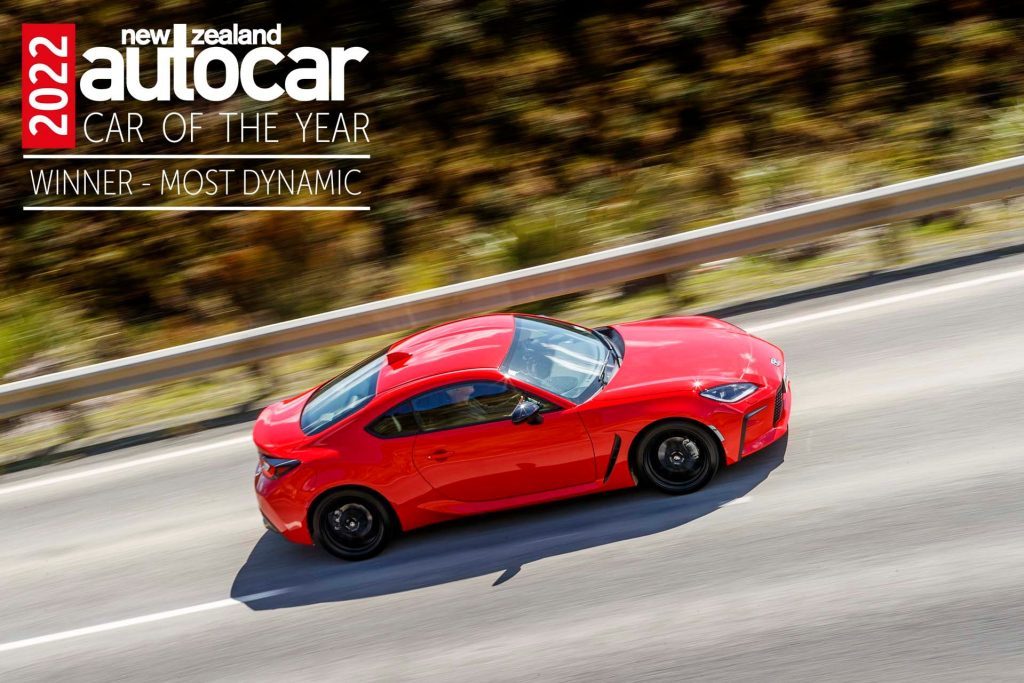 If you are one that longs for a decent driver's car, and don't need five-door practicalities, the Toyota GR86 is for you, which we name as our Most Dynamic COTY. It's low slung coupe formula might not work for everyone, but with an emphasis on honing the good bits and giving it a bit more motor, the GR86 is a driver's dream with quick and accurate steering, superb chassis balance, telling suspension compliance and a great acting six-speed manual. A pity they are all sold out here then.
Triumph Tiger Sport 660 – Bike of the Year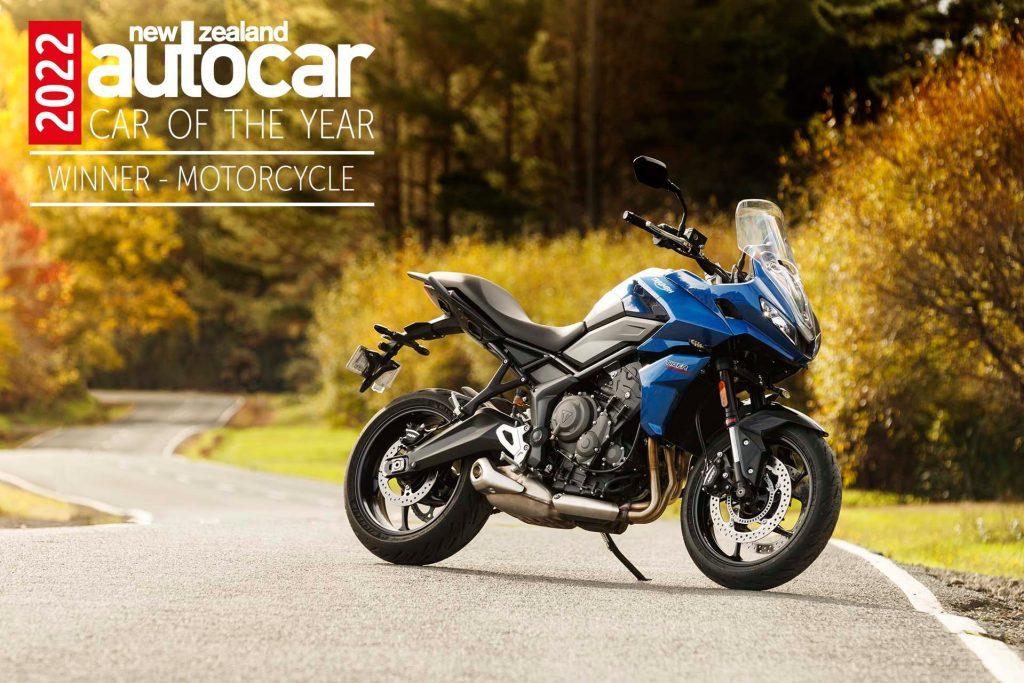 While ADVs might be in favour at present, our Bike of the Year isn't a tall roader. Well, not quite, for it is more elevated than the norm, with a seat height of 835mm. It's more the crossover then, though it won't be plying any dirt roads any time soon, with its 17-inch Metzler Road 5 rubber at each end.
What's also a bit different about this BOTY is that it is a LAMS offering that provides sufficient performance that learner riders won't feel the need to upgrade immediately once they get their proper stripes. Part of its allure is an inline triple with 62Nm of torque, most of which is seemingly available from 2000rpm onwards.
The machine to which we refer is Triumph's Tiger Sport 660. Not perhaps one that stands out for any single reason but rather one of those bikes that offers great value considering spec and quality for its $15,990, and doesn't really put a foot wrong anywhere. Okay, so the seat could do with a touch more padding. The ease of the ride is persuasive, a beautiful mix of lightweight agile handling and a smooth ride. There's an adjustable screen, pannier mounts, strong Nissin brakes, sorted Showa suspension, and there are TC and ride modes. A left-field choice? Maybe but a worthy BOTY, nonetheless.
2022 Triumph Tiger Sport 660 LAMS review
BYD Atto 3 – Best Value and overall COTY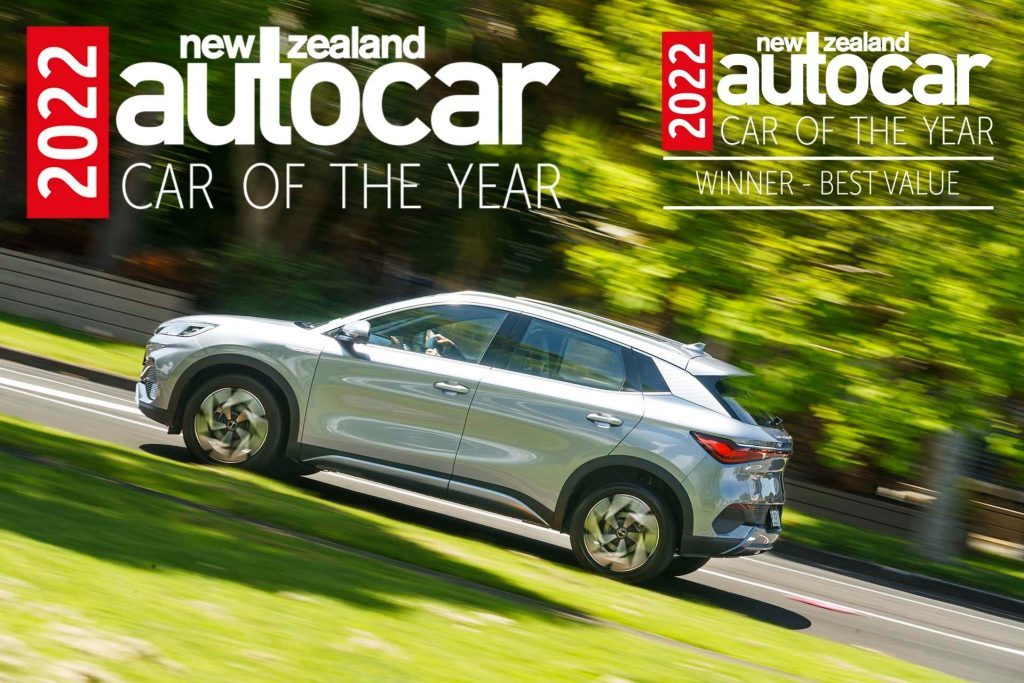 BYD arrived seemingly out of nowhere half way through last year, and quickly ramped up its presence in the main centres. On the back of its affordable price tag, the BYD Atto 3 amassed over 1600 sales in just six months. Mazda, by comparison, could only move 500 of its similarly sized and priced CX-30s all year. Despite price rises since it first launched, the BYD Atto 3 is still astoundingly good value when you look at what you get.
Now starting at $58,990, or just over $50k once you get your rebate, the standard specification shames most European models costing twice as much with a panoramic sunroof, powered tailgate, a 12.8-inch touchscreen, a five-inch digital instrument panel, a 360-degree view monitor, and wireless phone charger while owners benefit from over-the-air updates, bringing more tech as it comes online.
The Extended range model, with a 60kWh battery has a claimed 420km range while the 50kWh model is pegged at 345km. As for energy consumption, it's good for around 14-15kWh/100km. It's lithium iron phosphate battery chemistry is claimed by BYD to be safer than conventional lithium-ion tech and has a longer cycle life. BYD says it can handle 5000 charging cycles before its state of health degrades to around 80 per cent. It also comes with a six-year/180,000km battery pack warranty while the rest of the car has six-year/150,000km cover.
Its exterior styling is interesting without being too out there, unlike the interior which looks organic with its curves and contours. The build quality and materials used are genuinely impressive and the powered, heated seats are certainly comfy.
This five-door has good room in the rear along with a 440L boot. There's the usual split folding and Isofix points for the kids' seats. It's practical then. There's also a vehicle to load power adapter and a tow bar is available, though the capacity is a mild 750kg.
It goes well too with a decent ride thanks to well tuned dampers, rolling over most bumps with composure. The steering is vice free and the power delivery is sorted, though the vehicle deserves better tyres. There's also a five-star ANCAP rating, its active safety systems aren't too bothersome, the lane keeping is well calibrated, and so too the active cruise.
The Atto 3 was the 'surprise package' of the year, from a brand you'd never heard of. And with the dealer network expanding and more models on the way, 2023 should be an even bigger year for BYD here.
2022 BYD Atto 3 Extended Range review
2022 BYD Atto 3 Extended vs 2022 MG ZS Essence EV comparison review