Toyota's 86 is back, though there's just a single variant now, known as the GR86. It's not only the new motor that makes this special.
A decade on from the release of the original 86, Toyota's two-door hardtop sports car has been renewed as GR86, with a similar, recognisable design and sharp dynamics. Why mess with a good thing? Except where they did mess with it they chose the right bits to make more righteous.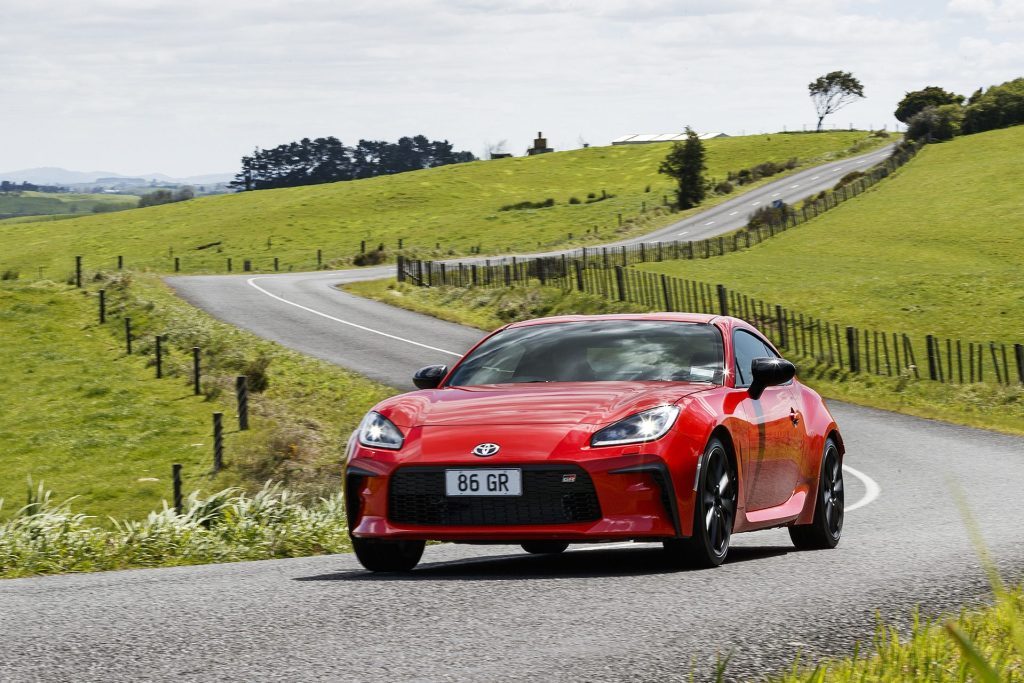 Like the engine, for instance. Some thought the original 86 had a motor that wasn't blessed with enough power while the torque peaked at silly high revs.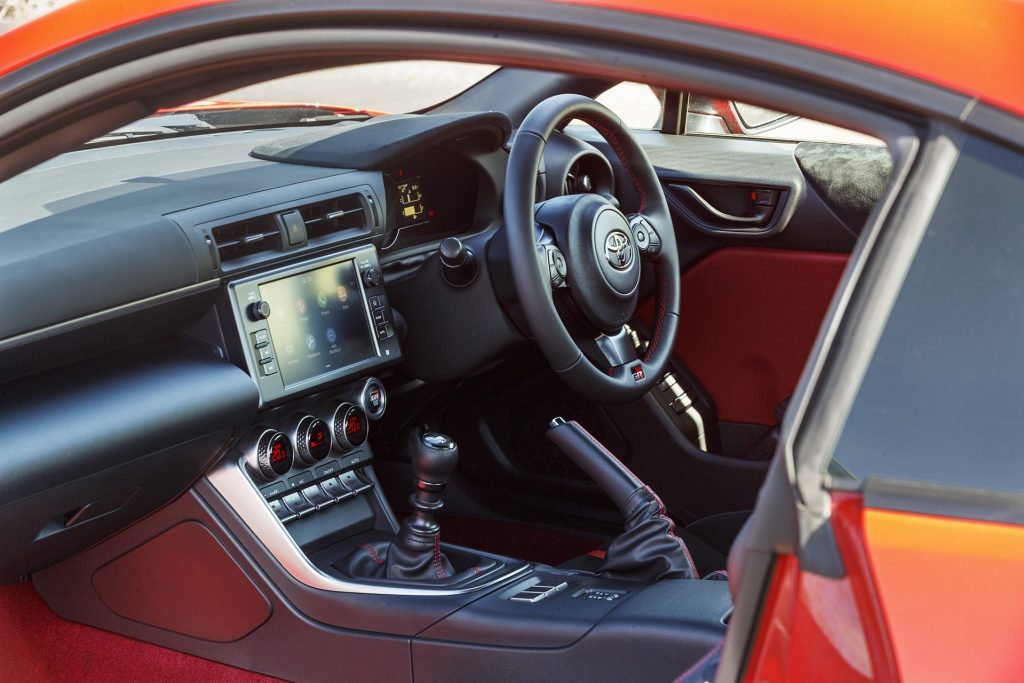 The new 86 is rather different, though in essence is simply upsized in both the engine and body departments. It's a familiar design, and the dimensions are only slightly enlarged (5mm increase in wheelbase, 10mm increase in rear track, 5mm increase in ground clearance and C of G a poofteenth lower). It has much the same feel as before too with controlling suspension, still by struts up front and double wishbones at the rear. There's increased use of aluminium in the roof, front fenders and bonnet, along with greater application of high strength steels for a 50 per cent increase in torsional and twisting strength. Weight is evidently up in the manual, the car we drove, by 16kg to 1285kg. There is an auto available too, if you must.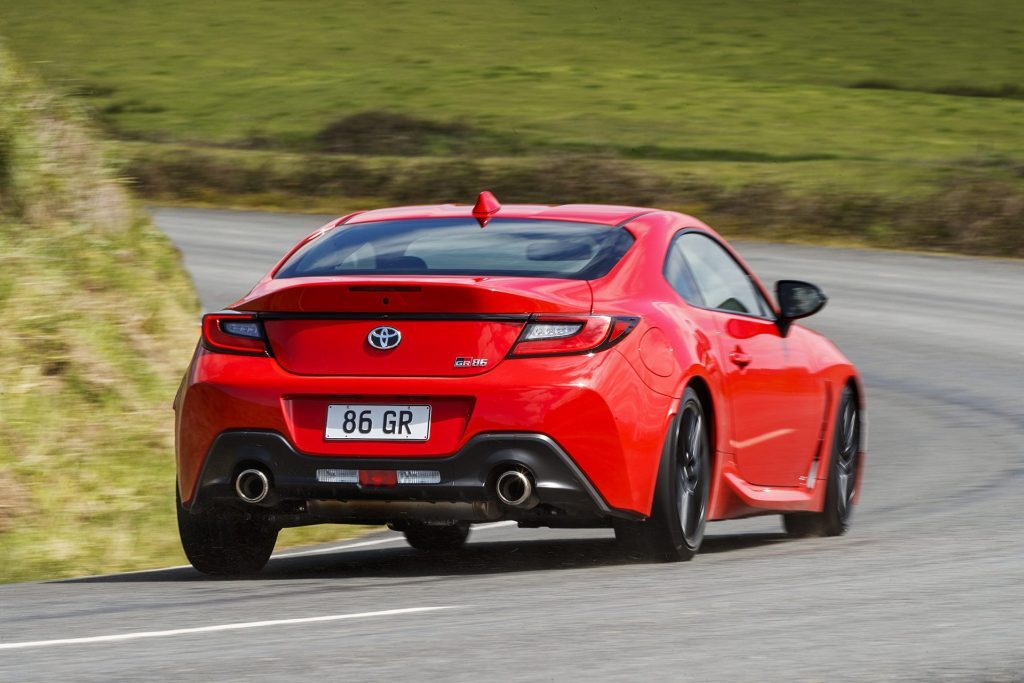 Engine up
The real change, clearly the most significant one, is that the motor has grown into something more robust, up from two litres to 2.4, with a bunch more torque that's rather more accessible. Still no turbo mind but now it will pull away smoothly from 1500rpm or so which equates to 50km/h in top gear. By 2500rpm there's a genuine sense of purpose and from there to 4500rpm the output is bristling which suffices for 90 per cent of your daily driving. At 4500rpm it hits its second wind, and really starts to sing, all the way to 7400rpm.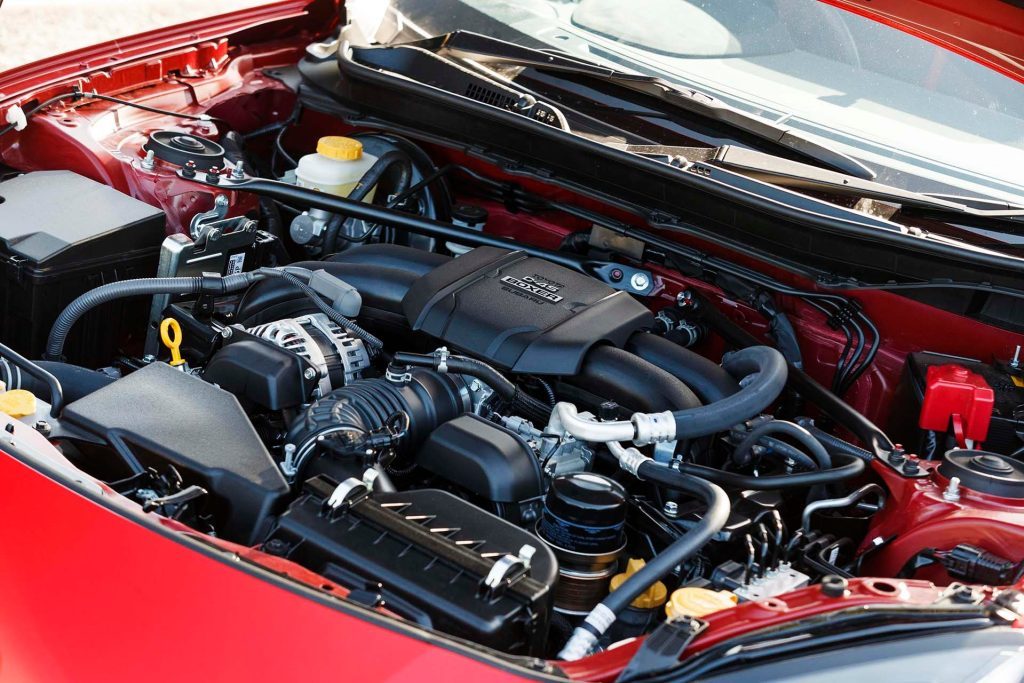 There's 20kW more power which is nice and 45Nm more torque, better yet. But the real kicker is that the peak arrives at 3700rpm, which is 2700rpm lower than previously. Praise be. That's due in part to the fact it now has both port and direct injection. This makes it even friendlier in day to day use.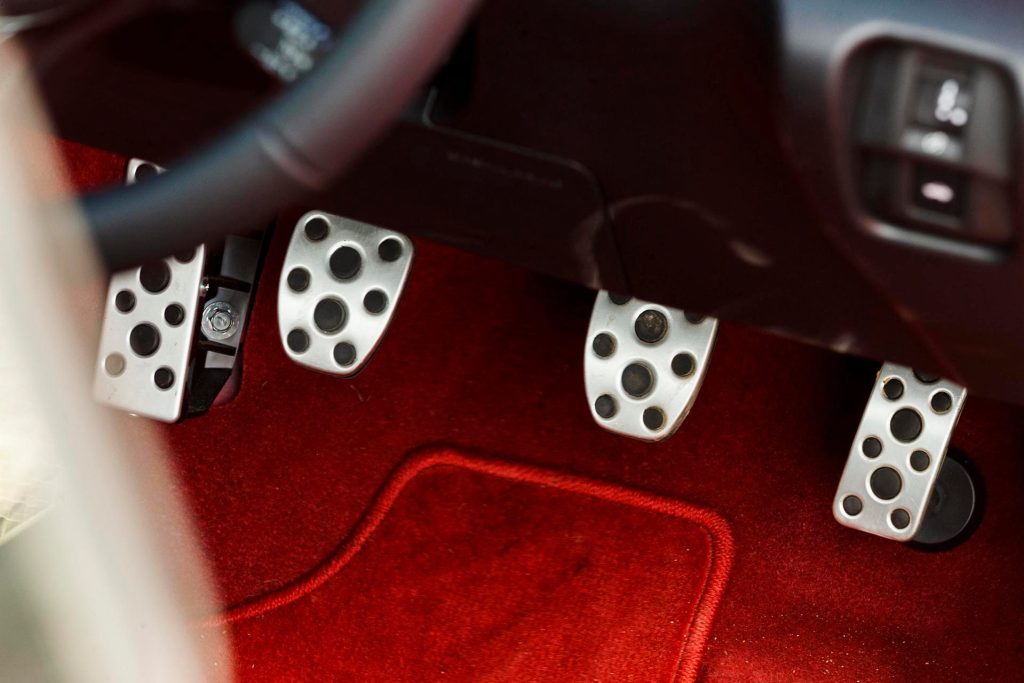 Sometimes we'd slot third thinking it was first, and with gradual clutch engagement, it will pull away from a standstill without complaint. You can miss every other gear if you're feeling lazy, and it doesn't skip a beat.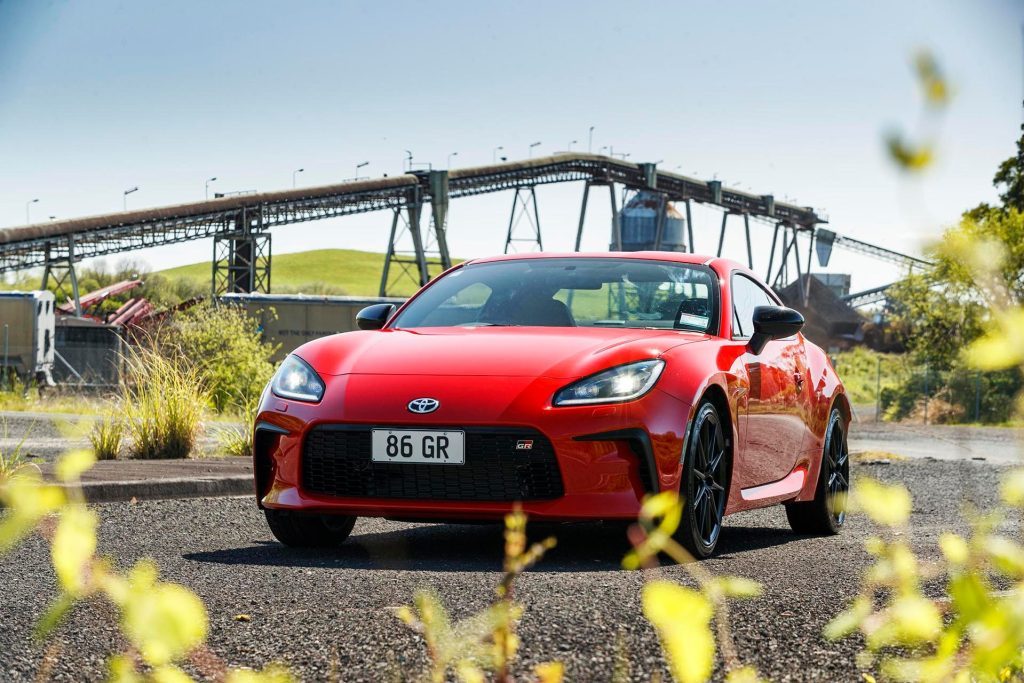 That extra grunt transforms this car into something even sportier. We also like the noise it emits in that top third of the rev range, sounding oddly like an RX-8. Strange but true. With an aftermarket exhaust we imagine it would really come alive.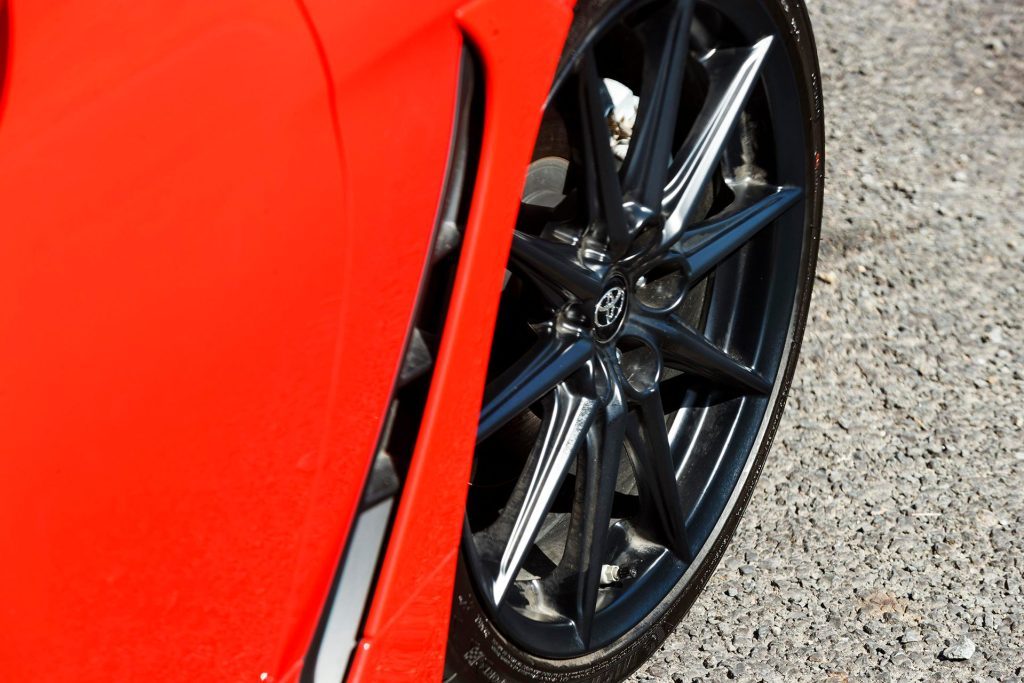 It's just a pity that much of that goodness is muffled when you're threading this down roads of interest by the clamour from the Michelin Pilot Sport 4 rubber. The SPL meter revealed that on regular backroads the cabin readings reach up to 80dB and on the harshest coarse chip seal they're over that. 
A pity that too because we've only minor quibbles about the rest of the drive experience. Toyota has gone where BMW once went with its indicator action. What were they thinking? Cancelling after a lane change is a hit and miss affair.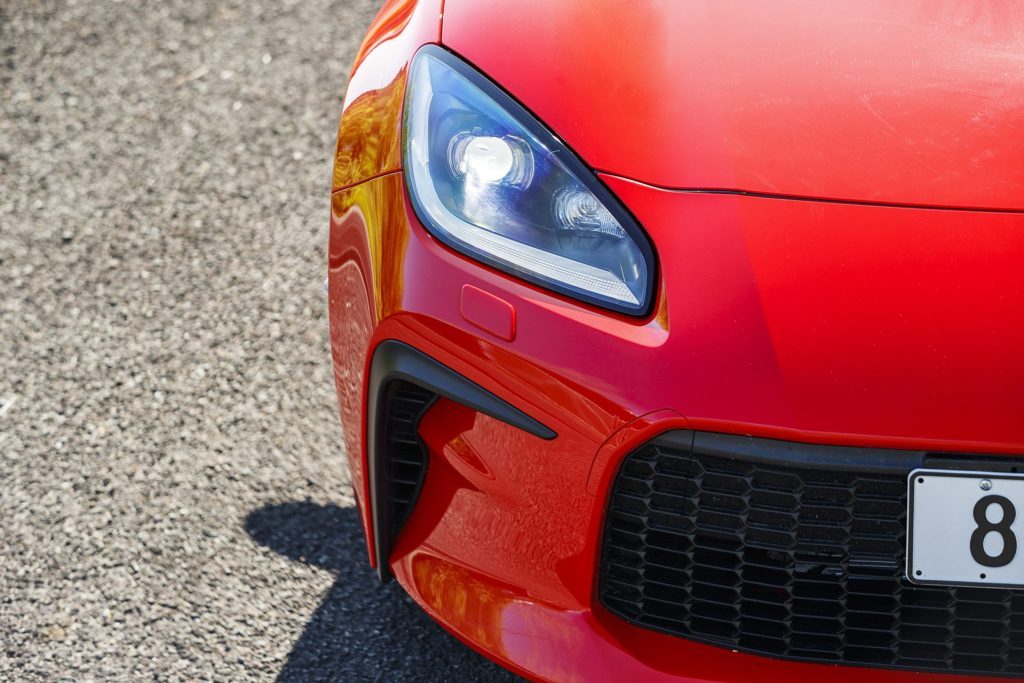 And so is acceleration
Naturally with a power to weight increase, there's been a lift in straight line performance. For it's significantly quicker by the seat of the pants and on GPS testing. It met its sprint claim of 6.4sec, on the second run, and we achieved a best of 6.18sec. That's a second quicker than the original. The auto version is rated at 6.8sec because of taller gearing.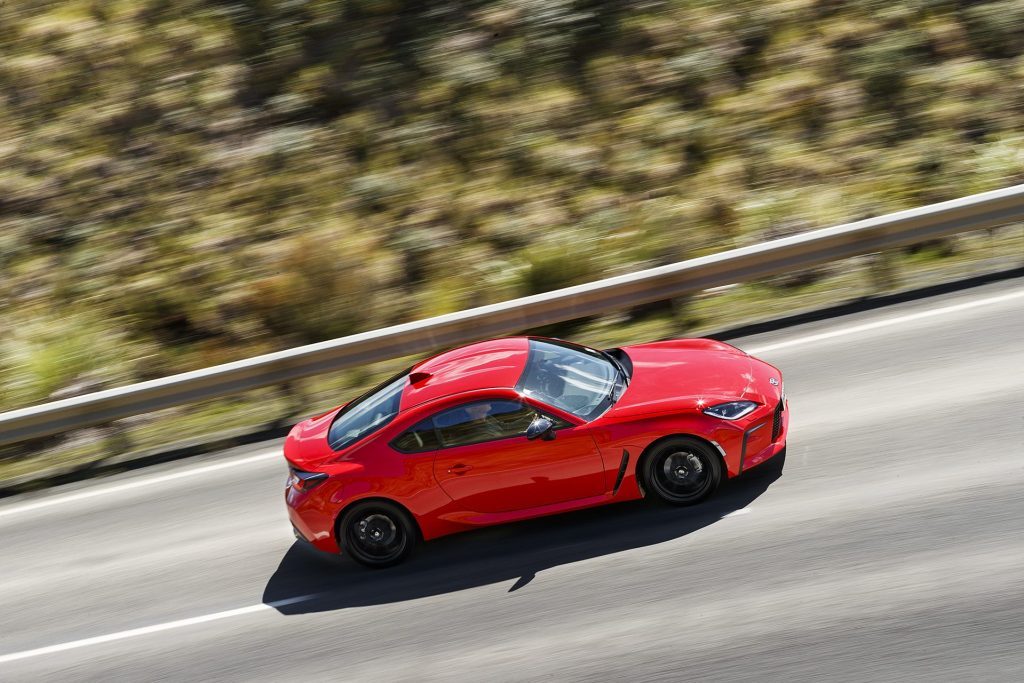 On the overtake this is also much improved, a 3.8sec best compared with 4.4sec previously. A downshift to fifth is sometimes all that's needed because 100km/h in top is 2500rpm.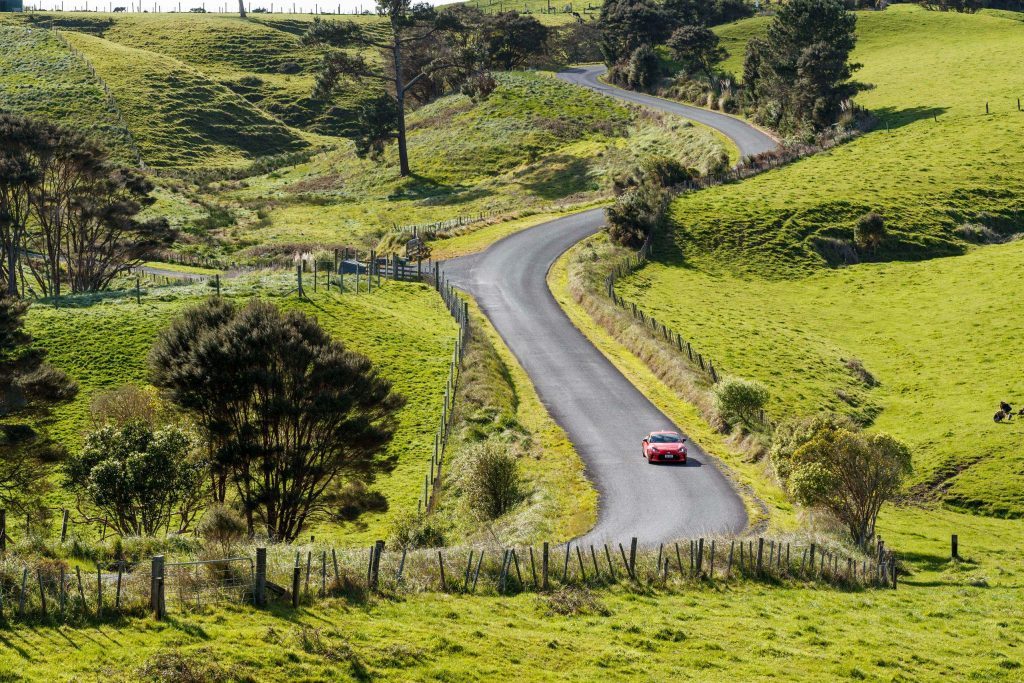 It's just a pity then that there has been no great lift in stopping ability. The brake action we feel is undercooked. While they do warm to the task, even then they're not that great. There's seemingly not enough bite, and too much pedal pressure is needed for serious stopping. Even then the feel at the pedal is wooden. This car deserves better.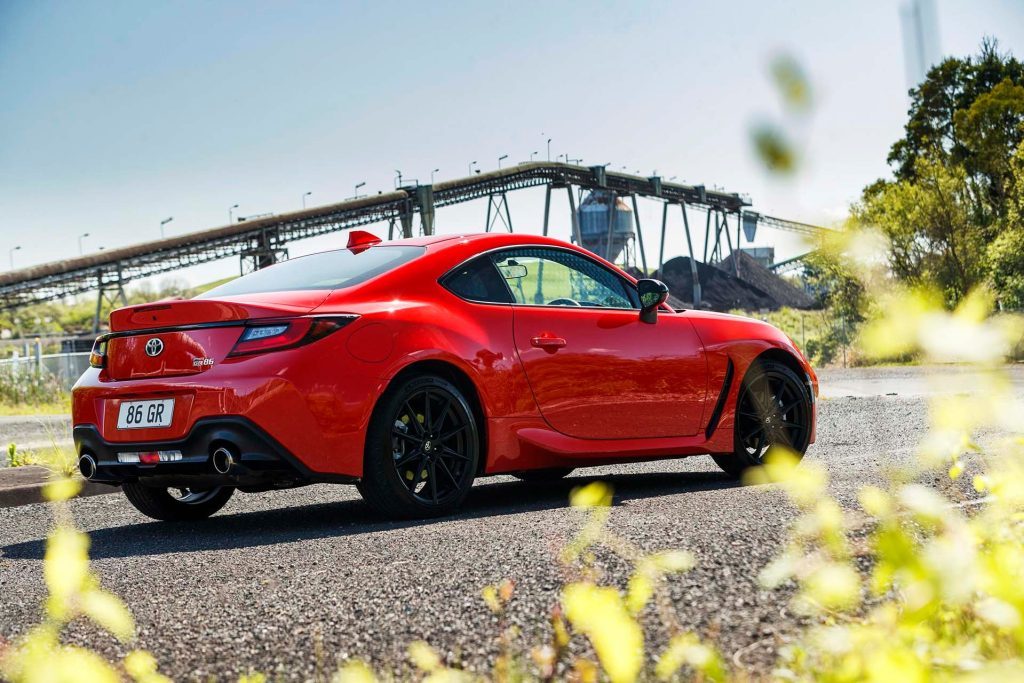 Corner stick
As to generating lateral Gs, this second-gen offering is something else, not that the original was exactly wanting. It has a decent sense of balance and hangs on for dear life in corners, the rear eventually letting go and being caught deftly by the ESP if you're trying too hard. Otherwise it just rails through carrying speeds that are genuinely exhilarating.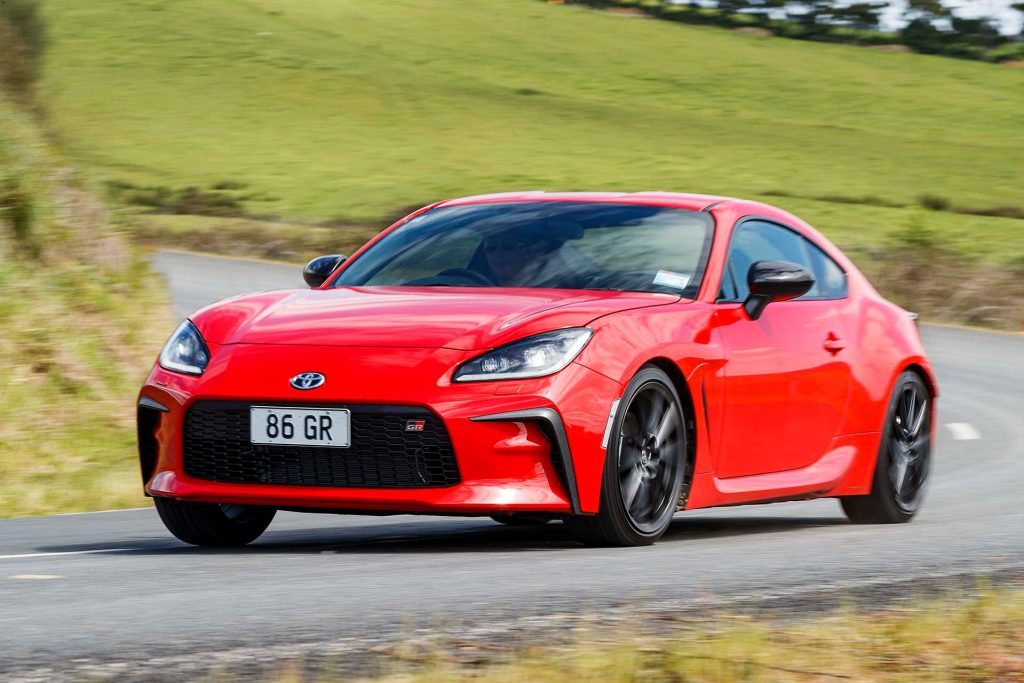 It still steers sweetly too, quick to turn and accurate, if not perhaps the last word in communication but there's no unwanted kickback or bump steer. And on that, the suspension produces a well controlled ride, especially at open road speeds where the wheels track the bumps and dips faithfully. At urban speeds progress can be busy at times but it's worth it for what's in store elsewhere.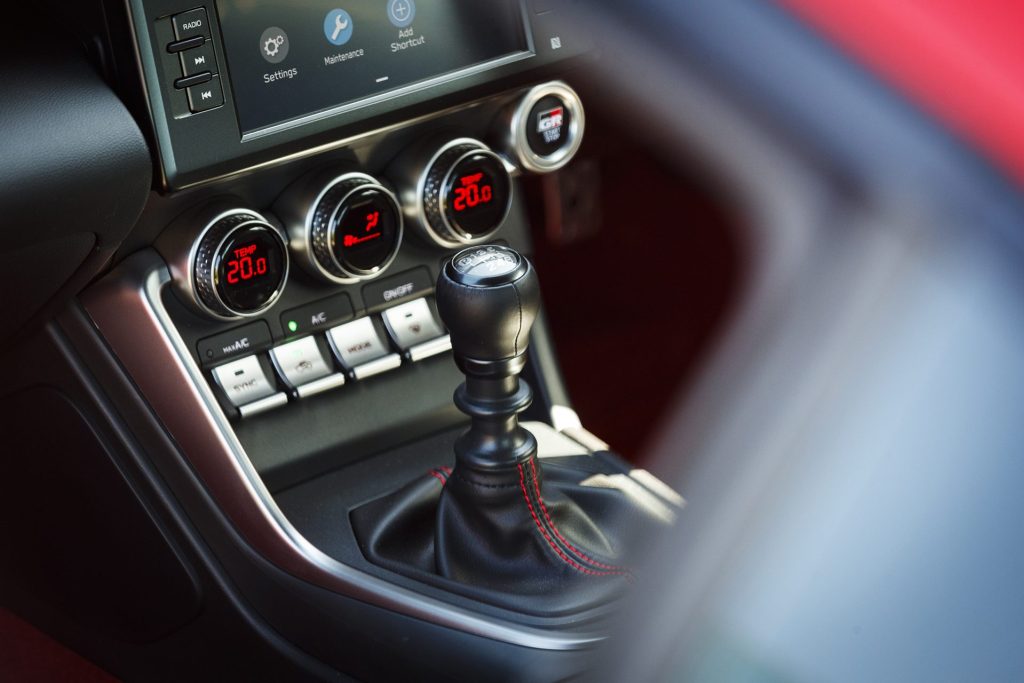 The transmission is good, if not quite the best manual box we've encountered. But it doesn't mind being rushed as the numbers would indicate, needing a shift to third to hit 100km/h.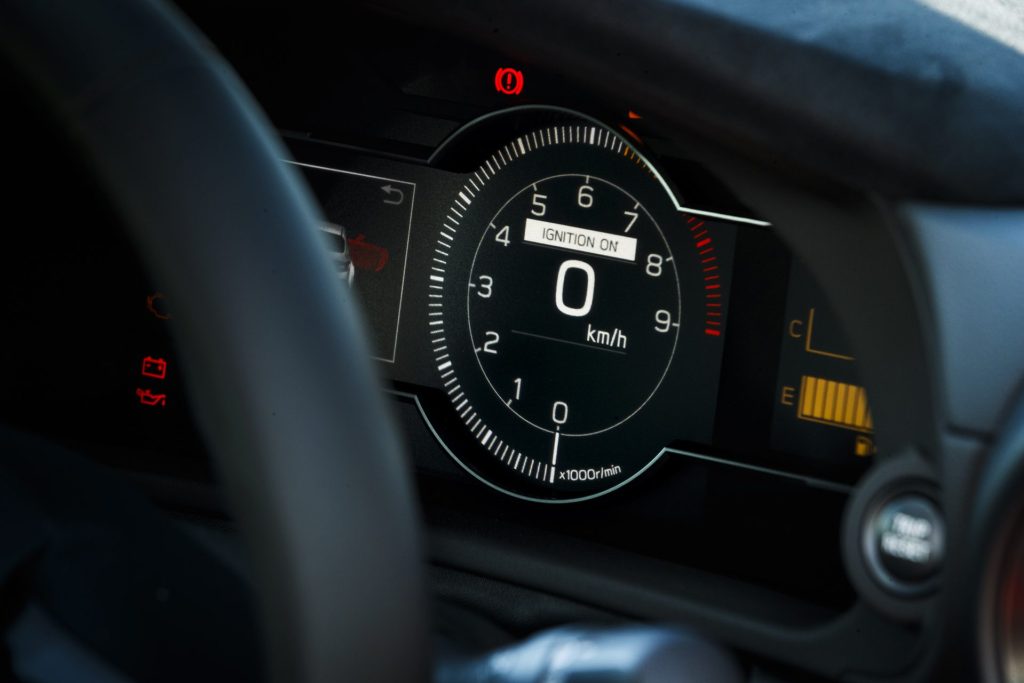 Practicality good for two
As for day to day use, it's reasonably straightforward, not that getting in the cabin is all that easy, being low slung at 1.3m in height. Access to the luggage area is mean too, while we only made one attempt to get into those rear seats with next to no legroom. These are for kids perhaps, if you're a meanie, and best used as extra cargo space. Once seated up front, things feel natural, the reach to the shift lever and controls (including an old school handbrake for quick 180s) easily accomplished. Good pedals too, well placed.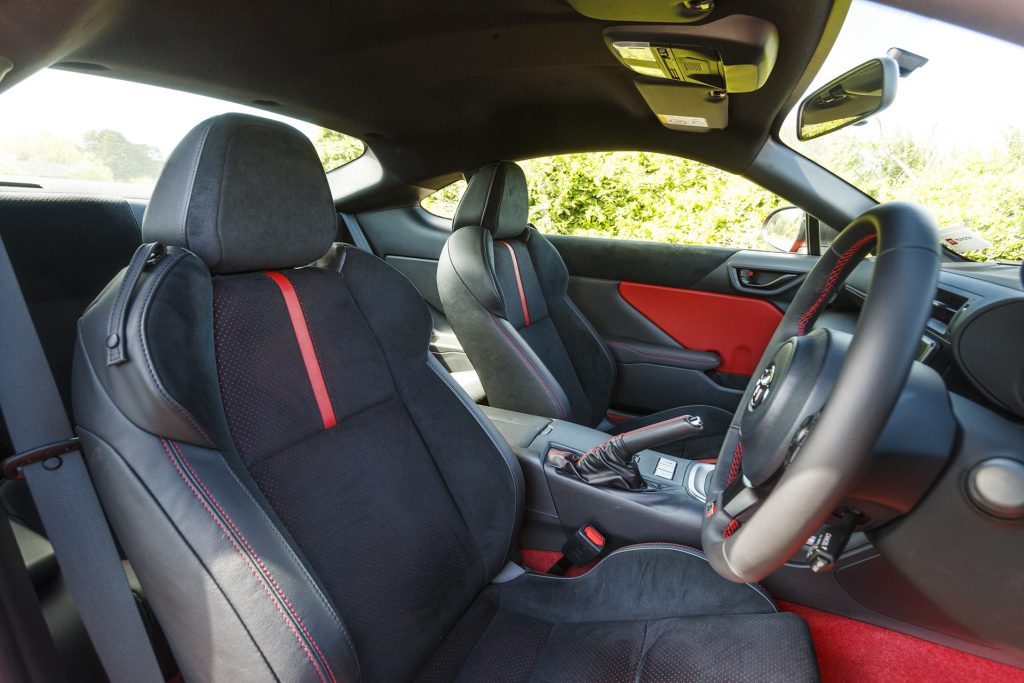 There's no active cruise or active damping here, and no lane keeping or
AEB either. But those aren't really missed…until they are perhaps. There's BSM which is helpful given the limited view out to the left hand rear side, blighted by a thick C pillar. Headroom here is good though, in contrast to the rear. And it's much better than in like-priced MX-5 RF hardtop rival so GR86 is more appropriate for taller folk, not that either is especially easy to enter or leave.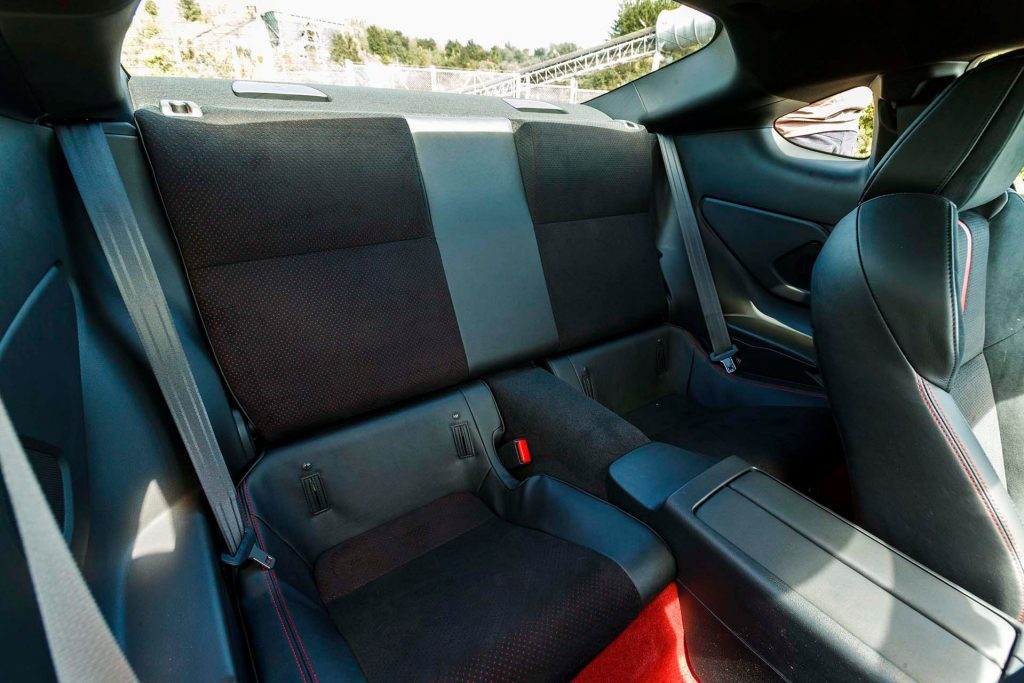 Other options?
If you're just so over manual transmissions, there's an auto six speeder as an alternative, both for $56,990 and they come with a three-year/100,000km warranty. The auto gets a bit more safety gear too, like adaptive cruise, lane departure warning, AEB, reverse auto braking and high beam assist. But why would you go auto, unless you planned on strictly having it for round town use, which would be a waste. Both come with shapely suede-covered heated seats, RCTA and tyre pressure monitoring. The touchscreen is compatible with both smartphone types too.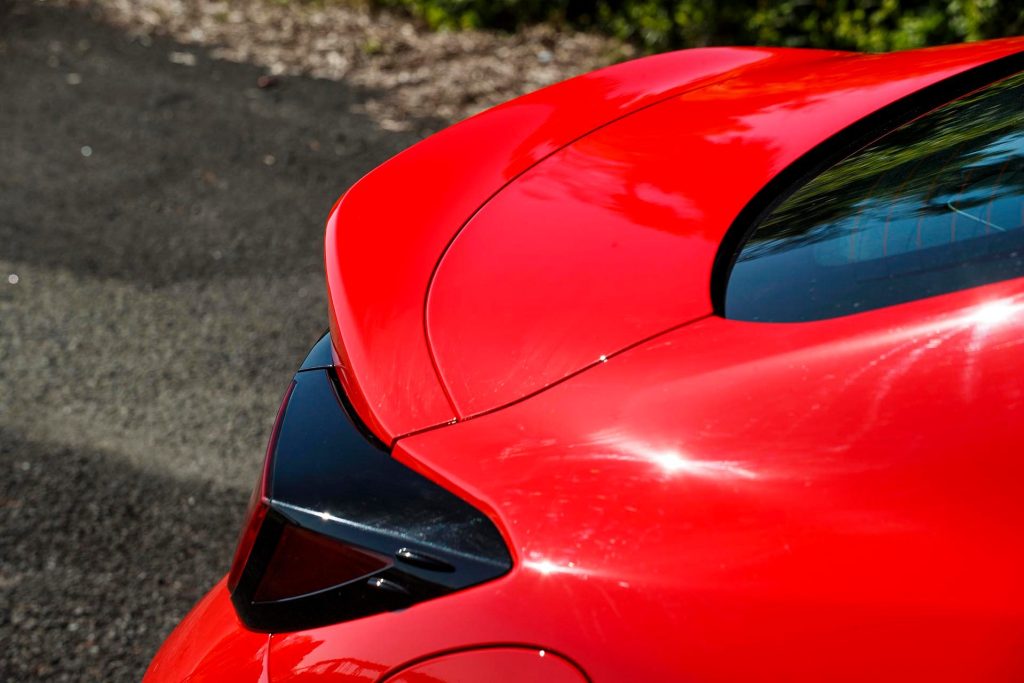 One final rival we haven't touched upon? The i20 N. Just kidding; that's front drive. And as to the GR86 twin, Subaru's BRZ, you can forget about that, at least new here. Subaru reckons it doesn't fit with its AWD policy. It's probably more about the numbers game.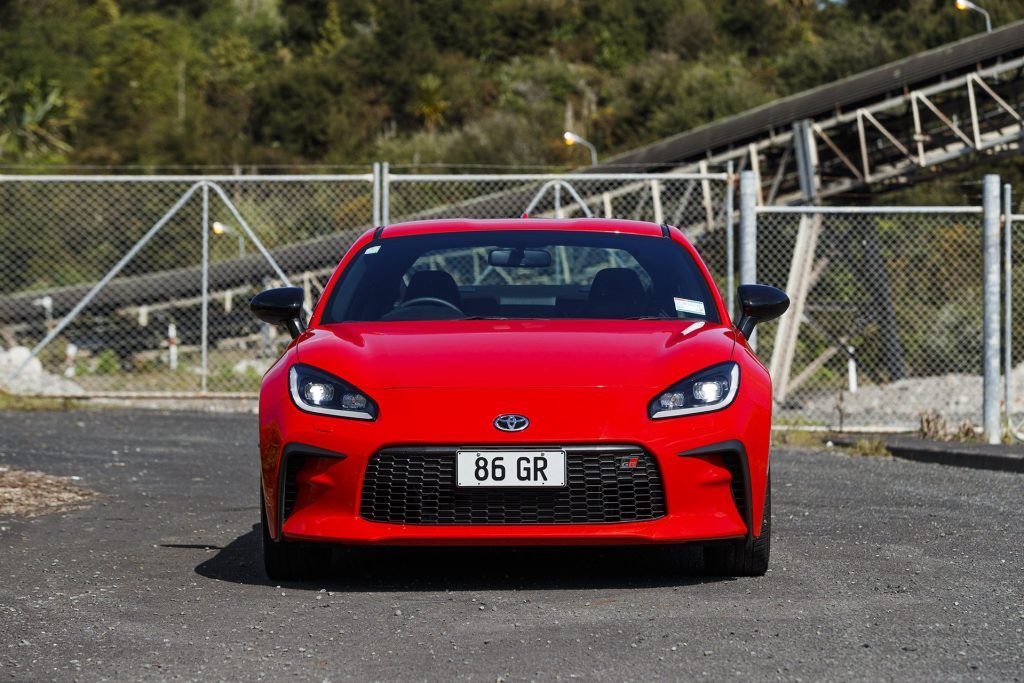 Anyhow, while the sticker price has grown rather, GR86 is now a more rounded offering than it once was and gives the likes of MX-5 RF a proper hurry along.  
Model
Toyota GR86
Price
$56,990
Clean Car Discount
Fee + $3220
Engine
2387cc, B4, DI
Power/Torque
174kW/250Nm
Drivetrain
6-speed manual, RWD
Fuel Use
10.6L/100km
C02 Output
242g/km
0-100km/h
6.18sec
80-120km/h
3.78sec (108m)
100-0km/h
34.82m
Stability systems
ABS, ESP
Safety
AEB, ACC,
BSM, RCTA
Luggage Capacity
237L
Tow rating
not rated to tow
Service intervals
12 months/15,000km
Warranty
3 years/100,000km
ANCAP rating
not yet rated
Weight
1285kg (claimed)