The third N offering from the Hyundai performance division has launched here, pricing of the i20 N raising some eyebrows. Is it worth the $54k ask?
Hyundai's N division has designed and released the i30 N and then the Kona N performance vehicles for RHD markets and now fronts up with its boss baby i20 N.
Is it a case of third time plucky?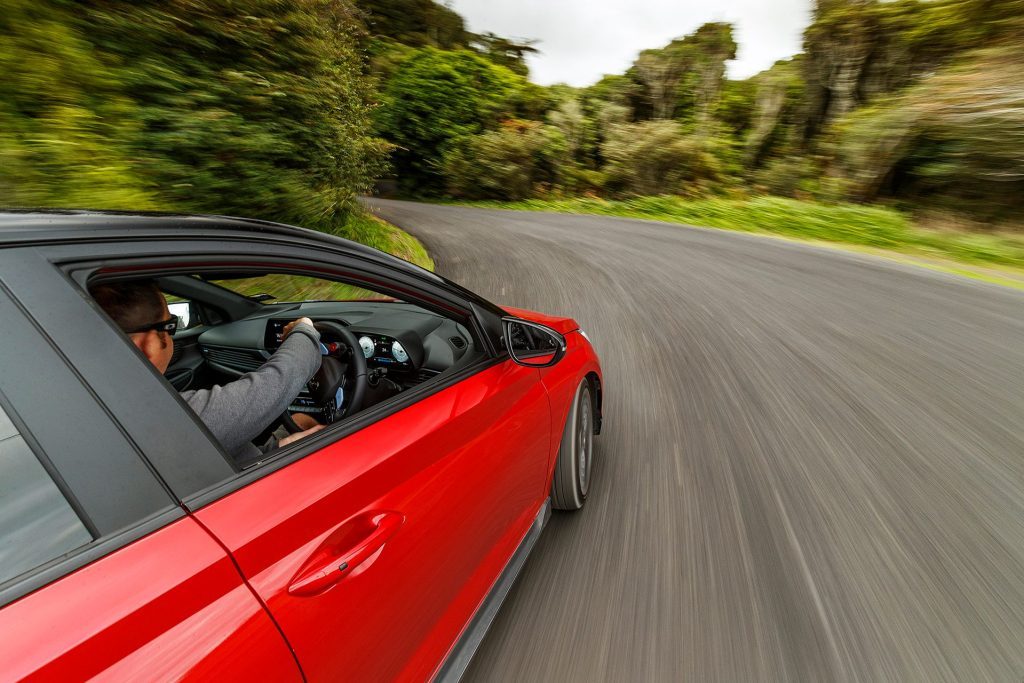 This is the latest offering from the N front drive programme with a turbocharged 1.6 engine poked into a relatively lightweight 1235kg body. It promises much on paper with 150kW and an overboosted 305Nm driving the front wheels through a limited slip diff, and offering the potential for a low-six-second 0-100 time. That's pretty quick for a weenie, especially for a manual. The only small front driver that's quicker is Polo GTI but it uses a twin-clutch box. Remember, the i20 N runs a six-speed manual transmission only so to give the hot Polo a run for its money – the N division quotes 6.2 seconds for i20 N – is quite a feat.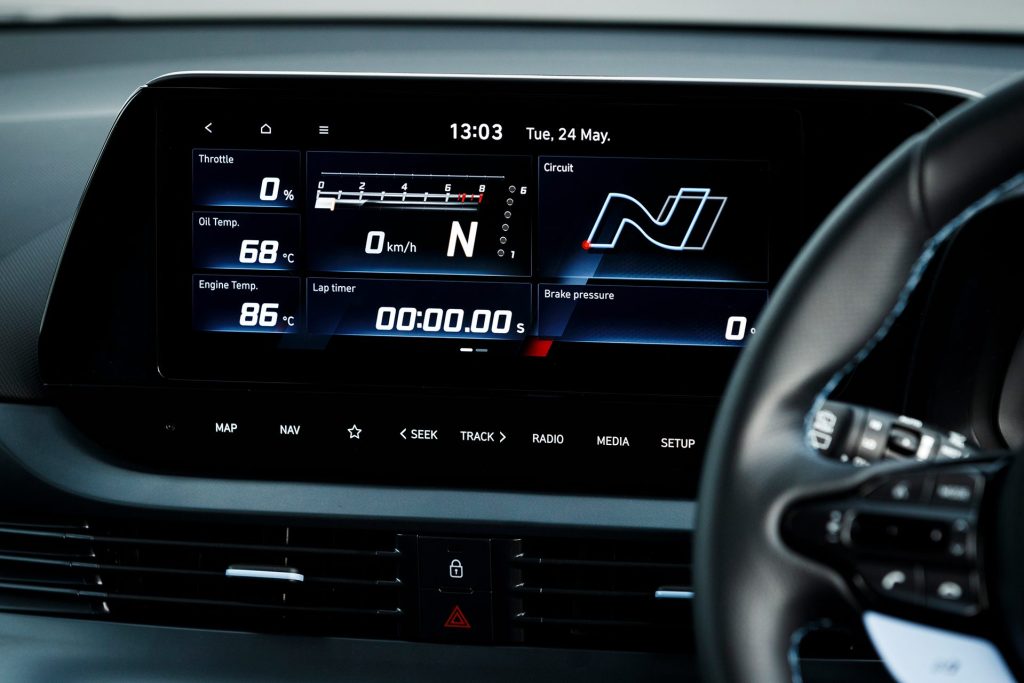 We first met the i20 N on track and in N mode it was a real blast. On road, you've five other drive settings to choose from, two of them user customisable. So you can have the motor set to Sport, for example, and the steering at a more Comfortable level. Or you can simply choose the Sport mode where things are nicely amped without going all track attack mode, or even Normal if you don't really feel like rifling through every corner.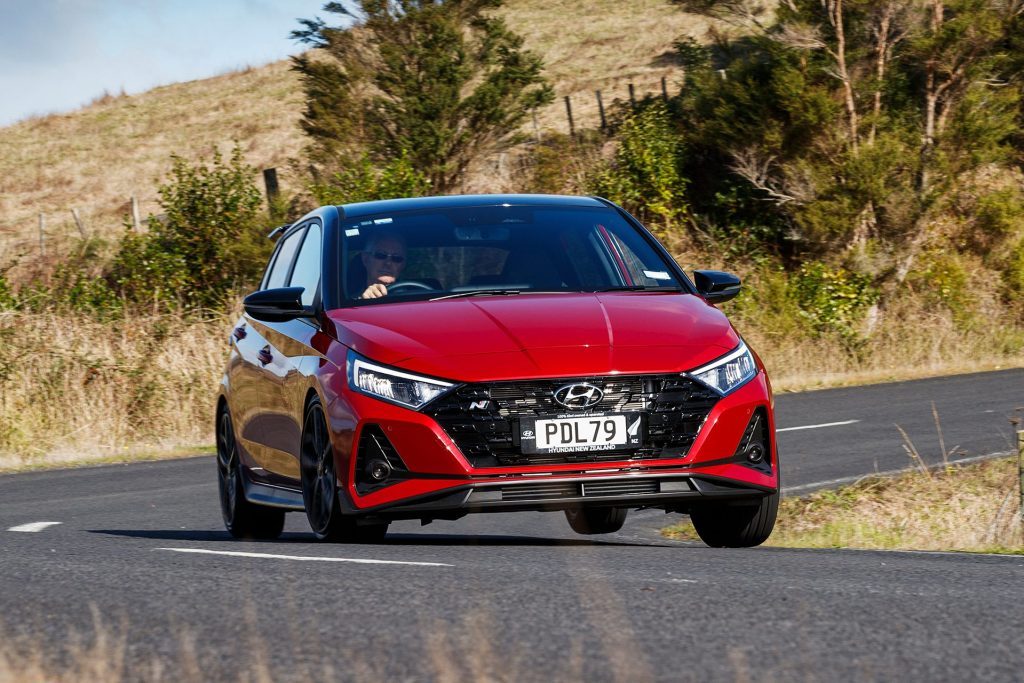 N-Road (Non) Sense 
In the modes not activated by the N buttons, any bend the car spies ahead (and it can clearly see them so why not give the car adaptive cruise control – so annoying not having it at this money) it feels duty bound to mention "S bend ahead, turn on N mode?"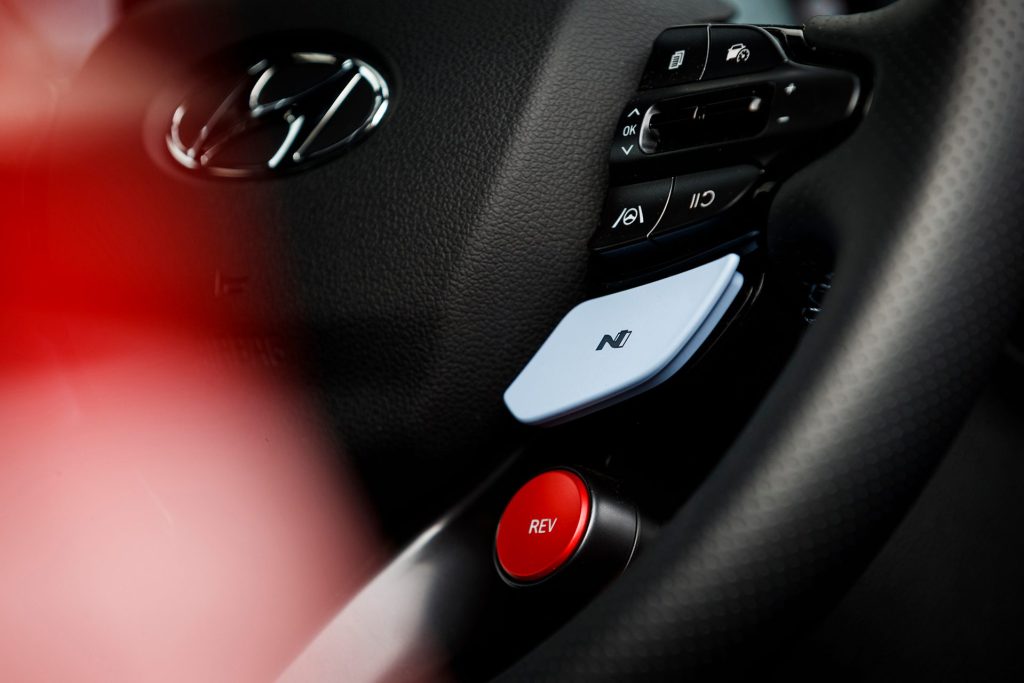 Annoyingly, it's not always an S bend, which is surely one followed by another in the opposite direction, that the car is detecting. Pedantic, sure, but it's a warning that comes well after you've seen it ahead anyway. Besides, any driver of this car will dial up N mode when they see fit.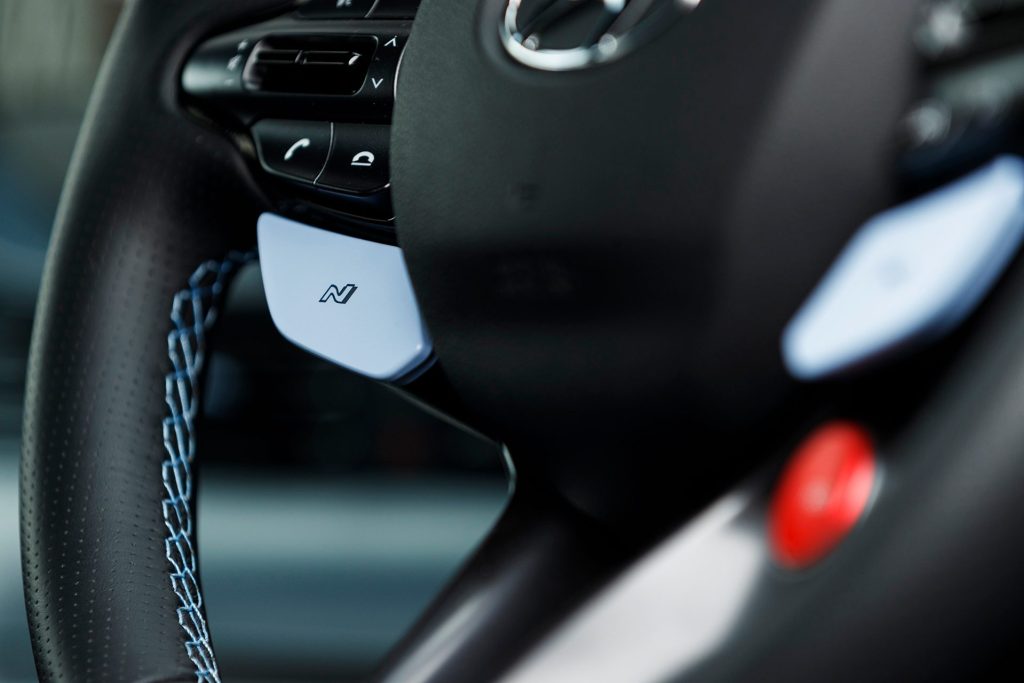 Fortunately, there's a relatively easy fix for what Hyundai calls its N Road Sense. You just delve into the N mode settings and turn it off. Most of the time, especially with others aboard, you'll be in Normal or perhaps Sport mode as it sounds and goes better. Probably not Eco because why would you in something like this, unless you had seriously underestimated the remaining tank range. And you shouldn't because it tells you that in the trip data. The last thing you really want while driving down fun rural roads is for the car to be constantly demanding your attention. It's a silly and unnecessary feature. Thankfully, most SmartSense safety features are present in this car, except for active cruise but I think we've already been there.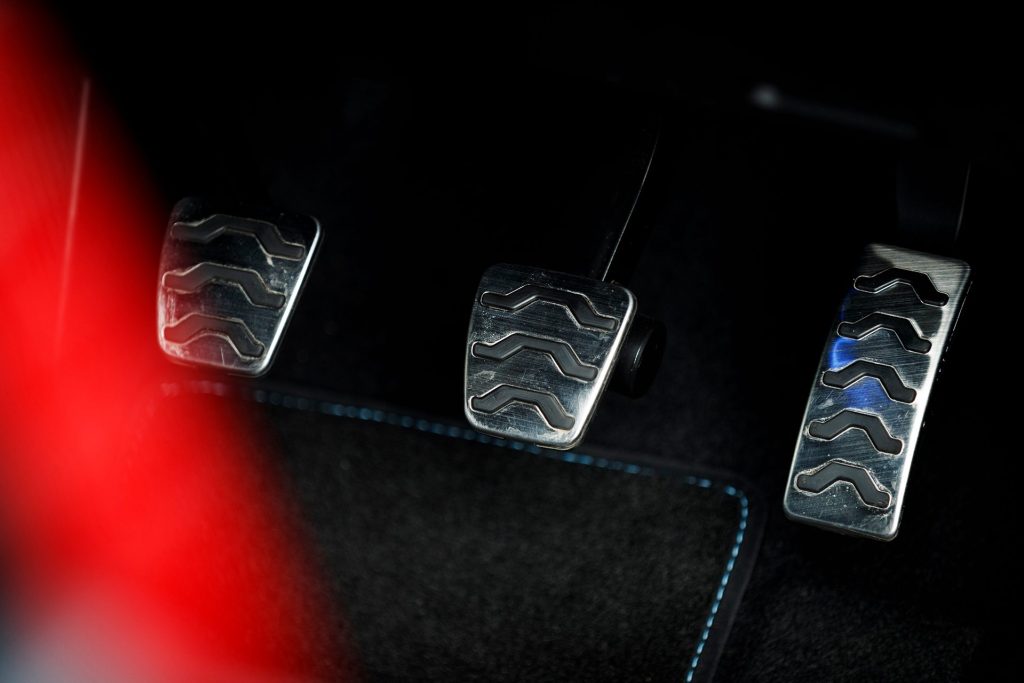 What smart features are there in the i20 N?
Really, there are few other downer aspects of the i20 N. Some might find the driver's squab too uptilted, and a little more lumbar adjustment, well any actually, would be welcome. Steering heft is variable in that electric way but even on the least resistance it's still rather, er, sporty. Honestly, there's not much else to whinge about. But minor annoying things take on greater significance in a tiny tot car that costs nearly fifty five grand.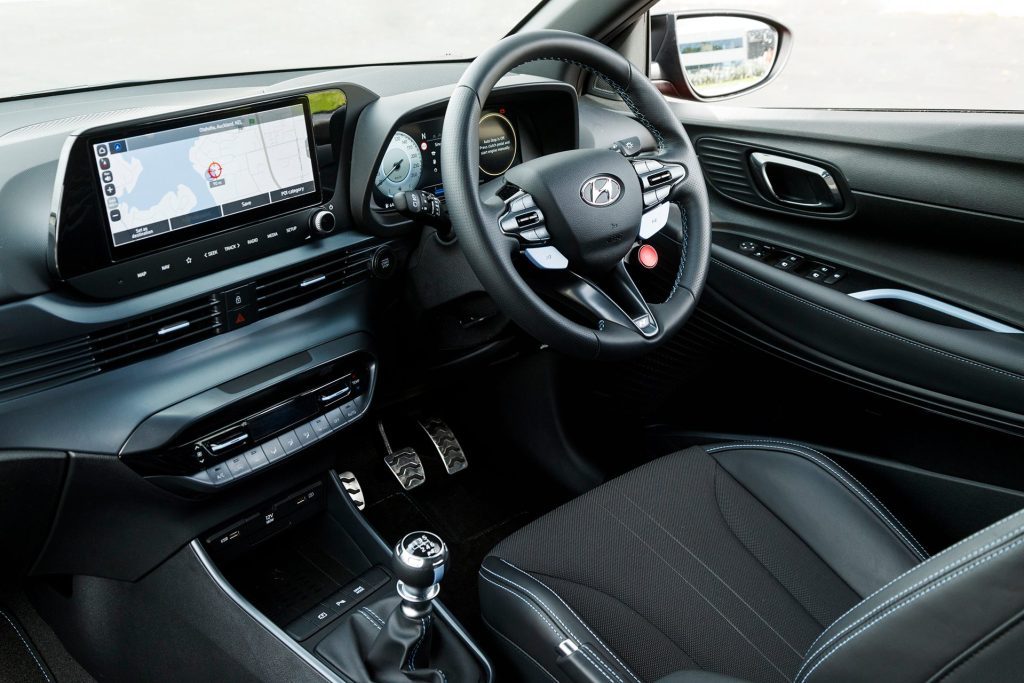 In no particular order, we'll happily list the truly wonderful things about the i20 N. It looks pretty horn in that amped up small car way, with its discreet gloss black roof spoiler, LED head and taillights, and aero-optimised body kit. Inside, there are smart sports seats, digital instruments that fire up in the N mode, and a 10-inch touch screen that controls most functions, and mates with any type of smartphone. A Qi charger is part of the kit.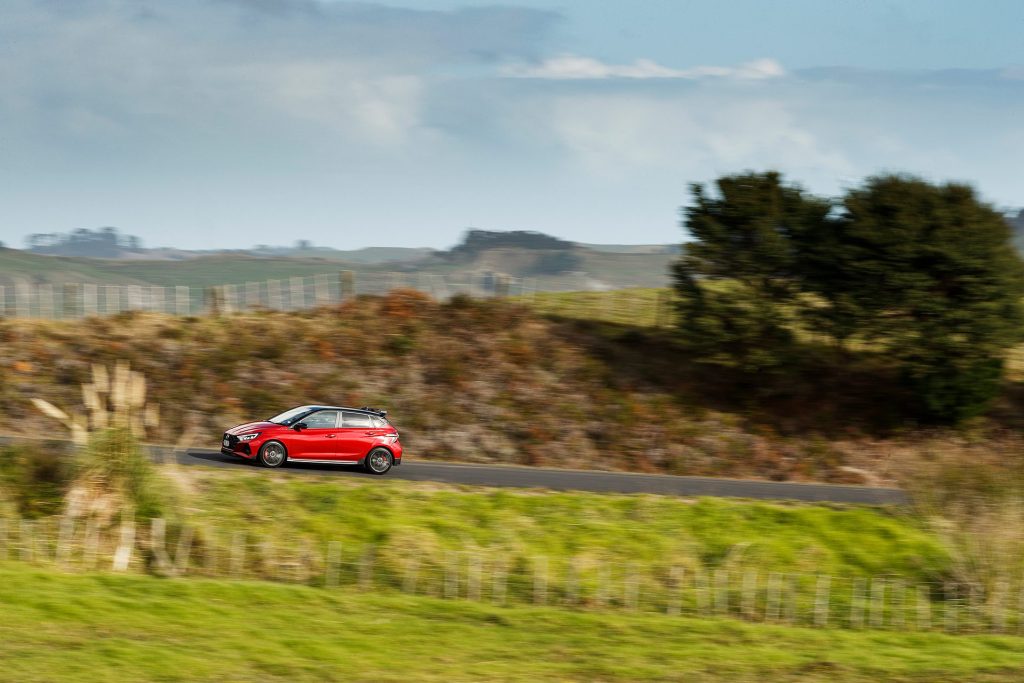 I think they got the gearbox just about perfect. This is a simply terrific manual box, the clutch not too heavy, the take-up sweet and on a perfect hot mix surface you'd for sure meet or beat the 6.2sec 0-100 claim. On chip seal we managed a best of 6.34sec. We tried launch control but couldn't seem to better 6.7seconds. You only get one or two shots at this before the car insists you take a break. So we did…by not using it. With most manuals you get baulked at high revs but this is just so fluid and exacting, no graunching, no nothing untoward, just slick and quick shifting. There's even a pearler of a rev matching function if you'd rather not heel and toe.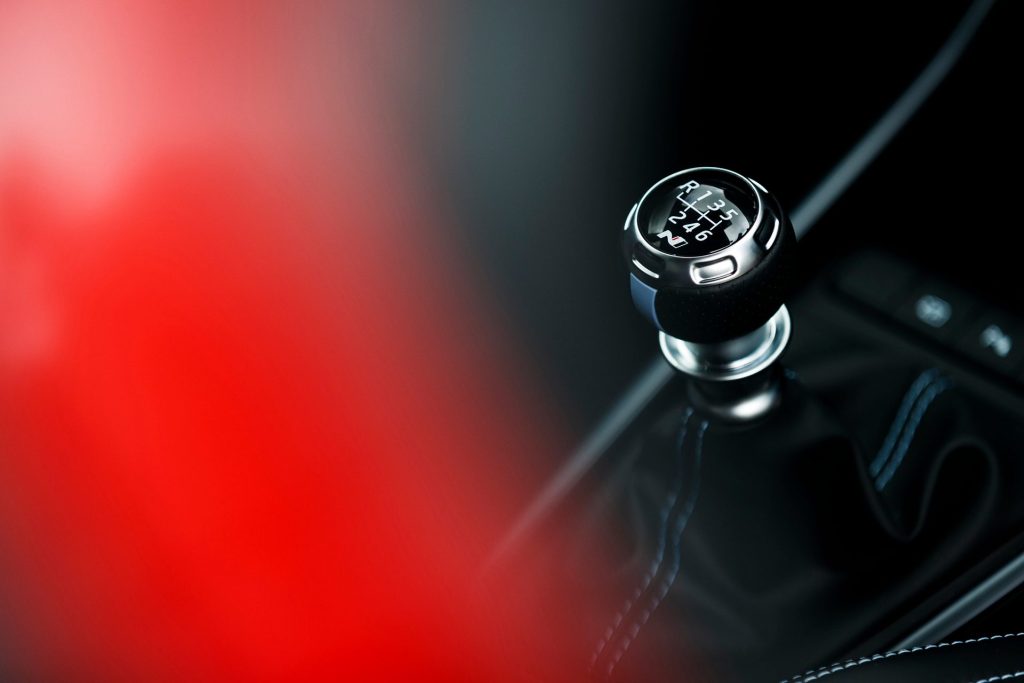 They've done an equally stellar job on the brakes, rotors uprated to 320mm to handle the extra speed and acceleration of which this is so capable. In tandem with properly decent PZero rubber, this can haul down from 100 to zero in under 33m, as you'd want of a vehicle that's designed to be as happy on track as it is on road. There's great feel at the sports pedals too.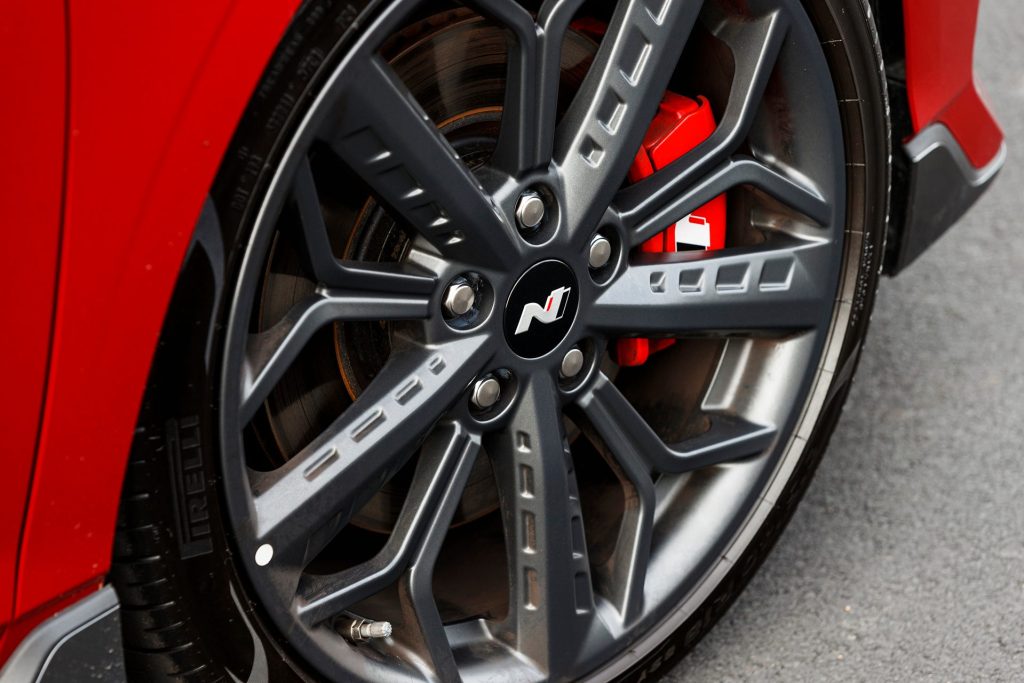 On high grip surfaces and at track speeds, you can get this to understeer but that's much less noticeable on road. We took the i20 N to a quiet corner out in the boonies (not an S bend but the i20 thought it was) and within a few passes it was merrily cocking an inside rear wheel, which you could feel from the driver's seat. It holds a line ridiculously well. And with its performance diff, it can also drag the car out of the bend; you really don't need to have the wheel fully unwound before gassing it up out of there. The fixed suspension is pretty firm – passengers might feel overly so – and there isn't a whole heap of travel but then it is low flying. Body roll is negligible.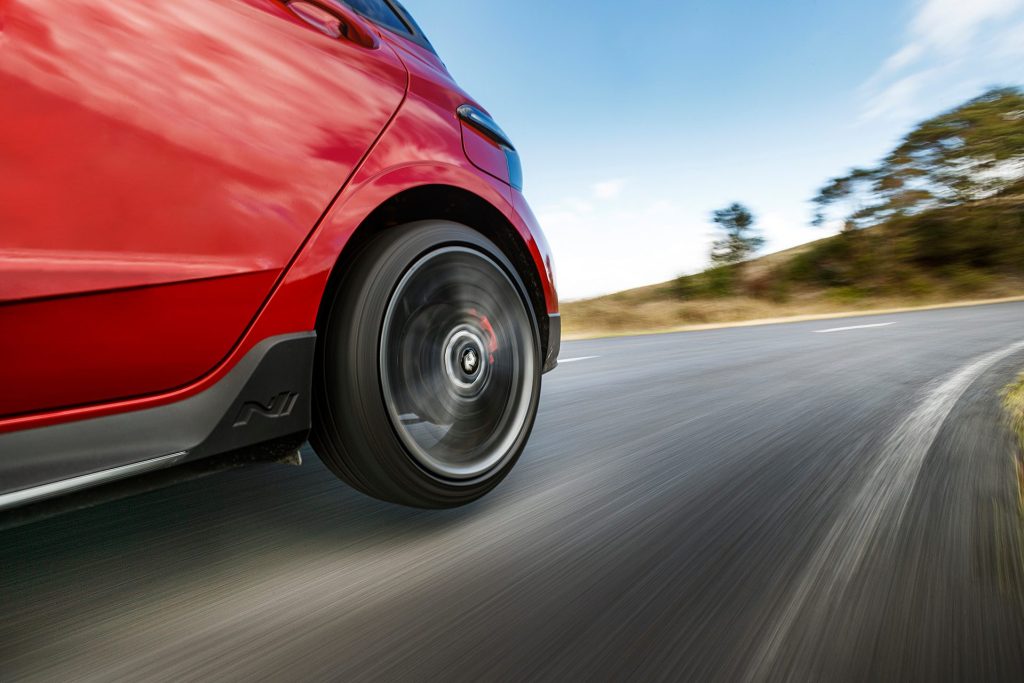 Back in the burbs, this tootles about merrily in the Normal mode, the box light and tasty in use, the turbo quick to spool. Folk often don't like manuals in town but this is so easy to use, it's a pleasure. The ride at urban speeds? Not special, but hey, it's a hot hatch. Room in the back isn't bad for a compact car, and 311L of hatch space is acceptable too.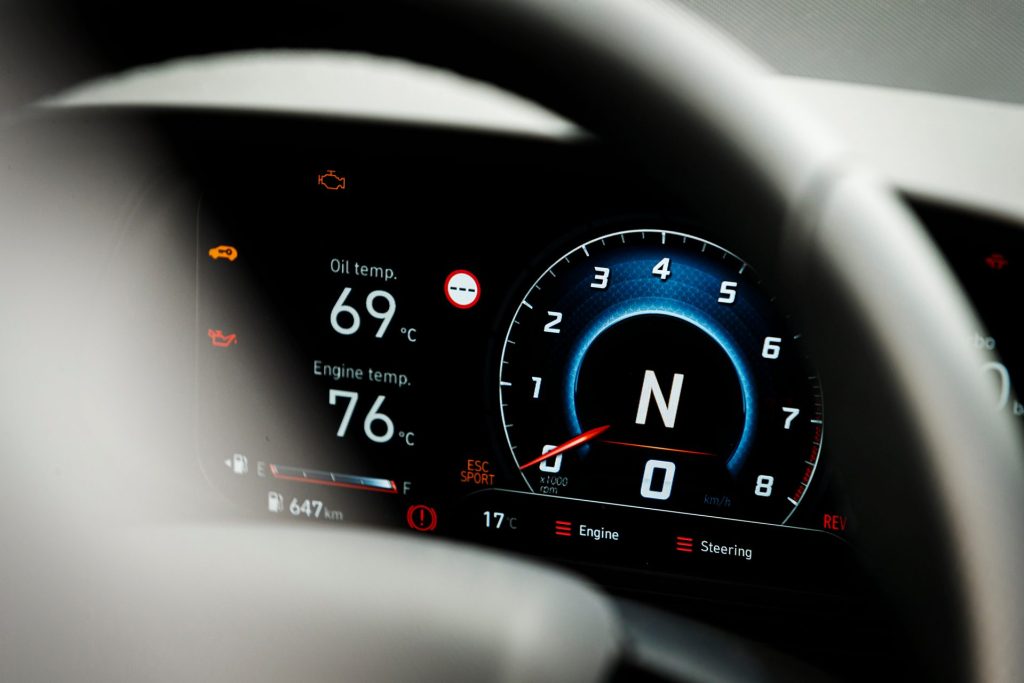 What is the specification of the Hyundai i20 N like?
I guess the main aspect you'd question here is value for money, bang for buck. And there are three rivals you might want to also consider, two in run-out and about to be replaced, the third you might order and then wait a (long) while for delivery.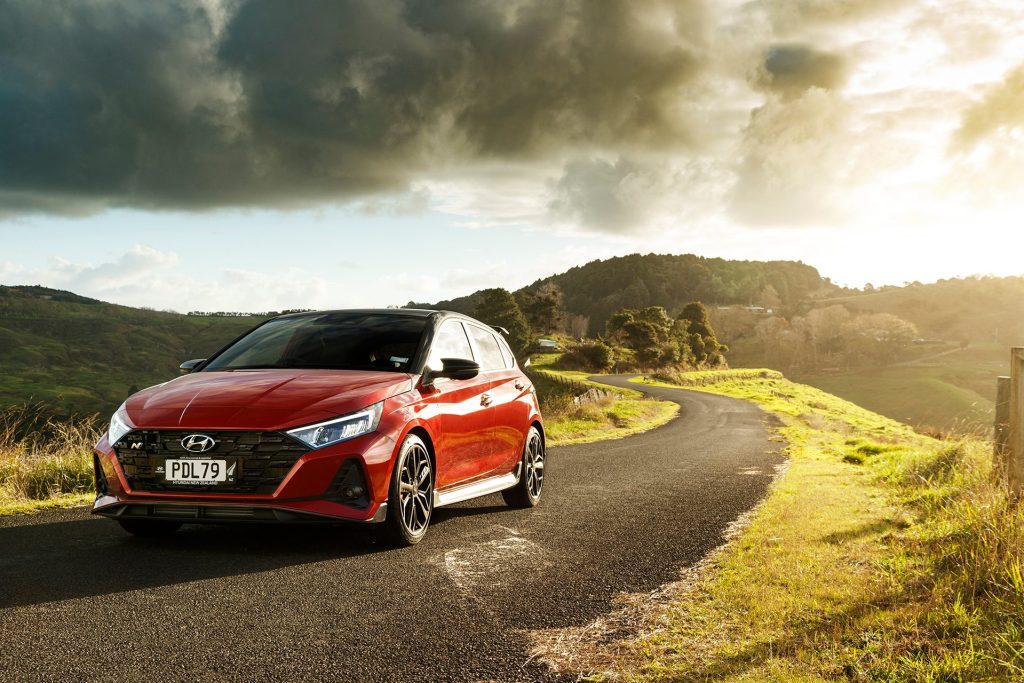 First off Fiesta ST, a new version due soon, extracting 147kW and an overboosted 320Nm from its 1.5 triple turbo. It's similar to i20 N with a six-speed manual, launch control, 18-inch alloys, and a limited slip front diff, but being 50kg heavier won't be quite so quick. A special feature is a 10-speaker B&O sound system; i20 N
gets eight-driver Bose sounds. At $42k and looking as alluring, that represents a substantial saving on the Hyundai.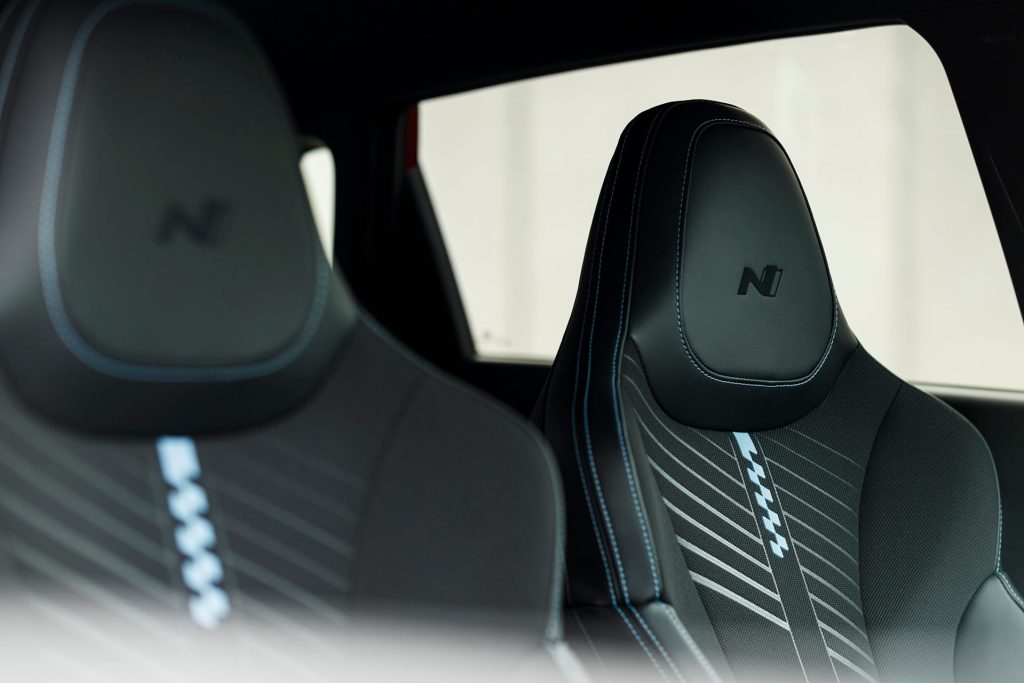 The other competitor, also incoming, is an updated version of the Polo GTI, with slightly more power, out to 154kW and 320Nm. It has the same performance claim of 6.5sec 0-100 as the ST but will likely be quicker with that seven-speed dual clutch tranny. Expect a more aggressive exterior design with matrix LED headlights, while spec runs to adaptive cruise, variable damping and torque vectoring by brake up front. The existing model with a six-speed DSG is still available for $41k.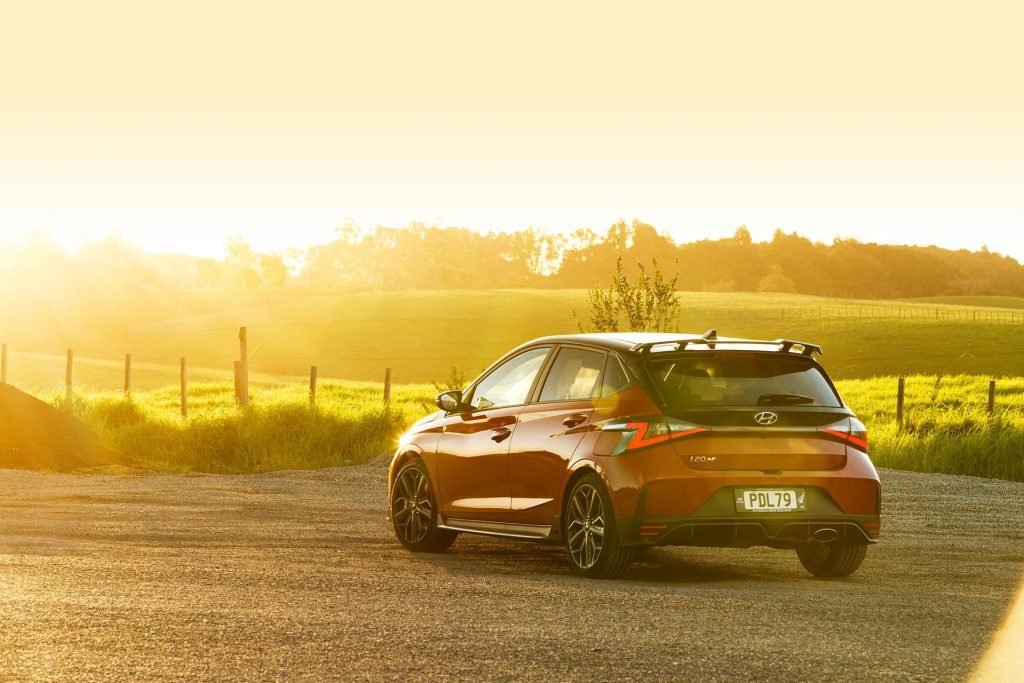 Finally, the elephant in the room (or not really because of supply issues) is Yaris GR at $54,990. So similar money to i20 N but with AWD. And packing 200kW and 370Nm, while a kerb weight is roughly 50kg more. With launch control on a good surface it gets to 100 in 5.2sec, dual LSDs helping. Okay, so it's only a three-door and space is limited but it's based on a stillborn WRC car, and has special bits like a CF roof and aluminium body panels, performance brakes, and adaptive cruise. As with so many of Toyota's models at present, there's "no stock currently available".
So, just to be clear, i20 N is a great wee cornering device in isolation, but be aware that there are others out there with similar talent for considerably less of an outlay. And its AWD rival costs much the same and is quicker. Only getting your hands on a GR ain't easy and this is available now.  
Model
Hyundai i20 N
Price
$53,990
Clean Car Discount
Neutral $0
Engine
1598cc, IL4, T, DI
Power/Torque
150kW/305Nm
Drivetrain
6-speed manual, FWD
Fuel Use
7.7L/100km
C02 Output
175g/km
0-100km/h
6.34sec
80-120km/h
3.77sec (106m)
100-0km/h
32.84m
Stability systems
ABS, ESP
Safety
AEB, BSM, LDW,
RCTA, ALK, AHB
Luggage Capacity
310-1123L
Tow rating
Not rated to tow
Service intervals
12 months/10,000km
Warranty
3 years/100,000km
ANCAP rating
not yet rated
Weight
1235kg (claimed)