When Toyota said that it wanted to produce drivers' cars, little did we think they'd offer a thinly disguised Yaris-based WRX machine. Can this car fly?
This ain't like no Yaris I've ever driven. It don't sound like any other Yaris either. And lordy, it certainly does go harder than any Yaris yet. Fact is, if you ignore the obvious Yaris bits, this almost feels like something exotic. Because that's kind of what the GR Yaris is (the R means racing).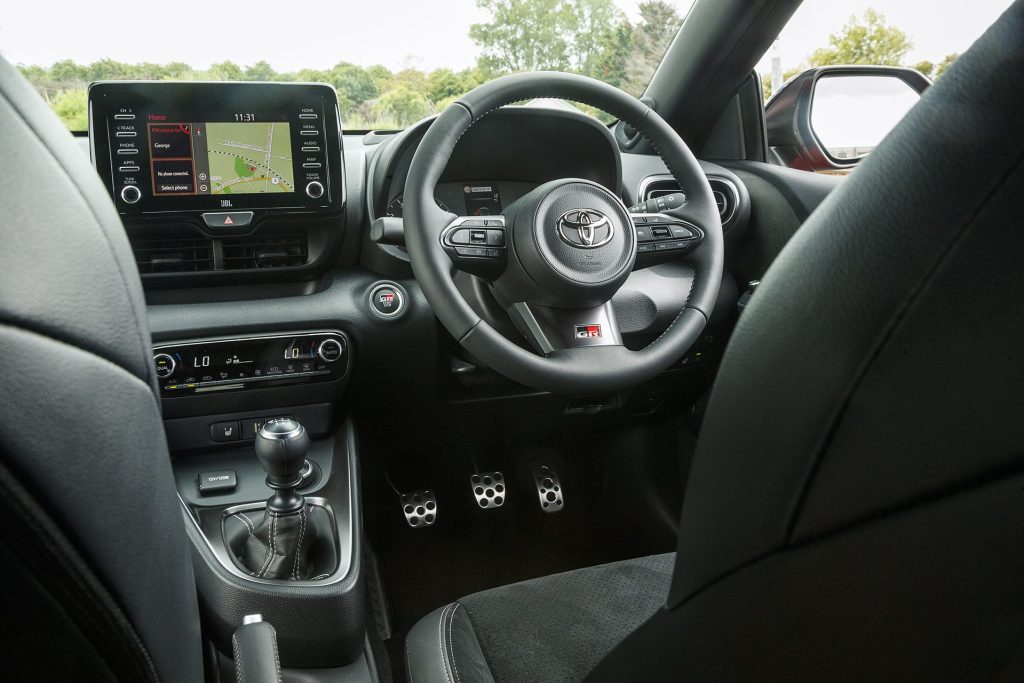 For it is the first car that Toyota has reverse engineered into a road car. It's based on the now cancelled 2021 WRC Yaris and so that right there marks it out as somewhat exotic. Three thousand were being produced for homologation purposes but now Toyota says it will make up to 25,000 if the demand is there. It's a bona fide production model, and there are three spec levels; we take the highest Rally configuration. In Australia the first 1000 were offered at a special price and sold out within an hour. Here, our first shipment of 35 sold out almost as quickly.
Those in the know obviously understood the pedigree; this stroppy little rocket has been tweaked and fettled not just by the Gazoo Racing World Rally Team experts but also by Tommi Makinen Racing, and it's built in a specialty area in Toyota's Motomachi production facility where quality control is meticulous. The engine – which Toyota says is the world's most potent three-cylinder powerplant – is hand built.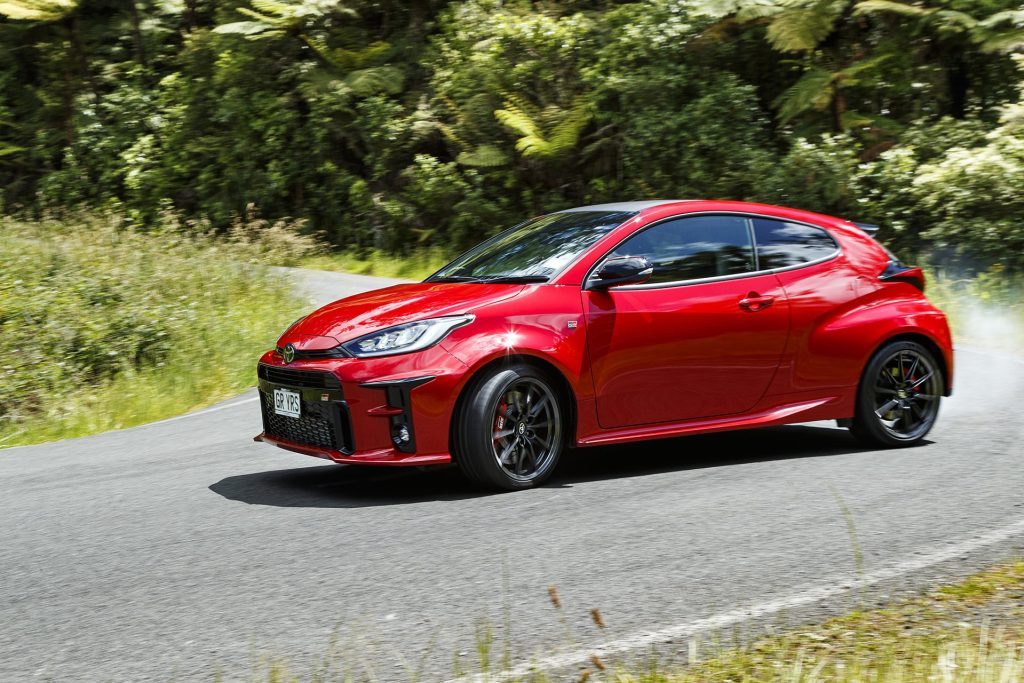 We drove it on some of the gnarliest, tightest, narrowest South Auckland gravel roads, one of which had freshly been graded the day prior, and heard not a miscellaneous rattle or squeak or anything untoward. This thing is really well screwed together.
And it will need to be for owners will drive it hard, on occasion. We only discovered one aspect of mechanical function that could probably be improved upon and that's the gearbox action when rushed. This was evident during performance testing and taking the vehicle on track. It graunched at Hampton when shifting quickly and baulked on upshifts during 0-100 testing. A pity that because it needs two shifts to hit 100. It gets off the line well, the clutch tough enough to take upper middling revs if you feed it in progressively, and while we didn't quite meet the 0-100 claim of 5.2sec, we only missed it by six hundredths of a second.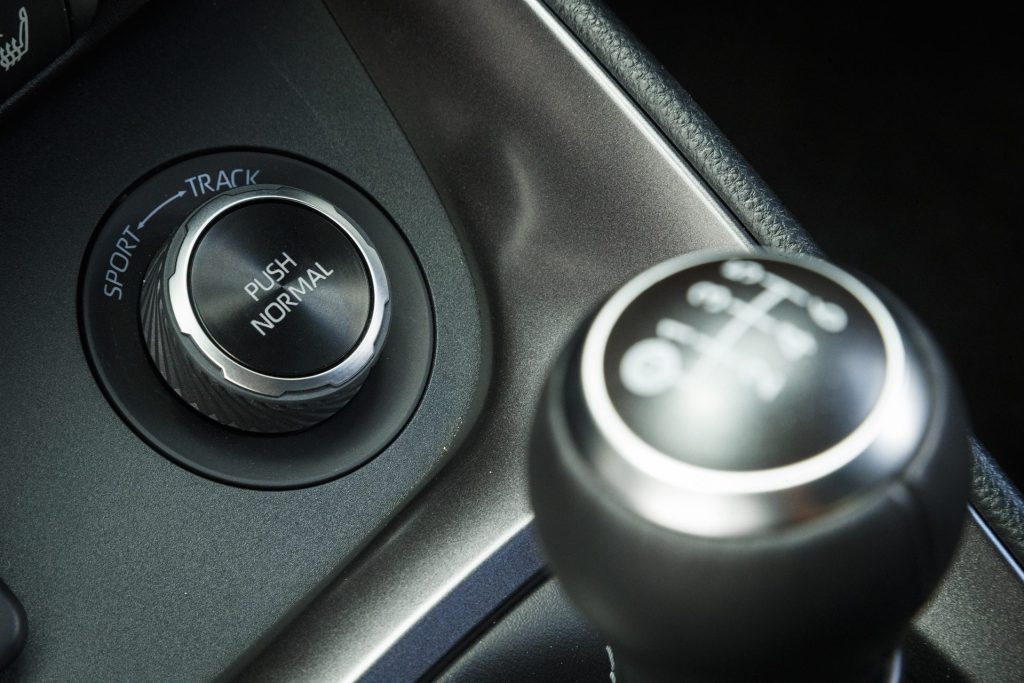 For a car the size of a Fiesta ST, it certainly is quick, accounting for that car's sprint time by 1.6sec – that's mainly on account of AWD vs FWD – but it is also 0.7sec quicker on the overtake. Then so it ought to be, with 200kW and 370Nm to the Ford's 147/290 tally.
Much closer in concept is the Cooper JCW, at almost identical price and weight, but it too doesn't get close to the pace of the GR, its front-drive status making it a second adrift on both counts. The AWD Clubman JCW is much closer for pace, but is bigger, much heavier, has six doors and costs $20k more.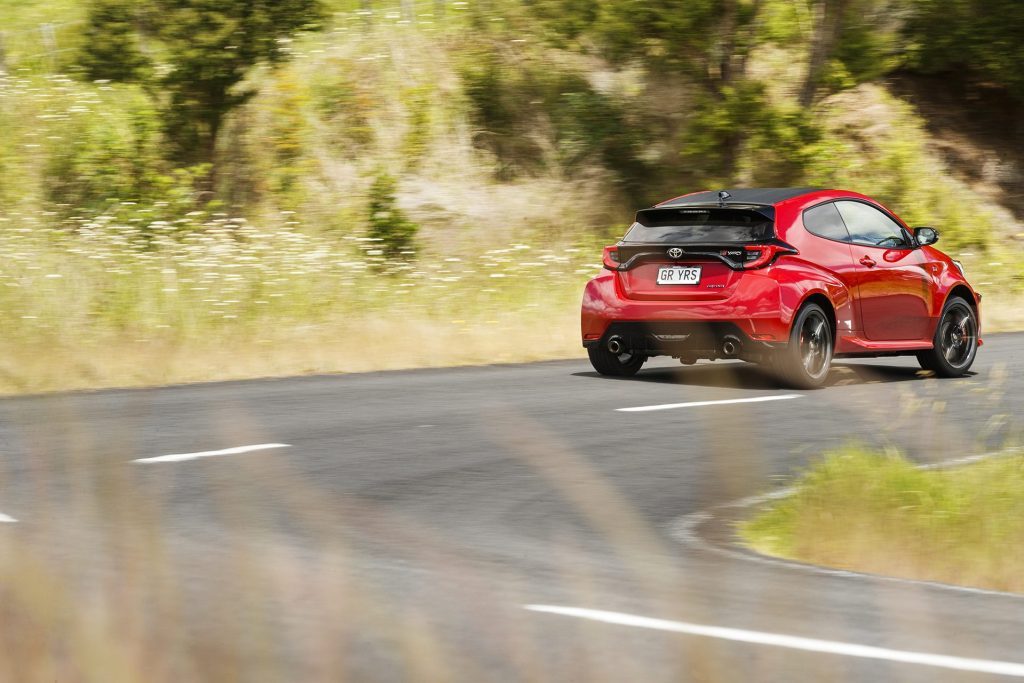 Another potential rival is WRX (four-door count aside) which is much the same price and power but almost 300kg heavier, so it too is rounded up by Toyota's little proton powerpack. As to how it manages against bigger slightly more expensive front-drive sportsters like Focus ST and Civic Type-R.
It's the power to weight and AWD that make this car such a weapon on road, especially with an old menace at the wheel. I will admit to being incorrigible when confronted with 200 turbo'd kW and 1300kg of 4WD mayhem, but then GR designed this to be a hard, fast charger.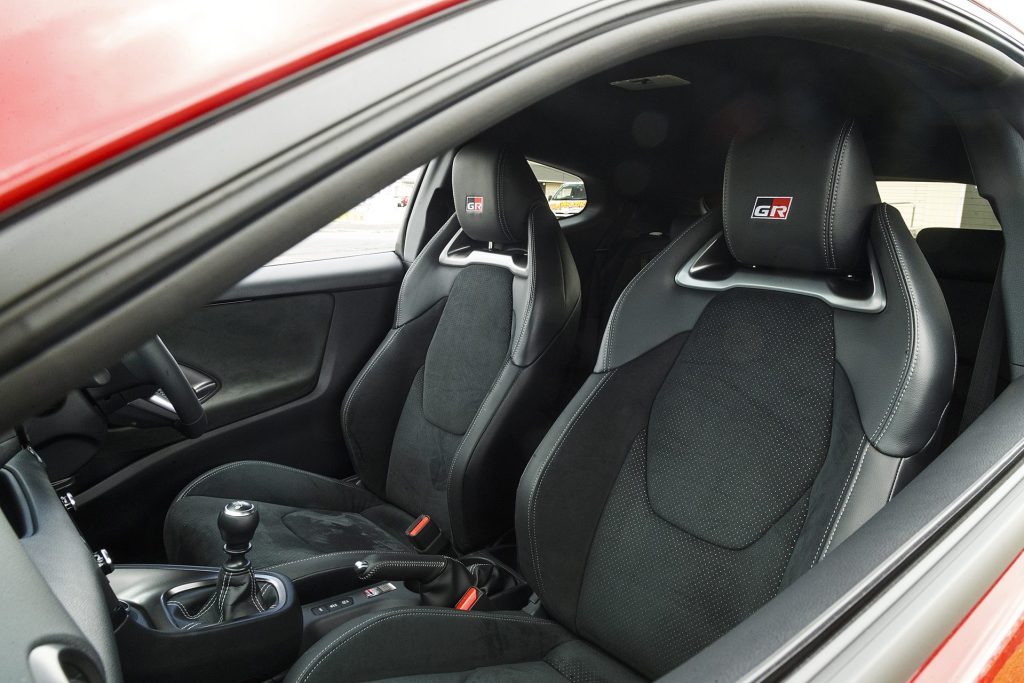 Weight was clearly as important to the designers and engineers as power, for there's not much of the former and plenty of the latter. They've clearly looked at the important bits but haven't overlooked the minutiae; the cargo cover, for instance, is a piece of black fabric supported by a single piece of string. We guess that's symbolic; you'd probably call it the Gazoo-string, or G-string for short.
As to the bigger bits, the roof is a carbon fibre reinforced plastic item, while the bonnet, door panels and hatch are made from aluminium. Wheels are lightweight forged BBS units. Windows are pillarless. There's only three cylinders where normally there might have been four. There's no spare; just a battery in the back to help with weight distribution.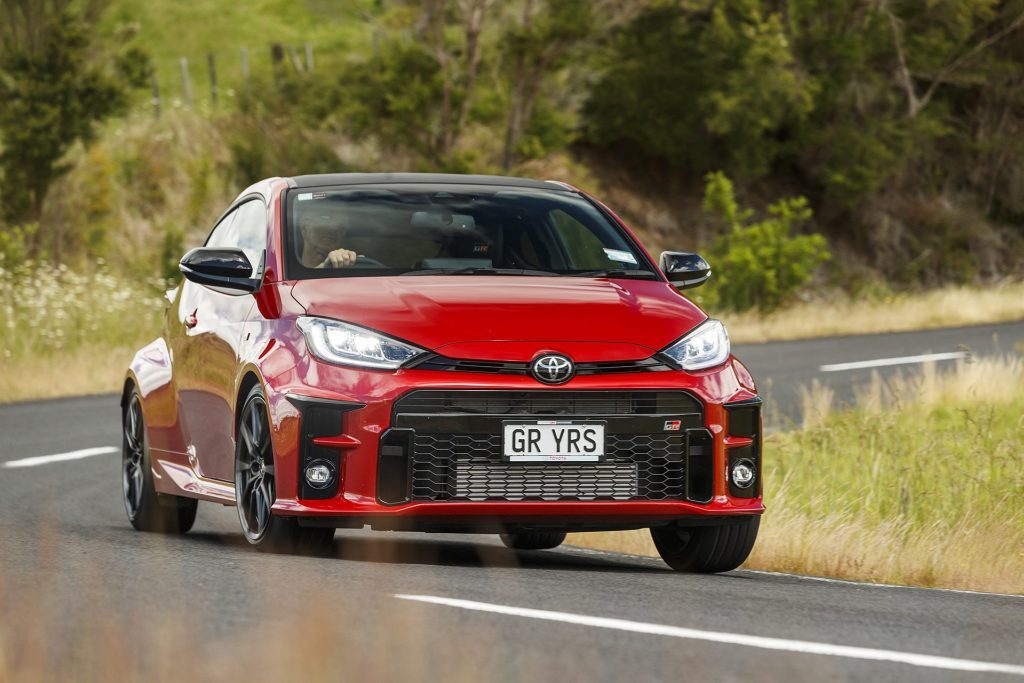 So they haven't gone completely overboard on weight saving; just sensible stuff really. And it's hardly threadbare on spec. Air con is dual zone, and there's the full gamut of Toyota Safety Sense gear, right down to adaptive cruise. Sports seats are a bit special, and so too alloy pedals. There's a lovely tactile wheel as well. Sporty bits apart, however, and this looks distinctly Yaris inside.
You do appreciate the pushbutton start and comfort entry, and on that this is a three-door, which makes ingress easier providing you've enough room to open the door completely.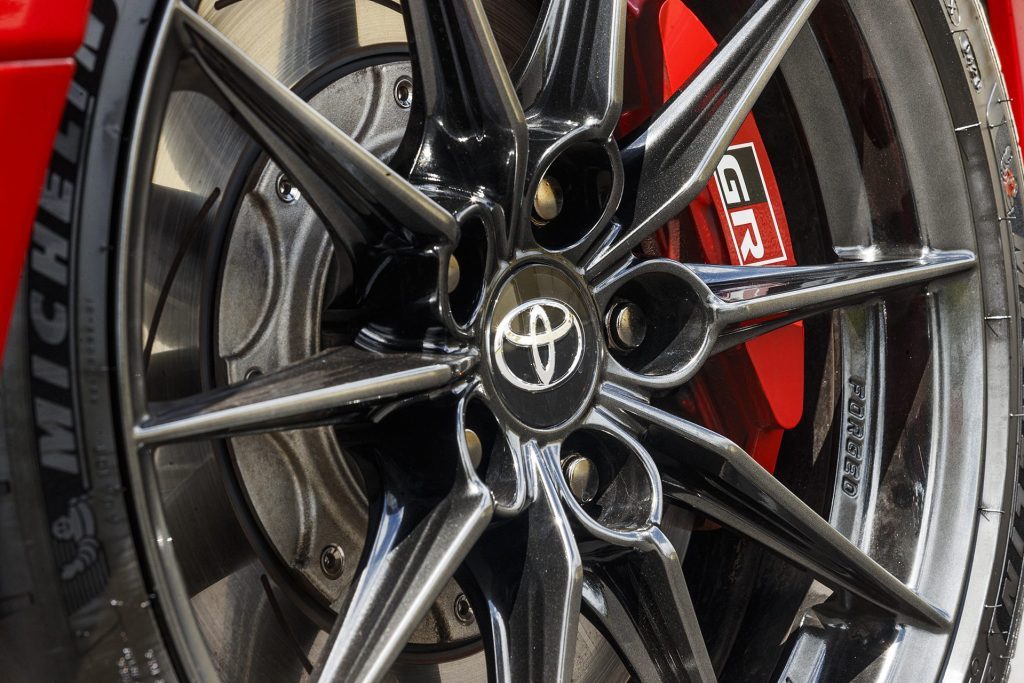 Outside, you wouldn't describe this as a pretty design. Think functional with big wheels, plenty of width, low stance and a muscular body kit. There are a few odd angles, but the profile is quite something, with its coupe-like roof, pumped guards, nice glass work and the rear isn't bad either. We're not quite so big on that square maw up front but the splitter and big air intakes suggest business.
Bimbling through town the turbo spools quickly and from low revs, the clutch is lightweight, and with the stop-start mechanism operating this feels every-day-drive ready, apart perhaps from the old-school manual transmission, some might say. But for town use the manual is great, the clutch take-up precise and predictable, the shifts crisp, if weighty.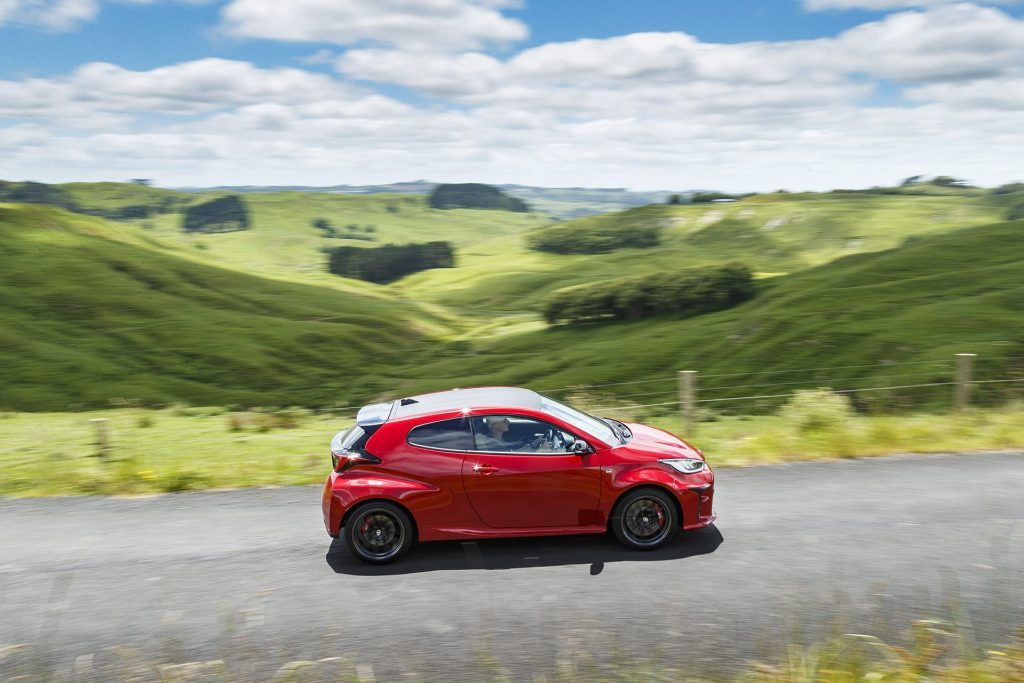 After an hour or so of mooching about through speed-limited areas to get out of town, we're finally onto lonely rural roads and it's time to change hats and shift things up a notch. The steering feels super, tasty and hasty in equal part, but neither overdone. This rides quite firm, but there's an underlying compliance to the damping that doesn't make it too jiggly. Things just seem to get better as speeds rise too. Because there's almost zero roll in corners and this rides on Pilot Sport 4S rubber, you can just keep on chucking more corner speed in and it just keeps on rounding up into the turns. It's almost crazy how quickly this can thread the needle down a ridgerunner road.
On the really tight stuff we thought it best using Track mode, where the torque is divvied up 50/50, and with dual LSDs it scrabbles its way out of bends in sterling fashion. In Normal the torque split is 60/40, so it can become a bit squealy on the exit and in Sport where it's predominantly rear biased it doesn't seem to jump out of the turns as effortlessly. With a 60/40 weight split, perhaps it likes being dragged out as much as being shoved along. In more open, faster stuff, the Sport setting is just fine. And the overall drive in these situations is utterly sublime. What surprises is the lack of road roar, though there's noise cancellation so perhaps we should have expected that. Over the roughest seal surfaces, expect SPLs in the 75-76dB range; it certainly isn't shouty.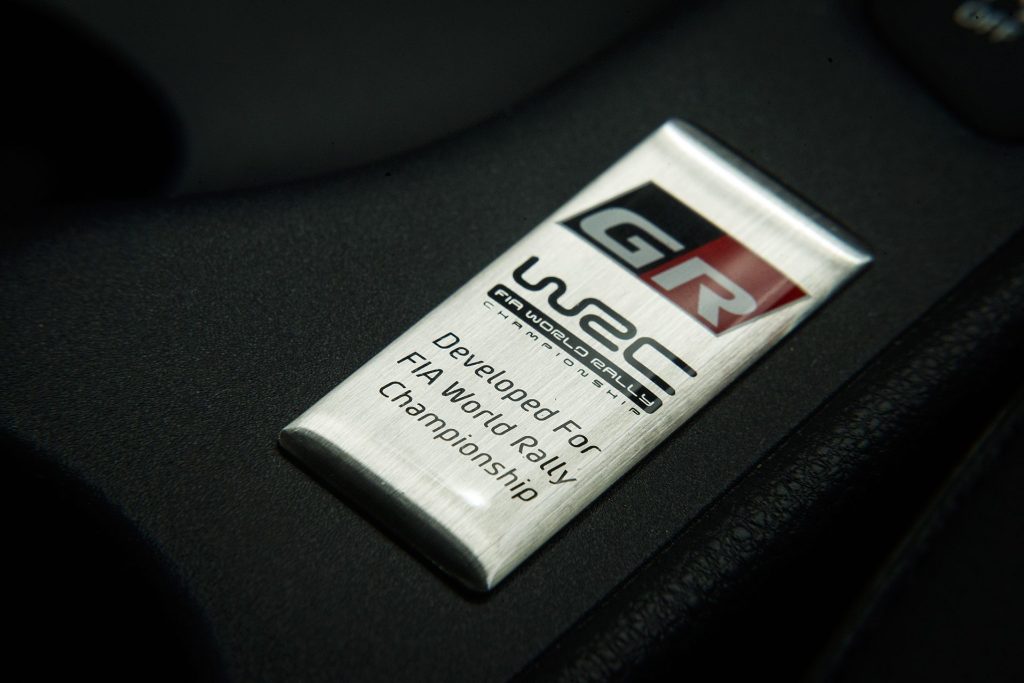 If you're just easing along moderately, using middling revs, your corner speeds will still raise the eyebrows or ire of many of the locals, the engine beavering away brilliantly between 3000 and 4500rpm where progress is assured, the flow through corners intoxicating. But if you use revs beyond 5000, this is a different animal, the growl of the engine turning into an animalistic wail. It's then too, that you realise just how masterful a job they've done on the braking system.
Holy toledo, this can get you from one postcode to the next in double-quick time. It's heroic quick in the way it dispenses with roads that normally torment most regular vehicles.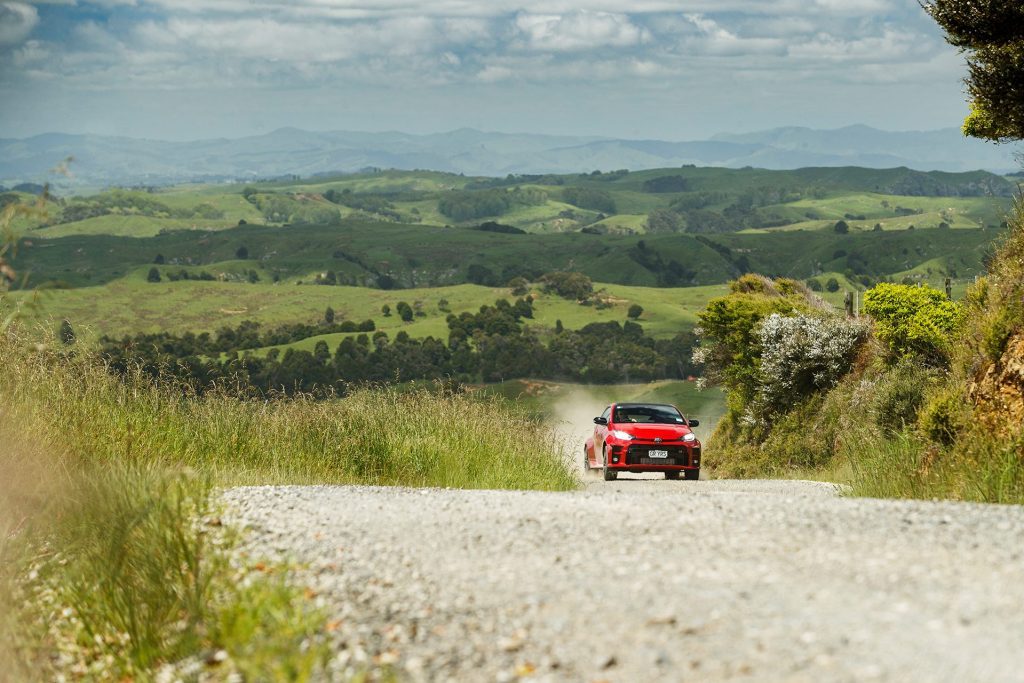 Things we'd like to see? Adjustable lumbar support, obviously. And if the seat could plumb the depths just a little further, that would be nice. A bigger rear window perhaps, although there's never much to see there! And of course a slightly more cooperative tranny so you're not graunching shifts so much.
Rear seats aren't that useful so effectively this is a two-seater with room for a couple of tots only in the back and not much luggage space (174L, down from 286L of regular Yaris) but it's enough.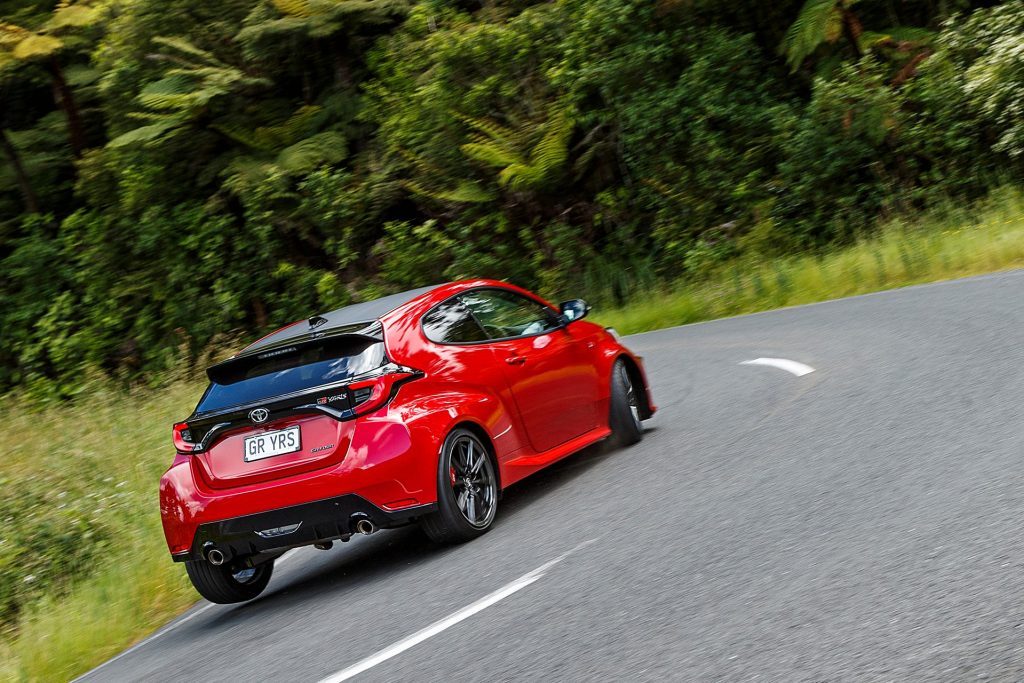 So not much in the way of significant downside, and this puts its hand up bigly for our Performance Car of the Year.
And all the while you keep thinking that the $54,990 asking price is almost a bargain, if you can get one.
| | |
| --- | --- |
| Model | Toyota GR Yaris |
| Price | $54,990 |
| Engine | 1618cc, IL3, T/DI, 200kW/370Nm |
| Drivetrain | 6-speed manual, all-wheel drive |
| Fuel Use | 7.6L/100km |
| C02 Output | 172g/km |
| 0-100km/h | 5.27sec |
| Weight | 1292kg |