Mazda hit paydirt with its MX-5 and in the three decades since has merely massaged its classic rear-drive sports car. We check out the latest RF which gets a bit more boogie.
We had planned a midweek rescue mission, making best use of Waitangi Day by driving to the bach in a double cab ute and returning to Auckland with a misbehaving fridge-freezer in tow. Well, on the tray at least. But an initial drive in the 2019 Mazda MX-5 RF (short for Retractable Fastback) put paid to that.
We drove it from Mt Wellington to home, a journey of less than 10km, but it was clear we'd be happier driving to the beach in the MX-5 and leaving the pesky fridge issue until some later date. It could cool its heels for another few days while the MX-5 would get a proper outing, tackling the Hunua backroads, and SH25 around the Whangamata area, both proper tests of pedigree.
The decision to change tack was an easy one. We'd heard the 2019 model had received a shot in the arm, the 2.0-litre breathing better, allowing it to rev as high as the 1.5, up from a peak of 6800 to 7500rpm. The power blossomed as a result from 119 to 135kW (at 7000rpm). Torque's up but a smidge from 200 to 205Nm. However, it's produced at 4000rpm instead of 4600rpm.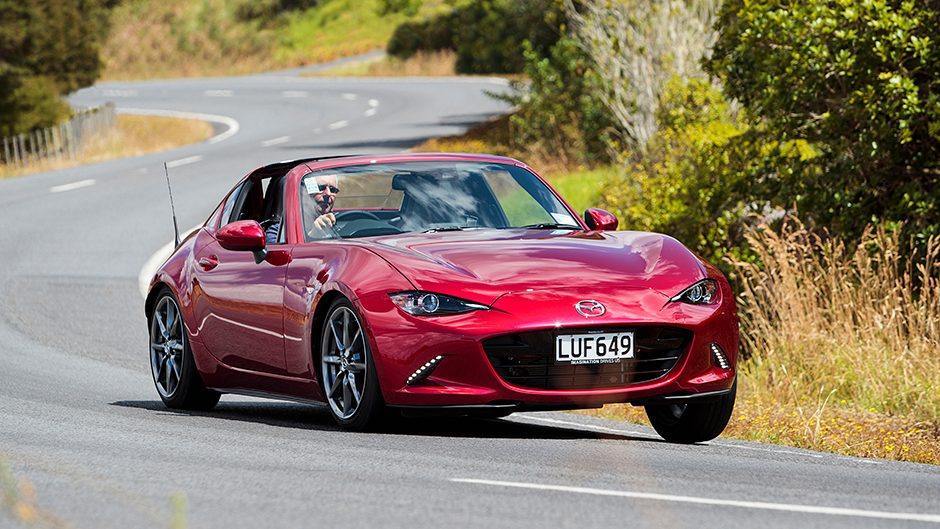 So you'd expect acceleration to be brisker, given the main change is added revs and power. We'd registered a 0-100 time of 7sec previously for the RF so something in the mid-sixes we thought might be possible. Indeed, that's what Mazda claims for the Roadster. The 50kg heavier RF shouldn't be that far behind. In the short drive home we didn't really notice any more grunt but then in town you might not, right?
We did think the engine sounded a bit gruffer, and also that over speed bumps there was more subtlety to the suspension. Minor changes evidently took place last year, tweaks to the suspension part of a 2018 upgrade.
Upon arriving home, our overstaying 20-something boy was aghast at the rear end redesign of the RF. "What five-year-old drew that?" he asked, though he did admit the rest of the lines looked rather good. It's true, they do, especially in the deep Soul Red Crystal Metallic colour (+$300) of the tester. I think the shadows might have been playing tricks on him.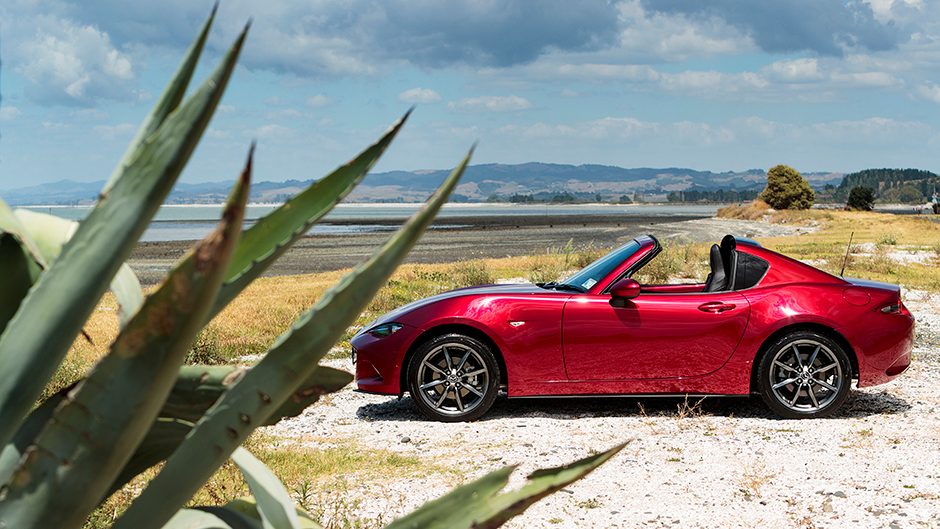 Other changes?
Apparently the removable drinks holders are now made of sterner stuff. They've added a reversing camera, and four-way adjustment to the steering column, neither seen in the MX-5 since, er, ever. Why did it take 30 years for those? Whatever, they're both appreciated.
Yes, the cabin remains a tight fit for those over about 182cm, and a trick for entry and exit too, but low flying was never meant to be easy or fuss-free. There are more active safety features now, like AEB, pedestrian detection, driver attention alert, and traffic sign recognition.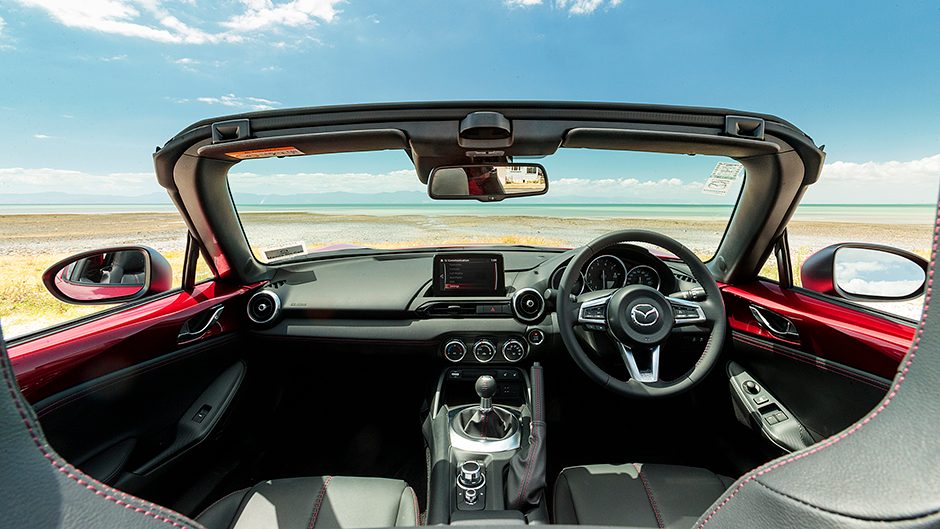 Quicker or not?
To the really important stuff then, and yes there is a bit more in the way of acceleration, but Mazda missed a trick by not allowing the wee missile to hit 100 in second gear. This would have netted an even better time. However, that short-throw six-speed manual remains an absolute delight to use.
The last time we ran the numbers on the RF it squeaked under 7.0sec for the sprint to 100, and got from 80 to 120km/h in 4.60sec. We couldn't better 4.7sec for the overtake but then this didn't have a whole heap of miles under its belt, and it was a stinking hot day. Surprisingly, the zero to 100 time improved, a 6.7sec run the best we've ever extracted from a naturally aspirated MX-5.
The gearbox is superlative, shifting swiftly without a hint of obstruction. Precision plus here. At the wheel, I'd be fibbing if I said I could detect the extra power, but it certainly does rev higher. In normal driving, you really don't need to extend the engine right to the redline unless you're one of those people who simply cannot help themselves. As we mentioned, this one was a bit green so we avoided that where possible.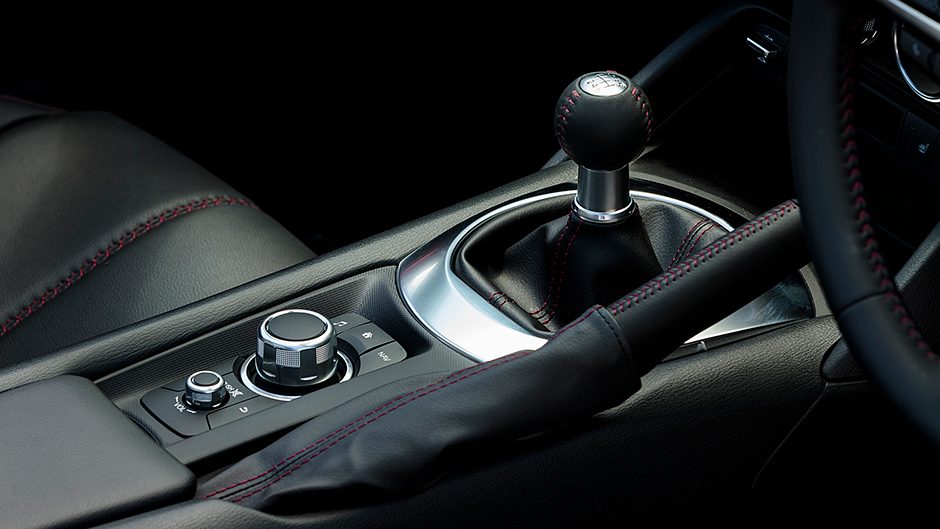 The midrange is a blast. In town it feels alive from 2000rpm. In faster running, there's a tangible lift in output at 3500rpm, relating to VVT activity, and another at 4500rpm. Using 5500rpm as a shift point, you're back into the zone where the wild things are on each upshift, and by the time you're into top gear, you're well over the odds. Sixth is fairly overdriven for easy cruising, and 100km/h feels a totally relaxed 2500rpm where the engine is drinking 95ULP at a rate of around 5.5L/100km. Most of the time the average fuel use number begins with an eight, but sevens are possible too.
That's quite something given how nippy this is. But then SkyActiv-G tech means thrifty running. For overtaking one downshift is generally sufficient, revs rising to 3500 at 100km/h, or into fourth if there's a bit less room on the wrong side. Go to third if the person ahead is pissing you off, and they can have an earful. Noise is piped indoors too from the engine bay but it's still an IL4 when all is said and done.
We'd say there's been no real change on the braking front either; in hot conditions we couldn't meet or beat previous figures, with a best emergency stop of 35.7m. However, with total weight of 1100kg the four-wheel discs bring the MX-5 to heel in reassuringly confident fashion.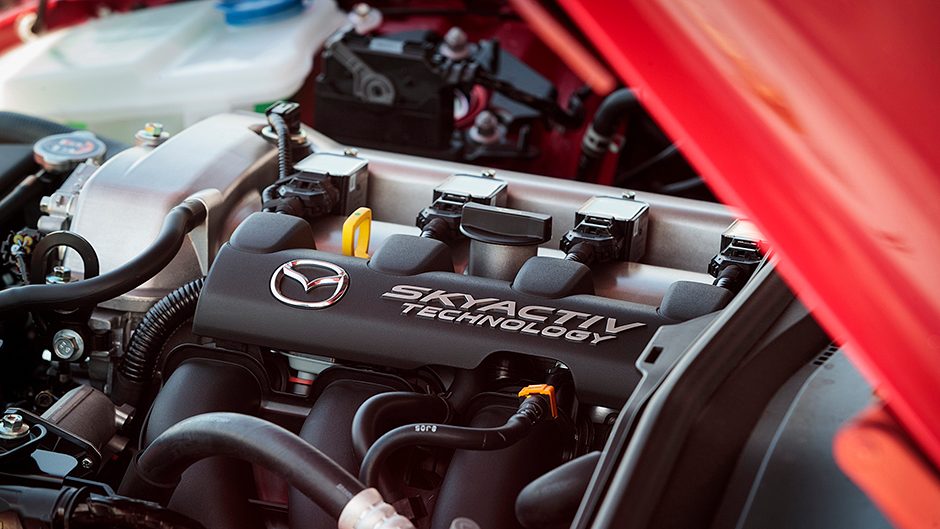 Still light on its feet
It's the weight or lack thereof that kind of determines the nature of the RF drive too. Midcorner there doesn't feel like a lot of mass you're trying to direct through the turn, and the steering is only ever delicate in both weight and sensitivity, with subtle nuances of road surface making their way back to the wheel.
There's a sensation of even weight balance too, the little two-seater leaning into the turn initially but then holding firm midcorner, with minor throttle movements refining the line just so. It's near enough 51/49, by the by. And it's plenty quick through the turns too; others might gap you a bit on the straights but you're on their tail again through the next bend.
On the not-so-great side of the ledger, there's never that much with this car. So it's tiny, with not much luggage space, but it's sufficient for two, three if the dog's small and doesn't mind the footwell (our spoilt mutt wouldn't have a bar of that, so stayed at home). Noise levels with the top down? It certainly isn't in the same league as the C 43 AMG Cabriolet we drove a week earlier. Wind tousles the hair if you're taller, and you still need to angle the back rest some to avoid hitting the headlining. And it's noisier inside too, especially top down. But with the retracting hardtop back in place it's much quieter, only really noisy when surfaces below are truly horrid.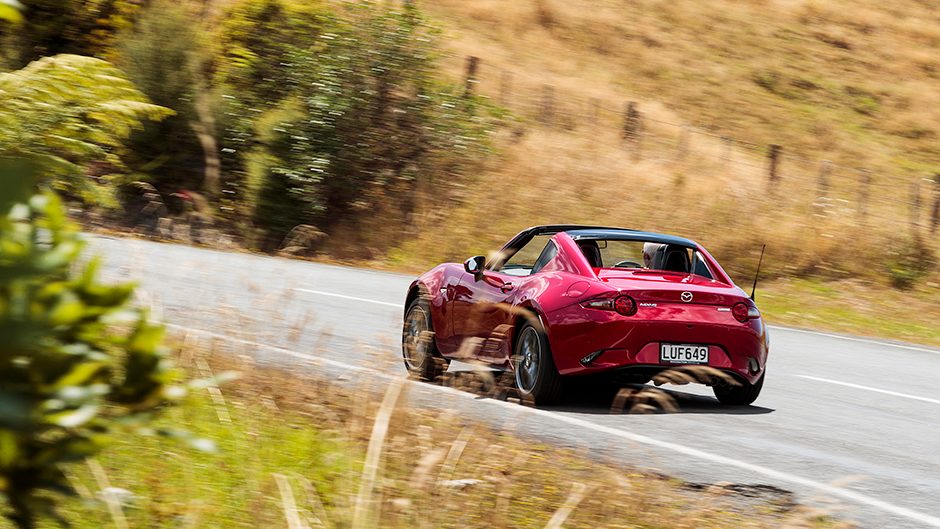 Hardtop operation is fully electric and takes about fifteen sec in either direction. It can also be performed on the move but only at less than 10km/h. So you may as well be stopped. As per, boot space remains a paltry 127L. At least the drinks holders are now sturdier, and hold S'well bottles handily.
We wish Mazda would include a digital speed readout somewhere in the instruments. These remain traditional, comprising two round dials with trip info in between. At least in Limited trim it gets niceties like comfort entry and pushbutton start, heated leather-clad seats, cruise, nav and the like. We like the MZT infotainment system too, despite lack of phone smarts.
So yes, still the traditional shortcomings for the MX-5, but it remains a wee pearl of a thing. I could happily live with the MX-5 on a day-to-day basis. And the dog can go jump.
| | | | |
| --- | --- | --- | --- |
| Model | Mazda MX-5 RF Limited | Price | $53,745 |
| Engine | 1998cc, IL4, DI, 135kW/205Nm | Drivetrain | 6-speed manual, rear-wheel drive |
| Fuel Use | 7.2L/100km | C02 Output | 161g/km |
| 0-100km/h | 6.69sec | Weight | 1101kg |