Hmmm. Skoda hasn't said much about its facelifted Fabia, and I'm thinking I now know why.
Have to say, the company was quite clever about disguising the engine change too, from an 81kW 1.2 TSI (turbo) engine to an 81kW 1.6 atmo. You see what they did there? It's still called the Fabia 81, only now the prefix is MPI instead of TSI. Big difference. For the torque figure takes a hit, down from 175 to 155Nm.
Not so bad as the entry model though, down from 160 to 95Nm. While torque doesn't back off much for the MPI 81, it's produced from 3800-4000rpm, whereas the 175Nm came on stream from 1400-4000rpm.
The good news? Well there isn't much really, except that it retails for $500 less ($24,490). The boxy/angular styling of Fabia is and always has been the main thing that gently sways people towards cute little jiggers like, well, everything else in the class. While some might well be taken by Fabia's fuel use figure which used to be a pleasing 4.7L/100km overall, now at 5.9L/100km it no longer is. Doubtless this reflects the WLTP method of rating fuel consumption.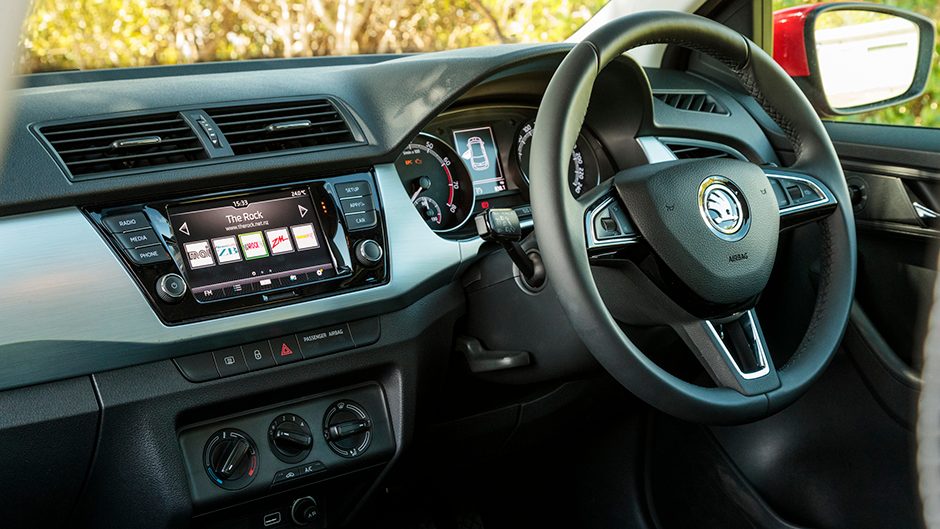 Why has Skoda reverted to a bigger, less efficient powerplant?
Evidently demand in Europe for the TSI meant we missed out. Yet Australia is taking the new more potent 1.0 three-pot engine. So the explanation from Skoda NZ does not compute.
One suspects this is an interim measure until Skoda's small SUV launches, at which point Fabia will be history. Whatever the reason, the engine now powering facelifted Fabia lacks the vitality of the old one. The torque is off and so too is performance, not that potential buyers will mind overly, but when you get worse fuel economy AND performance that doesn't seem like a winning combination.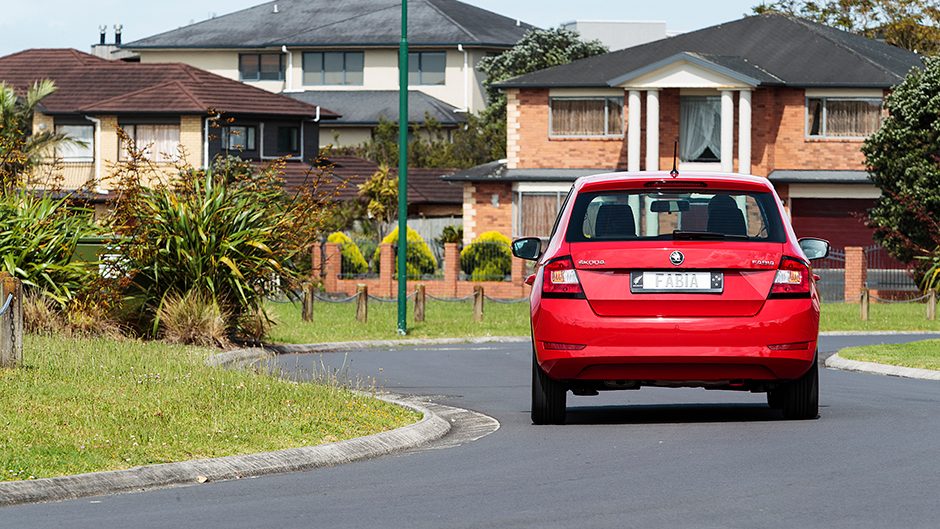 Where the previous 81kW Fabia managed high nines for a 0-100 run, this one struggles and fails to beat 11sec. And that's all because the 1.6L engine doesn't really fire properly until about 3500rpm, like most naturally aspirated rigs.
There's one other reason for the negative performance update too. Where Fabia 81kW once used a seven-speed twin-clutch gearbox, it is now graced by a six-speeder, still quick shifting but with a gap between second and third gears.
Its overtaking time also suffers, more than a second adrift. And not forgetting brakes, the emergency stop is out by 5m compared with before. Admittedly, the last Fabia we drove had optional Bridgestone Turanzas where the latest has Nexen Nblues eco-rubber as standard fit. They're actually quite reasonable in the dry, and the car is quieter on road too, down by about 2dB overall.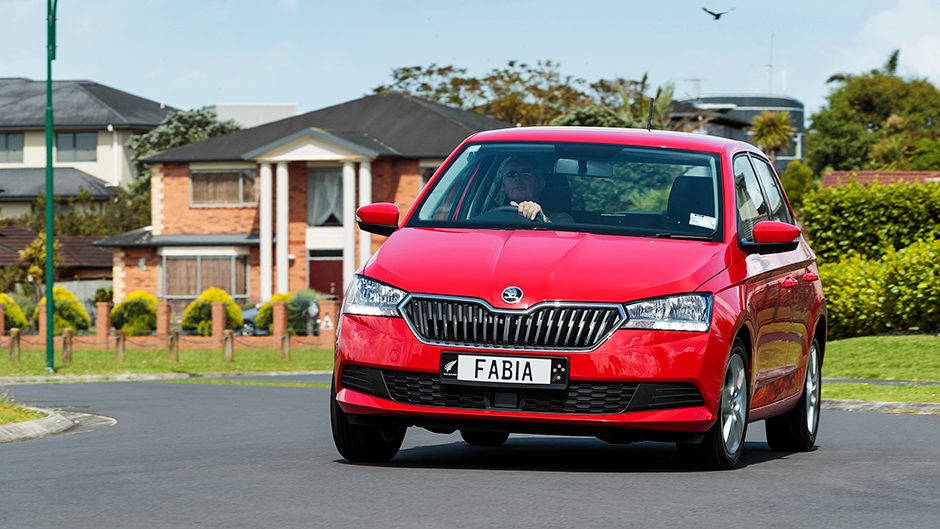 Even the engine isn't too raucous, though you do need to rev it harder than before, to about 5500rpm for best performance. Before it was fine to run it between about 2500 and 4500rpm, the turbo doing all the heavy lifting.
Still, unlike some small turbos it doesn't ever guzzle gas into double figures. We couldn't get it above 9.4L/100km, but then we couldn't "better" 9.8 with the former engine. Mid sixes for urban running before, and same again this time round. At least the normally aspirated engine runs on 91ULP, whereas the TSI demanded 95.
It might not be the cutest of shapes but by being angular and upright it is amongst the roomiest of the small'uns, its boot space rated at 330-1150L. It has a full spare beneath too. Most in the class don't even crack 300L.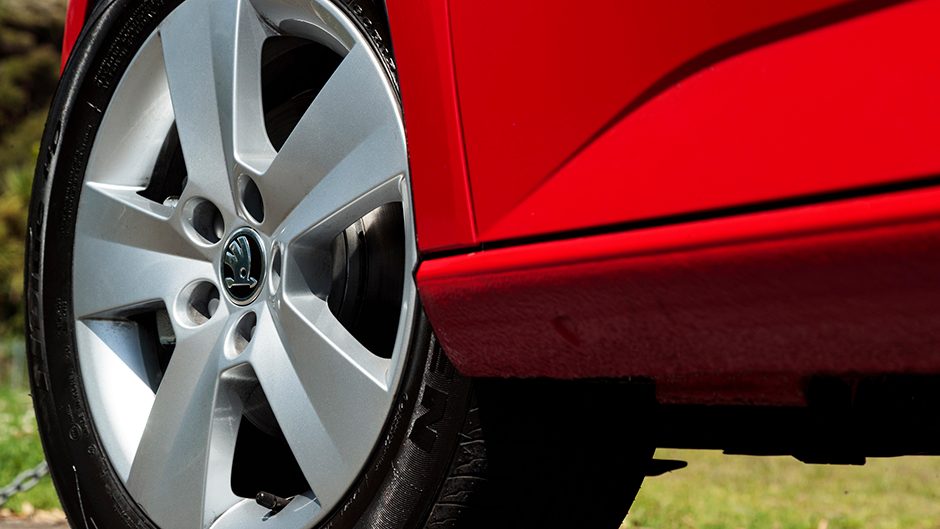 Other changes? You kind of need to go looking. Headlights are a little more slimline, the grille shape is slightly different, and so too the rear lights. Inside, new instruments and seat coverings. So if the slight price decrease of the Fabia 81 doesn't tempt, you can always go for the MPI 55 variant with pricing unchanged from before, but that gets a five-speed manual so rules out most potential buyers.
And where it used to have a chirpy wee 1.2TSI engine generating 66kW and 160Nm of torque, the atmo 1.0L isn't exactly a runner. Suffice to say, you're looking at a 15sec womble to 100km/h. Options for the MPI 81 we drove include comfort entry for $900, parking sensors each end ($650), a fixed panoramic sunroof ($1500), a link for smartphones ($350) and navigation ($1500, includes the smartphone update). Apart from the usual passive safety stuff, there's a collision warning system.
As to Simply Clever features, Fabia gets an umbrella under the front seat. Aside from the retrograde engine and transmission steps, it drives averagely for the class. Last time it was more inspirational.
So rather than being Simply Clever, we'd say the latest Fabia is just Simply. The small SUV they're cooking up cannot come soon enough.