It has long been one of the favourites in the compact SUV sector, Mazda's CX-3, and now it has been updated with no cost increase.
Many folk who might once have bought a compact hatch have now migrated to a small SUV because of the added practicality factor, the slightly higher ride and that indefinable herd factor. The 'first-ever' CX-3 has been around since 2015, and is the baby of the four-strong Mazda SUV range, utilising Mazda 2 mechanicals.
The latest iteration is an update, adding a top flight Takami grade that gets Nappa leather upholstery, a powered sunroof and other Limited features like adaptive LED headlamps, and heated mirrors and seats.
It costs $41,695. However, we're not in that but the mid-pack GSX model costing $36,695. To this, you can add an on-demand 4WD system for $2000 or leather upholstery for $1600 more. Or not, your call.
What's new for the 2019 MY update?
Externally there are new light designs each end, and a fresh grille, while the GSX and models above now wear 18-inch alloys shod with 215/50 Toyo Proxes rubber. Mazda has responded to owner criticism of NVH issues by increasing the thickness of front and rear door panels, along with rear door glass, while a more substantial headliner graces the cabin.
Having more of an effect on aesthetics is new dashboard trim, leather-like to the touch, and piano black door pillar garnish on the outside.
There's more for GSX on the safety front too, now coming standard with autonomous city braking, blind spot monitoring (shows up cleverly in the head-up display, as does the new traffic/speed sign recognition) along with active cruise control. No seat heaters but never mind that. The vehicle comes with a five-star ANCAP safety rating for 2019, helped by its standard-fit rear view camera, amongst other things.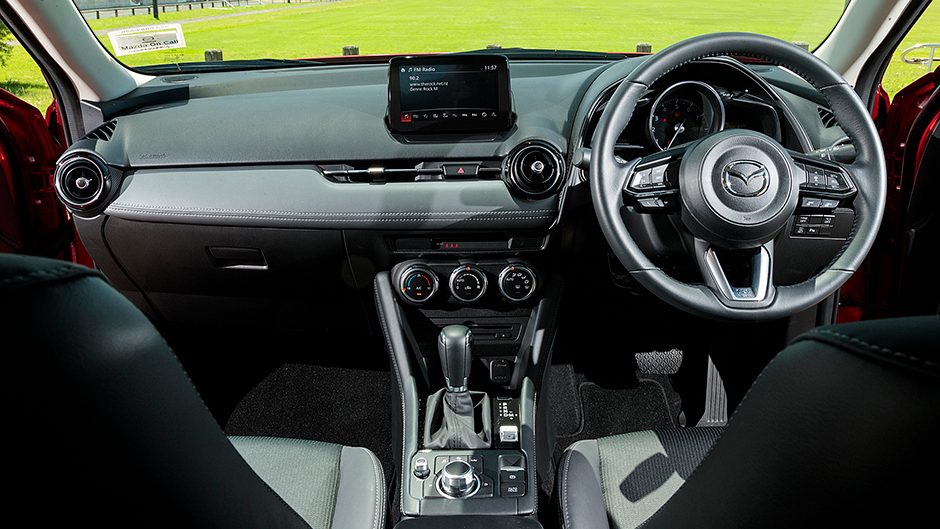 Under the hood it's unchanged, but Mazda has taken the time to fettle the chassis settings, tweaking roll bar and dampers for an improved ride. The engineers also retuned the electric power steering system. This remains one of the best looking in its class. The addition of 18s does no harm to its visual status, as does the gorgeous new Soul Red Crystal Metallic paint scheme. If you'd rather fly under the radar, there's an alternative grey metallic hue available.
It's a bit of a buzz driving a naturally aspirated vehicle for a change. You absolutely appreciate the total lack of lag, and it gets the jump on most turbo machinery away from the lights. Of course turbos do have their benefits as well, like low end torque production, but Mazda's atmo engines have never exactly been wanting in that department either.
It may only have a six-speed auto but that's enough, given the vehicle is quite light at 1277kg and the motor is a decent size, its SkyActivG 2.0-litre four producing 198Nm from just 2800rpm. There's 110kW of power to go with that, and performance is perfectly adequate. If it isn't quite peppy enough for you hard chargers, you can always jolly it along by pressing the Sport mode which has an easily detectable effect.
You can also take things into your own hands by slipping the lever to the right and shifting using the MS gate. This is correctly oriented for sports-minded individuals, and it's even more fun driving it this way than letting the Sportified 'box do its own thing. Last time we tested it an overtake took six seconds, and acceleration to 100 took just under 9sec, amongst the quicker runners in the sector.
What we liked just as much was the frugal nature of the mill, averaging a claimed 6.1L/100km overall and happily imbibing 91 ULP. Running around town the trip computer suggested an average of 8.2L/100km.
The engine generates decent enough low end torque, pulling in town from 1500rpm happily. And out of town it's a wee whizzer when given free rein, not that you need to go much above 4500rpm for more than adequate go power. And along with that there's agility to burn, even with just the front drive version that utilises a torsion beam rear end.
Yes, there's an Achilles' heel to the CX-3; rear seat room isn't huge. Nor is luggage capacity of 264L, though its high floor height makes loading easier and also facilitates a flat load space after split folding. There's still no Apple CarPlay or Android Auto for phone syncing either.
But if it's a frisky drive and funky look you're after, along with good overall specification and special build quality in a compact package, the CX-3 delivers as well as any in its segment.