Over the holiday period that takes in the Equinox, guess what we were driving? Holden had loaned us one of its Captiva replacements, in this case an LTZ-V example.
That's the top spec jobbie and comes with a powered fifth door (also gesture control), a wireless phone charger, dual powered sunroof and even a heated steering wheel. We'd gladly trade that for active cruise control, however, a pity it's something not offered. Still, the ventilated seats are rather nice for those sticky 28 degree days.
As to price, you're looking $53,490 currently, on summer offer down from the list of $57k. We'd loosely planned a trip up to Port Charles in this but come the time, the distaff said no to the heat and the traffic and the distance.
Instead we headed south to check out McLaren Falls, in the Kaimai Ranges. Unfortunately there are no pics of that, which is a shame because the falls and the park-like grounds are plenty picturesque.​
The reason is that we'd taken a bus there as part of a glowwormkayaking.com tour, paddling along a lake and up past a power station to check out a glow worm grotto. It was a pleasant evening, all the more so by failing to capsize our two-person kayak.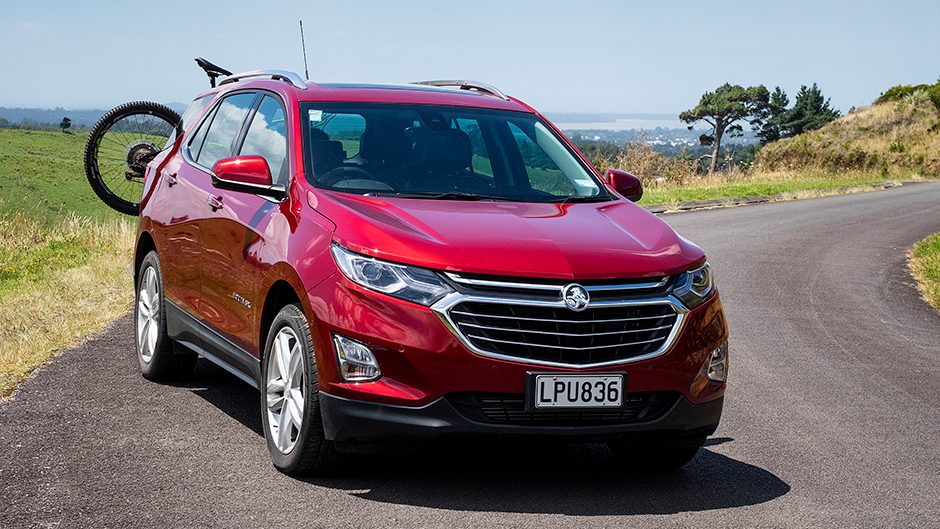 The Equinox made easy work of transporting our five-strong party from Whiritoa to Bethlehem, a trip of exactly an hour. Backseat occupants were rather complimentary about the journey, and even the middle seat occupant fares well, thanks to a flat floor. That's a good trick given the Equinox has four-wheel drive capability.
It's normally a front-wheel drive vehicle but a switch in the centre console turns it all paw. We only used this on a couple of occasions. It simply isn't needed by the majority of owners most of the time. That also helps to keep fuel use in check. Its consumption of 95ULP averaged in single figures (mostly 8.2 driven easily).
When we pressed on and stressed the tyres a bit, it barely hit double figures. That's the reality of vehicles such as this, a medium five-seat SUV fired by a modern 2.0-litre four with a twin-scroll turbo attached. Output is directed through a nine-speed automatic transmission.
Once you learn the trick of hitting top gear the engine is doing just 1400rpm at 100km/h. How you do that is lift off the gas once you're up to speed.
Helping limit fuel use in town is a stop/start mechanism. About the best instantaneous figure we saw was mid 5s at a constant legal motorway speed.
There's an abundance of go power on tap here, 188kW and 353Nm. That's equivalent, more or less, to an atmo 3.5L V6, only with torque from 1500rpm. Floor it and the nine-speeder quickly drops down multiple ratios, facilitating quick passing manoeuvres. It's amongst the fastest of its vehicle type, and is largely bereft of turbo lag.
It's also really practical. We had a fridge give up the ghost over the summer holidays. We'd bought that to replace a leaking fridge. Naturally when we moved that to the garage, it hasn't leaked since, and cools wine and beer to perfection. Its replacement, however, also died. The store couldn't deliver the replacement's replacement for three days but I reckoned it might just about squeeze into the Equinox.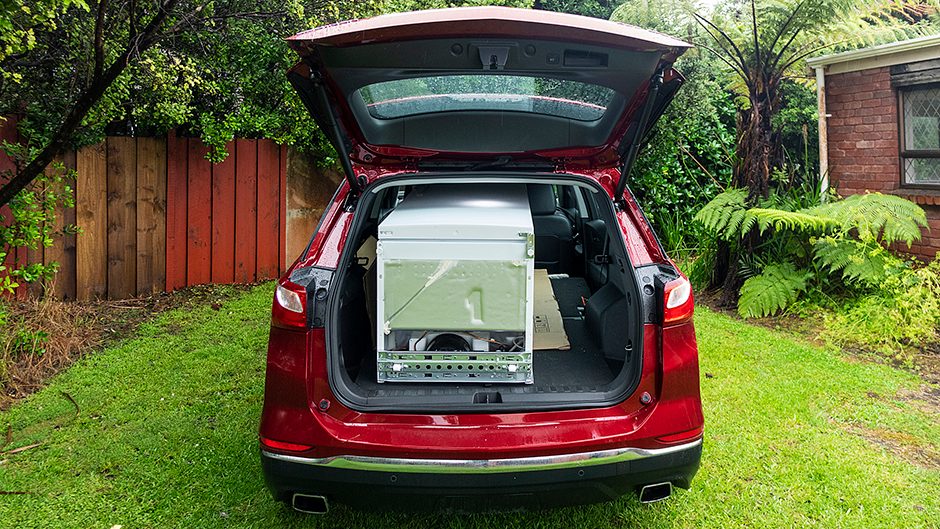 With split folding, the squabs lower as the seat back folds over, leaving essentially a flat load space. Once the fridge was hard up against the centre console the rear was inside but the top jutted out by about 10cm at the top.
Yet when we tried shutting the fifth door the outward curve of the glass meant there was just enough room for the door to close. A Beko fridge is clearly designed to fit perfectly inside an Equinox. And the boot itself? It's big. There's enough room (846-1798L) that you don't really need to think about packing stuff. Just load it in and close the door, like with the fridge.
There's also a handy underfloor area where we kept smelly things like running shoes and the dog. You can also leave valuables there if you park the car in isolated spots.
Which we did when mountain biking over the summer break and checking out new walking tracks up behind Waihi Beach (the trig walk is worthwhile), and also just out of Katikati, down Tuapiro Road. Make sure the tide is high when you visit this spot; there's quite nice swimming just opposite Tanners Point.
On the downside? Not much. The ride when unladen at slower speeds is a bit jiggly but improves at open road pace. Doors don't shut that convincingly and there's a bit much in the way of hard black plastic in the cabin.
Sometimes exuberant takeoffs chirp the front wheels. The 12.7m turning circle isn't that flash either. Otherwise, this is a worthy update on popular Captiva, and if the range topper breaks the budget, Equinox currently kicks off from $32k for the 127kW/275Nm 1.5L turbo four-cylinder LS auto variant.
| | | | |
| --- | --- | --- | --- |
| Model | Holden Equinox LTZ-V 2.0T | Price | $56,990 |
| Engine | 1998cc, IL4, T/DI, 188kW/353Nm | Drivetrain | 9-speed auto, on-demand AWD |
| Fuel Use | 8.4L/100km | C02 Output | 196g/km |
| 0-100km/h | 7.01sec | Weight | 1735kg |