Here at NZ Autocar we've had a soft spot for the entry-level AMG C-class, or the C 43 as it's known. With a rearward torque bias (31:69), the AWD imbues it with a sense of sport and security, enhancing driver confidence, and C 43s seem to dissect winding roads almost as quickly as a C 63. I mean to say, how much speed do you really need?
Now, it has undergone an upgrade, like the rest of the C-Class range. A fresh look outside and in, with new LED matrix headlights (84 elements per unit), a different grille and side skirts, and inside new digital instruments, the latter highly configurable.
Under the hood, there's been a 'healthy power boost', up from 270 to 287kW. No torque top up to go with that, however, still the same 520Nm tally as before. Previously both C 43s we'd driven, Coupe and Estate, managed sprint times of 4.7sec. With a faster shifting 9G-Tronic transmission and a bit more power, the sedan now runs consistent 4.4sec sprints, only 0.2sec behind the C 63.
And where overtakes required three point something seconds previously, it now runs in the twos, so progress on both fronts. Brakes are suitably strong to rein in the exuberance. Other updates include the introduction of touch sensitive control pads on the steering wheel, and the inclusion of traffic sign recognition.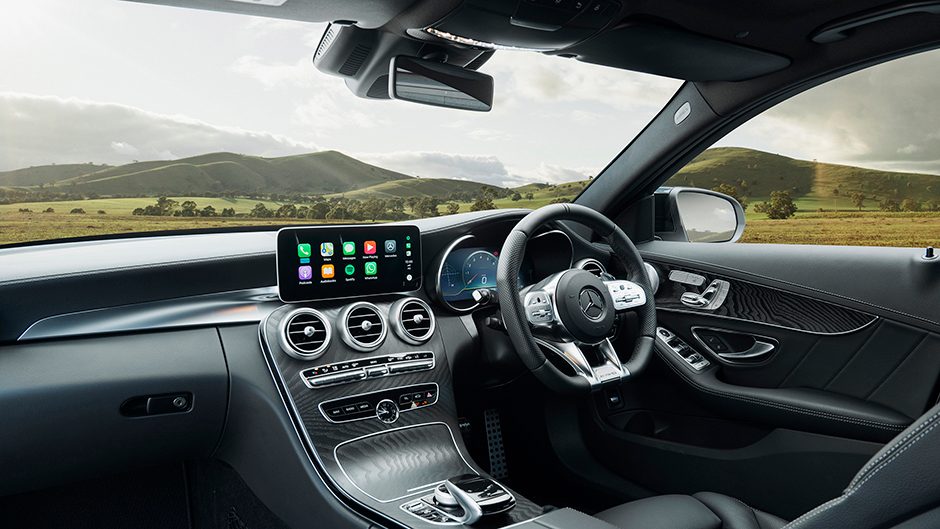 The driver assistance suite is comprehensive, including things like lane keeping, blind spot monitoring, rear cross traffic alert and a self-parking system. There's also collision avoidance and driver fatigue detection. Naturally, there's active cruise control, which works right down to zero, and will pull away automatically if you haven't been parked up for more than half a minute.
All that's kind of expected in something costing $122,800, a saving of almost $50k on the C 63 which currently goes for $167,900. No price has been set yet for the 2019 model. We jumped out of the S 350d and straight into the C 43, a bit of a juxtaposition.
One is like a cosseting cocoon, the other a road runner. It's nothing like as quiet the C 43, but even with its lashings of performance rubber nor is it that noisy, with in cabin SPLs peaking at 75.5dB. Besides, there's an antidote to the tyre clamour; push the little button with the exhaust icon and that soon becomes the dominant cabin sound.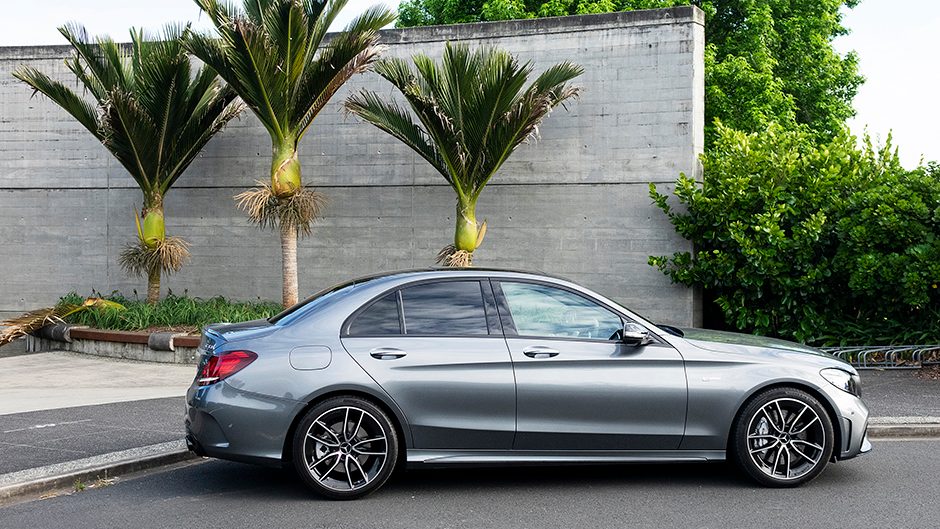 The performance exhaust is a $2300 option you simply must not overlook. It pops and bangs and barps away, making noises you'd not rightly expect from a biturbo V6, but then only in the Sport+ mode. Pushing the exhaust button in the myriad other drive modes is kind of a half-way house. The other option fitted to our particular vehicle was Energising Comfort Control ($1000).
We didn't go near this 'emotional manipulator' which just doesn't bear explaining. Just driving this thing the way it was designed will energise the bejesus out of you. This thing is effortlessly quick. Even using the 2000-3000rpm range is sufficient in everyday use. From 3000-4500 it's simply a blast, and you really do not need to any higher for it is genuinely pulling like a wild thing from 3500rpm onwards.
In Sport+ mode the shifts bang through quick sharp, like a twin-clutch box, and the nine-speeder is capable of multiple downshifts (just hold the left paddle) and also picks lower gears when braking into corners.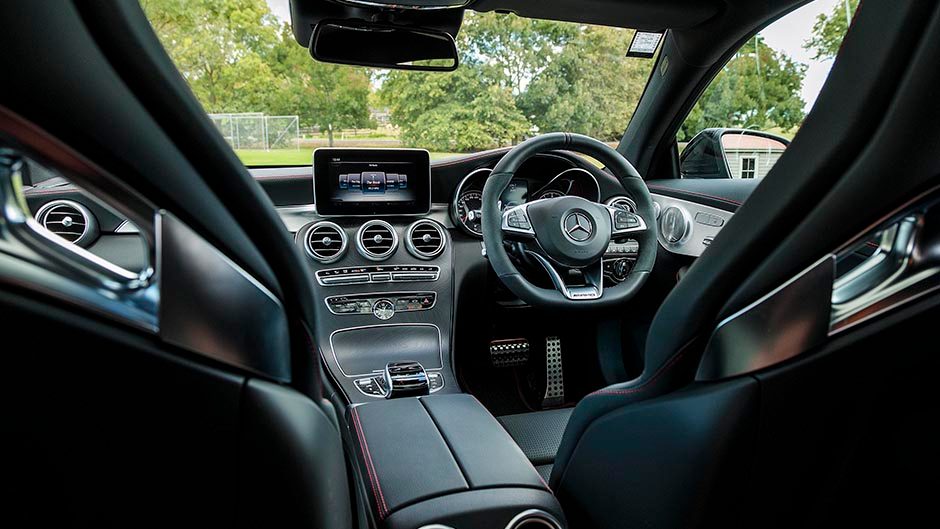 It's a cracker box, fourth gear particularly handy for overtakes on backroad New Zealand. Moreover, the modes are optimised just so; Comfort isn't so soft it's unusable out of town, far from it. And Sport+ is out there energetic but damping not so firm it becomes crashy. Sport is a fabulous in-between setting where everything feels energised and yet you can still access ninth gear easily enough with deft throttle work.
This lives for straightening back roads, and with its AWD status, you can get back on the gas way earlier than waiting for the apex. Just a momentary lift and brush of brake is often sufficient for corner entry. Steering's quick too, at 2.2 turns lock-to-lock. It's accurate and doesn't feel artificial in its heft, with decent resistance.
There's only a whiff of boost lag too, being a biturbo. It takes a while to become familiar with what's controlled by buttons on the wheel and what's relegated to the centre console and Comand system. There's not much headroom in the rear either because this comes standard with a sunroof.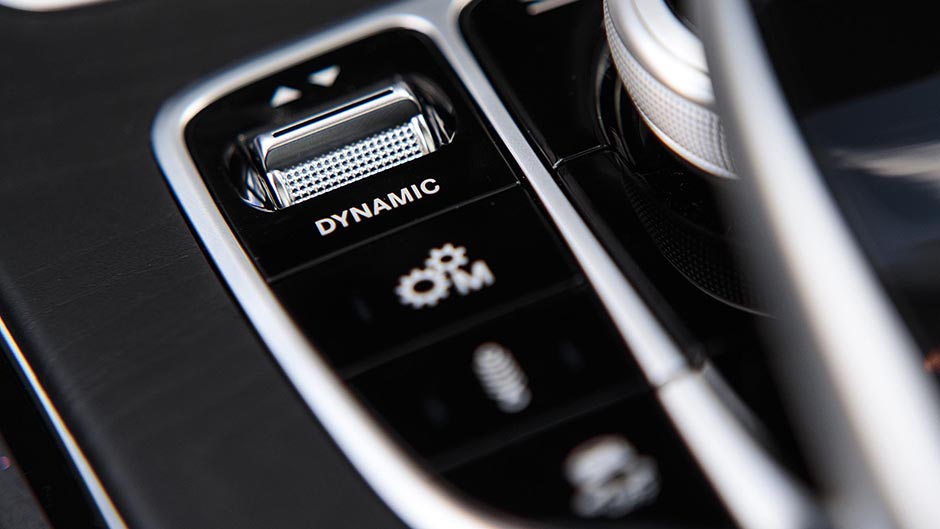 Handy kit includes a head-up display, Burmester 13-speaker sounds, wireless phone charging, Smartphone integration, and heated seats.
It may not have the pulling power or aura of the rear-drive C 63, but we imagine that for most Kiwis the benefits of AWD and performance that's only a jot down on its bigger sib, all with a $50k cost saving will be sufficient to get the C 43 over the line.
And if the 435L boot is a bugbear, there's always the 490L estate version, which is just under $3k more expensive.
| | | | |
| --- | --- | --- | --- |
| Model | Mercedes-AMG C 43 sedan | Price | $122,800 |
| Engine | 2996cc, V6, T/DI, 287kW/520Nm | Drivetrain | 9-speed auto, all-wheel drive |
| Fuel Use | 9.4L/100km | C02 Output | 216g/km |
| 0-100km/h | 4.41sec | Weight | 1738kg |