Fabia returns in fourth-generation guise, as a nifty range-topping Monte Carlo variant only. Is it worth the nearly $40k ask?
Note the hero gold colour of the new fourth-generation Skoda Fabia Monte Carlo. It's the same as that of the Karoq SUV that we drove recently, with the same blackened roof. When I asked the missus what she thought of the look of the new Fabia she completely didn't believe I had changed vehicles. However, her look suggested 'Oh, I might be wrong about this' but naturally there was no admission of such. She might have been wrong once but even then she was probably in error.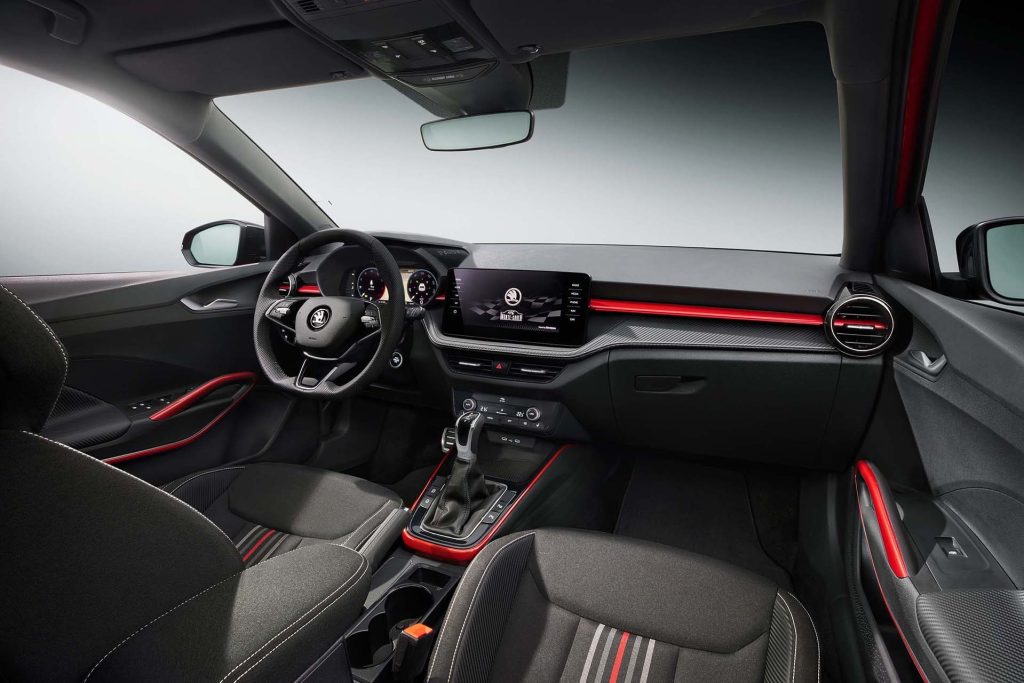 It just shows how much stock some people put in colours though, right? Earlier in the year, all she wanted was this gorgeous pastel green e-bike…until she rode it – what a clunker – and ended up with a more expensive dark green one that rode the wheels off the cheaper model. She still pines after the cute pastel green one, of course.
Car colours are vitally important. Buy a black or dark grey car if you want to be cool…and blend in with the road on a miserable day. Choose a bright colour if you want to be seen when visibility is dodgy.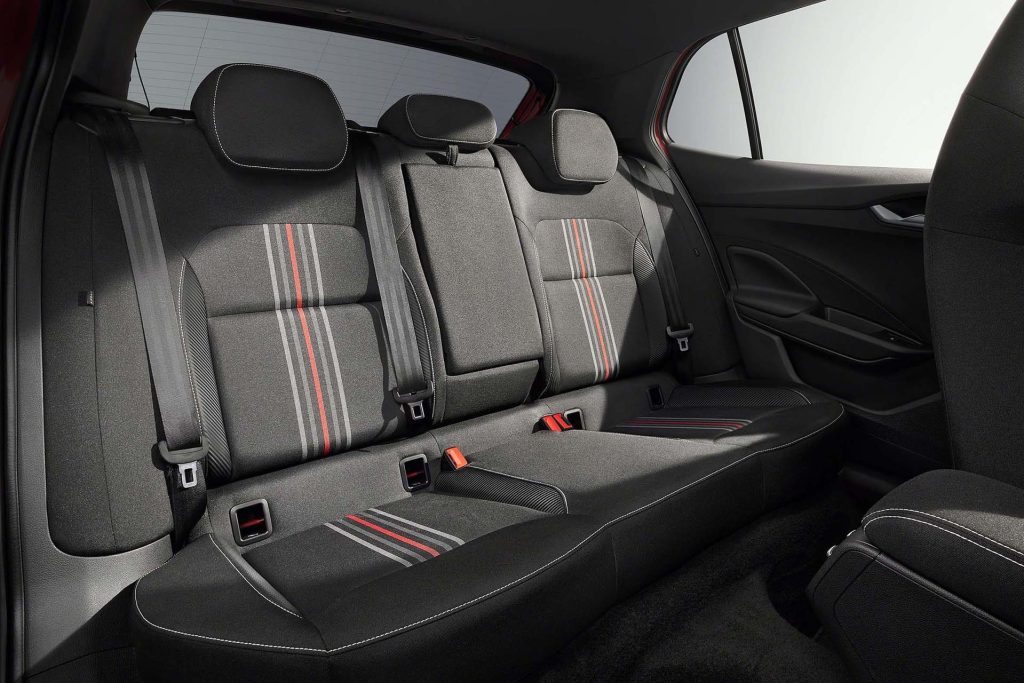 Anyhow, the pair may look superficially similar (to those that have no interest), and run engines with the same power output but, badges aside, there the similarities begin and end.
The Fabia has a seven-speed twin-clutch gearbox, its engine is the one with the cool cylinder deactivation system and being a smaller car, it imbibes even less fuel than the Karoq. While not being quite as spacious or high riding, it is easier on the wallet than the fee-neutral Karoq, garnering a rebate of $2181. So that makes it $37,809 before ORCs. Which is about $12k less than the crossover. Still not a cheap small car, but then not many come as fully equipped as this, which seems to be what folk want.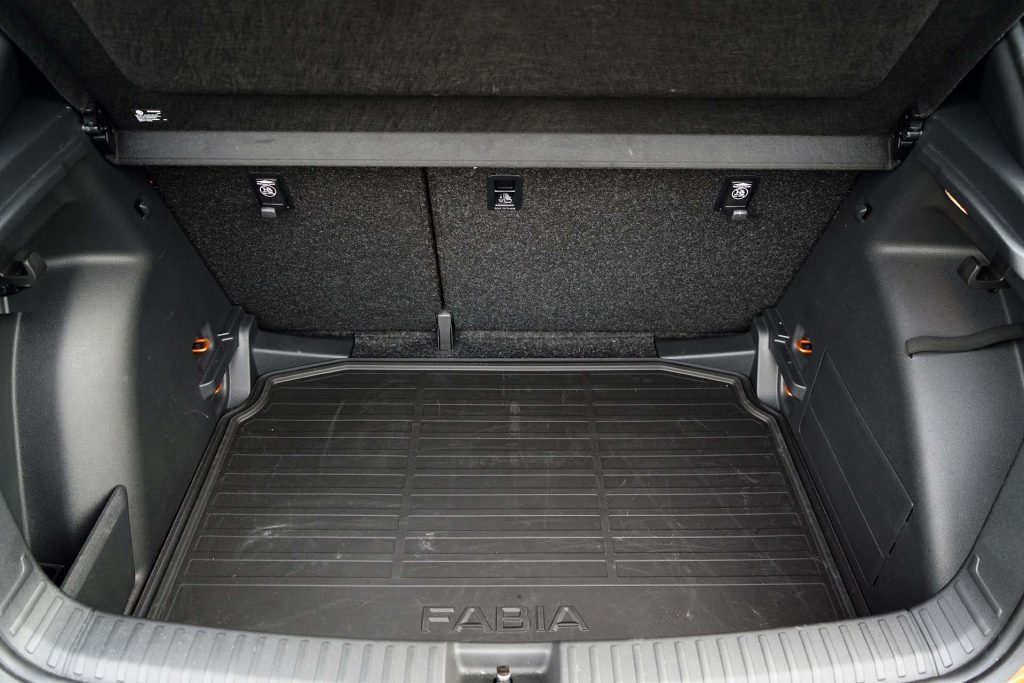 In fourth-generation guise Fabia is much sharper looking, the Monte Carlo with a subtle body kit. The blacked out grille is new, as are the LED lights, taking on the latest Skoda family frontal styling. The more windswept shape is reflected in a Cd of 0.28, where previously it was 0.32. Physically it reminds of the Polo which is no longer available here, meaning one less competitor.
This is the only model variant of the Fabia available here. MC sits on a new platform, VW Group's MQB-AO for littl'uns, and inside there's plenty of sports-oriented specification. And underneath too, it coming with stiffer sports suspension so it gets around corners fairly convincingly.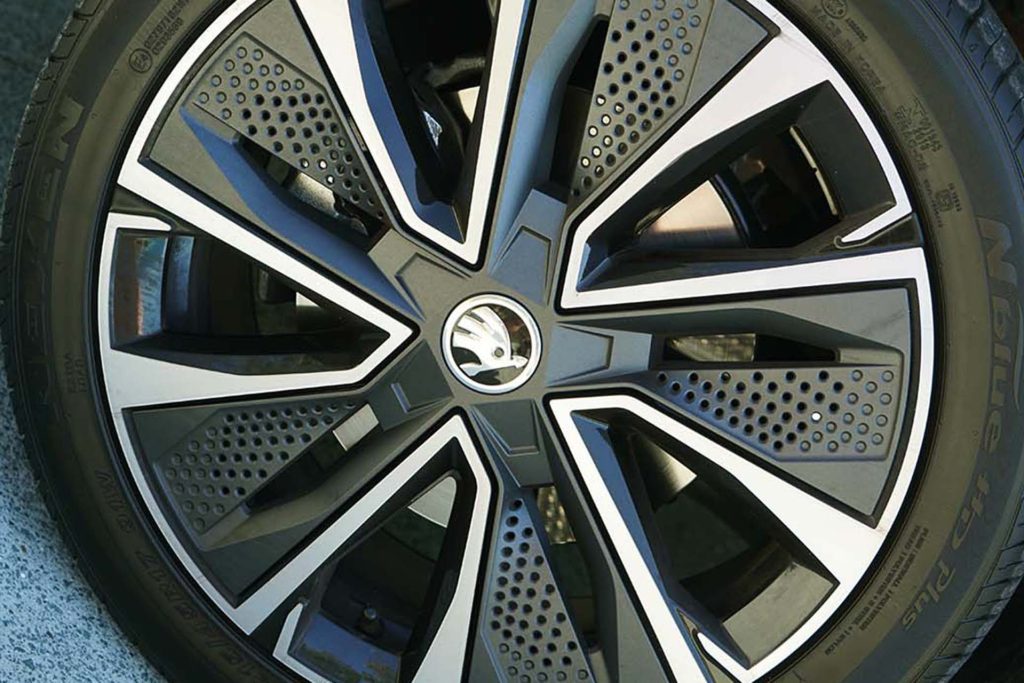 But it's not all about go and show, for the engine has a 3P-WLTP combined fuel use figure of 5.4L/100km (124g/km CO2), explaining its rebate. Unlike Karoq, this engine features cylinder deactivation, with a pair going off-line during low-load running. Expect instantaneous fuel use of well under 5L/100km in these situations. Even at open road speeds using adaptive cruise control, we saw high fours and similar figures in town when running it in Eco mode where it happily hauls away from low revs.
The engine is well known in the VW Group family, the 1498cc IL4T good for 110kW and 250Nm, the latter from 1500-3500rpm. Shift the seven-speed dual clutch transmission to its S setting and this will scuttle to 100km/h in a claimed 8.0sec.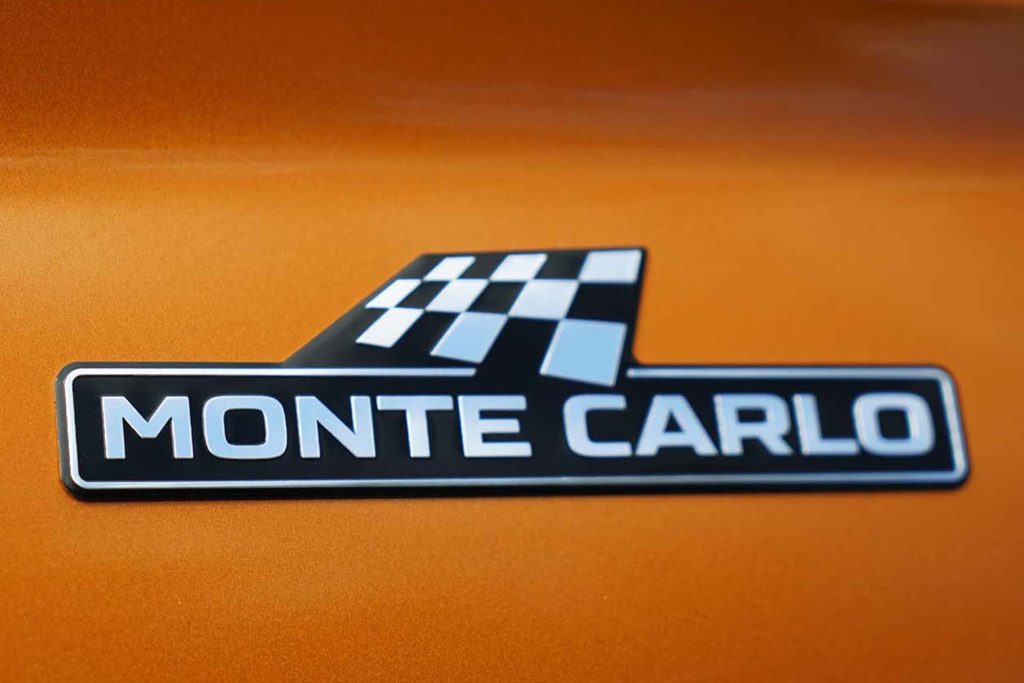 New Fabia is bigger than before, longer by 111mm and is the first generation to exceed 4m (4108mm). It's also wider, though its roofline is down by 8mm to give it more of a grounded appearance. It looks a bit like a hot hatch, especially with the two-tone paint job, though those aero-enhanced wheels might make you think twice. Still, the expanded measurements translate to more occupant and luggage space, legroom in the rear up by 13mm and hatch capacity rising by 30L to 380L overall, amongst the most in its small car class. Not enough for golf clubs, it should be said, unless you split fold and insert them lengthways. We just plopped them on the rear seat instead. Or you can just not play, probably a better solution. The hatch floor can be lowered or removed altogether and this enhances capacity noticeably.
The interior looks improved, with smart sports seats, fabric finished (no heaters though) and decorated with racing stripes and mock carbon. Providing they're not at their lowest point, which uptilts the legs, they last the distance well enough and keep you nicely ensconced, the centre console a comfy enough place to rest the left knee.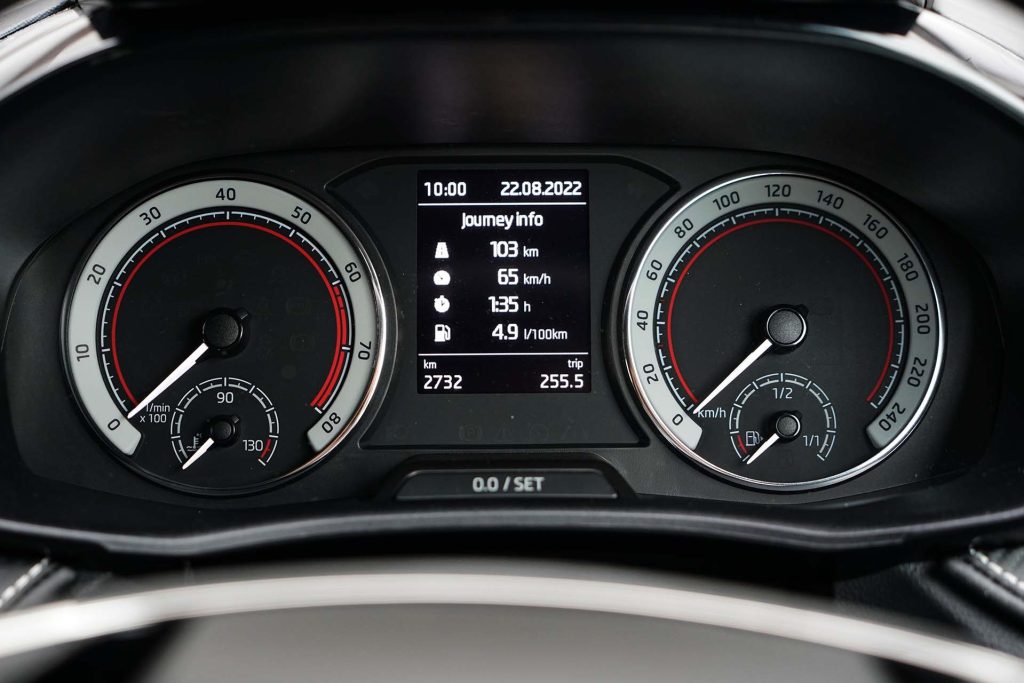 All of which is useful because this can really scoot through corners, more so than the Karoq being lower riding, lighter, with tauter springs and dampers, and lower profile rubber. The steering isn't the most communicative but weighting feels natural enough and understeer seldom rears its head. Standard Nexen rubber is okay, but emergency stopping distances were no better than average for a warmed over, lightweight (1270kg) hatch, the best being 34m and a bit.
Skoda is really conservative with its claimed sprint time of 8sec, given we managed a couple of 6.9s, right on Swift Sport pace. Letting the auto do its thing, and without stalling it up on the brake – it doesn't like that – expect around 7.3sec, but using M/S seemed to hasten it along some. An overtake of 4.93sec isn't too scruffy for a Swift-sized hatch either.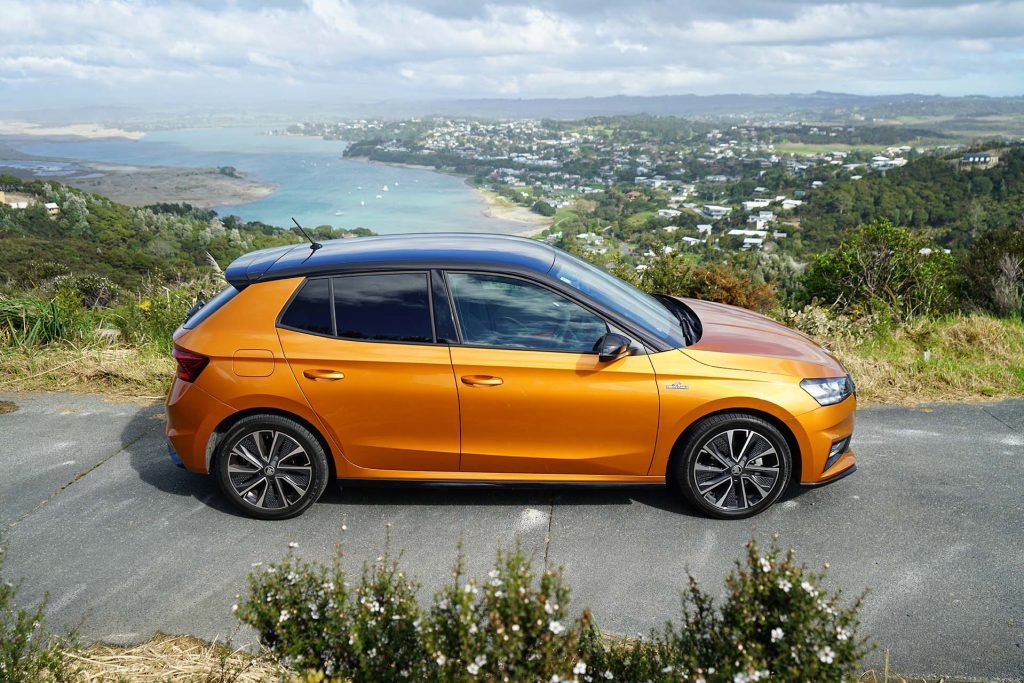 Round town we set it in Eco mode where it goes fine, and eases gas use further. There are no paddles here, and nor are they missed.
New stuff includes an eight-inch colour touchscreen, red/white ambient lighting and red highlights on the dash, door handles and centre console. The LED headlamps have auto high beam, and there's adaptive cruise and AEB, lane keeping (comes back on with the ignition but easily snuffed), driver fatigue monitoring, and parking sensors at each end. There are also heated mirrors and a toasty steering wheel.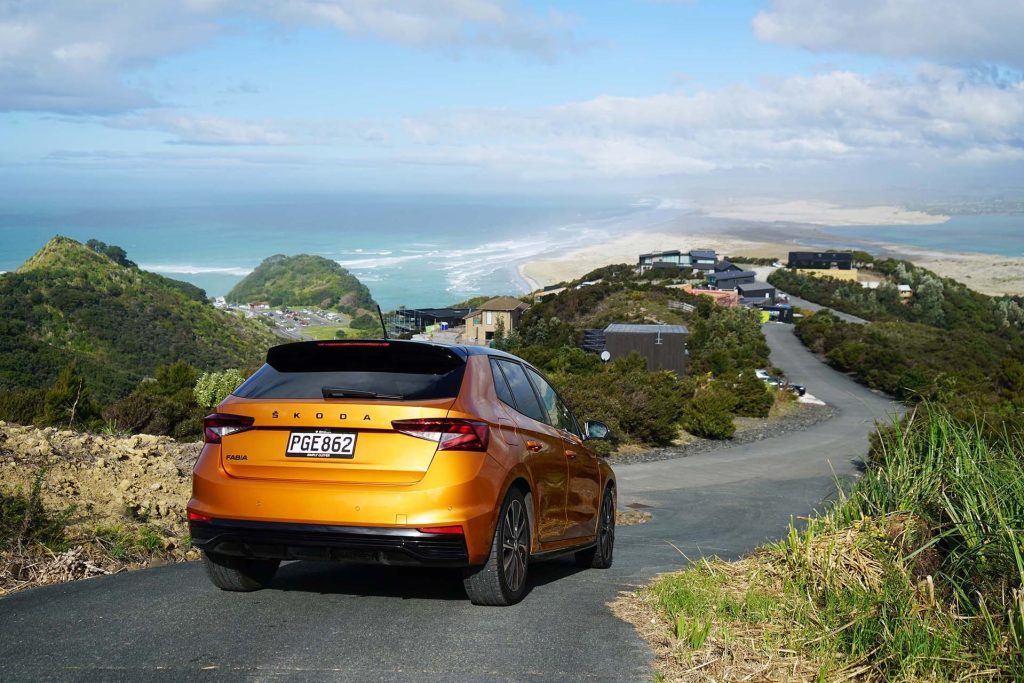 Other items include keyless locking and push button start, tints for the rear windows, and a Qi charger. There a few hard plastics about and we noted a lone dash rattle.
There's not much in the way of simply clever gear except for an umbrella in the front door and a few USB-C outlets, one in the internal rear view mirror. There are also some novel storage solutions in the luggage area, however.
Those who might be heartbroken about the exit of Polo from our shores and don't want a Swift Sport now have a worthy European offering that's highly specified, and also has a five-star Euro NCAP safety rating and five-year/150,000km warranty. Want something similarly European but slightly sexier? Peugeot's new 308 in base trim will be just over $40k after the rebate.  
Model
Skoda Fabia Monte Carlo
Price
$39,990
Clean Car Discount
Rebate – $2181
Engine
1498cc, IL4, T, DI
Power/Torque
110kW/250Nm
Drivetrain
7-speed twin clutch,
FWD
Fuel Use
5.4L/100km
C02 Output
125g/km
0-100km/h
6.90sec
80-120km/h
4.93sec (140m)
100-0km/h
34.75m
Stability systems
ABS, ESP, TV
Safety
AEB, ACC, BSM, LDW,
RCTA, ALK, AHB
Luggage Capacity
381-1190L
Tow rating
610kg (1200kg braked)
Service intervals
12 months/15,000km
Warranty
5 years/150,000km
ANCAP rating
5 stars (2021)
Weight
1270kg (claimed)