Four years on, the Skoda Karoq undergone a facelift which sees it looking sterner. Is it still a smart choice?
While Kodiaq is preferred by Kiwis, don't overlook Karoq which has just undergone a revamp, so long as you can handle driving only the second-biggest SUV offered by the brand. And by SUV we really mean crossover as this has no real off-road capability, being a front driver with decent tarmac-oriented rubber.
The first-generation Karoq dotted down in 2018 here and at that time it saw off Nissan's Qashqai in a head-to-head comparison. Now, midway through its lifecycle, it comes in for a refresh that's mainly restricted to external styling.
As you might or might not be aware, there was an engine and transmission change in 2020, from a 1.5T to a 1.4T, and from a seven-speed twin-clutch unit to an eight-speed auto. The output was unchanged at 110kW and 250Nm, but the smaller engine did not have cylinder deactivation; the 1.5 was evidently reserved for EU 6 emissions zones, meaning the EU primarily. That unit put two cylinders to sleep during low load running, and was capable of mean fuel use around the 6.2L/100km area, whereas the figure for this model is 7.2L/100km overall (163g/km of CO2), both WLTP numbers. We saw that easily enough during open road running, with a low in the late sixes.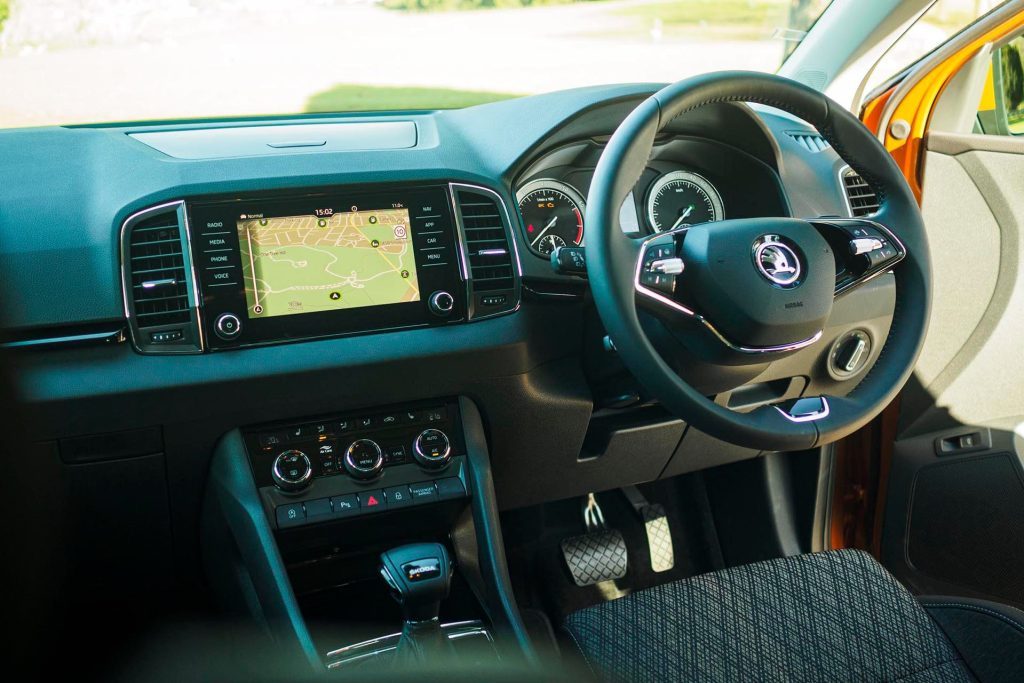 Even given a gentle nudge, the average fuel use figure remained stubbornly in single figures – our high was 8.8L/100km – and that's quite something for a vehicle of this size (4390mm long on a 2638mm wheelbase), especially one with a turbocharger attached. That efficiency is in part due to its eight-speed auto, top gear well overdriven, with 100km/h a very easygoing 1600rpm in eighth. Even an indicated 110km/h it is still well below 2000rpm, contributing to its modest thirst.
But there's another reason this is no gas guzzler; the Skoda team has gently massaged the body with improved aeros in mind, the main factor being a smoother underbody. Small things like air curtains and an extended rear spoiler help, while even the wheels are wind tunnel tested for aerodynamics. Not that they look a million bucks but the bottom line is decent fuel efficiency, even if it does sip the more expensive premium variant.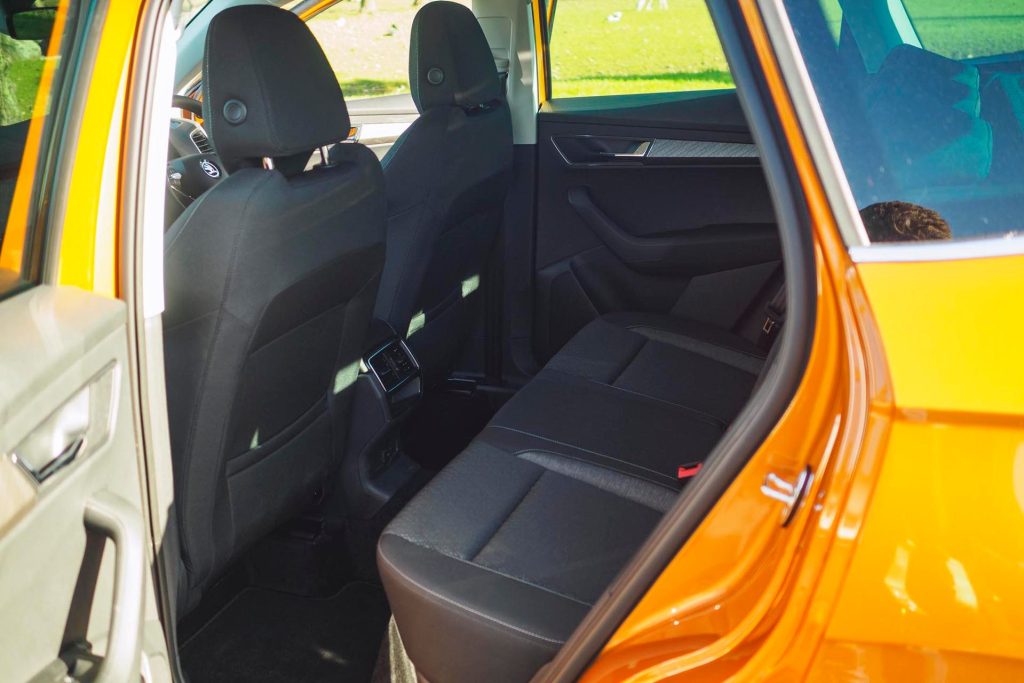 Another aspect that helps not only fuel use but also general ride and handling is the weight of the vehicle, a claimed 1353kg. It genuinely feels light to helm, perhaps aided by steering weighting that doesn't feel artificial. Its handling is better than expected too, the light weight a clear advantage, but then it rolls on decent rubber. Despite that, road noise is distinctly hushed, in cabin SPLs in the sixties, apart from over rougher surfaces where we saw a maximum in the mid-71dB area, still rather quiet on the go.
And on that, the motor you scarcely hear either, mainly because the wee 1.4 donk offers up maximum torque of 250Nm from 1500rpm so you're forever working it in the low and midband revs. That's yet another reason it's so easy on gas.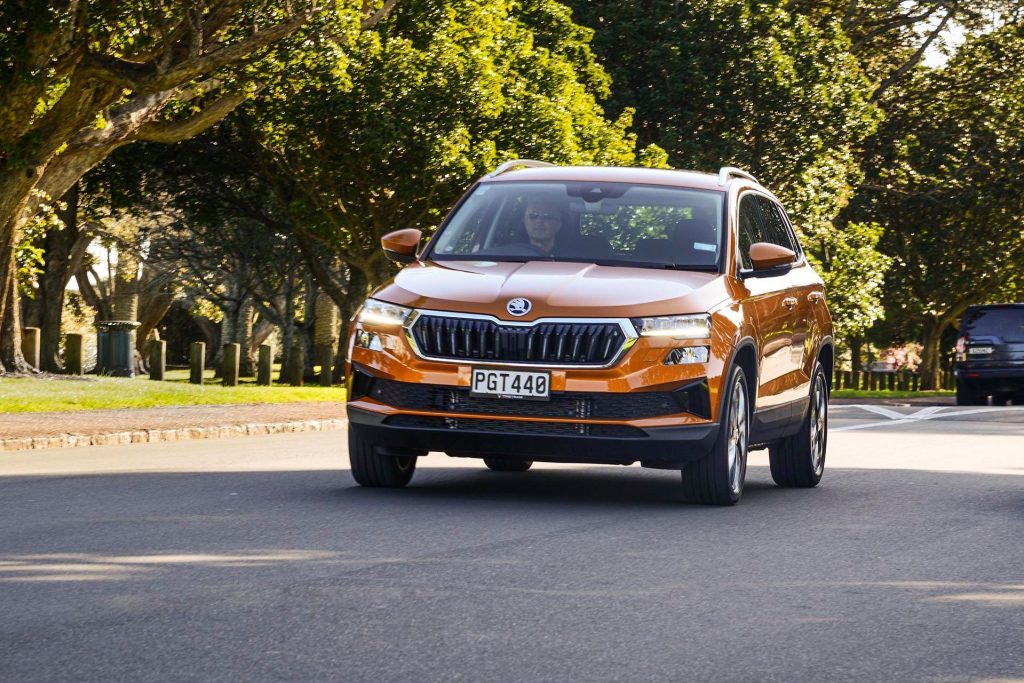 The refreshed Karoq, as you'll have noticed, looks different, more modern with new slimline LED headlights and taillights, split DRLs and a new larger grille in a hexagonal shape. There are also the aero changes as mentioned and these result in a Cd of 0.30, which is reasonably low for a vehicle that has ground clearance of 172mm.
There are three models on offer, the midrange Style variant you see here for $49,990, a base model Ambition at $43,990 with the same powertrain, and at the top of the heap, the Sportline TSI140 4×4. That runs a 140kW/320Nm 2.0-litre turbopetrol with AWD, and costs $60,990. All three models are fee neutral.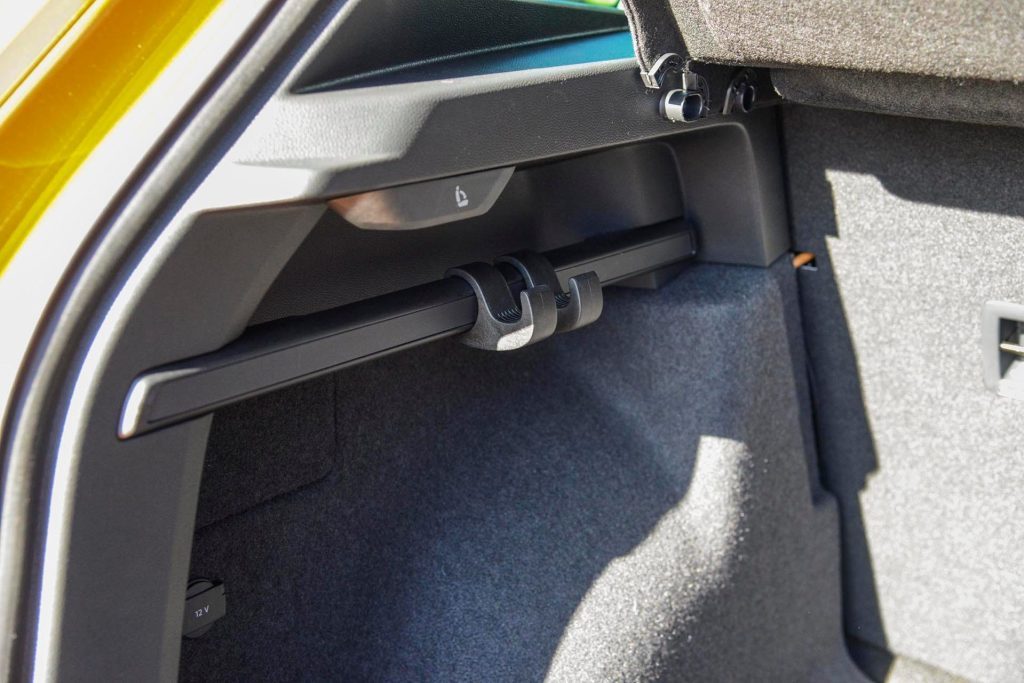 How prices have risen in four years though; when we tested the Style variant originally it went for the same as the Ambition now, so that's a rise of $6k. And while there's still no blind spot monitoring we don't believe this is really an issue, given the concave nature of the external mirrors. That is, if you bother using them; many other road users don't seem to.
The overall specification is good however, with adaptive cruise including stop and go, lane keeping (easily cancelled and it stays that way), front and rear parking sensors, AEB, a swag of airbags, gesture control for the powered tailgate (which I couldn't seem to activate), heaters for the front seats and steering wheel, the latter nicely leather bound, dual zone air, and Smartlink wireless phone connections for both tribes of smartphone users.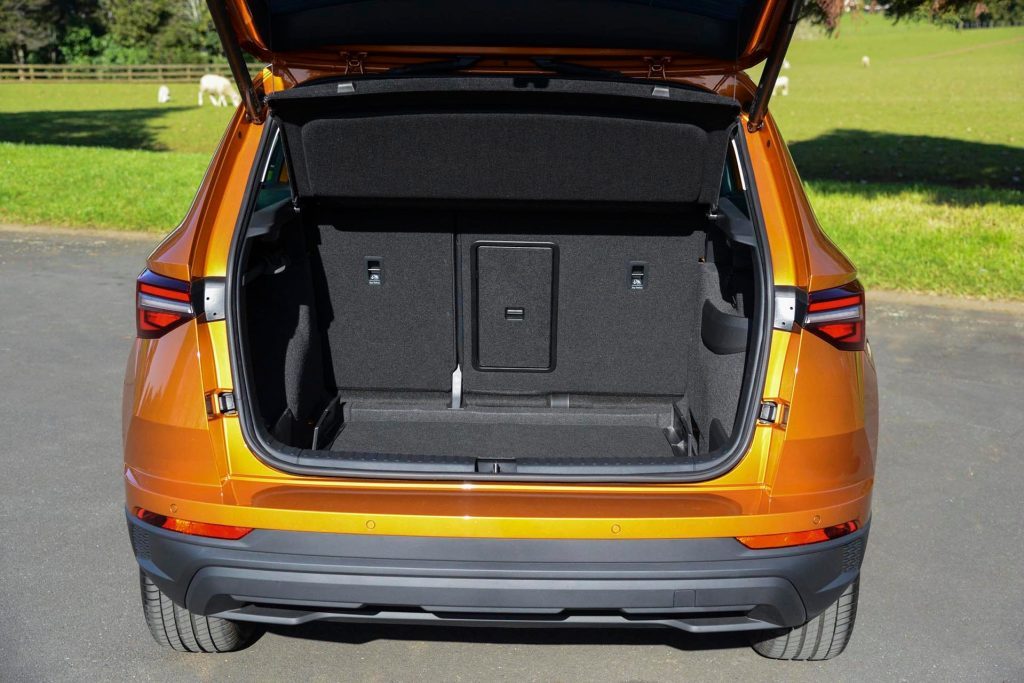 There are also sliding and removable rear seats available, dubbed the VarioFlex option, but with a boot capacity of 520L expanding to over 1600L, it's not really necessary. We liked the boot floor's liner, keeping things tidy. And for parking simplicity in town, it's hard to overlook front and rear parking sensors. There's a reversing camera too, naturally, while all round visibility is noteworthy.
Skoda is known for its simply clever concepts, like the complementary umbrella below the front seat squab, parking ticket holders and things like ice scrapers that only those on the mainland will ever need. But its the simple functionality that really impresses, like pushbutton start where the key used to go – no forgetting where that is then – hard buttons for the HVAC system, handy and shiny knurled knobs on either side of the steering wheel (for volume and trip computer) and spring-loaded releases for split folding.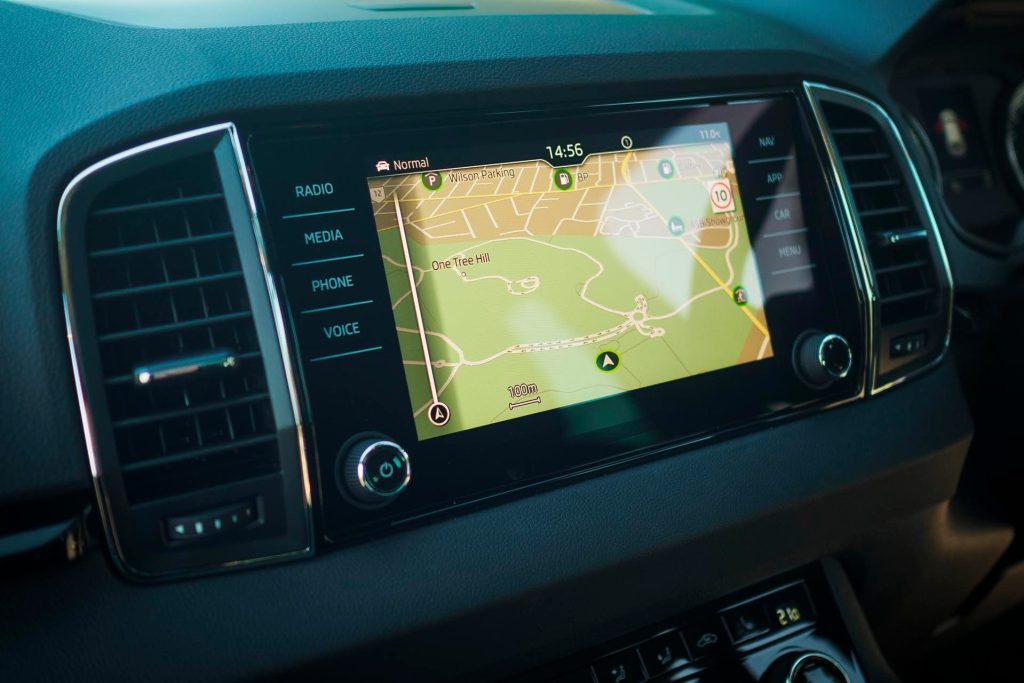 Being slightly elevated and a crossover it's easy to slip in and out of the Karoq, the proximity key making entrance an easy one-touch process. Seats are finished in recyclable materials if that's important to you, and are well shaped, manually adjusted and there's a lever to ramp up lumbar support.
There are four drive modes too, though the default Normal is all you ever really need. It slopes around the burbs so casually, the turbo effect clearly apparent from basement revs, under 1500rpm. On the odd occasion when you need a little extra oomph, perhaps for an overtake, just pull back on the gear lever which activates Sport transmission.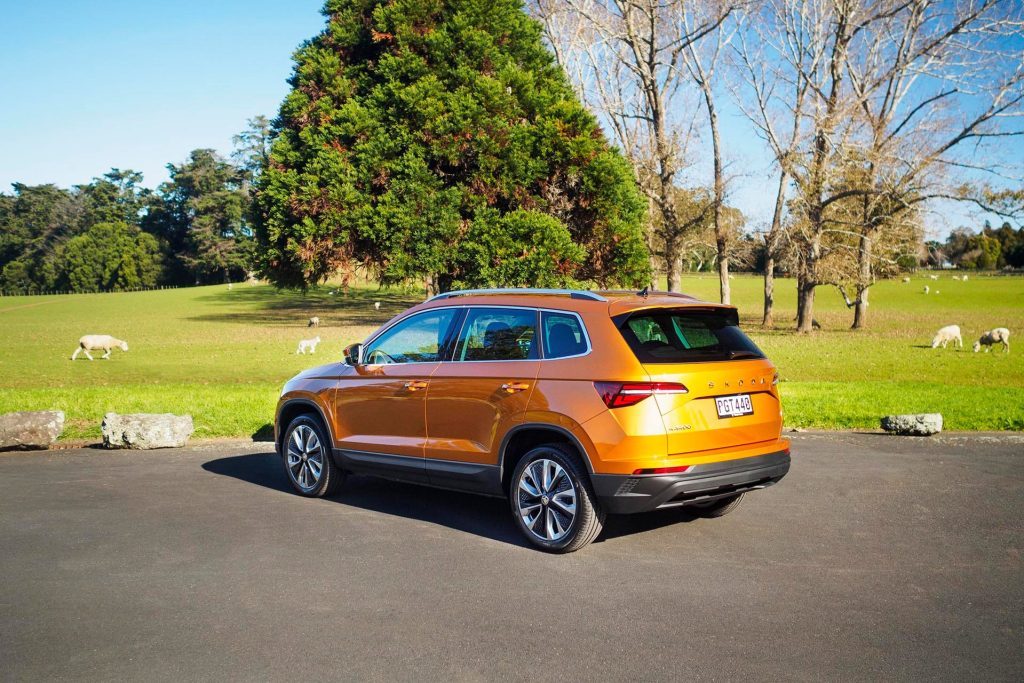 On the ride front, this could almost have been designed for local conditions, absorbent for the most part, controlling when it needs to be. Handling, as we mentioned, is inspired compared with some of its rivals. And brakes are fantastic, stopping distances we could hardly believe.
I was sad to hand this back frankly; there's nothing quite like a well designed, practical, comfy, spacious vehicle with decent enough performance and economy to match. It might almost seem boring from that description but sometimes getting the basics right is actually enough. If the price seems too steep, there's always the Ambition model kicking off at $43,990.
Model
Skoda Karoq TSI
110 Style
Price
$49,990
Clean Car Discount
Neutral $0
Engine
1395cc, IL4, T, DI
Power/Torque
110kW/250Nm
Drivetrain
8-speed auto, FWD
Fuel Use
7.2L/100km
C02 Output
163g/km
0-100km/h
8.55sec
80-120km/h
6.32sec (180m)
100-0km/h
32.53m
Stability systems
ABS, ESP,
Safety
AEB, ACC, LDW,
RCTA, ALK, AHB
Luggage Capacity
521-1630L
Tow rating
690kg (1500kg braked)
Service intervals
12 months/15,000km
Fixed price servicing
3 years/40,000km
$1345
Warranty
5 years/150,000km
ANCAP rating
5 stars (2017)
Weight
1353kg (claimed)