Is there a better example of the nineties performance car hero than the Mazda Familia 4×4 DOHC Turbo? We think not, and this 1986 BFMR sure does take you back. 
In the early nineties, Mazda was a popular choice for the young and impressionable. While some of these enthusiasts were 'pulsing hard' in their rotaries, others were turning up the boost in their 'dohc turbos'.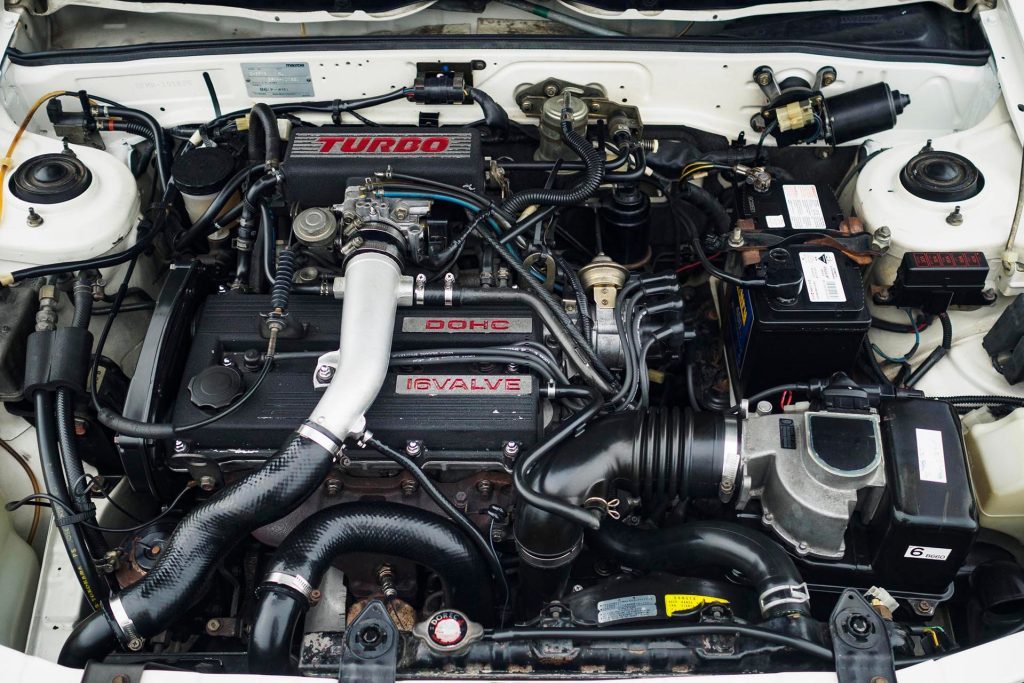 The sixth coming of Mazda's Familia/323, the BF generation, had the usual body styles for a Japanese compact car of the day, back when these were big sellers. You could get a sedan, wagon, hatch, even a cabriolet, while some might remember those odd Etude coupe versions too. But it was the three-door with the DOHC TURBO decals on its side that most desired.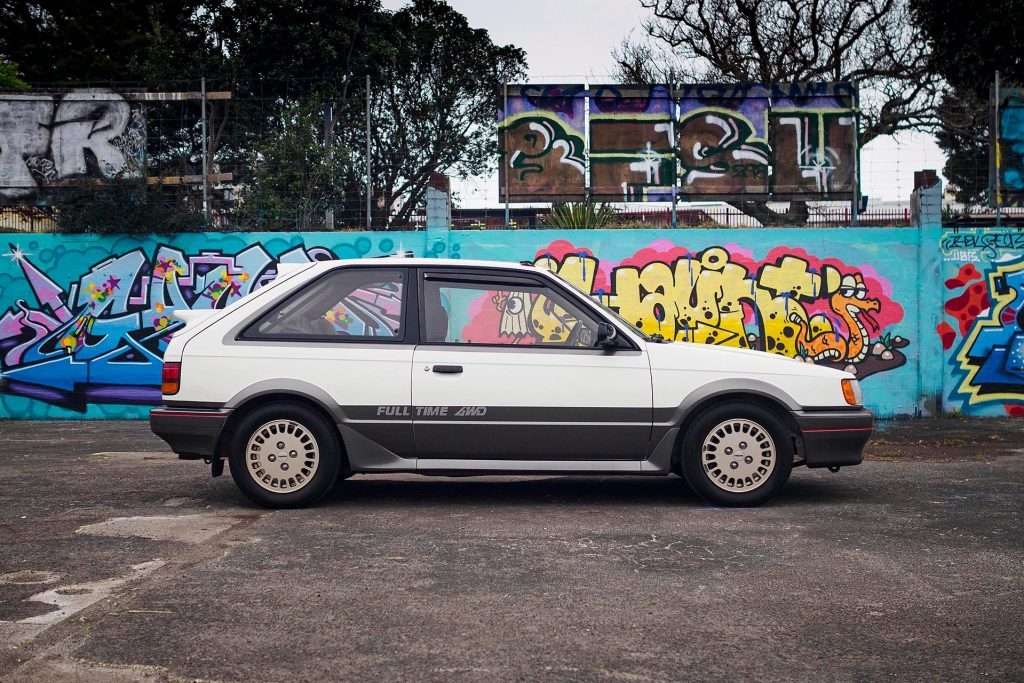 These GT/ GT-X model Familias were first introduced in 1985, with a 1.6-litre four cylinder featuring a double overhead cam head and a turbocharger. The engine generated a modest 103kW (140hp) and was available in either a front-drive format (designated BFMP) or with full-time four-wheel drive (the BMFR).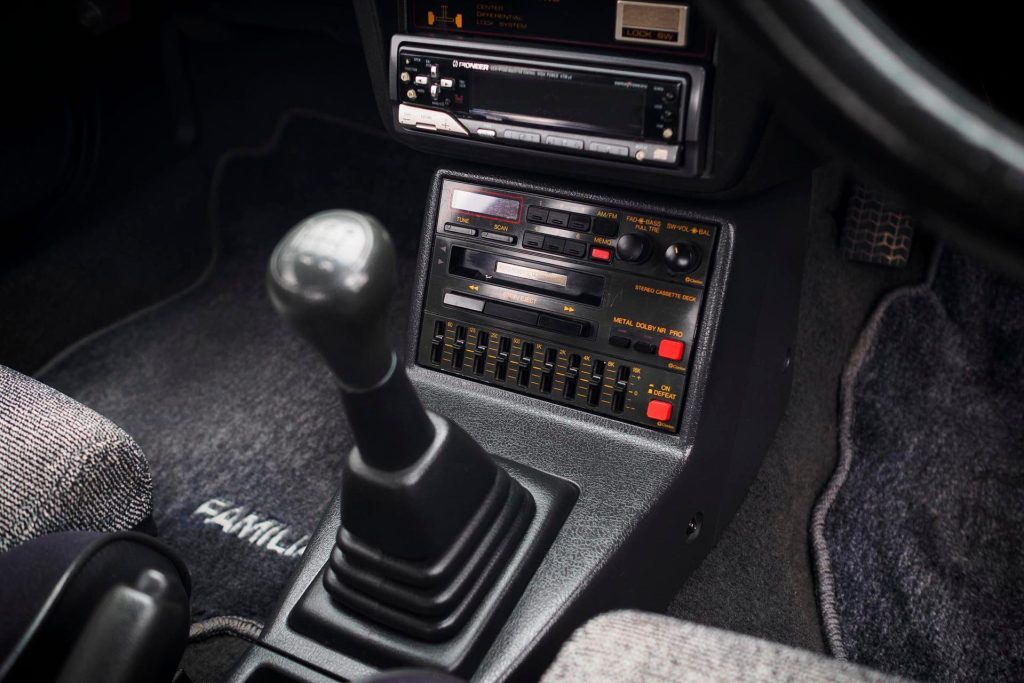 The car's new B series engine featured a better flowing cylinder head and, with its overhead cam arrangement, could spin to 7000rpm. In standard trim with seven pounds of boost, it made 187Nm at 3000rpm through to 5000rpm. The 103kW was made at 6000rpm. The IHI turbocharger had the benefit of a front-mounted intercooler.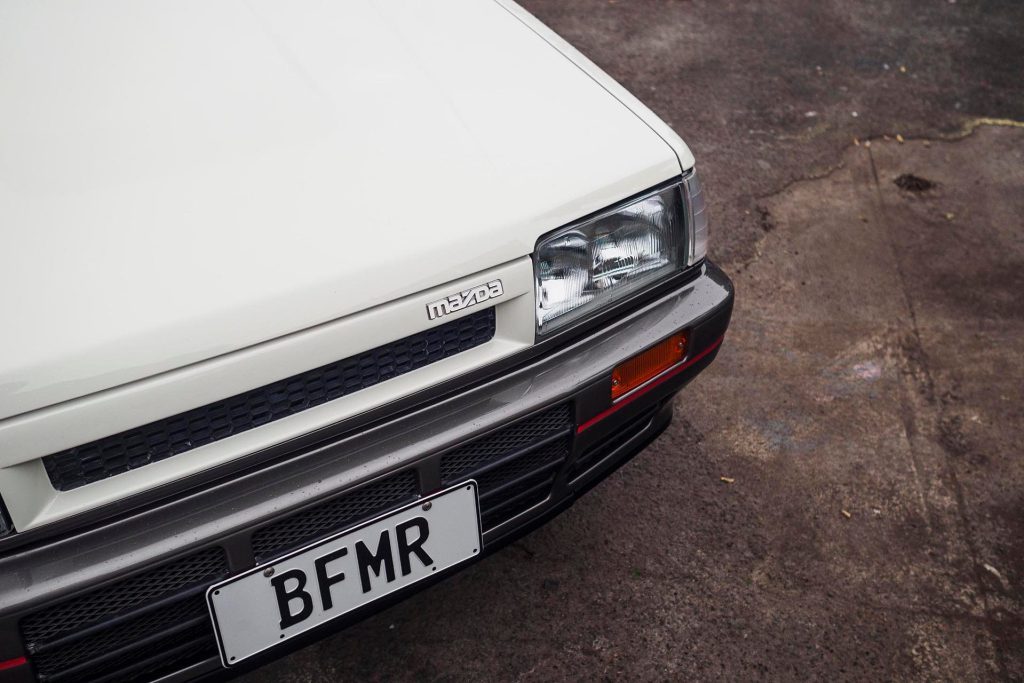 While these aren't exactly cracking numbers, the Familia weighed just 970kg in BFMP trim, while the 4×4 BFMR was around 90kg heavier. And so the front-wheel drive model was the quicker of the two, though suffered the inevitable torque steer gremlin, and struggled for traction off the line.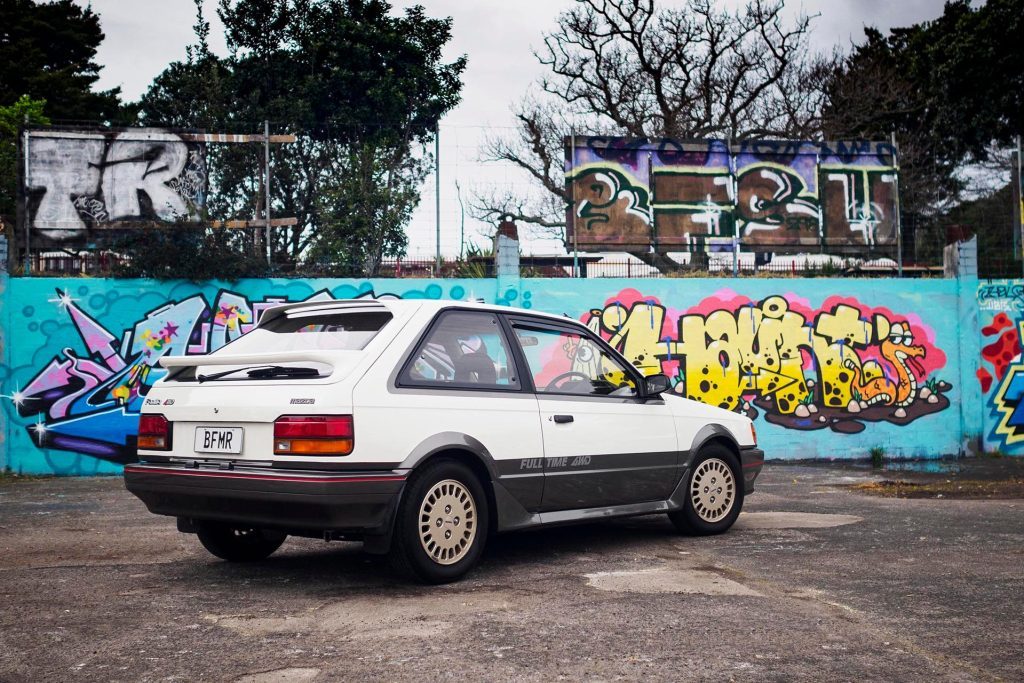 Mazda claimed its new Familia GT to be 'Japan's first full-time four-wheel drive system', running a centre diff sending a 57/43 torque split front to rear. It also had a diff lock to split the drive 50/50 for better traction on loose surfaces. There were no trick LSDs however; everything was fairly low tech but there was the option of height-adjustable suspension.
Produced from 1985 to 1989, they were popular as used imports here as Mazda made a heap of them, over 18,000 4x4s (9318 of these pre-facelift models, the makeover happening in 1987) and some 28,000 of the front-drive BFMPs.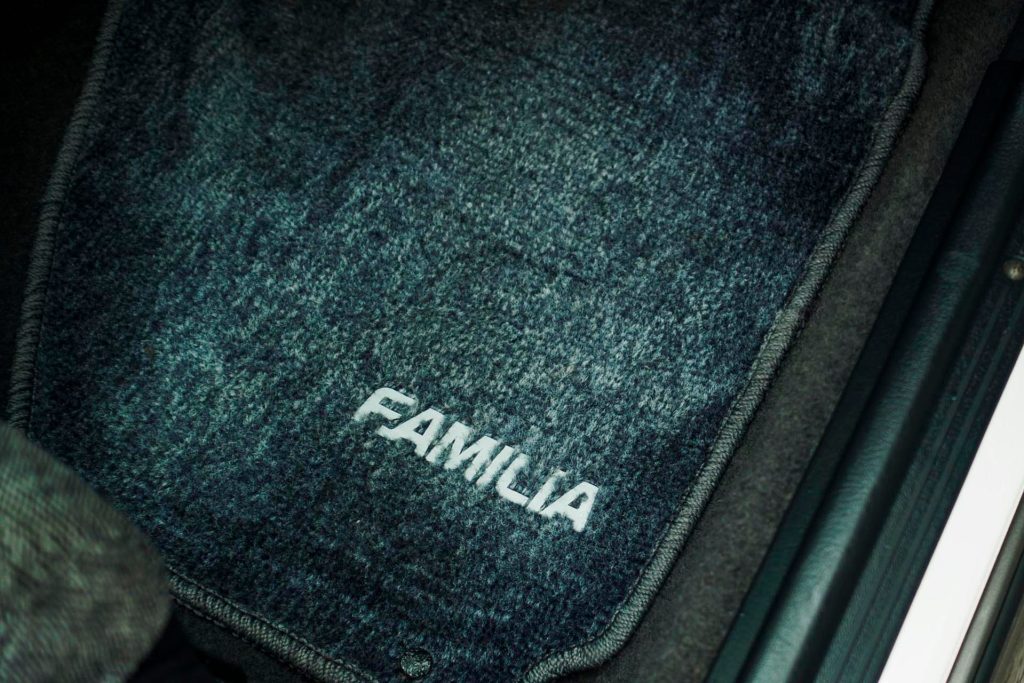 And they were relatively affordable. Thumbing through an Auto Trader from 1995 that we found in our attic recently, there were plenty for sale back then, with most around the $10k-$12k mark. Or around half the price people were asking for a Subaru Legacy RS at the time. They were also popular on the rally scene, and Ingvar Carlsson won Rally NZ in 1989 in one, Rod Millen coming home in second place, making for a Mazda one-two.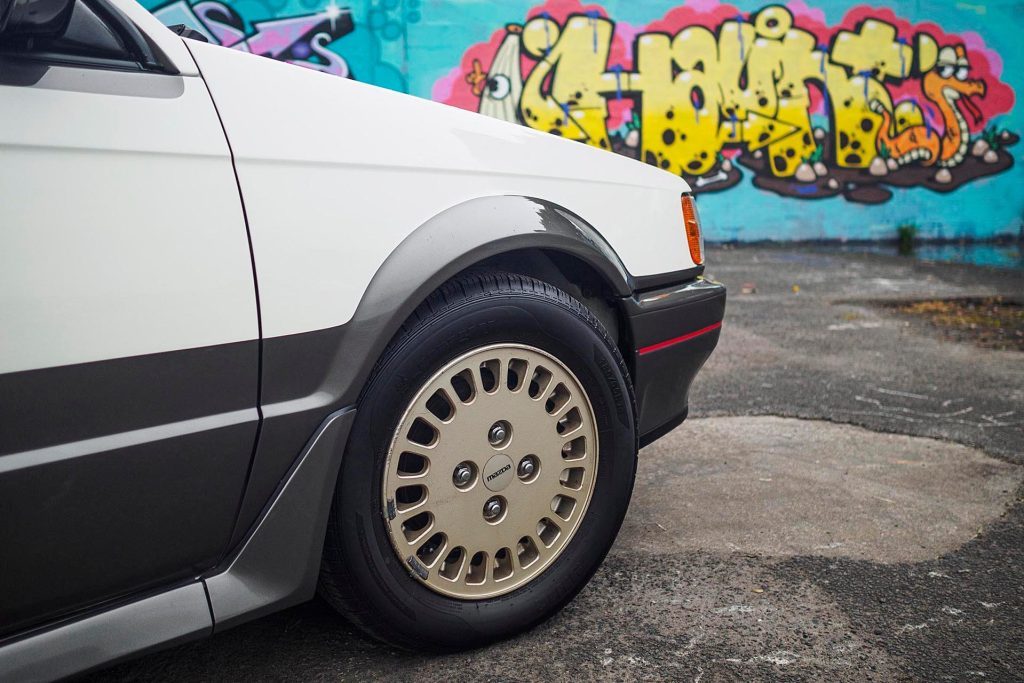 We happened upon a NZ road test of a Mazda 323 turbo from back in the day, written by John Coker, who reckoned the Mazda 'jumped to the top of the hot hatch class thanks to the sophisticated, powerful engine and the superb roadholding, with high quality handling endowed by the four-wheel drive chassis'. He recokend there was 'virtually none of the dreaded turbocharger lag that was commonplace a few years ago' but noted a 'notchy gear change which can't be rushed'.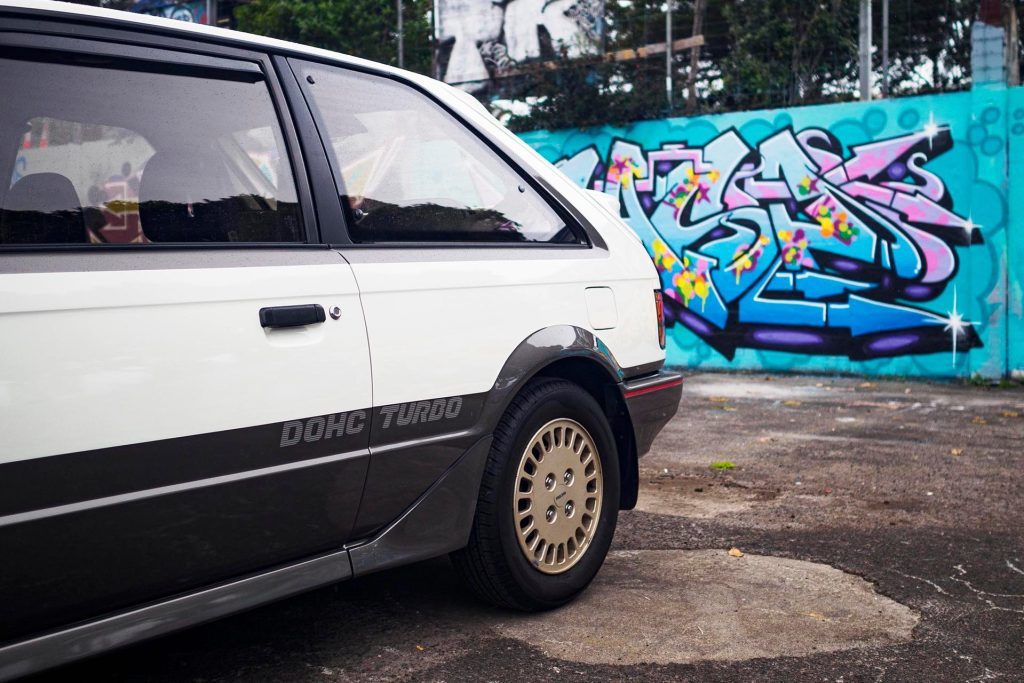 The test car was one of five 323s that Mazda NZ imported to turn into rally cars. And unfortunately, like these rally cars, most of the grey import Familia GTs met their end here in NZ; stolen, wrecked, raced and ruined. These were a car that was once everywhere, but now they're only seen on a Sunday.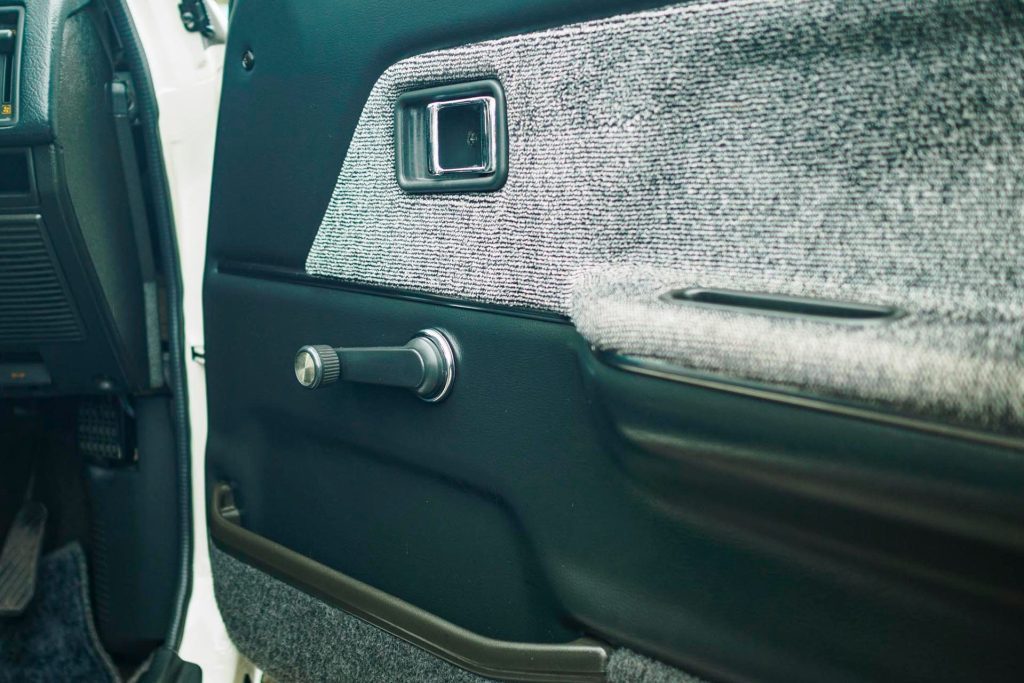 That's an apt description of this immaculate 1986 Mazda Familia BFMR. Familia fan, Matt Pullin, has owned this since 2009. He saw it on Trade Me in 2007, a South Island car that had known only a couple of NZ owners, so was still in great condition. He lingered on it too long and it was snapped up. But the Familia community is a close one and he kept in contact with the buyer. "He rang me a couple of years later, asked if I wanted to buy it and I was down to Pirongia the next day", said Matt. "It was still completely standard and it had been looked after. It was a good score. I was after something original, as I'm a bit of a purist."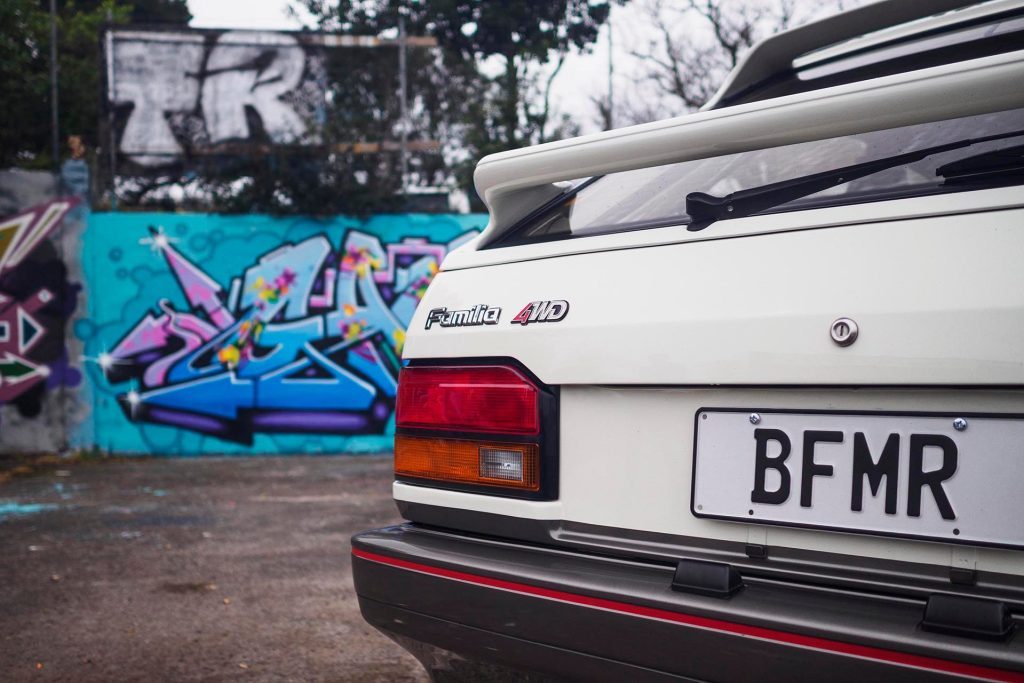 As such he's tried to keep the car original, save for the paint work after having a bare metal respray thanks to Tony at Full Spectrum Auto Refinish. The two-tone paint now looks resplendent in its dove white and grey, the off white creamy tone very eighties. As an aside, the two-tone models were only offered on the original, pre-facelift models.
He has replaced some of the tattier looking trim pieces and lights, but most of it is still original, down to the stickers under the bonnet. Some will recognise this wears a GT-Ae bumper up front. The Ae, Mazda's homologation special, was a 1988 model, Matt saying "that bumper on this car might bother the true purists. I have the original bumper in the garage, I just like the look of this one with all its vents."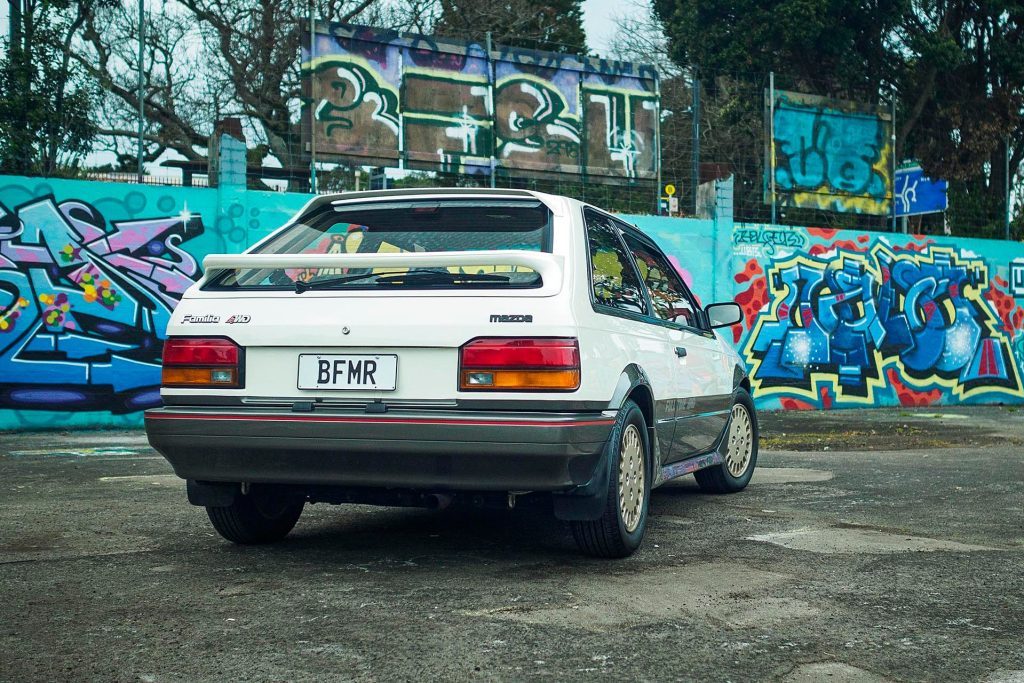 The shocks and springs have been replaced due to their age, and the turbo reconditioned. But it is a near 40-year-old car, one that's travelled nearly 180,000km.
The styling still looks good, in that boxy eighties manner, being well proportioned with a wheel at each corner. The original 14-inch rims look smart too, though Matt does have a set of period-appropriate 17-inch ROH Reflex alloys for it too. "It looks great on those, but they are so big for this little car, it's actually slower when I put those rims on. It feels a heap better on the 14s, and is not so grippy," he says with a wry smile.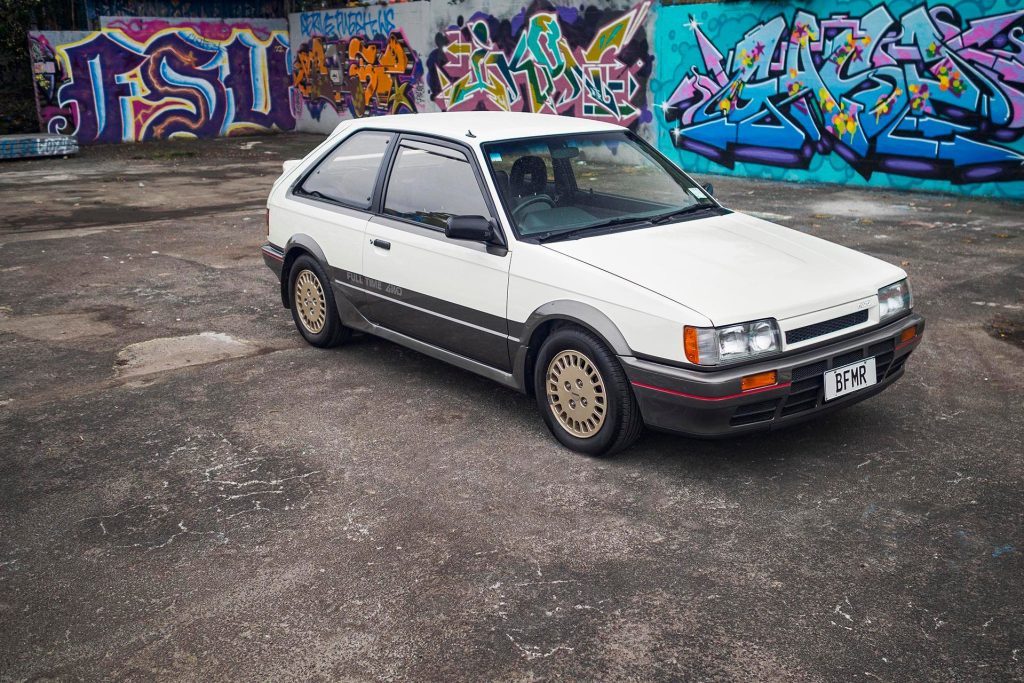 With just 105kW in standard trim, he admits it's not the quickest but is energetic for what it is, a near forty-year-old 1.6. "Back in the day, these were pretty quick, especially when compared with the carby or NA injected Familias. Once you put a bigger exhaust and pod filter on them the boost comes up and they go better. And the induction noise with a pod filter is amazing."
Now though it's all about keeping it stock. "All those bits we pulled off and threw away years ago, we are trying to find and put back on."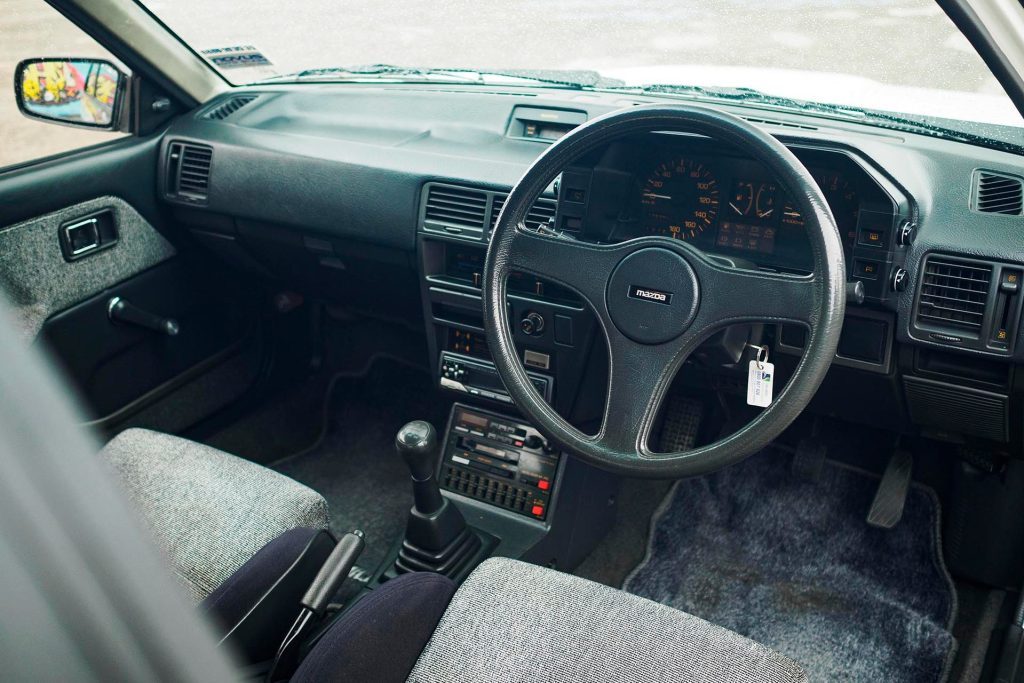 While these were once everywhere, trying to track down one now is harder than finding a boomer who doesn't love The Chase. There are still a few of them around, Matt knows of at least 50 to 60 reasonable ones still running around NZ. Presently there are a couple on Trade Me for between $25 to $35K, and Matt reckons this model, being in such good condition, could fetch as much as $40k, given the two-tone cars garner a bit more of a premium. But is the madness that has driven the crazy prices of these JDM classics in the past couple of years beginning to evaporate, especially as interest rates rise and house prices flatten?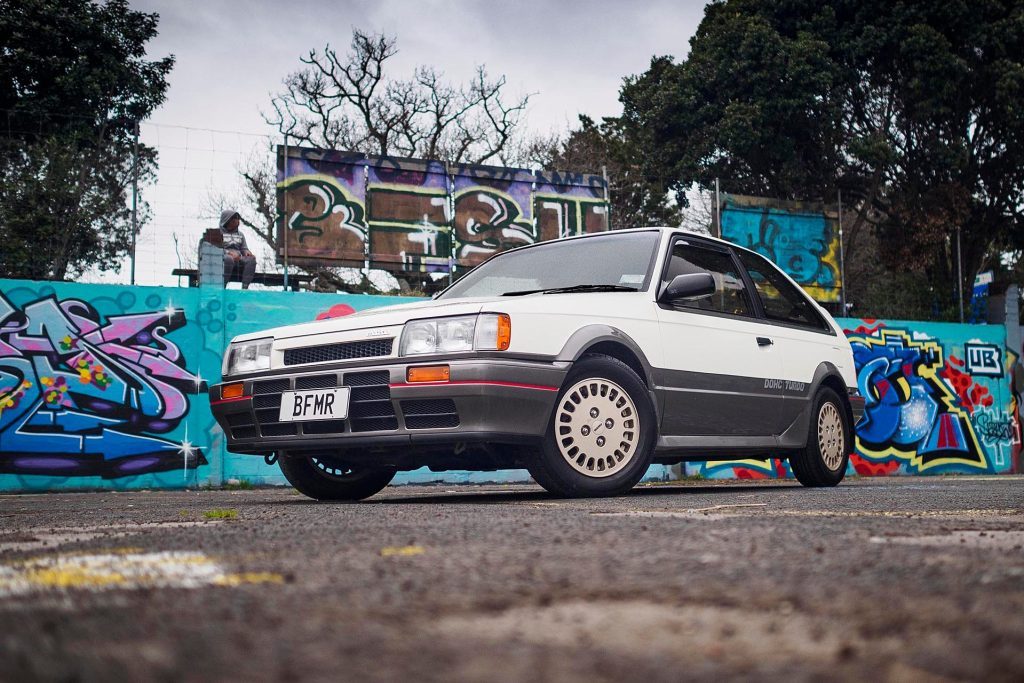 Matt says he's not too precious with the car, 'I'll drive it in the rain', but it is mainly used for weekend cruises. He's had a few Familias, including a fifth-gen and a couple of BFs in the late nineties before selling up and moving to the UK. On his return he bought a 1992 BG Familia GT-R, and the GT-Ae version too. As to which he prefers more between this and his later model GT-R, he says it's a bit like choosing between your children. "The GT-R is quicker and handles better. This rattles a bit, and is bumpy, but it's a great time capsule, transporting you back to being a teenager again". 
Sounds like something we could all benefit from, every once in a while.  
You may also like…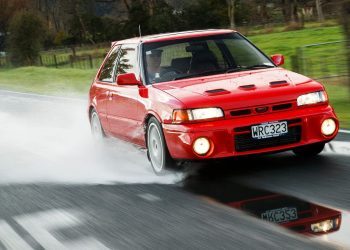 There were two Japanese AWD rockets wearing the GT-R badge in the nineties. This is the one not made by...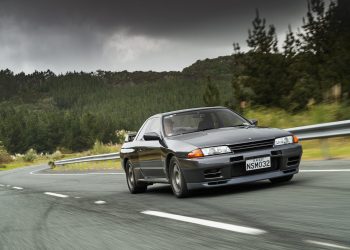 Not all homologation specials are equal. Amongst the knowledgeable, it's those first 500 examples of the breed, made to comply...