There were two Japanese AWD rockets wearing the GT-R badge in the nineties. This is the one not made by Nissan. We inspect a fine-looking Mazda Familia rally rep.
Group A homologation specials, especially those emanating from Japan, used to be a relatively common sight on New Zealand roads. That's despite a limited production run for some models. Group A rules called for manufacturers to produce a minimum of 5000 units to homologate them for racing and, in the early nineties, this figure was revised down to just 2500, though most manufacturers made a few more to satisfy the market demand.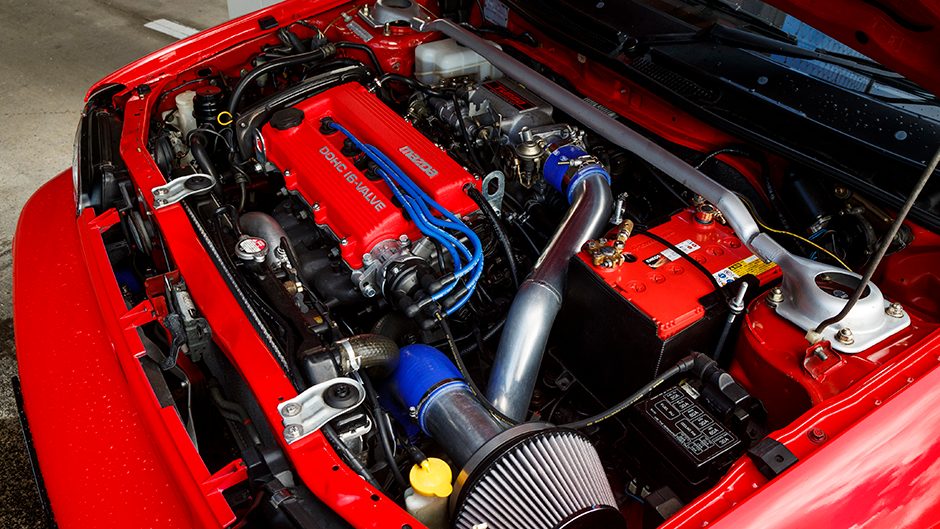 In the late nineties and early 2000s these turbocharged AWD specials flowed across our borders freely thanks to our relaxed import laws, whereas they were barred from most other countries. Lucky us, and they were cheap too. We once drove a Mazda Familia GT-R not unlike this one back in the mid 2000s that the owner had bought for the princely sum of $5500. Those low price tags are a thing of the past however. The owner of this red GT-R, Matt Pullin, says they are more likely to fetch between $20k and $30k now, if you can find one. Like many performance cars from the era, they were modified, blown-up, stolen or wrecked. Some would have been subjected to all four. New Zealand has unfortunately been the graveyard for many of these cool nineties machines, and that's helped push the prices up, along with rich American enthusiasts, who can now legally import them Stateside.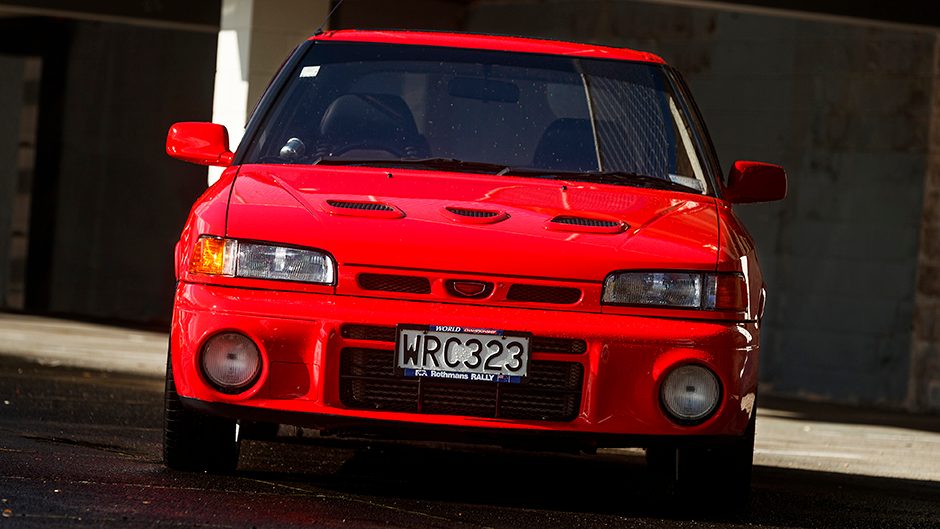 But first a brief history lesson of the Mazda GT-R. Its predecessor, the BF Familia/323, had a cult following here, the 'DOHC Turbo' a very popular rocket in the early days of Japanese imports thanks to Rod Millen using one to post a few podium finishes in the Rally of NZ. Its successor, the BG GT-R wasn't as common however, built in fewer numbers, with production totalling just 2200. The GT-R used the lesser GT-X as a starting point, the 1840cc four-cylinder turbo engine coming in for some work, including a new alloy head and a strengthened block with some forged internals, hollow camshafts and sodium-filled exhaust valves to help with detonation. A bigger ball-bearing type turbo puffed up the power to 154kW and 235Nm of torque. Included was a larger capacity front-mount intercooler, a better oil cooler, a new ECU and uprated fuel system.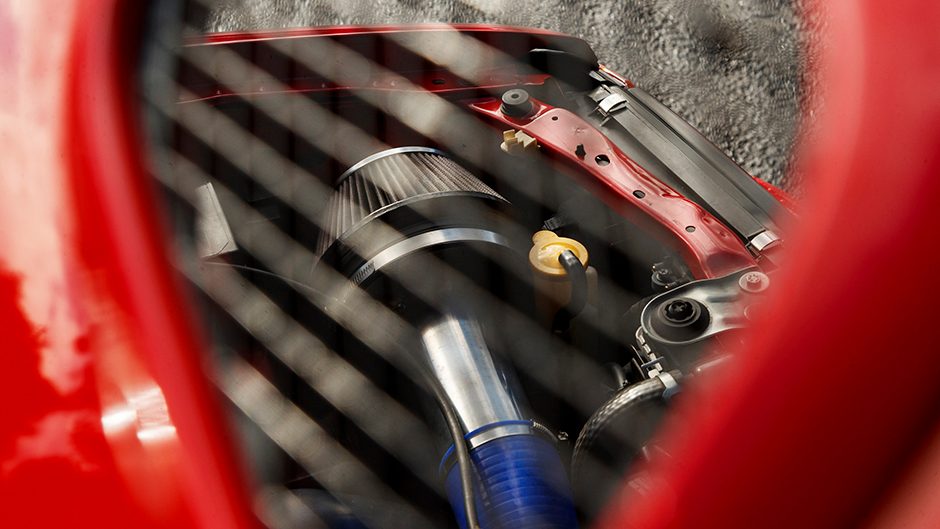 Handling was honed using the usual formula; better bushes, stiffer roll bars and springs, and revised shockers. The GT-R's planetary-geared centre viscous LSD churned out a 43:57 front to rear torque distribution to help lessen power-on understeer. The GT-R wore a bigger bumper with spotties and holes for the coolers, and the bonnet sported a trio of vents. You can identify a proper GT-R by its five-lug wheels and ever-so-subtly flared guards. And rarer still, Mazda made 300 GT-Ae variants (for 2500 in total), a stripper model ready to be converted for rally action. These lacked the usual creature comforts inside and were fitted with a close-ratio gearbox to keep the engine on boost. To help execute the scandi flick, the steering ratio was reduced.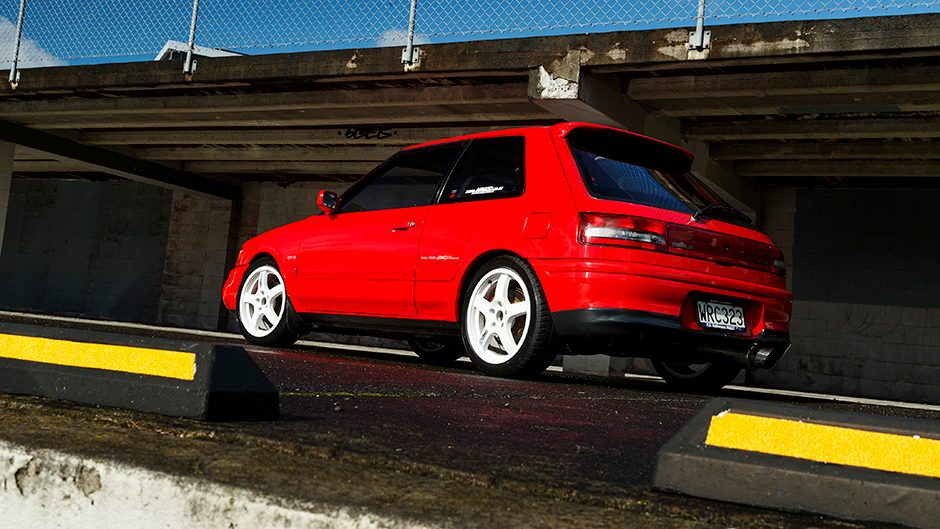 Back in the 1990s, Matt had a couple of the 'DOHC Turbo' Familias that sowed his MazdaSpeed seed. Upon returning from an OE (still with cash in his bank) he bought this GT-R twenty years ago, paying $11,000. It was bone stock then but, being in his twenties, he did what everyone did in the day and bolted on the obligatory big pipe and a freer breathing intake.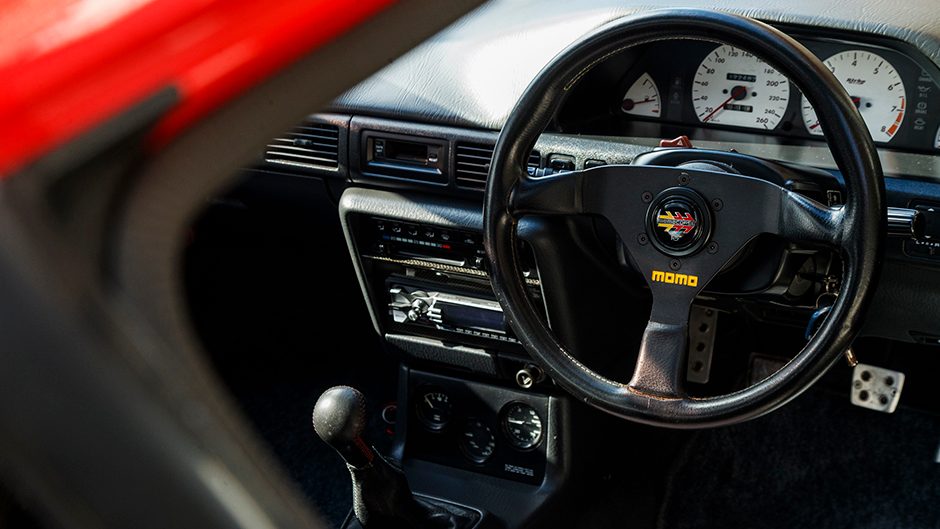 He says that in standard tune, the GT-R is not much faster than the GT-X, but the mods help unlock the turbo's potential. Other add-ons over the years included a set of coilovers, a rear strut brace and drilled rotors. A few years ago, it went in for a substantial engine overhaul. "The engine was tired, it needed a freshen up and I thought if I was going to do it, I should do it right." That saw it head off to Possum Bourne Motorsport for a proper seeing to.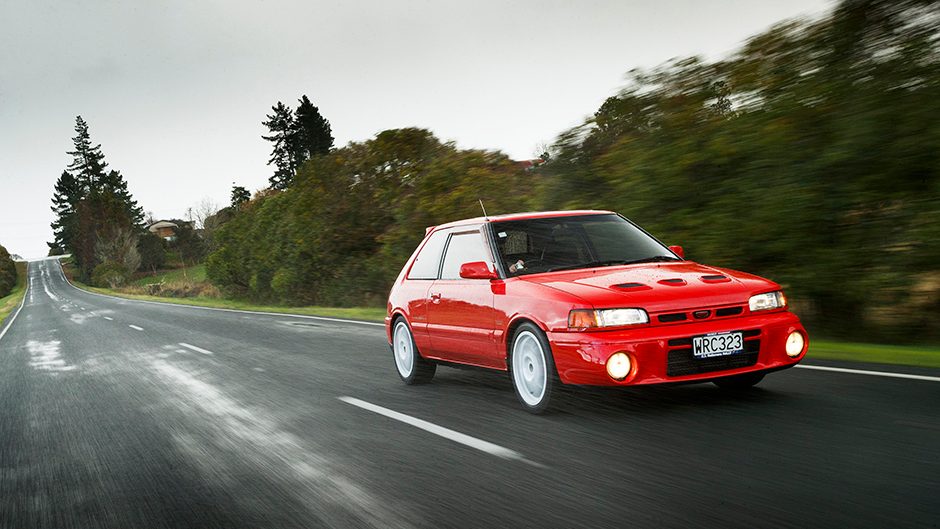 Matt wanted to improve the performance but keep it looking relatively stock under the bonnet. The block was prepped for the extras which included better forged rods and pistons, the rotating assembly was balanced, the bearings and studs beefed up and a better oil pump added. The head was also improved, and the ports enlarged and smoothed to ensure better gas flow. Along with reground camshafts, the standard hydraulic lifters were replaced with solid items (and some heavy duty valve springs) to cope with the boost and allow it to rev harder.
While the first iteration of the new engine used an upgraded standard turbo, it was tired and the engine wasn't making its best power, so a newer Garrett unit was installed to bolster the output and response. To keep it looking stock, the factory manifold was modified to suit. Fuelling is handled by a set of 750cc injectors and a better fuel pump, and it's all run by a Link ECU. The result was a hefty 227kW at the treads on 98 octane, with the boost pressure set to 22psi. Compared with the stock engine, Matt says it now revs smoother and freer and the power comes on earlier and stronger, hanging around right up to almost 7000rpm.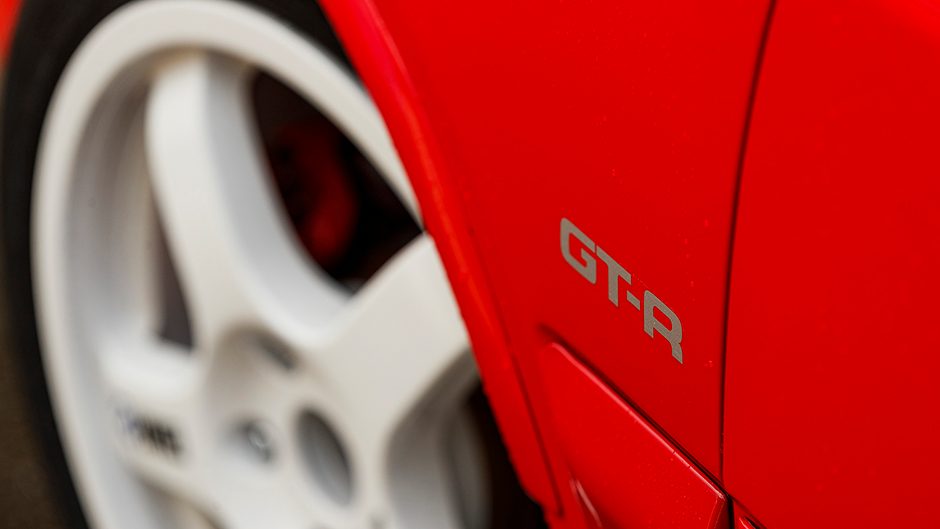 Those that know the GT-R will ask 'what about that chocolate gearbox' referring to its reputation to melt under pressure. Matt reckons he's had no problems with his over the years. "I change the gearbox oil every five minutes, I've spent so much on gear oil," he laughs. But he says it's abuse that kills them. "They aren't as strong as some of the others like the Evos; they can't handle big loads." As such he's not one for big clutch-dumping launches. "It's not a quarter mile car" as he says, "and you've got to make sure you change gears right".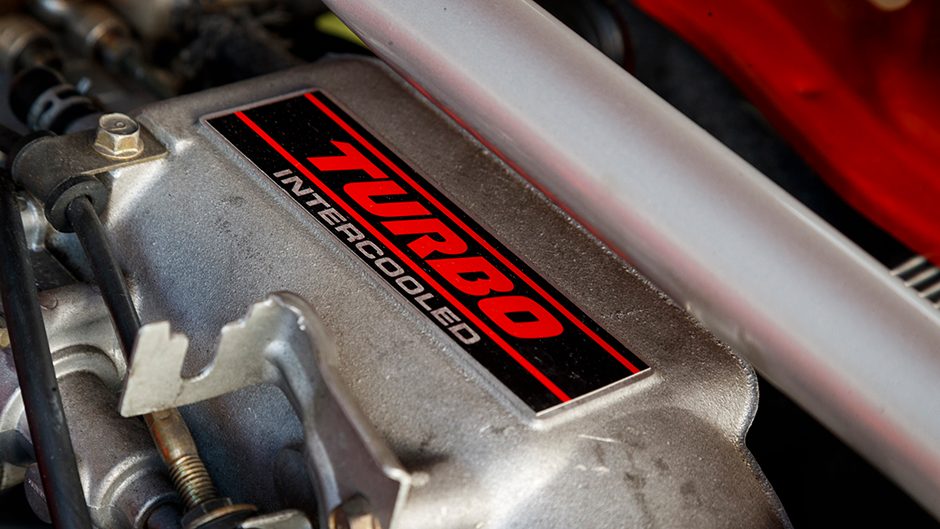 When it was time to rebuild this car's gearbox, Matt took the opportunity to strengthen the casing with reinforced endplates. This, he says, helps prevent the box itself flexing under the torque load which ensures the shafts aren't put under undue pressure. "They do get a bad rap, but it's held up well for me for the past 20 years."
With its rarity and the scarcity of parts, it's now a weekend car for Matt. It's what he calls a nice release from the stresses of the corporate world at the end of the week. With parts hard to find, he's hoarded many bits over the years. And those pieces he's using to help put another Familia back on the road. In 2010 he found a de-registered GT-Ae going cheap on Trade Me which he managed to snap up for just $2500. But it was missing a few bits, and juggling the logistics of storing a few cars made it a slow burn project that's finally coming together. The plan is to get it re-complied and back on the road this year. Then he can spread his time between the two GT-Rs, along with his BFMR Familia he's had for more than decade.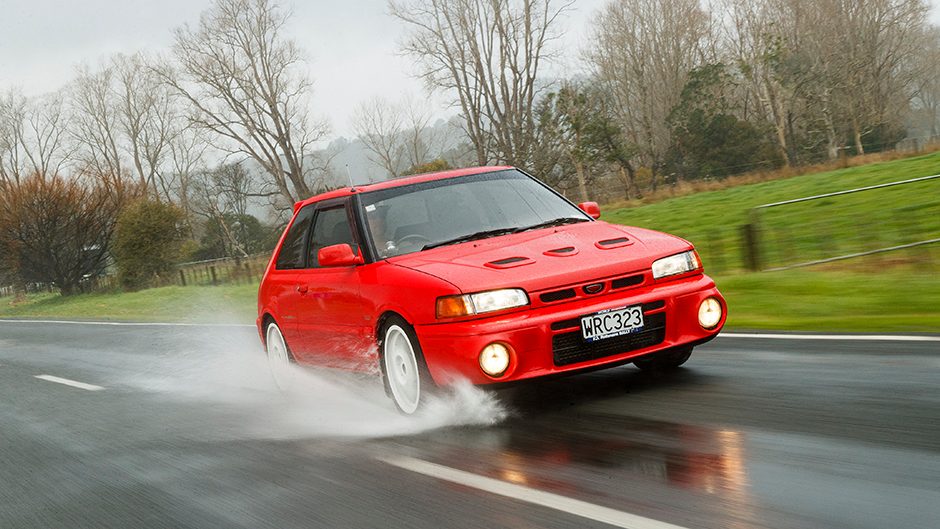 He's not entertaining the idea of selling up any time soon to take advantage of the market's appetite for the JDM machinery. As you can imagine, you form quite an attachment to something you've had for twenty years. As he says, he's a bit obsessed, but it's a good obsession to have.