We'd had two new Subaru WRX testers recently, both autos. How would the manual variant compare?
Sometimes you're on the road and it hits you that the driving experience is pretty weird, certainly not like being in the chair you lounge in at night, despite obvious similarities. What makes it even weirder is when you have another pedal for your left foot and a lever for your left hand.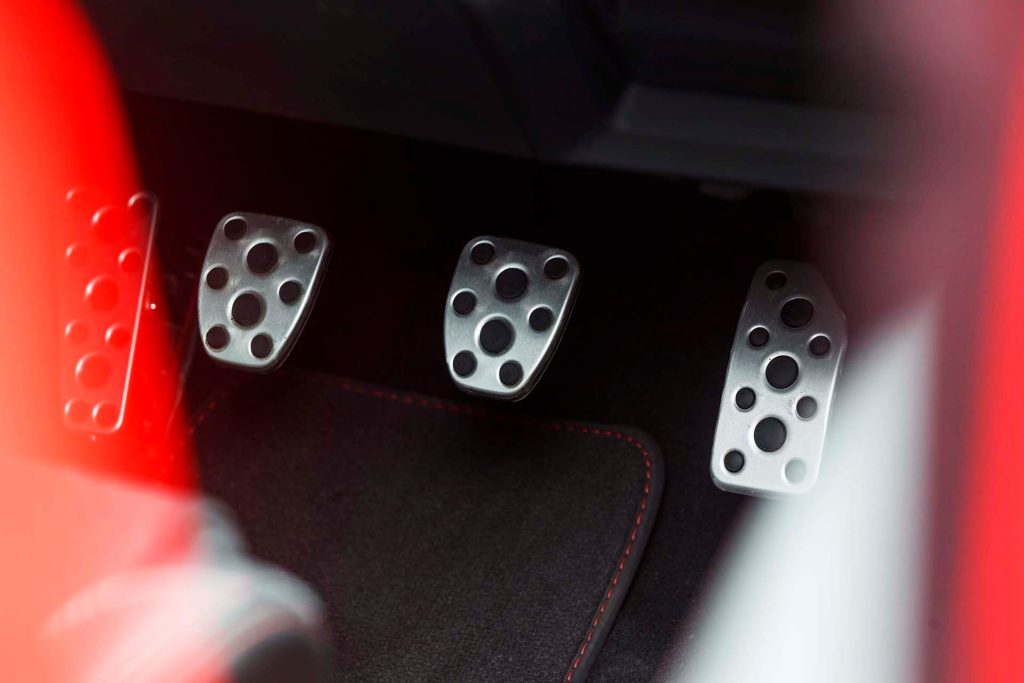 Opportunities for driving stick are increasingly limited; essentially it's available only in the sports car area, in vehicles like this, Subaru's WRX Premium sedan. And even manual stalwarts like Subaru are slowly edging us towards auto-dom. For this doesn't get Eyesight safety features meaning no adaptive cruise control or any of the lane whatsit functions, nor speed sign recognition or autonomous emergency steering. Moreover, there are no drive modes of any sort, and no adaptive suspension either. This is much more the throwback analogue experience then. When they say manual they really mean it!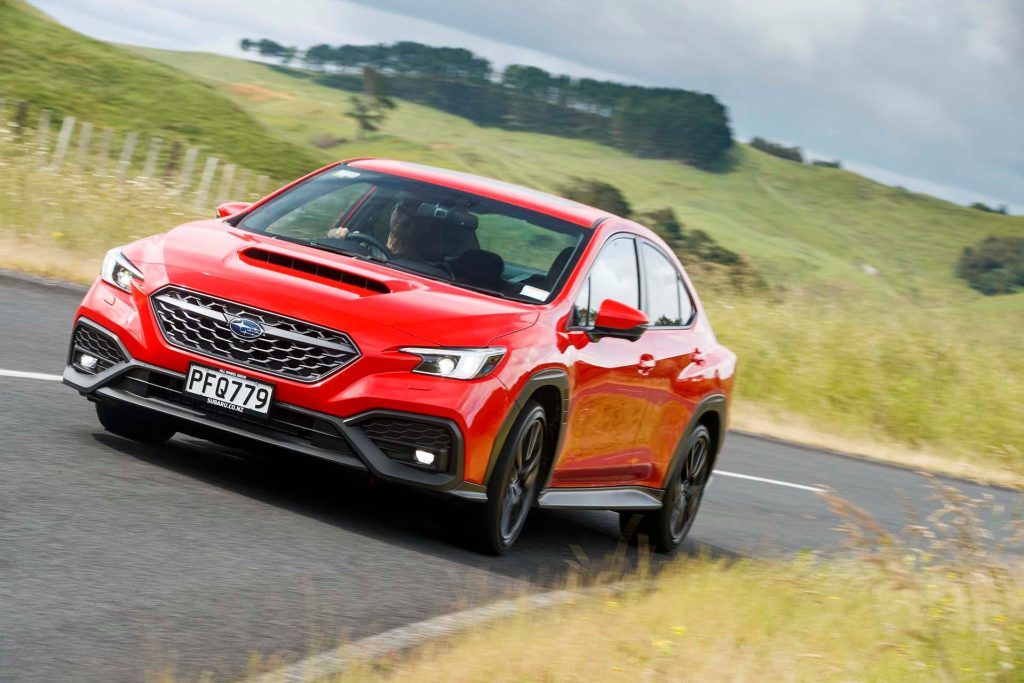 Perhaps what they're actually doing here is trying to make the manual as pure of a drive as possible. It's available only in the sedan which has wider tracks and treads. The lack of all the extra clobber helps keeps weight in check, the enemy of any sports car, and this is the lightest model at 1556kg, 70kg less than the CVT (sorry, Subaru Performance Trans) variant.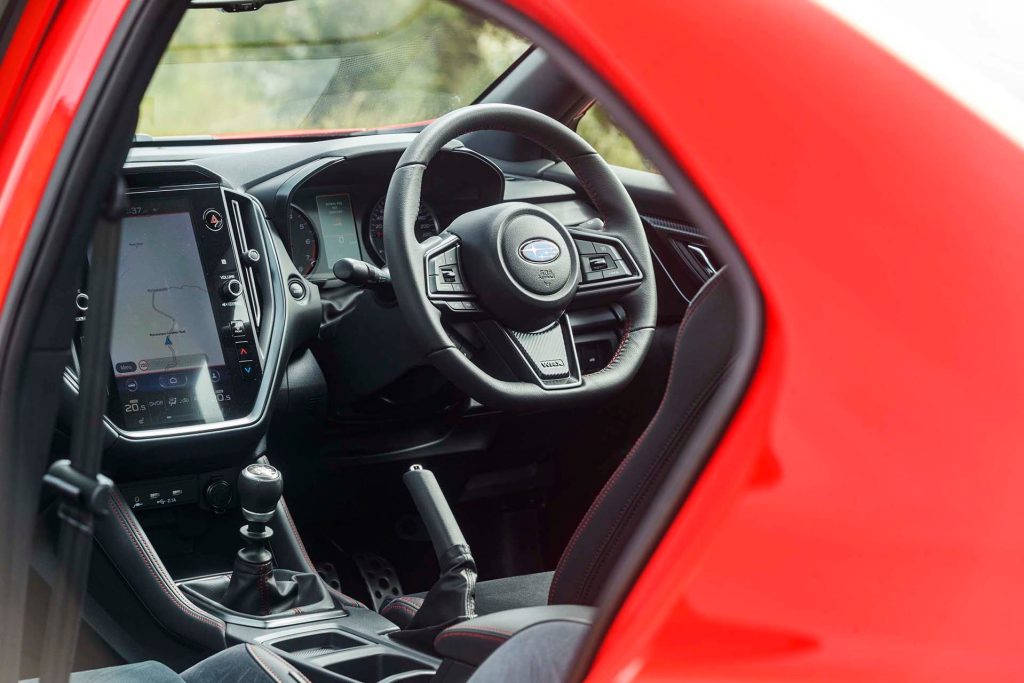 Limited range?
So no adaptive cruise or drive modes in a car that costs $59,990 before the government's clean car fee of $3717. Shame. That said, you drive this in Eco, Normal and Sport anyway, only you're less aware of it. We were shocked by how little fuel the manual WRX imbibed on our brief drive stint with it. Too much subconscious eco-driving then?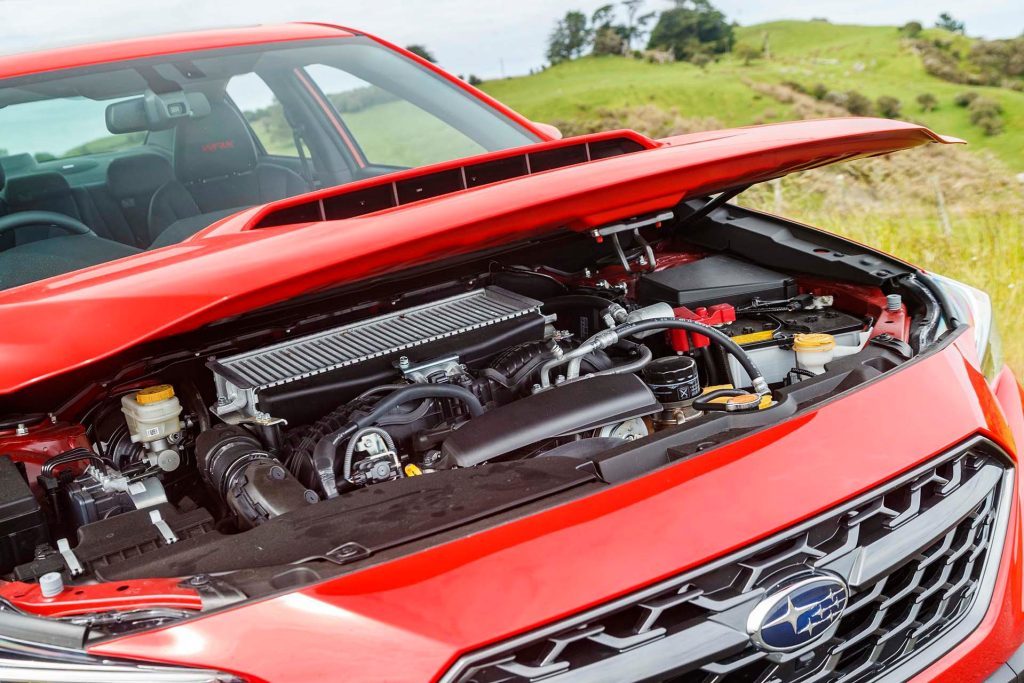 At pick-up we were aghast that range on a full tank was an estimated 300km. Excuse me? This isn't an EV! So easing back along the motorway the next day and range had crept up to 540km. Much more like it from a vehicle with a 63L tank.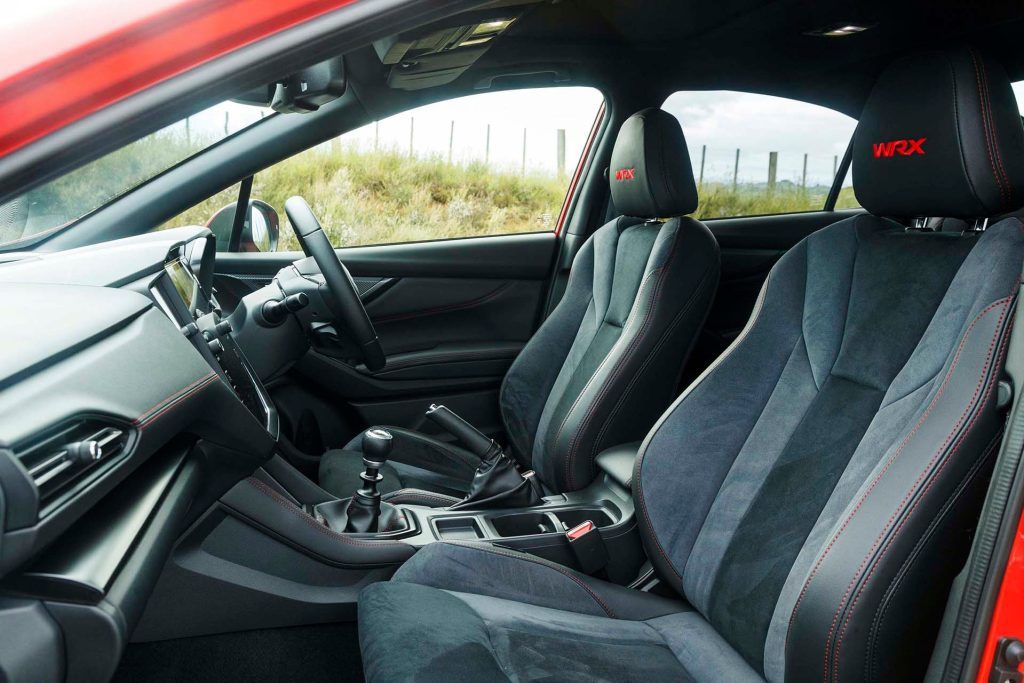 The reason we were driving the manual was because we'd had a shot at two of the autos previously, and Subaru was about to undertake some accessorising on this particular car so we were offered it for a brief period to see what we thought. Thanks for that guys.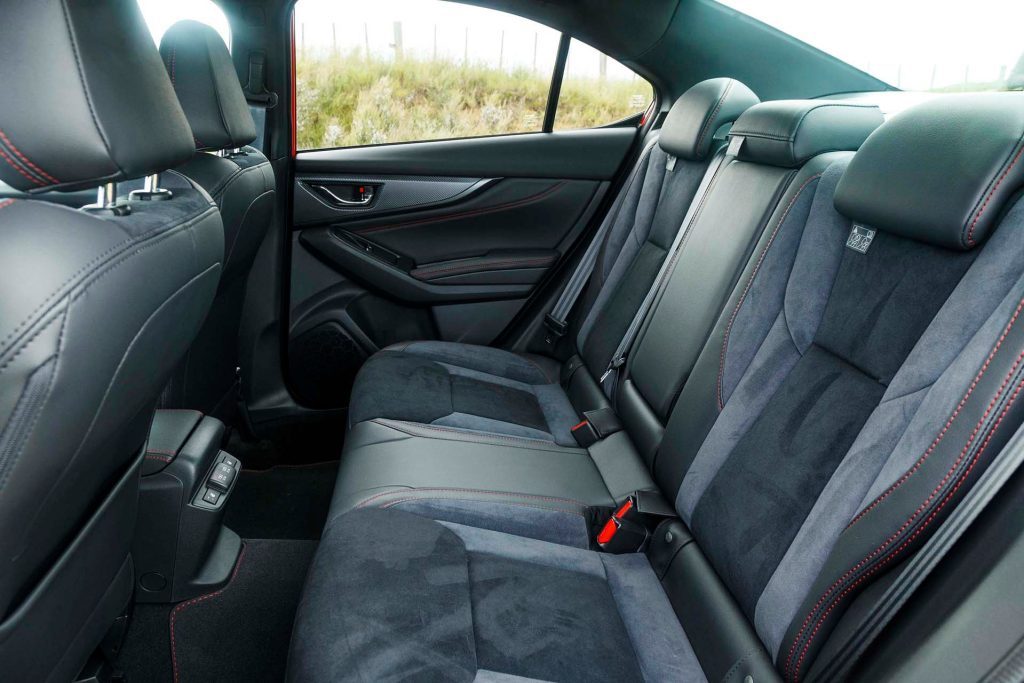 Always a pleasure (often with a hint of pain) driving WRX. But this time not really any of the hurty stuff because Subaru has massaged this into a more rounded, holistic package. That's thanks largely to the new Global Subaru Platform underpinning it, generating an increase in overall rigidity of 25 per cent. That helps with refinement, as does a suspension retune.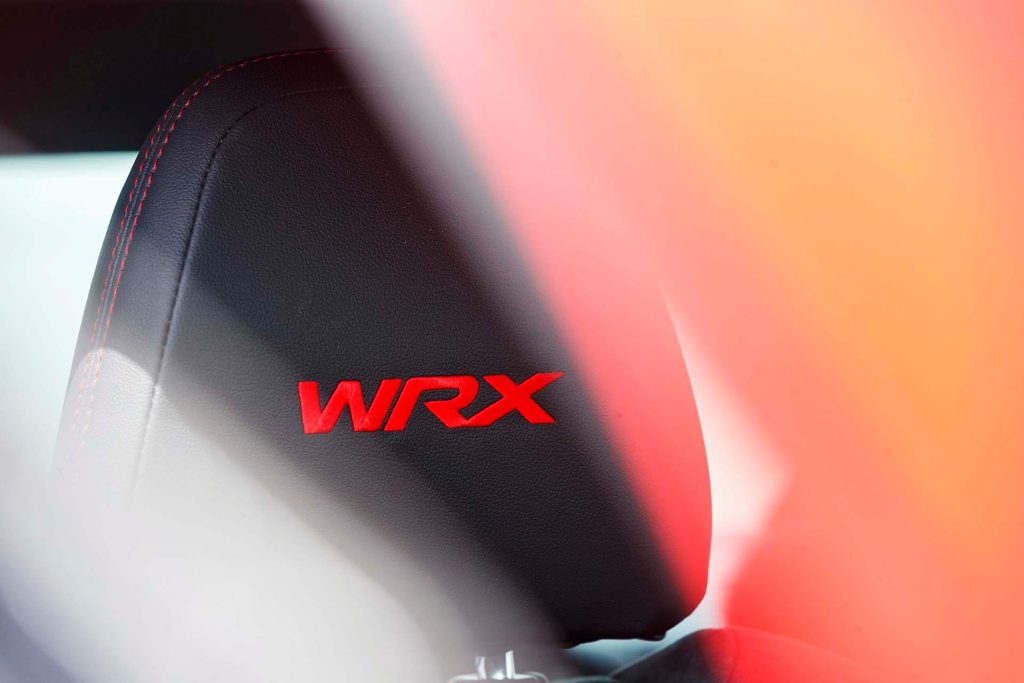 The upshot is the days of infuriating tyre roar and passenger ride jiggle are now behind this vehicle. We saw a top dB reading on the day of 72dB. And yes, we really did get well away from hot mix motorways and city streets. You're like mad if you don't when given a shot in one of these.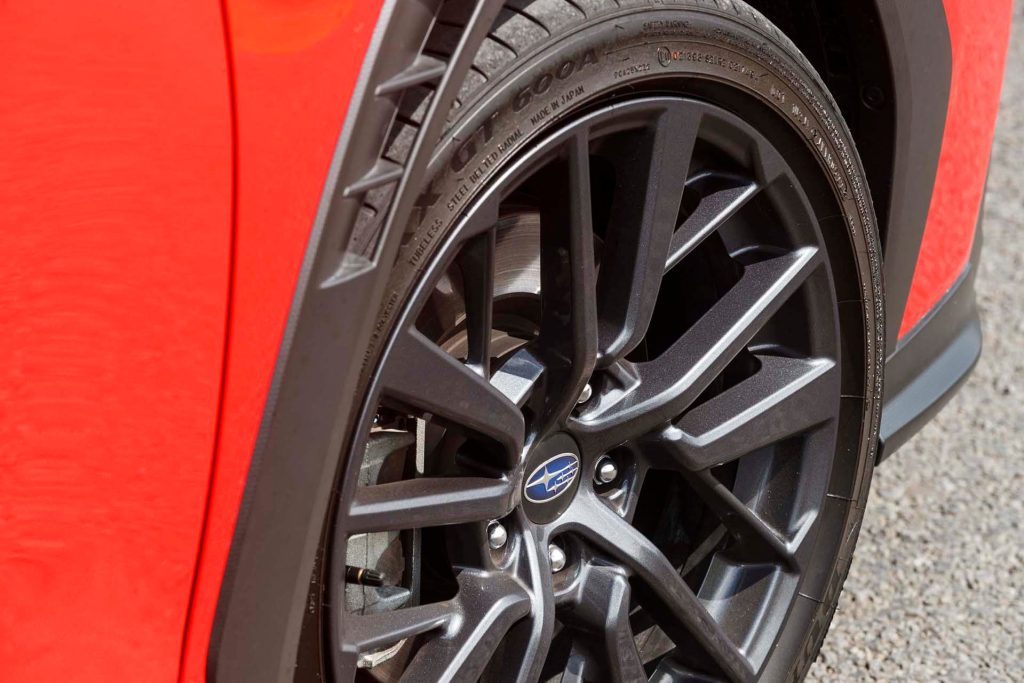 Decent performance creds
We were keen to check out performance, mainly to see if the impression of a broadened torque spread was real. To get the best sprint time from any AWD manual, you really need to seal off your mechanical sensitivity side, and get with the animalising. A decent launch in a manual WRX requires sidestepping the clutch with the motor fizzing. Kids; do not try this at home. I hate how harsh this is, and just couldn't bring myself to do it. Perhaps my days of swinging between trees on vines are over now. Anyhow done thus, it's meant to hit 100 from stopped in 6.1sec. And the auto is said to be just as quick.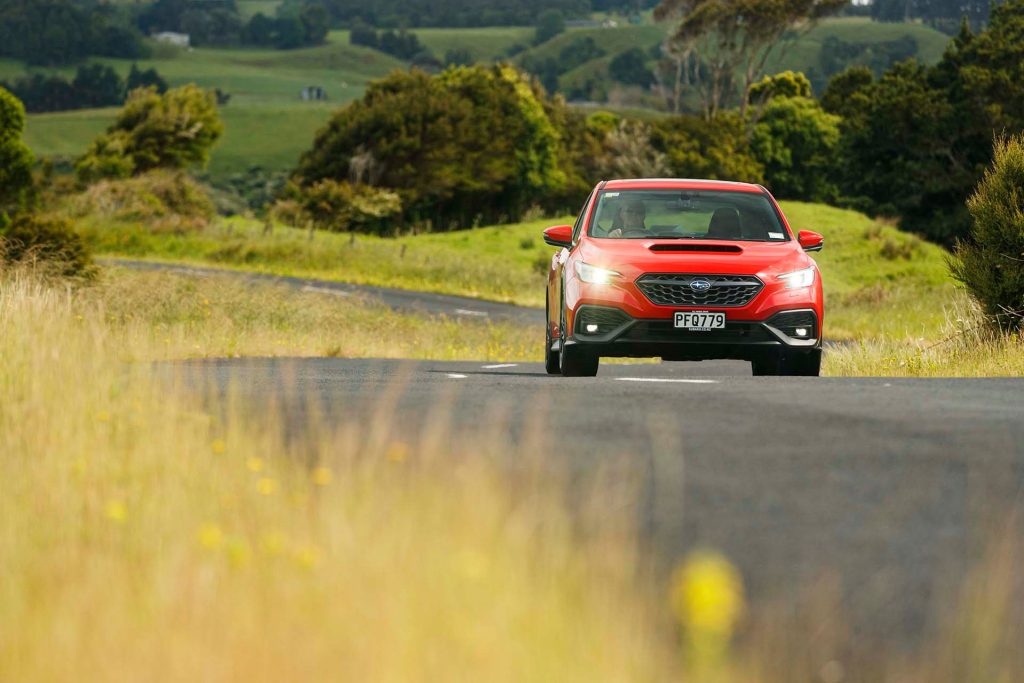 It's easy enough to crack 6.6sec in the manual but even with a determined effort to really make it jump off the line we only managed a best of 6.44sec. Still, I claim illness contributed to slower shift speeds, and it does need a couple of upshifts to reach the legal limit.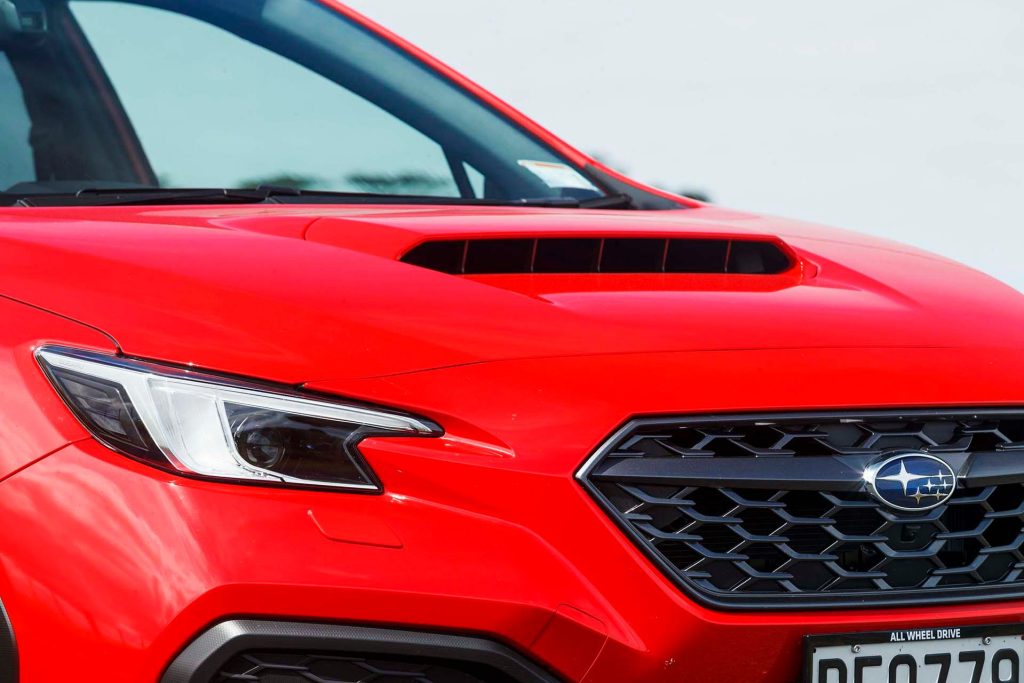 The CVT we tested earlier achieved 6.32s. With all the planets aligned correctly, 6.1sec is surely possible. That's manuals for you… and that's really no different from the previous generation which managed a 6.2sec run.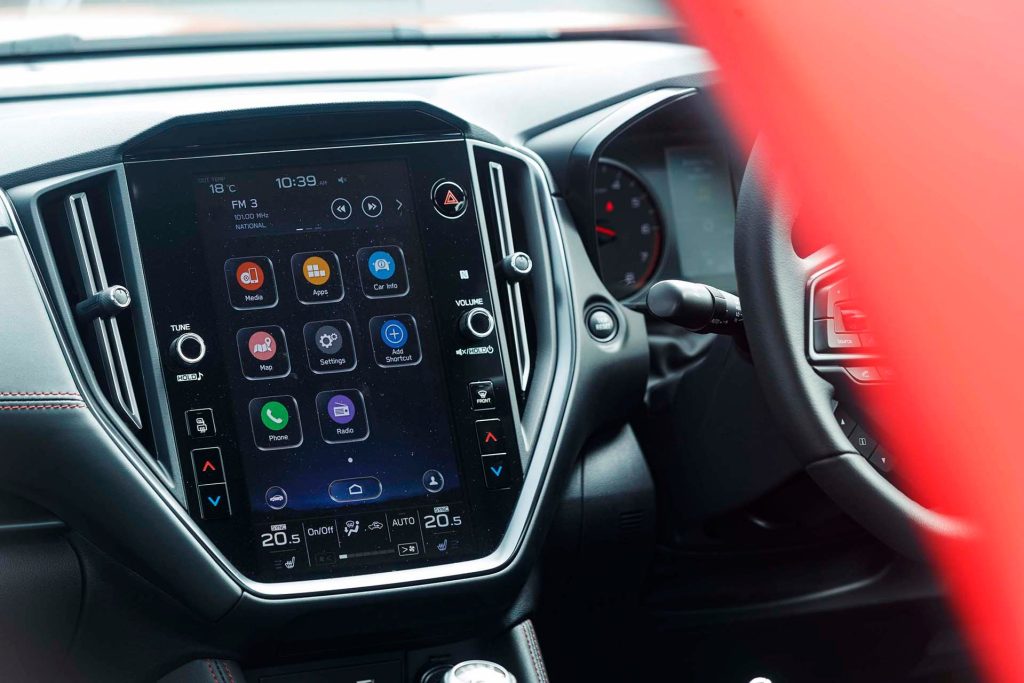 Why should it be any different? The new engine may be bigger but power is up only by a handful of kaydubs (to 202kW) and torque is unchanged (350Nm), while weight overall is up a touch.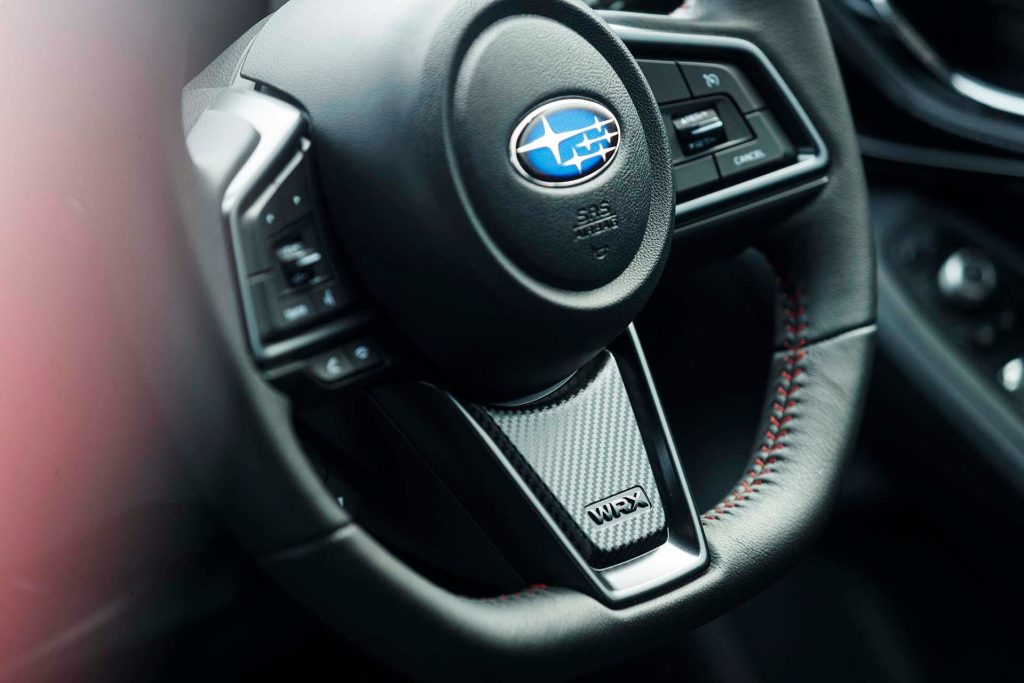 However, in the drive it feels to have more Weetbix between 1500 and 2000rpm. The overtaking time tells all, free of the launch issues, and it's all done in third gear as well. Sure enough, it's not only almost a half second up on the previous generation's best, but is only a sniff behind the former STi figures (3.4 vs 3.2sec). The gearing is quite short, 2500rpm needed in top for 100km/h of speed so it hauls away happily from 100 in top for easy overtaking, given it's at peak torque by these revs.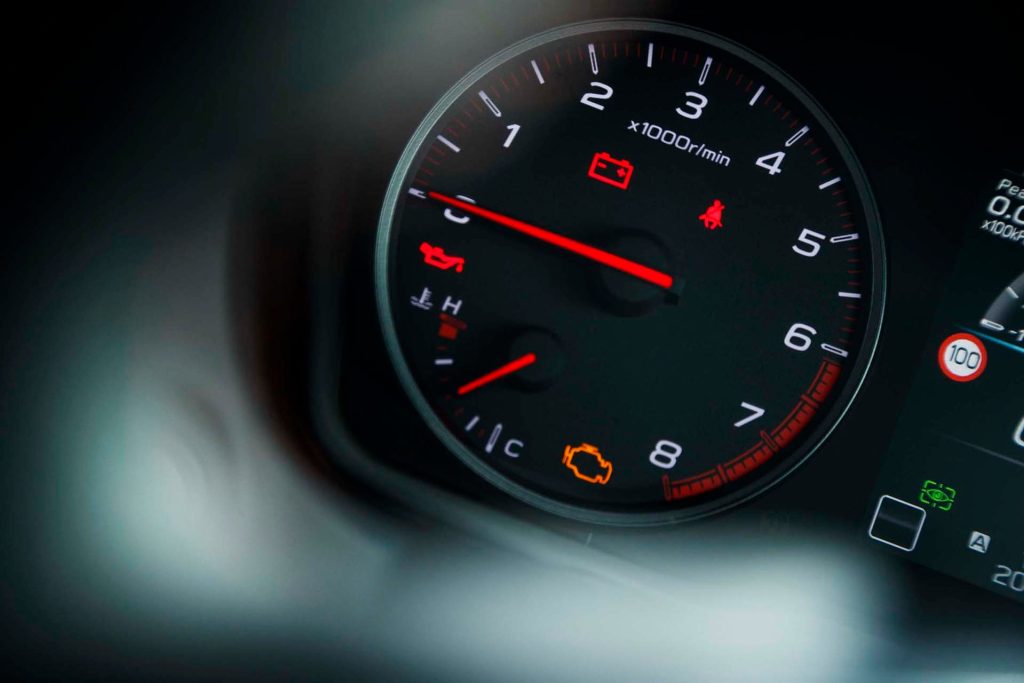 Pretty in red
We mentioned at the launch we really liked the look of the sedan; it just pings nicely, so long as you're not agin the asymmetric look of the black wheel arch blisters. There's a subtle body kit to spice things up, and four exhaust outlets. The 18-inch rims look a touch small but perhaps bigger wheels jigger the ride.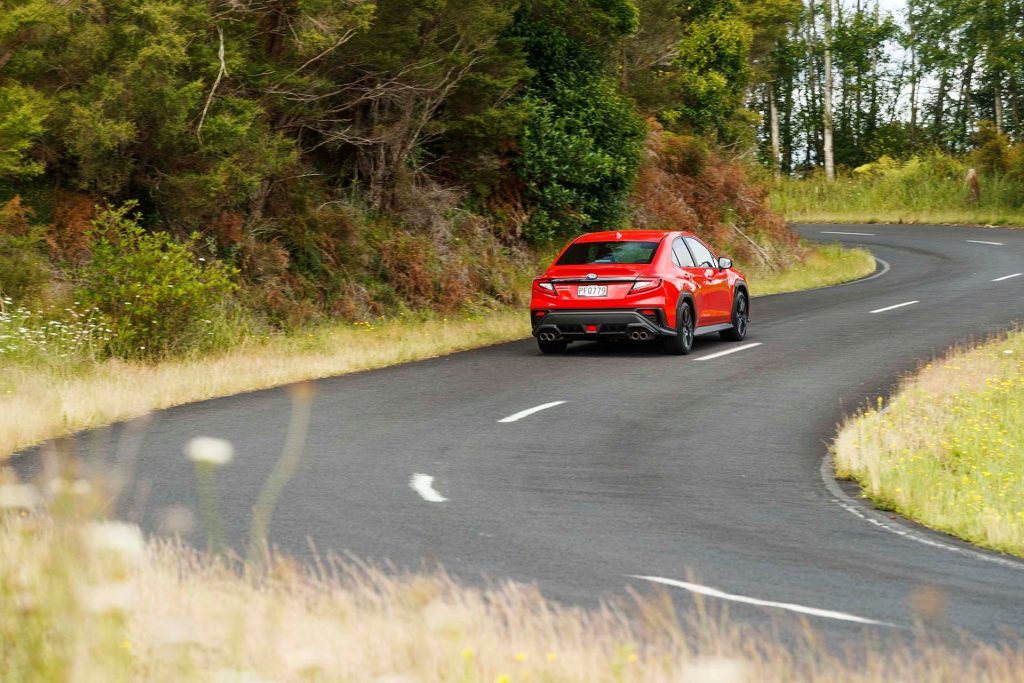 Inside, the sizeable portrait screen and suede and leather-like sports seats dominate things, along with a nicely finished sports wheel. Seats both front and back are heated.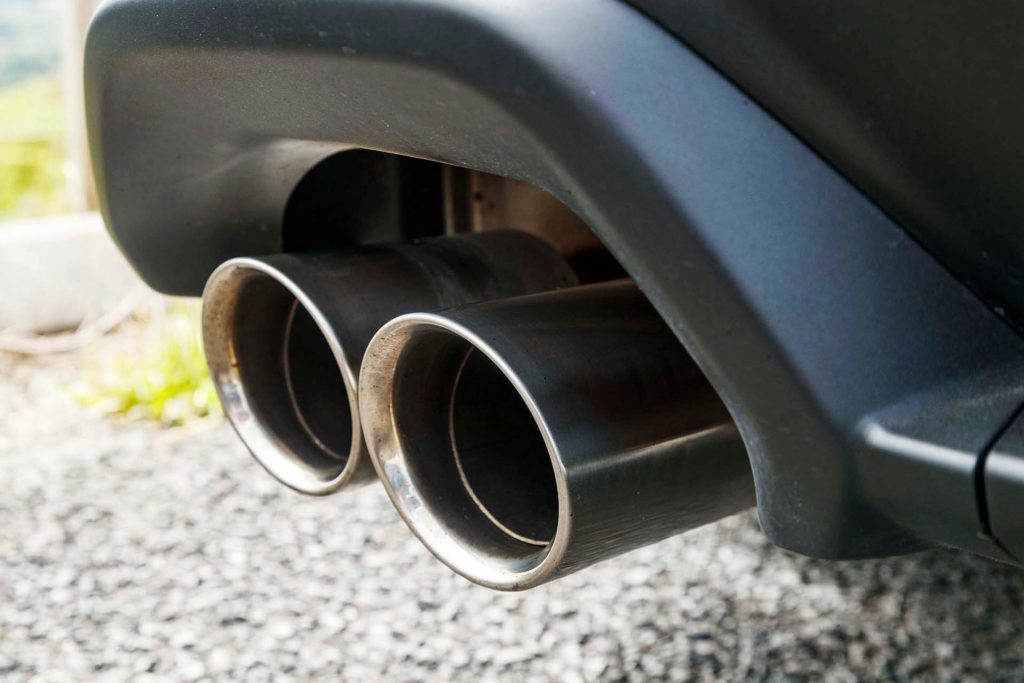 Once you're at one with the touchscreen, which has its own digital controls for HVAC, there's not much else to distract, other than trip data which you can scroll through with buttons on the underside of the wheel. There's TC off if you want – we did but only for performance testing – and a tilt and slide sunroof (never went near it).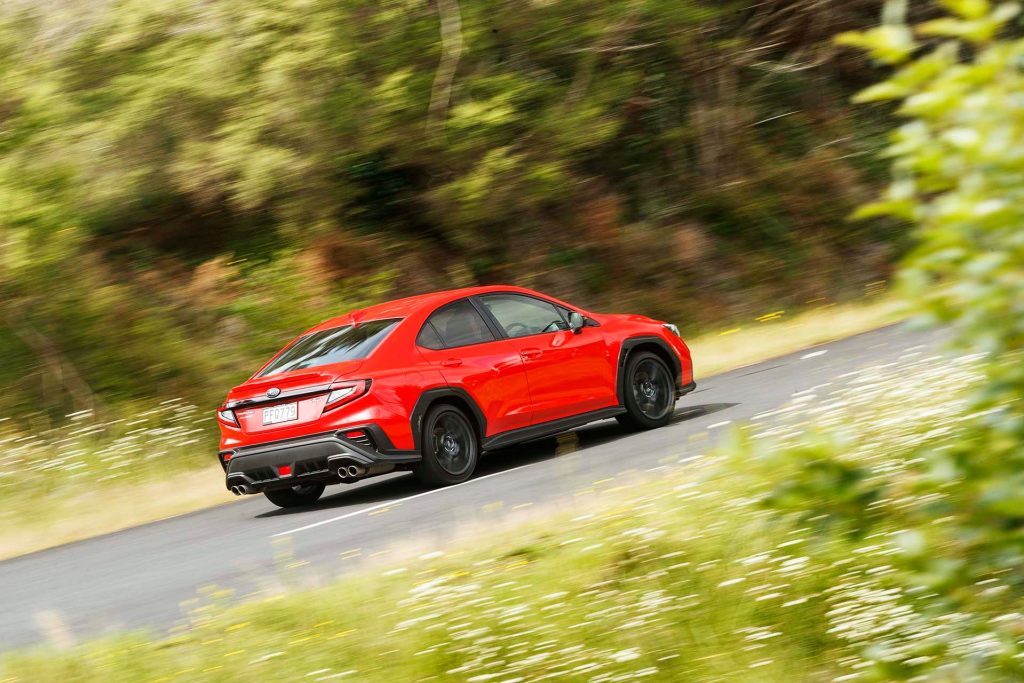 The rest is rather tasty on the whole. Seats are powered, very supportive, with great lumbar adjust, pedals are sports items, nicely spaced for the brake and accelerator downshift dance, and while the gear lever seems set a little too far to the left, it's actually rather good in use, if perhaps a touch notchy. But it's never obstructive, even when rushed.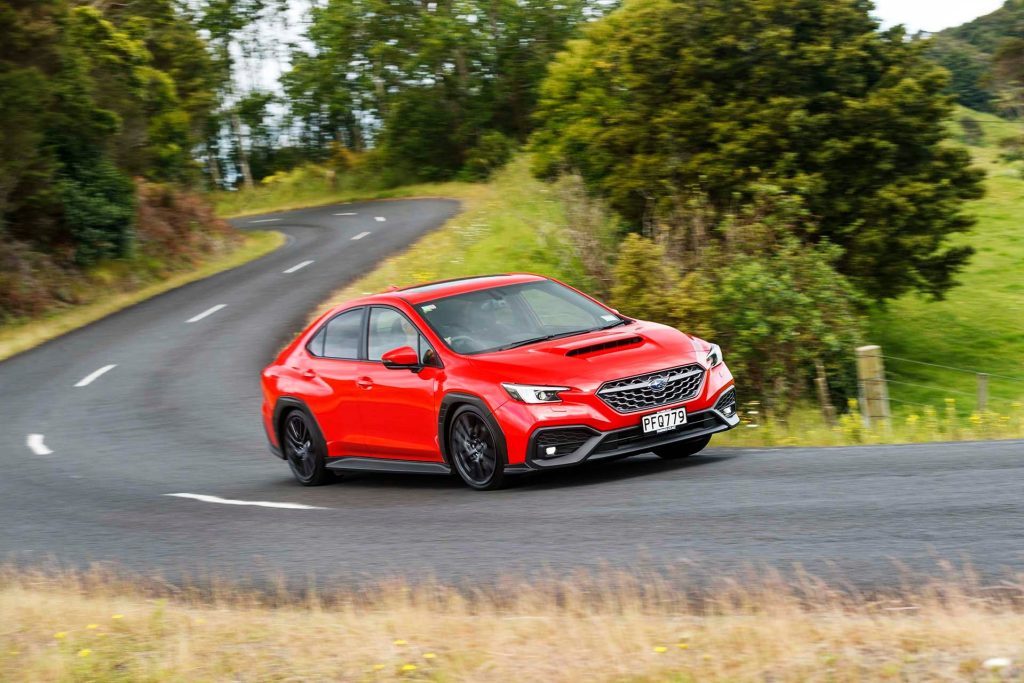 Steering's always a WRX highlight and there's no change here. It's weighted firmly, appropriately, isn't too darty or tardy in turning the front end, and the line doesn't much change whether powering off before the apex or powering on early. It likes to initiate the turn with a settling dab of brake pressure, making it even quicker to the other side and out. And always the lovely suspension composure, with a gently controlling ride and that newfound cabin refinement. So nice not to be set upon by tyre roar or jiggle in a WRX!
If there's one aspect that arguably deserves attention, it's brake action. They're strong enough but don't feel terribly convincing at the pedal, requiring some heft to really slow the car. Our particular model was vocal in its distaste for emergency stops, the ABS system clearly unhappy. We'd have expected something better than in the late 34m area too, given the 225/40R18 Sportmaxx rubber.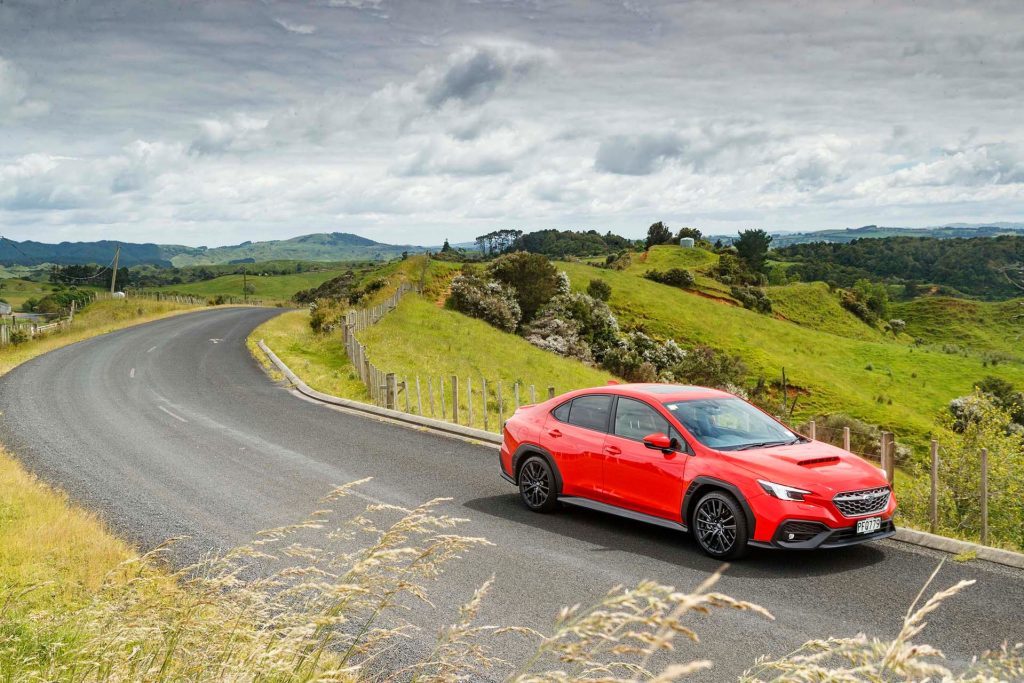 Other things? We were maybe a little hasty in our initial assessment of the indicator action. There's a halfway setting for lane changing and a full push keeps the indicators on until a half push the other way cancels them. It just takes familiarisation.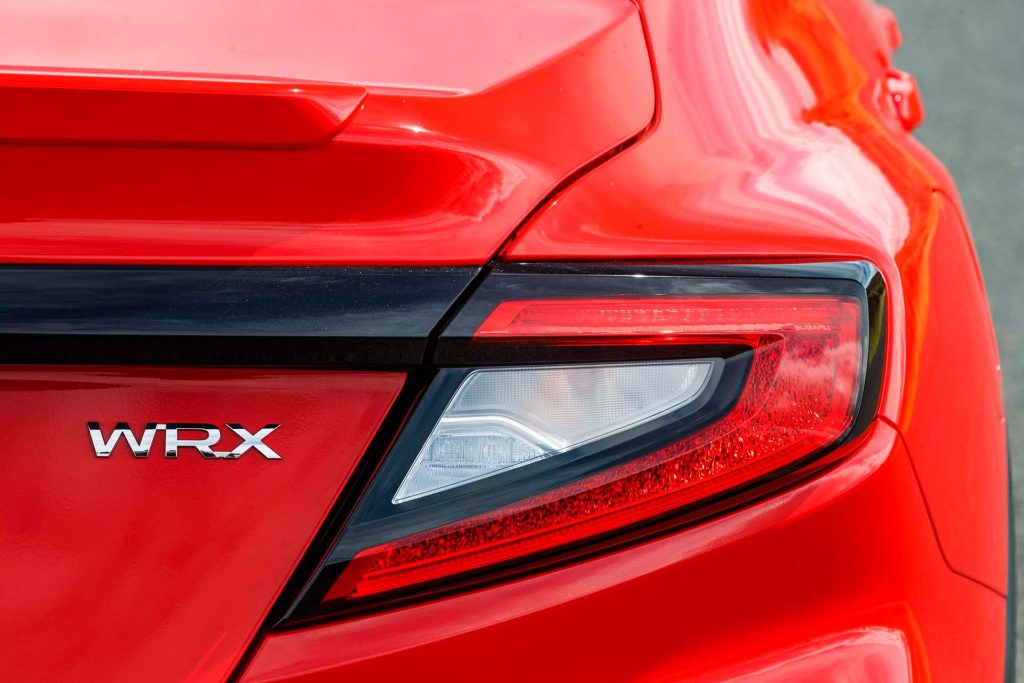 There's sufficient room for four in this car, providing the adults aren't meta-sized, with 414L of gear space, accessed by a lid-sized opening. If you need more, the wagon offers 492L of luggage capacity, accessed by a gesture-controlled tailgate. Only, you won't get a manual trans in the wagon.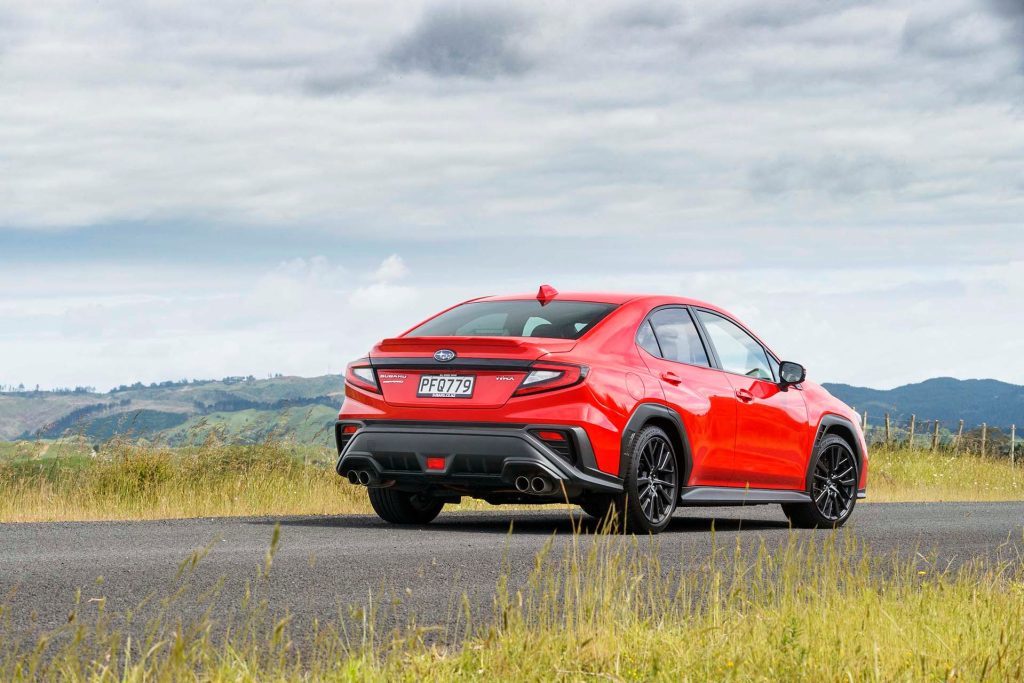 Most WRX early adopters chose the auto but manual fans shouldn't feel hard done by here. The only fly in the ointment is a certain pesky Type R newcomer. However, that's more expensive and FWD (wash your mouth out) only.
Model
Subaru WRX 2.4T
Premium sedan
Price
$59,990
Clean Car Discount
Fee + $3717
Engine
2397cc, B4, T, DI
Power/Torque
202kW/350Nm
Drivetrain
6-speed manual, AWD
Fuel Use
11.0L/100km
C02 Output
253g/km
0-100km/h
6.44sec
80-120km/h
3.47sec (98m)
100-0km/h
34.69m
Stability systems
ABS, ESP, TV
Safety
AEB, BSM,
RCTA, AHB
Luggage Capacity
414L
Tow rating
not rated to tow
Service intervals
12 months/12,500km
Warranty
3 years/100,000km
ANCAP rating
not yet rated
Weight
1556kg (claimed)