Aston came late to the SUV party with DBX, though not as tardy as Ferrari. Now it has a special variant, the 707. Is it a high flyer?
Aston Martin's 707 is a special hard-core variant of the DBX and the Brit proudly proclaims it as the most potent production SUV on the planet, and the fastest too. On the first point, it may have overlooked Jeep's Grand Cherokee Trackhawk. The Aston makes 707PS while the GCT is good for 707hp, so the Yank trumps the Limey here. And the fastest? Well, there's just that pesky Cayenne Turbo S which holds the Nurburgring lap record for an SUV.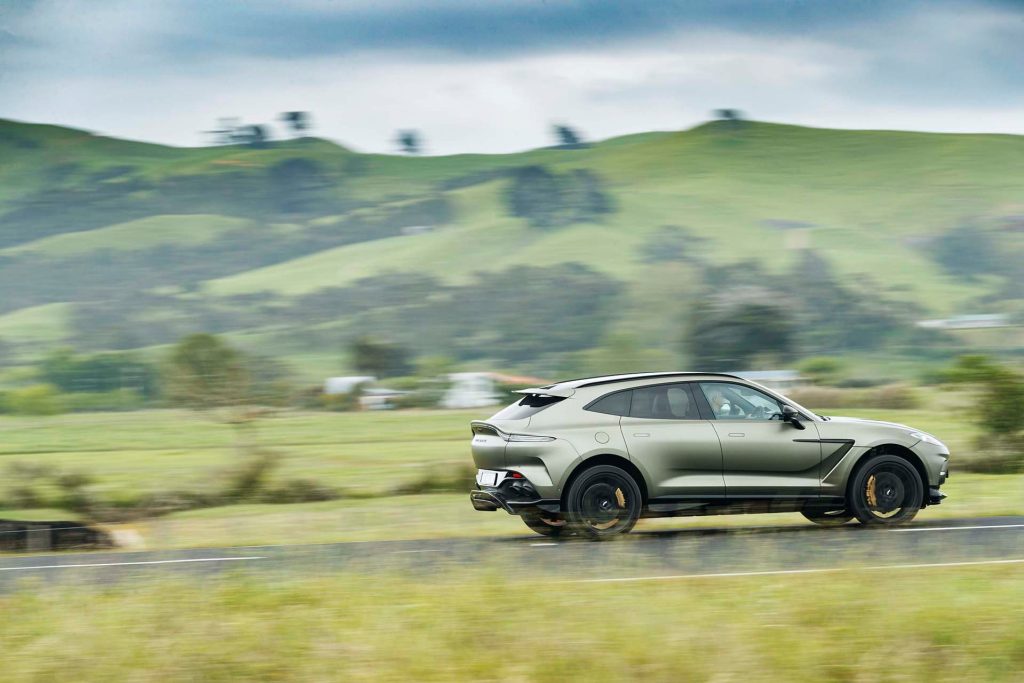 Still, Aston reckons the 707 can hit 100km/h from stopped in 3.3 seconds. Which is the claim also for the top Cayenne…and the upcoming Urus Performante…and the Purosangue.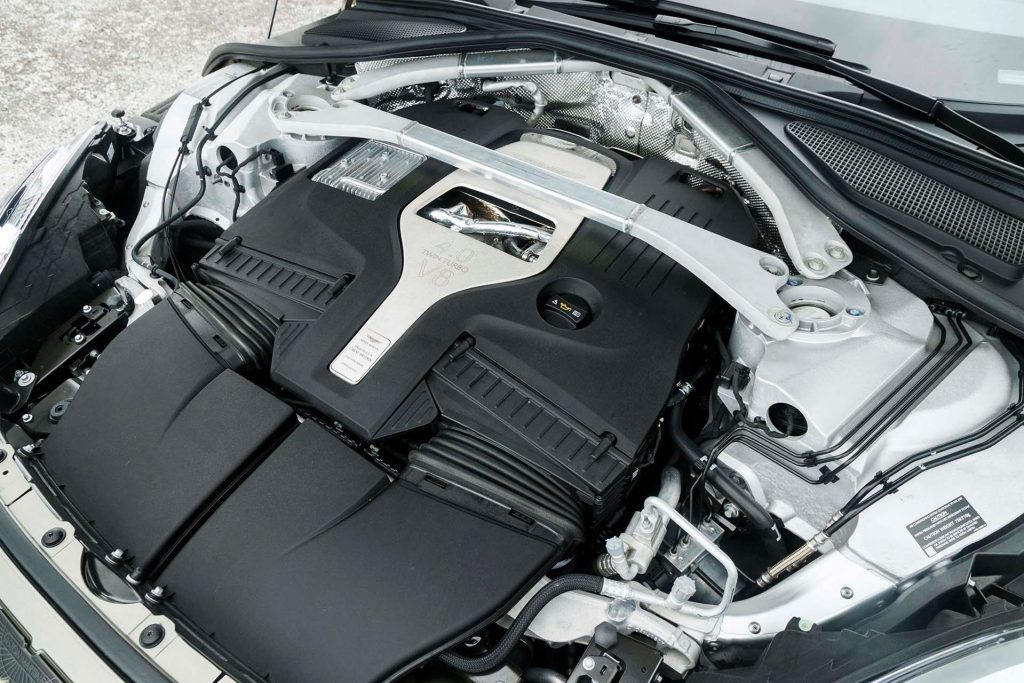 The engine is the same as that powering the DBX, a twin-turbo 4.0-litre V8 but Aston has done a real number on it, changing out the turbos for ball bearing examples, and it gets a completely new exhaust system and intake tract, revised fueling and valve mapping and an ECU makeover. Power climbs by 155hp to a whopping 697 total (520kW), while torque is up by 200Nm to 901Nm, this from 2600-4500rpm. Little wonder it's good to go.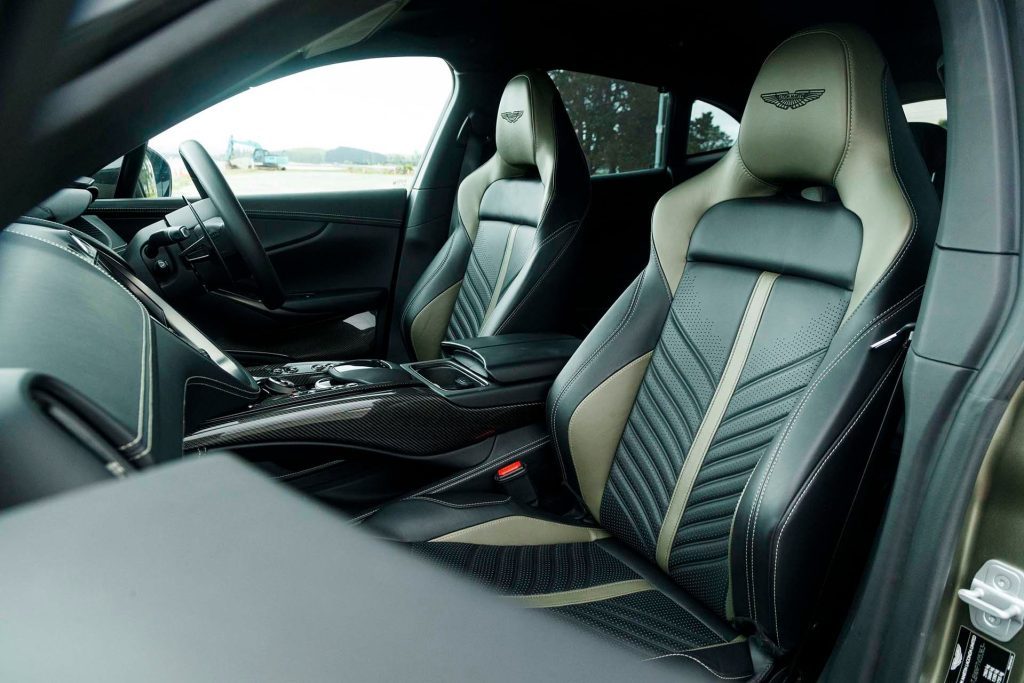 Rivals like Trackhawk might be as strong but they're not in the same postcode of quick as the Aston, the GCT's 0-100 taking 3.8sec. In our hands the original Urus managed a sprint time of 3.55sec. We imagine it would take at least a Cayenne Turbo GT to give this a serious run for its sprint money.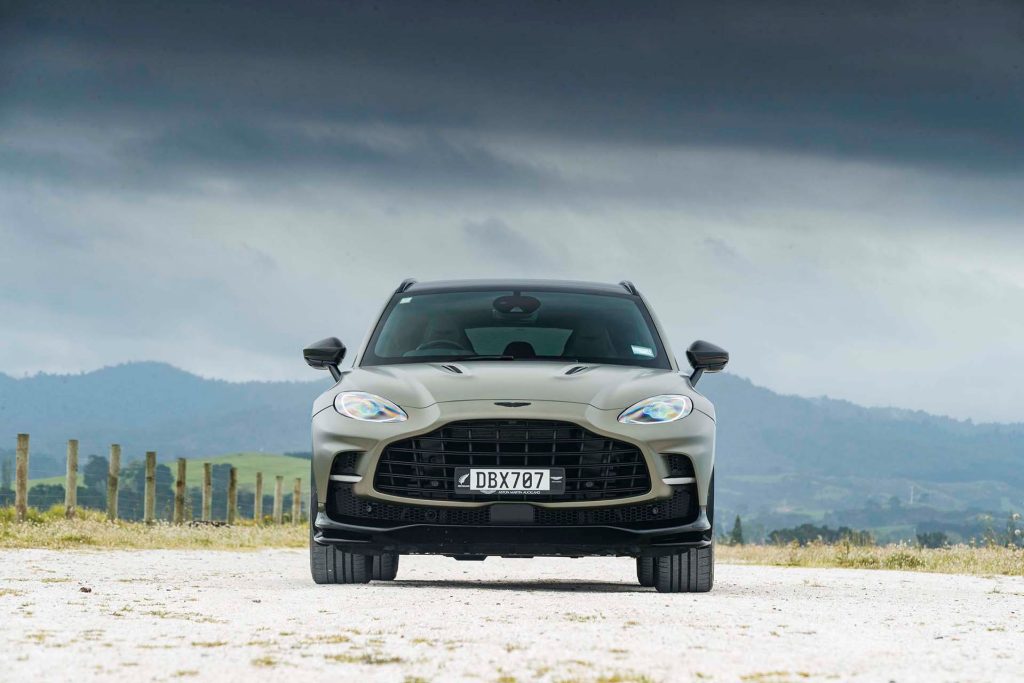 The DBX707 was kind of talked up as the one that would set a new record on the Nurburgring when it was first previewed. Aston said it intended to make an attempt on the Porsche's SUV 7min39sec lap record but it hasn't yet.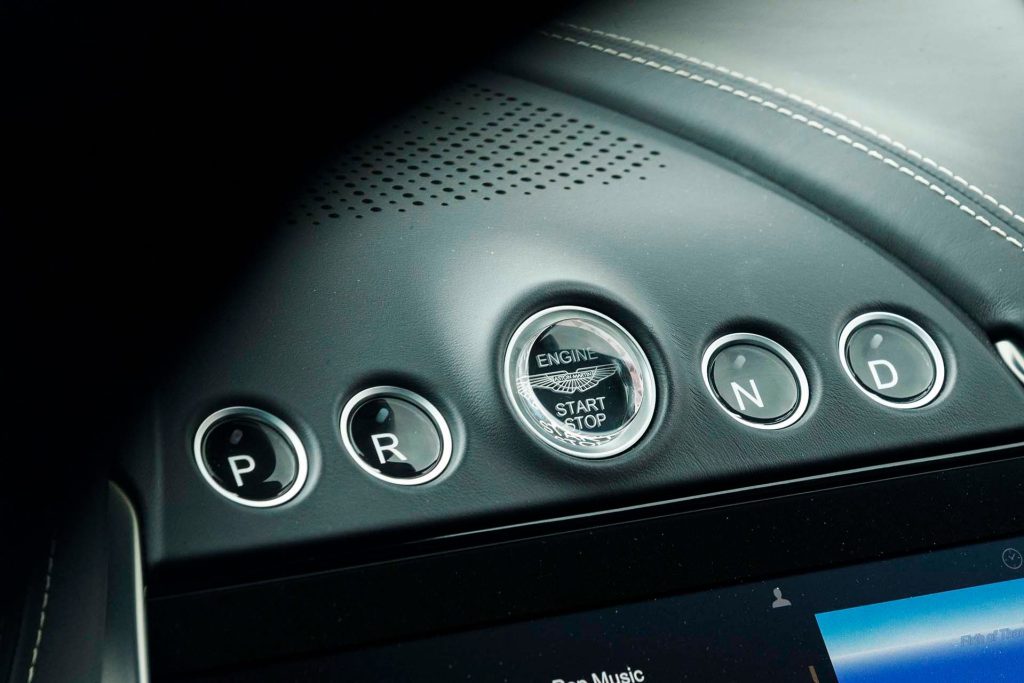 Anyhow, the 707 is one of the world's modern wonders. It is hard to get your head around how quick this is point to point thanks to the way it attacks and aces corners. It handles more like a high-rise sports estate, despite weighing the better part of 2.3 tonnes. Think of this as a superSUV that reckons it's a supercar.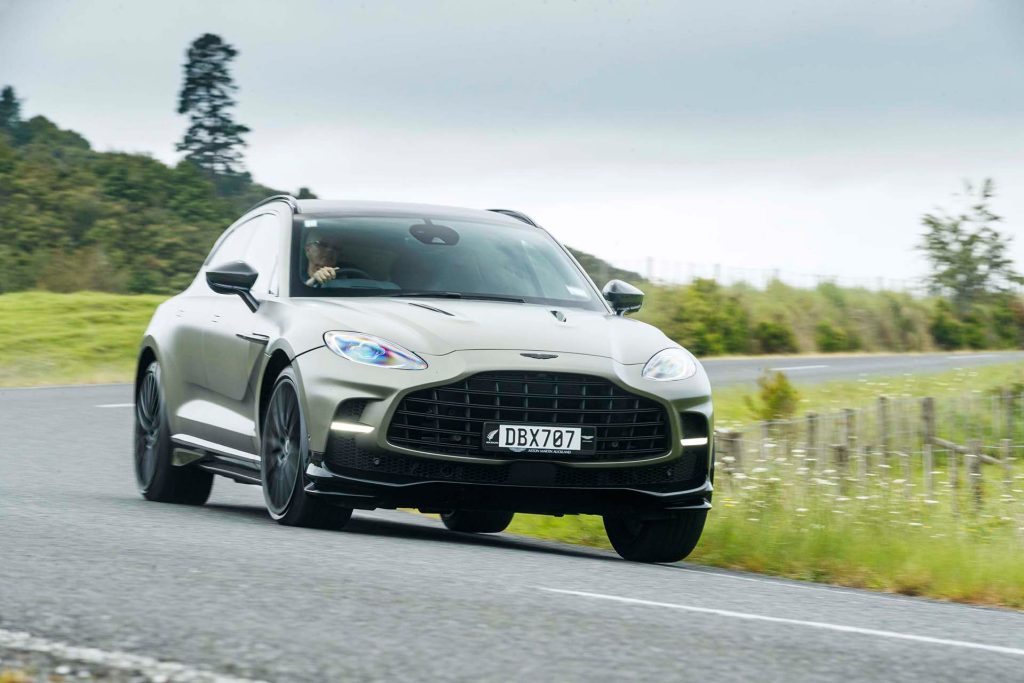 And on that theme, this is one almighty hauler. About the only SUV we've tested that can crack 2sec for the 80-120 shimmy is the Lamborghini Urus, and this was even quicker, with a best of 1.90sec, precisely as claimed. Same for the 0-100 time, just a fraction inside of the 3.3sec quoted time (3.28sec.) The DBX by the by, needed 4.4sec and 2.65sec, respectively.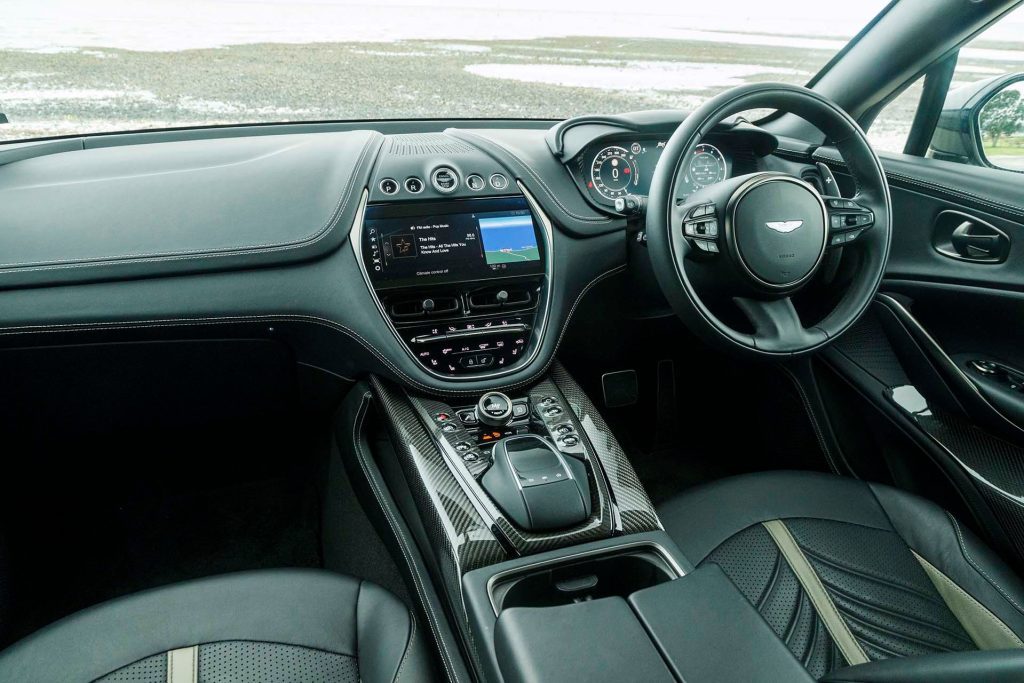 Even in GT mode, the 707 offers serious performance with little apparent effort. Accelerating through the gears using up to 3000rpm is plenty quick enough. The speed constantly surprises, partly because gearing is moonshot tall; we calculated that 160km/h in ninth would not even be using 2000rpm. Driven gently, we managed to eke out a fuel use low point of 11.3L/100km and the average was around 15L/100km. That's not too shabby, considering. Moreover, it turns plenty of that potential energy into mechanical music, not that we didn't wish for a bit more. The tune from the biturbo 4.0 is always tasty, in an off-beat bassy way. The auto is a highpoint too, the paddles seldom if ever needed. But you should check them out; our's were formed from CF and felt exquisite in use.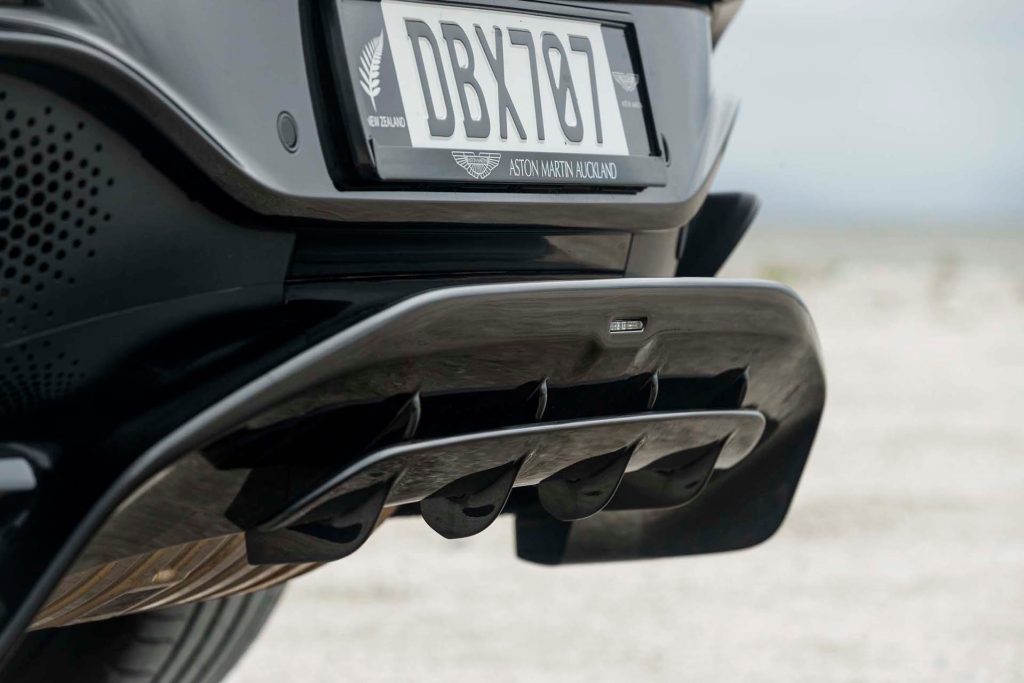 Rather than create a one-trick pony, Aston engineers sought instead to create a balanced performance GT flagship. In other words, faster and tidier but without actually ruining it as a day-to-day proposition. With all that added power they decided to get more serious with aeros as well, especially as this is said to top out at 310km/h. There's a splitter and winglets up front, and a double diffuser at the rear, out of which four exhausts exit, and functional rear spoilers. Just don't use them as steps to retrieve stuff lost in the hold.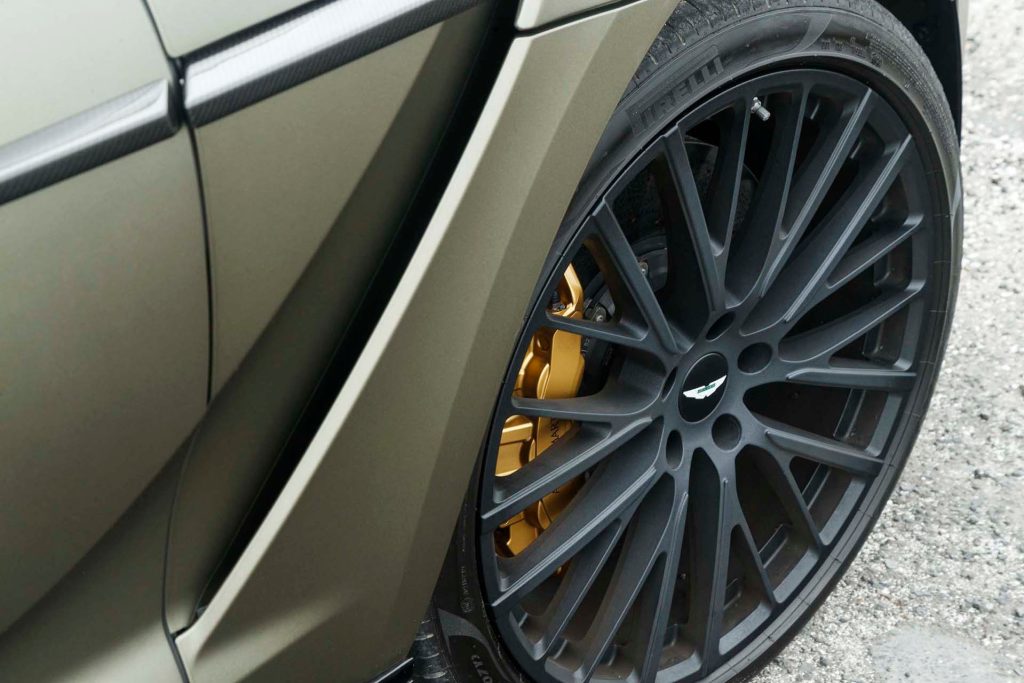 Our particular car was wearing the optional forged 23-inch hoops and, in concert with the standard-fit carbon ceramic brakes, the firm claims a reduction in unsprung mass of around 40kg. Not only has the three-chamber air suspension been completely retuned but the top mounts are much stiffer, 50 per cent more torque is fed through the active roll bars at slower speeds, and body rigidity is up by nine per cent. They've also fitted hydrobushes to the front suspension which evidently better dampen front axle forces and improve steering and ride. They are being rolled out across the entire DBX range. All contribute to the insane cornering antics.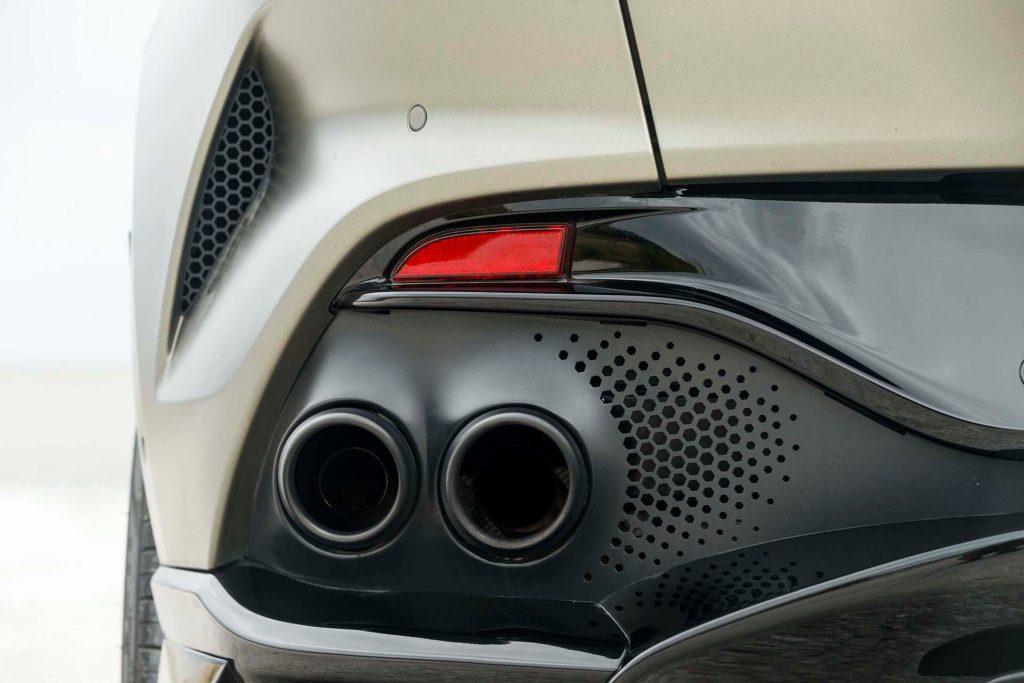 Inside a few things have changed, like the various drive modes which are now on a round dial in front of the twirly knob that controls the ancient infotainment screen (non-touch). This is getting a much-needed makeover come the facelift. What's also needed is a head-up display given how quick this is, like, everywhere, and a Qi charge pad for your phone.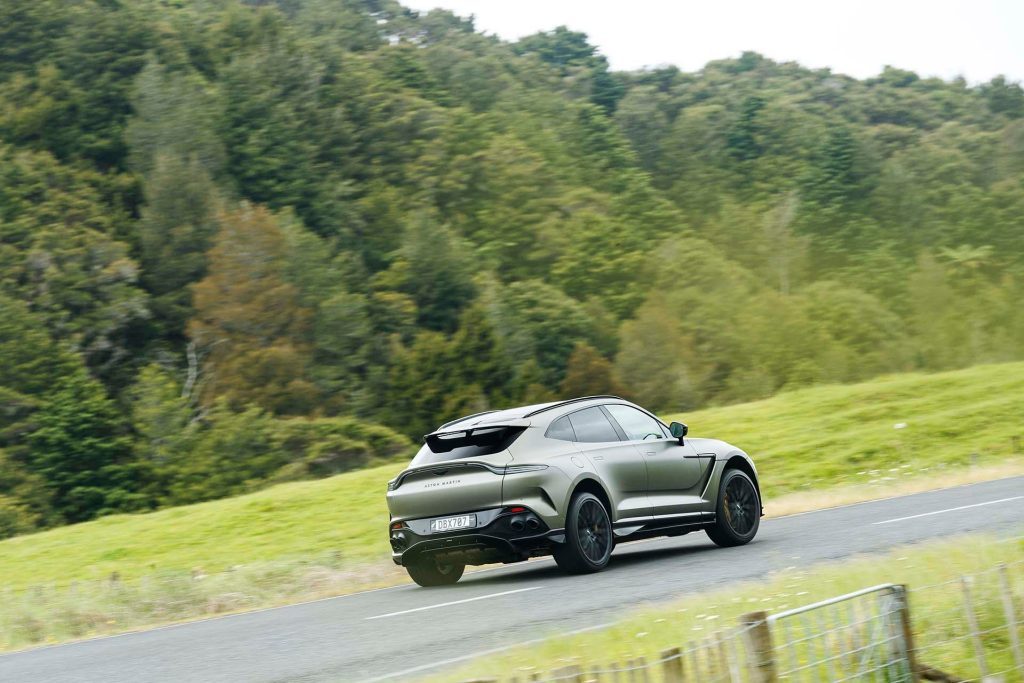 However, those omissions you can almost forgive when you get out and drive this big friendly monster. Despite its sizeable dimensions, near enough to 5mx2mx1.7m, it never really feels a handful, and seems to shrink with familiarity. The heft of the wheel in the sport modes is notable. But steer it does, sweetly and accurately, the rate of turn-in just right too. What you won't quite credit is how this hangs on, the active sway bars keeping body roll supremely in check, the PZeros at the best angle of attack. We used Sport mode for the cornering shots while Sport+ is best reserved for track days (see sidebar). Most of the time the GT mode is perfect, especially with others aboard, the ride mainly accommodating, seldom edgy. Push too hard and understeer will out, eventually, but with heavily biased rearward drive and torque vectoring, along with the active sway bars, this rounds up corners like few SUVs can. All this without a hint of tyre squeal. In damp conditions this just inches sideways slightly.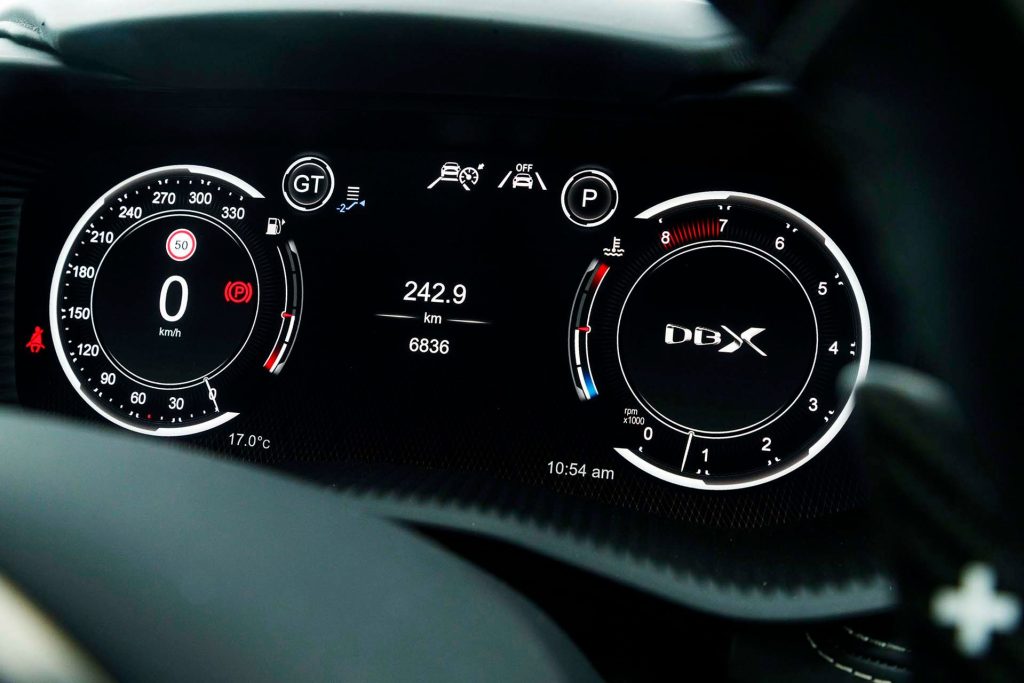 The starting price for the 707 is $390k, $60k above the base DBX, and most leave the showroom with at least $50k of options fitted. Our particular example had nigh on $80k but it was a press vehicle so… The matte titanium paint finish alone cost $23k. And there was carbon galore.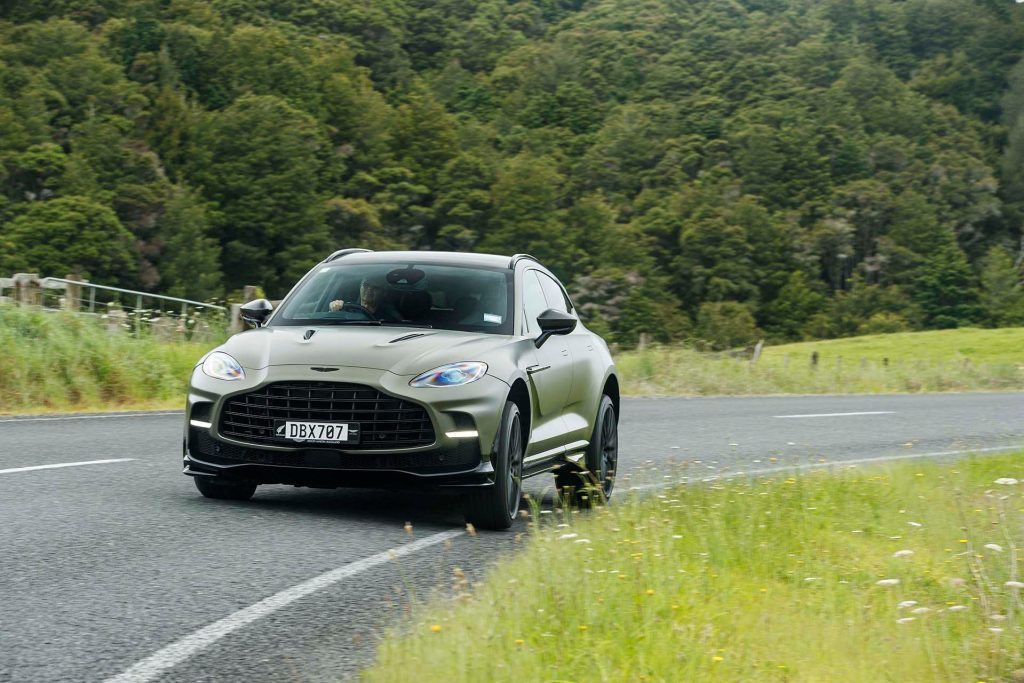 This is likely amongst the last of the petrol-only vehicles Aston will produce before it heads down the electrification road. But what a way to bow out. If you hanker for a superSUV that does it all in an unforced and unforgettable manner, the DBX707 puts its hand up as The One. Sure, there are bound to be faster electric variants in the future, but will they have the sonics or soul and will they be able to shimmy like this?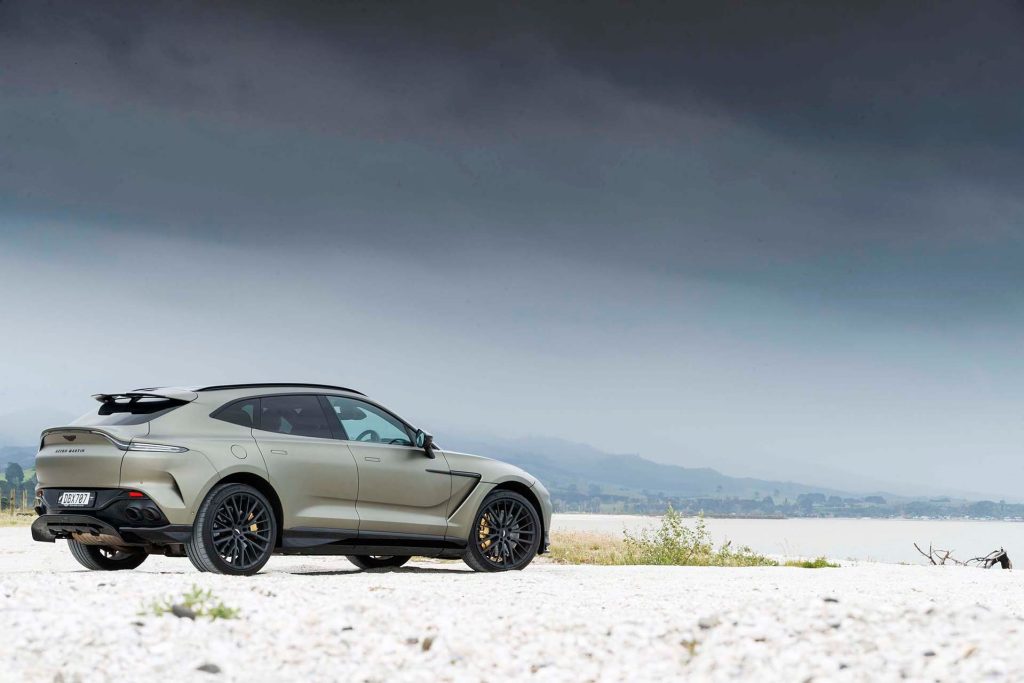 Track Tamer
Words: Kyle Cassidy
While it's not the first choice Aston Martin to take out on track (V12 Vantage please), the DBX707 makes a bloody good fist of things on a race circuit, all things considered. They say weight is the enemy of performance and it's true too of dynamics. Race cars are stripped of all unnecessary frippery, and what's left they try to get low and centralised. So taking the 2.3 tonne 707, with its exquisite luxury interior, riding up high on its raised suspension, just doesn't seem right. But we are keen for any sort of track time, especially the sort you get for nix. Thankfully we won't have to stump up for any replacement 23-inch Pirelli tyres.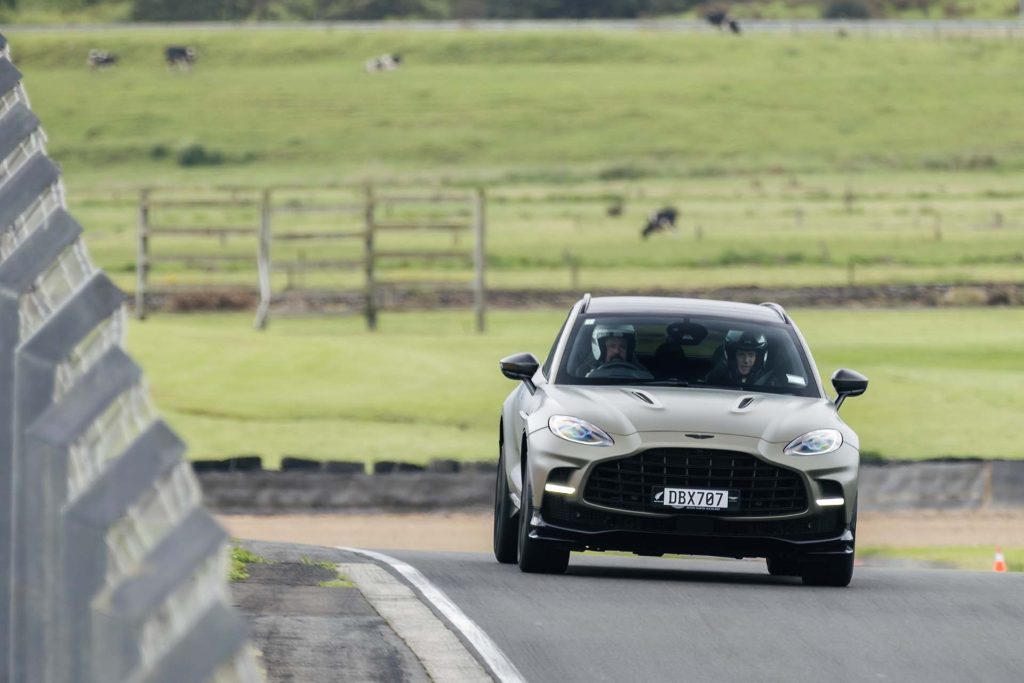 While the DBX has myriad drive modes, we just whacked it in Sport plus as we headed out for a few laps of the full International Circuit at Hampton Downs, and left the nine-speed auto to sort itself. That just left us to concentrate on the braking, steering and gassing the bejesus out of it to fully experience the 700(ish) horsepower.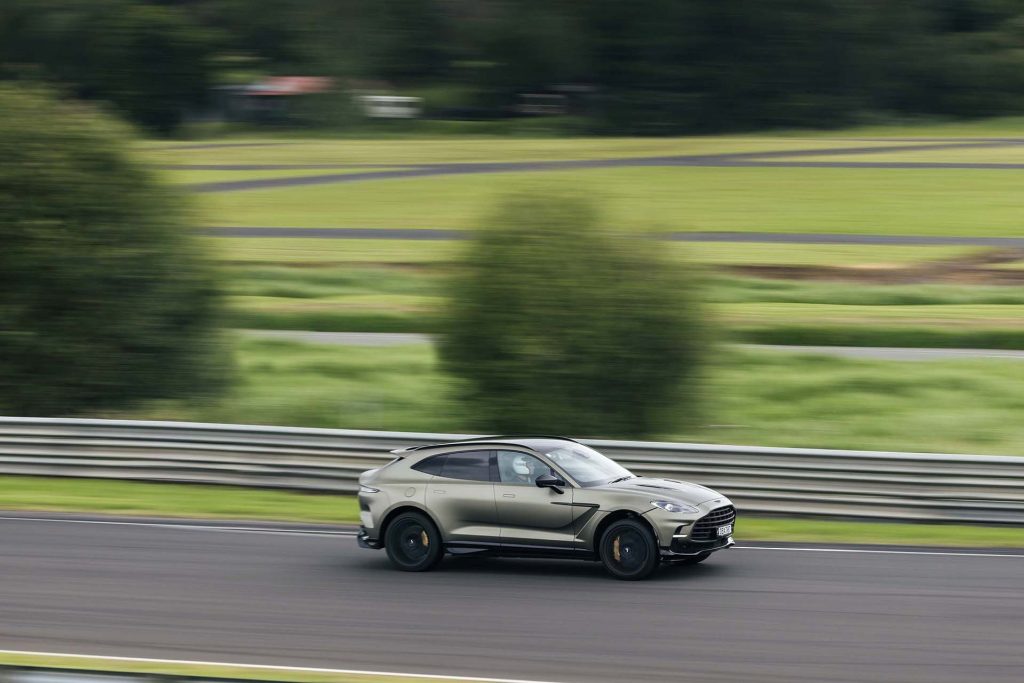 Despite its size, it feels genuinely rapid as it sinks back and lunges forward, the full force of the torque getting it up and steaming while the top end power keeps it surging on. The sound is fairly epic too, the eight hollering at full noise while the quick shifting auto snaps gears.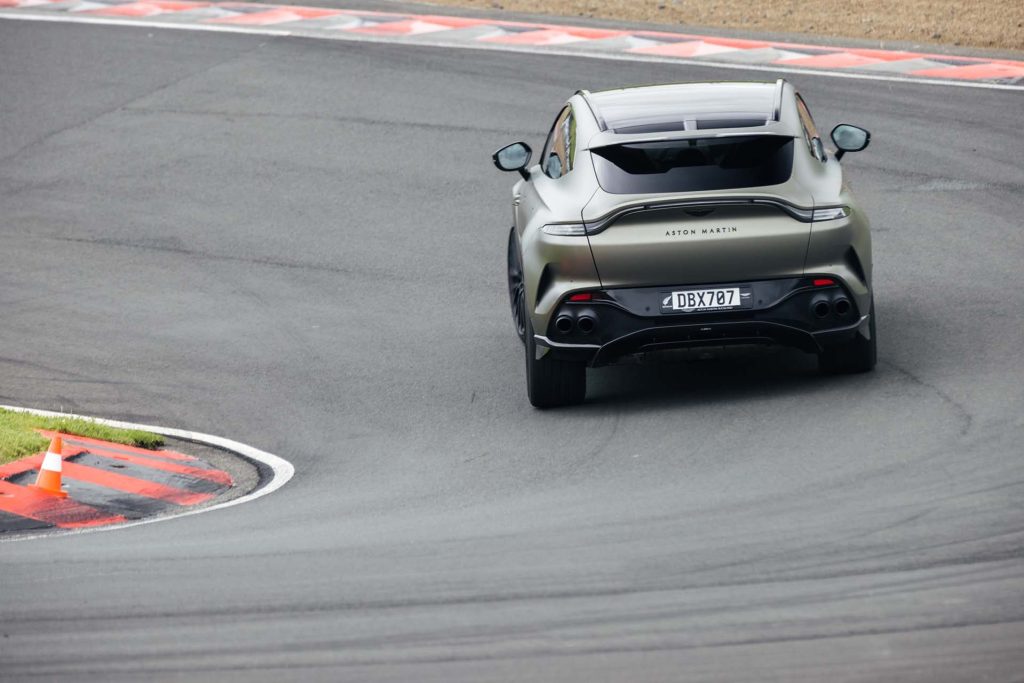 It takes a few corners to realise how much the front end of the DBX really has to give. Our helpful co-pilot's recurring message was to let it carry more entry speed into the corner. In other big SUVs we've wrestled around the track, you're worried about entering too hot, forever weary of overstepping the stick of the front tyres as the mass constantly wants to push into understeer. You're literally hung up by the lack of front end grip. But not here. That's the most impressive aspect of the DBX707 on track, it's weight balance, and the way it tips deftly into each corner.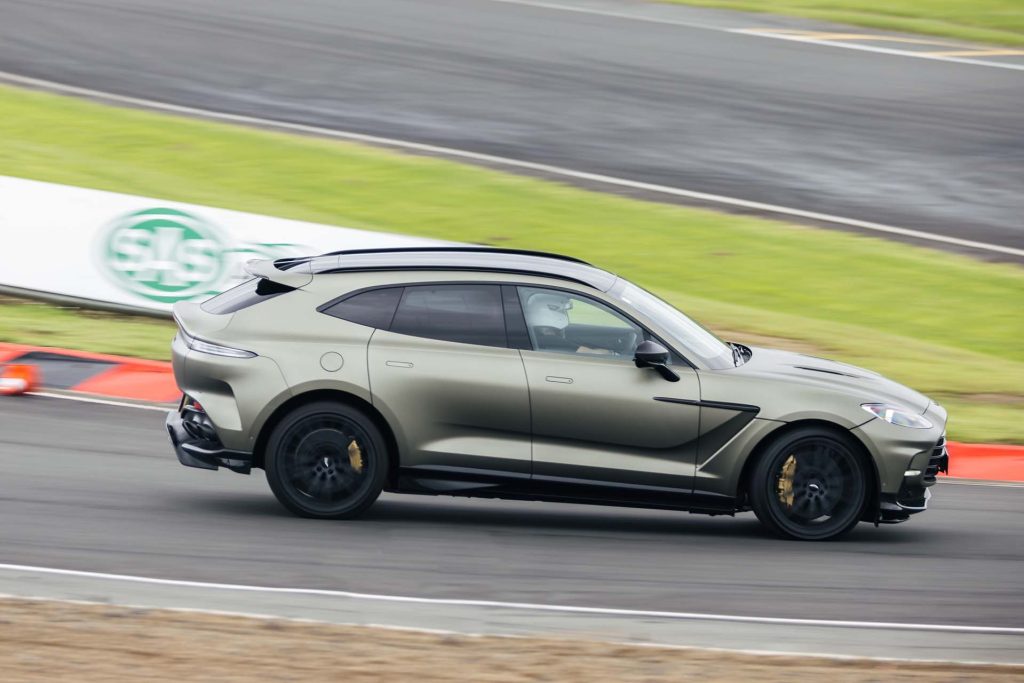 With its big rubber and that rigid active roll control, it has a certain poise, balance and level of grip that is quite something for an SUV. The variable aspect of the AWD helps too. With more of the thrust going rearward, there's no bothersome power-on understeer to contend with. The dynamic stability control is well tuned, only butting in a couple of times through the same pesky corner. Yeah, it still feels a bit heavy, but the brakes are up to arresting the velocity, the 707 being utterly stable hauling back down from 220 plus. And the pedal feel remained quite constant, at least during our brief four-lap stint.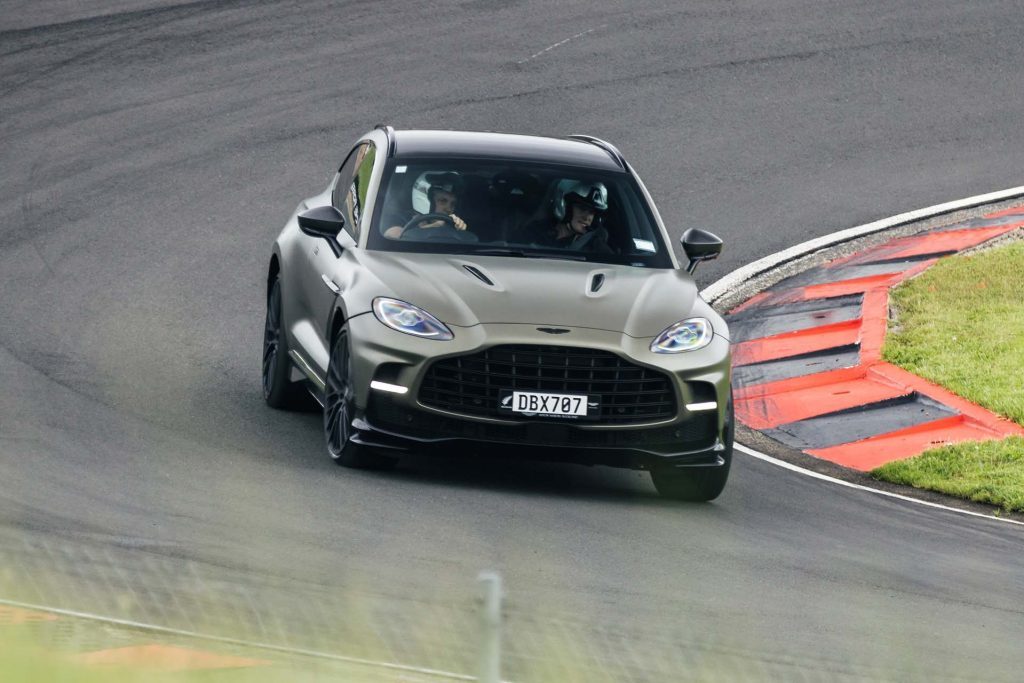 The DBX707 is quite something then, even if much of its prodigious ability won't be tapped into too often by owners, who would quite rightly opt to take their Vantage to the track day.
Model
Aston Martin DBX707
Price
$390,000
Clean Car Discount
Fee + $5175
Engine
3982cc, V8, T, DI
Power/Torque
520kW/900Nm
Drivetrain
9-speed auto, AWD
Fuel Use
13.5L/100km
C02 Output
309g/km
0-100km/h
3.28sec
80-120km/h
1.91sec (55.64m)
100-0km/h
31.28m
Stability systems
ABS, ESP, TV
Safety
AEB, ACC, BSM, LDW,
RCTA, ALK, AHB
Luggage Capacity
491-638-1780L
Tow rating
750kg (2700kg braked)
Service intervals
12 months/16,000km
Warranty
3 years/unlimited km
ANCAP rating
not yet rated
Weight
2245kg (claimed)