Lamborghini always delivers on the surprise and delight front and that certainly applies to its new Urus SUV. It's an everyday sportster that does things you'd never have dreamed of attempting in a Lamborghini previously.
While all we do here is drive and write about cars, and collectively we've done and seen quite a bit in our time, never have we attempted to drive a Lamborghini down on to the rocky foreshore. But that's the sort of thing you can do in an SUV. And it's one of the reasons why they are just so hot right now, especially in the upper echelons of the market. This is a Lamborghini you can drive anywhere, high streets, sand dunes, across Siberia, wherever. And still it's a Lamborghini; a drive that gets the heart pumping, yet one we've never managed to do so much with.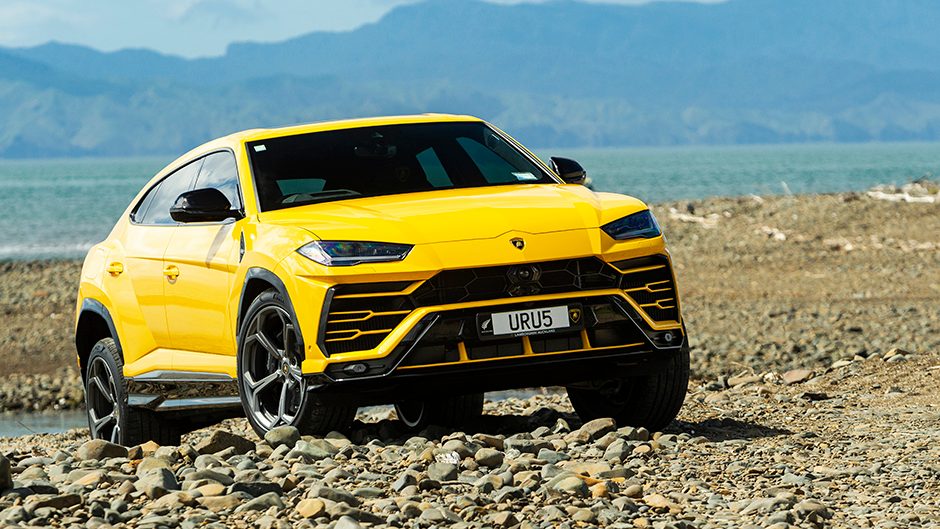 For instance, never have we sat so comfortably in the back of a Lamborghini. It's not the first bull with a back seat – you could get a Lamborghini fit for four as far back as 1966 – but here there's ample stretch space. The wedgy styling of the Urus is deceptive. We thought it more Macan sized before meeting it in the metal but it's a big bull, longer, wider and lower than the Cayenne. And with a slightly longer wheelbase, the space on offer in the rear is surprisingly good.
We expected knees to be brushing up against the front seat backs, but there's genuine stretch comfort while head clearance is acceptable given the sloping nature of the roofline. There are three safety belts too, but bags not sitting in the middle, the squab too firm and headroom minimal due to the shape of the roof lining.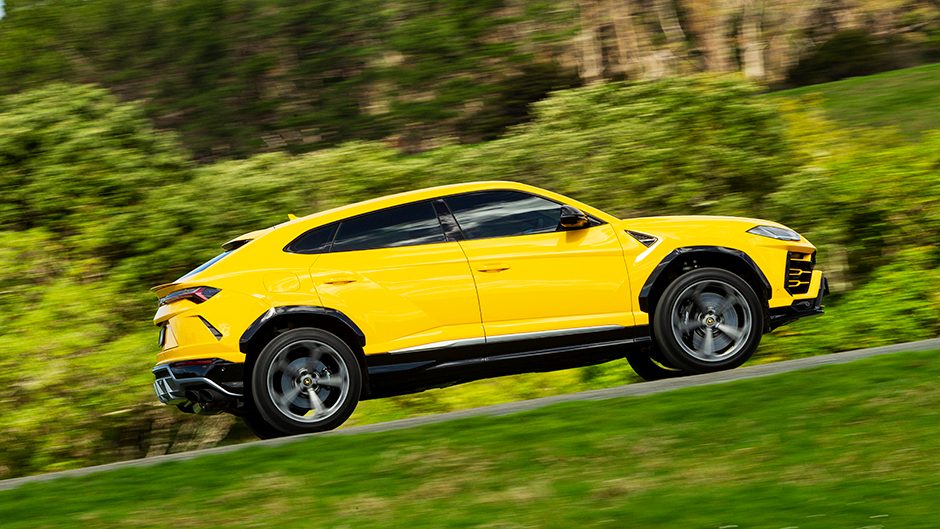 Never have we been been able to carry so much kit with us on a Lambo photoshoot as we did heading out in the Urus. Though the boot doesn't seem quite as generous as the quoted 616L would suggest, the hold is well shaped and the seat back even folds in a convenient 40/20/40 split. We've never driven a Lamborghini with a range of modern drive aids and safety systems but Urus comes with a decent standard equipment list which includes the likes of active cruise with stop and go function, AEB, blind spot monitoring and lane keeping tech.
They humbly call Urus a Super Sport Utility Vehicle. Yep, never driven one of those either, although Bentley, Porsche, BMW, Range Rover and Mercedes-Benz could probably call their top weapons super SUVs too. The twin-turbo engine is turned right the way up, power and torque literally sloshing out of its 4.0-litre capacity. There's 478kW, or 650 horses, and 850Nm of thrust, on from 2250 to 4500rpm.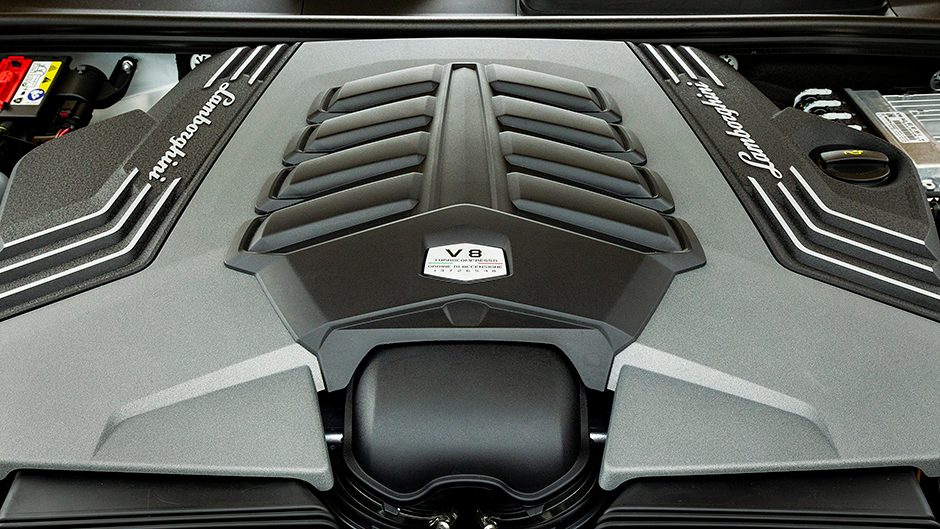 It might weigh in at 2200kg (actually 2348kg in this guise) but it still blasts out of the traps, stopping the clocks at 3.55sec for the 100 kay sprint. That's what AWD and a super quick shifting eight-speed auto in full Corsa launch mode setting will do. And the 80-120 time is equally impressive at 1.98sec. The brakes are also suitably super, 440mm carbon ceramic rotors bitten into by 10-piston calipers up front. Teamed with steam roller like P Zeros, this hauls up in impressive fashion too, in just over 33m from 100km/h.
We've never seen anything like the Tamburo contraption on the Urus, an elaborate arrangement of levers and buttons on the centre console which you use to change the drive modes. It also selects the gears, except Drive which is accessed when you flap the shift paddle. The Anima lever on the left progresses you through the drive modes starting with Strada for street, Sport for Targa Rally type running and Corsa, an all-out bananas mode where a G force meter appears on the configurable digital instrument panel as if to egg you on.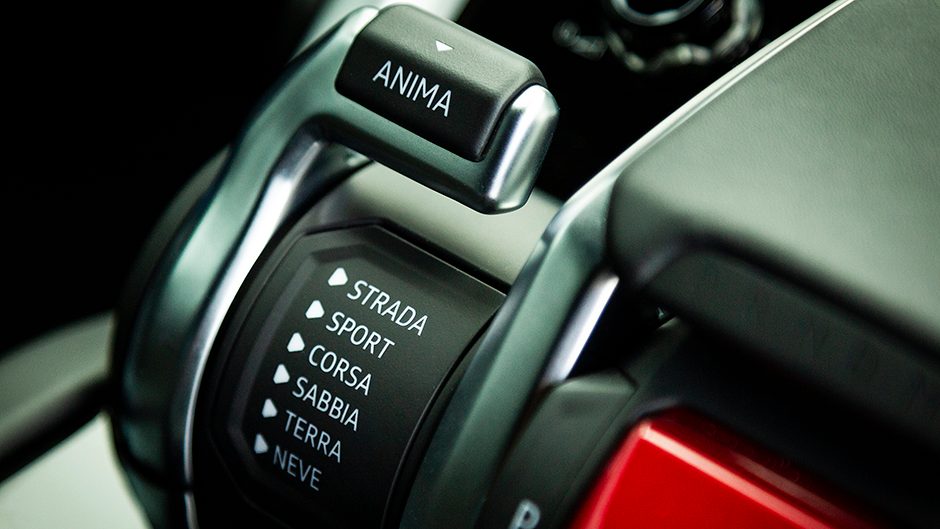 Outfitted with the Off Road pack, the tester also came with the Sabbia mode, a Baja/Saudi Arabia dune-jump setting, Terra where the multi-level air suspension rises up and the engine response is dulled to help smooth bumpy off-road excursions and then there's Neve for snow and ice drifting. It's not the first off-road capable offering from the firm – we all remember the Rambo Lambo – but Urus is entirely different. If the default drive settings aren't to your liking, Ego allows you to change the AWD, suspension and steering through three settings; smooth, medium and 'sportive'.
There's a marked change in character as you progress through the modes. It's genteel in Strada, and never has a raging bull ridden so serenely over city streets, the air suspension providing a dignified passage on the oversized wheel package. The steering is light, the engine note subdued (except on start-up where it still insists on trumpeting loudly) and the auto is silky as Urus plays the role of a genuinely refined luxury SUV.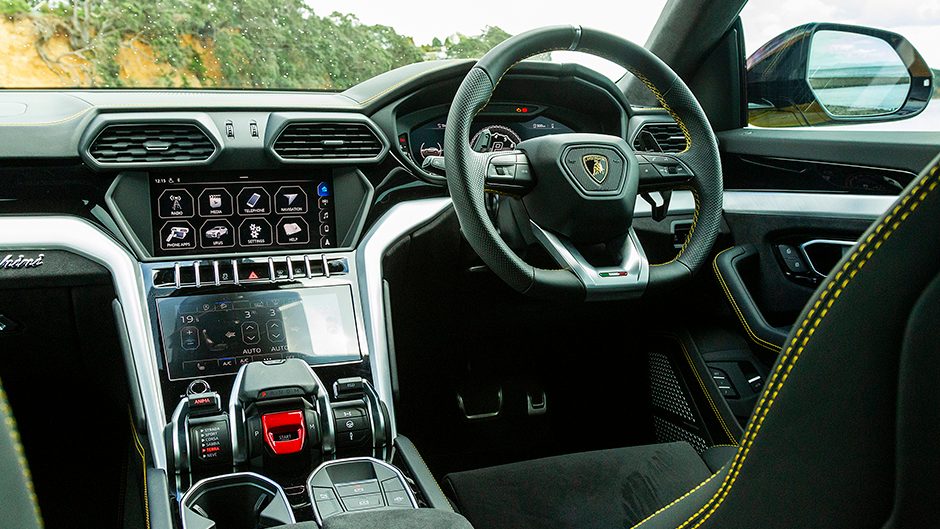 Move to Sport and the engine response and tone harden, the digital display morphs to a racier setting and there's a firming of the controls. The Urus contains all the chassis tricks in its repertoire; a 48v system enables fast-acting active roll stabilisation, there's adaptive air on all four corners, lowering in go-fast modes, the rear wheels get in on the steering act and an active torque splitting diff helps defy the laws of physics further.
There's plenty of Pirelli rubber on guard too. While there is a lot of size and mass hurtling down the road, Urus never feels clumsy, only locked down and stable. There's not a hint of understeer in fast bends, just steadfast stability, the rear wheel steering and diff doing their bits. Never have we kept the gas pinned confidently in a Lamborghini over roughed up sections of road where dips and depressions might threaten the integrity of a low-lying undertray.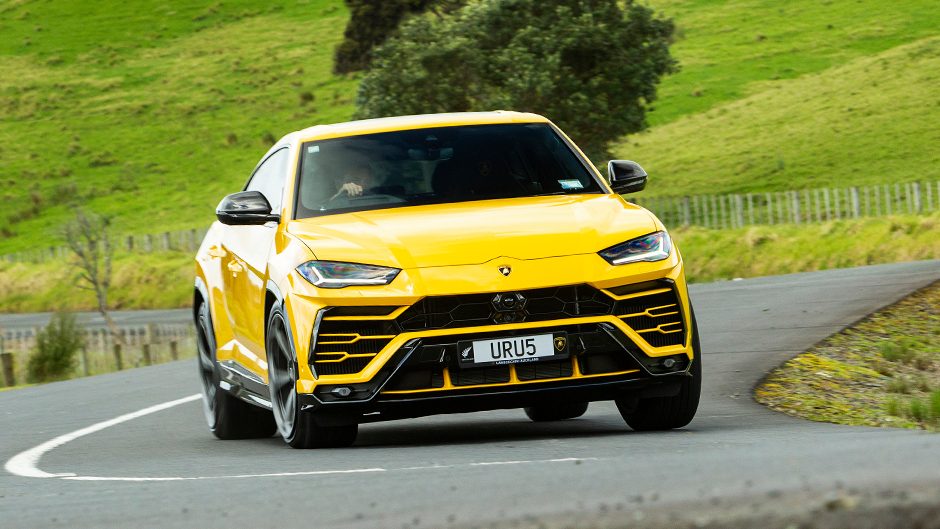 But here, there's never any issue of clearance and the suspenders iron most bumps smooth, never fidgeting for composure. In the tight and nasty sections of twisting trails, the front end will eventually start to push, though remains online with some smart targeted braking.
Moving the Anima through to Corsa reduces the electronic interventions, giving the driver more responsibility to keep things tidy. And the controls respond duly; I can't remember being able to manage the front end of an SUV so effectively in the bends, the steering quick and sensitive. This adds another layer of driver involvement, fitting for a Lamborghini, and this Urus really cranks through the bends.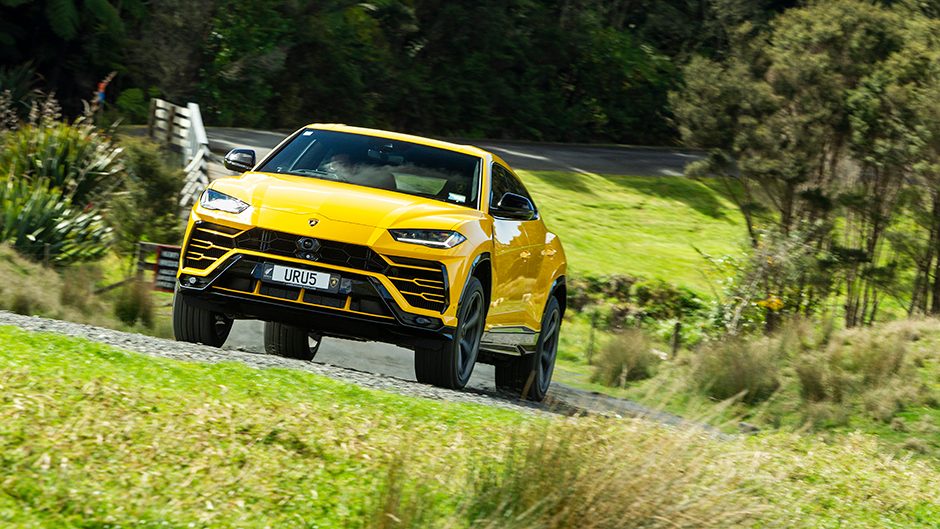 Corsa mode sees the gearbox go hyper, downshifting keenly to ensure Urus literally flies out under power. It's rapid to say the least, and the big brakes, strong under foot and in retardation, ensure you can reign it all in for the next corner. The suspenders firm yet again in Corsa and while you feel the bumps below, they don't affect the flow. The V8 revs quickly with a healthy spread of energy from the midrange to not quite 7000rpm, accompanied by a storm of sound in the cabin. The exhaust is muffled from the driver's seat but you can detect the crackles and pops if you tune your ear. Tyre roar is thankfully subdued.
Moving back to Sport and the Urus is a truly fast tourer on flowing roads, an accumulator of miles. A 75-litre tank will give a reasonable range provided you don't dine out on the top end power too often. It's rated at 12.7L/100km, and while we managed to double that at one stage, by easing off a tad, the instantaneous usage can dip into single figures, such is the nature of boosted engines and long legged autos.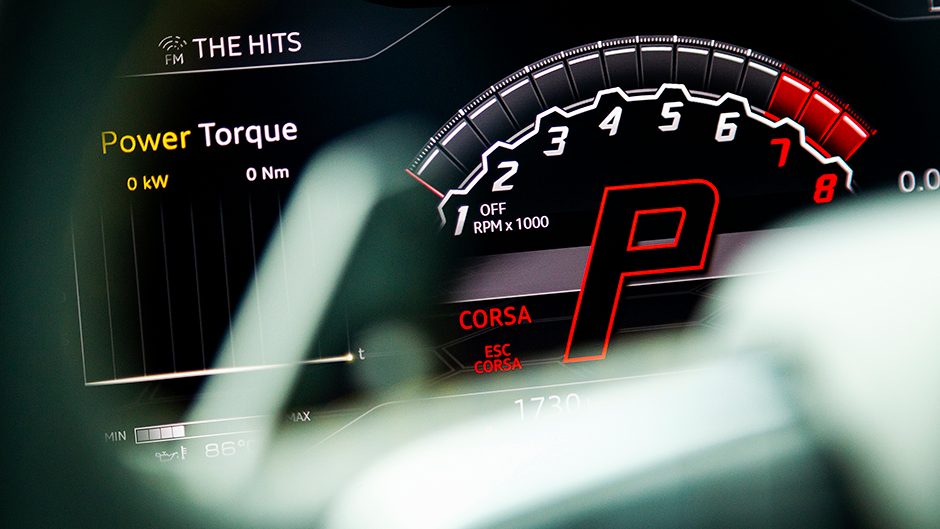 Few SUVs could get away with such a lurid paint scheme as this yellow Urus. It wouldn't look as impressive in one of the grey or black tones offered while there are blues, reds, whites and even a green hue. The designers have translated the long-lived Lamborghini wedge profile to the Urus well, and the front end is hawkish.
Its interior is no less eye-opening in a design sense. A pair of touchscreens on the console are in charge of the car's ventilation, minor controls and the infotainment system. These you press a little harder than your usual touchscreen but they relay a tactile haptic response. The cabin is finished to the expected standard, nothing clanging or hanging off. It's as if a German company had built it then.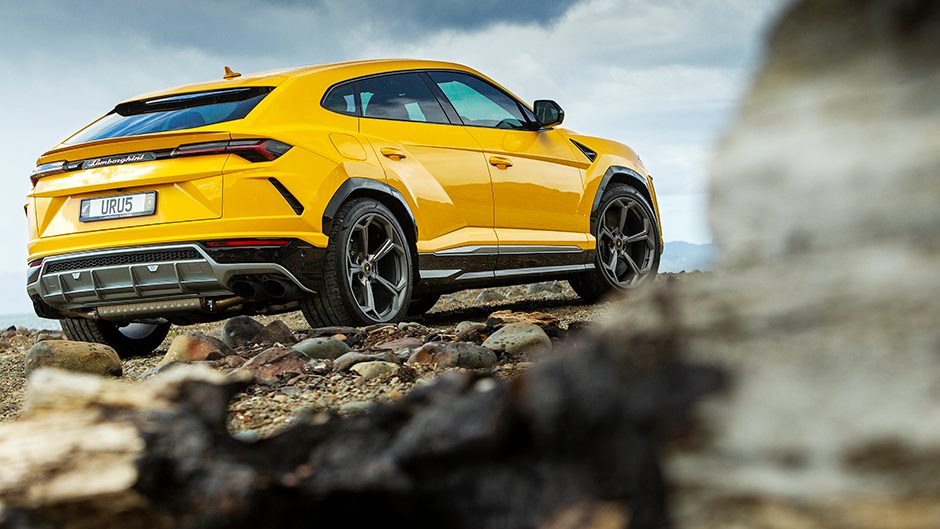 And unlike the sportscar range, the Urus has all the bits expected in a luxury vehicle. There are still pages of options, even a service package, costing $5691 to cover three years. The off-road modes are optional but add the tow prep kit. Yes, you can tow your ritzy powerboat with Urus, rated to 3500kg. Seats tend more toward sporty than comfort touring with firmer bolstering but there's plenty of adjustment. It's all very easy to drive this, with no Italian quirks about it.
Usually we emerge from a Lamborghini after a day of driving and feel a little ragged but this is different, an SUV that's rabidly rapid over all sorts of testing terrain and suitably polished to cut it as a luxury carriage. It's super expensive, starting at $339,000 before options are ticked, but it's a Lamborghini after all, and never has there been a more rounded raging bull than this one.
| | |
| --- | --- |
| Model | Lamborghini Urus |
| Price | $339,000 |
| Engine | 3996cc, V8, T/DI, 478kW/850Nm |
| Drivetrain | 8-speed auto, all-wheel drive |
| Fuel Use | 12.7L/100km |
| C02 Output | 290g/km |
| 0-100km/h | 3.55sec |
| Weight | 2348kg |