The Ram line-up doubles with the introduction of the 'smaller' 1500 series. But it's no shrinking violet, especially with a big Hemi V8 under the hood.
You have to love the Ram marketing campaign for its 1500 series that implies it eats utes for breakfast. The 1500 may be the small Ram but it's still a hulking full size pick-up. It's also the one we reckon has more market appeal here than the heavy duty 2500 as it's more civilised and therefore an easier thing to drive day-to-day.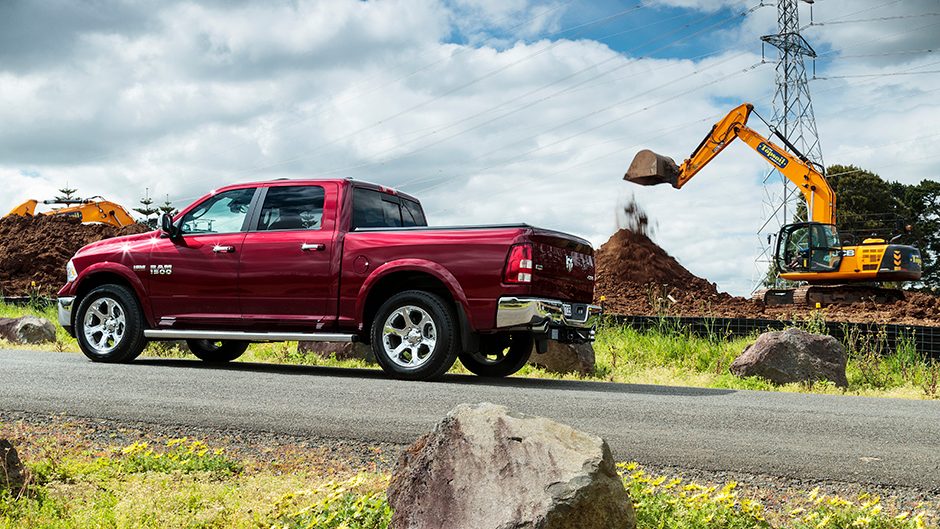 This ain't dainty however, just 200mm shorter than the 2500, and equally as wide yet it's more wieldy being around a tonne lighter, and shorter in the wheelbase. But getting back to that ravenous appetite for utes, at 5.8m long and 2m wide, it dwarfs your average double cab, a Ranger being 5351mm long and 1860mm wide.
Along with acres more cabin space, there's a bigger 'tub', measuring 1712mm long with 1295mm between the arches. The respective figures for the Ranger are 1549mm and 1139mm. Then there's the tow rating; NZ-spec Rams come with the 3.92 final drive ratio allowing for 4.5 tonnes of pull with a big tow hitch and 70mm ball as standard. But while the tray is big, the payload is just 800kg, the Ranger XLT listed at 1012. Can't win 'em all it seems.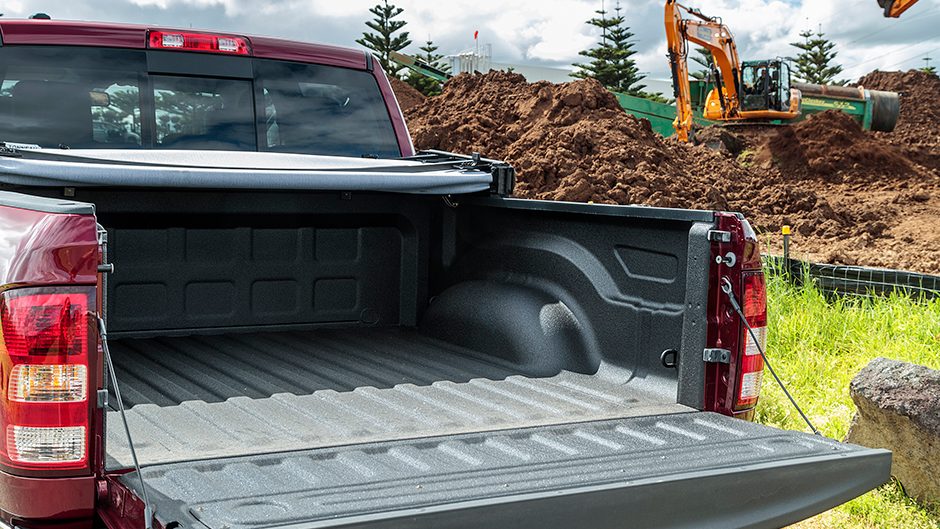 These 1500s start life with the wheel on the wrong side before they are shipped to Australia to undergo a 'remanufacturing' process. This happens in the same facility as the Camaro we feature this month and the procedure is just as extensive, with the truck stripped and reconfigured to right-hand drive.
We drove the $114,990 Laramie model, which is less likely to see hard labour than the cheaper Express ($94,990). The latter gets the Quad cab configuration with a (slighter) smaller four-door cab but a longer tray. The Laramie gets a Crew cab arrangement which delivers masses of cabin space.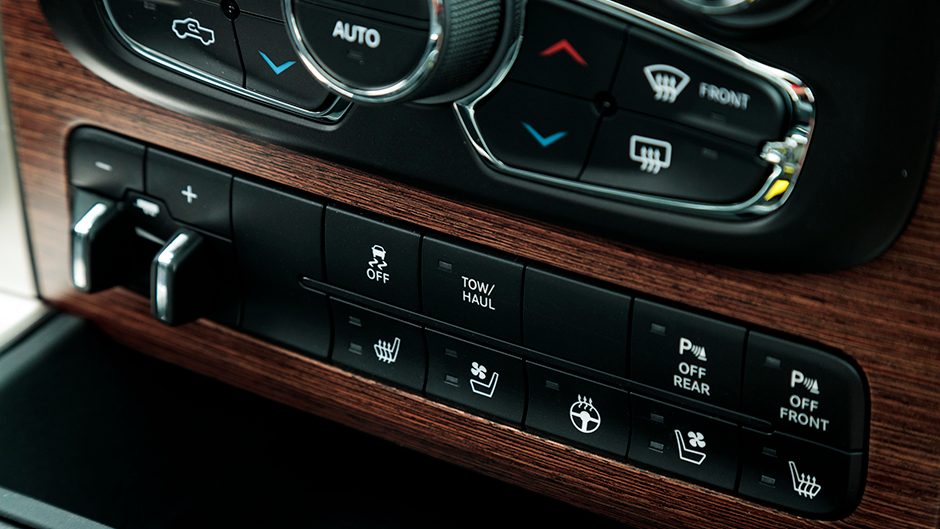 As a conversion it's hard to fault. There are some questionable tolerances in terms of trim fit but the trucks likely roll from the factory that way. The cabin quality isn't a match for a $100k SUV but then that's a truck for you. Its interior has a mix of plastics, some hard but most softish in nature and the stitched dash is a nice touch. I was literally making a mental note on how the build seemed to be up to snuff when one of the heater ducts dislodged in the footwell. However, the truck is backed by a three-year/100,000 km warranty with a nationwide dealer network for service and parts.
The Laramie model gets more blingy bits inside and includes full leather trim and spec items like a smart key, heated and vented seats, a large touchscreen with sat nav and smartphone integration. Safety basics are covered off but there is nothing active on board; no AEB, radar cruise or blind spot monitoring. The latter would be handy as the side mirrors are only just adequate and a better rearward view would be helpful when backing. The wide angle reverse camera does help however.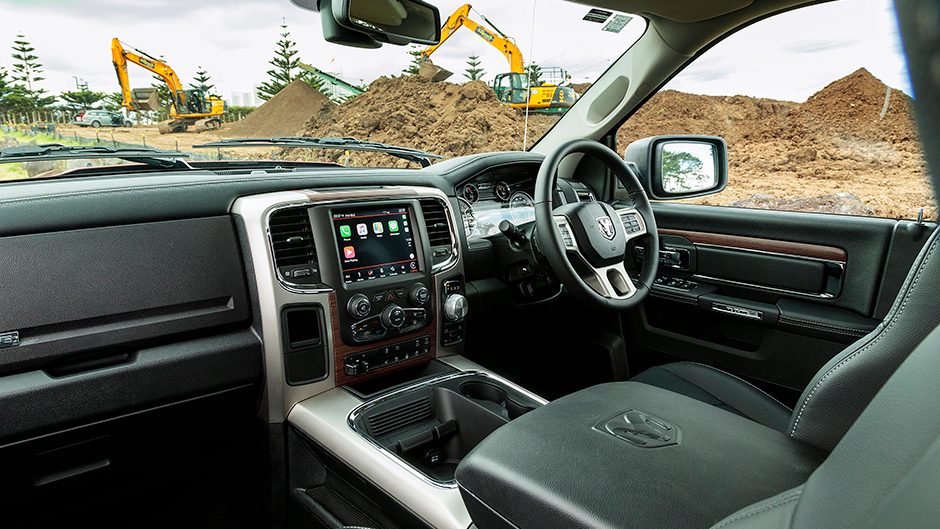 Seats up front are wide and cushy and though the wheel only moves for height, the pedals are powered, so can be adjusted to suit. The driver's footwell is a bit cramped, the footrest hard up against the trans tunnel and the foot-operated park brake is located awkwardly against the door; it would be hard to engage wearing big steel caps.
Space in the rear is unsurpassed. While Isofix points are lacking, it's massively wide with room to extend your legs right out in all three spots. The seat bases easily flip up and you can unfurl a flat floor load space. Or set up camp and take a nap. Side steps come as standard, helpful for wee folk and they stretch past the rear door, easing the retrieval of things from the tray. Sorry, tub.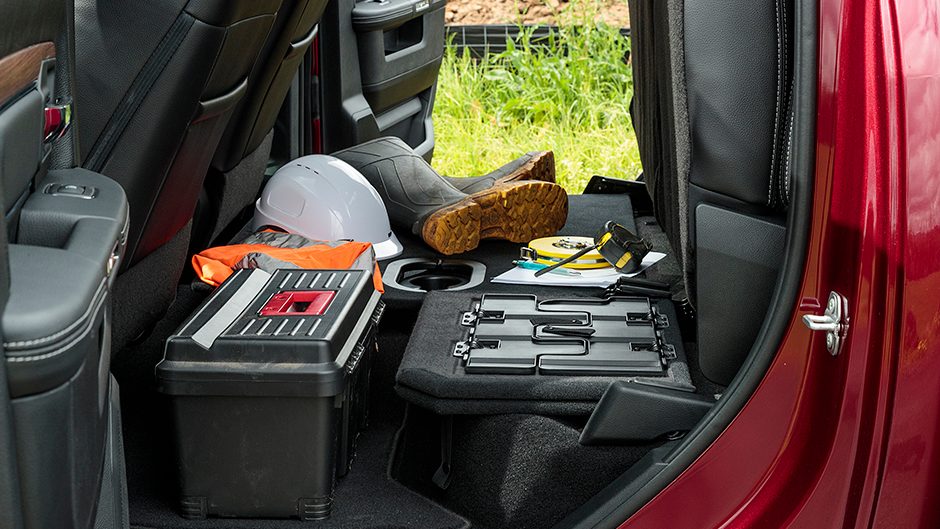 You quickly adjust to the size of this and it's surprisingly alright in traffic. It rides well for a truck on a separate chassis with minimal shimmy and shake from the coil-sprung rear when unladen; any sharp jolts are well diffused. This rides as well, if not better, than the X-Class we recently had on test.
The steering is electrically assisted so it's light though requires a bit of twirling for the turn arounds, with 3.5 turns between the stops. The turning circle is listed at 12.1m, but for sure it's larger than that. Using our reference turn around spot, this needed another metre and a bit to get round compared with the likes of the Hilux we tested last month, which is listed at 12.7m.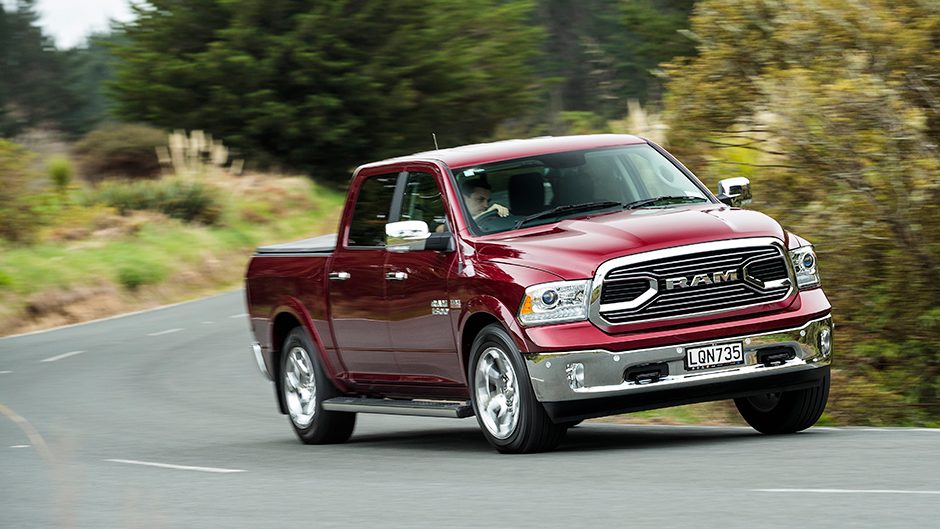 It is however easier to manoeuvre than the 2500, but it's still not great in a car park. Find a suitable spot at the local shopping centre and while it'll just slot in okay, careful when opening the doors. It's best to find a park out of the way, and gain a little incidental exercise, walking a bit further to your destination.
To go with its all-American image the Ram 1500 uses Hemi power for motivation. And the V8 duly delivers with great gobs of low-down pull. Though the full 556 muster of Newtons doesn't register until 3950rpm, the crank is turning out torque from 1500rpm which moves the Ram sufficiently. Often you don't need any more than the first 3000rpm. It meanders about town easily, the auto smooth through the ratios.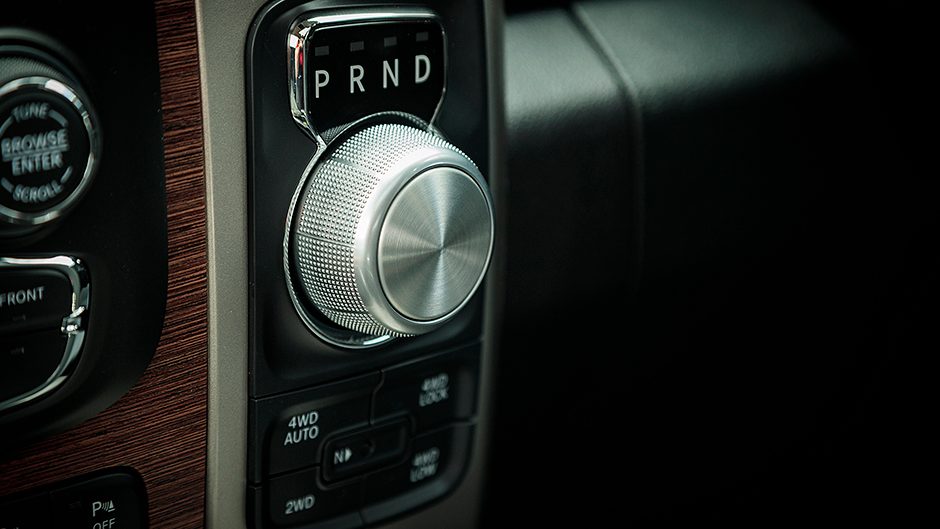 With variable valve timing comes cylinder deactivation, which chimes in often, and does so smoothly. You only notice the exhaust note change, as if it's running a bit rough, as it cuts from eight to four. While it helps ease gas use it's still a big V8 hauling a huge pick-up. The quoted average is 12.2L/100km though we saw around 16L/100km for the around town stuff, settling back to the low-15s with more motorway kays added to the mix. A big 98L tank ensures a decent range while an equally impressive fill bill awaits at the end of each week.
Heading for the hills, you get what you'd expect from the Ram 1500; it's no Ranger Raptor on the turn but it's more wieldy than a 2500 series. This steers much better than the larger Ram as it gets a proper rack and pinion set-up with a coil sprung front end. The turn-in might be a tad laboured but the 1500 points itself accurately and holds a line reasonably. It's not the most sensitive of set-ups but you get a feel for the limits which are quickly accompanied by associated tyre squeal. With a long wheelbase and sway bars front and rear, it's stable without any wayward roll oversteer to worry about. And with trailing arms and a panhard rod keeping the axle located, it's locked down too.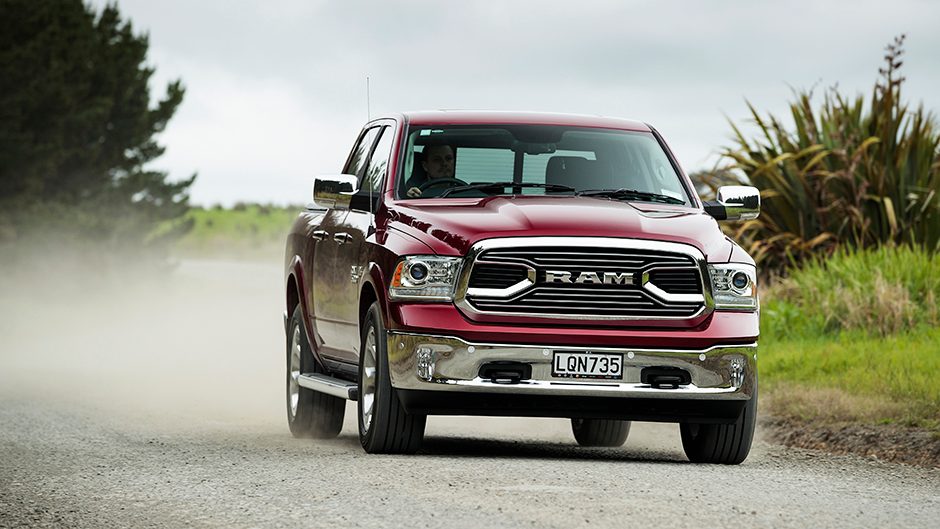 It likes a dab of brake to settle the mass before a bend and as long you're smooth, the 1500 is quite obliging for something so big that's riding high. Despite having sizeable discs all around, the brakes get a bit warm with work. And to go with a spongy pedal feel, this is another big American tuck with underwhelming stopping power, taking 43m to haul up from 100km/h. Best bear that in mind.
It has no problem amassing speed though, breaking into the six-second bracket for the 0-100km/h run. Keep persisting and the Hemi really hikes from 4000rpm onward as the induction note gets serious and the 5.7 churns out the power, revving to just shy of six thou. There are no trans modes or shift paddles so your right foot dictates the auto's behaviour.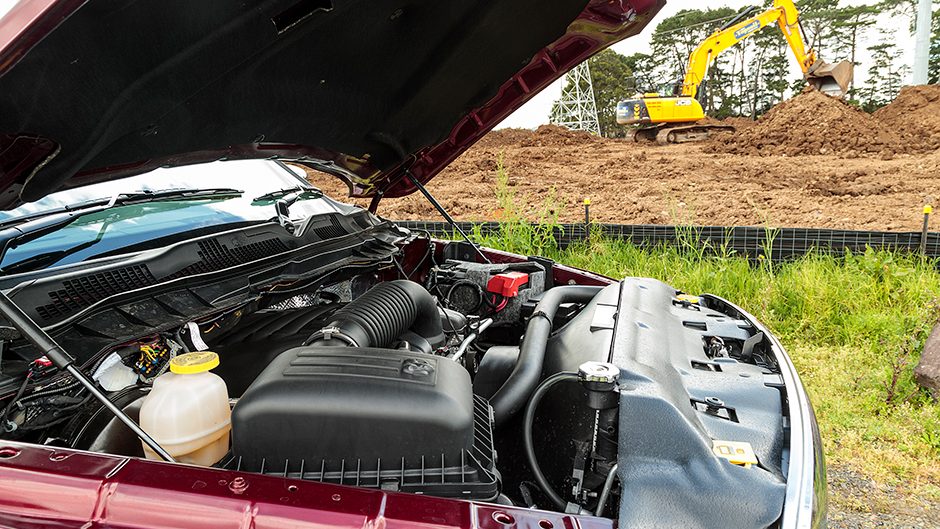 There's good torque convertor lock-up, it'll kick down with enough encouragement and with eight gears to get through this trucks on well. There are manual gear selector buttons on the steering wheel, but these we suspect are more for towing or sticky situations where you want to ensure gear selection rather than a sport mode.
While it comes touting 4×4, we reckon its average rampover angle and general weight would conspire against it in the rough. The Laramie's 4×4 set-up includes a 4WD Auto button, an on-demand type set-up handy on gravel. The Hemi spins the rears easily in the loose causing the TC to fuss whereas in the auto setting, there's no hint of slip or electronic intervention, just traction and yet there's no binding of the driveline on full lock turnarounds. It'll likely be a handy setting for towing then, while 4WD Low will ensure it can get moving off an incline with a big load on the hitch.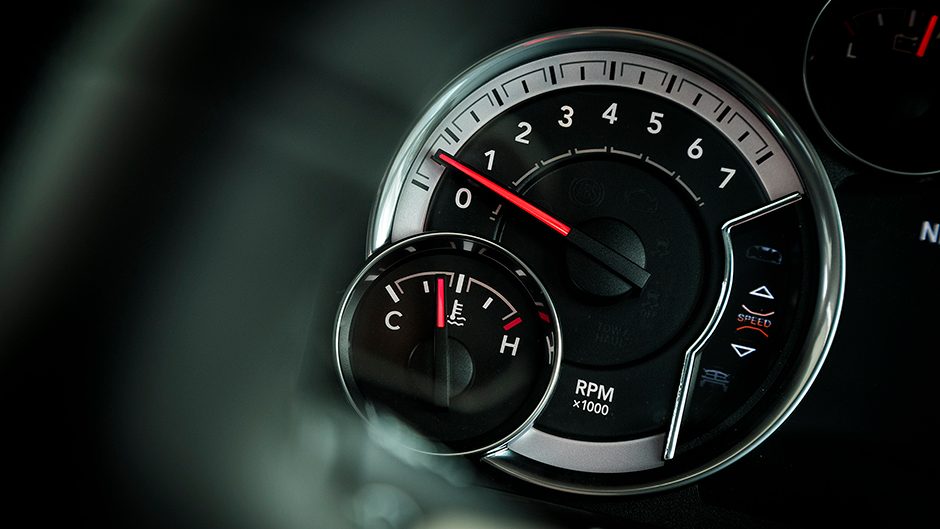 Like the 2500 series, you'd probably want to have a good job in mind for this, or a lifestyle that's more country than city. For those who do buy it, it'll be a case of because they want to, and that they can. It's that sort of vehicle.
| | |
| --- | --- |
| Model | Ram 1500 Laramie  |
| Price | $114,990 |
| Engine | 5654cc, V8, EFI, 291kW/556Nm |
| Drivetrain | 8-speed auto, switchable 4×4 |
| Fuel Use | 12.2L/100km |
| C02 Output | 283g/km |
| 0-100km/h | 6.85sec |
| Weight | 2650kg |