The third generation of Touareg might have been a long time coming but it arrives packing more features into its usual refined self. Where does this big VW fit in the scheme of things luxury?
Once you venture into six-figure pricing territory, the luxury realm is truly dominated by SUVs. So it surprises no one that the new Volkswagen Touareg is now the company flagship. It's the benefactor of the Vee Dub empire's vast market reach as its platform is formulated with the likes of the Bentley Bentayga and Porsche Cayenne in mind.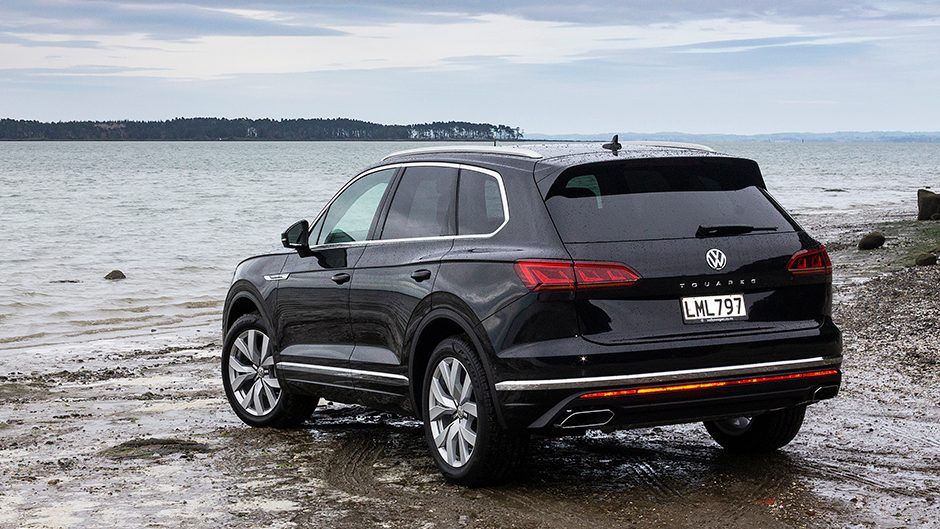 So its roots are royal and have given rise to an increase in on-board gadgets as well as improved powertrain and chassis tech. Given its bloodline, is it a Cayenne on the cheap?
The value equation
While it's not exactly a budget buy, you are getting a lot of shiny premium SUV-ness for your cash here. Touareg will be offered initially in two guises; a $92,990 V6 and the $107,990 V6 S we drove. Differences between them amount to specification and engine output. Both use a new 3.0-litre V6 TDI which delivers 170kW and 500Nm in base trim while S buyers fork the premium to gain 210kW and 600Nm. There's a new eight-speed auto and with a torque-splitting centre diff, up to 70 per cent of the drive can be channeled to the front while up to 80 per cent can go rearwards.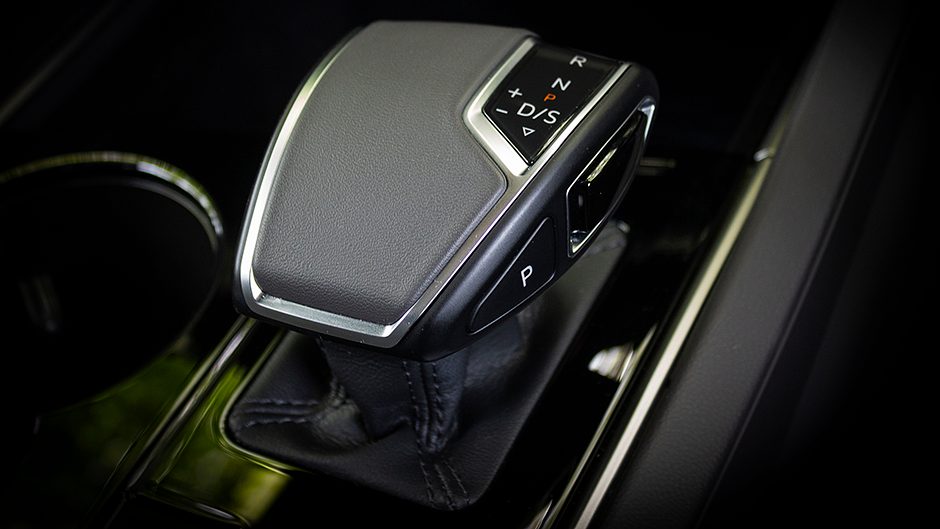 A service plan is $1700, covering three years and 45,000km. Expect other Touaregs later, including the R Line V8 TDI with 310kW while there is a 270kW plug-in hybrid available but not confirmed for our market. But given what we thought of the hybrid Cayenne, VW NZ should have that one on the radar.
Both the V6 and S models get a full safety kit which includes AEB, adaptive cruise (which works right down to a stop and keeps you moving in heavy traffic), lane keeping (annoying in operation, so best switched off but resets itself every time you start up) and blind spot monitoring. One new feature is front cross traffic alert, the radar up front scanning for traffic to prevent you pulling out into the path of oncoming vehicles if your view is obstructed by parked cars, for instance.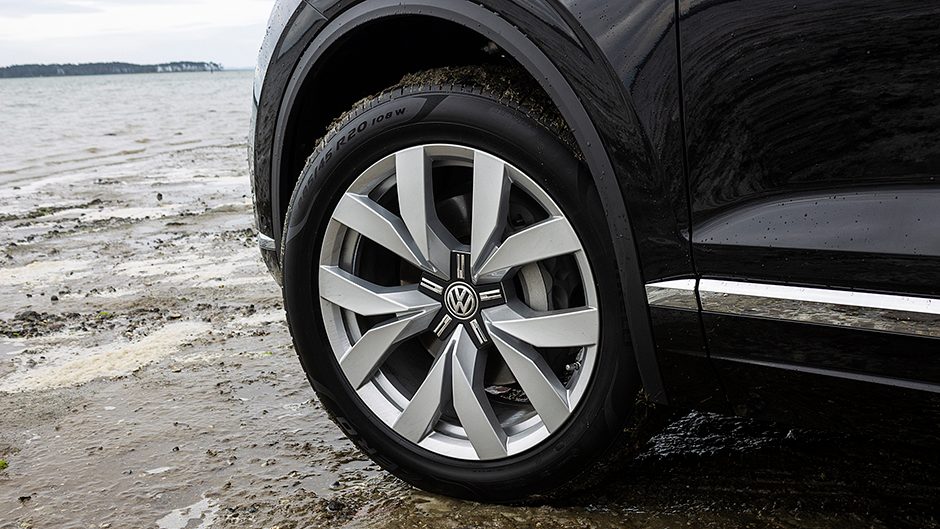 The Tow Rig (still rated to haul 3500kg braked) rides on regular type shockers, though buyers of the S can option $6000 worth of adaptive air springs and the new rear-wheel steer system (which is said to aid cornering as well as trimming the turning circle). For a further $4k, you'll get active roll bars, administered by a 48V system for more immediate response. VW says the new platform is lighter with its mix of aluminium (48 per cent) and high-tech steels (52 per cent), claiming a weight of 1995kg for the S, though ours registered 2103kg on the scales.
Teched up inside
The key feature of the Touareg interior is the appearance of the Innovision Cockpit. This sees a 12-inch digital instrument panel team up with a big 15-inch screen on the centre stack. The Discover Premium infotainment system takes over the running of the car's interior functions and removes most of the buttons from the cabin. It's about being able to customise the car's interior look and functionality to your preference and all manner of things are configurable. It all seems a bit much at first contact and, as with your smartphone, you'll need to make a couple of taps or swipes to complete most functions.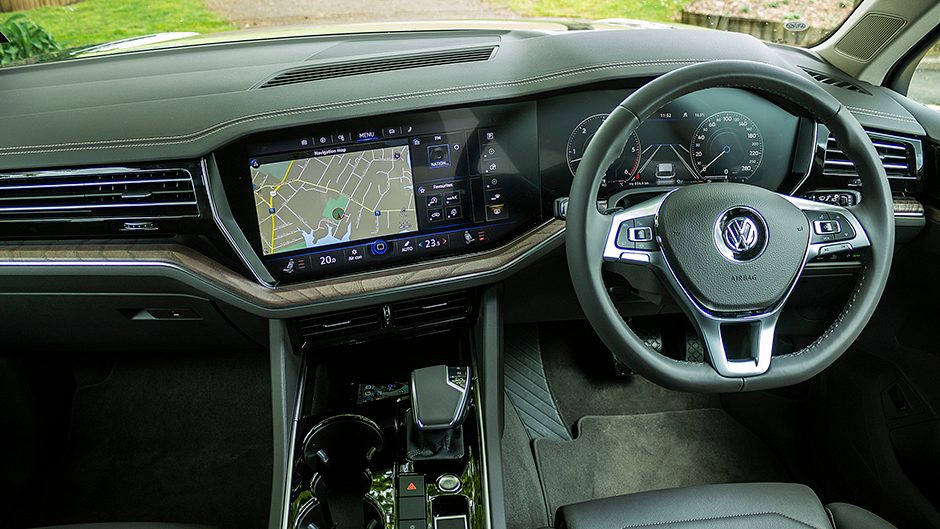 But with familiarity you'll soon be navigating its menus more intuitively, and there are enough menu and shortcut buttons to help out. It has a vibrant resolution and is quick to respond and load what you're after, while we like the little 'favourites' tile where you can store up to four buttons for quick access. We put the auto stop/start off button there, the recirc for the air con (all the ventilation functions are on a separate screen) and you can set up a home button for the nav system. If you are still baffled, there is a set-up wizard to take you through it all.
Once you've mastered driving this, you can set about configuring the view of the instrument panel, bringing up yet more info. Some new bits include a head-up display which is optimised to relay the warnings of the driver assistance systems and sat nav directions, though lacks speed sign recognition.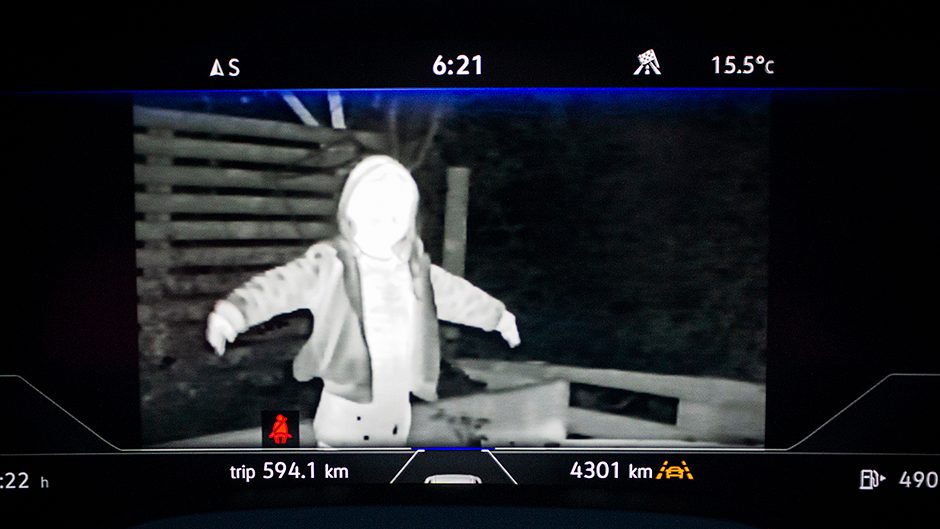 An option is a night vision camera to pick up the presence of pedestrians lurking in the shadows. Of more use is the standard fitment of the LED matrix headlights which light up the road ahead, turning with the curves and managing their intensity and the throw of light so as not to blind the oncoming drivers. While these make night driving easier, there is also a lot of interior illumination from the overhead panel which we couldn't seem to turn off, the door trims light up too and the big screen remains vibrant even after lowering the brightness manually.
Out touring
The Touareg has never pretended to be the sports champ of the luxo SUV set and this new one still isn't a cut-price Cayenne. The two are more distant relatives than close cousins when it comes to dynamic prowess. Touareg rides well, to the point where we wouldn't bother with the $6k air springs as it also manages to control itself in the bends with no graceless wallowing to abide.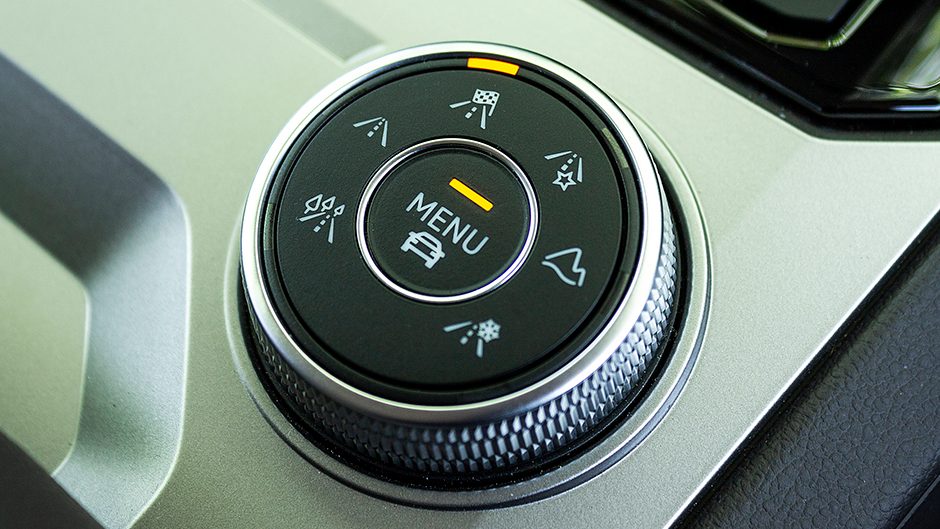 It rides out the bumps effectively and copes calmly with challenging crests and dips. Push the issue and it perseveres, though the variable torque management isn't nearly as slick at staving off understeer as the Cayenne's set-up. Any push is quickly neutralised with an easing of the gas and steering, or the driver aids will work to keep you left of the line. While this turns easily thanks to the haste of the quick rack, they've dosed the steering with a hit of Novocain which numbs both the road nasties but also any real sensation. The V6 has a strong measure of torque from 2000rpm onwards and the auto keeps it honest.
The Normal drive mode is a little sluggish, even about town, while the Sport mode adds some haste to proceedings but is never too racy. Touareg is always hushed on the go, the diesel only audible when revved and there's little in the way of tyre roar or wind whistle. In the Normal setting, steering is light and that quick rack makes parking easier. This is big but easy to dock, even if the 360 surround camera is lacking. If you're a ride fanatic you might like the air suspension to soothe those sharper, high frequency jolts in town, but it's rare that you'll notice anything awry underneath.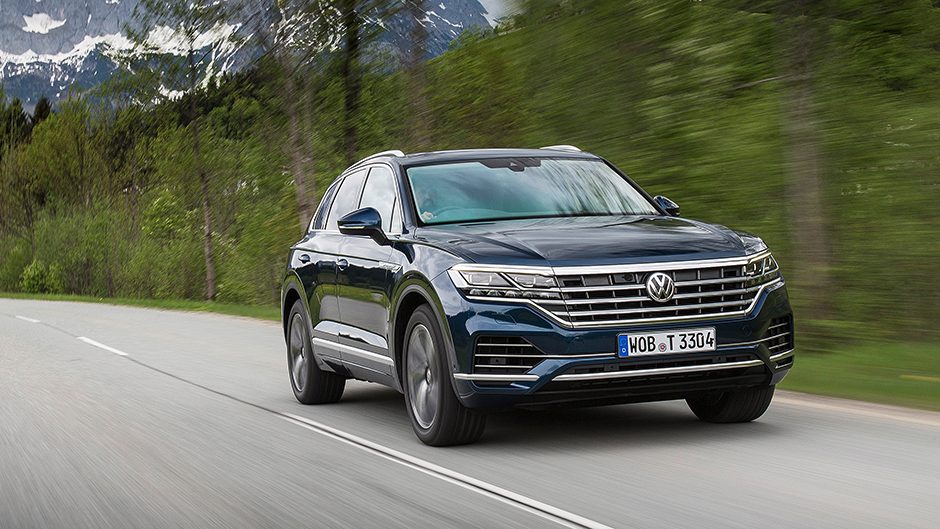 Touareg is rated at 6.9L//100km, we saw 9.4, even with a good deal of motorway kays. You'll have to suffer the Eco mode (throttle response neutered, auto keen on lugging high ratios, stop/start overly active, and it drops into neutral to coast when you are off the gas) to bring the fuel use closer to the promise. The engine can be slow to stir below 1500rpm and if the auto takes a moment to sort a downshift it can all feel a tad laboured for something with 600Nm. Best to select Sport mode, a viable solution around town too to lend better response.
Spaced out
The new Touareg has grown a little longer and wider but is slightly lower overall. That helps impart a more dynamic appearance and liberates more space inside. Rear passengers get ample accommodations with good space for lower limbs and a heap of headroom. The bench squab is split 60/40, is set on sliders and the seat back can be reclined for added comfort.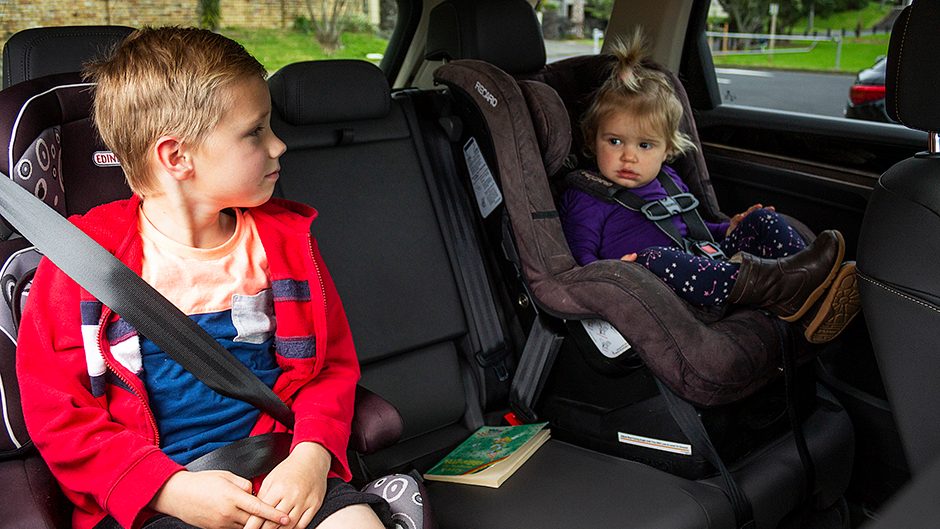 This is a big five seater but don't expect a version with seven seats ever, we're told. Boot space has improved with a wide and deep cavity. Levers release the rear seats which spring forward although don't lie entirely flat. The seat back is divvied up in a 40/20/40 manner with the middle section able to be folded down for added convenience.
Up front the build is typically tight although the sliding cover for the charge pad seemed to be jammed open. Otherwise, general storage space improves, and even the cup holders are sensibly placed and sized for a Euro. Most hidey holes are flocked or lined to minimise rattling. Everywhere you come into contact with the Touareg it imparts the desired impression of quality though the interior's grey ambience may not be to everyone's liking.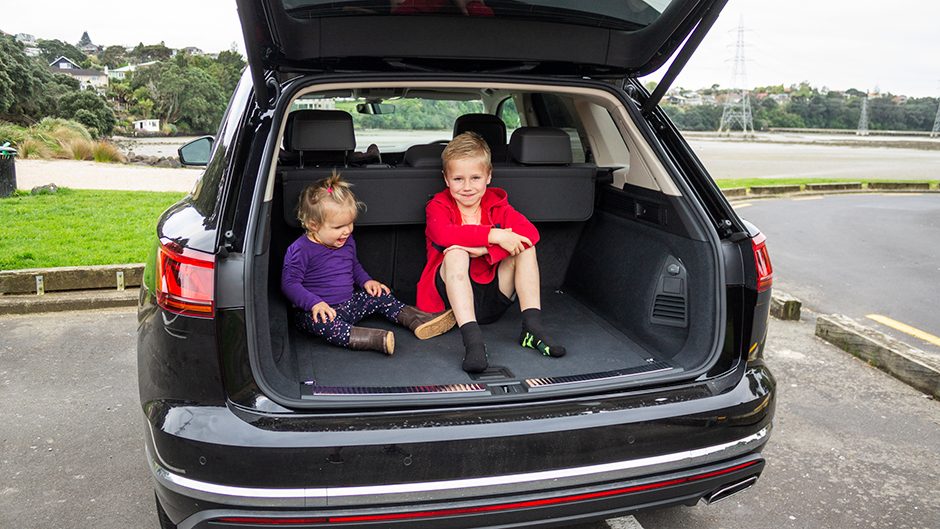 The dash pad is urethane but has a leather look to it thanks to its cleverly stitched edge, and there's a tasteful wood treatment to go with the abundance of piano black. The cabin and driving posi are designed to feel as wide as possible, and there's a good range of adjustment at the seat (electric) and wheel (manual). Its chairs are well formed but aren't overly sumptuous in terms of padding. However, they feature heaters, and a decent lumbar pump but the massage function didn't make the grade for New Zealand spec models.
Why buy?
VWs are liked by Kiwis as they are nice but not too nice, if you get our drift. And Touareg certainly is likeable without being ostentatious. To get an equivalent (soon-to-be replaced) GLE you'll pay more, and the same goes for the X5. For similar money other options include the Lexus RX 350 Limited and, to an extent, the Land Cruiser and Jeep Grand Cherokee, but we'd prefer the VW thanks.
| | |
| --- | --- |
| Model | VW Touareg V6 S |
| Price | $107,990 |
| Engine | 2967cc, V6, TDI, 210kW/600Nm |
| Drivetrain | 8-speed auto, all-wheel drive |
| Fuel Use | 6.9L/100km |
| C02 Output | 182g/km |
| 0-100km/h | 6.1sec |
| Weight | 2103kg |