Porsche's original Cayenne Hybrid was designed for optimum efficiency. Its latest combines efficiency with firepower. It goes hard without guzzling. Is this the SUV future?
The third iteration of Porsche's Cayenne e-hybrid is now upon us, and the company reckons it offers the best driving dynamics and efficiency in the sector. The initial example was designed primarily for fuel efficiency over Porsche road antics but the 2015 MY variant Editor Cassidy rather liked, calling it a "more viable option". He still preferred the alternative Cayennes though.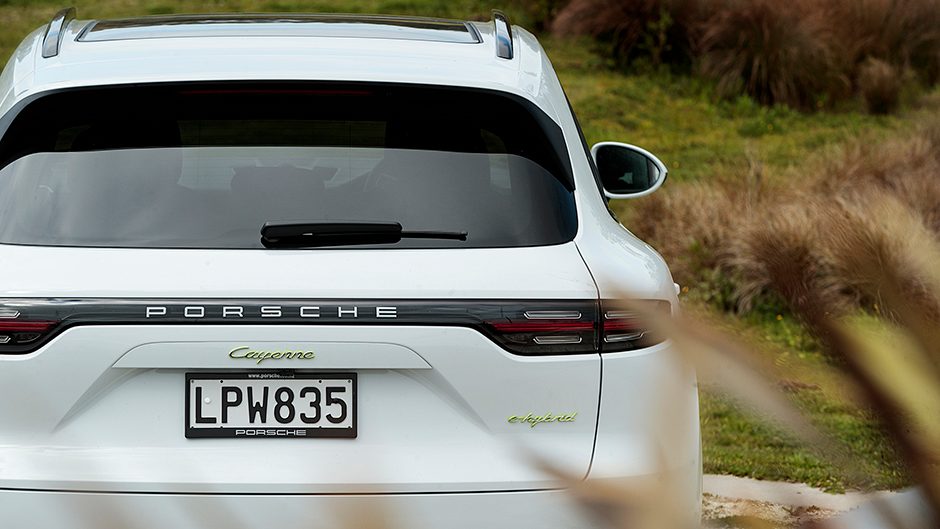 This one is a bit different from the last. It gets a bigger battery, a 43 per cent stronger motor, and added EV range, up from 20-30km to around 44km. Moreover, it's meant to be slightly faster than the more expensive twin-turbo Cayenne S, and uses one-third as much gas. Is the PHEV hybrid, identified by its acid green flourishes, the Cayenne worth coveting?
Let's face it; you don't drive many dud Porsches, right? But after a day or so in town behind the wheel of the new e-hybrid I was wondering. For it seemed this green whale fair flew through the available e-power kilometres, and the battery was largely juiced after a day's town driving. In my case, about 35km.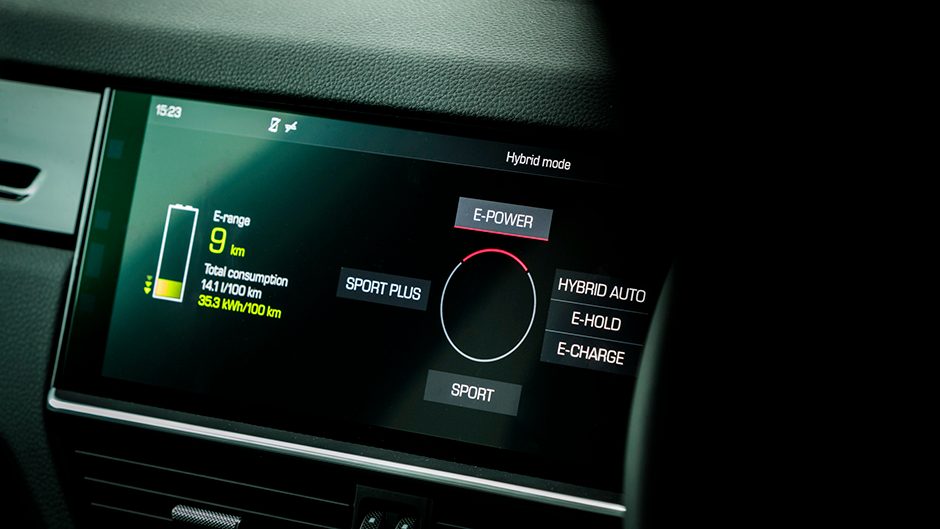 So if you forget to charge up overnight (7.8 hours with the standard 3.6kW charger) you'll soon be using up the fuel in the tank instead. And given this weighs heaps and has a 250kW/440Nm turbocharged V6 for propulsion, it's not going to be especially frugal on ICE power alone. But unlike the former model, the engine seldom works in isolation. The motor does though and it's novel driving around town with the instantaneous fuel use registering 0.0L/100km, even if city progress in E-mode doesn't seem all that Porsche-like.
Another thing that irked was an inconsistent feel to the brake pedal. That's something that all makers of hybrids struggle with, for in cars like these the brakes work both as retardation and for energy regeneration so you're bound to get the feeling that they're not quite as faithful as those in a regular car. Not that its best crash stop of 33.7m wasn't convincing.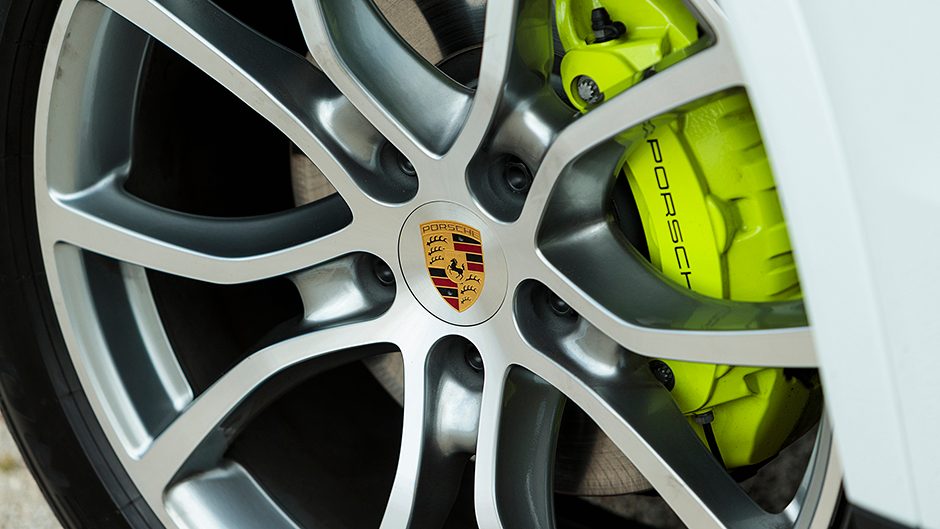 On the upside, the latest Cayenne is a better looker than its predecessor, with smart new lights each end. The interior is more tech-led than ever too, successive versions with a few less buttons and a bit more functionality relegated to the touchscreen instead. It's a busier layout than normal, as expected being a hybrid, but you soon adapt. On the wheel there's a rotating knob for choosing the particular mode you wish to use along with a 'boost' button like on an F1 car for overtaking. Only this actually does overtake other vehicles.
There are also buttons for the adaptive suspension and on the left side of the steering column a wand for adaptive cruise. On the helm are a couple of scroll wheels for the five instruments set in front of you, the main one rightly featuring revs and digital speed readout.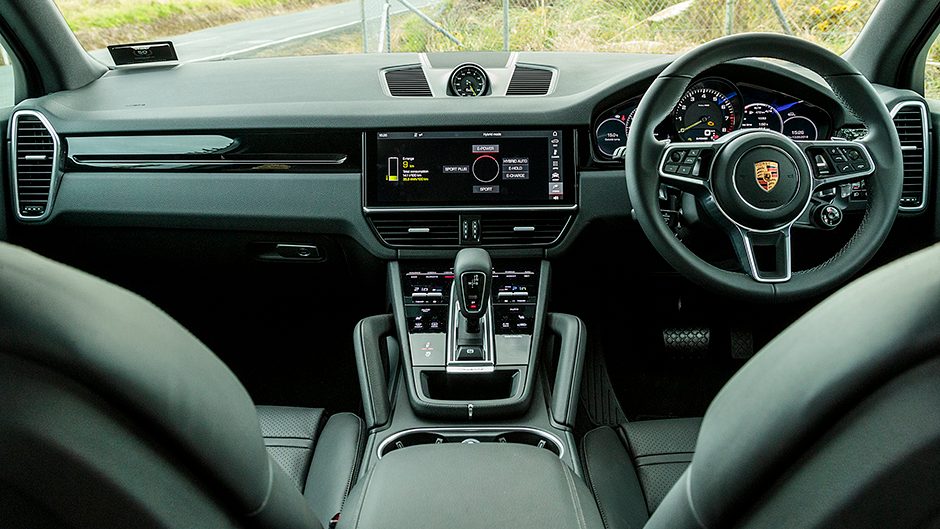 Moving to the rear, there's decent space for three, and generous load space, accessed by a powered fifth door. Our vehicle had a swag of options that took the bottom line price from $170k to just over $200k. Even so, price comes in beneath the Range Rover SVR ($210k) we also drove recently.
Out of town the powertrain shines
Like other Porsches it's how it goes on tarmac that determines whether it's worthy of the hallowed name. The first inkling that this was a bit more than just an eco-bus came during the photoshoot. Set to Sport or Sport+, we kept upping the ante into the chosen corner and the e-hybrid just kept on gripping and going, with minimal body roll. Ours had optional $4400 adaptive air suspension which can be firmed or relaxed depending on the chosen mode. The optional 21-inch wheels with low profile examples of Pirelli's best ($7850) help to keep the show on the road.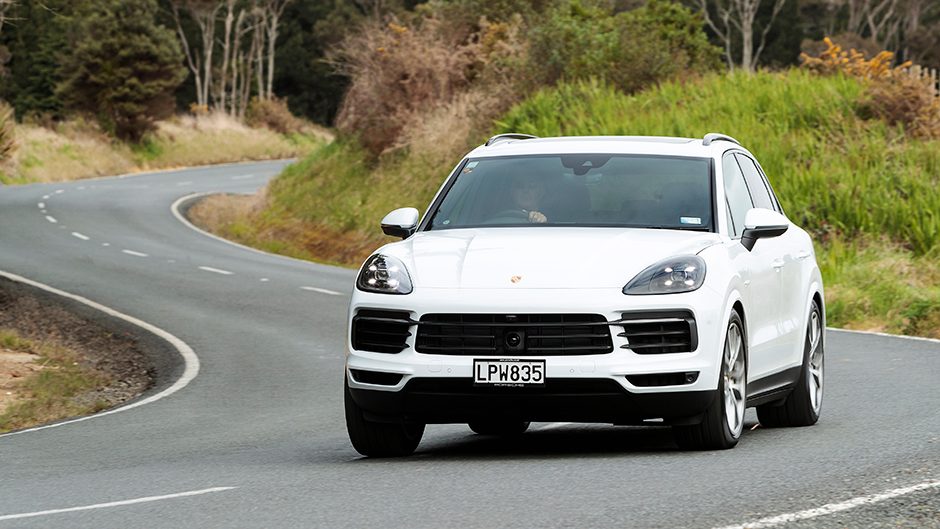 We discovered later on that the e-hybrid's weight split is 52:48, another reason it copes with the bends so convincingly. It's a bit hard to credit how something this heavy and high riding does this, but does it it does. This has the dynamic flair of a RR Sport SVR and the ride comfort of a Bentayga V8, so the best of both worlds. It's also less expensive than both. But then it isn't as quick, is it, given it uses a boosted 3.0L V6, while the other two use forced induction V8s.
Well, kind of not. Despite its smaller engine it has a 100kW/400Nm motor (or 'electric machine' in Porsche speak), as an able assistant. Total system power is a claimed 340kW, and 700Nm from 1000-3750rpm. That's a ways up on the 306kW/590Nm output of its forebear, and is over a second quicker getting to open road speeds. Why it's even meant to beat the 3.6L biturbo V6 Cayenne S.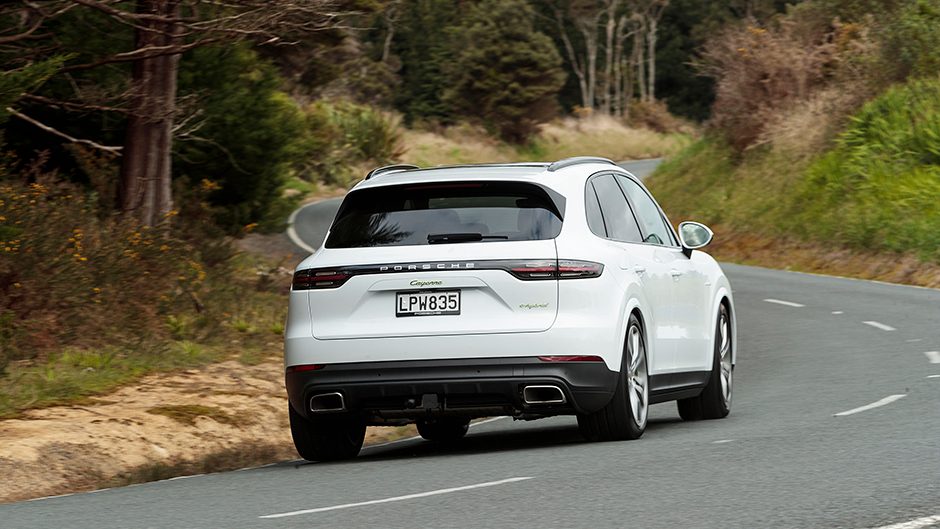 Porsche reckons on a 5.0sec sprint time. Our first effort of 5.7sec didn't seem promising but on our next run we held the brake a bit longer and noticed a 'launch control active' message. On this run the shifts felt more emphatic and it posted a time of 4.97sec. That's only 0.3sec behind the SVR. Porsche claims 3.2sec for the overtaking time, one of the few companies that bothers to measure that, and we hit a best of 3.17sec using the Sport Response or 'boost' button. The eight-speed auto of the Porsche is beautifully slick in its action.
Later we let the Cayenne loose on some of our fave ridge-runner roads and while it might be a greenie it certainly ain't no greenhorn. Despite its 2450kg kerb weight, this excels on road. Sports mode you'd choose for winding roads with others aboard, Sport+ on your own for dynamic thrills, suspension set at its lowest and firmest.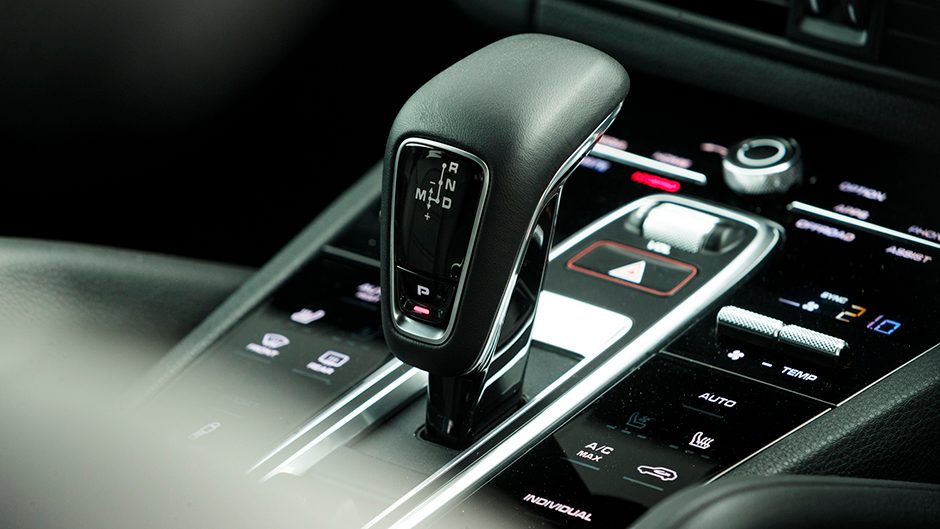 In both modes and even without the optional active sway bars, this can wear the Porsche name with pride. It even steers like one, with well judged weighting and feedback at the wheel. While in Sports modes the battery is being charged more energetically so that the motor can always chip in with extra thrust off the bends, unlike with the previous generation. The paddle shifters are fun to use. Its performance and dynamic envelope are astounding given the weight. It's genuinely quick and feels as fast point to point as the SVR and Bentayga we drove recently. Even when pushed hard the fuel economy never exceeded 16.2L/100km. In town, most of the time it was zero so you can forgive the odd outing where it actually uses gas.
We'd have thought that adaptive cruise might have been gratis but that's a $3500 option, one we'd not be without given as it features an emergency stop function. Our vehicle also had several other cost items such as comfort entry, and panoramic sunroof, together adding $6390 and taking the total to just over $200k.
At least heated seats are standard, and they're 14-way powered and leather-clad too. Other standard items include a tow bar system (3500kg braked), LED headlights, keyless go, sat nav, dual zone air, and a powered tailgate.
Given there's plenty available in this sector that's more expensive, this kind of hits a sweet spot for luxury SUVs, offering a fine balance between performance, dynamics, fuel use, fitout, comfort and practicality. So it might not roar like a V8 but you save plenty on the upfront cost and gas, compared with some, and sacrifice little in terms of performance by choosing the Cayenne hybrid. This variant has come of age and is a bellwether of future powertrains for spacious, luxurious SUVs.
| | |
| --- | --- |
| Model | Porsche Cayenne E-Hybrid   |
| Price | $175,000 |
| Engine | 2995cc, V6, T/DI, 250kW/450Nm |
| Drivetrain | 8-speed auto, all-wheel drive |
| Fuel Use | 3.2L/100km |
| C02 Output | 74g/km |
| 0-100km/h | 4.94sec |
| Weight | 2450kg |